A gunstock is called a buttstock (or a butt) due to a long gun part, ensuring structural support, to which the action, barrel, and firing mechanism are joined; and a shoulder stock due to its back portion.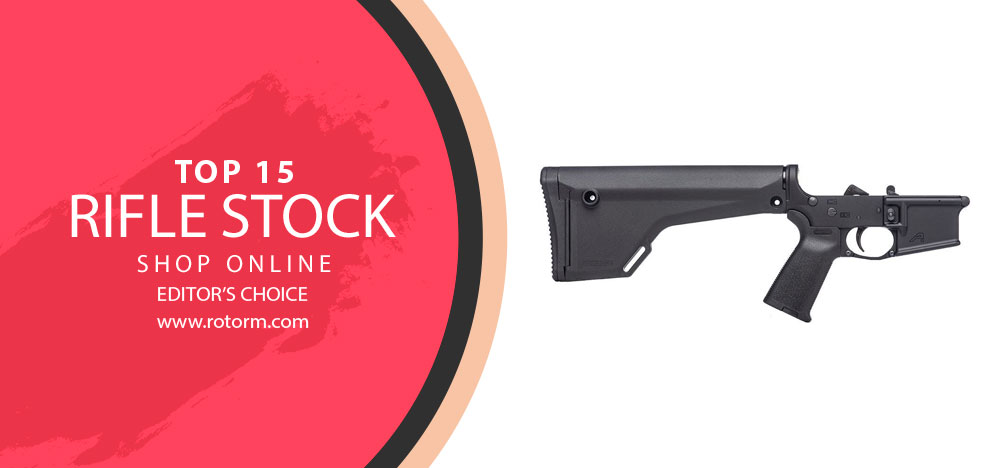 The reliable stock makes not only the rifle more enjoyable for firing but also delivers the shooter more stability.
Why do we need a Rifle Stock?
If you want to enhance rifle accuracy, general performance or just upgrade its look, new stock can help you in this. Adjustable stocks can be adapted according to the shooters' heights, they also allow rifles to be more compact for transport or storage.
Best Rifle Stock | Rifle Stocks Review
#1 Magpul Industries Hunter American Rifle Stock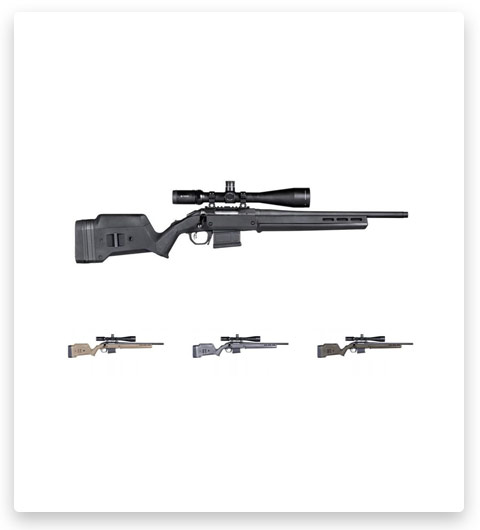 This hunter Stock comes with Bolt Action Magazine Well and PMAG 5 7.62 AC, fitting Ruger American short action rifles. These stocks with high-durable steel recoil lugs feature completely adjustable pull length, M-LOK compatibility for extra accessories, optional cheek riser kit to regulate cheek weld (pre-fitted with 0.25 in Riser).
#2 Sig Sauer MCX/MPX Collapsible Rifle Stock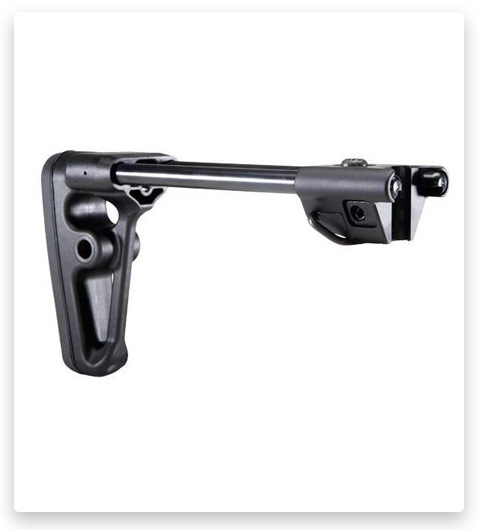 This Collapsible Stock helps turn the MCX/MPX pistol into a registered highly tactical short-barreled rifle (SBR). The pull lengths can be regulated into 3 positions: for storage, for regular use to be convenient into the shoulder, and the middle one for a quite tight CQB gun.
#3 Magpul Industries X-22 Backpacker Rifle Stock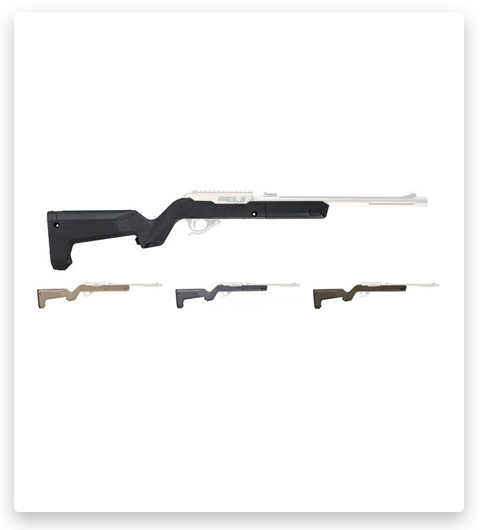 Drop-in stocks with ergonomic handguards, interchangeable standard, and optic height cheek risers are designed for the Tactical Solutions SBX barrel and all factory Ruger 10/22 Takedown rifles. These stocks feature built-in hinged storage compartments in the forend and grip (up to three spare 10th magazines) and MOE SL nonslip rubber butt-pad.
#4 Wilson Combat Rogers Super-Stock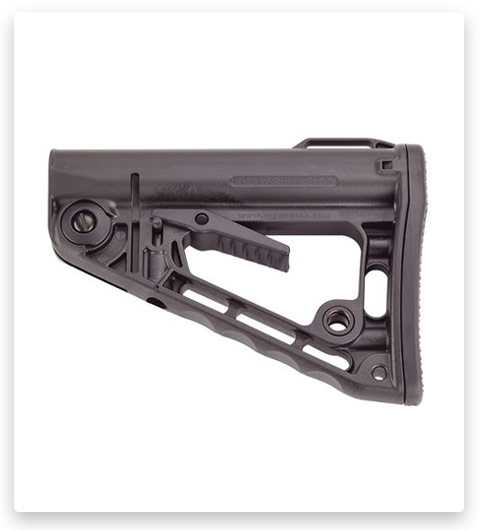 Innovative Cam-Lock System provides this collapsible stock with stability – no slop or play and top refinement in AR/M4 stock technology. The stocks are compatible with Mil-Spec or Commercial Sized Buffer Tubes. After choosing a convenient stock position, it can be locked down firmly, just clicking the cam-lock lever upward.
#5 Hogue AR-15/M-16 Overmolded Collapsible Buttstock Assembly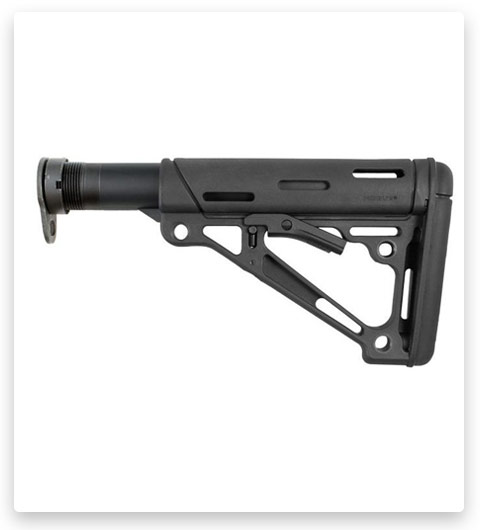 This Collapsible Buttstock Assembly comes with a 1.15-in diameter Mil-Spec Buffer Tube and Hardware, pin, and spring, providing improved sturdiness and better rifle control. Hogue Stocks are manufactured from reinforced polymer with a rubber over-molded finish to ensure lightweight and rigidness for the firearm.
#6 Bravo Company MFG Stock Mod 0 Black Fits
The Bravo-designed snag-free durable lightweight polymer stock with modular VBOST (Vehicle Borne Operations Sling Tab) for Mil-spec receiver extension. The VBOST application is connected with the shooter's bungee or riggers' band to fasten the shooter's sling against the stock when the carbine isn't used. There are two types of ambidextrous sling assembling, containing QD swivel sockets.
#7 Reptilia LINK for CZ Scorpion w/ Magpul Zhukov
This drop-in folding stock is engineered for the CZ Scorpion firearm generation. The Magpul Zhukov Stock is made of machined Mil-spec aircraft-grade aluminum (Type III) with a hard coat anodized finish.
#8 Kinetic Development Group Kinetic Scar Adaptable Rifle Stock Kit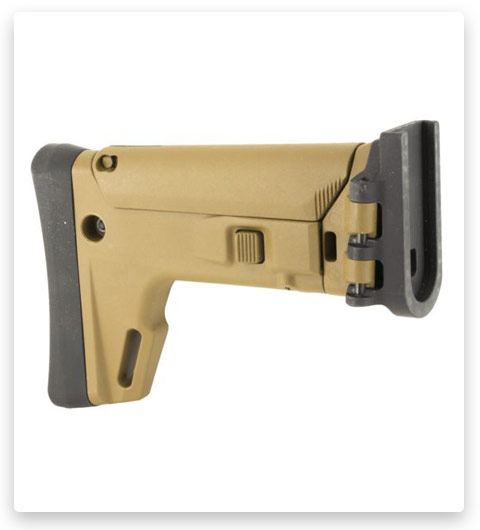 These stocks with adjustable cheek riser should be installed strictly to the FN SCAR receiver rear part, they are compatible only with SCAR rifles. The stocks feature supportive aluminum (6061-T6) adapter bracket seven telescoping adjustable positions, side-folding option due to the spring lock tension, QD Cup allows the rifle to be used on either stock side, butt-pad, and watertight battery compartment (CR123).
#9 ProMag Mossberg International 702 Plinkster Tactical Folding Rifle Stock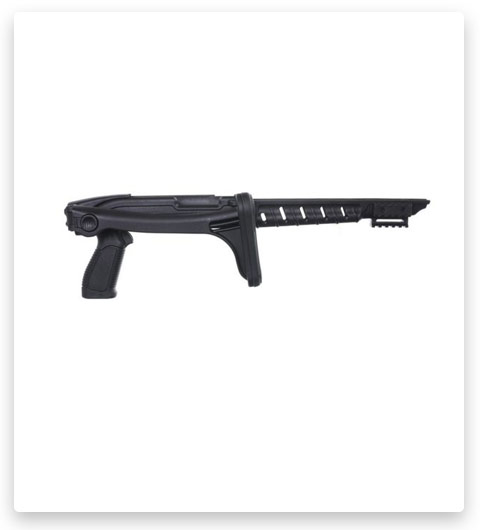 The ProMag Mossberg International developed lightweight positive locking side-folding stocks for the Mossberg 702 Plinkster .22 LR rifles. These injection-molded black polymer stocks are outfitted with Picatinny tri-rail forend, pistol grip with storage compartment, rubber recoil pad.
#10 Magpul AKM AK47/74 Furniture Kit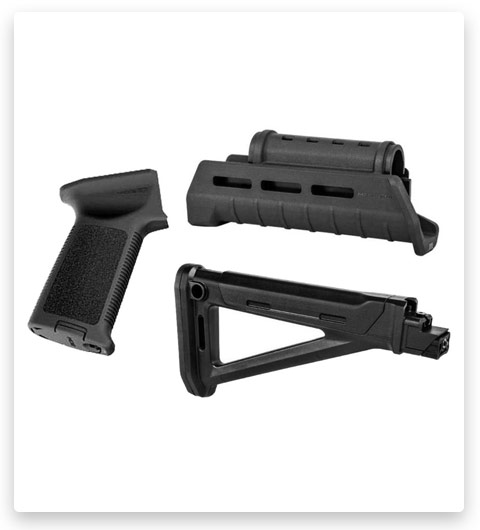 Magpul AKM Furniture Kit with fixed stock (single tang trunnion) should be installed to stamped receiver AK-47/AKM/AK-74 pattern rifles. The Magpul crafted A-frame construction from reinforced polymer for optimal weight and bulk. This kit is equipped with a comfy slim-profile cheek weld, optional snap Cheek Risers for optics attachment, inner storage compartment for a factory AK cleaning kit. While assembling the lower handguard may need some minor sanding.
#11 DoubleStar ARFX Rifle Stock Assembly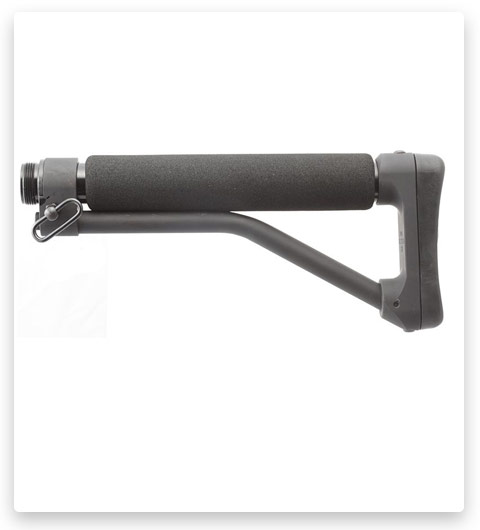 This Rifle Stock Assembly with a standard A2 buffer, Black closed-cell Foam overtube, and .5in RP manufactured from anodized aluminum (7075-T6) ensures proper work even in tough environments. The stocks are outfitted with a QD sling mount (with standard push-button), operating with single point, double-point, and triple-point slings.
#12 Leapers UTG AR308 A2 Style Fixed Buttstock Complete Assembly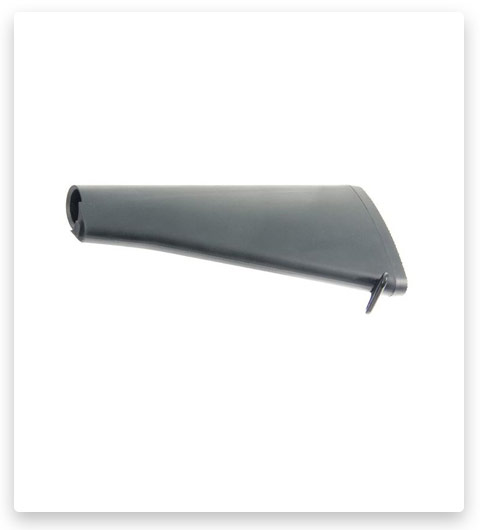 The Standard A2 Buttstock Assembly is equipped with recoil spring, an A2 extension tube, a .308 style buffer assembly, a stock spacer, and a screw. This assembly is molded from sturdy polymer and fits Armalite DPMS LR-308, AR-10, S&W M&P-10, and others.
#13 FAB Defense UAS SKS Complete Chassis System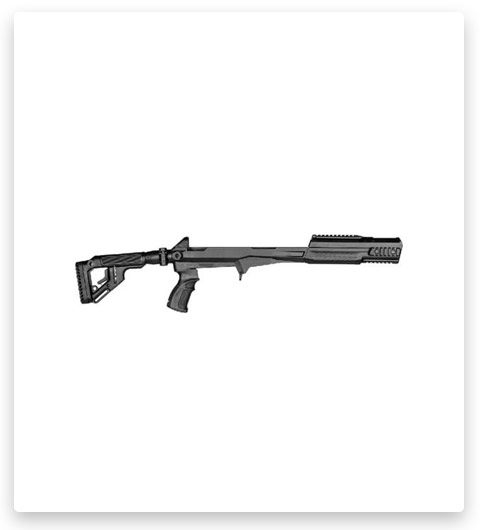 This chassis system combines a classic bench-rest design with advanced tactical versatility and side-folding butt-stock features, including 1913 MIL-STD Picatinny side and lower rails for secure fastening. These fiberglass-reinforced polymer construction systems feature both-side QD sling swivel sockets.
#14 Magpul Industries PRS GEN3 Precision-Adjustable Stock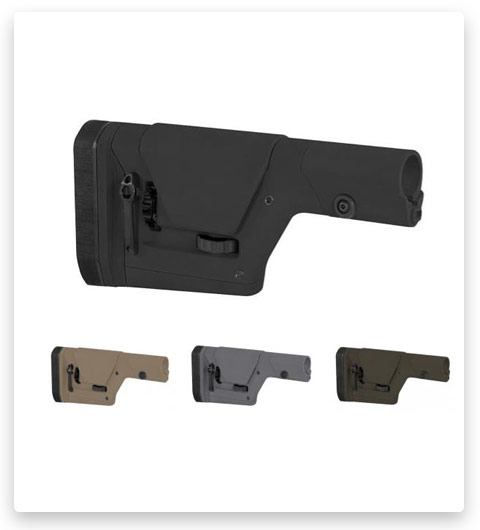 This adjustable stock is engineered with Bottom M-LOK slots for 1913 Picatinny rails, aluminum LOP, and Cheek Piece adjustment knobs with positive-locking click detents.
#15 Magpul Industries MOE Rifle Stock for AR-15/M-16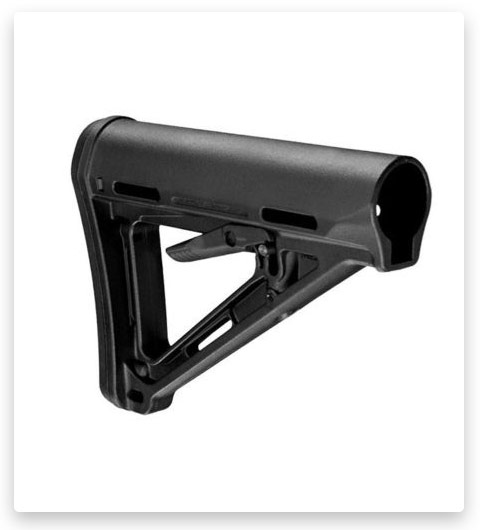 Mil-Spec ambidextrous Stocks for AR Carbine Platforms feature a sloping cheek weld for a slim profile and more comfy position, as well as a detachable rubber butt-pad (0.30 in) for impact resistance. This stock should be installed on Mil-spec sized carbine receiver extension tubes, which are not supplied by the Colt, Ruger, LMT, SIG, S&W.
How To Install Rifle Stock
Necessary installation tools are protection glasses, a Phillips-head and two flat screwdrivers, a stock wrench, and two 1/16-inch Allen ones. When installing a traditional adjustable carbine stock, begin with a lower receiver (with a fixed-length stock on). Left-handed shooters should adapt as they usually do.
First remove the present adjustable stock, by moving it to its rearmost position. Use one flat-head screwdriver to slide under the lock-down lever, pry the pin from under the buttstock. Slide the stock off of the buffer tube.
Then mount the endplate. Pressing down on the buffer retaining pin to make the buffer and spring come out. Loosen and unscrew the castle nut with a wrench to slide back the receiver endplate about 0.25 in, slightly turning it to expose the spring, remove it with detent and pin, then completely take off the buffer tube and the receiver endplate, replacing it with a new one.
The next step is to reassemble the buffer tube: thread it back onto the lower receiver until reaching the retaining pin hole edge. Plug the retaining pin and spring into the hole, pressing down on the pin while 3/4 turning the buffer tube. The endplate should not cover the hole for the rear takedown spring. After inserting the rear takedown pin (the groove faces the rear), drop the detent pin and spring into the hole. Slide the castle nut and endplate back, rotating the assembly over the spring. Retighten the castle nut with the stock wrench to about 40 in-pds without thread locker. Slide the spring and buffer back into place and push them over the retaining pin, to which a buffer round edge, not a flat one, should be against.
Install the stock: turn the rifle upside down, take off slowly the original pistol grip by unscrewing it from the lower receiver. The safety selector spring is between the receiver and grip, don't kink it while removing the detent and safety selector and slipping the stock straight onto the receiver. Fasten the stock with the Phillips-head screw, using an included washer without gaps between the receiver and grip. Sometimes the reinforcing fin inside the grip needs to file until appropriate fitment.
Then install Buffer Tube Cover: the spacer should be parallel with the cover bottom, for a better fit you can sand or file it. Secure the screws on each side, contact either the endplate or the castle nut, using both 1/16-inch Allen wrenches, until snug.
FAQ
Conclusion
Check the fitment at the manufacturers' website to be sure a new stock will attach to a new lower. Choosing the stock, consider the habitual condition of usage, would it be mostly wet or not. The quality stocks are rigid enough to keep the gun stable when it's used on a surface for shooting, while still absorbing some of the recoil force. PDW (Personal Defense Weapon) stocks collapse down to an even more compact size than the originals. Before installing carbine adjustable stocks, check local law.
The Best Pick
Magpul Industries PRS GEN3 Precision-Adjustable Stock for AR15/M16 and AR10/SR25 platforms
This adjustable stock is crafted with Bottom M-LOK slots for 1913 Picatinny rails, aluminum LOP, and Cheek Piece adjustment knobs with positive-locking click detents and steel Melonite shafts.
Sig Sauer MCX/MPX Collapsible Stock
This compact stock with adjustable pull length is designed for registered highly tactical SBR.
Budget Pick
Bravo Company MFG Stock Mod 0 Black Fits AR-15 Mil-spec
Snag-free lightweight stock with modular VBOST without play on the buffer tube for Mil-spec receiver extension. There are two types of ambidextrous sling assembling, including QD swivel sockets.
Affiliate Disclosure: Rotorm.com sometimes gets paid for listings, through sponsors or affiliate programs like Amazon, Optics Planet, Lucky Gunner, Brownells, Cabelas, Rainier Arms, 5.11 Tactical, Bass Pro Shop, etс. Clicking a link helps keep Rotorm.com free, at no extra cost to you!
About the author: Each article on our site is written by experts in survival and tactical equipment, gun enthusiasts, extreme travelers, military, law enforcement and desperate professionals, read about the author at the bottom of the article or visit "About Us" page.
Note: The views and opinions expressed in this article are those of the authors and do not necessarily reflect the official policy or position of any agency.