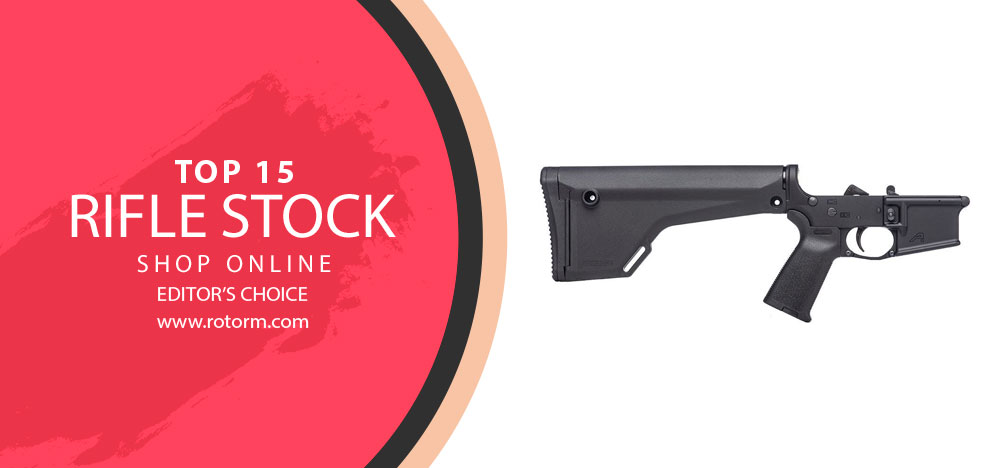 What are the rifle stocks?🤔
It is part of a rifle that serves as the framework to which other components such as the barrel, action, and trigger assembly are attached. It is the portion of the rifle that the shooter holds and shoulders while aiming and firing the firearm. The stock provides a stable and ergonomic platform for the shooter to control and stabilize the rifle during shooting.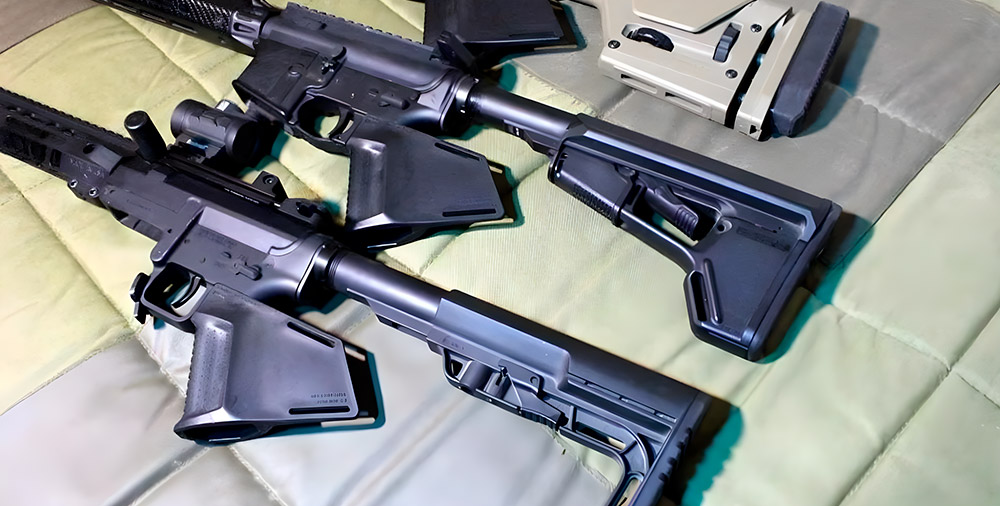 Features✍️
Rifle stocks come with a variety of features that serve to enhance comfort, accuracy, and usability for shooters. Here are some common ones:
✅ Adjustable Length of Pull (LOP): Many modern stocks allow you to adjust the length of pull, which is the distance between the trigger and the end of the stock. This feature helps tailor the rifle to different body sizes and shooting positions.
✅ Adjustable Cheek Riser: An adjustable cheek riser allows you to raise or lower the comb of the stock to achieve proper alignment between your eye and the scope or sights. This is important for consistent and comfortable aiming.
✅ Swivel Studs and Sling Mounts: Swivel studs or sling mounts allow you to attach a sling for easier carrying and shooting stability.
✅ Recoil Pads: Recoil pads are often included on stocks to help absorb recoil and reduce felt recoil impact on the shooter's shoulder.
✅ M-LOK or Picatinny Rails: Tactical or precision stocks may include M-LOK or Picatinny rails along the forend, allowing you to attach various accessories like bipods, lights, lasers, and grips.
Our Top Pick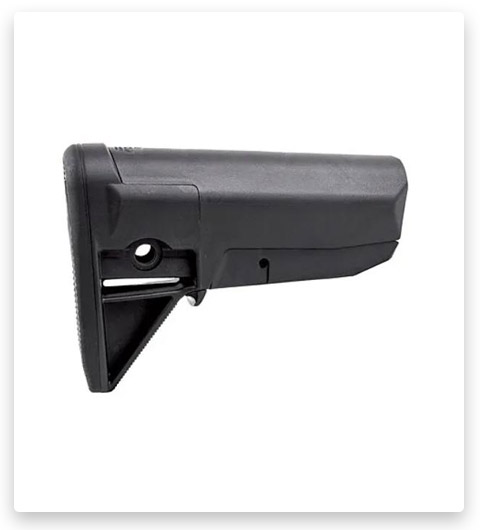 Bravo Company MFG Stock Mod 0
One standout feature is the use of rugged polymer in the construction, ensuring durability without adding unnecessary weight. This struck a balance that found quite appealing, especially for those who value a lighter setup without compromising on strength. The Modular VBOST (Vehicle Borne Operations Sling Tab) is a testament to Bravo Company MFG's commitment to practicality and versatility. The VBOST is ingeniously designed to work seamlessly with rigger bands or bungee cords, providing secure and reliable transportation for your firearm when on the move in a vehicle. The ability to comfortably shoulder your weapon is crucial for effective shooting, and this stock certainly delivers on that front. If you're looking for a stock that can genuinely enhance your shooting experience while providing secure transportation options, this could be an excellent addition to your setup.
Buy Now On OpticsPlanet
If you click this link and make a purchase, we earn a commission at no additional cost to you.
Benefits🔥
Rifle stocks offer several benefits that contribute to the overall performance, comfort, and versatility of a rifle. Here are some key advantages:
🔷 A properly designed stock can enhance accuracy by providing a stable and consistent platform for aiming and firing. Features such as adjustable cheek risers and butt plates help ensure proper alignment with optics or sights, leading to more precise shots.
🔷 Many models come with adjustable features like the length of the pull, cheek risers, and butt plate adjustments, allowing shooters to tailor the fit of the rifle to their body size and shooting style. This customization contributes to better comfort and control.
🔷 Recoil pads and ergonomic design elements on stocks help mitigate felt recoil, reducing shooter fatigue and allowing for faster follow-up shots.
🔷 Synthetic and polymer stocks are often more durable and weather-resistant than traditional wood stocks. This is particularly beneficial for shooters who use their rifles in challenging outdoor conditions.
🔷 Many stocks are designed with ambidextrous features, accommodating both right- and left-handed shooters without the need for modifications.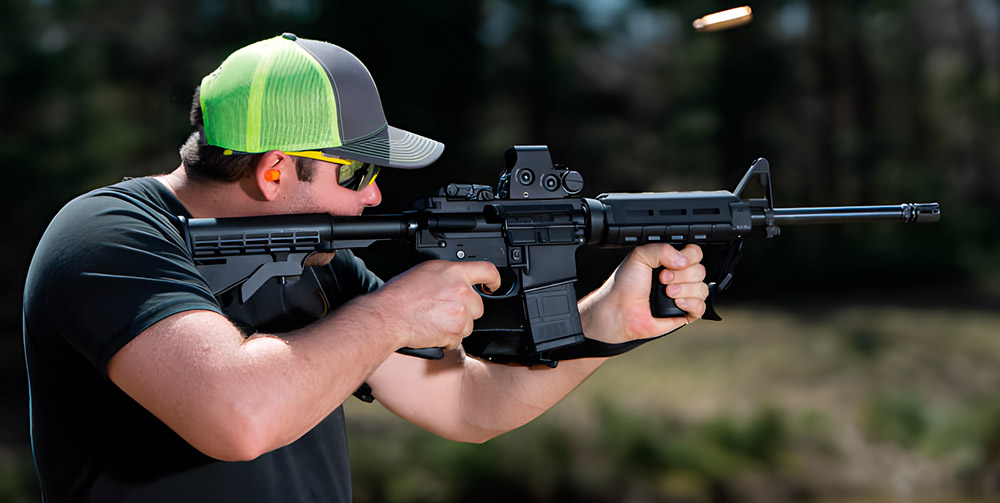 Wood vs Synthetic Stocks: which is better?
Choosing between wood and synthetic stocks for your rifle involves considering a range of factors, including aesthetics, durability, weight, performance, and personal preference. Each type of stock has its advantages and disadvantages. Here's a comparison between them to help you make an informed decision:
🟣Wood Stocks🟣
🟣Synthetic Stocks🟣

✴️ Advantages:

🧩 Classic Aesthetics: Wood stocks are often considered more traditional and can provide a classic and timeless appearance. Many shooters appreciate the natural beauty of wood.

🧩 Dampening Effect: Wood has inherent dampening properties that can help absorb some of the recoil energy, potentially reducing felt recoil.

🧩 Warmth and Feel: They offer a warm and natural feel in the hands, which some shooters find more comfortable.

🧩 Customization: Such stocks can be shaped and carved to fit the shooter's preferences, allowing for more personalized customization.

✴️ Advantages:

🧩 Durability: Synthetic stocks are highly resistant to moisture, temperature changes, and environmental factors, making them well-suited for harsh conditions and wet environments.

🧩 Weight: They are typically lighter than wood stocks, which can make the rifle easier to carry for extended periods or in challenging terrain.

🧩 Consistency: Such stocks offer greater consistency in terms of stability and accuracy, as they are less influenced by environmental factors.

🧩 Low Maintenance: Synthetic stocks require minimal maintenance compared to wood stocks. They do not require oiling or special care to prevent warping or cracking.

🧩 Customization: Many stocks come with built-in features like the adjustable length of pull, cheek risers, and accessory attachment points (Picatinny rails, M-LOK) for customization.

✴️ Disadvantages:

🧩 Weight: These stocks are generally heavier than synthetic stocks, which can affect the overall weight of the rifle.

🧩 Durability: Wood stocks are more susceptible to moisture, temperature changes, and environmental factors. They require more maintenance to prevent warping, swelling, or cracking.

🧩 Stability: They may be more prone to changes in accuracy due to fluctuations in humidity and temperature.

✴️ Disadvantages:

🧩 Aesthetics: They may not have the same traditional or classic appearance as wood stocks. However, many modern synthetic stocks are designed to mimic the look of wood.

🧩 Feel: Synthetic stocks may lack the warm and natural feel of wood stocks, which some shooters prefer.

🧩 Recoil: Such stocks may transfer more felt recoil to the shooter compared to wood stocks due to their stiffness.

🧩 Perceived Value: Some shooters associate wood stocks with higher quality and craftsmanship, potentially affecting the perceived value of the rifle.
😉 Ultimately, the choice between wood and synthetic stocks depends on your individual preferences, shooting goals, and the intended use of the rifle.
Best Rifle Stock | Rifle Stocks Review
1# Magpul Industries Hunter American Rifle Stock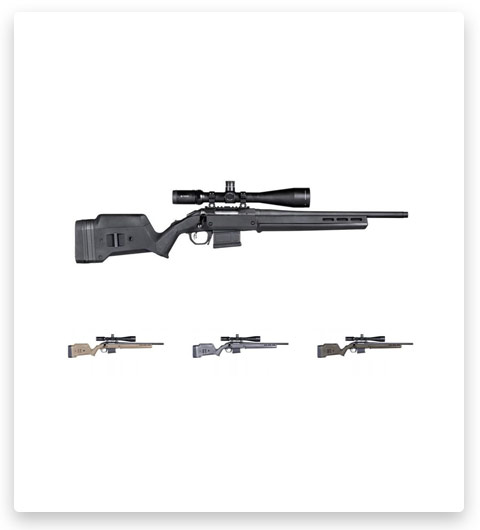 Our team had the privilege of testing out the Magpul Industries Hunter American Rifle Stock. Crafted from a combination of reinforced polymer and cast aluminum, this stock serves as a cost-effective replacement for your rifle's original equipment. The improved ergonomics and fully adjustable length of pull make a noticeable difference, allowing shooters to fine-tune their setup according to their preferences. This level of customization contributes to a more comfortable and precise shooting experience. A standout feature is its compatibility with M-LOK accessories, offering additional flexibility for attaching various accessories. This compatibility seamlessly integrates modern enhancements into your rifle's setup, enhancing its overall versatility. The stock comes pre-fitted with a 0.25-inch Riser, and an optional cheek riser kit is available for further customization. Whether you're looking to improve your shooting experience or explore new accessories, this stock offers a well-rounded solution that is sure to elevate your rifle setup.
2# Sig Sauer MCX/MPX Collapsible Rifle Stock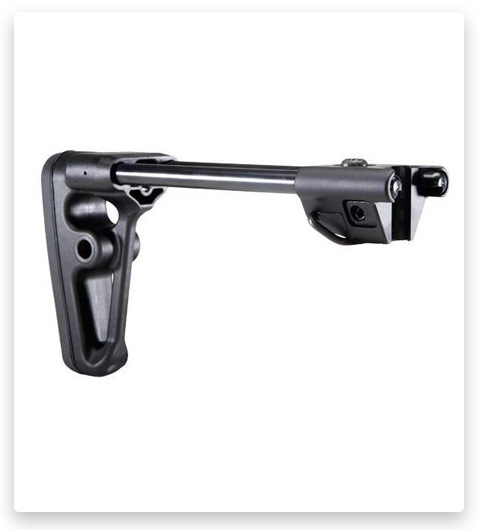 Introducing the Sig Sauer MCX/MPX Collapsible Rifle Stock – one of the standout features is the adjustable design, allowing users to tailor the stock to their preferences. With three different lengths of pull, finding a comfortable and secure fit against your shoulder becomes a seamless process. Installation is a breeze, and you won't need to be a professional gunsmith to get it set up. The collapsible functionality adds a layer of convenience to your MCX/MPX. It simplifies stowing and transporting your firearm, making it a valuable addition for those on the move. It's worth noting that it is not only about style but substance too. The sturdiness of the collapsible stock adds a reassuring element of durability to your firearm, contributing to a reliable and robust shooting experience. Its adjustable design, easy installation, and collapsible functionality make it a noteworthy addition that adds both convenience and versatility to your shooting experience. Just remember to stay informed about the legal considerations in your area before making any modifications to your firearm setup.
3# Magpul Industries X-22 Backpacker Rifle Stock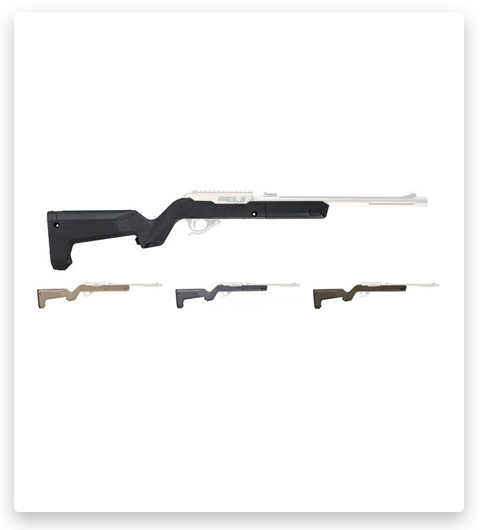 This Magpul Industries X-22 Backpacker Rifle Stock is an incredibly versatile replacement for the factory stock on your Ruger 10/22 Takedown. One of the advantages is the inclusion of storage compartments cleverly integrated into the barrel, grip, and forend. This smart addition makes it an ideal companion for backpacking, plinking in your backyard, hunting small game, or even as a reliable go-bag option. The installation was a breeze, reflecting the user-friendly design philosophy that Magpul is known for. We found that the stock adds a sturdy and minimalist touch to the Ruger 10/22 Takedown, with a focus on both functionality and aesthetics. In terms of shooting performance, we were pleased to discover that the stock allows for efficient and convenient rifle transportation without compromising accuracy and handling on the range. The reinforced textured polymer construction speaks to the stock's durability and longevity, essential qualities for any outdoor adventure. Whether you're a backpacker, plinking, or small game hunter, this stock offers a well-rounded solution that combines innovation and utility in a compelling package.
4# Wilson Combat Rogers Super-Stock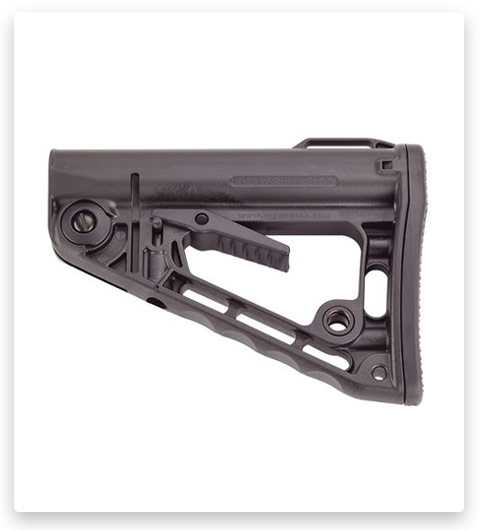 Developed by Bill Rogers, a renowned shooting instructor, and inventor, along with his team of skilled engineers, this stock represents a significant leap forward in collapsible stock design. At the core is its ingenious cam-lock system. This system addresses a common issue with collapsible stocks by eliminating any slop or play, ensuring a rock-solid and stable stock position. With a simple click of the cam-lock lever, the selected stock position is securely locked in place, providing a level of stability that truly stands out. Weighing a mere 7.3 oz, it is impressively lightweight, making it a fantastic option for those who value maneuverability and reduced weight on their rifle. Whether you're a seasoned shooter or a newcomer, the Wilson Combat Rogers Super-Stock is a worthy investment that significantly enhances your rifle's capabilities.
5# Hogue AR-15/M-16 Overmolded Collapsible Buttstock Assembly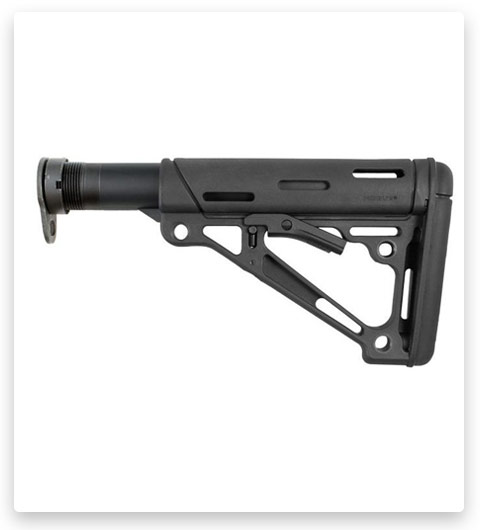 Look at the Hogue AR-15/M-16 Overmolded Collapsible Buttstock Assembly – we were genuinely impressed by the quality and enhancements it brings to your rifle setup. This assembly is designed to provide a comprehensive upgrade that not only improves durability but also enhances the overall feel of your firearm. Crafted with meticulous attention to detail, Hogue has constructed each stock from reinforced polymer, complemented by a rubber over mold finish. Installation is made easy with the inclusion of the necessary accessories, such as the mil-spec buffer tube and hardware, which eliminates any guesswork or frustration during the setup process. It's a well-crafted and reliable upgrade that adds a touch of ruggedness to your firearm, promising enhanced durability and comfort. We genuinely believe this assembly provides value for those seeking a more reliable and robust structure for their M16 or AR-15 platform.
6# Bravo Company MFG Stock Mod 0
This stock is a highly functional addition designed to enhance control and precision when using your AR-15 mil-spec rifle. Crafted with a focus on durability and performance, Bravo Company MFG has ingeniously constructed these stocks from rugged polymer, ensuring a reliable upgrade without unnecessary weight. One of the standout features is its snag-free design, meticulously engineered to eliminate any sharp edges that could lead to tangling with slings, molle gear, or other equipment. This considerate design detail ensures a seamless experience, preventing any interference with your clothing or gear. In terms of versatility, it offers ambidextrous sling mounting options, including QD swivel sockets. This level of customization ensures that the stock can be tailored to your specific shooting preferences and needs. A highlight of this stock is its simple modular design, consisting of only five parts and one screw. If you're looking to optimize control, precision, and secure transportation for your rifle, the Bravo Company MFG Stock Mod 0 is an excellent choice.
7# Reptilia LINK for CZ Scorpion w/ Magpul Zhukov Stock
This drop-in folding stock is designed specifically for the CZ Scorpion family of firearms, and it brings a range of benefits to the table. Crafted from aircraft-grade aluminum, it boasts exceptional durability that you can rely on. Its mil-spec Type III hard coat anodized finish not only contributes to its ruggedness but also adds a sleek look that complements your firearm. One of the standout aspects is its user-friendly installation process. In a matter of seconds, you can have this stock up and running on your CZ Scorpion, and the best part is that no tools are required. This level of simplicity ensures that you can get back to focusing on what matters most – your shooting experience. If you're seeking to enhance the functionality and the Reptilia LINK For CZ Scorpion W/ Magpul Zhukov Stock is certainly worth buying.
8# Kinetic Development Group Kinetic Scar Adaptable Rifle Stock Kit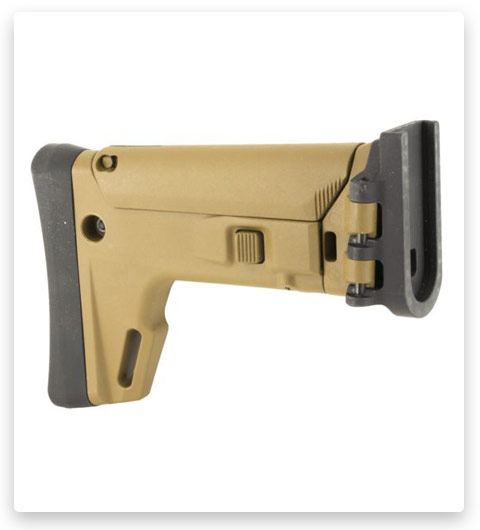 Designed to elevate your shooting experience, this stock kit offers a range of features that caught our attention. What stands out is its user-friendly design – the kit arrives fully assembled, and its drop-in installation ensures a hassle-free setup. Customization is at the heart of this stock system. With 7 telescoping adjustable positions and an adjustable cheek riser, the Kinetic Development Group Kinetic Scar Adaptable Rifle Stock Kit allows for personalized comfort and stability while shooting. This thoughtful approach ensures that your shooting experience is optimized to match your unique needs. We found the side-folding feature to be particularly practical. It allows for convenient storage and transportation, making it a valuable asset for shooters on the go. Whether you prioritize comfort, stability, or versatility, this stock kit delivers on multiple fronts.
9# ProMag Mossberg International 702 Plinkster Tactical Folding Rifle Stock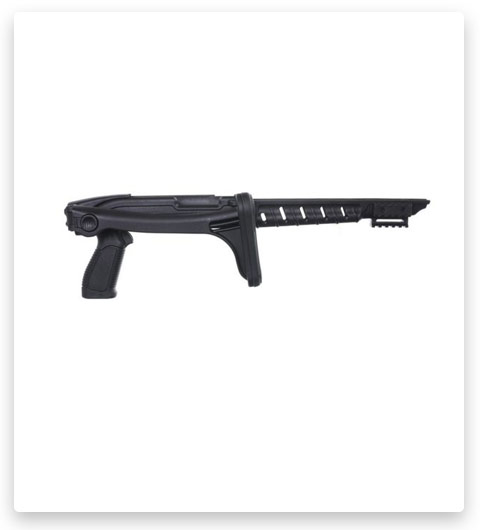 We were truly intrigued by the benefits this stock brings to enhancing your shooting experience. This tactical folding stock is designed to provide improved performance without compromising the practicality of storing and transporting your firearms. It is constructed using injection-molded polymer, resulting in a rugged build that doesn't add unnecessary weight. This lightweight design ensures that your firearm remains maneuverable and easy to handle. One of the advantages that caught our attention is the rubber recoil pad at the stock's back end. It's designed to help reduce felt recoil, contributing to a more comfortable and controlled shooting experience. We also appreciate the positive locking side-folding mechanism, which adds to the overall convenience of the stock. Its ability to fold to the side without compromising stability is a valuable asset, especially for those on the move. ProMag Mossberg International 702 Plinkster Tactical Folding Rifle Stock design elements, lightweight build, and innovative features make it a noteworthy choice for those looking to elevate their performance without compromising on convenience.
10# Magpul AKM AK47/74 Furniture Kit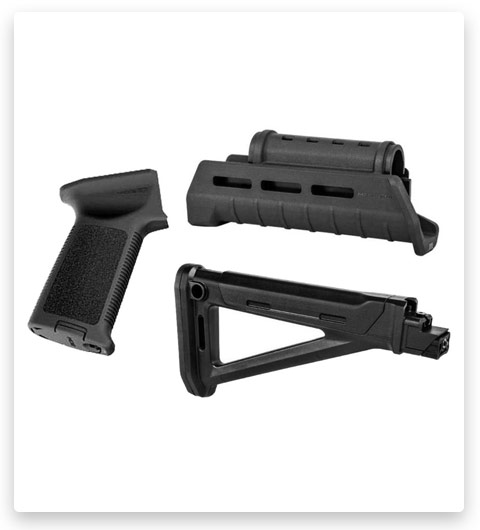 Introducing the Magpul AKM AK47/74 Furniture Kit – a fantastic package that offers not one, but three exceptional products, all bundled together at an incredibly affordable price. Boasting an extended gripping area, integrated heat shield, M-Lok mounting capability, and a replacement gas tube cover, this handguard is a game-changer for AK pattern rifles. Engineered with ergonomics in mind, the grip boasts an aggressive texture for improved weapon control, constructed as a single-piece reinforced polymer. Additionally, it's Magpul grip core-compatible, allowing you to customize storage options to suit your needs. In summary, this kit is an extraordinary ensemble that delivers enhanced performance, comfort, and practicality to your firearm. Elevate your shooting capabilities and experience by embracing it – a well-rounded investment that's bound to leave a lasting impression on your shooting endeavors.
11# DoubleStar ARFX Rifle Stock Assembly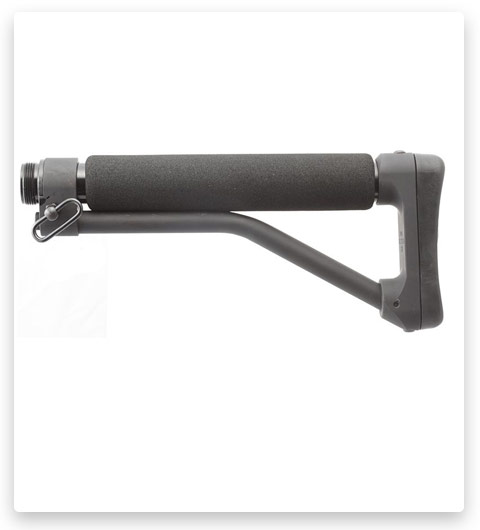 Elevate your shooting precision and experience enhanced comfort with this stock assembly featuring black foam and a 0.5-inch RP extension. This exceptional rifle stock, crafted by the skilled experts at DoubleStar, is forged from robust anodized 7075-T6 aluminum. Its enduring construction ensures resilience against the challenges of harsh environments, making it a reliable companion for various shooting scenarios. With 7 integrated QD sling points, the need for threaded sling adapters becomes obsolete. Install the DoubleStar ARFX Rifle Stock Assembly to elevate your shooting proficiency, whether you're at the range, in the wilderness, or in any other environment where enhanced stability and shooting comfort are paramount. This stock is more than a mere accessory – it's a valuable enhancement that optimizes your shooting experience!
12# Leapers UTG AR308 A2 Style Fixed Buttstock Complete Assembly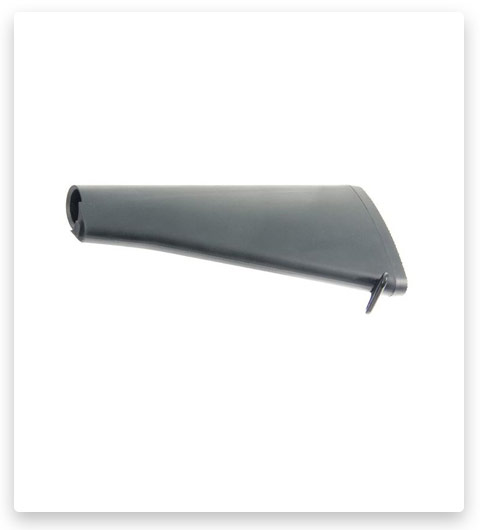 The Leapers UTG AR308 A2 Style Fixed Buttstock Complete Assembly offers a comprehensive solution for your rifle enhancement needs. This complete assembly includes essential components like an A2 extension tube, recoil spring, .308 style buffer assembly, stock spacer, and a screw, providing a hassle-free setup process. Crafted from an impact-resistant advanced polymer, it ensures durability without adding unnecessary weight. It's designed to seamlessly fit Armalite AR-10, DPMS LR-308, S&W M&P-10, and other compatible models. Notably, the stock features a built-in storage pocket to accommodate cleaning kits, small parts, and various accessories, making it a practical addition to your firearm setup. Experience enhanced functionality and convenience with this buttstock assembly!
13# FAB Defense UAS SKS Complete Chassis System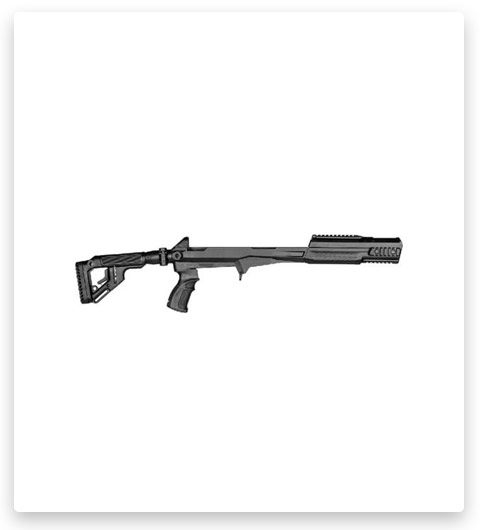 This precision-engineered chassis system is designed to seamlessly replace the factory body of your SKS, delivering a balanced blend of reduced weight without compromising on durability or functionality. The FAB Defense UAS SKS Complete Chassis System with UAS buttstock also introduces versatile Picatinny rail sections thoughtfully positioned along the sides and lower section of your firearm. This strategic rail integration opens up a world of possibilities, enabling you to effortlessly attach an array of accessories to enhance the usability and adaptability of your firearm. Crafted from robust fiberglass-reinforced polymer, it boasts unwavering resilience, ensuring it's ready to tackle any challenges you may encounter. Elevate your SKS rifle with this cutting-edge chassis system, a testament to both innovation and reliability.
14# Magpul Industries PRS Gen3 Precision-Adjustable Stock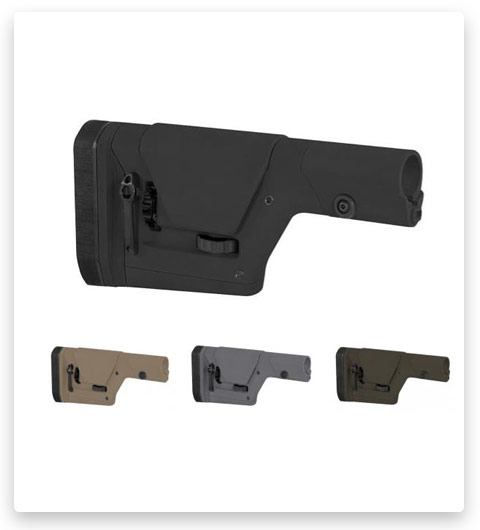 The Magpul Industries PRS GEN3 Precision-Adjustable Stock is a versatile and reliable choice for both AR15/M16 and AR10/SR25 platforms, offering a stable and adaptable interface for your rifle. Crafted by Magpul Industries, these stocks provide an easily adjustable length of pull and cheekpiece height, catering to a diverse range of body types and shooting preferences. Moreover, it accommodates mil-spec-sized M4 Carbine and many A5-length tubes with standard castle nuts and end plates. Its butt-plate boasts enhanced strength, ensuring resilience against intense impact and recoil, even up to .50 BMG calibers. The rubber butt-pad not only prevents slippage but also allows for both cant and height adjustment, providing a secure and comfortable shoulder purchase. Furthermore, the steel adjustment shafts are treated with Melonite for superior wear and corrosion resistance. Incorporate it into your rifle setup for heightened accuracy and improved shooting experiences, whether you're engaging in precision shooting or varmint hunting.
15# Magpul Industries MOE Rifle Stock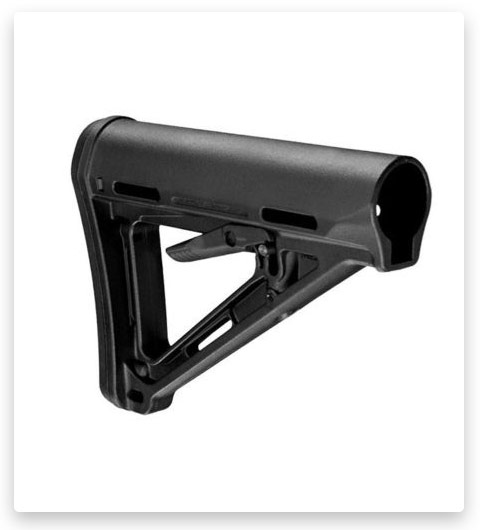 Looking to optimize your rifle's performance? Check out the Magpul Industries MOE Rifle Stock. It offers a hassle-free installation process, seamlessly fitting onto mil-spec-sized carbine receivers from various manufacturers, including Colt, LMT, Ruger, S&W, and SIG, among others. With an adjustable length of pull that can extend up to 3.3 inches, you can find the perfect fit for your shooting style and body type. Experience the benefits of a sloping cheek weld that not only offers a streamlined profile but also enhances user comfort. The removable rubber butt pad provides both an anti-slip surface and increased impact protection, ensuring a more secure and comfortable shooting experience. These rifle stocks are designed to accommodate various applications beyond AR15/M4 setups. Side mounting slots welcome optional cheek risers for non-AR15/M4 platforms, adding versatility to your customization options. Upgrade your shooting experience with these stocks, a reliable and adaptable choice that puts comfort and functionality at the forefront.
How to choose it?🔍
Choosing the right rifle stock involves considering various factors to ensure that the stock meets your shooting needs, preferences, and the intended use of the rifle. Here's a step-by-step guide to help you choose the best one for your needs:
➡️ Define Your Purpose: Determine how you plan to use the rifle. Are you hunting, target shooting, competing, or using it for tactical purposes? Different activities may require specific features in stock.
➡️ Research and Education: Learn about the different types of stocks, materials, and features available. Read reviews, watch videos, and seek advice from experienced shooters to gain a better understanding of what's available on the market.
➡️ Compatibility: Ensure that you're considering is compatible with your rifle's action, barrel contour, and other components. Some stocks are designed for specific rifle models or actions.
➡️ Budget: Set a budget for your stock. Prices can vary significantly, so having a budget in mind will help narrow down your options.
➡️ Ergonomics and Comfort: Consider your body size and shooting style. Look for stocks with adjustable lengths of pull, cheek risers, and other features that allow you to customize the stock's fit to your preferences.
➡️ Material: Decide on the material you prefer for the stock. Options include wood, synthetic/polymer, fiberglass, and carbon fiber. Each material has its benefits and drawbacks, such as weight, durability, and aesthetics.
➡️ Features: Determine which features are important to you based on your shooting goals. Do you need an adjustable cheek riser, integrated accessory rails, or other customization options?
➡️ Try Before You Buy: If possible, handle rifles with different stocks to see how they feel. Visit local gun shops, shooting ranges, or gun shows to get a hands-on experience.
➡️ Warranty and Customer Support: Check the warranty and customer support offered by the manufacturer. A solid warranty can provide peace of mind in case of any issues.
➡️ Personal Preference: Ultimately, trust your preferences and instincts. Choose a stock that feels comfortable, suits your shooting style, and aligns with your overall vision for the rifle.
👍 Remember that the best stock for one person might not be the best for another, as individual preferences and shooting styles vary.
FAQ🤓
Conclusion😊
In conclusion, the selection of the best rifle stock is a crucial component in enhancing shooting accuracy and personal comfort. Stocks come in a variety of materials, each with its unique strengths and suitability for different shooting scenarios. We hope this information was useful for you and it help you to find the best stock for your needs. Thus, investing time and effort into choosing the right stock can significantly optimize a rifle's performance, providing a more satisfying and successful shooting experience.🥰❤️‍🔥
Affiliate Disclosure: Rotorm.com sometimes gets paid for listings, through sponsors or affiliate programs like Amazon, Optics Planet, Lucky Gunner, Brownells, Cabelas, Rainier Arms, 5.11 Tactical, Bass Pro Shop, etс. Clicking a link helps keep Rotorm.com free, at no extra cost to you!
About the author: Each article on our site is written by experts in survival and tactical equipment, gun enthusiasts, extreme travelers, military, law enforcement and desperate professionals, read about the author at the bottom of the article or visit "About Us" page.
Note: The views and opinions expressed in this article are those of the authors and do not necessarily reflect the official policy or position of any agency.