So, why do we actually need a flashlight in everyday life? For example, in case of a sudden power outage, or if your car breaks down. Another reason is when a light goes out. It would be hard to fix it without a flashlight. Also, a flashlight is really helpful in finding different stuff and in case someone needs your help late evening. You can even use it as a completely legal self-defense weapon to stop an attacker!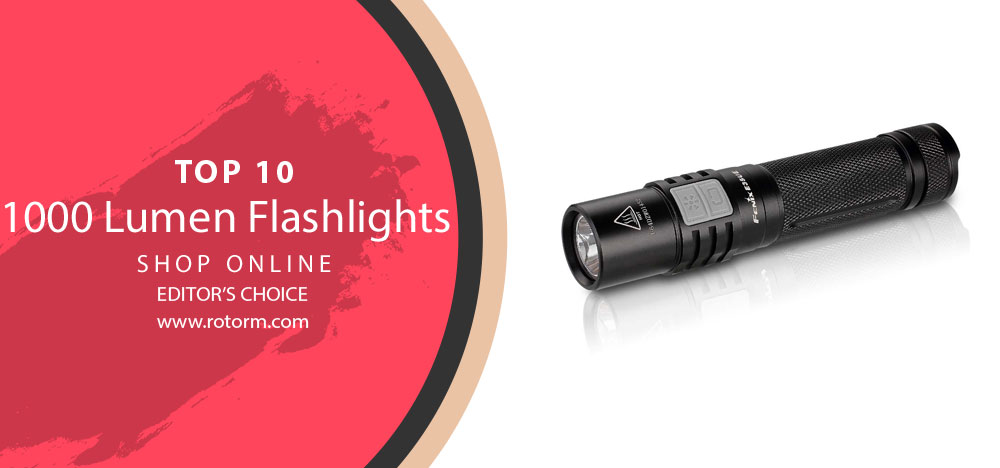 What are the main features of a good flashlight?
LED bulb, increasing brightness and beam distance improvement;
Water-resistance, useful in outdoor activities;
Lightweight and pocket-size to carry it everywhere.
The final choice depends on the purpose of the flashlight. A decent one can be bought for quite reasonable money. If you need a universal model with a large selection of lighting modes, you will have to pay for it a bit more. Anyway, a high-quality flashlight will last for a long time, survive different weather conditions, and is waterproof and sturdy. It will be able to replace a whole box of incandescent lights. Here are the top ten best flashlights we've found on Amazon:
1000 Lumen Flashlight Review | 1000 Lumen Flashlight Rechargeable
| Image | Product | Brand | |
| --- | --- | --- | --- |
| | Fenix Flashlights FX-PD35 TAC 1000 Lumen Flashlight | Fenix | |
| | Fenix PD35 1000 Lumen Flashlight V2.0 | Fenix | |
| | Streamlight ProTac HL X 1000 Lumen Flashlight | Streamlight | |
| | Bushnell PRO Rechargable 1000 Lumen Flashlight | Bushnell | |
| | WUBEN 1000 Lumens Flashlight | WUBEN | |
| | GearLight High-Powered LED Flashlight | GearLight | |
| | Super Bright Tactical Led 1000 Lumen Flashlight | Super Bright | |
| | Cree XP-L LED Rechargeable 1000 Lumen Flashlight | Cree | |
| | BINWO XML T6 LED 1000 Lumen Flashlights | BINWO | |
| | PeakPlus Rechargeable Tactical Flashlight LFX1000 | PeakPlus | |
| | GearLight LED Tactical Flashlight S1000 | GearLight | |
| | Hoxida 1000 Lumen Flashlight (Rechargeable) | Hoxida | |
#1 Fenix Flashlights FX-PD35 TAC 1000 Lumen Flashlight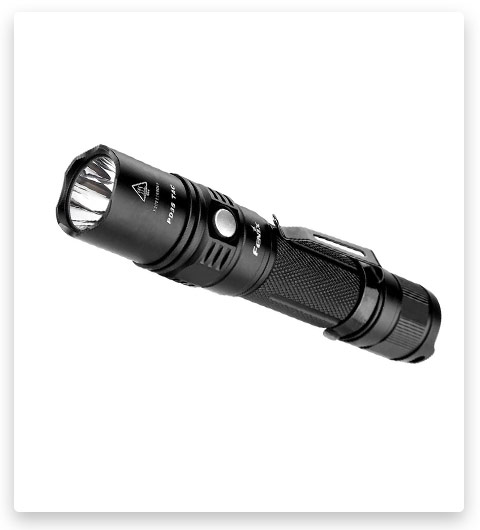 View on Optics Planet View on Amazon
This flashlight is a pocket-size tactical tool, featuring a 1000 lumen max output and a beam distance up to 656 feet. The Fenix PD35TAC is water resistant (waterproof IPX-8 level!). It can be submerged under 2 meters of water for 30 minutes. This device is really bright because of the toughened ultra-clear glass lens with anti-reflective coating and has 6 output modes. Fenix PD35TAC is easily operated with simple side switches. Runs on a single 18650 battery or two CR123A batteries.
#2 Fenix PD35 1000 Lumen Flashlight V2.0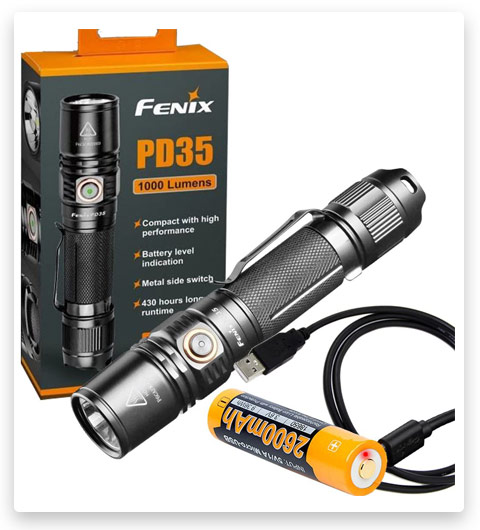 View on Optics Planet View on Amazon
Fenix PD35 V.2.0 has several upgraded features: 273 yards throw, Runtimes up to 430 hours, Improved side switch design constructed from durable stainless steel, Fitted with CREE XP-L HI V3 LED bulb it has 5 brightness modes + strobe. This flashlight has an IP68 waterproof rating. You can use one 18650 rechargeable battery and charge your tool using a built-in Micro-USB port. Fenix PD35 V2.0 can be easily operated through 5 brightnesses via the tactical tale cape. Removable pocket clip and lanyard add more carrying options.
#3 Streamlight ProTac HL X 1000 Lumen Flashlight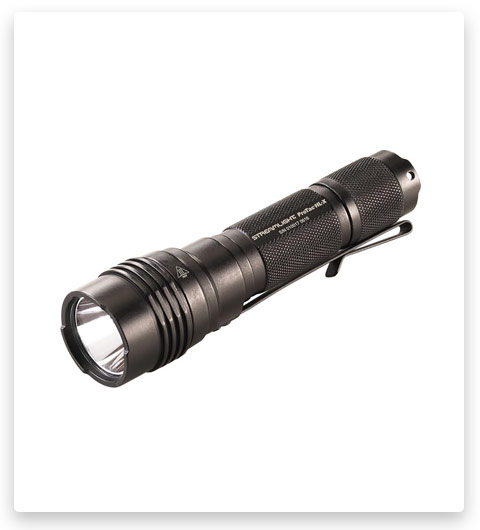 View on Optics Planet View on Amazon
#4 Bushnell PRO Rechargable 1000 Lumen Flashlight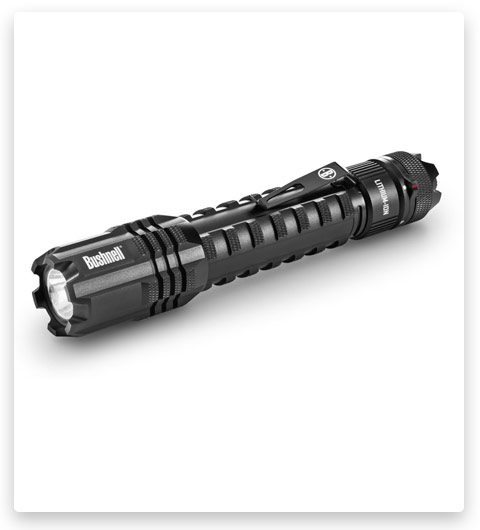 #5 WUBEN 1000 Lumens Flashlight USB Rechargeable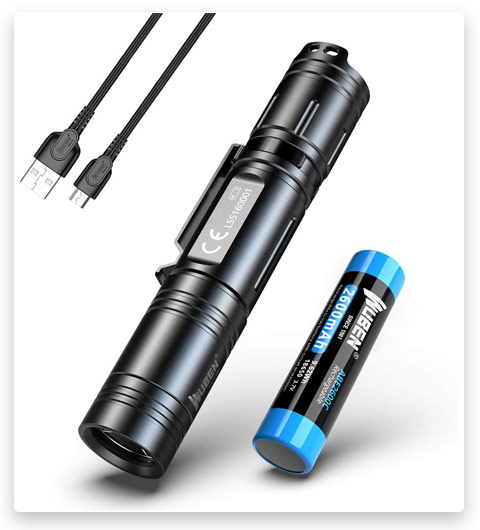 Wuben rechargeable flashlight is a compact tool, made of anodized aluminum. Weighs 4,87 ounces with battery. It is IP68 waterproof and can work 2 meters underwater for 1 hour. L50 flashlight has 5 lighting modes, delivering 1200 lumens on High mode and 5 lumens on Eco mode. It comes with a 18650 battery and can be recharged directly with micro-USB cable. Also, it is compatible with 2 CR213A batteries. After fully charged it can last for 1,5 hours on High mode, and about 143 hours on Eco mode.
#6 GearLight High-Powered LED Flashlight S2000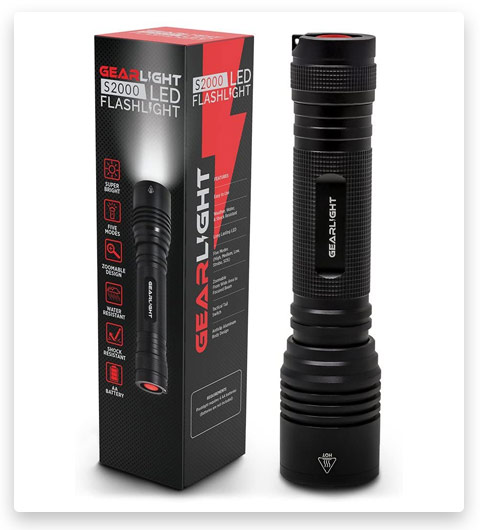 GearLight S2000 is the biggest and brightest GearLight on the market. It is a medium-size tool with an anodized aluminum body, delivering up to 1200 lumens. This flashlight has 5 modes, and an ultra wide beam, focuses on objects up to 1000 feet away or zooms out to sweep a large area. S2000 can survive a 10-foot drop or be temporarily submerged underwater. It is slightly bigger than previous items, but still can easily fit in your backpack and weighs only 11,2 ounces. This flashlight takes 4 standard AA batteries.
#7 Super Bright Tactical Led 1000 Lumen Flashlight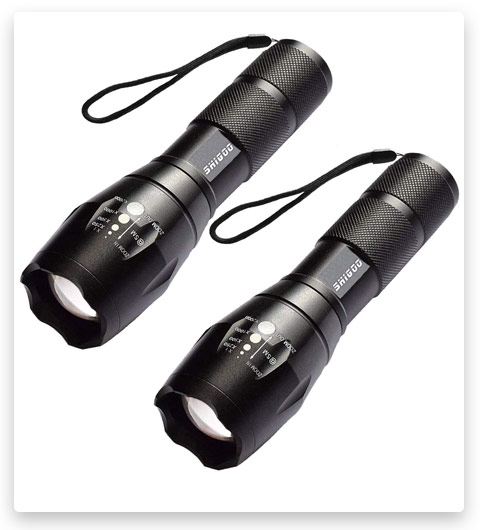 Shigoo tactical flashlight is 1000 lumen powerful with a lifespan up to 100,000 hours or more and has a zoom lens. One mode is more convenient to use without annoying flash or SOS. It is made of air-craft grade light aluminum and weighs 5,3 ounces. Power supply: 18650 battery or 3 AAA batteries. Simple one mode tool, but a great deal for a 2 pack.
#8 Cree XP-L LED Rechargeable 1000 Lumen Flashlight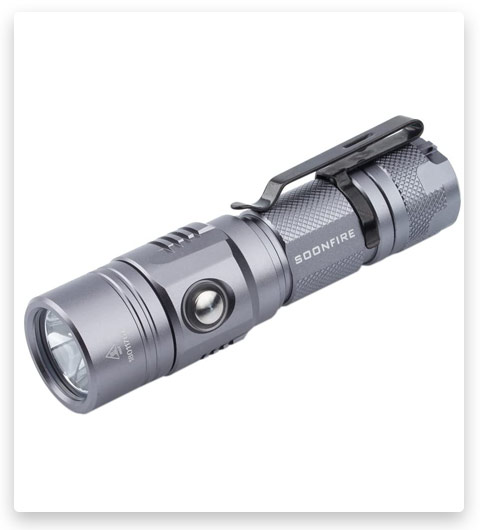 Soonfire Cree XP-L LED flashlight goes in three colors- black, gold and gray. This compact tool weighs only 3,35 ounces and includes a customized 18650 battery (but you can also use 2 CR123A batteries), USB cable and lanyard. It's 1000 lumens powerful with a lifespan of 100,000 hours and has 5 brightness levels. Power status indicator tells you battery power level and reminds you to change the battery. Can be powered by any USB charger. The flashlight is IPX-8 level waterproof.
#9 BINWO XML T6 LED 1000 Lumen Flashlights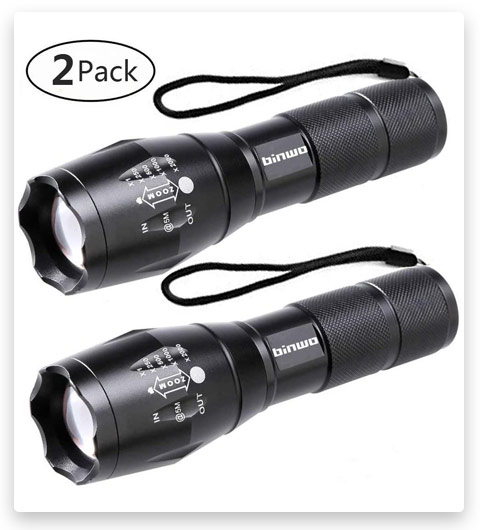 Binwo S2000 flashlight is a compact 5-mode tool, easily switched by taps of a button. You can realize the zoom function by pulling or pushing the telescopic front part of the flashlight. It is waterproof (level IPX-5). Light source is CREE XM-L T6 LED chip. The lens of a flashlight is made of PMMA (polymethyl methacrylate), which has a very good transparency. The flashlight weighs 12 ounces and is made of aluminum alloy. Works with 3AAA batteries or a rechargeable 18650 battery.
#10 PeakPlus Rechargeable Tactical Flashlight LFX1000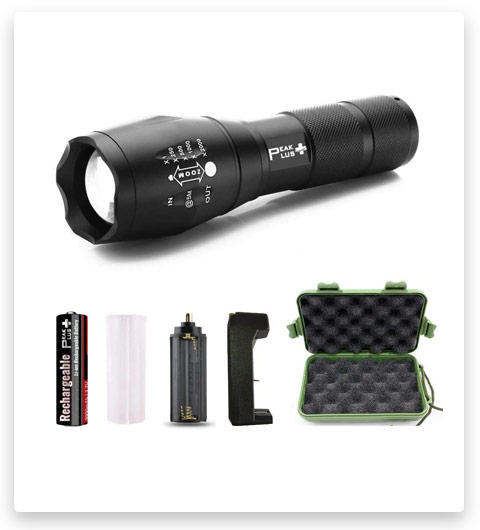 This is a full flashlight kit with a case. A rechargeable battery and battery charger are included. PeakPlus flashlight has 5 lighting modes and zoom function, throws an intense beam up to 600 feet ahead. Weighs 11,7 ounces, is waterproof and skid-proof.
#11 GearLight LED Tactical Flashlight S1000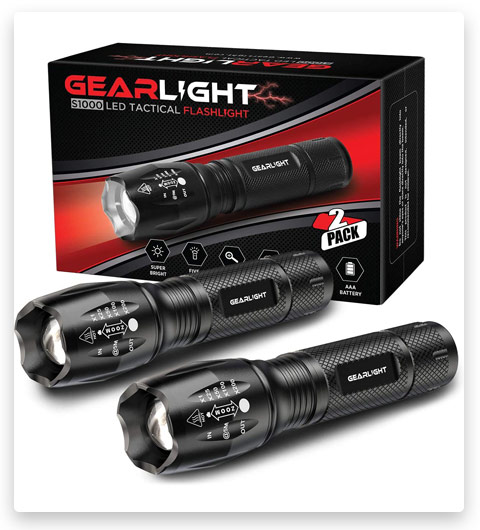 Ultra-bright, multi-functional, compact flashlight is powered for hours with 3 AAA batteries or a single rechargeable battery. Tough aluminum body and pocket-size make it suitable for extreme conditions both indoors and outdoors. You can freeze it or run it over with a truck and it will still work! It has 5 modes: High Lumens, Medium, Low, Flash/Disruptor, SOS/ Emergency. Lightweight — only 5,12 ounces and a lanyard make it helpful in one-handed operation. Bonus 2-pack (2 flashlights and 2 bonus cases).
#12 Hoxida 1000 Lumen Flashlight (Rechargeable)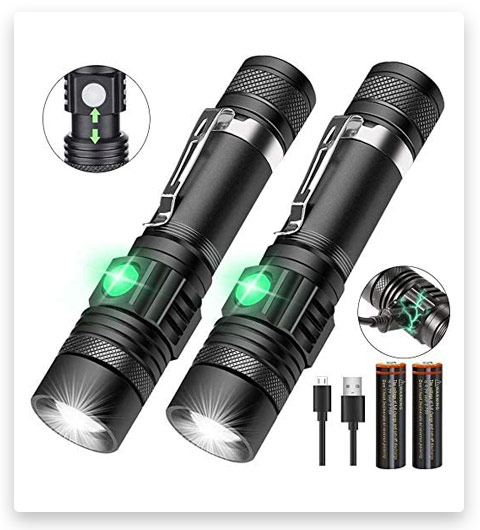 This small LED flashlight provides 1200 lumens up to 600 feet beam distance. It has 4 lighting modes and can be up to 30 hours of constant lighting in one charge. Hoxida flashlight is USB rechargeable and 18650 battery is included. It is IPX65 waterproof, but can't be soaked in water. 2 pack includes 2 flashlights, 2 18650 batteries, and 2 USB cables.
Conclusion
As you see, all of these flashlights are extremely interesting. But we advise you to choose for yourself several items for different situations. A good flashlight is often more important than weapons and special equipment. At least because there are no instructions, protocols or other restrictions for its use. It is equally useful in the forest and the urban jungle.
Best Pick:
Cheap Pick:
Tags: #1000 Lumen #Flashlight #Best #Duracell #Fenix #Rechargeable #Tactical #Bushnell #Electric #Review #Smallest #Streamlight #Hiking #Survival #Lighting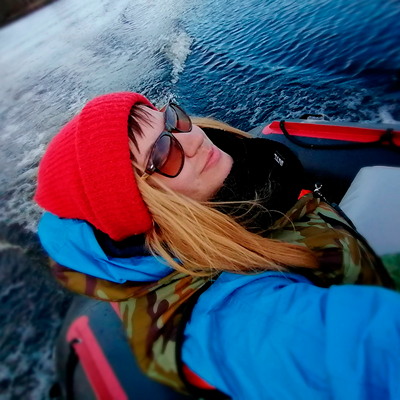 Olena Dubose
Traveler & Camping Expert
I was born in a family of experienced travelers and used to spend all my school breaks and long weekends camping and hiking around the most admirable places in Canada and sometimes United States. My dad used to be a soldier and always taught me how to survive during unpredictable circumstances. Like every other kid, I wasn't really interested in my parents' extreme lifestyle when I was little, but I can't imagine my life now without regular outdoor trips and extreme sports.
Thanks to my intense childhood and a few decades of experience I can now choose the best equipment for any adventure waiting for me to dive in. And after all, I have been through, I want to share my knowledge so more people could join an enjoyable and breathtaking trip to discovering magical nature around us. Forget about five-star hotels and treat yourself with thousands more in a cozy camping trip!
Read more
about our team
of expert authors.
Affiliate Disclosure: Rotorm.com sometimes gets paid for listings, through sponsors or affiliate programs like Amazon, Optics Planet, Lucky Gunner, Brownells, Cabelas, Rainier Arms, 5.11 Tactical, Bass Pro Shop, etс. Clicking a link helps keep Rotorm.com free, at no extra cost to you!
About the author: Each article on our site is written by experts in survival and tactical equipment, gun enthusiasts, extreme travelers, military, law enforcement and desperate professionals, read about the author at the bottom of the article or visit "About Us" page.
Note: The views and opinions expressed in this article are those of the authors and do not necessarily reflect the official policy or position of any agency.