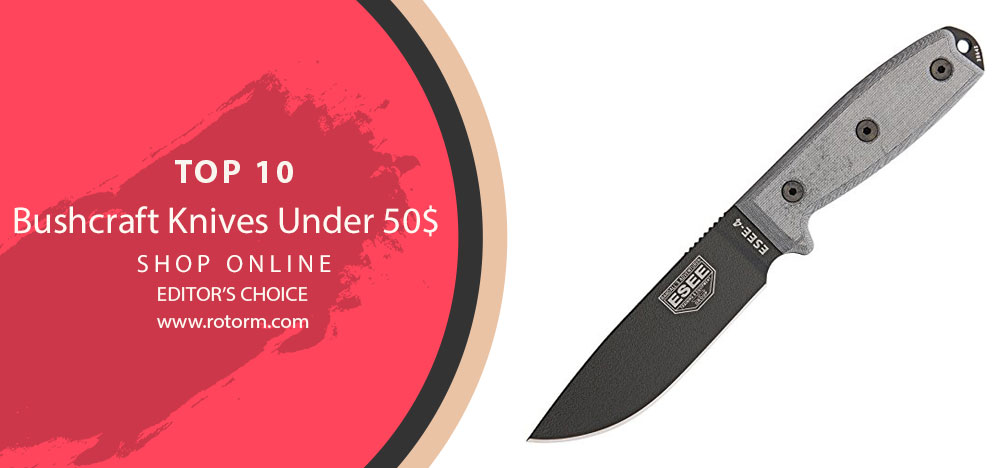 What is a bushcraft knife? 🤔
It is one of the essential tools for any outdoorsman, hunter, or survivalist. This tool can be used in multiple tasks like cutting wood, carving and skinning games, building shelters, and preparing food.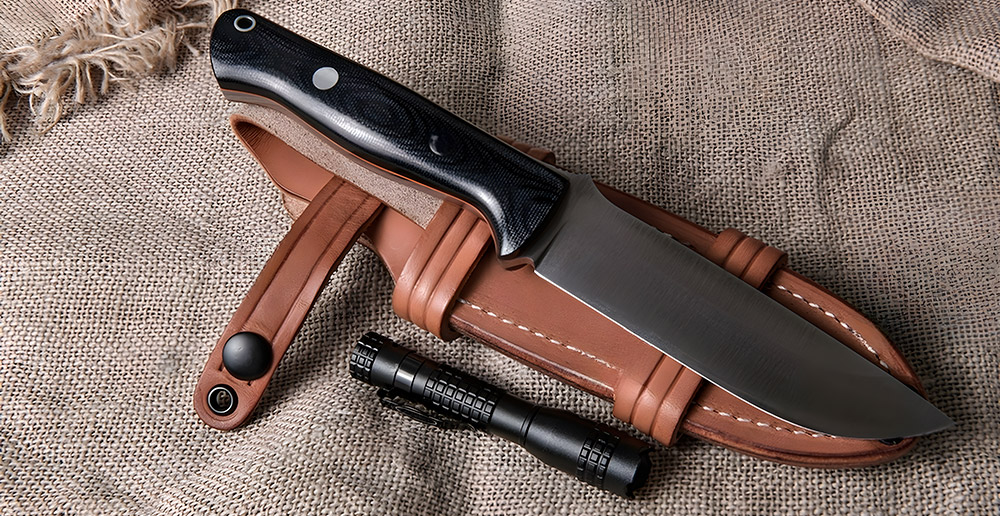 Features ⌛️
Bushcraft knives are essential tools for any outdoorsman or survivalist. A good knife should be strong durable, and designed specifically for activities such as chopping wood, cutting rope, making feather sticks, and more. Here are some features:
🔶 Blade length: A blade between 3 to 5 inches is ideal for bushcraft. Blades that are too long can be awkward and difficult to use, while those that are too short will not offer enough cutting power.
🔶 Handle material: The handle should be made of a durable material such as wood, rubber, or bone. It should also have an ergonomic shape so it fits comfortably in your hand.
🔶 Steel type: High carbon steel is considered the best option for a bushcraft knife because it retains its edge better than other materials and is also easy to sharpen.
🔶 Tang type: Full tang blades (where the metal extends through the entire length of the handle) are more durable than partial tang blades and can better withstand hard use.
🔶 Additional features: Such as beveled edges, serrations, or a sharpening stone built into the handle – can make your knife even more versatile and efficient in the field.
Our Top Pick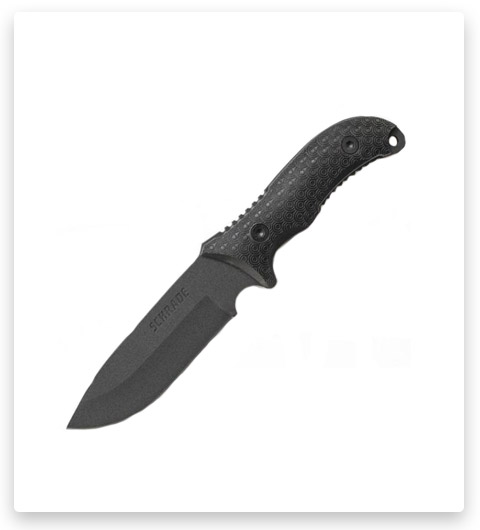 Schrade SCHF36 Frontier Fixed Blade Knife
Crafted with a powder-coated 1095 high carbon steel drop point blade featuring a finger choil, this knife is capable of tackling tough cutting tasks with ease. The handle is made from ring-textured TPE material, providing a secure and comfortable grip even in wet conditions. Its blade length of 5.05 inches provides a good balance between cutting power and maneuverability. Whether you're chopping wood, preparing food, or processing a game, this knife is up to the challenge.
Buy Now On OpticsPlanet
If you click this link and make a purchase, we earn a commission at no additional cost to you.
Benefits 🤩
A bushcraft knife serves many purposes in the great outdoors. It can be used for whittling, carving, splitting small pieces of wood, and other camp tasks. In addition to that, a knife will remain durable and dependable even after years of use.
✳️ Quality – A good-quality knife must have a solid construction with a sturdy fixed blade made from either stainless steel or carbon steel. The blade should also be sharp and corrosion-resistant.
✳️ Comfort – A knife should have a comfortable handle with an ergonomic design that fits comfortably in your hand.
✳️ Price – Such knives can from 30$ to 100$, depending on the quality and features.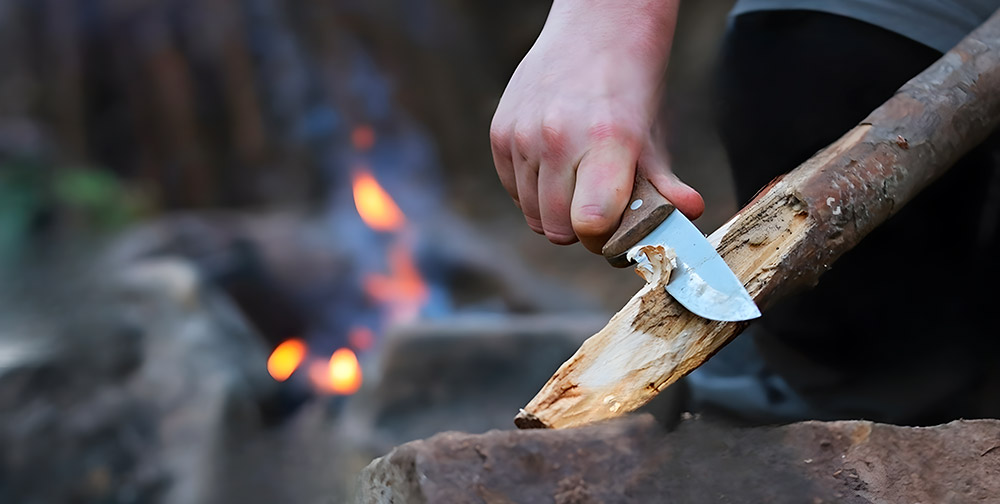 How choose it? 🔍
When you are searching for the best bushcraft knife there is a few things to consider.
➡️ First, think about the purpose of your knife, then think about size and shape. The size should be comfortable enough to fit in your hand without feeling too big or bulky. It also needs to have a strong blade that can handle tough tasks like cutting wood and preparing food.
➡️ The shape of the blade is important as well. A flat-grounded blade offers more versatility when dealing with finer tasks such as carving and whittling. While a hollow ground edge provides more efficiency when slicing through fibrous materials like rope or leather.
➡️ Additionally, consider the type of steel used to make the blade as this can affect its sharpness and durability.
➡️ Another important aspect is looking at the handle material. A good handle should fit comfortably in your hand, provide a secure grip and be resistant to heat or moisture. Options like micarta, canvas micarta, and G-10 are all excellent materials for knife handles.
➡️ Finally, look at the price when selecting your knife.
Bushcraft Knives Under 50$ | Survival Knife Under 50$ Review
| Image | Product | Brand | |
| --- | --- | --- | --- |
| | Morakniv Bushcraft Knife | Morakniv | |
| | Handcrafted Damascus Bushcraft Knife | Handcrafted Damascus | |
| | BPS Knives Bushcraft Knife Survival Kit for Camping | BPS Knives | |
| | Schrade Bushcraft Knife (Fixed Blade) | Schrade | |
| | Perkin Damascus Bushcraft Knife | Perkin | |
| | Hobby Hut Bushcraft Damascus Steel Knife | Hobby Hut | |
| | Elk Ridge Fixed Blade Knife | Elk Ridge | |
| | Handmade Hunting Knife - Beautiful Bushcraft Knife | | |
| | Bushmaster Bushcraft Primitive Field Knife | Bushmaster | |
| | Basic Camping Knife (Bushcraft) | Basic | |
1# Morakniv Bushcraft Knife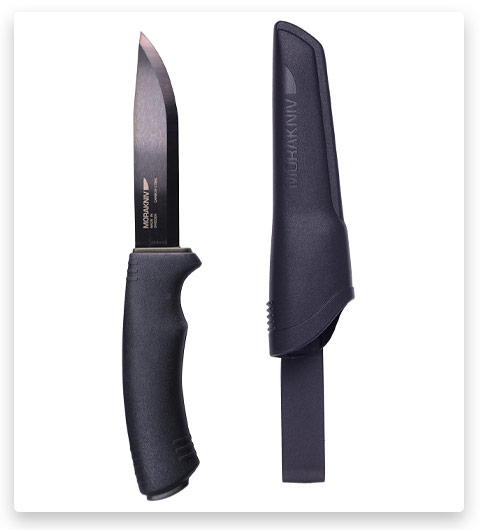 View on OpticsPlanet View on Amazon
The high quality of this knife is confirmed by an anti-corrosive black coating. This fixed-blade knife has a razor-sharp 1/8-inch-thick carbon steel blade. The steel blade is covered with an anti-corrosive cover. The length of the blade is 109mm. The blade thickness is 0.125 inch (3.2 mm). The total length of the knife is 9.1 inches (232 mm). The steal weight is 162g. The fire starter is not included in the general kit. The knife has an ergonomic handle. A convenient handle helps not only to easily hold the knife in your hand but also to attach it to a stick or other object to extend the length. Not so good packaging without a latch. The knife may fall out. A black plastic sheath helps to keep a knife safe. 1 year of manufactures warranty helps to return the knife if something is wrong.
2# Handcrafted Damascus Bushcraft Knife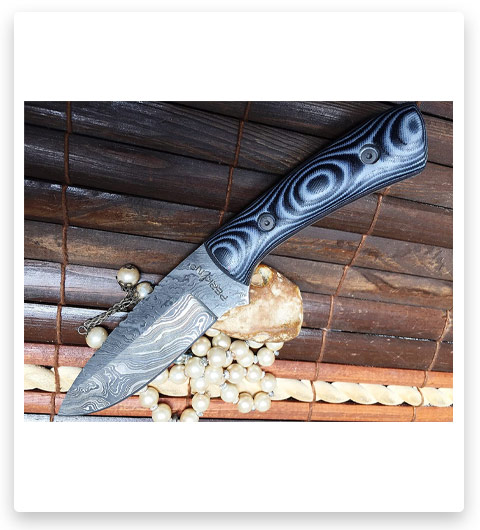 It is simple to call this knife a work of art. Most people for the first time notice the shape and design of the knife. It is very sharp and should be quite functional. If the handle would be a little longer – maybe another half-inch, it will suit me best. The blade fits snugly in a very good and has a black leather sheaf. The pictures shown in the description are very accurate. The price is also attractive. This knife can be used for many years, as a survival knife and as a knife for home affairs.
3# BPS Knives Bushcraft Knife Survival Kit for Camping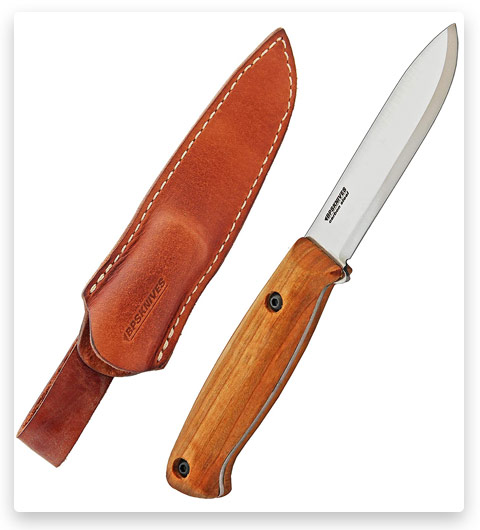 This knife is ideal for bushcraft tasks. The small size helps to take it anywhere: to the forest for camping, rest, and hiking. The blade is fixed and strong which is good for multiple tasks. The belt loop is used for vertical carrying. The handle of the knife is made of walnut wood. The blade is made of high-carbon steel. This knife is good to use for handicrafts, cutting leaves, and small bushes, and clearing the road from thickets. I would use a knife to get to the cottage and for self-defense. This knife is perfectly used in drilling, cutting, piercing, batoning, and other bushcraft tasks. Due to the vertical loop, this knife is best for everyday carrying. Returning to my childhood memories, such knives were used by relatives to work in the garden and on the field, and during harvesting.
4# Schrade SCHF36 Frontier Fixed Blade Knife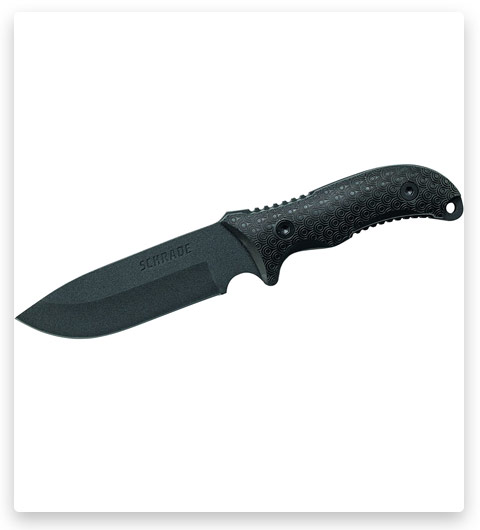 View on OpticsPlanet View on Amazon
The black design and handle impress the most demanding user. The dimensions of the knife are the next: 10.4-inch overall length with a blade length of 5 inches. The weight is also attractive, only 12.3 ounces. The material is reliable, called Powder Coated High Carbon Steel. The handle is textured thermoplastic and elastomer. Quick and easy access is provided with the convenient polyester belt sheath. This knife is enough secured because it has blade control. The one doesn't need to worry about the blade, which can slip with the finger choil or jump.
5# Perkin Damascus Bushcraft Knife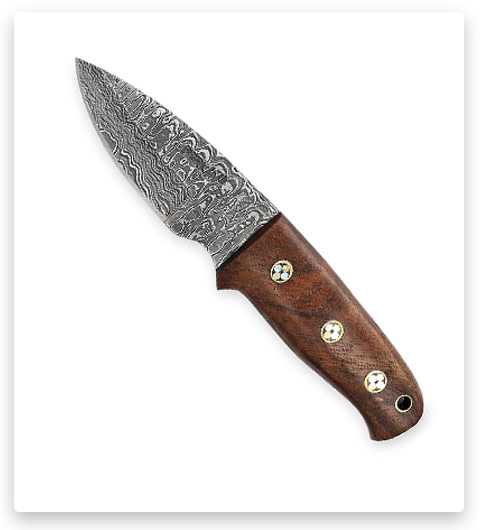 The knife has a beautiful design of steel. It reminds sea waves. Since the blade is located along the entire length of the knife, you can remove the bolts and remove the blade. It's convenient to use the knife for something else. The knife has a length of 8 inches. This knife is simple to carry anywhere using a leather sheath. The knife comes with a leather sheath and knife sharpener. The overall length is 8 inches. Damascus blade length is about 4.0 inches. Also, it is equipped with a burl wood handle of 4.0 inches. This knife is very compact for use in everyday life and camping. There are reviews that this knife is made of multilayer steel for some types of work. This is a special advantage.
6# Hobby Hut Bushcraft Damascus Steel Knife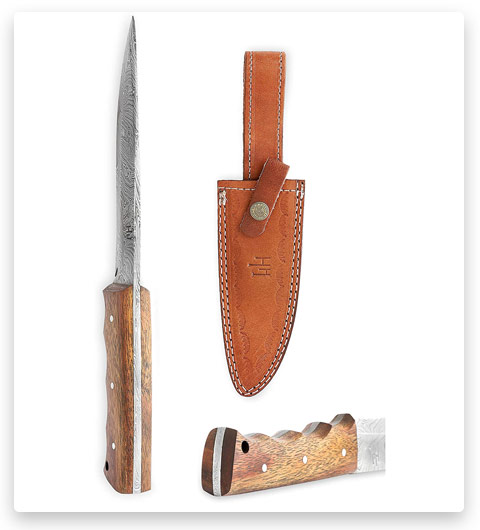 The aim of this knife is hunting. Some people call it a piece of art. It can be called the best because of ensuring excellent strength, durability, and a strong grip. The blade of the knife is 100% hand-forged and rust-resistant. It is good for piercing, detail work, and cutting in tight places. You feel the balance thanks to the comfortable grip. The handle is made of walnut wood. The knife is equipped with a complementary high-grade leather sheath. The manufacturer guarantees full support and a refund if the knife is defective. I would use a knife like the tip of a spear on a hunt. In some ways, this item reminds me of hunting knives in ancient times. A huge plus is that this knife has a sheath, but it is not comfortable to wear around the neck. The fastener is reliable enough that you will not hurt. In some sense, all such knives are more of a toy than real hunting help.
7# Elk Ridge Fixed Blade Knife
This knife is made by professionals. The knife is beautifully crafted and has a survival kit. It includes a Firestarter and 550 paracords. The cover is a nylon sheath, which is used for easy and safe carry. The knife is made of stainless steel. The size of the knife is 5.3 inches, 4.5mm. The pakkawood handle stores survival kit. The whole length is 10-1/2 inches. The knife does not look reliable. It is suitable for a maximum of country houses and simple tasks. For hiking and chopping wood, it is very weak.
8# Handmade Hunting Knife Beautiful Bushcraft Knife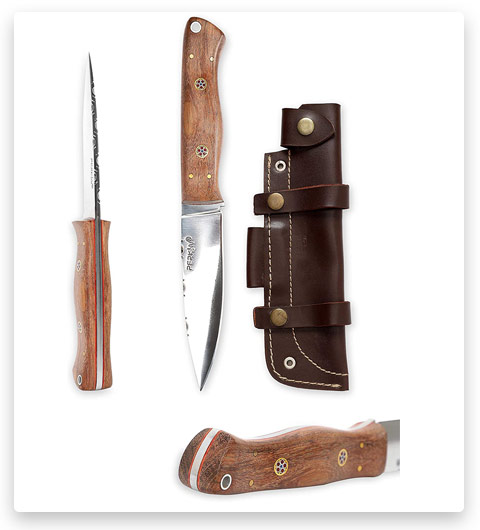 The knife copes poorly with paper and plastic. Despite the good design, it can't be used for cutting wood. The handle is made of walnut wood and decorated with mosaic pins. The razor isn't strong. Unfortunately, the knife does not fit properly into the sheath. There are many small parts in the kit. The only plus in this set is a well-fixed blade that will help not get hurt. The knife can be used for hunting and small trips. The knife has double sharpening.
9# Bushmaster Bushcraft Primitive Field Knife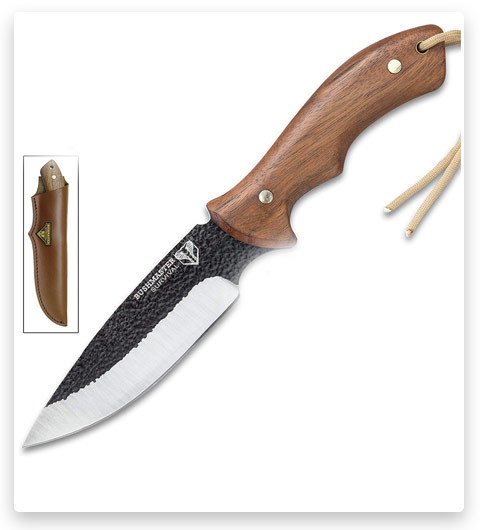 The knife is ideal for working with wood. They can cut small bushes, dig roots, and clear the thickets. The knife has a wooden handle. The blade is made of 1095 carbon steel. The length of the blade is 5.31 inches. The overall length is 10.69 inches. The knife is conveniently sheathed. According to reviews, this knife is not the most convenient for the hand. But if you went to the forest and you urgently need to cut the rope, work with the tree, or cut branches for the fire – this knife will be a godsend. There is a hole at the end of the knife, which allows you to conveniently attach the knife to anything.
10# Basic Bushcraft Camping Knife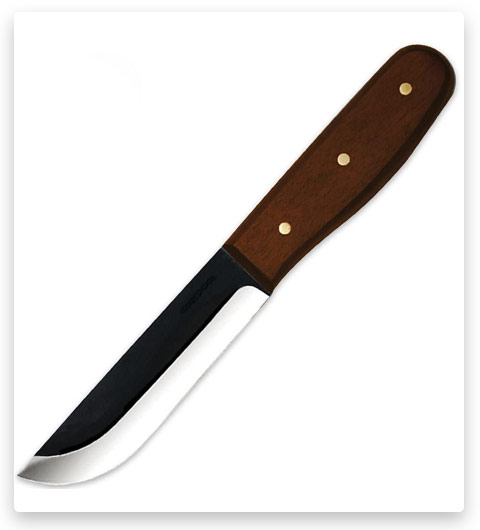 The knife has double sharpening. Its appearance is quite simple. But the knife is quite functional. It is made from 1075 high-carbon steel materials. The handle material is hardwood. These parameters make the knife convenient and compact to carry. It's not heavy to put it in your bag. Users complain about the weighted front of the knife and the small handle. But the quality of the blade itself is quite good. In addition, the set has a sheath, so the knife is convenient to store. The knife is made in El Salvador.
Survival vs Bushcraft Knives 🧐
When shopping for the best bushcraft knife, it's important to distinguish between survival and bushcraft knives. While both are extremely useful in certain situations, they have different designs and applications.
💣 Survival knives tend to be heavier and thicker than their bushcraft counterparts.
🧩 The blade is usually wider, with a curved cutting edge that allows you to chop or saw through materials like wood or rope.
🧩 These knives often come with additional functions such as serrated edges, bottle openers, pry bars, fishing line cutters, and more.
🧩 They are designed for use in dire circumstances when you need something strong that can withstand harsh elements.
💣 Bushcraft knives on the other hand are much lighter and thinner than survival knives.
🧩 The blade is typically straight and made of high-carbon steel, allowing it to hold a sharp edge for a long time.
🧩 Although not as robust as survival knives, such knives are great tools for delicate and intricate tasks like whittling, carving, or shaving wood into a desired shape.
🧩 They also come with features like saw-tooth spines that can be used to scrape bark off logs and start fires.
📌 When searching for the best bushcraft knife, consider what type of activities you plan on using it for. If you're mainly going to use it for heavier tasks in challenging conditions, then survival knives may be your best bet. Otherwise, if you need something lighter weight for finer jobs such as carving or light the bushcraft knives will be the best choice.
FAQ 😎
Conclusion 🙂
In conclusion, finding the best bushcraft knife for your needs and budget can be a daunting task. We hope that this guide has given you some useful information to help narrow down your search. Whether it's a high-end model or one of the affordable options we have reviewed here today, there is sure to be something that fits in with what you are looking for! With all of this in mind, happy shopping! 🛒🤠
Tags: #Best #Bushcraft #Knife #Fixed #Blade #Schrade #Morkaniv #Survival Knife #Mora Knife #Carbon #Camping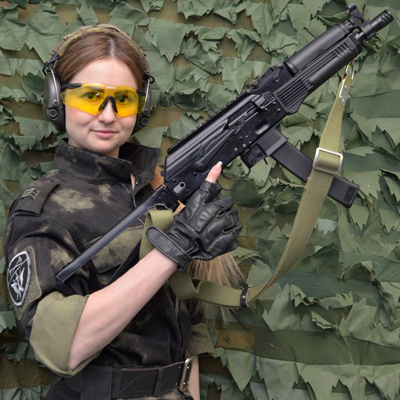 Helen Hernandez
Survival Expert & Gun Lover
Hello, I am Helen. It would seem a successful product manager in an IT company and an expert on weapons - these two roles can never get along in one person. No matter how sometimes there are exceptions. From early childhood, I realized that the love of weapons, such as knives and bows, arrows, crossbows is not just a hobby.
Shooted a hat of the neighbor in the country at the age of 4 with a miniature bow was the first successful step in studying military history. Fortunately, everyone survived. Coming on a date in adulthood, I surprised guys with my knowledge of knives, that's often played a trick on me. No normal man likes a woman smarter than him.
Now it gives me special pleasure to simply study various sets and types of weapons, survival, and
tactical gear
on Amazon, OpticsPlanet, Cabelas, Brownells, and other stores, helping people choose exactly what they need.
At the same time, I show products with natural defects so that the user does not have an ideal picture of what is far from done. After all, no matter how many good reviews were written about the product, the true quality is always important when receiving a parcel.
Read more
about our team
of expert authors.
Affiliate Disclosure: Rotorm.com sometimes gets paid for listings, through sponsors or affiliate programs like Amazon, Optics Planet, Lucky Gunner, Brownells, Cabelas, Rainier Arms, 5.11 Tactical, Bass Pro Shop, etс. Clicking a link helps keep Rotorm.com free, at no extra cost to you!
About the author: Each article on our site is written by experts in survival and tactical equipment, gun enthusiasts, extreme travelers, military, law enforcement and desperate professionals, read about the author at the bottom of the article or visit "About Us" page.
Note: The views and opinions expressed in this article are those of the authors and do not necessarily reflect the official policy or position of any agency.