Affiliate Disclosure: Rotorm.com sometimes gets paid for listings, through sponsors or affiliate programs like Amazon, Optics Planet, Lucky Gunner, Brownells, Cabelas, Rainier Arms, 5.11 Tactical, Bass Pro Shop, etс. Clicking a link helps keep Rotorm.com free, at no extra cost to you!
About the author: Each article on our site is written by experts in survival and tactical equipment, gun enthusiasts, extreme travelers, military, law enforcement and desperate professionals, read about the author at the bottom of the article or visit "About Us" page.
Note: The views and opinions expressed in this article are those of the authors and do not necessarily reflect the official policy or position of any agency.
Today you can customize your firearm as you wish. Make it stronger, more durable, more accurate, or less noisy with the help of additional components: sights, grips, fire control groups, and so on. You can even make it use the caliber you want.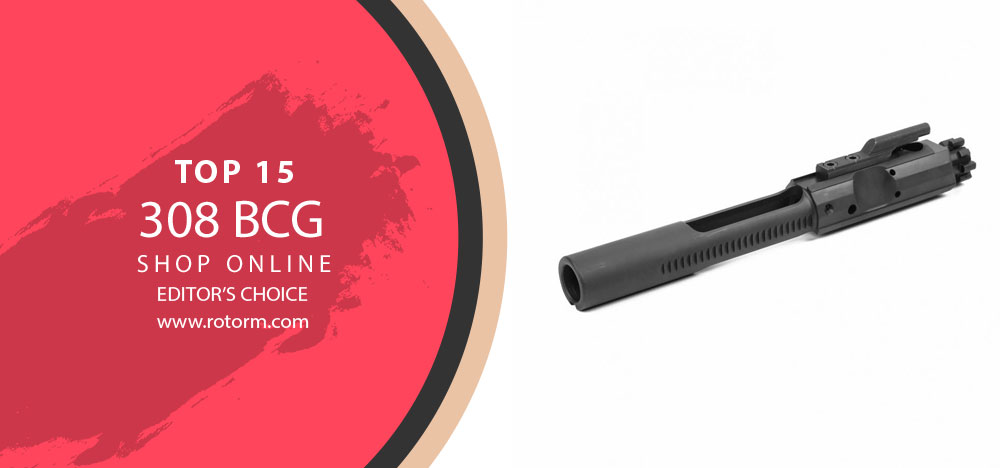 So today we are going ta talk about .308 bolt carrier groups for your custom AR-10 or AR-15. This part is needed to actually shot .308 rounds that will make your rifle even more powerful. Is it complicated to find the best model on the market? Yes, it is! Everything depends on your necessities, budget, and preferences. Moreover, it's complicated to look through this huge variety of models to find a suitable one. It takes a great amount of time, which is not appropriate for many people. That's why we have made this list of the top 14 BCGs for you.
Best 308 Bolt Carrier Group | Best 308 BCG
| Image | Product | Brand | |
| --- | --- | --- | --- |
| | Aero Precision .308 Black Nitride BCG | Aero Precision | |
| | JP Enterprises Complete JPBC Bolt Carrier Group | JP Enterprises | |
| | Spikes Tactical .308 Bolt Carrier Group | Spikes Tactical | |
| | Ballistic Advantage .308 Bolt Carrier Group | Ballistic Advantage | |
| | Faxon Firearms .308 9310 Bolt Carrier Complete - Nitride | Faxon Firearms | |
| | CMC Triggers Enhanced AR Bolt Carrier Group | CMC | |
| | Next Level Armament DLC Bolt Carrier Group | Next Level Armament | |
| | Guntec Usa Guntec Bolt Carrier Group Ar10 .308 Mil-spec Nitride | Guntec Usa | |
| | LANTAC M-SPEC Bolt Carrier Group | LANTAC | |
| | CMMG, Inc .308 Bolt And Carrier Semi-Auto | CMMG, Inc | |
| | Alpha Shooting Sports Premium Nitride 308 Bolt Carrier Group | Alpha Shooting Sports | |
| | Black Rain Ordnance Bolt And Carrier Group Nickel Boron .308 | Black Rain Ordnance | |
| | Wilson Combat TRBCANB308 Bolt Carrier Assembly 308 | Wilson Combat | |
| | Sharps Rifle Co. XPB 308 Balanced Bolt Carrier Group Complete | Sharps Rifle Co. | |
| | Aero Precision M5 20in .308 Complete Upper Receiver | Aero Precision | |
#1 Aero Precision .308 BCG Black Nitride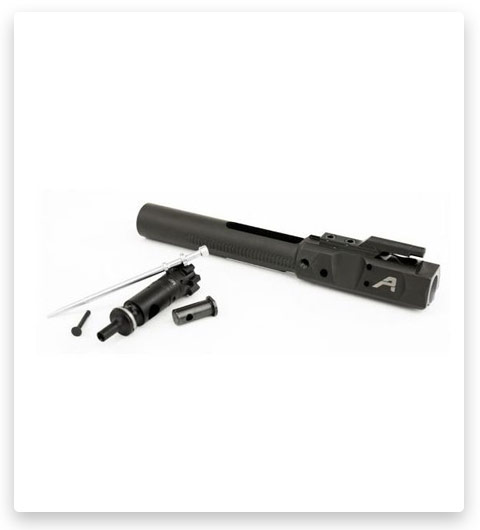 The first model is a .308/7.72 Bolt Carrier Group that will make customers happy with a reasonable price and solid materials. The BCG is made of 8620 steel with a nitride coat, which makes the construction durable and minimizes the use of lubricants, thanks to the low friction rate. The materials used for other parts, such as a gas key, firing pin, or bolt extractor are 4130, 8740, and 4340 steel correspondingly. The bolt is tested and inspected, and it's compatible with all .308 based cartridges.
#2 JP Enterprises Complete JPBC 308 Bolt Carrier Group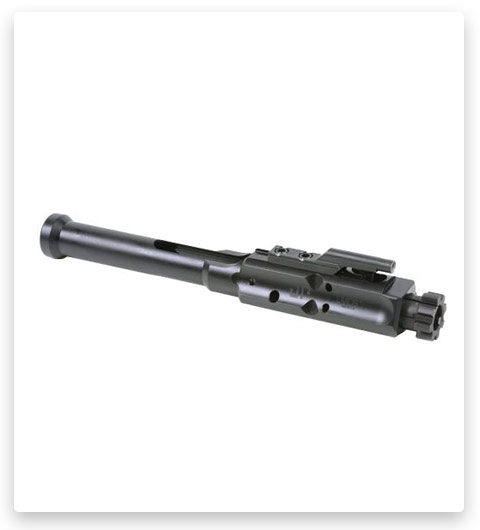 One of the nice models designed by JP Enterprises is made specifically for AR-10. The components are made of stainless steel, which guarantees you a long service life. When used with JPSCS-9MM, the firing impulse is fast, thanks to the reduced stroke length. The bolt bounce is also reduced, which increases accuracy and reliability. A tighter firing pin channel also reduces pin wear. The model looks nice and works great, but costs a little more.
#3 Spikes Tactical .308 BCG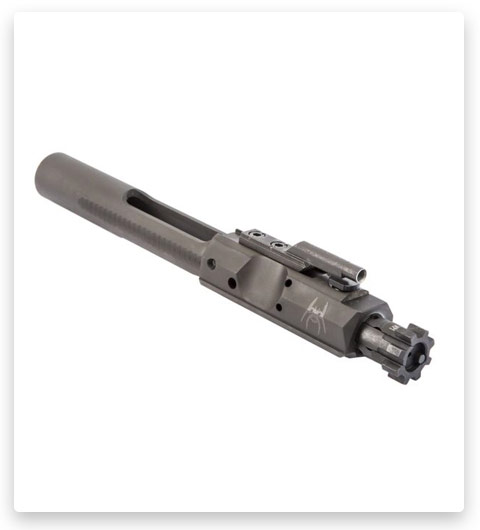 For quite the same price, you can buy this bolt carrier group that is made of 8620 steel with either phosphate or nickel boron finish. The carrier and gas key have beautiful chrome interiors that can last for many years. The bolt itself is made of 9310 steel. This is a good, reliable model without extra features that will make you poor.
#4 Ballistic Advantage .308 Bolt Carrier Group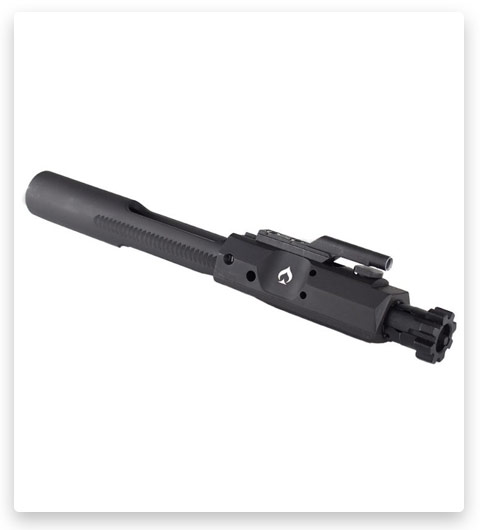 Let's increase the price gradually. Here we've got an 8620 alloy steel carrier with a 9310 alloy steel bolt. Plus, an S7 tool steel extractor. The outstanding feature of this BCG is the existence of forward-assist serrations. The BCG ensures a smooth shooting experience, and it serves as a great add-on for your rifle.
#5 Faxon Firearms .308 Bolt Carrier Complete – Nitride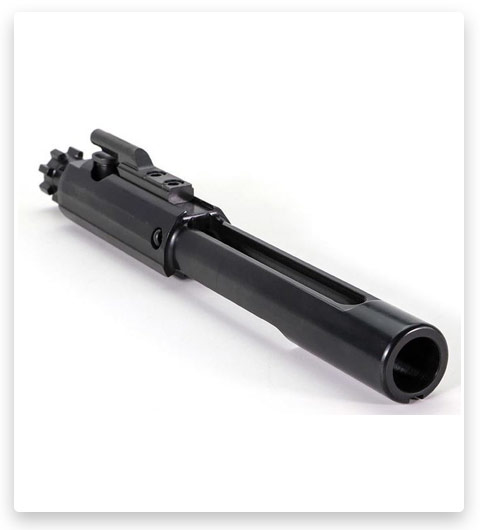 One more nice model that ensures long-lasting performance and high shooting efficiency. Thanks to the nitride finished 9310 steel bolt and solid extractor, carrier, and key, fouling, and friction are reduced. The bolt carrier group also features forward assist serrations. This guarantees good precision and proper functioning of your firearm. Besides, the price is rather reasonable, which is always good.
#6 CMC Triggers Enhanced AR BCG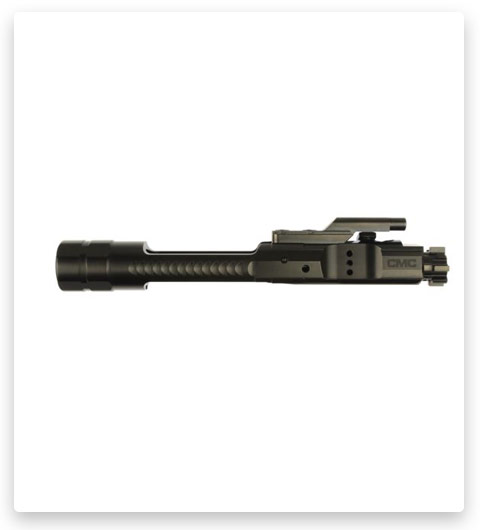 This one is especially good for suppressed or short-barreled rifles because it ensures the proper gas pressure, improving extraction. The case-hardened 8620 steel carrier with 3 forward ports and the black nitride finish ensures the smoothest operation. The bolt is also made of 9310 case-hardened steel with a nitride finish, which decreases possible friction. This is a good model for a low price, so you'd better not miss it.
#7 Next Level Armament DLC 308 BCG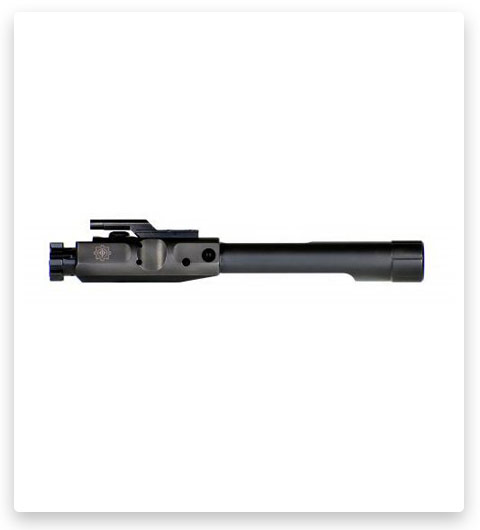 What concerns this model, it differs a bit from those we have seen earlier. Thanks to the expanded rear, the cycling in the buffer tube is much better. All internal parts are coated, and the bolt is made of SAE 4140ph high-grade steel, which makes the entire construction durable and strong. It has great resistance to structural failure.
#8 Guntec Usa Guntec BCG Ar10 .308 Mil-spec Nitride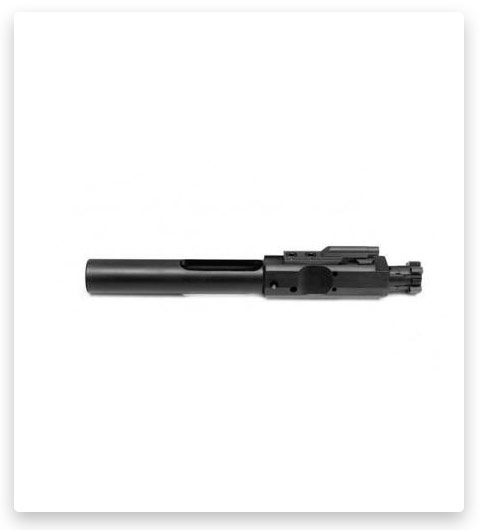 Just another good example of a bolt carrier group. A standard 9310 hardened steel bolt with an 8620 carrier and properly staked gas key will improve your AR-10 with a breeze. The nitride coat plays a big role in ensuring a smooth shooting experience. This brand is very reputable on the market, so you will not get disappointed.
#9 LANTAC M-SPEC BCG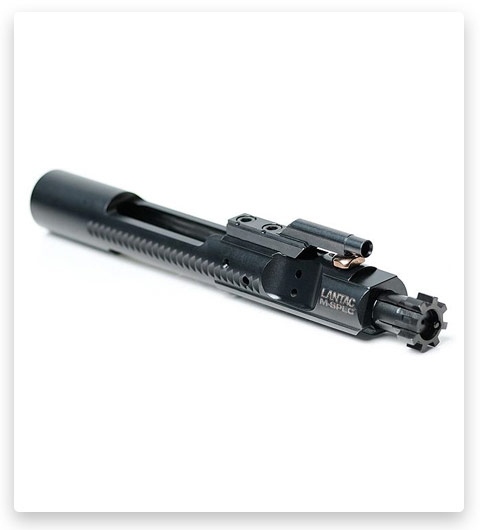 This is, perhaps, one of the cheapest models. However, it still offers decent characteristics, which is hard to find nowadays. This is an 8620-steel heat treated and hard ground carrier that suits MILSPEC. The materials for the bolt are a bit less solid but still very reliable, and it's Carpenter 158. The bolt is also hard ground and it's shot-peened. Altogether with the nitride finish, the BCG works perfectly.
#10 CMMG, Inc .308 BCG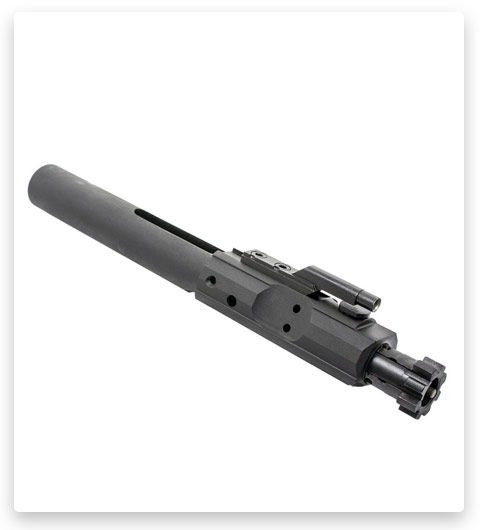 Although this model is worth buying, it has some peculiarities that are needed to be mentioned. First of all, this a semi-auto bolt carrier group, which means it suits only CMMG Mk3. The phosphate finish makes it more durable and efficient. We would say that it's a good choice if you have nothing else.
#11 Alpha Shooting Sports Premium Nitride 308 BCG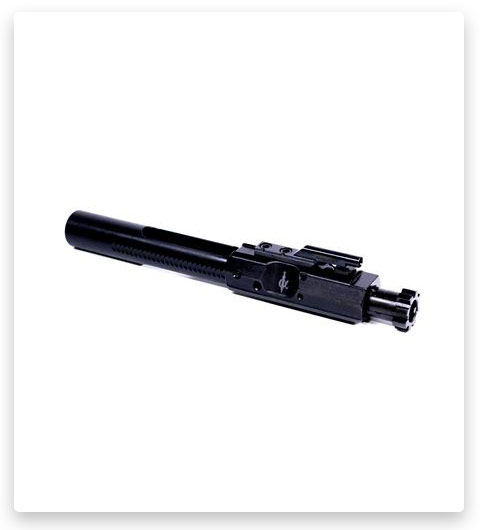 If you are looking for a cheap but yet well-designed solution, this BCG is a must-have for you. Nothing is outstanding, it's just a good model for a low price. A solid 9310 steel bolt and an 8620-steel carrier are coated with premium nitride, which reduces pollution and friction. In addition to this, the construction has forward assist serrations, which is also a great advantage that ensures proper functioning.
#12 Black Rain Ordnance Bolt And Carrier Group Nickel Boron .308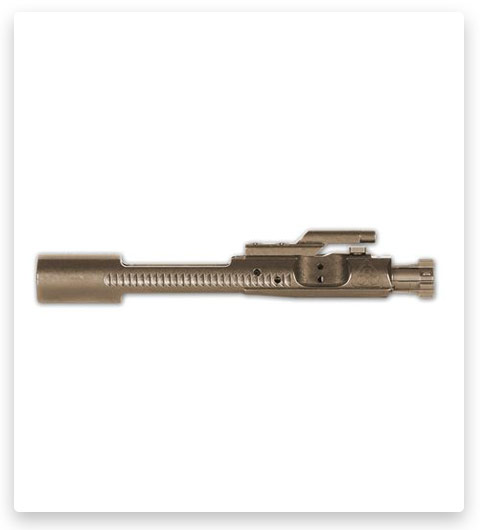 What is curious regarding this model, is that you won't find a lot of information about it. But it's one of the priciest models. The reason is that it uses solid materials and a nickel-boron finish, which is not cheap. Different reviews would say it's a good model that is a little overpriced.
#13 Wilson Combat 308 BCG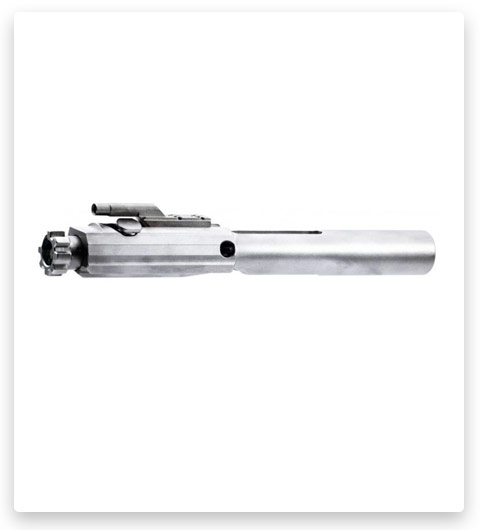 Another rather expensive model that requires no presentation. It's a steel bolt carrier assembly that has a nickel-boron finish just like the previous competitor. With the help of this little add-on, you will make your AR rifle stronger. Get ready to spend some money if you want a good custom weapon.
#14 Sharps Rifle Co. XPB 308 Balanced BCG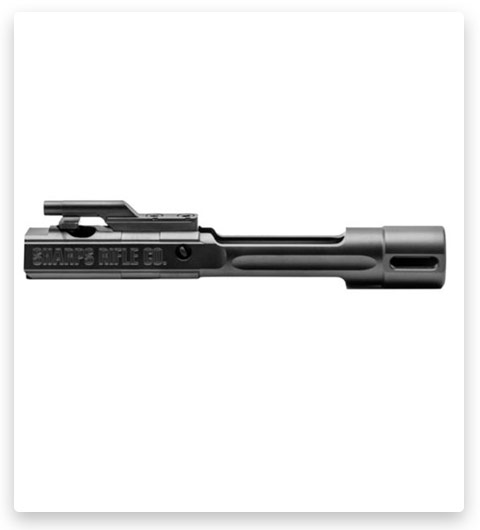 With a case-hardened 8620 alloy steel carrier and a robust 9310 nickel-chrome-moly alloy steel bolt covered with matte diamond-like carbon, the last model guarantees the best shooting experience for any AR-10 or AR-15 rifle. The gas key is properly staked, the cam pin and extractor are Manganese Phosphate coated, and so on. This is a good buy that costs a rather big sum.
#BONUS: Aero Precision M5 20in .308 Complete Upper Receiver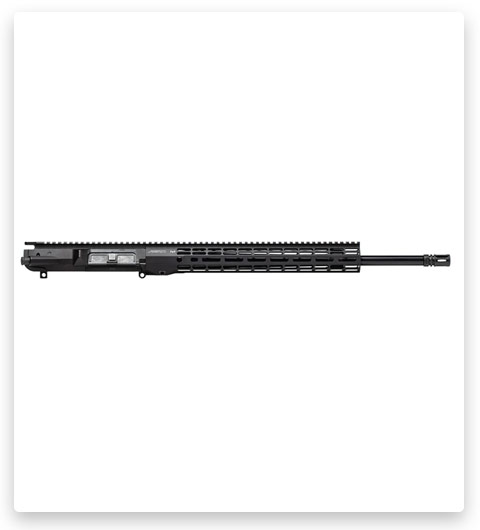 If you are looking for a BCG, you should also at the upper receiver block that comes with all necessary elements but still offers good customization optionality. This model is a good solution for .308 caliber. It's forged from 7075 T6 aluminum, which makes it durable and reliable. However, you have to choose the upper receiver first.
FAQ
Conclusion
It's hard to say that there is the best model among those 14 models on the list. It's even hard to divide them into cheap and expensive. But we want to point out the next models that we consider to be the best:
Tags: 308 bcg, 308 bcg nickel boron, aero precision 308 bcg, ar 308 bcg, best 308 bcg, 308 bcg for sale, lightweight 308 bcg
#Best #308 #BCG #Bolt Carier Group #Sale #For the money #AR 15 #AR #Lightweight #Aero Precision #Reviews #Cheap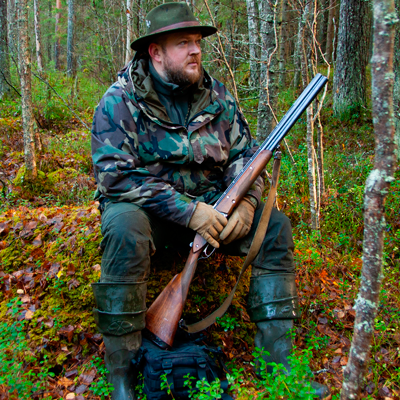 Max Endless
Weapon Expert & School Teacher
Hi, I'm Max. I'm a weapon expert and a teacher of English from Belarus. These two qualities allow me to share my opinions and observations about news from the gun world. I'm really into firearms and different weapons because I was learning about them since my childhood.
My life has taken me through different complications and exciting moments, so what I've learned is to always be ready to fight. My father is professional military personnel and he made me familiar with various weapons since my childhood. My first one was a bow, and then I started to have a fancy for this unbelievable world of firearms. My main specialization allows me to share my thoughts about different devices, guns, and gun details with the English-speaking community. In my articles, I talk about pistols, rifles, knives, shotguns, and many other tactical and survival things.
Read more
about our team
of expert authors.