Resting in nature or a situation when you need to cut firewood for a fire, remove a littered tree from the road or build a temporary shelter – a compact and sharp saw will be indispensable. It does not matter in which engineering solution it is implemented, the main thing is to complete the task. For such cases, there are manual chain saws, folding hacksaws, and other devices. Today we will try to compare them and choose the best. Let's get started!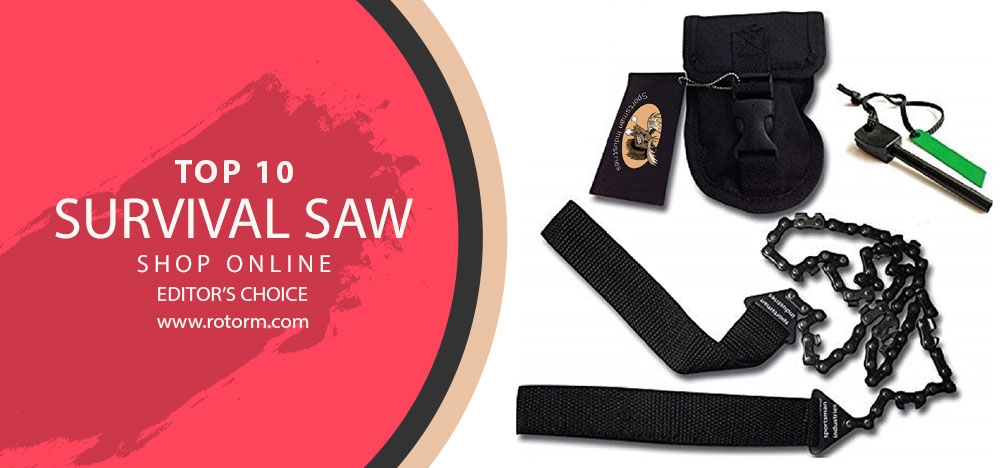 TOP 10 Survival Saws
| Image | Product | Brand | Link |
| --- | --- | --- | --- |
| | Sportsman Pocket Chainsaw 36 Inch Long Chain & FREE Fire Starter Best Compact Folding Hand Saw Tool for Survival Gear, Camping, Hunting, Tree Cutting or Emergency Kit. Replaces Your Pruning & Pole Saw | Sportsman Industries | |
| | AGAWA - BOREAL21 -> 21 Inch Folding Bow Saw - Black Frame, Green Handle, 21" All Purpose Blade | Agawa Canyon | |
| | Coghlan's Folding Saw | Coghlans | |
| | The Friendly Swede Folding Saw with Ergonomic TPR Handle and 8" Blade, Folding Hand Saw for Trees, Pruning Saw, Tree Saw, Wood Saw, Camping Saw, Small Hand Saw Wood, Folding Saw Bushcraft Survival | The Friendly Swede | |
| | Corona 7 Inch RS 7245 Razor Tooth Folding Saw, 7-Inch Curved Blade, Steel | Corona | |
| | Fiskars 7 Inch Folding Saw | Fiskars | |
| | YOKEPO Survival Pocket Chainsaw Folding Hand Saw Chain 33 Serrated 3x faster 24 inch Hand Saw with Orange Straps Camping saw for Wood cutting Hiking Survival Bracelet Whistle Wristband and Firestarter | YOKEPO | |
| | Survival Saw Wire Saws Universal Saw Camping Saw, Commando Wire Saw Bulk,Ideal for Survival Kits (5pcs) | SJ | |
| | Bahco 396-LAP Laplander Folding Saw, 7-1/2 -Inch Blade, 7 TPI | Bahco | |
| | Bahco 10-24-23 Bow Saw with Ergo Handle, 24-Inch, Gray | Bahco | |
#1 Sportsman Pocket Chainsaw 36 Inch Long Chain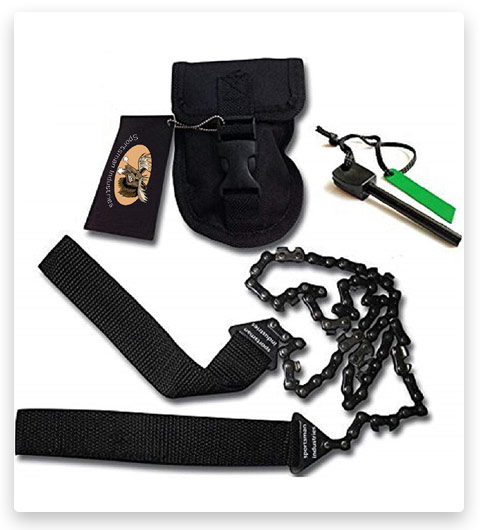 This is the cutting blade of a conventional chainsaw to which the handles are attached. The mechanism of operation is very simple – grab the tree with this saw (cutting teeth to the tree) and pull the handles with your left and right hand. This chain is also serviced like a conventional chainsaw chain. After long-term storage or before use, try to clean the saw from corrosion with WD-40 and lubricate with 3 in 1 universal oil. After use, clean the sawdust from the wood with a rag and brush (an old toothbrush will do). If you follow these simple rules – this saw (in excellent condition) can be passed on to the great-grandchildren.
What you need to know about the flaws? Each side bend threatens a broken chain – be careful! Working with this saw can replace a trip to the fitness center and requires good endurance. This saw has a cutting edge on only 1 side. If you tie extension ropes to the handles and clasp a branch at a height, the correct rotation of the saw to the tree may take some time. To cope with this situation – free the saw from touching the branch, twist the rope so that it turns the saw in the right direction, and then gently pull the other end of the rope to return the saw to the branch. When you succeed, do the first few files without pressure to make a guide cut. Then you will succeed.
#2 Agawa Canyon – BOREAL21 Folding Bow Saw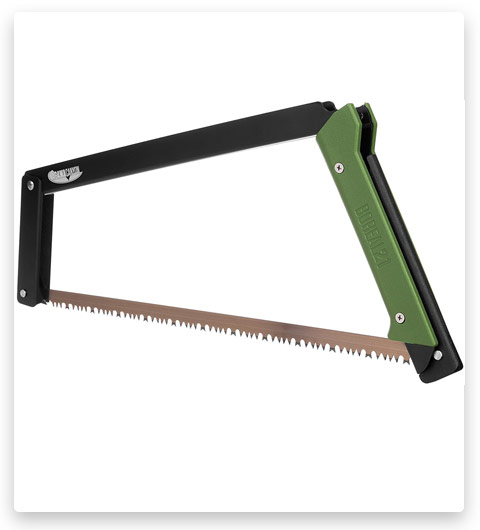 This saw is as light, compact, and durable as possible. It folds to the size of the cutting blade (21″), but completely covers aggressive teeth. The turning mechanism is designed so that you do not need to touch the cutting blade and the saw is pulled by itself in just a few seconds. The handle is designed as a latch that securely fixes the blade and is quite comfortable in. The only wish is to wear gloves so that the skin of the hand does not suffer from the details of the handle. If you are engaged in wood processing – this saw may not suit you. Automatic blade tension eliminates unnecessary stress but does not give an absolutely even cut. During operation with this saw, the blade can bend in an arc or change the angle of cut. This is important for responsible work with wood but does not play a role when working in the garden or on a camping trip. With this saw, any tourist adventure will be much more carefree, and an emergency tool kit is much more effective.
#3 Coghlan's Folding Saw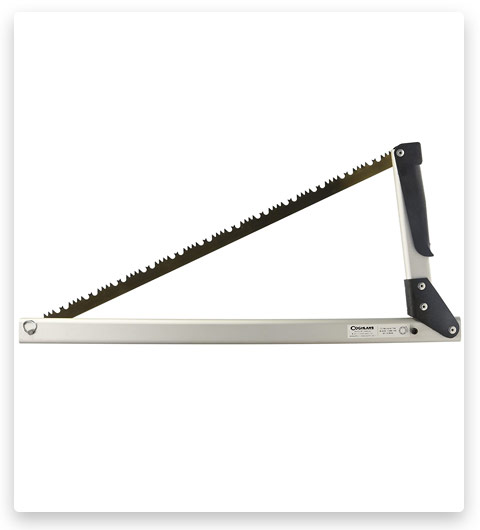 This lightweight aluminum folding 21″ saw from Coghlans weighs just 16 ounces. It's a good choice to complement camping gear or use in the garden to cut branches. When folded, it is a compact small cane that is only slightly larger than the size of the cutting blade itself. Note: 2 spare saws can also be stored inside the Folding Saw, but they are not included in the kit. They need to be bought separately. The triangular shape of the frame limits the maximum size of the tree trunk for cutting. Every new inch reduces the stroke of the saw, which may cause some inconvenience and limitations. Before you take this saw on a hike – check it in practice. Most Amazon customers say plastic mounts are unreliable. To avoid unpleasant situations in a camping trip – replace the plastic hinge for mounting the blade. Aluminum will do the job. During storage in the car trunk, an unsecured blade inside the chassis may rattle. It is also easy to fix on your own, but a Canadian manufacturer could take care and do it.
#4 The Friendly Swedee Folding Hand Saw with Ergonomic TPR Handle and 8-Inch Blade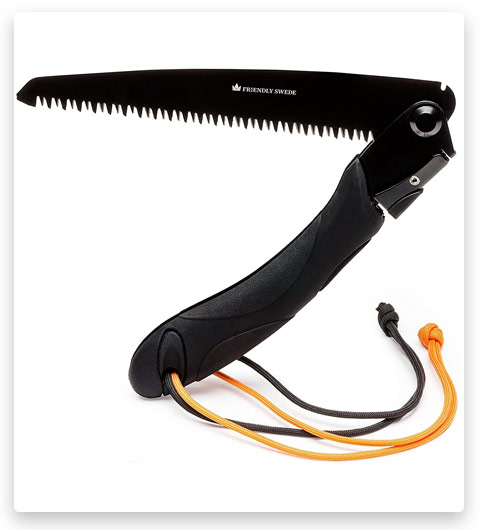 A small folding saw by The Friendly Swede fits easily in your pocket and weighs only 9 ounces. It will help to restore order in the garden and to prepare firewood for your evening by the fire. The sharp blade and soft handle make everyday work a pleasant and exciting process. With each new cut branch, excitement and pride wake up "can I cut this 3-inches branch in 10 seconds?" Be prepared that this saw will take all your strength, but will do a great job. This saw is more suitable for women and children than for strong men. A thin blade from strong impulses may bend and the latch will break. It's not scary – the manufacturer will replace or just send you another saw. To do this, write to the support team and they will solve your problem at any time 24/7.
#5 Corona RS 7245 Razor Tooth Folding Saw, 7-Inch Curved Blade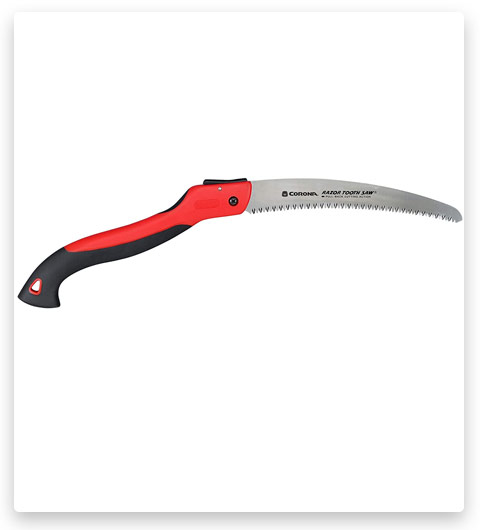 A small folding saw for garden design or camping use. Lightweight for a hand tool is very important. With a length of 8″ this saw weighs only 4.8 ounces, which will not be visible in your luggage or pocket. Aggressive sharp teeth and a chrome-plated blade allow you to cut quickly, evenly and cleanly branches of small and medium-size (up to 4″). The handle is made in the "pistol" style for greater stability during operation. The lock should prevent the blade from opening on its own and cause damage. That's just the spectacular design that ruined the functionality. When closed, there is a 1/4" gap between the teeth of the blade and the handle – enough to cut or tear adjacent items in the bag. The blade is really very sharp and looks beautiful. It would be much better if the manufacturer paid more attention to quality control, rather than design. Impulse hardening loses its sharpness after several days of intensive work, and a semi-rigid blade with a flimsy handle needs to be carefully and carefully used. This may be a good choice for rare garden use, but not for long survival in the forest.
#6 Fiskars 7 Inch Folding Saw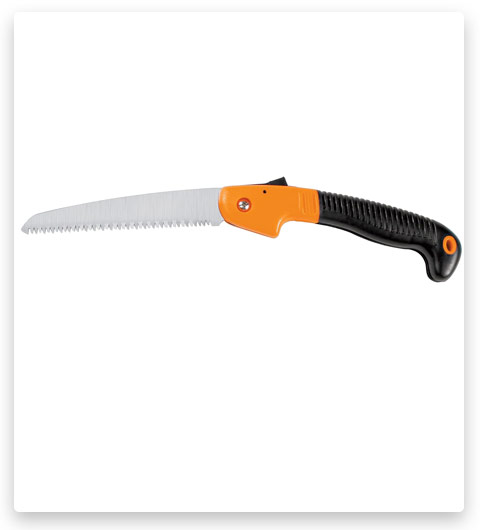 This small and compact 7-inch folding hardened stainless steel saw from the company – Fiskars. The orange handle with a soft pad allows you to comfortably and firmly hold it in your hand. The blade is folded into the handle and securely locked in the folded and unfolded position with a latch. This saw is designed to cut branches and small trees. It will become a good helper in the garden and camping, remaining small and invisible during storage. But on this, all its advantages unfortunately end. The manufacturer does not monitor the quality at all, so a lot of buyers are disappointed in this purchase. The brittle blade bends easily, and the coarse teeth do not bite into the tree as needed. It takes a lot of time and effort to cut branches over 2 inches. If your goal is an oak branch larger than 3 inches, the blade of the blade and patience will break earlier than this branch. This saw will do great with 1-inch branches, but no more. A dubious addition to a gardening tool or survival kit. But it can be useful if you want to give it to your opponent.
#7 YOKEPO Survival Pocket Chainsaw 3X Faster Hand Saw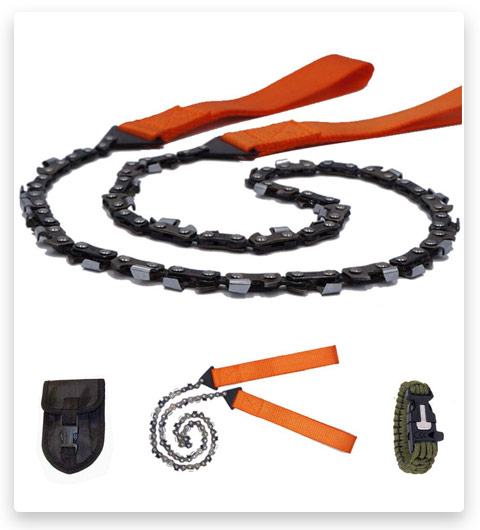 This time we are faced with not just a compact chain saw, but a whole set for extreme survival. In a small bag for the belt is located: a high-carbon steel saw, a 2-meter rope woven into a neat bracelet with a whistle, and a flint¬¬stone for lighting a fire. Such a chain saw easily copes even with large tree trunks or with branches at a height. To work with this saw, you need not only strong arms and shoulders but also a sense of control. If, when thrown onto a branch, the saw unfolds with the cutting side into the air, it will not work. But if he turns sideways, even weak pressure will break him, be careful. The seller did not talk much about his product, which suggests an idea – perhaps a product from China. The seller either does not know what he is selling or does not want to tell the truth. But the set itself is of good enough quality to take it for fishing and camping.
#8 SJ Survival Saw Wire Saws Universal Saw Camping Saw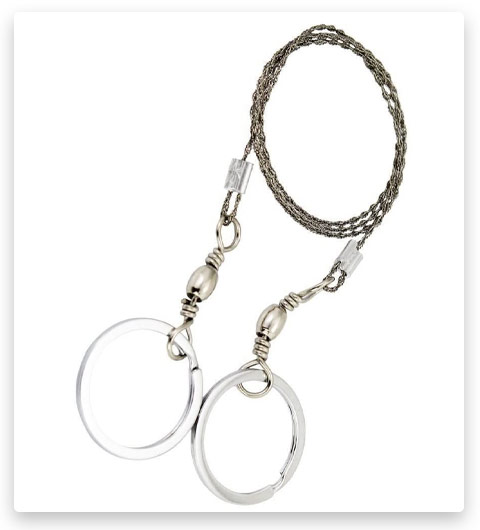 If you were looking for a small and light saw in the style of "ninja" – you found it. This is a flexible wire saw for a survival kit. To use this saw is not necessary to be strong. If you have enough skills, this will be an excellent fitness exercise for arms and shoulders. First, insert two PVC pipes (or branches) into the holder rings. Such handles will reduce pressure on the fingers. The main thing is not to make too sharp a corner when sawing a branch or tree trunk. Try to spread your arms wide and pull alternately with your left and right hands. If this causes difficulty, there is another option. Find a branch similar to an arc and fix the ends of the saw to form a bow saw. This will work much easier, but you will have to tinker with the mount. It is not true to say that this saw is very effective in cutting branches. It depends more on the skills of the one who saws. This saw was created as a very easy addition to the emergency kit and we must admit – it copes well with its task.
#9 Bahco 396-LAP Laplander Folding Saw, 7-1/2 -Inch Blade, 7 TPI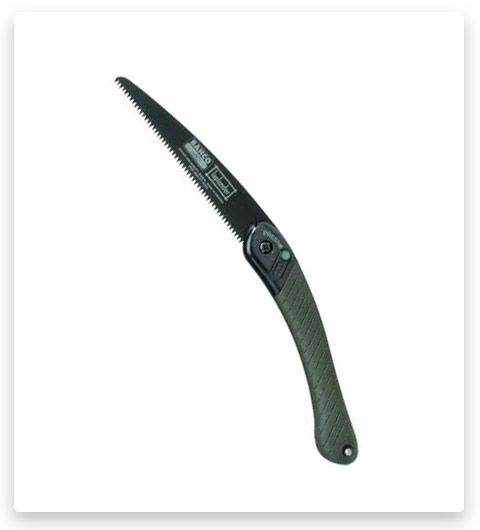 More than 4,000 customers rated this saw 5 stars. Is she so good? This tool has found a middle ground between carpentry precision and tourist portability. This saw is designed to "hunt" for dead trees. The cutting teeth are sharpened in 2 directions but do not have an aggressive attack, and the blade itself is only 1 mm thick. She can also cope with green trees without any problems, but it will be a little longer than specialized saws. Many advantages of this saw are crossed out by a cheap handle and a terribly an unreliable plastic blade retainer. Correcting this oversight of satisfied customers would be much more than 90%, but the Swedish manufacturer unsuccessfully saved money. The seller gives 4 choices with different configurations. The option with a signature knife can be a good gift for an outdoor enthusiast or gardener.
#10 Bahco 10-24-23 Bow Saw with Ergo Handle, 24-Inch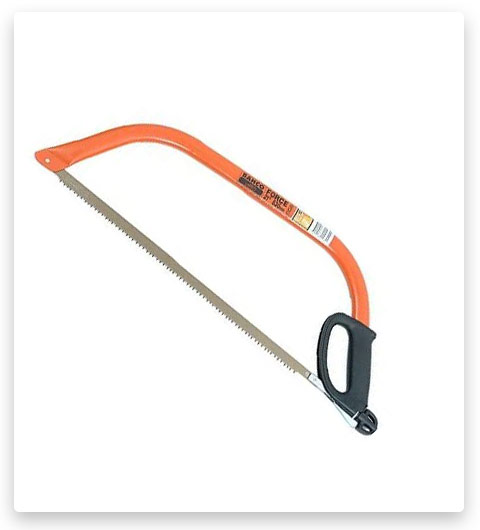 Onion saw with Ergo handle, 24 inches – from Bahco. This seller also has other saws with different cutting lengths (21″, 24″, 30″) and a choice for green or dry wood. But we will talk with you about the 24″ saw for a green tree. This saw is made of stainless steel, which protects it from rust and corrosion. The arc is coated with impact-resistant enamel paint. The blade tension mechanism is clear and simple, so you can easily replace a new blade. A convenient handle with joint protection makes the sawing smooth and comfortable. The saw comes with a protective plastic cover for the blade, for safer storage. The blade is very sharp, even to handle a 12-inch barrel in 15 to 30 minutes is incredible! And smaller branches and trunks from 3 to 6 inches will be cut like butter. The orange color of this saw will help you find it very quickly among the grass and branches when you take a break for lunch or rest. Such a saw will be a great helper in your garden, camping or travel. It will cope with a tree on the road and help to quickly prepare firewood for the fire. Having bought an additional blade for dry wood – get a chic kit for any situation.
Conclusion
To be as honest and unbiased as possible, we selected 4 leaders (with different designs).
We hope this helps you.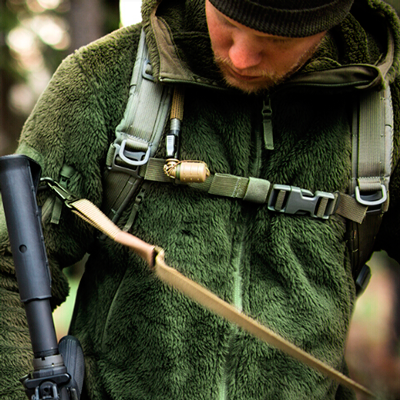 Dmitry Koval
Tactical & Survival Expert
I am from the generation that tried to repeat all the tricks of Jackie Chan, hunted birds with homemade bows, and built my mini-base in the forest. At the age of 18, I was a scout in PLAST (scout organization) and participated in campaigns and quests. Somehow we decided to test ourselves, took our backpacks and walked 50 km (31 miles) in 1 day. We had a lot of fun!
Remembering my past, I ask in bewilderment: "How am I alive after all my adventures?" - harsh trials, reckless parties, love affairs, and a sea of silliness.
My hobbies are weapon upgrades,
tactical gear
, and the latest in wilderness survival technology. I have hundreds of different survival gadgets in my collections, which are sent to me for "test-driving" by Amazon, eBay, and other online retailers. That's what I write about, and I also make YouTube videos about them! Stay tuned!
Read more
about our team
of expert authors.
Affiliate Disclosure: Rotorm.com sometimes gets paid for listings, through sponsors or affiliate programs like Amazon, Optics Planet, Lucky Gunner, Brownells, Cabelas, Rainier Arms, 5.11 Tactical, Bass Pro Shop, etс. Clicking a link helps keep Rotorm.com free, at no extra cost to you!
About the author: Each article on our site is written by experts in survival and tactical equipment, gun enthusiasts, extreme travelers, military, law enforcement and desperate professionals, read about the author at the bottom of the article or visit "About Us" page.
Note: The views and opinions expressed in this article are those of the authors and do not necessarily reflect the official policy or position of any agency.