Every day we face many challenges. Yes, not all of us are at the training ground or work in the field of law enforcement. But absolutely every adult man wants to be protected and not be distracted from his business or global goal.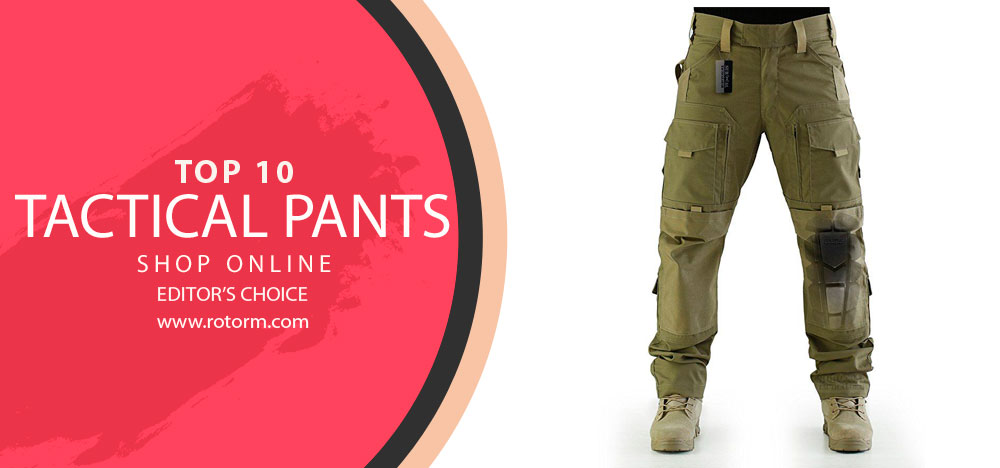 Today we will consider which tactical pants are better to choose: for every day, for training, active leisure and tactical training, and of course – for a spectacular appearance. Begin!
Top 10 Tactical Pants
| Image | Product | Brand | Link |
| --- | --- | --- | --- |
| | CQR Men's Tactical Pants, Water Repellent Ripstop Cargo Pants, Lightweight EDC Hiking Work Pants, Outdoor Apparel, Duratex Mag Pocket(tlp107) - Green, 38W x 30L | CQR | |
| | 5.11 Men's STRYKE Tactical Cargo Pant with Flex-Tac, Style 74369, Stone, 30W x 30L | 5.11 | |
| | LA Police Gear Mens Urban Ops Tactical Cargo Pants - Elastic WB - YKK Zipper - Sierra - 34 x 32 | LA Police Gear | |
| | TRU-SPEC Men's 24-7 Series Original Tactical Pant, Coyote, 36W 32L | Tru-Spec | |
| | AKARMY Men's Military Tactical Casual Camouflage Multi-Pocket BDU Cargo Pants Trousers G3WF Black Python | AKARMY | |
| | FREE SOLDIER Men's Water Resistant Pants Relaxed Fit Tactical Combat Army Cargo with Multi Pocket (Black, 36W/30L) | FREE SOLDIER | |
| | Jessie Kidden Men's Tactical Pants Wild Camo Cotton Casual Relaxed Fit Cargo Pants Baggy Big and Tall,7533 Dark Camouflage,29 | Jessie Kidden | |
| | ZAPT Tactical Pants with Knee Pads Airsoft Camping Hiking Hunting BDU Ripstop Combat Pants 13 Kinds Army Camo Uniform Military Trousers (Coyote Brown, L36) | ZAPT | |
| | IDOGEAR G3 Army Combat Pants Knee Pads Multicam/Black Pro for Airsoft Hunting Military Paintball Outdoor Camo Rip-Stop Tactical Trousers (Multicam, XLarge (36W/33L)) | IDOGEAR | |
| | Aggressor Flex - Tactical Pants - Men Cotton with Cargo Pockets (Black, XXL-S) | M-Tac | |
| | 5.11 Men's Taclite Pro Tactical Pants, Style 74273, TDU Khaki, 34Wx32L | 5.11 | |
| | LA Police Gear Men's Water Resistant Operator Tactical Pant with Elastic Waistband Green-36 x 34 | LA Police Gear | |
1. CQR Men's Tactical Pants (Lightweight EDC Assault Cargo)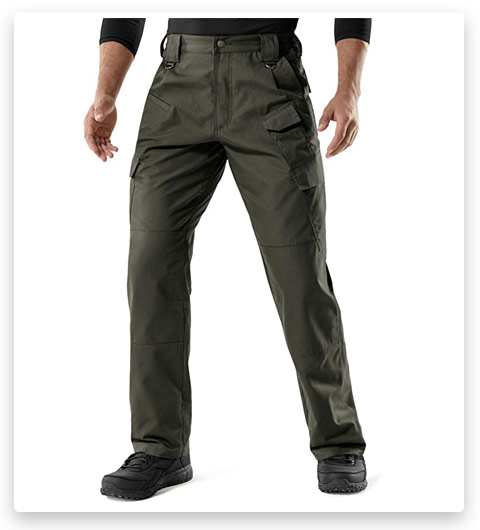 These tactical pants are strong enough and attractive for quiet city life but do not cope with intense loads. The weakest point of these pants amazon users consider – uneven seams. With a heavy load (climbing, hunting, hiking) – these pants can fail.
2. 5.11 Tactical Men's Stryke Operator Uniform Pants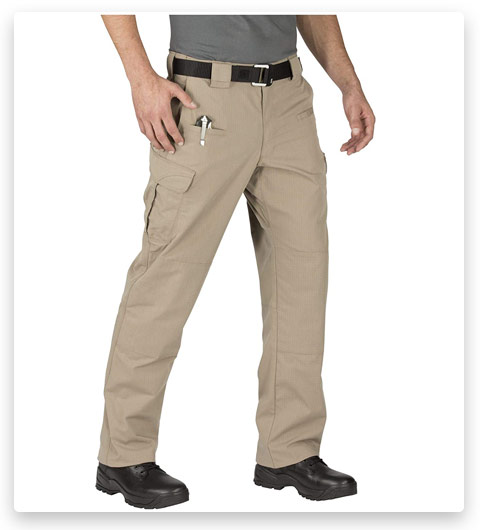 These tactical pants are a worthy product from 5.11. A large number of pockets is not striking and looks quite restrained. All critical points are reinforced with additional lines and layers, which ensures high survivability. The high price is fully justified by the legendary quality. With these pants, you will be comfortable working in a megalopolis or conquering mountain peaks.
3. LA Police Gear Mens Urban Ops Tactical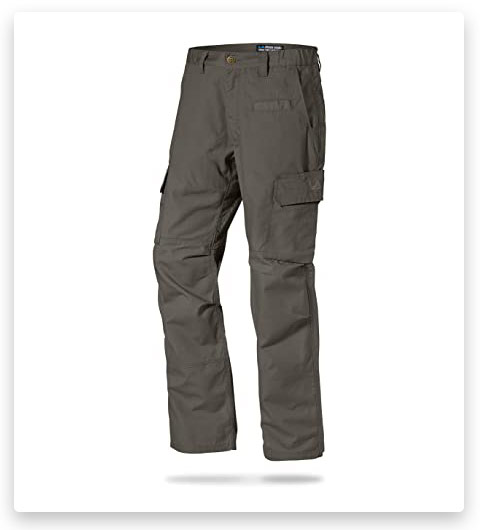 These pants are designed for men performing routine tasks in the metropolis. Double seams, high-quality accessories, articulated joints, and a dense fabric make these pants durable, and many pockets and a well-thought-out design are also comfortable. Decent offer in the market.
4. TRU-SPEC 24-7 Tactical Pants for Men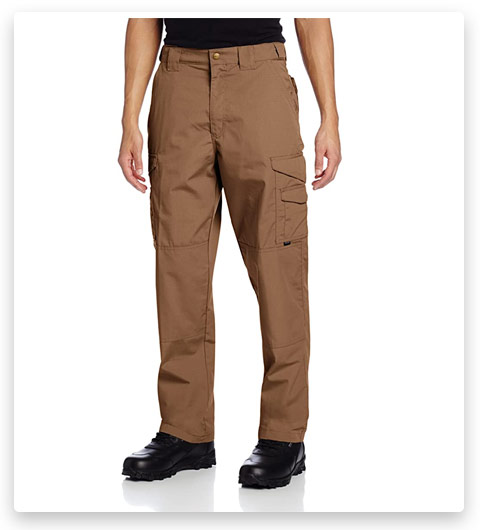 These trousers deservedly got into the Amazon bestseller rating. They look quite reserved but fully retain their functionality. A large selection of colors allows you to choose the right option for the perfect combination with your favorite shirt. The incredible durability and protection from dirt make them an excellent choice for every day because it is convenient to do everyday business or go to work.
5. AKARMY Men's Military Tactical Casual Camouflage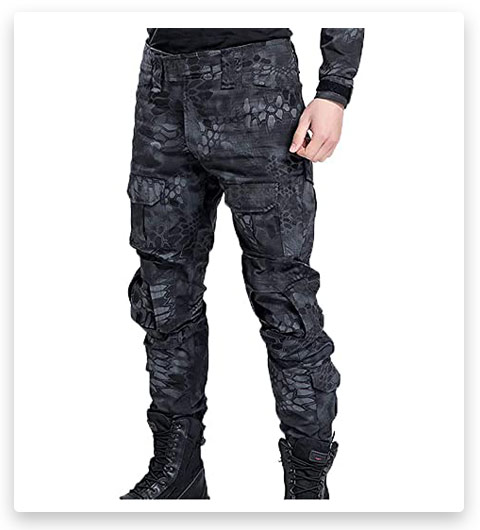 These tactical pants were created for men who prefer an active lifestyle. Army service, tactical training or patrolling the streets will be much more comfortable when nothing restricts movements. If you need to choose between comfort and a spectacular look, select AKARMY and get it!
6. FREE SOLDIER Men's Pants Tactical Combat Army (Water Resistant)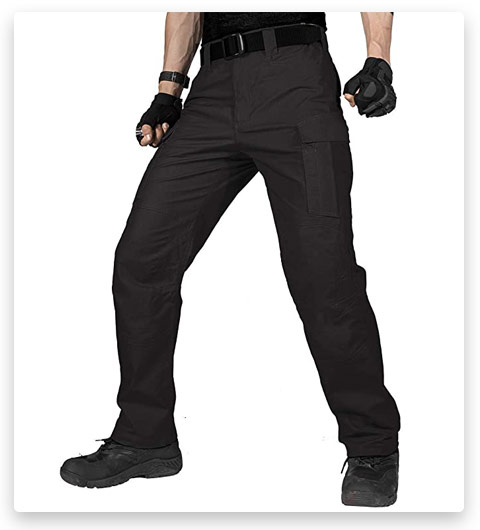 These pants are designed for adventure and harsh conditions. A camping trip or tactical training may require a lot of stamina and flexibility, both in movement and in gear. These pants can provide this. A flashlight, tactical pen, mobile phone, and handcuffs are conveniently located in numerous pockets, and the strength and elasticity make these pants a faithful assistant in daily affairs.
7. Men's BDU Casual Military Pants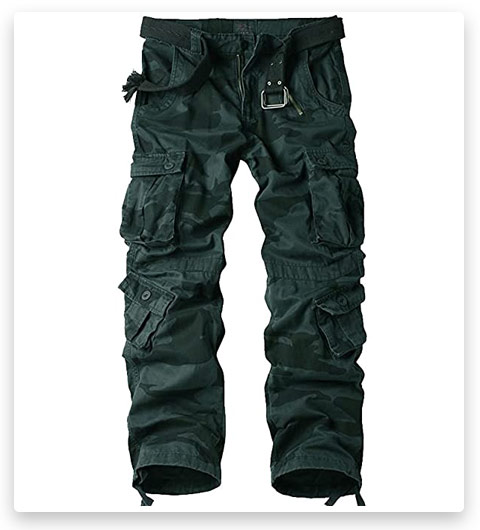 These pants are for those who do not like restrictions. A loose fit provides ample room for coolness, and plenty of button pockets give you complete control over your ammunition. These pants will be a great addition to your work wardrobe, but no more. They look good and sit, but cotton is very fond of finding dirt anywhere, especially on a hiking trip.
8. ZAPT Tactical Pants with Knee Pads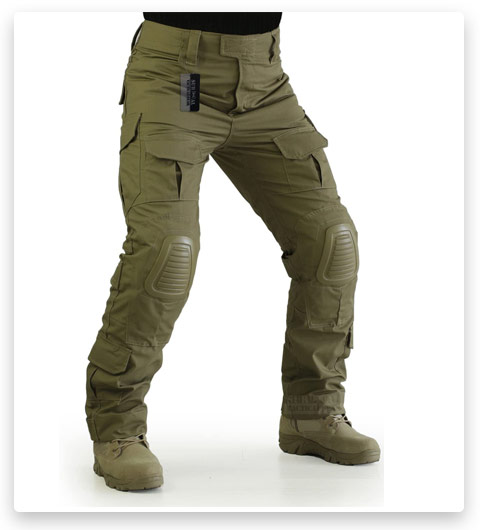 These pants look so aggressive that they prepare for battle from the first second. As soon as you look at them, you want to take a rifle, kneel down and hit the target. Knee pads are the superpower of these pants. If you like tactical maneuvers, these pants will be a good addition to your ammunition.
9. IDOGEAR G3 Army Combat Pants Knee Pads Multicam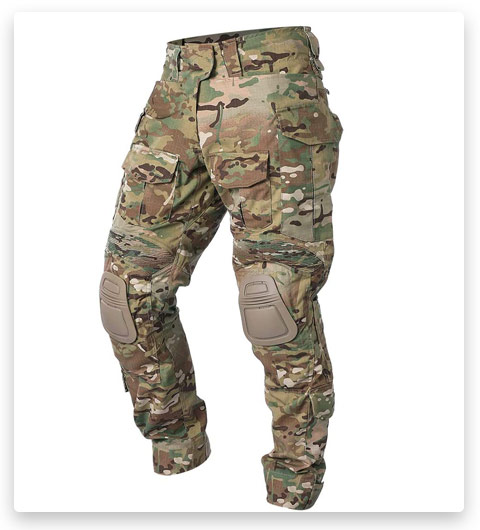 Tactical pants for military men. They are created that you carried a lot of things with you and did not notice it. What else can be said about them? These are multifunctional, roomy and durable trousers for many years. If you like hunting, airsoft, paintball, and military training – this is a good choice.
10. M-Tac Aggressor Flex – Tactical Pants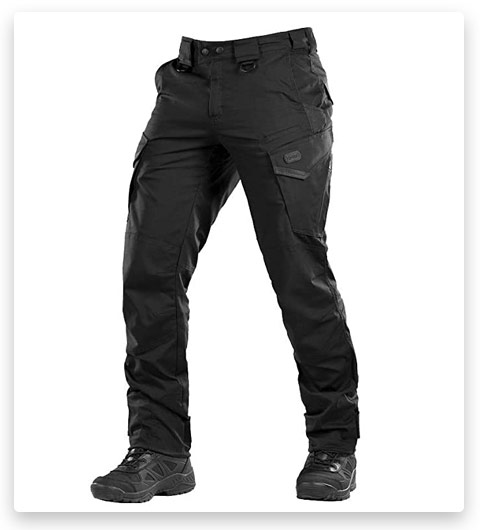 Strict multifunctional tactical pants in a classic military style. May be a good choice for men who love adventure and comfort. If your work is connected with danger, you should be concentrated as much as possible, nothing should distract you. These pants give enough freedom and reliability to solve any task.
Bonus:
11. 5.11 Tactical Men's Taclite Pro Work Pants (Lightweight)
Tactical trousers should fight reliably and functionally, everything else is secondary. But not at this time. 5.11 knows how to find balance and create strict men's trousers with good characteristics. If you protect them from weapons oil (and other complex contaminants), these pants will become your reliable support both in everyday affairs and in adventures for many years.
12. LA Police Gear Men's Tactical Pant (Water Resistant)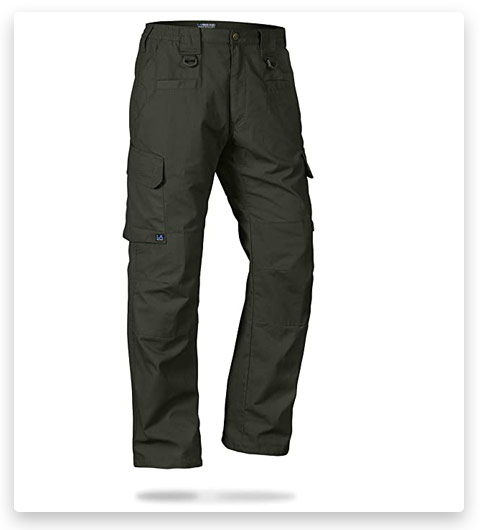 To carry out heavy carpentry or other manual work, it is necessary to have strong pants with many pockets for carrying tools and other small things. These pants allow you to do this and more! In them you can go camping with tents or do workouts – they can withstand a lot.
Conclusion
Thank you for coming this way with us. It's time to reward the winners! According to the editors:
Pay attention to our winners – they really deserve it.