Affiliate Disclosure: Rotorm.com sometimes gets paid for listings, through sponsors or affiliate programs like Amazon, Optics Planet, Lucky Gunner, Brownells, Cabelas, Rainier Arms, 5.11 Tactical, Bass Pro Shop, etс. Clicking a link helps keep Rotorm.com free, at no extra cost to you!
About the author: Each article on our site is written by experts in survival and tactical equipment, gun enthusiasts, extreme travelers, military, law enforcement and desperate professionals, read about the author at the bottom of the article or visit "About Us" page.
Note: The views and opinions expressed in this article are those of the authors and do not necessarily reflect the official policy or position of any agency.
Now tomahawks and survival axes have gained immense popularity in the world among outdoor enthusiasts.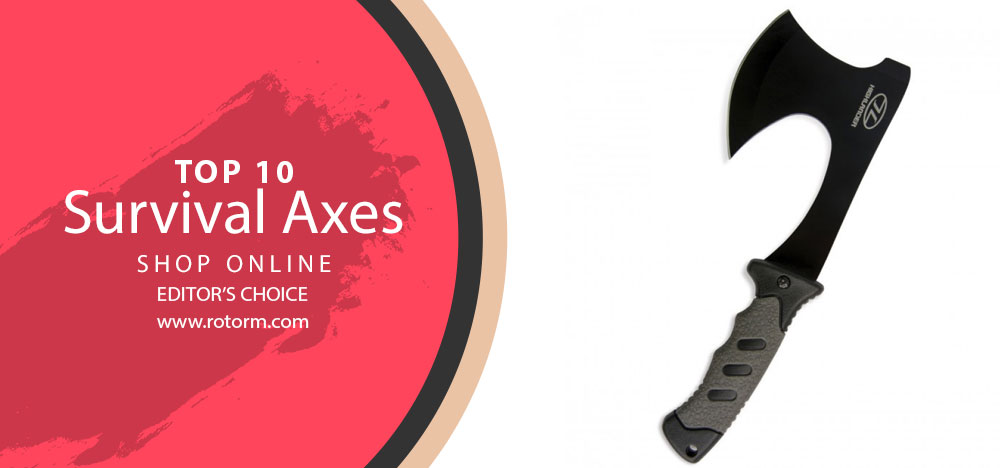 If you are from such people, you've probably already thought about buying such a device since they are universal, allowing you to cope with many tasks with just one tool. Amazing, right? But the choice out there is simply huge. That is why we are hoping to help you with choosing the perfect tomahawk just for your needs. Check out our top 10 best Tomahawks and we will try to help you choose the best one.
Best Bushcraft Tomahawk | Best Survival Axes | Best Bushcraft Axe
| Image | Product | Brand | |
| --- | --- | --- | --- |
| | Schrade SCAXE2L 15.7in Large Survival Axe | Schrade | |
| | SOG Bushcraft Axe | SOG | |
| | Gerber 9-Inch Bushcraft Tomahawk | Gerber | |
| | Estwing Special Edition Bushcraft Axe | Estwing | |
| | CRKT Kangee Bushcraft Tomahawk | CRKT | |
| | Cold Steel Trail Bushcraft Tomahawk | Cold Steel | |
| | Schrade SCAXE2 Small Survival Axe | Schrade | |
| | Fiskars X7 Bushcraft Tomahawk | Fiskars | |
| | Snake Eye Tactical Compact Tomahawk | Snake Eye | |
| | Gransfors Bruks Wildlife Bushcraft Axe | Gransfors Bruks | |
#1 Schrade SCAXE2L 15.7in Large Survival Axe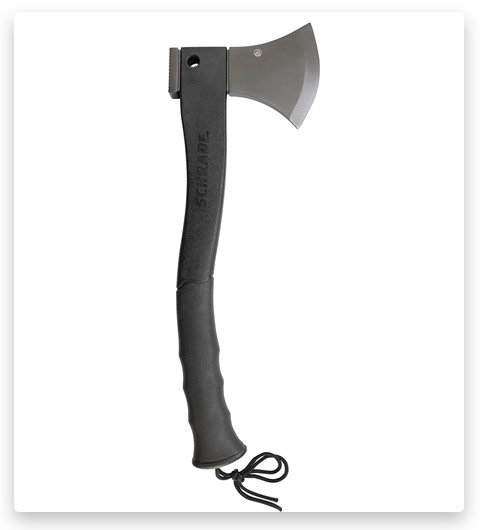 View on OpticsPlanet View on Amazon
Our first candidate for one of the 10 best survival axes is the Schrade SCAXE2L one. We'd like to tell you about its features. First of all, the blade of the ax is made of reliable titanium coated stainless steel with black rubber, cold resistance flexibility handle, which should be convenient in use since it won't slip from your hands due to the material. Talking about some nice traits we'd say that there is a hammer pommel along with an extra-large Ferro rod for your convenience, with these you should be able to do multiple tasks with one tool. Great, isn't it? However, looking through the reviews the situation with this ax doesn't seem as perfect. Some people are incredibly pleased with the tool (most of them), however, it seems like not everyone was that lucky with the ax. Firstly, some commentators claim that while the axe itself is pretty lightweight, sharp, and solid, the blade chipped after several uses. Some people also say that the ax literally fell apart from the handle, so it probably won't be a perfect choice if you need an axe for cutting very hard materials. Of course, you should think carefully before purchasing the ax. Consider all the pros and cons of this product, this ax seems to be a decent choice for outdoor survival, however, you should be careful because it might as well let you down in some cases.
#2 SOG Bushcraft Tomahawk (Survival Axe, Camping Hatchet)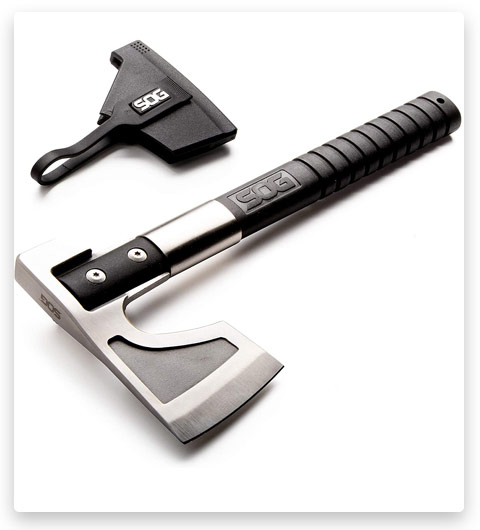 View on OpticsPlanet View on Amazon
Our next competitor is definitely worth your attention. We think this SOG product is convenient for hiking or outdoor activities since this ax (hiking hatchet) is pretty lightweight and easy to carry around. The wood chopping axe can be used as a hammer, which may be a good thing for some people. The reviews are great, there are few remarks from people, but we don't think they are too serious. For example, the manufacturer tells us about the included hard-molded glass-reinforced nylon sheath guard for safety. However, reviewers think that this ax needs a better sheath to make it safer to carry around and stow since it's very easy to cut yourself trying to attach it, you need to be careful. If that does not bother you much, we believe that you can consider this an option. Some people find the handle too short, we think that the SOG ax looks more like a utility tomahawk than a hatchet. You can read all the details in the description of the product, but we believe that this axe is worth your attention, so consider buying it if it meets your requirements. We have some other competitors though, so stay tuned to find the best axe for yourself!
#3 Gerber 9-Inch Bushcraft Tomahawk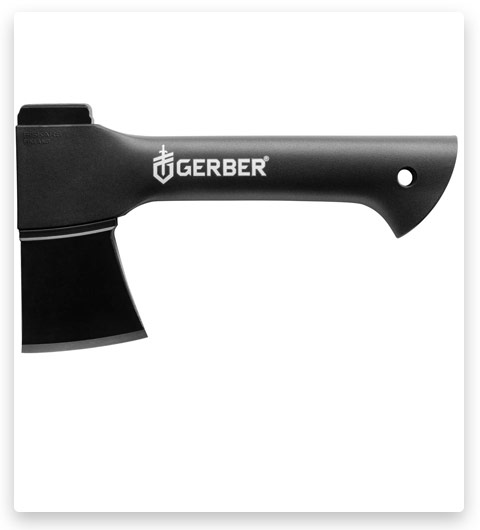 View on OpticsPlanet View on Amazon
Another great option to think about is this Gerber Hatchet, it's available in different sizes so you can choose which one you like on the website. Talking about the ax, we believe that due to its compactness ax fits well in the kit of hikers and car camping. This axe combines lightweight heft and a decent sharp blade. The material of the blade is the hardened forged steel and it should be hard and durable enough for long-term use. Of course, there some remarks from people, like the exaggerated back curve on the handle, people say that it can irritate the pinkie. Some people managed to break the ax completely, but there are no many comments like that. We believe that the hatchet should be great for splitting small logs, reviewers say that the product does its job pretty well for the price. All in all, we'd recommend this hatchet if it fits with your needs.
#4 Estwing Special Edition Bushcraft Axe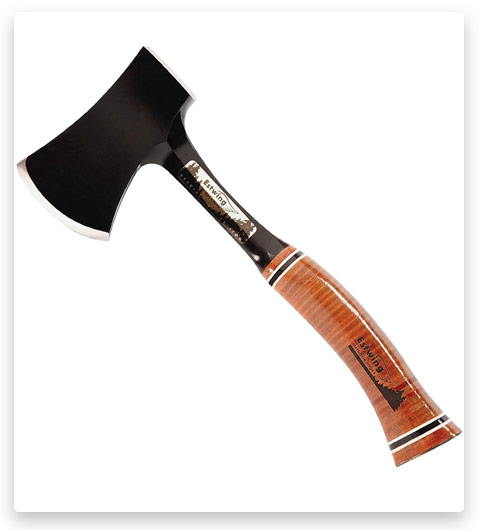 Now we would like to introduce you to this ax by Estwing, the reviews on this one are great, is it that great? Let us find out! Firstly, we'd like to point out that the axe is forged in the USA, the manufacturer claims that the axes are made using the finest American steel and should be great for chopping logs, small trees and branches or splitting firewood. Considering the comments, we can say that the hatchet actually does its job pretty well. Some complaint about the steel, it feels softer than it should be, dulling is possible. Talking about its advantages, we would point out that the size of the axe is adequate; it possesses good balance, feels solid and should feel comfortable in your hand due to the material of the handle, which is made of genuine leather and is lacquered for a durable yet comfortable feel. As you can see, there some pros and cons of the axe, you should decide for yourself whether it is worth your attention. Summing up, we think that this axe is a good choice of outdoorsmen, you should consider it an option!
#5 CRKT Kangee Bushcraft Tomahawk (Tactical T-Hawk with Spike)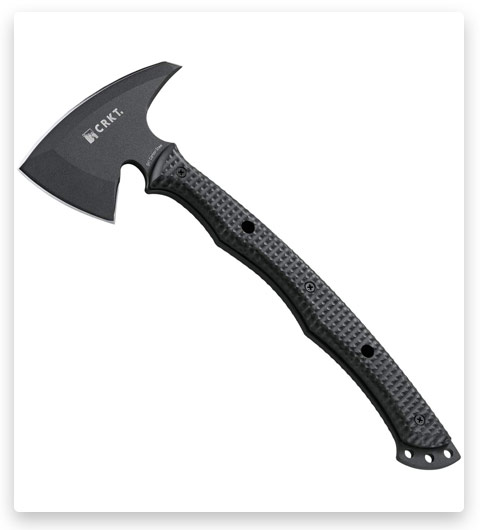 View on OpticsPlanet View on Amazon
The CRKT Kangee Tomahawk is our next competitor, let's see its pros and cons. The nylon handle with a textured grip seems to be loved by many people. The axe has good size for carrying around and feels great, nice, and grippy in the hand. This axe is very sharp out of the box and the ergonomics, the design looks cool and the axe itself cuts very well. If we are talking about firewood, branches and etc., that is. Some people claim that the edge of the blade is brittle and there may be some notches in the blade after chopping through something really sturdy. The material is SK5 Carbon Steel, the material is good and rust-free, but this axe won't suit you if you need it for chopping something really solid. However, we think that the axe may be considered if it meets your requests, you should be careful and read the description of the product though. Whether to buy it or not is totally up to you.
#6 Cold Steel Trail Bushcraft Tomahawk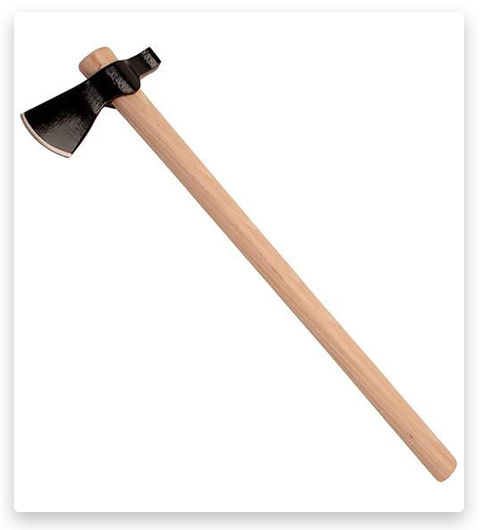 View on OpticsPlanet View on Amazon
Our next choice is the cold steel Trail hawk, this one is a really affordable choice and if you don't want to spend much money on a hawk you should pay attention to this product. As you can tell from its name it is made of cold steel. The steel is good and sharp enough, you won't have to sharpen it too often, the handle is solid, but needs a little work on it since it's not too comfortable in your hand. Reviewers say that the hawk is good for light chopping and for gathering kindling sized wood, but you may need something stronger for splitting firewood or anything else. That to be expected due to its inexpensive price. The hammer poll is small, but it's enough for stakes if you're careful and it can be used to finish off pieces of wood. It's really lightweight, which may be good for throwing and packing, but as we've already mentioned, you won't have enough power for heavy-duty chopping. We would recommend the Trail Hawk if you want a nice lightweight tomahawk for a great price. Make up your mind considering all the pros and cons along with its price.
#7 Schrade SCAXE2 Small Survival Axe
View on OpticsPlanet View on Amazon
This SCHRADE axe seems to be a very worthy candidate in our top. The blade is made of reliable 3Cr13 Titanium Coated stainless steel head and seems to be sharp and sturdy enough, based on the reviews. A good thing for a survival hatchet is that axe features a hammer pommel as well as an extra-large Ferro rod that is stored inside the shaft. However, some people managed to break the blade of the handle while using it as a hammer pommel so you should be aware of the possibility. The handle is strong and comfortable enough. You also should know that based on the reviews you shouldn't buy this one to carry around for camping, because it may be way too heavy. As always. You can read about the dimensions and all the details on the website. Other than that, we believe that it is a good quality product at a great price.
#8 Fiskars X7 Bushcraft Tomahawk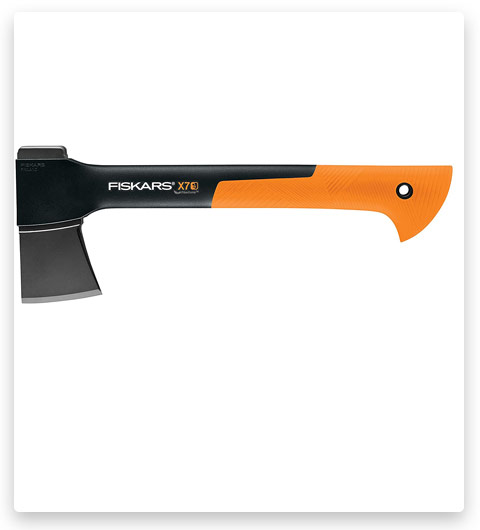 Our next competitor might be the best one in our top (review wise). People say that the hatchet feels good in the hand and is nicely balanced. Considering its description this axe should fit great for chopping kindling and small- to medium-sized logs. There are not many negative comments. Some people claim to have issues with the metal of the edge folding over or being hard to sharpen. However, it is soft steel and the blade will dull fairly easily if you use it for high-duty tasks. You should be aware that the hatchet is not made for that. Most of the people don't find it a problem though and think the blade is d easy to sharpen. To sum up, we can recommend you buying this product for light backyard use or hiking since it is pretty lightweight. This product seems to be of good quality and the price is just another bonus. If it is what you're looking for then you should go for it!
#9 Snake Eye Tactical Compact Tomahawk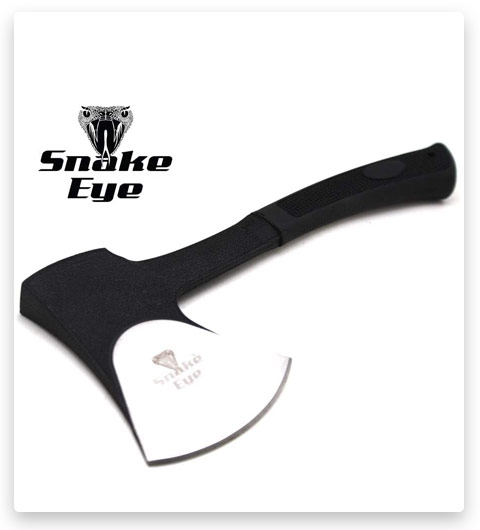 This Snake Eye tomahawk is the next product we'd like to show you. People find it to be great for target practice. Let's see its traits. Firstly, these are short and compact, the axe is literally made for throwing. Sure, these hatchets work great and throw well, but some people think they are a bit too small and light (that may be due to individual preferences). The Stainless Steel Blade can be used on some branches or for any light work. There is not much information for the product, you should check it out on the website and read the details and reviews, but we think if you want to practice your throwing skills for hunting or self-defense, you can definitely think about buying them.
#10 Gransfors Bruks Wildlife Bushcraft Axe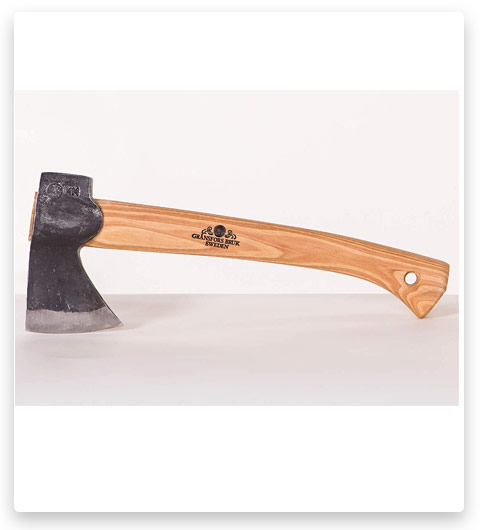 Last but not least in our top best tomahawks/axes is this Gransfors Bruks Wildlife Hatchet. The blade of this axe is sharp and the handle extremely solid. However, people say that this axe might be good to use on softwoods exclusively since they are not made for very hard materials and there may be divots in the edge after several uses on something really strong. People in the comment section also say that they enjoy the design and ergonomics of the hatchet. The next thing to point out is that the hatchet is suitable for typical camping activities and is lightweight. Well, despite the fact that 80 percent of people are satisfied with the quality, we believe that the main problem with the tool is the poor quality control in some cases. The thing is, some people got exactly what they didn't want to and not as well-made as other customers. Summing up, the tool itself is great and is worth your attention, however, you should be careful with whom you buy this axe.
Conclusion
Whether you want a good axe for survival in nature or you just want to use it in the backyard of your house, we believe that you can choose a perfect axe for your own requirements and needs and we hope that our top will be able to help you! We wish you good luck and a nice purchase!
Best Pick:
Tags: #Bushcraft #Tomahawk #Survival #Axe #Best #Tomahawks #Cold Steel #Gerber #Schrade #Hachet #Kangee #CRKT #Review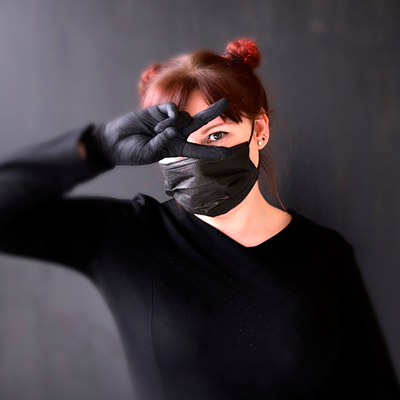 Ann Burwell
Mother, Extreme Lover, Author, and Outdoor Gear Expert
Nice to meet you, my name is Ann. What I can say about myself is that I am a supporter of a healthy lifestyle and enjoy spending my leisure time actively (most frequently outdoors). My hobby is camping, hiking, climbing mountains. And of course, I adore various survival and
tactical gear
, which is so necessary for a comfortable stay in extreme conditions. I am fortunate that my husband and family support me about this.
That is why it is important for me to find good items that will help me and my family have a good time without too much hassle. I like to look for stuff for myself or gifts for my loved ones. We also share the high-quality products we find with each other, and I think it is really important to transfer your opinion and knowledge, that is why I am pleased to share the useful information I find with other people. I'm so happy that my family helps me in this matter. We hope that someone really finds this helpful and interesting enough!
Read more
about our team
of expert authors.