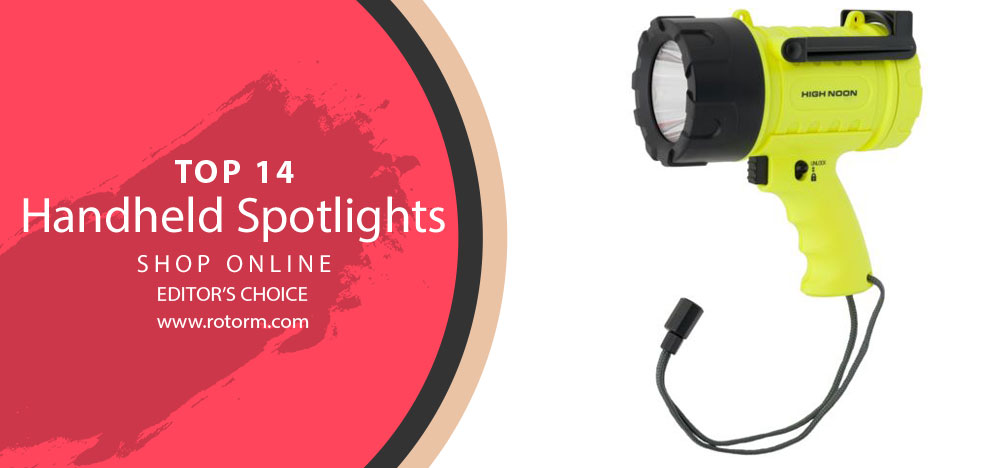 What is Handheld Spotlight? 🤔
This is a portable lighting device that utilizes powerful LED bulbs to produce bright, focused beams of light. These spotlights are commonly used in camping, hunting, photography, and outdoor exploration due to their compact size and portability.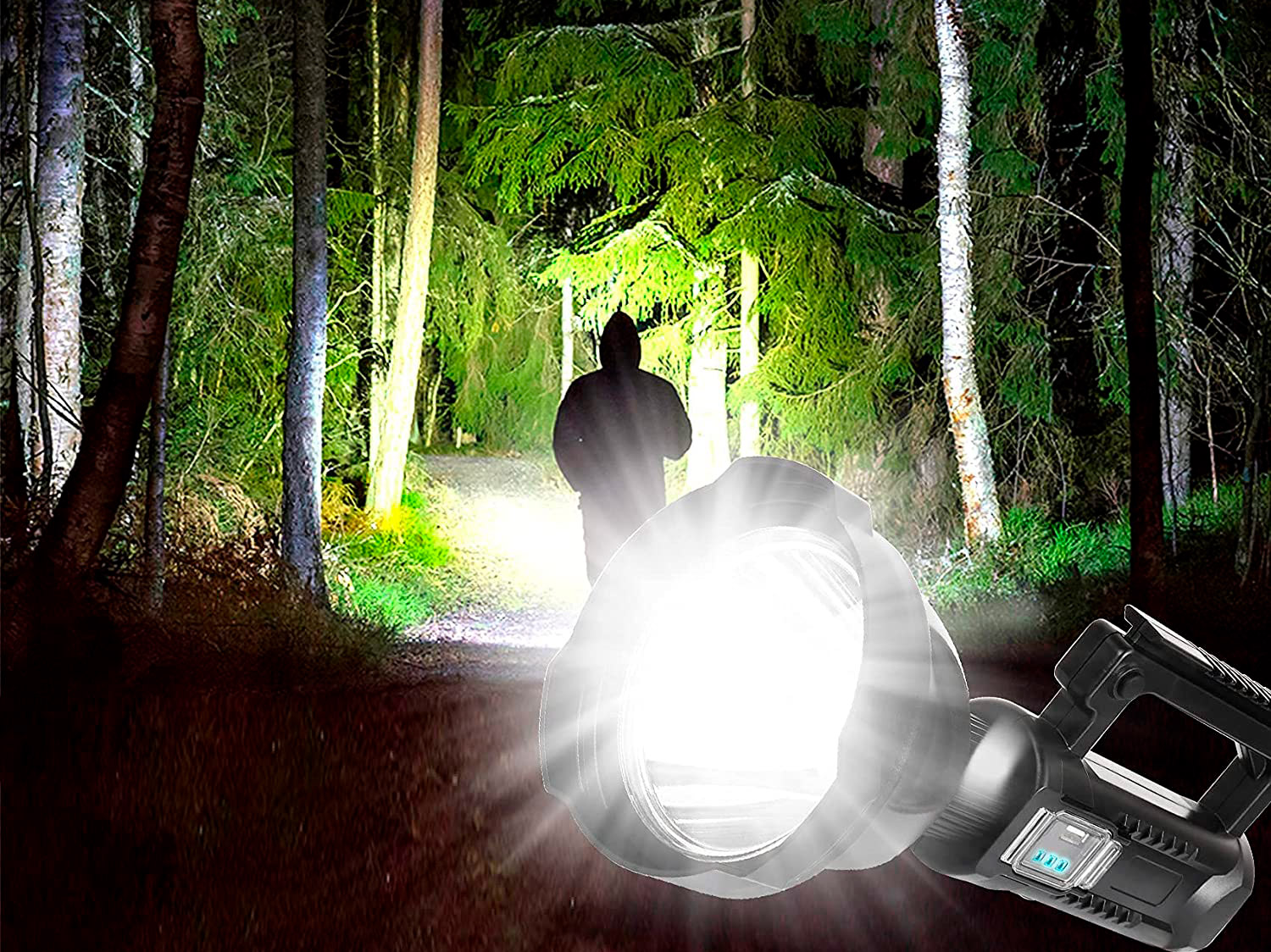 Features 🔥
🔦 High Light Output: Powerful light source for excellent brightness and visibility.
🌟 Adjustable Focus: Ability to switch between a wide floodlight and a concentrated beam.
🚀 Long Beam Distance: Reach far distances with the spotlight's focused beam.
⏱️ Long Battery Life: Extended battery performance for prolonged use.
🔋 Rechargeable: Convenient option to recharge the spotlight's battery.
💪 Durable Construction: Solid build quality for reliability and longevity.
🌧️ Water-Resistant/Waterproof: Protection against water and rain.
📏 Compact and Lightweight: Portable and easy to carry during outdoor activities.
🤲 Ergonomic Design: Comfortable handle for easy gripping and handling.
🌈 Multiple Lighting Modes: Different modes for adjusting brightness or colour temperature.
🔄 Versatile Mounting Options: Ability to attach the spotlight to tripods or other supports.
👁️‍🗨️ Safety Features: Protection against overheating or overcharging.
💡 LED Technology: Efficient and long-lasting light source.
🌟 Wide Applications: Suitable for camping, hunting, emergency situations, and more.
🎒 Portable and Compact: Perfect for on-the-go adventures.
Our Top Pick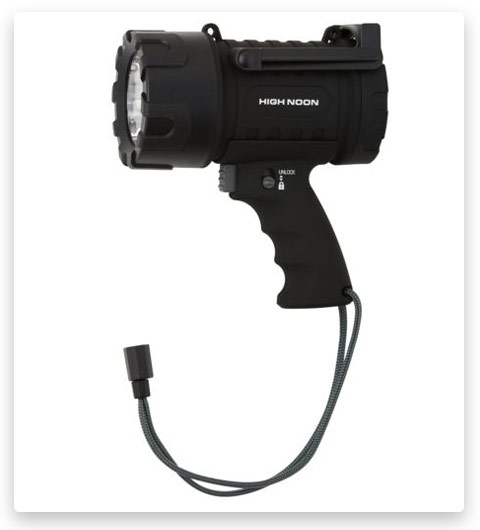 Browning High Noon 4C Handheld Spotlight
Don't be afraid to illuminate your surroundings. This compact and lightweight flashlight is perfect for your long journeys as it is powered by a durable 4C battery. Despite its small size, it produces an impressive amount of light. Additionally, the non-rechargeable batteries have a long lifespan. If the brightness is too much, you can adjust the settings to low for different situations.
Buy Now On OpticsPlanet
If you click this link and make a purchase, we earn a commission at no additional cost to you.
Types 💎
💡 Incandescent Bulb: Traditional bulb type that produces light by heating a filament. It provides a warm glow but has lower energy efficiency and a shorter lifespan compared to other bulb types.
💡 Halogen Bulb: Similar to incandescent bulbs but filled with halogen gas, which extends their lifespan and enhances brightness. They offer a brighter output and are commonly used in spotlights requiring high-intensity illumination.
💡 LED (Light-Emitting Diode): Highly popular and efficient bulb type that uses semiconductor technology to produce light. LED bulbs offer exceptional energy efficiency, long lifespan, and a wide range of brightness levels. They are commonly found in modern handheld spotlights due to their reliability and performance.
💡 HID (High-Intensity Discharge): HID bulbs use an electric arc between two electrodes to create light. They provide extremely bright illumination and are often used in professional-grade spotlights. However, they require a warm-up time to reach their full brightness and are less common in consumer handheld spotlights.
💡 Xenon Bulb: Xenon bulbs produce a bright, white light and are often used in specialized spotlights. They offer good colour rendering and are known for their durability and long lifespan.
The Main Uses 🌞
🏕️ Outdoor Activities: Camping, hiking, fishing, and hunting.
🚗 Automotive Repairs: Illuminating engine compartments and undercarriages.
🌙 Emergency Situations: Power outages, roadside assistance, or search and rescue.
🛶 Boating and Marine: Navigating dark waters or signalling.
📷 Photography/Videography: Providing additional lighting for low-light situations.
🏠 Home Security: Spotlighting potential intruders or lighting up dark areas.
🚓 Law Enforcement: Crime scene investigation, nighttime patrols, and search operations.
⚡️ Power Outages: Reliable illumination during electricity disruptions.
👨‍⚕️ Medical Use: Examination of patients in low-light environments.
🏋️‍♂️ Industrial Applications: Maintenance, inspections, and construction work.
🚧 Roadside Assistance: Lighting up areas for tire changes or repairs.
🐾 Wildlife Observation: Spotting animals in the dark or tracking their movements.
Best Handheld Spotlight | Handheld Spotlight Review
| Image | Product | Brand | |
| --- | --- | --- | --- |
| | Streamlight Waypoint 1000-Lumens Spotlight | Streamlight | |
| | Browning High Noon 4C Flashlight | Browning | |
| | Goodsmann Submersible Powerful Spotlight | Goodsmann | |
| | BUYSIGHT Rechargeable Spotlight | BUYSIGHT | |
| | CSNDICE Rechargeable Handheld Flashlight | CSNDICE | |
| | YIERBLUE Rechargeable Spotlight | YIERBLUE | |
| | STANLEY SL3HS Rechargeable Ultra Bright Spotlight | STANLEY | |
| | Avid Power Spotlight | Avid | |
| | ENERGIZER HC-600 LED Spotlight | ENERGIZER | |
| | BIGSUN Rechargeable Spotlight | BIGSUN | |
| | BUYSIGHT Rechargeable Handheld Flashlight | BUYSIGHT | |
| | SPIKA Spotlight USB Rechargeable | SPIKA | |
| | NoCry Waterproof Rechargeable Spotlight | NoCry | |
| | Fenix 3-in-1 USB Rechargeable Work Light | Fenix | |
Best Handheld Spotlight
1# Streamlight Waypoint 1000-Lumens Handheld Spotlight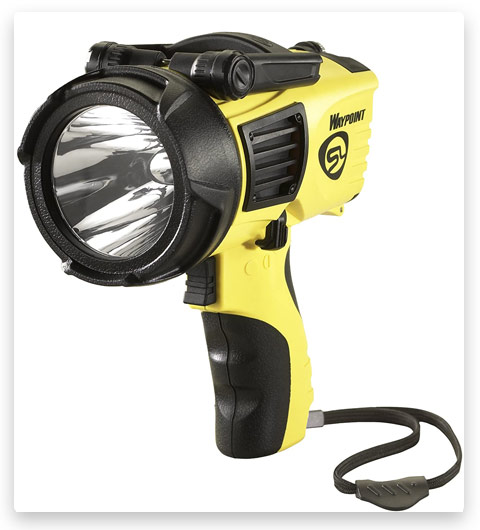 View on OpticsPlanet View on Amazon
Let your beam reach for around 680 meters with this wonderful spotlight. If you need a great handheld and powerful flashlight for your routine, reliability is the most important feature. This is exactly what the Streamlight brand has to offer! It will deliver you light in every extreme condition you want it to. This spotlight will be perfectly doing its job in the most unexpected situations. It's not afraid of high and low temperatures and can handle being left in water or accidentally dropped on the rocks – and this all without hurting your hands with heaviness because it is very lightweight and comfortable to carry around. And for different types of situations, you can easily regulate how bright and powerful you want your flashlight to be. There are three levels of brightness with different beam lengths. If used on the lowest, the spotlight can work up to 80 hours and quickly recharged with the help of a 120-volt AC charger thanks to a lithium-ion battery that can be charged up to 800 times. And this is definitely a must-have for those who camp in the woods or live in wild animals area – the spotlight is blinding and successfully chases off all unwanted guests.
2# Browning High Noon 4C Handheld Spotlight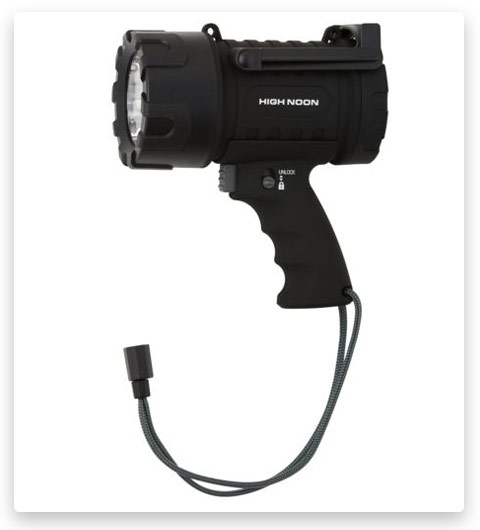 View on OpticsPlanet View on Cabelas
Don't ever wonder again about what is hiding there in the dark. Light everything up and don't be scared that something is hiding there. You can boldly take it with you on a long trip – 4C battery ensures the spotlight's durability. This flashlight is ultra-bright, you will be impressed by how much light can small spotlight produce. It is also really lightweight, compact and you don't even need to worry about batteries long-lasting – even though they are not rechargeable, they will last for a long while, trust me. As a result of using this product, we found that the brightness of this small flashlight is unbelievable but if you need less light it is to regulate settings to low for certain situations. This is a perfect purchase for campers – you can easily fit it in your backpack and you won't notice any extra weight. It can last you up to 72 hours runtime if using the lowest setting – that must be more than enough for a week or two getaway. And can use it any weather conditions without worries – it will give you a nice and bright beam even in the heaviest rain.
3# Goodsmann Submersible Powerful Handheld Spotlight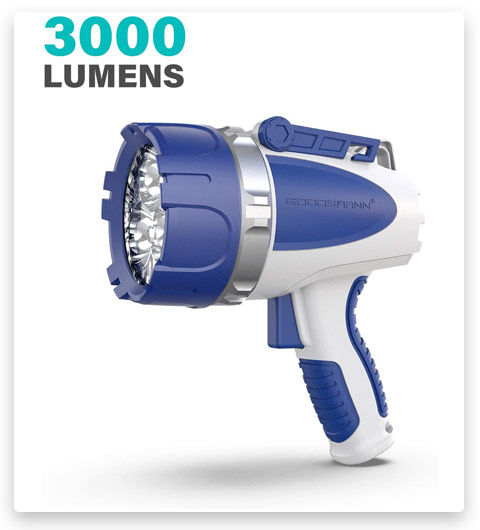 If you want some extra ultra-brightness in your life – this flashlight is made just for this. Achieve a super strong and long beam with a help of 3000 lumens. Tough and strong flashlight construction ensures that you won't be left in the dark during your trip or late night walk. It is made of impact-resistant and high-quality materials that can handle dropping and other heavy-duty conditions. It won't let you down in the rain and will float if dropped in the water – perfect for hiking or sailing. Spotlight is provided with a comfortable handle and hand strip, making it pretty easy to carry without slipping or hand fatigue. LED bulbs are energy-saving and nature friendly and won't overheat from long hours of usage. The high-capacity battery will provide durability and long-time using. And you can easily recharge it with included charger. Different energy modes allow you to use this device up to 16 hours (on SOS mode).
4# BUYSIGHT Rechargeable Handheld Spotlight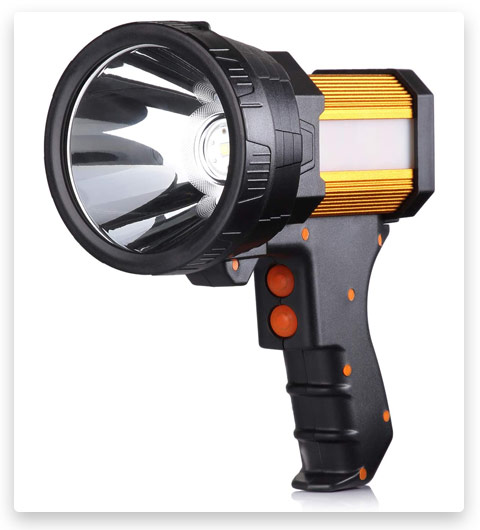 Probably the brightest spotlight you will ever own. This is a must-have for those who need to see all around them on a daily basis at night. This is the perfect option for people who enjoy camping in the wilderness or live near forest areas – the spotlight will do a great job of putting animals away. No more hand fatigues because of heavy devices, you won't regret buying this flashlight after discovering how lightweight and comfortable to hold it is. Three power modes allow you to regulate brightness and help achieve up to 32 hours of working time. For soft lantern-like light, there is a side floodlight switch that can provide you standing lamp for about 40 hours. And if sadly you have got some troubles with your vehicle, there is an eye-catching warning light function – really important thing to have in the night. Spotlight is covered with an extra hard aluminum shell to protect it from being damaged. And last but not least – USB port can be used for charging your phone or other devices, a really good feature for camping.
5# CSNDICE Rechargeable Handheld Flashlight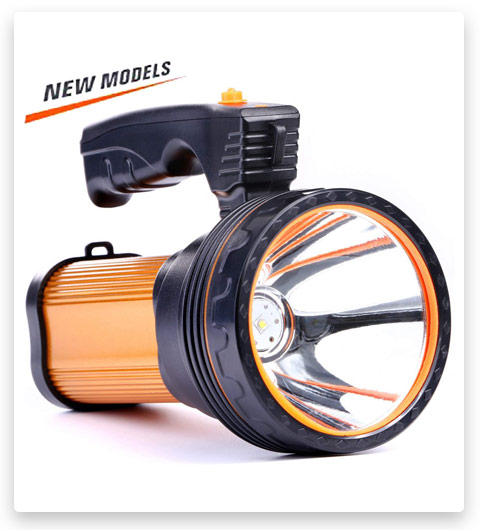 A good flashlight is a must-have for everyone who needs to see more clearly in a dark or sometimes even rainy place. Don't spend too much money on spotlights that won't suit your needs and take a look at one of the best on the market. It produces brightest and, well, the most white beam you have ever seen in your life. And don't even worry about constant batteries changing – it will last up 26 hours and then you can easily recharge it pretty quickly. Don't worry about getting tired of carrying it in your hand all day or not being able to fit in your backpack – this spotlight is extremely lightweight and it foldable and compact enough to be stored anywhere. And even for more comfortable carrying, for example, during the late-night walk, there is a shoulder strap. And for the world that relies on technologies, the flashlight is provided with USB port for emergency charging your phone or other devices. And don't worry if you are slightly clumsy – the spotlight is made of unbreakable material and water-resistant up to 3 feet under.
6# YIERBLUE Rechargeable Handheld Spotlight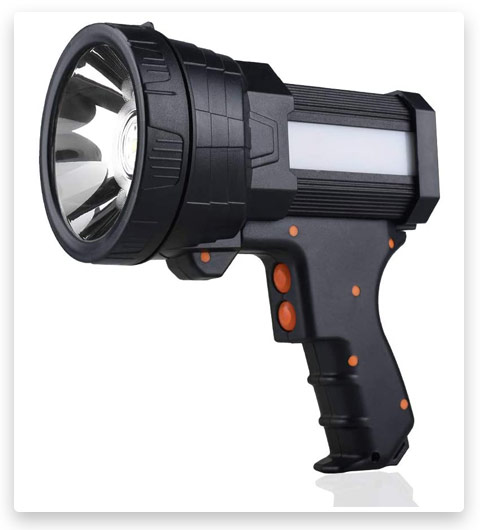 For those who can't imagine their life without extreme sports or camping trips, there is this wonderful flashlight designed specifically for heavy-duty conditions. Ni more worries that you'll get caught in the dark because you have run out of batteries. Spotlight is provided with built-in long-lasting, durable, and quickly rechargeable lithium-ion batteries that can work for you up to 1000 recharges. And it can also serve you as a power bank which is really handy and important nowadays, because who doesn't carry phones or other devices in their pocket today. It also produces soft floodlight on sides with an additional mode for you to do some work without keeping it in hand. On one charge this spotlight can work for more than 20 hours on low power mode. And feel free to use it indoors when you have no other source of light – it doesn't make any noise.
7# STANLEY SL3HS Rechargeable Ultra Bright Handheld Spotlight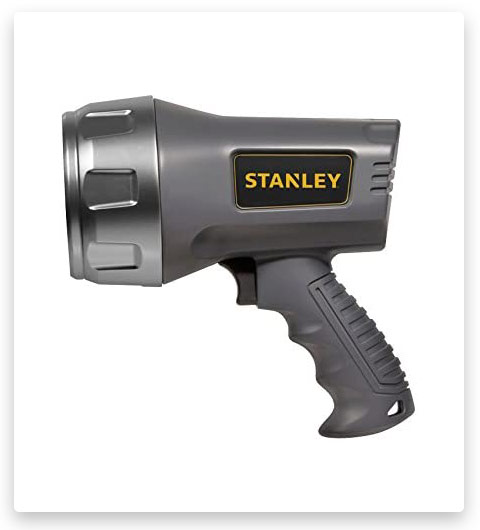 Light up your life with up to 900 lumens and never be left alone in the darkness. Illuminate about 200 feet of area in front of you with a strong and very bright light beam. There are three light levels, and the highest one is as bright as if it was daytime. It is well designed and good looking flashlight equipped with a comfortable handle and really lightweight to make it easy to carry around all night long without getting hand fatigue. Besides being a must-have for campers, hunters, etc. this spotlight is also a necessary thing to have in case of power outages to have some essential light in the house. Based on our experience this model is watertight so you can boldly use it during unpleasant weather conditions. A flashlight can do its job up to 20 hours with the help of high-capacity lithium-ion batteries and then quickly recharged to be ready to work in a few hours.
8# Avid Power Handheld Spotlight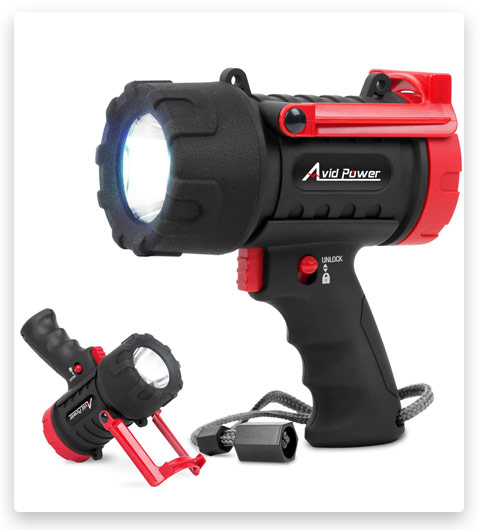 This lightweight flashlight is easily portable thanks to the small size and compact design. It is comfortable to carry and equipped with a strap to wear on the wrist while walking or hiking during daylight. D ok but forget to pack it when planning to go camping – thanks to high capacity lithium-ion battery this spotlight will last for days. And if you need some work to be done or want to read at nighttime there is an adjustable stand to stay provided with light without the need to handle it in your hands. End after a long trip you can quickly and easily recharge your battery to start getting ready for another getaway. This flashlight uses a micro USB port for charging which is very convenient nowadays. It also has a small section inside of a handle to store charging cable there. And it has three light settings so you don't use too much energy when you little amount of light.
9# ENERGIZER HC-600 LED Handheld Spotlight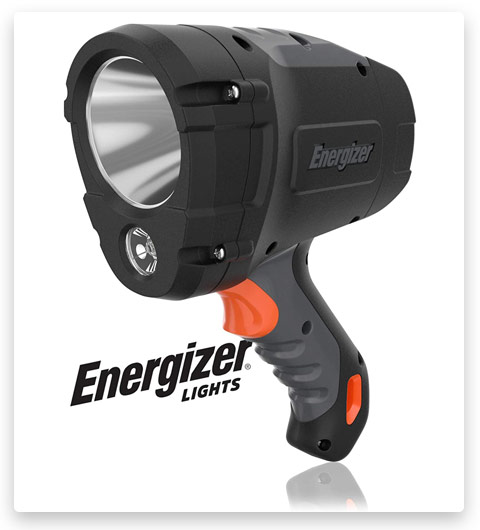 You will be amazed by the quality and brightness of this flashlight when you see the price. It will surprise you with tight yet lightweight construction. It is very easy to carry and rubber material on the handle completely prevents any slippery and saves it from being dropped. And the trigger is just the perfect size for effortless control with a finger. And two modes can be switched with a button, first high then low brightness level. If you need to light up something in distance then the high mode will help you achieve it with 425 meters long beam. High capacity batteries included in a purchase can last you up to 6 hours on high mode. Built-in stand and a flat head design allow you to use the spotlight hands-free as a lantern. And it won't let you down in the harshest weather conditions – watertight allows it to handle rain and water splashes.
10# BIGSUN Rechargeable Handheld Spotlight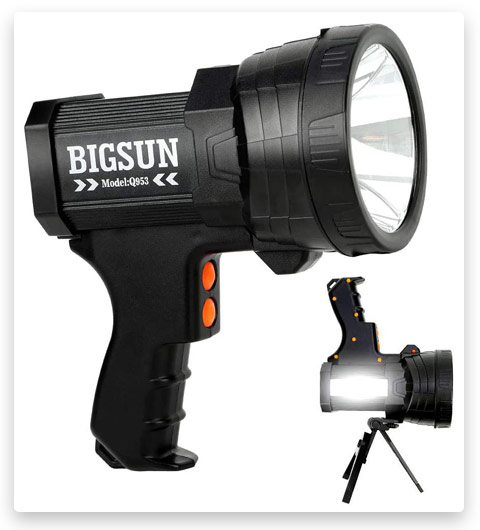 Don't ever worry again about dropping and breaking your flashlight and be left alone in the darkness. This one is made of strong and tough high-quality aviation aluminum alloy and can survive your heavy-duty lifestyle. You can be sure that you'll be able to see everything you need at night in front of you at a distance of up to 800 meters in high power mode. There are three light levels to choose the right one for certain situations and an SOS mode for extra energy saving. Spotlight is equipped with a tripod stand to allow you to use it hands-free while fixing something or other. And additionally for repairing there's a side floodlight mode to use it as a lantern. Lightweight construction and big enough handle make it easy to carry while using and a hole in it to put an adjustable shoulder strap to improve the spotlight's portability. The battery of a flashlight can be quickly recharged and be ready to work for up to 20 hours.
11# BUYSIGHT Rechargeable Handheld Flashlight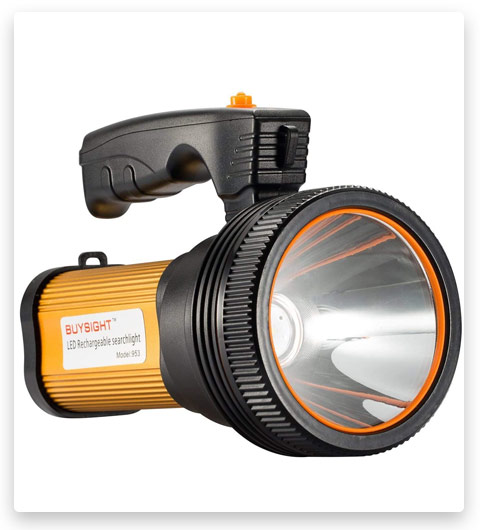 Light everything up in front of you and don't ever again be afraid of darkness with this spotlight that can reach up to 800 meters. You can easily fit it in your backpack or carry it on the shoulder with the help of an adjustable strap to go on a long walk or camping. Thanks to a high capacity lithium-ion battery you can be sure that it will for hours providing your getaway destination with light and even help you to charge your phone in an emergency. Either it is during power outages or just unpleasant weather conditions in the wilderness – this spotlight is not afraid of moisture and will always be at it's the best performance. It is the best choice not only for hunting or else but also suitable for late-night walks alone or with a dog.
12# SPIKA Handheld Spotlight USB Rechargeable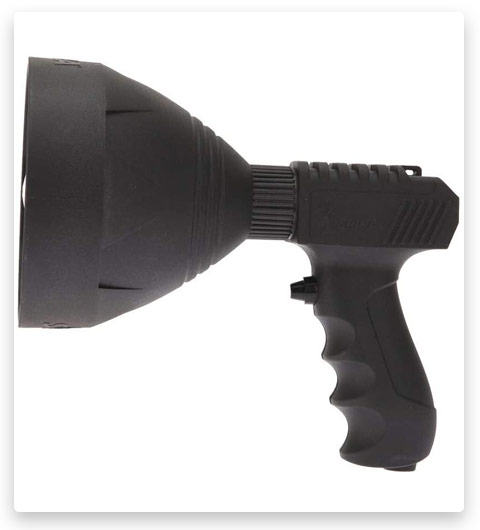 You'll be delighted and surprised with power and a bright light of this well-made flashlight. No more secrets the darkness can hold from your eyes to see – with strong and long beam you will be able to see all details of animals and trees around you. The handle is really comfortable to hold and thanks for it being lightweight it is really easy to carry. This will become your best friend and companion for outdoor activities and a long time traveling. The high capacity battery will ensure that you won't be left alone in the darkness. And after quickly recharging spotlight will be ready to be fitted in your backpack and you could boldly head to the new adventure. And it will be a great help with unwanted wild visitors, very bright lights will surely scare them off. But don't use it on people, it can be harmful.
13# NoCry Waterproof Rechargeable Handheld Spotlight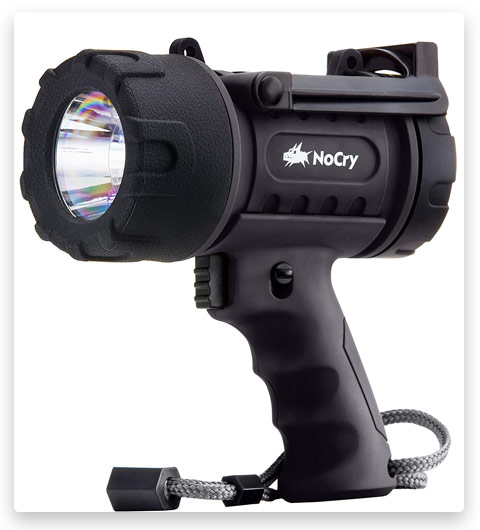 What a shame it is to get left without any light when you might need it the most, right? Something like that will never happen with this wonderful and durable flashlight that thanks to the lithium-ion battery with serious storage capacity can last up to 20 hours. Due to its lightweight construction and compact design, you will have no problem taking it anywhere you might need it. It will become your best companion in heavy-duty traveling. It is perfectly designed to be waterproof and being able to handle dropping and other unpredictable impacts. Don't be afraid of being too clumsy and accidentally drop it in the water – the spotlight is prepared for this and won't think, but I don't recommend doing it on purpose. And in case you want to have light while fixing something, there is an adjustable stand to allow you to use it hands-free.
14# Fenix 3-in-1 USB Rechargeable Handheld Spotlight
Provide yourself with bright light for up to 120 hours with this wonderful flashlight. The high capacity lithium-ion battery will do its job spectacularly and will be easy to recharge with common USB type-C charging cable that is included in the purchase. It's really lightweight and easy to carry thanks to the included adjustable shoulder strap and also can be used hands-free with the help of stand. This flashlight is specifically designed to be used for searching and emergency management. Comfortable for use switch is perfectly located on a handle to provide control of changing power modes. There are Turbo, High, Low, and SOS modes to be used for different situations. And for another emergency, this searchlight can be used as a power bank to charge your phone or other devices.
Maintenance 🔰
Proper maintenance of a handheld spotlight is essential to ensure its longevity and optimal performance. Here are some typical maintenance practices:
🔦 Cleaning: Regularly clean the lens and body of the spotlight to remove dirt, debris, and fingerprints. Use a soft cloth or lens cleaning solution for effective cleaning without scratching the surface.
🔋 Battery Care: If the spotlight uses rechargeable batteries, follow the manufacturer's guidelines for charging and storage. Avoid overcharging or completely draining the batteries, as it can affect their lifespan. Replace disposable batteries promptly to prevent leakage or corrosion.
🌧️ Water Resistance: If your handheld spotlight is designed for wet conditions, periodically check the seals and gaskets for any signs of wear or damage. Ensure that the water-resistant features are intact to maintain its protection against moisture.
🔄 Moving Parts: Lubricate any moving parts or switches with appropriate lubricants, if recommended by the manufacturer. This helps ensure smooth operation and prevents stiffness or corrosion over time.
💪 Durability Check: Inspect the spotlight for any visible damage, such as cracks, dents, or loose components. If any issues are found, contact the manufacturer or a qualified technician for repair or replacement.
🌡️ Temperature Considerations: Avoid exposing the spotlight to extreme temperatures, as it can affect the performance and lifespan of the batteries and internal components. Store the spotlight in a cool, dry place when not in use.
⚡️ Firmware/Software Updates: Some advanced spotlights may have firmware or software updates available. Check the manufacturer's website periodically to ensure that your spotlight is up to date with the latest improvements or bug fixes.
FAQ 🧐
Conclusion 😎
When choosing a handheld spotlight, there are many factors to consider. You'll need to think about the type of bulb, distance and brightness rating, battery life, water-resistance capabilities, portability features such as weight and size, safety features like overheat protection or charging prevention systems, and LED technology for energy efficiency and longevity of light output. Additionally, you should take into account the main uses that it will be put towards like outdoor activities such as camping or fishing; automotive repairs; emergency situations; boating/marine use; photography/videography; home security applications; law enforcement operations and power outages. Generally speaking, when looking at lumens ratings most spotlights range between 500 – 1000 which is usually enough depending on what you plan to do with your handheld spotlight. Ultimately when selecting a handheld spotlight make sure to pick one that best meets all of your needs while still being within your budget constraints! 🤩🛒
Best Pick:
Tags: rechargeable handheld spotlight, marine handheld spotlight, handheld spotlight reviews, brightest handheld led spotlight, best handheld spotlight for hunting, best handheld spotlight for boating, 12v handheld spotlight, handheld spotlight for boat
#Best #Handheld Spotligh #Reviews #Spotlight for Boating #Hunting #12V #Brightest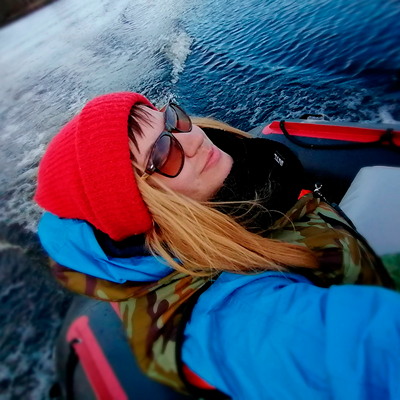 Olena Dubose
Traveler & Camping Expert
I was born in a family of experienced travelers and used to spend all my school breaks and long weekends camping and hiking around the most admirable places in Canada and sometimes United States. My dad used to be a soldier and always taught me how to survive during unpredictable circumstances. Like every other kid, I wasn't really interested in my parents' extreme lifestyle when I was little, but I can't imagine my life now without regular outdoor trips and extreme sports.
Thanks to my intense childhood and a few decades of experience I can now choose the best equipment for any adventure waiting for me to dive in. And after all, I have been through, I want to share my knowledge so more people could join an enjoyable and breathtaking trip to discovering magical nature around us. Forget about five-star hotels and treat yourself with thousands more in a cozy camping trip!
Read more
about our team
of expert authors.
Affiliate Disclosure: Rotorm.com sometimes gets paid for listings, through sponsors or affiliate programs like Amazon, Optics Planet, Lucky Gunner, Brownells, Cabelas, Rainier Arms, 5.11 Tactical, Bass Pro Shop, etс. Clicking a link helps keep Rotorm.com free, at no extra cost to you!
About the author: Each article on our site is written by experts in survival and tactical equipment, gun enthusiasts, extreme travelers, military, law enforcement and desperate professionals, read about the author at the bottom of the article or visit "About Us" page.
Note: The views and opinions expressed in this article are those of the authors and do not necessarily reflect the official policy or position of any agency.