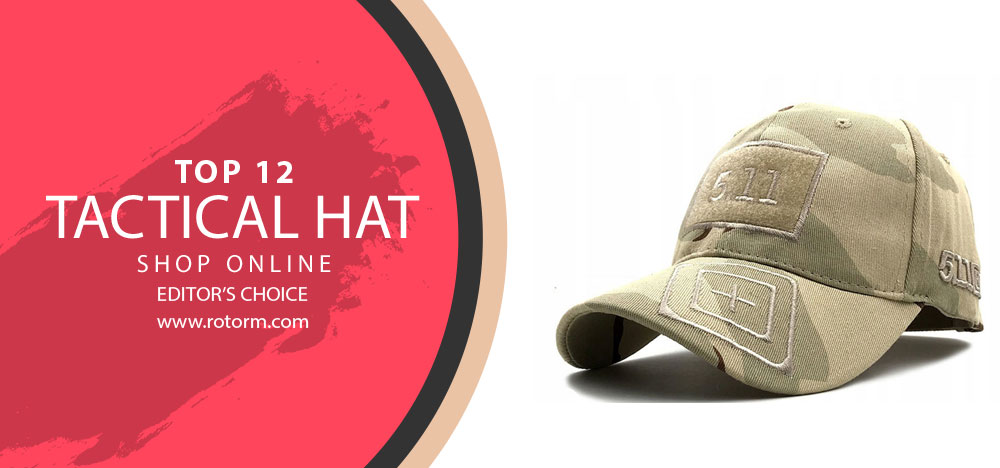 What are tactical hats? 🧐
They are headwear designed for outdoor activities and tactical operations. They provide superior protection from the elements, with features such as moisture-wicking fabric, adjustable straps for a secure fit, and ventilation holes for breathability.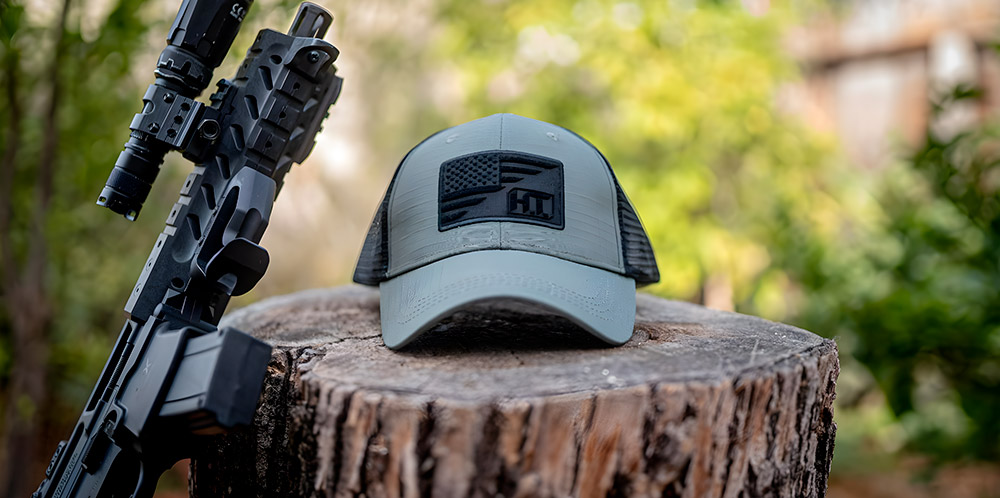 Features 🧩
Tactical hats are a great choice for those looking for a stylish, functional accessory that can keep them safe and comfortable in various environments. These hats offer features that many other hats simply don't have, making them ideal for outdoor activities such as hunting, fishing, or camping. Here are some of the features:
✴️ Specialized Materials: They are constructed with specialized materials designed to provide superior protection from the elements. This includes materials like ripstop nylon, Cordura, and even Gore-Tex for added water resistance.
✴️ Adjustable Fit: Most hats feature adjustable straps and/or drawstrings for a more precise fit. This helps to ensure that your hat won't slip off unexpectedly while you're in the field or on the trail.
✴️ Pockets & Compartments: Many hats also have pockets or compartments built-in, which can be used to store small items like matches, ID cards, or even a flashlight.
✴️ Style: Such hats come in a variety of styles, from camouflage to plain colors. This makes it easy to find the perfect hat for whatever environment you'll be in.
Our Top Pick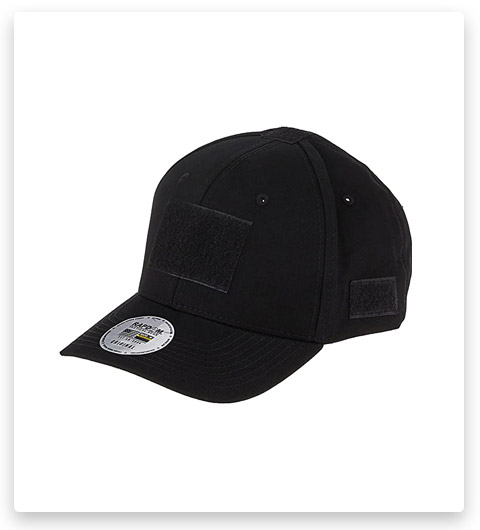 Rapdom Tactical Constructed Operator Cap
This cap is designed with practicality in mind, featuring easily adjustable hook and loop patches on the front, back, and top. Made from high-quality cotton, it offers a superior level of breathability and a soft feel against the skin. For convenience and a secure fit, the cap is equipped with a hook and loop closure. This closure system allows for easy adjustment, ensuring a comfortable and personalized fit for each wearer. Additionally, the cap is designed with a padded sweatband, providing added comfort and moisture absorption during active use.
Buy Now On Amazon
If you click this link and make a purchase, we earn a commission at no additional cost to you.
Benefits ⭐️
Tactical hats offer several benefits that make them a great choice for a variety of activities.
✅ The first benefit is protection from the elements. Such hats are typically made from thick, durable materials like nylon or cotton, which helps to keep your head and face protected from sun, rain, wind, and snow.
✅ Additionally, they often come equipped with eye shields to provide further protection against UV rays and glare.
✅ The second benefit is versatility. With their adjustable straps and buckles, they can easily fit any head size or shape while also allowing you to customize your look and feel. They also typically feature multiple pockets both inside and out for convenient storage of items such as sunglasses, earplugs, flashlights, or maps.
✅ Lastly, many hats are reversible so you can switch up your look while also retaining the same level of comfort and protection.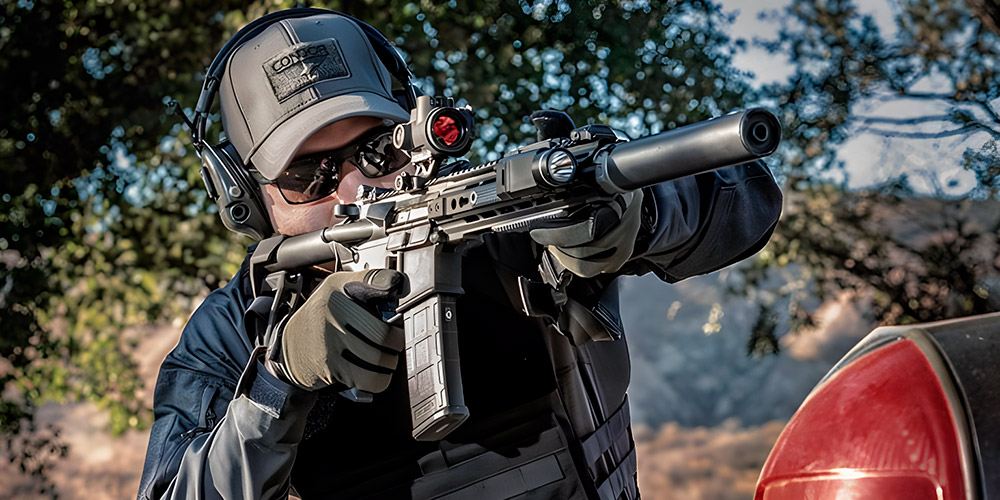 How to measure and fit a cap? 💡
When it comes to finding the best tactical hat for your needs, one of the most important factors is getting accurate measurements and a proper fit. To measure and fit a cap properly, you'll need a flexible measuring tape, such as a tailor's or seamstress' tape.
➡️ First, measure around your head where the cap will sit just above the ears. This should be measured in centimeters as this is usually how hat sizes are displayed on product labels. Once you have your head circumference measurement in centimeters, consult the size chart of the cap you're considering purchasing to ascertain which size would be best for you.
➡️ Once you've determined the right size for your head circumference, put the cap on and adjust it so that it fits snugly but comfortably without being overly tight. Make sure that there is no space between your head and the inside of the hat – if there is, you might want to consider sizing down if possible.
Best Tactical Hat | Best Tactical Caps 🧢
| Image | Product | Brand | |
| --- | --- | --- | --- |
| | TEXAS OPERATOR 2.0 HAT | 5.11 Tactical | |
| | Condor Mesh Tactical Cap | Condor | |
| | KBETHOS Tactical Operator | KBETHOS | |
| | Oakley Men's Tincan Cap | Oakley Men's | |
| | RAPDOM Tactical Constructed Operator Cap | RAPDOM | |
| | Condor Flex Mesh Cap, Black | Condor | |
| | Oakley Men's Si Cap | Oakley | |
| | Antrix Tactical Cap Tactical Hat Adjustable Operator Cap | Antrix | |
| | UltraKey Military Tactical Operator Cap | UltraKey | |
| | Terra Kuda Tactical Operator Cap | Terra Kuda | |
| | Vertx Kryptek Typhon Hat | Vertx | |
| | Tactical Multicam Boonie Hat | 5.11 Tactical | |
1# Texas Operator 2.0 Tactical Hat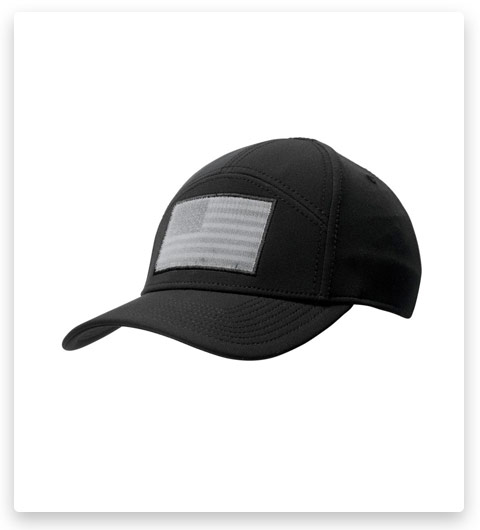 View on OpticsPlanet View on 5.11 Tactical
This tactical hat perfectly fits active people who like to feel the taste of life. A classic monochromic design perfectly fits everybody. A comfortable construction allows wear for a long time without any unpleasant feelings. The combination of polyester and elastin is nice to touch and durable. You can wash it as much time as you need. The cap is simply to clean both my hands and the washing machine. There are 2 sizes to choose from. The hat is available in two colors. As for me, it is a nice accessory for men, who want to look stylish both in an industrial city and in wild nature. It is very important to feel comfortable despite any life conditions!
2# Condor Mesh Tactical Cap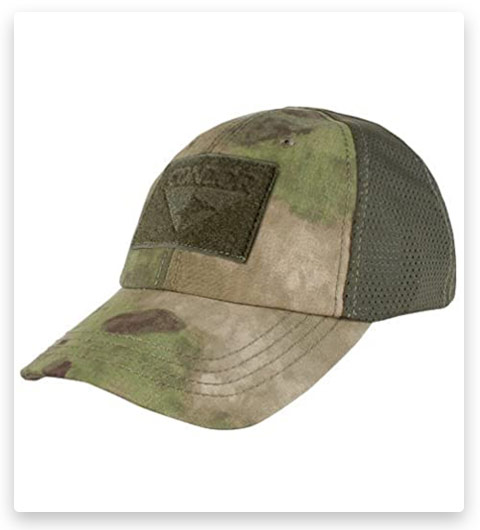 This lot attracts attention with a big quantity of positive feedback. I was surprised by the huge variety of colors. As for me, everybody can find something for themselves or their surroundings. The majority of caps are made in military style. This coloration is the best choice for surviving in wild nature and such activities as fishing, hunting, and camping. Be sure, it is an irreplaceable accessory for summer because of good sun screening and breathable fabric. Forget about insect bights with special protection systems. In general, the design is enough practical. The cap is crafted with polyester. This material is nice to touch, durable, and washing machine friendly. The adjustable velcro strap provides a perfect fit and an extra fixation for holding the cap even in strong wind. The lightweight doesn't cause any extra pressure on the head.
3# Kbethos Tactical Operator Collection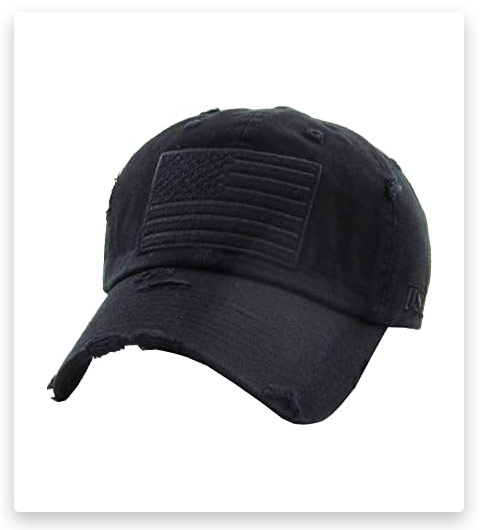 Look at this stylish tactical hat! It is so bright. As for me, it is a nice gift for a teenager. Be sure, your child will be satisfied with this fashion accessory. By the way, there are a lot of color options. At the same time, the cap is useful. It is equipped with a hook, that protects the face and eyes from the sun. The design is very comfortable for wearing. The one size fits everybody, but check the chart before ordering to be sure. The material is 100% cotton. This fabric is eco-friendly. It also provides good air circulation, so you can feel good even in the warm weather. The cap is washing–machine friendly because it consists of durable materials. In general, the hat is good for everyday life, but it is too bright for surviving in the wild nature.
4# Oakley Men's Tincan Tactical Cap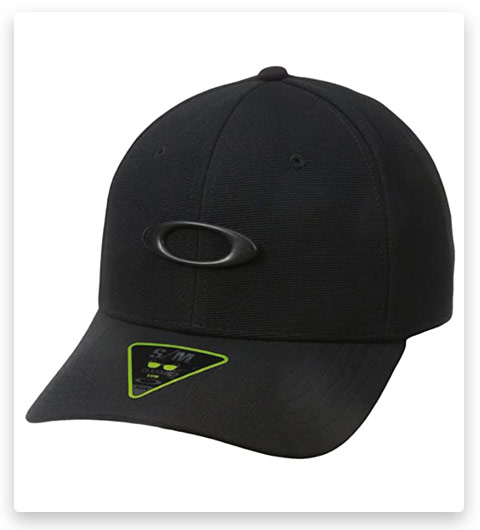 This is a nice multifunctional tactical cap. There is a huge variety of colorations for different reasons. You can find monochromic or multicolor, bright, or camo. Feel free to choose due to your needs. The hat is crafted with a combination of cotton and spandex. The first one provides good air circulation and pleasant touch. The second helps the cap to stay like new for a long time. Thanks to elastic closure the headdress is easy to carry on. You can put it in the bag without any doubts. There is a secure fit because of the stretch fabric behind it. A fashion logo on the top looks quite stylish. In general, I like this offer because of the opportunity to choose different designs for any goal. The cap can be a comfortable usual accessory or a helpful headdress for outdoor activities.
5# Rapdom Tactical Constructed Operator Tactical Cap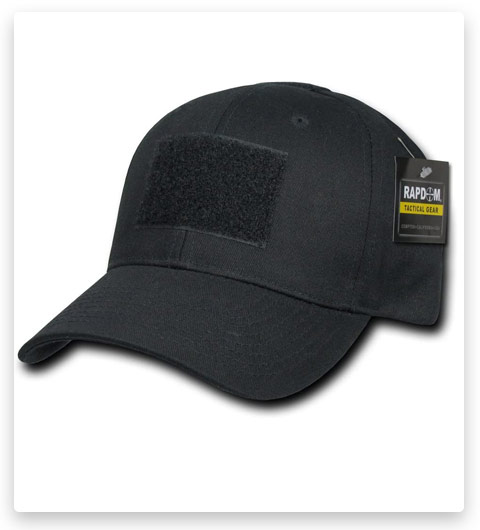 There is a classic military cap for surviving in different conditions. It is equipped with everything that you need. The breathable cotton provides a comfortable temperature in any weather. It is also nice to touch so the hat is quite comfortable to wear. The hook protects the whole face of the sun. The back closure allows for forgetting about size troubles. Classic tactical colors fit the majority of outdoor activities. There is a sticky surface to add some logos. The manufacturer is sure of the rate of quality and offers a lifetime non-asking warranty.
6# Condor Flex Mesh Tactical Cap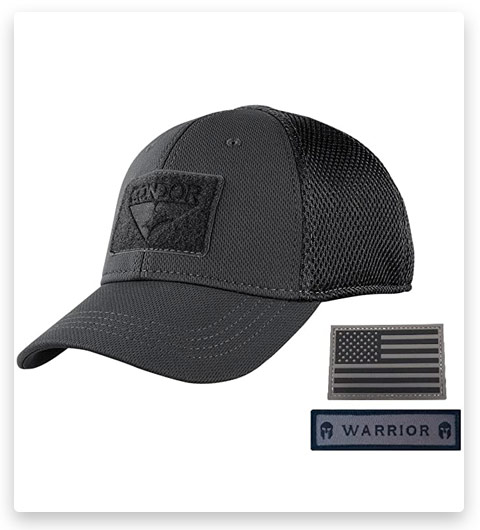 This black cap is a necessary part of equipment for any trips, outdoor activities, or everyday life in general. The construction provides the highest rate of comfort. There is a hook to feel good even under the bright sun. A back part is made with thin breathable fabric to create air circulation. The front material is denser to protect the head from solar radiation. A lightweight doesn't create any extra pressure during long use. The front logo looks stylish but doesn't attract unnecessary attention. The hat is available in medium and big sizes. Be careful and check the chart to make the correct order.
7# Oakley Men's Si Tactical Cap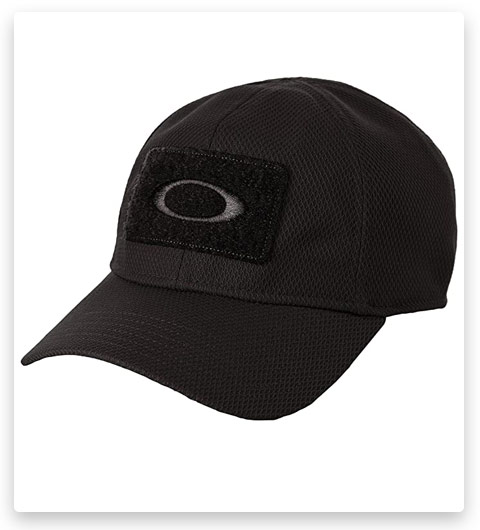 If you are searching for a useful tactical cap for men, you got it. Life is unexpected and you should be ready for everything. This hat is an irreplaceable thing for surviving and a stylish accessory at the same time. The hook protects the face skin and eyes. Breathable fabric provides comfortable wear anywhere you need. The 100% polyester is nice to the touch and durable. As for me, it is the perfect combination. There is a secure fit because of elastic closure, so you shouldn't be afraid of the gusts of wind. Forget about problems with cleaning! Just put the cap into the washing machine. After a short time, it will look like new. All colors are saturated and specially selected so as not to attract too much attention in the wild.
8# Antrix Tactical Cap Tactical Hat Adjustable Operator Cap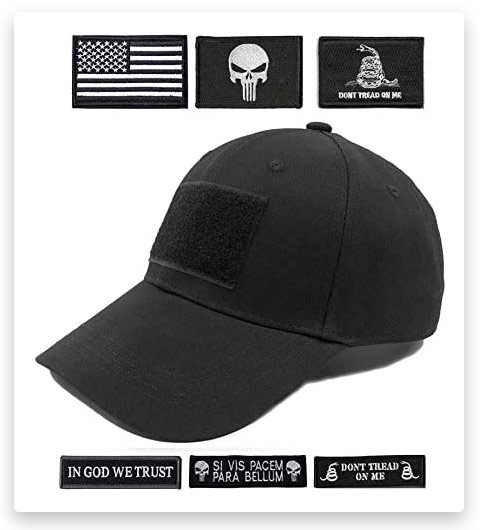 This tactical hat can be a good gift for men. It is specially designed for outdoor operations. A hat is perfect for camping, hiking, hunting, and especially long walking trips. Breathable fabric and a hook provide comfortable wear. Thanks to the loop patch backing you can put different logos and patches to highlight your personality. The cap has a universal size. Adjustable Velcro strip helps to manage the secure fit. I want to highlight that the order comes with 6 different patches. It is a great opportunity to decorate the heat due to your mood. You also can buy some extra and gather a collection.
9# UltraKey Military Tactical Operator Cap
This is a classic example of a military hat without any extra additions. It is crafted with cotton and polyester, so it provides a comfortable use thanks to the breathable and durable fabric. It is well-made and has a high rate of quality to serve for long years. An adjustable strap behind helps to manage the size for a secure fit. A dense hook allows us not to care about the bright sunshine. You have an opportunity to put your logo on the top of the cap. Such a headdress is perfect for any season besides winter. I'm sure you can find what you need because the seller offers a big choice of colors.
10# Terra Kuda Operator Tactical Cap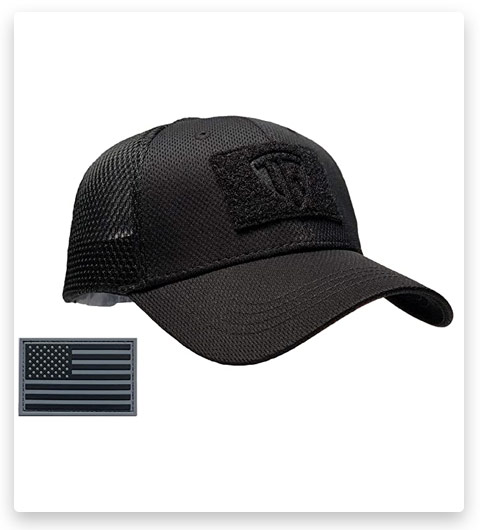 It is a hat that provides a superior fit. The backstretch mash fabric fits well for any head. The material allows free air circulation and helps to stay cool. It allows you to feel ok even in warm weather. A hook protects your eyes from the sun. A lightweight doesn't cause any headaches, so you can wear the hat during the whole day. The USA patch comes in the kit. You can place it on the top or not, depending on your wish. In general. It is a nice buy for outdoor activities or countryside rest.
11# Vertx Kryptek Typhon Tactical Hat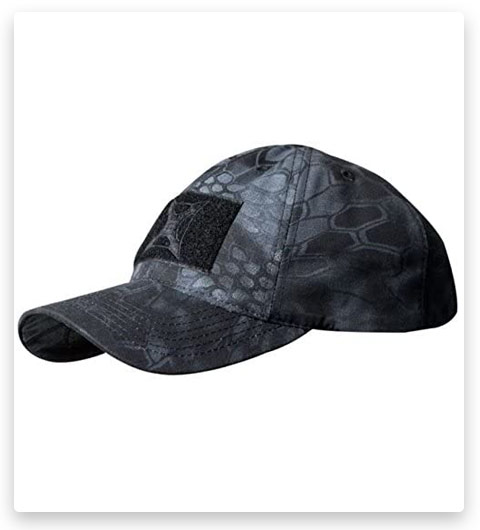 View on OpticsPlanet View on Amazon
If you search for an unusual print you got it. When I saw this hat for the first time I was really surprised. The cap is so bright! It is made with a combination of nylon and cotton, so it is durable and washing machine friendly. There is a hook to provide comfortable wear. There are some holes to manage temperature conditions. The air can circulate without any trouble, so you always can stay cool and dry. The design is friendly for the ears and doesn't cause any unpleasant feelings. As for me, it is a great present for a teenager, but it doesn't look like a great tactical cap.
12# 5.11 Tactical Multicam Boonie Hat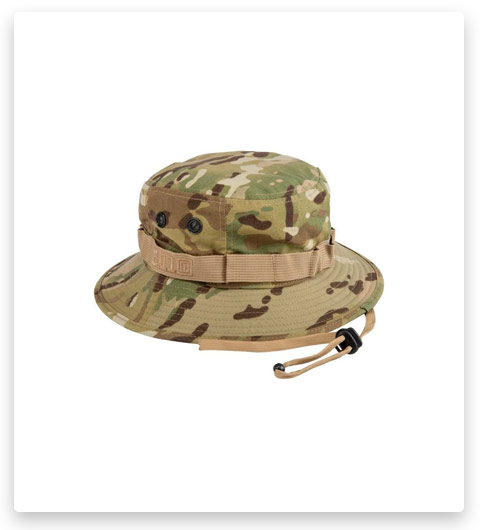 View on OpticsPlanet View on 5.11 Tactical
It is an irreplaceable thing for all kinds of men's activities, like fishing, hunting, camping, and hiking. It is made of breathable but durable fabric. The special finish allows the hat to stay like new for a long time. The ventilation eyelets provide comfortable conditions in any weather. The camo colors help to mimic the environment. It helps not to attract unnecessary attention. The secure fit protects from the unexpected gust of wind. The cap is easy to carry on and can be packed in any bag. It is washing machine friendly, so you can take it for any outdoor activities without any doubts.
How to clean a hat? 🧢
Cleaning a tactical hat can be tricky, so it is important to know the best practices for keeping your hat in top condition.
💧 To begin, you should first determine whether your hat is made of cotton or a polyester blend. Cotton hats are more prone to shrinking and should be hand-washed and air-dried. Polyester hats are usually machine-washable and can be tumble-dried at low temperatures.
💧 Regardless of the fabric type, all hats should never be bleached or washed with any harsh chemicals that could break down the material over time. Use a mild detergent on the hat if necessary, but avoid using too much as this could weaken the fibers.
💧 Additionally, use cold water when washing your hat and never hot water, as this could cause the colors to run.
💧 When drying it, try to avoid using a dryer or any direct heat source. Instead, lay the hat on a flat surface and allow it to air dry naturally in a well-ventilated area away from direct sunlight or other sources of heat.
💧 Alternatively, using a fan on a low setting can also help promote faster drying times without exposing the hat to too much heat.
FAQ 🤓
Conclusion 🙂
We hope this buyer's guide has given you the information and tools you need to make an educated decision about which tactical hat is best for your needs. Whether it be a boonie, bucket, or baseball cap style, there are plenty of options available that can protect you from sun exposure while also offering comfort and durability. Good luck with finding the perfect hat! 🥰❤️‍🔥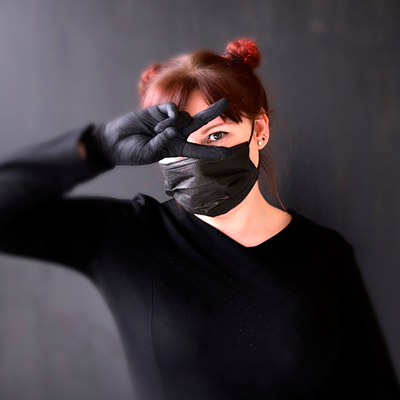 Ann Burwell
Mother, Extreme Lover, Author, and Outdoor Gear Expert
Nice to meet you, my name is Ann. What I can say about myself is that I am a supporter of a healthy lifestyle and enjoy spending my leisure time actively (most frequently outdoors). My hobby is camping, hiking, climbing mountains. And of course, I adore various survival and
tactical gear
, which is so necessary for a comfortable stay in extreme conditions. I am fortunate that my husband and family support me about this.
That is why it is important for me to find good items that will help me and my family have a good time without too much hassle. I like to look for stuff for myself or gifts for my loved ones. We also share the high-quality products we find with each other, and I think it is really important to transfer your opinion and knowledge, that is why I am pleased to share the useful information I find with other people. I'm so happy that my family helps me in this matter. We hope that someone really finds this helpful and interesting enough!
Read more
about our team
of expert authors.
Affiliate Disclosure: Rotorm.com sometimes gets paid for listings, through sponsors or affiliate programs like Amazon, Optics Planet, Lucky Gunner, Brownells, Cabelas, Rainier Arms, 5.11 Tactical, Bass Pro Shop, etс. Clicking a link helps keep Rotorm.com free, at no extra cost to you!
About the author: Each article on our site is written by experts in survival and tactical equipment, gun enthusiasts, extreme travelers, military, law enforcement and desperate professionals, read about the author at the bottom of the article or visit "About Us" page.
Note: The views and opinions expressed in this article are those of the authors and do not necessarily reflect the official policy or position of any agency.