Affiliate Disclosure: Rotorm.com sometimes gets paid for listings, through sponsors or affiliate programs like Amazon, Optics Planet, Lucky Gunner, Brownells, Cabelas, Rainier Arms, 5.11 Tactical, Bass Pro Shop, etс. Clicking a link helps keep Rotorm.com free, at no extra cost to you!
About the author: Each article on our site is written by experts in survival and tactical equipment, gun enthusiasts, extreme travelers, military, law enforcement and desperate professionals, read about the author at the bottom of the article or visit "About Us" page.
Note: The views and opinions expressed in this article are those of the authors and do not necessarily reflect the official policy or position of any agency.
The bolt carrier group is an important detail of your rifle that can increase the overall efficiency and performance of a weapon.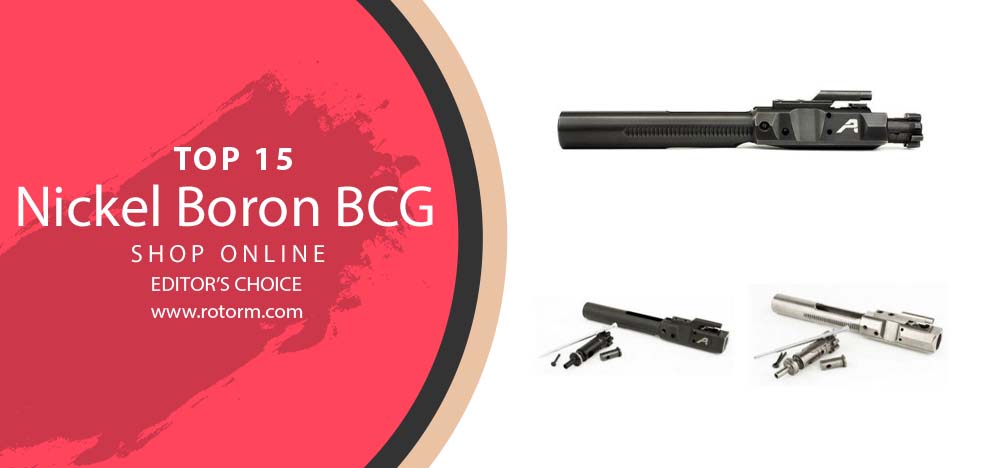 And if you are one of the gun lovers who always look for the best customization for your firearm, you should know that coating is one of the most essential parts of BCGs, for example, nickel-boron BCGs are extremely popular and useful. They ensure nice, smooth operation and allows you to aim more precisely. The only problem is that you will definitely have some complications in choosing the best model. The reason is that there are too many models on the market, and all of them have their pros and cons. To figure out what is more suitable for you, it's necessary to spend some time researching and inspecting. We have done this for you! And now you can enjoy our top 13 nickel boron bolt carrier groups.
Bolt Carier Group Review | Best Nickel Boron BCG
| Image | Product | Brand | |
| --- | --- | --- | --- |
| | Aero Precision .308 Black Nitride | Aero Precision | |
| | ODIN Works Nitride Bolt Carrier Group, Black | ODIN Works | |
| | FosTech Outdoors AR-15 Complete Bolt Carrier Group | FosTech | |
| | Spikes Tactical M16 Bolt Carrier Group | Spikes Tactical | |
| | RISE Armament AR-15 Bolt Carrier Group | RISE Armament | |
| | FosTech Outdoors AR-15 Complete Lite Bolt Carrier Group, Low Mass | FosTech Outdoors | |
| | JP Enterprises Complete JPBC Bolt Carrier Group | Bolt Carrier Group | |
| | Aero Precision AR15 5.56 Bolt Carrier Group | Aero Precision | |
| | ODIN Works Bolt Carrier | ODIN Works | |
| | FailZero M16/M4 Bolt Carrier Group, No Hammer | FailZero | |
| | TRYBE Defense Milspec Complete 9mm Hybrid Bolt Carrier Group | TRYBE Defense | |
| | Ballistic Advantage .308 Bolt Carrier Group | Ballistic Advantage | |
| | Alpha Shooting Sports ALPHA Premium 5.56 Nitride V2 Bolt Carrier Group | ALPHA | |
| | FailZero AR15 Bolt Carrier Group w/ Hammer | FailZero | |
| | Midwest Industries 5.56/AR15 C158 Bolt Carrier Group | Midwest Industries | |
#1 Aero Precision .308 BCG (Black Nitride)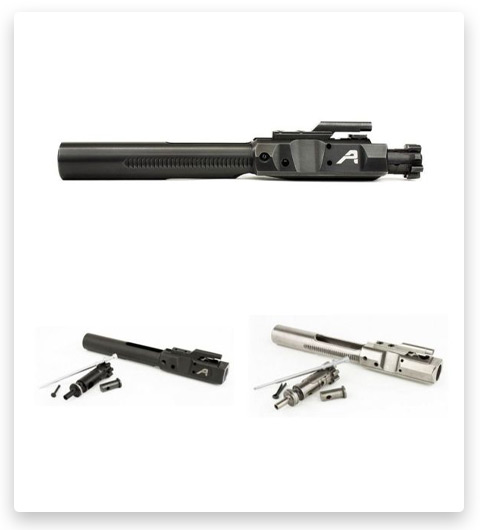 The first model we are going to review is a good but rather expensive solution for big-bore builds. This .308/7.72 BCG is made of case hardened 8620 steel, and it's also high pressure tested and magnetic particle inspected. Thanks to high-quality coating and solid elements, you can enjoy a long-lasting and smooth experience. The carrier has forward assist serrations for better performance.
#2 ODIN Works Nitride BCG Black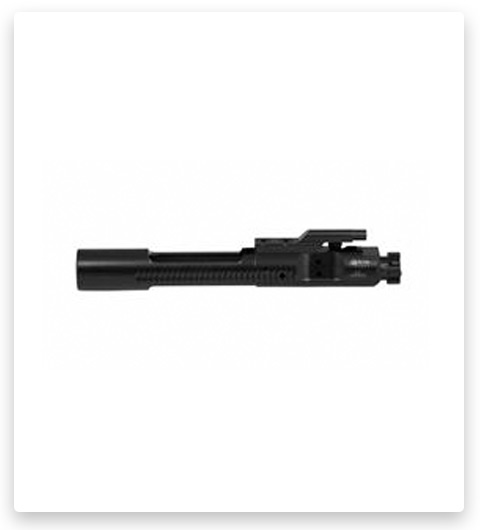 For a lower price, you can find this interesting model. A bolt carrier group made of Case Hardened 8620 Steel with nitride finish that is compatible with mil-spec uppers. An attached with Grade 8 hardware 4130 steel gas key and high pressure tested bolt together with O-ring compatible extractor and mil-spec firing pin allows you to feel what the real shooting is. So don't miss this device if you see it on the market.
#3 FosTech Outdoors AR-15 Complete BCG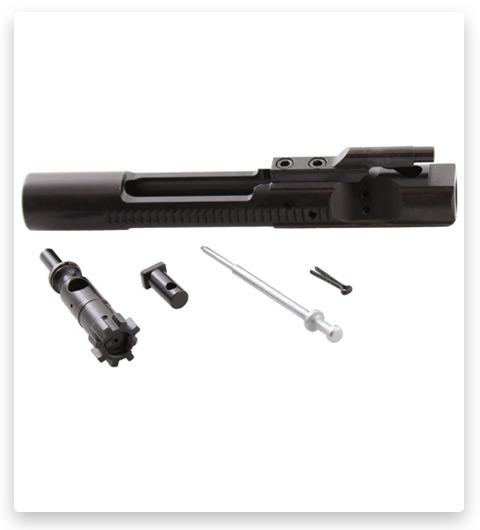 If you need a full-auto BCG compatible with Echo AR-II and the Echo Sport, this model is a good purchase. Good balance, affordable price, durable materials — this is what you want to see in a bolt carrier group for your AR-15 rifle. As always, nickel-boron coating reduces the need for lubricants and ensure corrosion resistance, so you don't have to worry about the lifetime.
#4 Spikes Tactical M16 BCG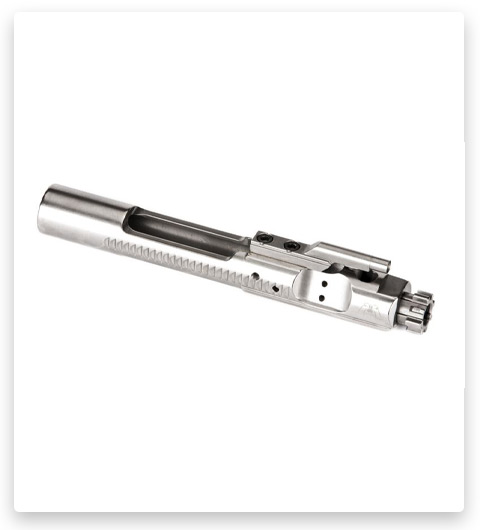 One more full-auto M16 BCG made of mil-spec 8620 tool steel that offers good characteristics for a quite standard but yet not cheap price. All elements are high pressure tested and MPI marked. The bolt is shot-peened, and the carrier key is firmly attached with Grade 8 hardware. The O-ring on the extractor facilitates installation and use. It's a reliable model that is totally worth buying if you need such parameters.
#5 RISE Armament AR-15 BCG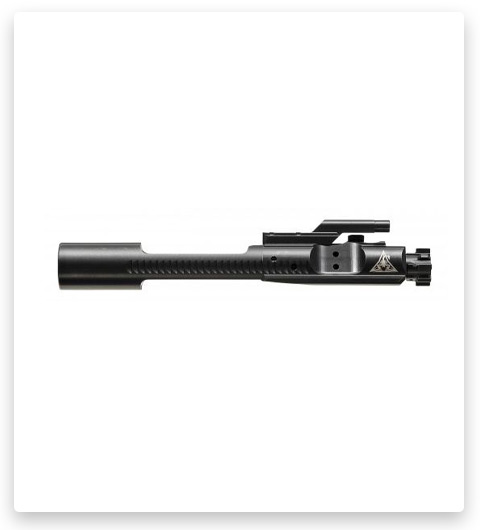 A nice, durable, and well-tested bolt carrier group for 5.56x45mm NATO, .223 Remington calibers can make you satisfied not only with decent characteristics but also with a nice price. A magnetic particle inspected bolt made of 9310 steel, a heat-treated 8620 tool steel carrier, reduced friction, and smooth operation will make your shooting experience simple and enjoyable. The gas key is staked properly, and the extractor is shot-peened.
#6 FosTech Outdoors AR-15 Complete Lite BCG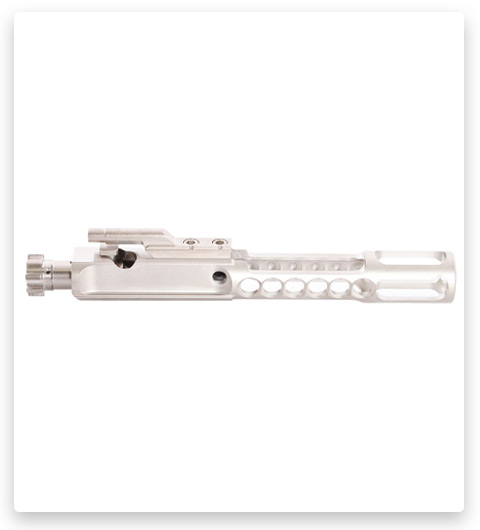 What have we got here? This is a low-mass bolt carrier group that is designed for 5.56/.223. caliber and it has some peculiarities. First of all, it's really lightweight, and it's only 8.6oz. Due to such sizes, this model is not mil-spec compatible. The finish is one of the strongest advantages of the BCG. If you want to make a lightweight but solid and reliable build with no glitches and snags, it's a perfect solution. However, it will cost you some money, so be ready for it.
#7 JP Enterprises Complete JPBC BCG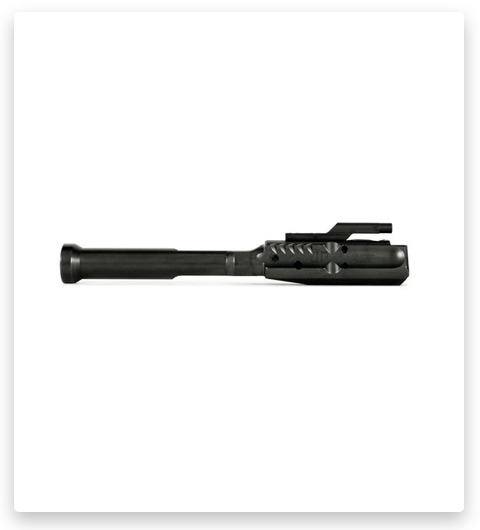 Talking about lightweight BCGs, we should mention a 9mm bolt carrier group designed by JP Enterprises. It's one of the most reliable 9mm systems, and it features reduced stroke length, reduced bolt bounce, and a tighter firing pin channel. Thanks to these elements, the bolt carrier group is very durable but lightweight. The finish here is also good, it increases reliability and allows you to forget about the constant use of lubricants.
#8 Aero Precision AR15 5.56 BCG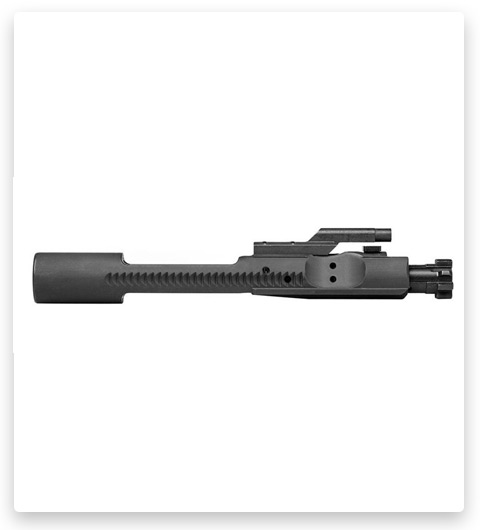 In the 8th place, we have an M-16-cut bolt carrier group machined from 8620 steel and designed for 5.56x45mm NATO caliber. Despite the low price, this model has a nice range of features that any professional or amateur shooter will like. First of all, materials are solid. Besides, the BCG is shot-peened, high pressure tested, and magnetic particle tested. The gas key is firmly attached and properly staked. The extractor has an O-ring insert for easier use. In addition to this, forward assist serrations make operation smoother.
#9 ODIN Works BCG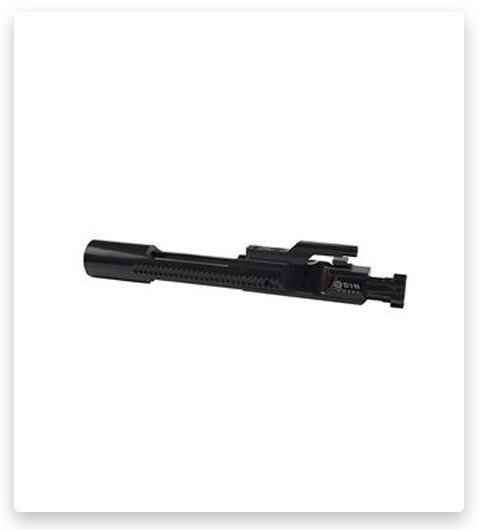 Another model by ODIN that makes customers happy for a long time. There is nothing special about this bolt carrier group — it's all about the perfect balance between the price and characteristics. Here you will find a mil-spec compatible BCG made of case-hardened 8620 steel and coated with a black nitride finish. All details are HPT tested and MPI marked, the operation is smooth and simple. Build an accurate, reliable, and cheap rifle with custom elements like this.
#10 FailZero M16/M4 BCG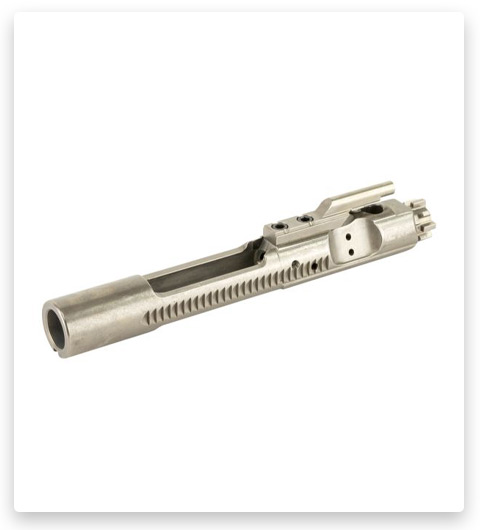 Regarding this model, it's a cheap but great solution for 5.56/.223 calibers for M16/M4/AR15 rifles. It's super easy to install on the majority of mil-spec uppers, and it ensures nice durability thanks to the EXO nickel-boron coating that reduces friction and corrosion. It can be a great add-on for your fire-arm, so don't think twice if you can buy it. This will be a good buy.
#11 TRYBE Defense Milspec Complete 9mm Hybrid BCG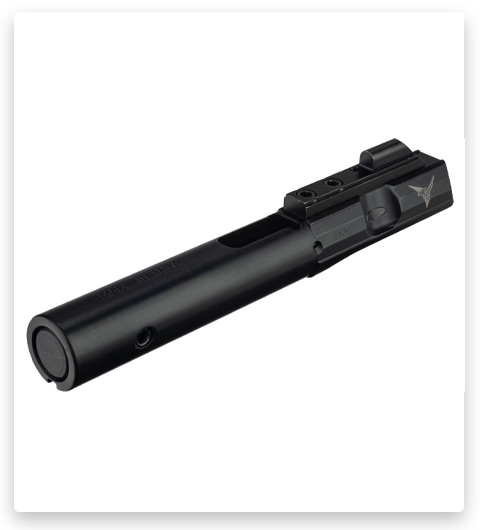 If you have a 9mm AR-15 carabine, this BCG is what you need. It's suitable for Colt- and Glock-style lowers and it ensures good durability and smooth, fast operation. This model is made of 8620 steel and has a nitride finish, which means no extra friction while operating and long service life. The BCG has mil-spec dimensions.
#12 Ballistic Advantage .308 BCG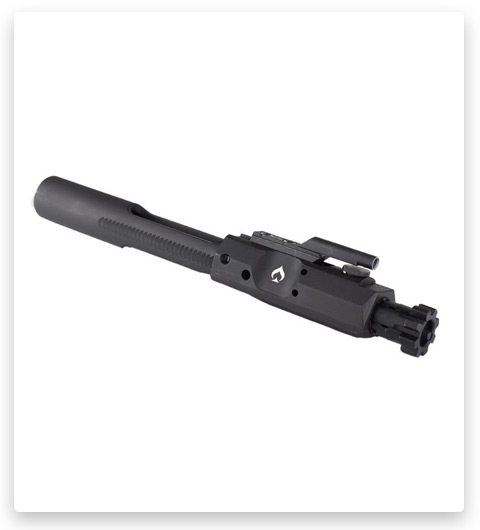 Thanks to an 8620 alloy steel carrier and a bolt made of 9310 alloy steel, this 7.62/.308 BCG BCG designed by Ballistic Advantage ensures nice performance and durability. The only downside of this model is, probably, the price because it's not low. All the characteristics are good, and the features are useful. Except for high-quality elements, this bolt carrier group offers a properly staked gas key, a shot-peened bolt, high pressure tested and MPI marked details, Viton O-ring, and forward serrations. Those who don't have budget limits should take a look at this model.
#13 Alpha Shooting Sports ALPHA Premium 5.56 Nitride V2 BCG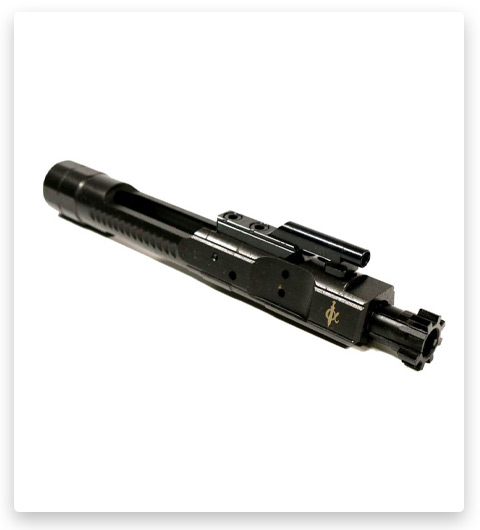 We know you like inexpensive solutions for your custom builds. Take a look at this model because it has everything you need: an 8620-steel carrier coated with a nitride finish, improved carrier geometry, reduced friction, corrosion resistance, and so on. Although the price is not high, the quality is good. The parts are MPI marked and tested. This is a reliable solution.
#14 FailZero AR15 BCG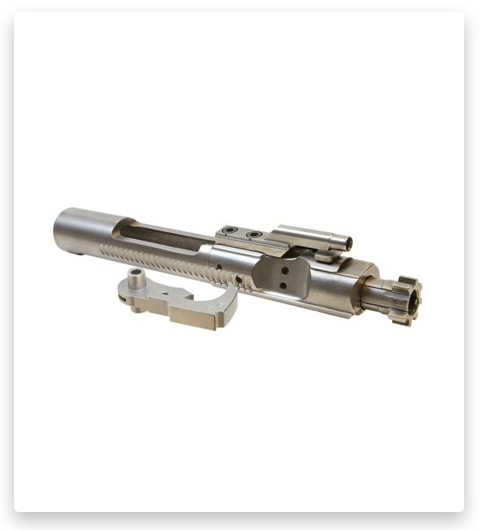 Previously, we've been reviewing the same bolt carrier group but without a hammer. This model has a hammer and offers the same range of features. Basically, it's a good, balanced, and very durable bolt carrier group that comes with a hammer. Nickel finish makes this BCG even better, ensuring smooth operation and resistance. Improve any semi-auto AR-15 rifle with a good-looking and easy-to-use BCG.
#15 Midwest Industries 5.56/AR15 C158 BCG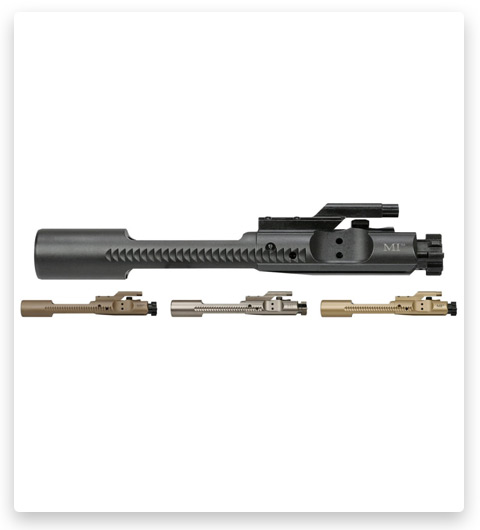 And the last one is a balanced bolt carrier group that offers good characteristics for a low price. The point that the manufacturer decided to use lighter materials to lower the price and improve other vital parameters. So, the bolt is made of Carpenter 158, and it's heat-treated, shot-peened, and also MPI Tested. In the collaboration with Nickel-Boron coating, this bolt carrier group ensures awesome performance.
FAQ
Conclusion
To underline this review, let's point out a few best models from both low-price and high-price segments.
Price:
Cheap:
Tags: #Best #BCG #Nikel Boron #9mm #AR 15 #308 #Coating #Folowing #300 Blackout #Grendel 6.5 #Budget #Lube #Matrix #Review #For The Money #7.62×39 #5.56 #Glock #Nitride #Odin #Aero Precision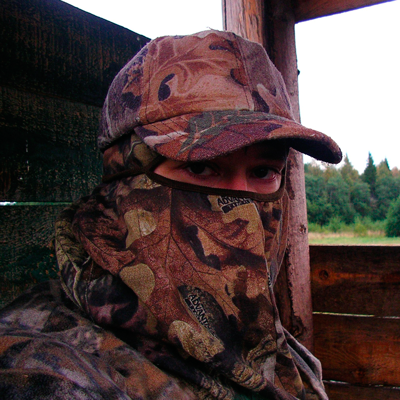 Tatiana Kursakova
Professional shooter, traveller, survivalist
My love of guns is in my blood, since childhood I have spent hours enjoying the beauty of guns and adored going through their parts.
Tactical accessories are another passion of mine that I could write about endlessly - my house and garage are full of tactical gadgets, luckily my family shares my interests.
I'm infatuated with traveling that's why work at one place with a daily routine and standard schedule is not for me. I prefer copywriting and English tutoring as a freelancer. I live in a male family among constant talks about cars, guns, hunting, fishing, and, of course, dinosaurs 😊.
My husband is an obsessed hunter, and my two sons are fans of «Demolition Ranch» of YouTube blogger Matt Carriker. They are my best consultants about weapon and all-around ammunition topics. All together we share a love for adventures. Every camping or mounting hiking trip is a "small survival", giving irreplaceable experiences. Nothing can be better than the satisfaction of observing wild nature.
Motto: «Born in Ukraine, made is the USA».
Read more
about our team
of expert authors.