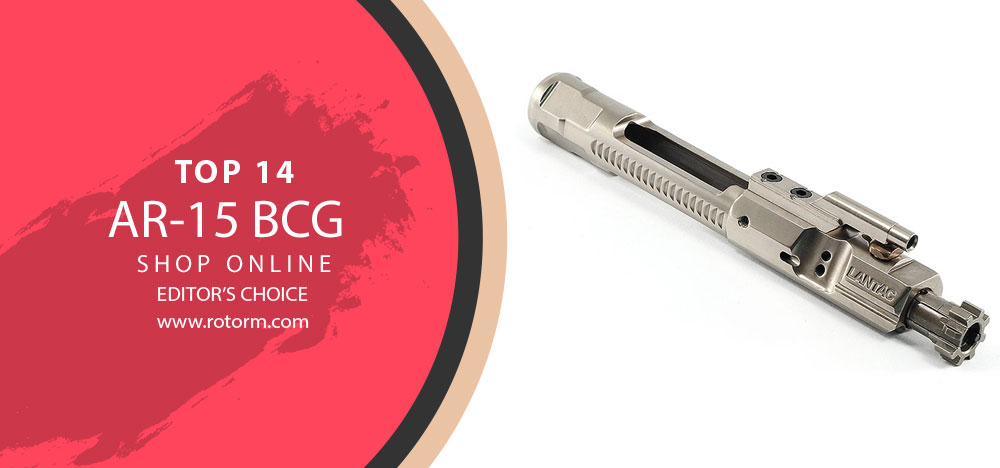 What is AR-15 BCG? 🔔
It is a crucial component of the AR-15 rifle, which is a popular semi-automatic rifle platform. The BCG is responsible for loading, chambering, firing, and extracting cartridges from the rifle's barrel.
Watch this video to find more information 💻
Parts 🔑
🔩 Bolt: The bolt is the component that locks into the barrel and contains the extractor and ejector.
🚀 Firing Pin: The firing pin is a small pin that strikes the primer of the cartridge to ignite the propellant and initiate firing.
🔧 Cam Pin: The cam pin is a cylindrical pin that connects the bolt to the bolt carrier and enables rotational movement during cycling.
🔑 Gas Key: The gas key is attached to the bolt carrier and interfaces with the gas tube. It redirects the gas from the fired round to drive the BCG.
💥 Firing Pin Retaining Pin: This pin holds the firing pin in place within the bolt carrier to prevent it from freely moving.
💪 Bolt Carrier: The bolt carrier houses the bolt and reciprocates back and forth during the firing cycle. It is responsible for cycling the action and extracting/ejecting spent cartridges.
🔁 Gas Rings: These rings are installed on the bolt to create a gas seal within the bolt carrier, ensuring efficient gas transfer.
🔧 Extractor: The extractor is a hook-like mechanism on the bolt that grips the rim of the cartridge case for extraction.
💢 Extractor Spring: This spring provides tension to the extractor, allowing it to securely grip and extract spent casings.
🔄 Ejector: The ejector is a small plunger on the bolt face that pushes the spent cartridge out of the ejection port.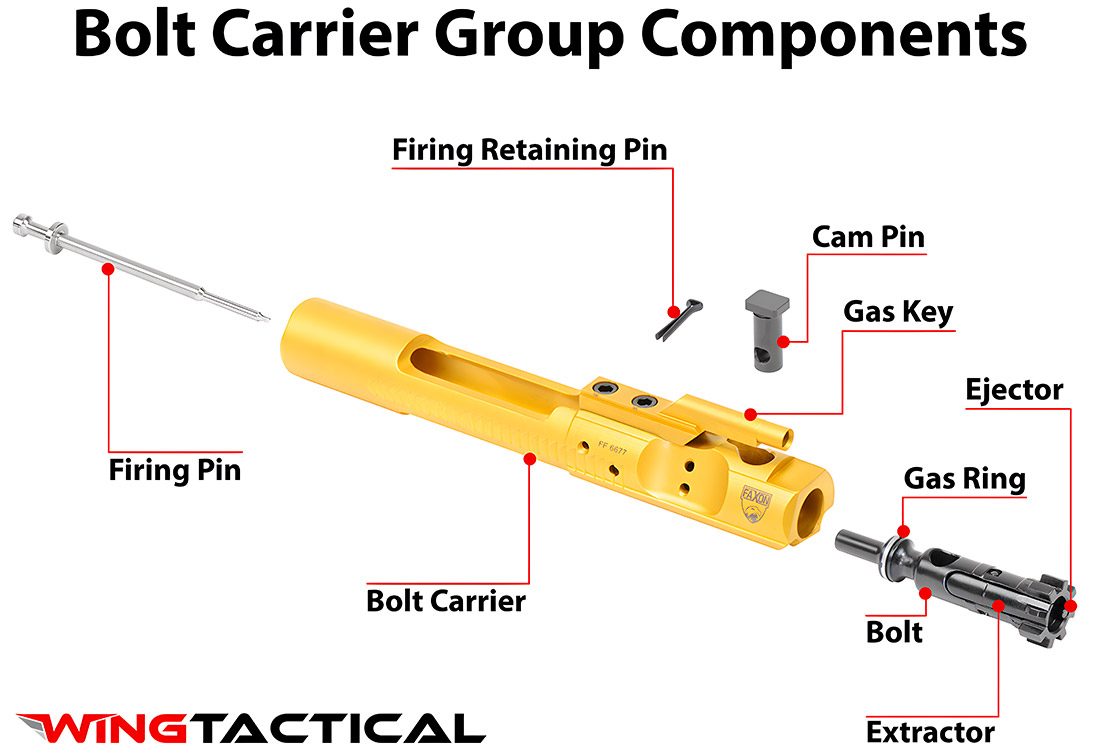 Coating Types ⌛
🌈 Phosphate Coating: Also known as Parkerizing, this is a traditional coating that provides corrosion resistance and lubricity. It typically appears as a dull grey or black finish.
🔥 Titanium Nitride (TiN) Coating: TiN coating provides a hard, low-friction surface with good corrosion resistance. It is often applied to BCG components like the bolt and extractor. The finish is typically gold or bronze.
🌟 Nickel Boron Coating: This coating, also known as NiB or NiBo, involves electroless nickel plating with boron particles. It offers excellent lubricity, corrosion resistance, and ease of cleaning. The finish is typically silver or matte grey.
🛡️ Chrome Coating: Chrome plating provides enhanced corrosion resistance and durability. It can be applied to the entire BCG or specific parts such as the bolt carrier. The finish is typically shiny and silver.
🧪 DLC Coating: DLC (Diamond-Like Carbon) is a durable coating that provides excellent hardness, wear resistance, and corrosion resistance. It is often used for enhanced durability in demanding conditions. The finish can be black or dark grey.
🌬️ Nitride Coating: Also known as Melonite or QPQ (Quench-Polish-Quench), this is a case-hardening treatment that provides increased surface hardness, wear resistance, and corrosion resistance. The finish can range from black to dark grey.
🍃 Cerakote Coating: Cerakote is a durable ceramic-based coating that offers corrosion resistance, abrasion resistance, and customization options in terms of color and pattern. The finish can vary depending on the specific Cerakote color applied.
Our Top Pick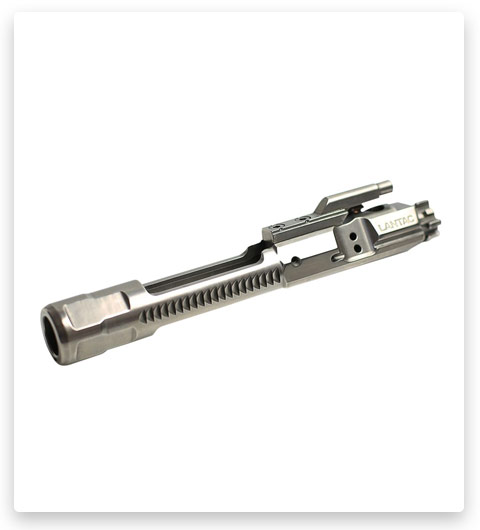 Lantac Enhanced Full Auto Style AR 15 BCG
This forthcoming model comes with a higher price tag and additional features. It includes a bolt carrier group made of sturdy 8620 steel coated with innovative nickel-boron with advanced UTC EXO technology. This ensures durability and smooth operation of the BCG.
Buy Now On OpticsPlanet
If you click this link and make a purchase, we earn a commission at no additional cost to you.
Features 🧲
🚀 Reliable Functioning: The AR-15 BCG is designed to reliably cycle the rifle's action, ensuring proper feeding, chambering, firing, and extraction of cartridges.
💪 Durable Construction: BCGs are typically made from high-quality materials such as steel or aircraft-grade aluminum alloys to withstand the stress and pressures of firing.
🔧 Interchangeability: It is designed to be easily interchangeable, allowing users to swap BCGs for different purposes or configurations.
🔄 Gas System Compatibility: The BCG is compatible with various gas systems, including direct impingement and piston-driven systems, to accommodate different AR-15 configurations.
🌬️ Self-Lubricating: The BCG incorporates strategic surfaces and coatings that provide inherent lubricity, reducing friction and enhancing reliability even in adverse conditions.
💥 Enhanced Extraction: The extractor, combined with proper tension from the extractor spring, offers secure and consistent extraction of spent cartridge cases.
🔩 Easy Maintenance: The BCG is designed for straightforward disassembly, cleaning, and maintenance, allowing users to keep their AR-15 in optimal working condition.
🛡️ Corrosion Resistance: Many BCGs feature coatings like phosphate, nickel boron, or chrome to provide corrosion resistance, protecting the BCG from environmental elements.
🎯 Precision Machining: BCG components undergo precise machining processes to ensure proper fit, function, and alignment within the AR-15 platform.
🔧 Forward Assist Serrations: Some BCGs include serrations on the bolt carrier to facilitate the use of a forward assist for manually chambering a round if needed.
AR-15 BCG Review| Best AR-15 Bolt Carrier Group
| Image | Product | Brand | |
| --- | --- | --- | --- |
| | Aero Precision 5.56 AR15 Bolt Carrier Group | Aero Precision | |
| | Lantac Enhanced Full Auto Style Bolt Carrier Group | Lantac | |
| | Faxon Firearms Gen 2 9mm PCC Bolt Carrier Group Complete | Faxon Firearms | |
| | ODIN Works Nitride Bolt Carrier Group | ODIN Works | |
| | Armament AR-15 Bolt Carrier Group | Armament | |
| | JP Enterprises Complete JPBC Bolt Carrier Group .223 Caliber | JP Enterprises | |
| | Griffin Armament Enhanced Mil-Spec Bolt Carrier Group | Griffin Armament | |
| | F-1 Firearms Durabolt 5.56 Bolt Carrier Group | F-1 Firearms | |
| | Aero Precision AR15 6.5 Grendel Bolt Carrier Group | Aero Precision | |
| | ODIN Works Bolt Carrier ACC-.223 -BCG | ODIN Works | |
| | Midwest Industries 5.56/AR15 C158 Bolt Carrier Group | Midwest Industries | |
| | Guntec USA AR-15 Bolt Carrier Group Mil-Spec BCG | Guntec USA | |
| | TRYBE Defense Milspec AR15 223/5.56/300 AAC Complete Bolt Carrier Group | TRYBE Defense | |
| | Phase 5 Tactical AR-15 Black Complete Bolt Carrier Group | Phase 5 Tactical | |
| | BONUS: CMMG, Inc 22LR Mk4 Barrel Kits w/ Bolt Group | CMMG | |
1# Aero Precision 5.56 AR 15 BCG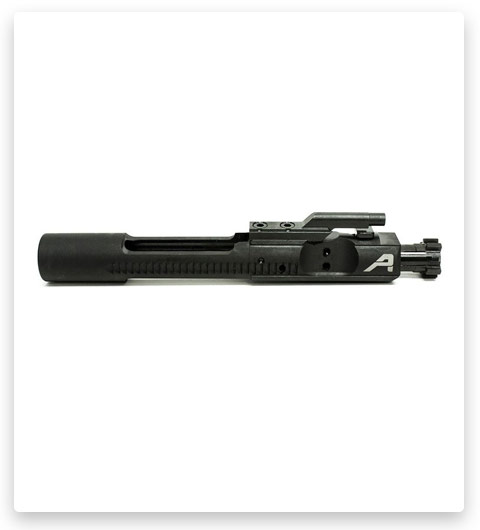 The first on the list is a good choice for good money. This BCG is rather durable thanks to the nickel-boron finish and an 8620 tool steel carrier with a 5.56 9310 steel bolt. In addition to this, the bolt carrier group is shot-peened and magnetic particle inspected. It's easy to clean, and it looks great. The forward assist serrations ensure smooth work, so you can count on this model.
2# Lantac Enhanced Full Auto Style AR 15 BCG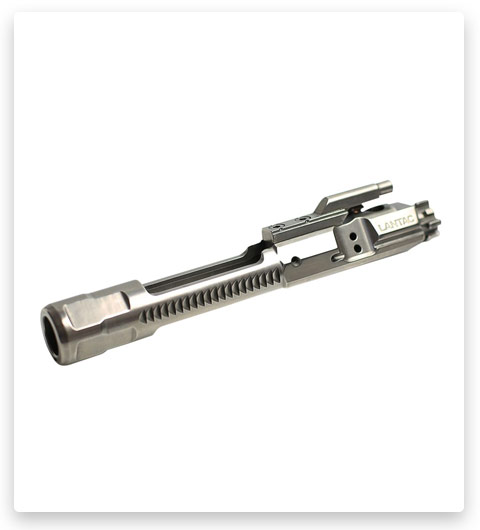 The next model costs more and offers more as well. It's a high-quality bolt carrier group machined from 8620 steel with an innovative nickel-boron coating with advanced UTC EXO, which means this BCG is durable and it ensures smooth operation. Thanks to the unique design and forward porting, the upper receiver's pressure is reduced. It's a well-designed, reliable model that is compatible with full- and semi-auto rifles. Plus, it comes with a lifetime warranty.
3# Faxon Firearms Gen 2 9mm PCC AR15 BCG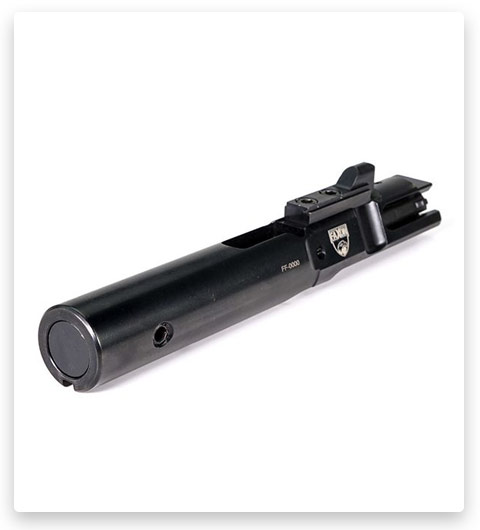 If you think that there is nothing that can surprise you, just look at this model. Although it is cheap, it offers an interesting solution for your AR-15. This is a 9mm bolt carrier group that is dual-compatible with Colt and Glock. Made of solid 8620 steel with a salt bath nitride finish, this BCG can be a good add-on for your firearm. Based on our experience due to the ramped bottom, you can use any common trigger. Moreover, it's compatible with MP5 magazines, M-16 (full-auto) rifles, and JP Enterprises buffer systems.
4# ODIN Works Nitride AR 15 BCG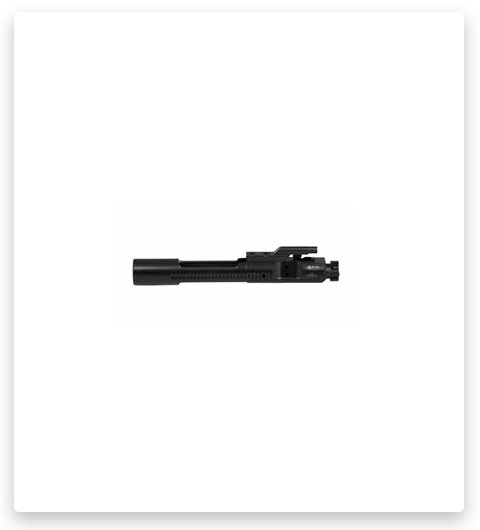 This group is for 6.5mm Grendel caliber, and it's also made of case-hardened 8620 steel. The nitride finish allows you to use less lubricant, saving a low friction rate. The bolt carrier group is Mil-Spec compatible, high-pressure tested, and magnetic particle inspected. The gas key is properly staked. This is a good purchase if you are looking for this caliber.
5# Armament AR-15 Bolt Carrier Group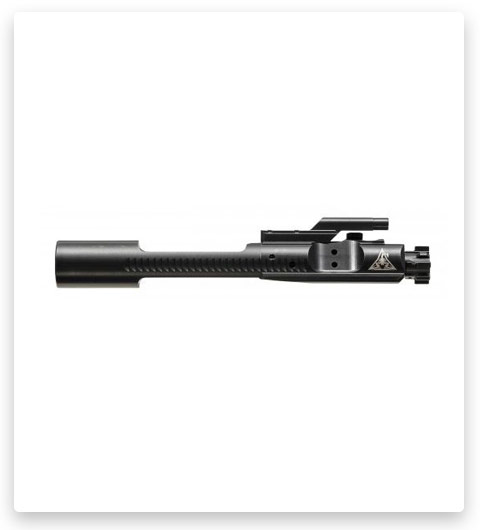 Another good solution for 5.56x45mm NATO, is .223 Remington calibres for M-16 and AR-15 rifles. An MPI-tested 9310 steel bolt and 8620 tool steel heat treated and case-hardened carrier with a tool steel properly staked gas key ensure enjoyable, smooth shooting for a low price. You can be sure about durability if you decided to install this bolt carrier group.
6# JP Enterprises Complete JPBC AR 15 BCG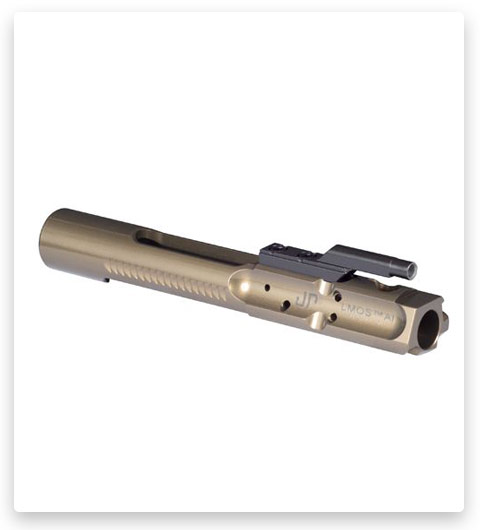 If you are looking for something unusual that will give more space for customization and improvements, this bolt carrier group for .223 Remington will suit you well. First of all, it's a durable thing, that will last endlessly. Besides, it offers a range of features you can't find anywhere else: increased firing impulse, improved reliability and accuracy, reduced pin wear, and innovative ergonomic design. All these features are possible, thanks to the great JPBC compatibility.
7# Griffin Armament Enhanced Mil-Spec AR 15 BCG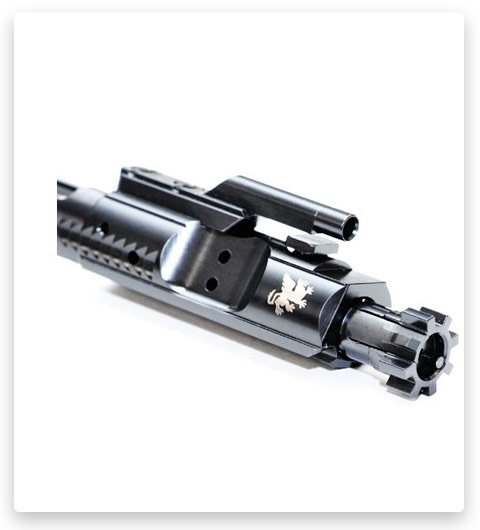 We love this model because it's very balanced. For a cheap price, you can get a well-designed 5.56x45mm NATO, .300 AAC Blackout bolt carrier group for AR-based rifles that consists of an 8620 alloy steel carrier, a 9310 steel bolt, and a 4340 alloy steel cam pin with extractor. The melonite QPQ finish makes operation smoother and reduces the use of lubricants. As a result of using this product, we found that the bolt is heat-treated and shot-peened, and the gas key is staked properly. You will be also glad to know that the crane O-ring is used here to increase extraction reliability.
8# F-1 Firearms Durabolt 5.56 AR 15 Bolt Carrier Group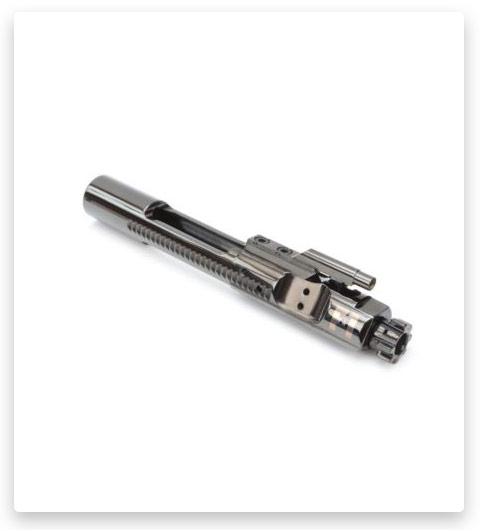 Regarding this model, there is nothing much to describe because it's just a good, durable bolt carrier group that is designed for AR-15 platforms and compatible with any Mil-Spec components. This BCG is rated for full-auto rifles, which is also a good advantage. High-quality coatings that are used here ensure not only durability but also a smooth shooting experience.
9# Aero Precision AR15 6.5 Grendel AR 15 Bolt Carrier Group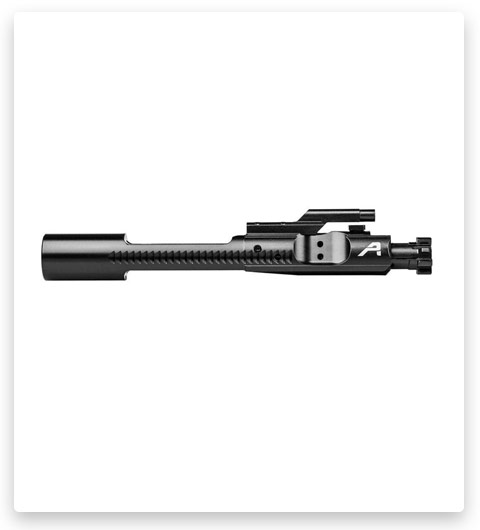 Another inexpensive bolt carrier group for 6.5mm Grendel. The material used here is standard 8620 steel with a black nitride finish that reduces friction. The bolt is shot-peened, HPT tested, and MPI marked. Thanks to the forward assist serrations, the BCG works better. Besides, the installed O-ring makes the extraction easier.
10# ODIN Works AR 15 Bolt Carrier Group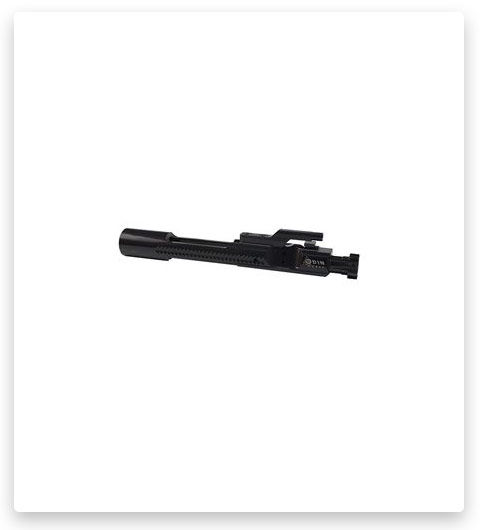 ODIN likes to make customers happy with affordable solutions. This bolt carrier group has Mil-Spec dimensions and it's used for AR-15 and M4 rifles for .223/5.56mm, .300 Blackout calibers. The material used to manufacture this BSG is case-hardened 8620 steel finished with black nitride, which increases durability and lowers friction rate. There is also an O-ring on the extractor. High pressure tested and magnetic particle inspected.
11# Midwest Industries 5.56/AR15 C158 AR 15 BCG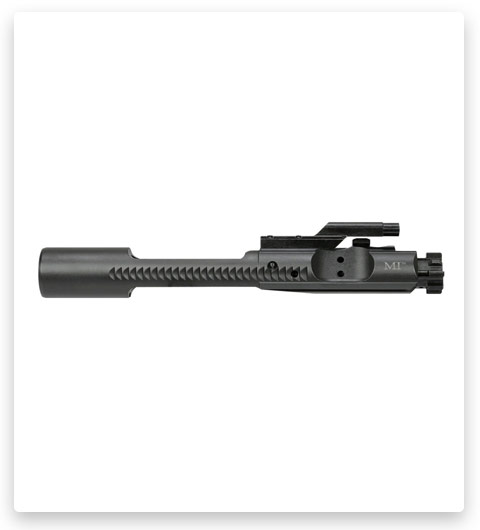 This model is a bit less durable, compared to the previous ones. The bolt is made of Carpenter 158 and it's also heat treated, shot peened, precision ground, and magnetic particle inspected. The black nitride finish, however, does its work and increases durability, making operation smoother. Other elements are also reliable. The 4140-billet gas key, for example, is torqued with grade 8 fasteners and has the proper positioning. The O-ring is also used.
12# Guntec USA AR-15 Bolt Carrier Group Mil-Spec BCG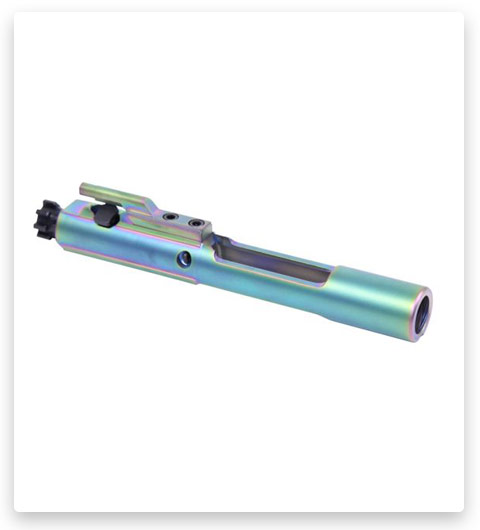 A very standard bolt carrier group with an 8620-steel bolt carrier and an MPI 9310 bolt coated with PVD that offers an enjoyable shooting experience by lowering friction rate and ensuring good durability. The only curious thing about this model is its colour because it's a kind of rainbow gradient that looks unusual. However, you will never get disappointed by this BCG.
13# TRYBE Defense Milspec AR15 Bolt Carrier Group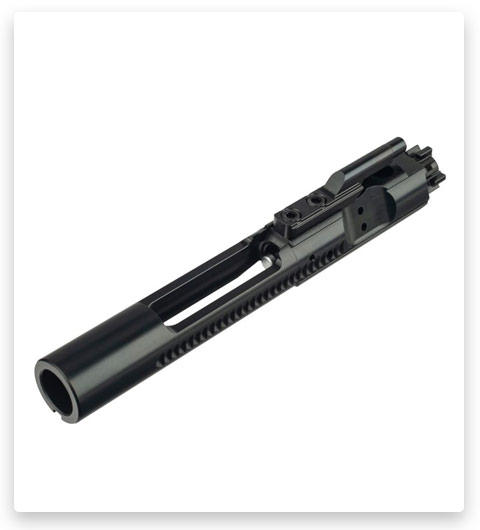 One more cheap bolt carrier group that works with 223, 5.56, and .300 AAC(BLK) calibres. This model is machined from 8620 steel and has a nickel-boron finish that makes the BCG even more reliable. The bolt is high-pressure tested and magnetic particle inspected. Other components, such as carrier, gas key, cam pin, and firing pin also have the highest quality.
14# Phase 5 Tactical AR-15 Bolt Carrier Group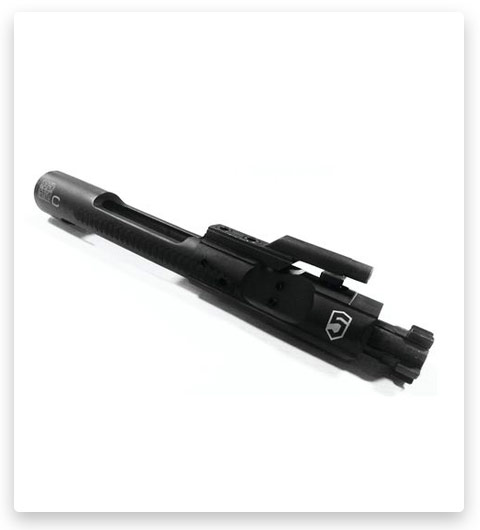 The last model on the list is the cheapest one. It doesn't mean that it's the worst one, but if your budget is limited, you should take a look at this bolt carrier group. The bolt has a phosphate finish and it is high pressure tested and MPI marked. Note that the gas key is not staked here. It's not the best choice among all these models, but if you need a .223 Remington/5.56 NATO BCG for a low price, you can definitely take it.
BONUS: CMMG, Inc 22LR Mk4 AR 15 BCG (+Barrel)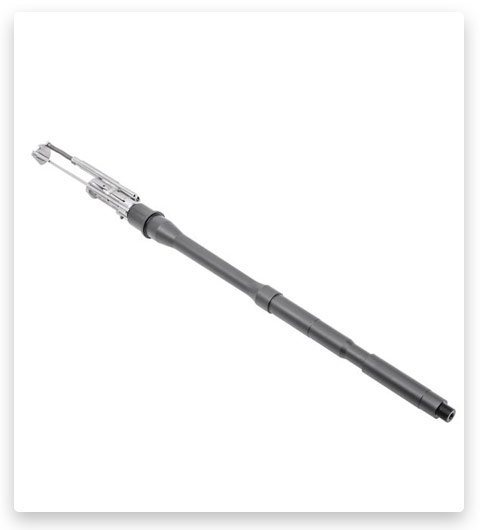 You can also consider buying a barrel kit with a bolt group. This one is suitable for M4 profiles and it's made of 4140 Chrome Moly steel with salt bath nitride finish in and out. The overall length is 16.1 inches. This model works with a .22 long rifle calibre, which is not usual nowadays. Still, it doesn't have a high price!
Installation 🔌
🔒 Ensure Safety: Before beginning any work on your AR-15, ensure the firearm is unloaded, the magazine is removed, and the chamber is empty. Practice proper firearm safety throughout the installation process.
🛠️ Disassemble Upper Receiver: Separate the upper receiver from the lower receiver if necessary for easier access to the BCG. Follow the manufacturer's instructions or push out the takedown and pivot pins to separate the upper and lower.
🔄 Insert Charging Handle: Slide the charging handle into the upper receiver's rear portion until it fully engages with the upper receiver and the latch extends outside.
🧲 Align BCG: Hold the BCG by the bolt carrier and align the bolt carrier's key with the channel in the upper receiver. Make sure the cam pinhole is aligned with the upper receiver as well.
⬇️ Insert BCG: Insert the BCG into the upper receiver, ensuring that the charging handle engages with the BCG properly. The BCG should slide smoothly into place.
🔀 Rotate Cam Pin: Rotate the cam pin so that it aligns with the corresponding opening in the upper receiver. Ensure the cam pin is fully seated.
⬆️ Push in BCG: Push the BCG fully forward into the upper receiver until it is seated securely.
🔒 Reassemble Upper and Lower Receivers: If you had separated the upper and lower receivers, reassemble them by aligning the takedown and pivot pins and pushing them back into place.
🔒 Function Check: With the firearm fully reassembled, perform a function check to ensure the BCG operates properly. Ensure the charging handle moves freely, the BCG cycles smoothly, and the safety selector functions correctly.
🔫 Test Fire: Take your AR-15 to a safe and appropriate shooting range to test fire and ensure the proper functioning of the BCG and the entire rifle. Follow all local laws and regulations regarding firearm use.
We hope you found these steps helpful! As always, safety and proper handling of your firearm should be your top priority. Happy shooting! 🎯
We believe this video can be helpful for you 📺
FAQ ❓
Conclusion ⏰
The Bolt Carrier Group (BCG) of an AR-15 rifle is a critical component responsible for the reliable functioning of the firearm. BCGs are typically made from durable materials such as steel, aluminum alloys, or titanium, offering a balance between strength, weight, and durability. Coatings and treatments like phosphate, nickel boron, chrome, DLC, or nitride can enhance the BCG's performance and provide protection against wear and corrosion. The choice of BCG material depends on factors such as desired weight, intended use, and personal preferences. By selecting a high-quality BCG and properly maintaining it through regular cleaning and lubrication, AR-15 owners can ensure optimal performance and longevity for their firearms.✒️🛒
#Best #AR 15 #BCG #Bolt Carier Group #Upper #300 Blackout #5.56 #9mm #Lantac #308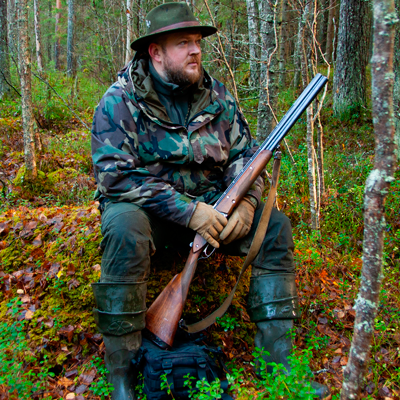 Max Endless
Weapon Expert & School Teacher
Hi, I'm Max. I'm a weapon expert and a teacher of English from Belarus. These two qualities allow me to share my opinions and observations about news from the gun world. I'm really into firearms and different weapons because I was learning about them since my childhood.
My life has taken me through different complications and exciting moments, so what I've learned is to always be ready to fight. My father is professional military personnel and he made me familiar with various weapons since my childhood. My first one was a bow, and then I started to have a fancy for this unbelievable world of firearms. My main specialization allows me to share my thoughts about different devices, guns, and gun details with the English-speaking community. In my articles, I talk about pistols, rifles, knives, shotguns, and many other tactical and survival things.
Read more
about our team
of expert authors.
Affiliate Disclosure: Rotorm.com sometimes gets paid for listings, through sponsors or affiliate programs like Amazon, Optics Planet, Lucky Gunner, Brownells, Cabelas, Rainier Arms, 5.11 Tactical, Bass Pro Shop, etс. Clicking a link helps keep Rotorm.com free, at no extra cost to you!
About the author: Each article on our site is written by experts in survival and tactical equipment, gun enthusiasts, extreme travelers, military, law enforcement and desperate professionals, read about the author at the bottom of the article or visit "About Us" page.
Note: The views and opinions expressed in this article are those of the authors and do not necessarily reflect the official policy or position of any agency.