Affiliate Disclosure: Rotorm.com sometimes gets paid for listings, through sponsors or affiliate programs like Amazon, Optics Planet, Lucky Gunner, Brownells, Cabelas, Rainier Arms, 5.11 Tactical, Bass Pro Shop, etс. Clicking a link helps keep Rotorm.com free, at no extra cost to you!
About the author: Each article on our site is written by experts in survival and tactical equipment, gun enthusiasts, extreme travelers, military, law enforcement and desperate professionals, read about the author at the bottom of the article or visit "About Us" page.
Note: The views and opinions expressed in this article are those of the authors and do not necessarily reflect the official policy or position of any agency.
For safe walks with a dog, you need to monitor the situation every minute. A dog can be frightened by a loud sound, eat something dangerous, jump out under a passing car, be aggressive towards cats, other dogs, or even people.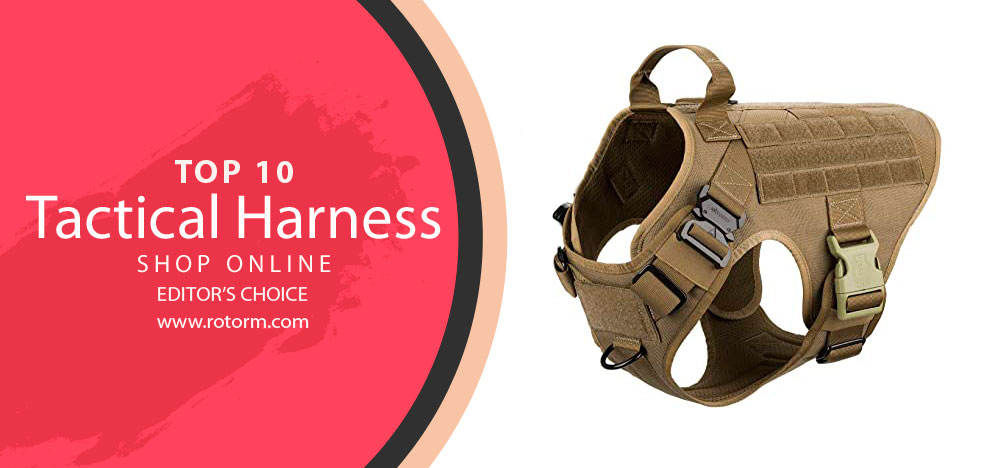 For maximum control, a pet uses a leash to which a collar or harness is attached. Which is better: a collar or a harness? This question is not asked correctly. What is better: cap at the north pole or flippers for diving in the desert? For each specific situation – there is a better choice. Therefore, let's figure out why a collar is needed, and why a harness.
When is the best time to choose a collar?
If the dog is a large or fighting breed, a collar (with internal spikes) will help to restrain and calm it
Choking from a collar will help in training. Each jerk will give an unpleasant experience and the animal will behave calmer
For puppies it is better to use wide collars with soft material. This will help to accustom the animal to a leash and does not injure its neck
Collars are not recommended for many dog breeds such as dachshund, pug, and others
Incorrectly selected collar with strong jerking the leash – can injure the animal
When is the best time to choose a harness?
The harness allows you to evenly distribute the pressure on the chest and shoulder, which is why the dog does not feel discomfort during active walks
The harness is used for a smoother transition, from complete freedom to the collar
The harness is recommended by dog handlers for small breeds and breeds with a short snout
All service dogs work with harnesses, as they are comfortable and safe for the animal
In winter, large breeds of dogs can drag children in sleighs or drag and drop loads
BUT the harness is not recommended for dogs younger than 8-10 months, due to the possible deformation of the chest of the dog
Large dogs during a walk with a harness can break out or knock the owner down
Long-term use of the harness can damage the coat and skin of the pet
In the best case, the owner of the dog should have several collars and harnesses for training and daily walks. Read here how to choose the best collar -> 10 best collars for training and daily walks.
How to choose the best harness?
There are several types of pendants, the most popular of which are tactical, Y-shaped and Scandinavian. They have many modifications and can copy elements of each other. The main rule when choosing a harness is that it should be suitable for a dog of a particular breed. How to determine this?
The paws of the dog (in the shoulder) should not be shy in movement
The harness should fit snugly to the body, but not squeeze
It is convenient to dress and remove the harness
And now let's look at the best of the best, in our opinion, and try to find the perfect tactical pendant for your pet.
TOP 10 Tactical Dog Harness
| Image | Product | Brand | |
| --- | --- | --- | --- |
| | Icefang Tactical Dog Harness | Icefang | |
| | FIVEWOODY Tactical Dog Training Harness | FIVEWOODY | |
| | Ultrafun Tactical Dog Molle | Ultrafun | |
| | OneTigris Tactical Dog Training | OneTigris | |
| | Lifeunion Tactical Dog K9 Service Dog | Lifeunion | |
| | Rabbitgoo Dog Harness | Rabbitgoo | |
| | EXCELLENT ELITE SPANKER Tactical Dog Harness | EXCELLENT ELITE SPANKER | |
| | Hanshengday Tactical Dog Vest | Hanshengday | |
| | WINSEE Dog Harness No Pull | WINSEE | |
| | PET ARTIST Tactical Dog Harness | PET ARTIST | |
#1 Icefang Tactical Dog Harness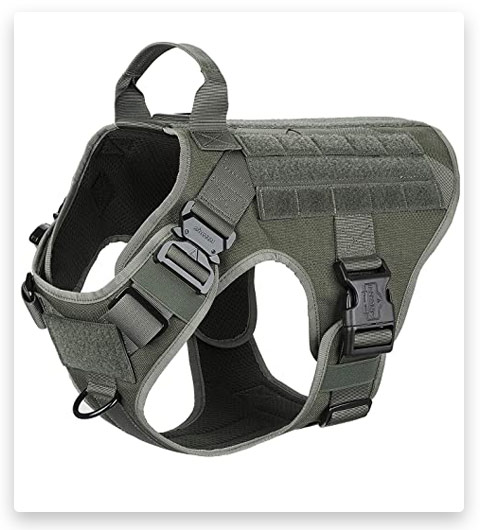 The first thing I want to say is that the K-9 dog training service is using this vest. What does it mean? This harness went through many checks, was developed under the supervision of professional trainers and uses only the most durable and wear-resistant materials.
#2 FIVEWOODY Tactical Dog Training Harness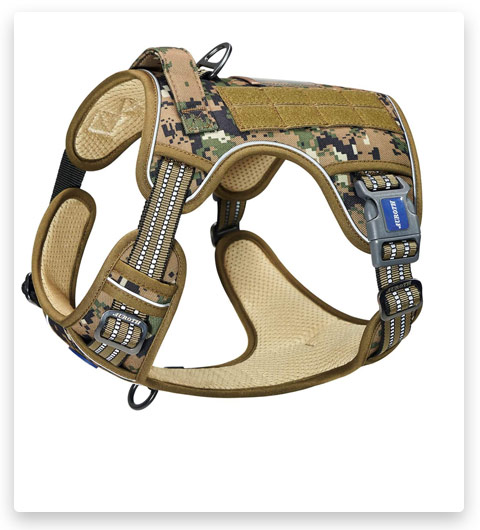 Easy and reliable everyday tactical harness. It is convenient to train, walk and jog with her thanks to good design. The vest belts are stitched with reflective threads, which gives additional visibility and safety for the dog.
#3 Ultrafun Tactical Dog Molle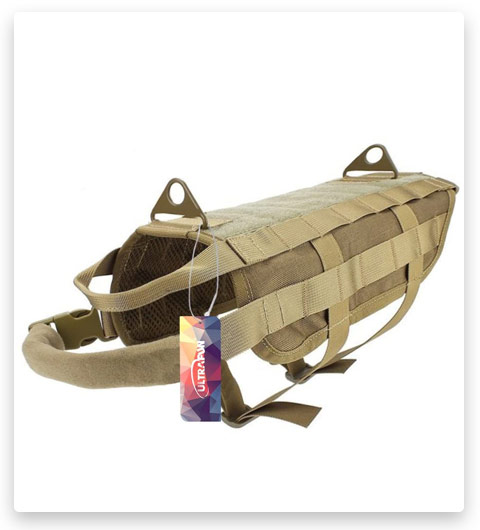 The harness is suitable for daily walks, training, and hiking. It covers most of the back of the dog, but thanks to the mesh lining it is well ventilated.
#4 OneTigris Tactical Dog Training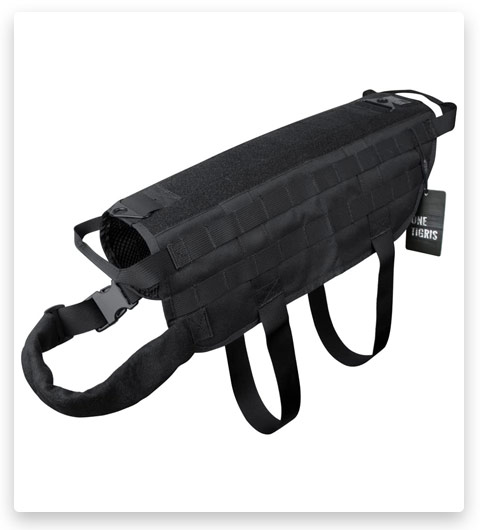 Stylish and durable tactical vest ideal for large dogs. It is convenient to conduct joint training with her, go out on daily walks and participate in long trips.
#5 Lifeunion Tactical Dog K9 Service Dog (Waterproof)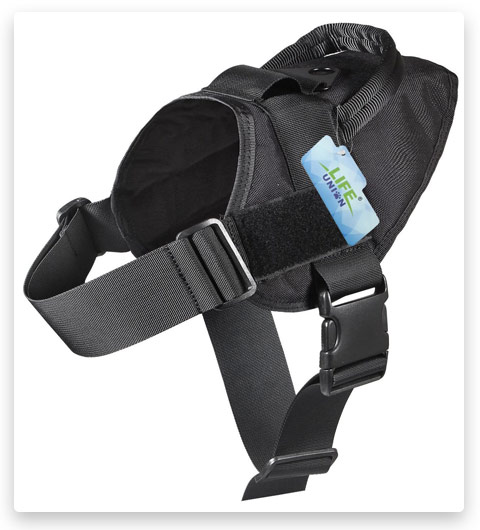 A compact and stylish waterproof pendant can be a good choice for outdoor activities and workouts. Due to its structure, the suspension covers only part of the back, which allows you to maintain the flexibility and agility of the dog.
#6 Rabbitgoo Dog Harness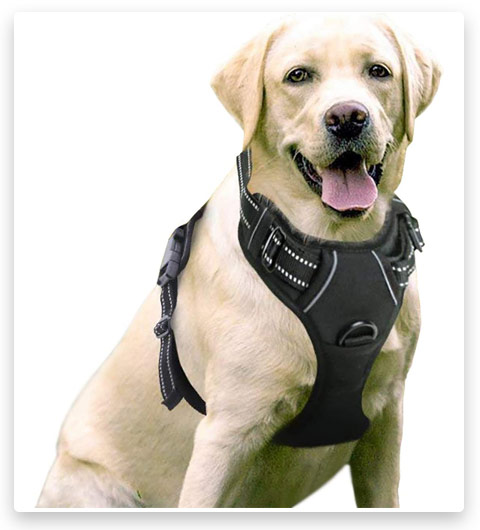 Rabbitgoo No-Pull – this can be a good choice, especially if the dog is very active. This is made possible thanks to the front mounting of the leash. When the excited dog begins to pull the owner forward, the leash will pull him down, significantly complicating the movement. After several attempts to pull, the dog will understand that this is not necessary.
#7 EXCELLENT ELITE SPANKER Tactical Dog Harness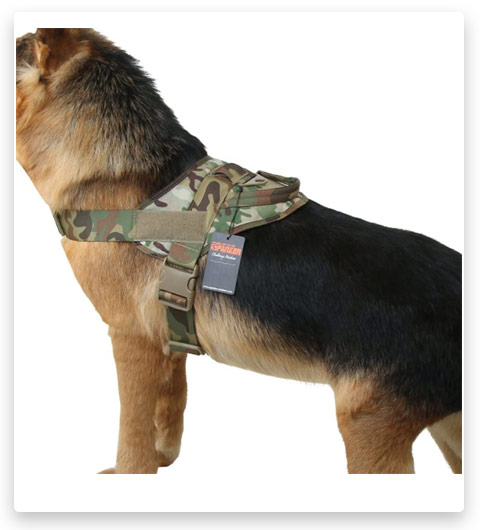 Simple and reliable harness for K-9 service dogs. The strict appearance is perfect in style to a hunting suit or military uniform.
#8 Hanshengday Tactical Dog Vest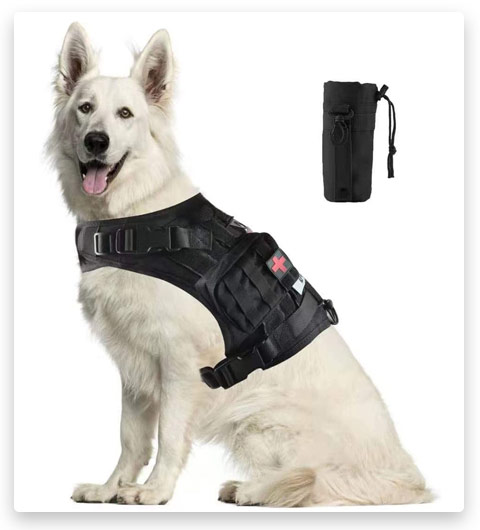 15 years of experience with working dogs has helped create this tactical dog vest. The harness took the best from the work of dogs in the army. If you are looking for maximum durability, thoughtful anatomy, and high functionality – this vest may be a good choice.
#9 WINSEE Dog Harness No Pull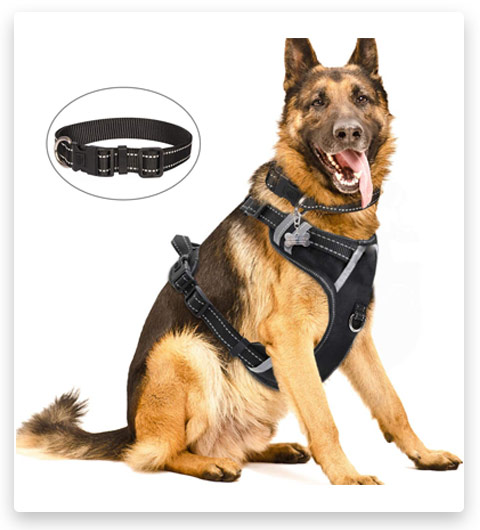 Stylish, lightweight, minimalistic. This harness can be a good choice for all breeds of dogs with any temperament and age.
#10 PET ARTIST Tactical Dog Harness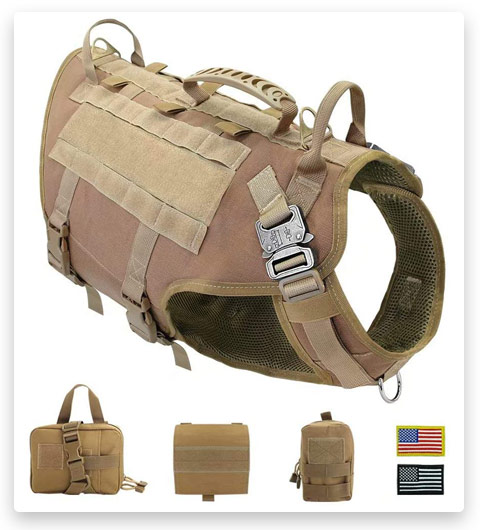 Stylish and strong harness for professional service and training of dogs. It can be a great choice if you love long hikes. many fasteners and 2 handles will help you easily put on a dog and carry it in your hands (which is useful in crowded places or when loading a dog in a car).
Tactical Dog Harness Video
Conclusion
If you want to make a perfect choice, carefully measure the dog with a rope, this will give the most accurate results. Evaluate the dog's temperament if it is hyperactive, perhaps the best choice would be a harness with a front mount for a leash. If the dog is young and will still grow, you need to take this into account and buy a harness with sufficient belt travel. As for our recommendation – pay attention to version 9 of our rating (WINSEE Dog Harness No Pull). It is stylish + good quality + low price.
P.S. May your pet always please you and grow up a healthy and obedient boy.
Tags: #Tactical #Dog #Harness #With Handle #Vest #Icefang #Service #Best #Review #Editor's Choice #K9 #Molle #Reebow #Clip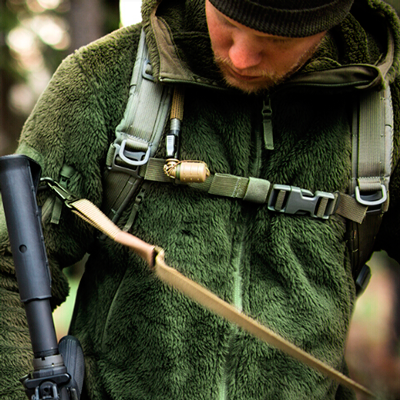 Dmitry Koval
Tactical & Survival Expert
I am from the generation that tried to repeat all the tricks of Jackie Chan, hunted birds with homemade bows, and built my mini-base in the forest. At the age of 18, I was a scout in PLAST (scout organization) and participated in campaigns and quests. Somehow we decided to test ourselves, took our backpacks and walked 50 km (31 miles) in 1 day. We had a lot of fun!
Remembering my past, I ask in bewilderment: "How am I alive after all my adventures?" - harsh trials, reckless parties, love affairs, and a sea of silliness.
My hobbies are weapon upgrades,
tactical gear
, and the latest in wilderness survival technology. I have hundreds of different survival gadgets in my collections, which are sent to me for "test-driving" by Amazon, eBay, and other online retailers. That's what I write about, and I also make YouTube videos about them! Stay tuned!
Read more
about our team
of expert authors.