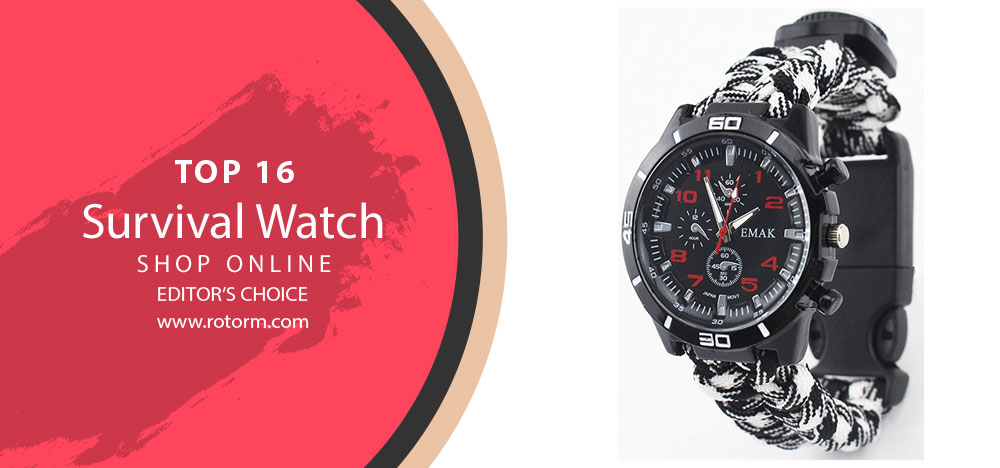 What is a survival watch? 🧐
It is a specialized type of watch that is designed to be rugged and versatile and provide enhanced features for those in need of help in emergencies. These watches typically have extra functions such as global positioning systems (GPS), altimetry, barometric pressure readings, thermometers, compasses, and more.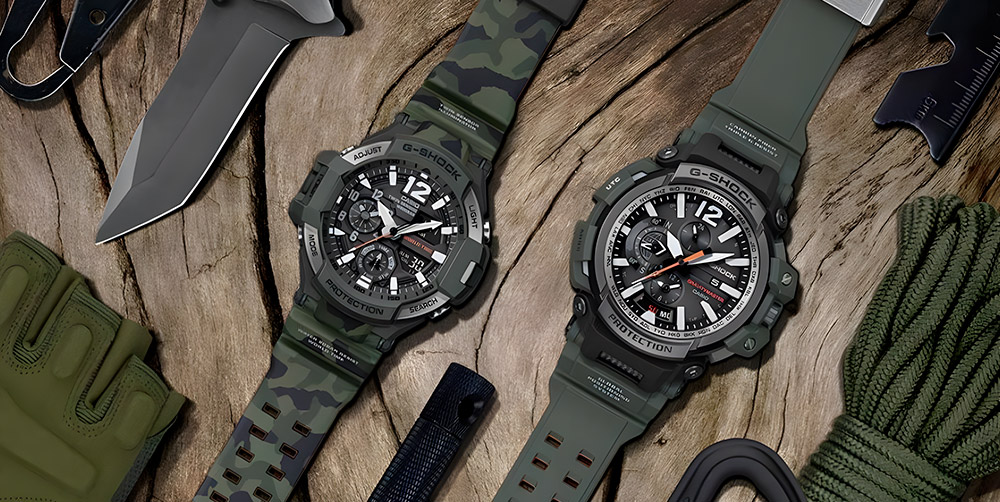 Features ⏰
Survival watches can prove to be a crucial piece of equipment for outdoor adventurers and those who find themselves in emergencies. From backcountry hikers to military personnel, these watches offer an array of features designed to help you survive the elements while on the go.
☑️ The most important feature is water resistance, as this will determine how well the watch functions when exposed to wet conditions. A good watch should have at least 200 meters of water resistance, meaning it can be submerged and still function properly.
☑️ Many watches also feature barometric pressure and altitude readings, allowing you to monitor changing weather conditions.
☑️ GPS capabilities are another common feature of these watches, allowing you to track your location with accuracy in remote locations.
☑️ Many models also come with digital compasses, which help provide direction when visibility is poor.
☑️ Furthermore, some watches have an emergency beacon feature that can be used to signal for help if needed.
☑️ Durability is also important for such watch since it will likely be exposed to rough terrain and extreme temperatures.
☑️ Finally, consider the battery life of the watch you're considering as this will determine how often you need to recharge it when out in the wild. Many models come with solar-charged batteries or those that can be recharged with a USB cable.
Our Top Pick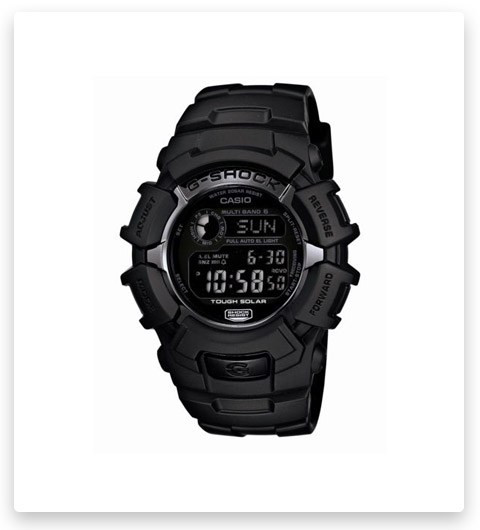 Casio Tactical G Shock Solar Atomic Watch
With its no-nonsense look, this watch ensures that you're always punctual, thanks to its automatic multi-band Atomic Timekeeping capabilities. What's more, it features a solar rechargeable battery, ensuring you're always prepared for any situation. Built to withstand shocks and water, it is suitable for all terrains and perfect for individuals who frequently face challenging environments. Whether you're exploring rugged landscapes or testing the elements, this watch will remain durable and reliable.
Buy Now On OpticsPlanet
If you click this link and make a purchase, we earn a commission at no additional cost to you.
Benefits 🔥
Survival watches are essential tools for navigating the outdoors and staying safe during emergencies. They provide a range of features that can help you stay on track and get out of tricky situations, such as keeping time, tracking location, providing light, and more.
✴️ Having a reliable watch in your gear can help you to navigate through unfamiliar terrain or keep track of time when no other options are available.
✴️ Most models also feature compasses and altimeters, allowing you to check your elevation or direction without having to read a map or use physical landmarks. The compass can be used in conjunction with GPS technology to make sure you're always headed in the right direction.
✴️ Finally, many watches have backlit displays that make them easier to read in dark environments without having to use a flashlight. This is especially beneficial when needing to check time or location while preserving your night vision.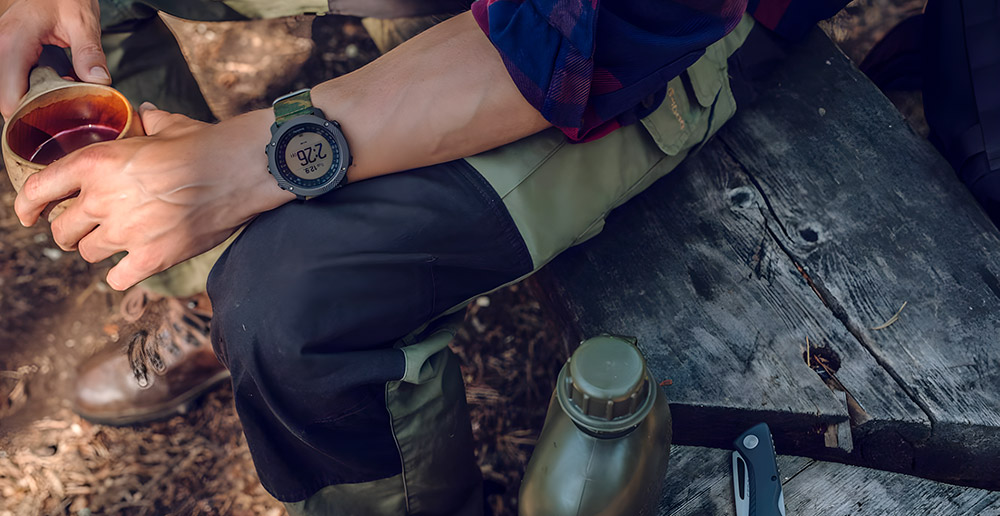 How to adjust the settings? ⌚️
When it comes to adjusting the settings of your watch, it is important to read through the user manual that came with your product to ensure you understand how to operate it correctly. For instance, some models require special tools or connections to change certain settings.
⚙️ For those who are familiar with navigating menus on electronic devices such as smartphones and tablets, many newer survival watches allow users to easily navigate their internal menus to access additional features or customize preferences.
⚙️ However, if you are new to adjusting settings on devices, it is advised that you take the time to familiarize yourself with how your watch operates before attempting any adjustments.
TOP-16 Survival Watch ⌚️
| Image | Product | Brand | |
| --- | --- | --- | --- |
| | Marathon Watch GSAR Swiss Made Military Issue Diver's | Marathon | |
| | Luminox ICE SAR Arctic Mens Wrist Watch | Luminox | |
| | Casio Tactical G Shock Rangeman Triple Sensor Watch | Casio | |
| | Suunto 9 Multisport GPS Watch with BARO and Wrist-Based Heart Rate (White) | Suunto | |
| | Casio Men's GG-1000-1A3CR Mudmaster G-SHOCK Quartz Casual Watch, Green | Casio | |
| | Isobrite ISO302 Valor Series Black/Orange T100 Tritium Watch | Isobrite | |
| | Luminox Black Divers Mens Watch Original Navy Seal (XS.3151/3150 Series) | Luminox | |
| | G-Shock GW2310 Atomic Solar | Casio | |
| | Luminox Navy Seal Watch for Men Grey Display (XL.8882.F/ 8880 Series) | Luminox | |
| | REACTOR Fermi Men's Watch | REACTOR | |
| | Timex Ironman Classic 30 Full-Size 38mm Watch | Timex | |
| | Casio - Analog Sport Watch | Casio | |
| | Garmin fenix 5 Sapphire Multisport GPS Watch | Garmin | |
| | Smith & Bradley Watches SANS-13 Tactical Sport Watch | Smith & Bradley | |
| | Hazard 4 Heavy Water Diver Titanium Tritium Dive Watch | Hazard | |
| | Nautica NSR Tide Compass Watch | Nautica | |
1# Marathon Watch GSAR Swiss Made Military Issue Diver's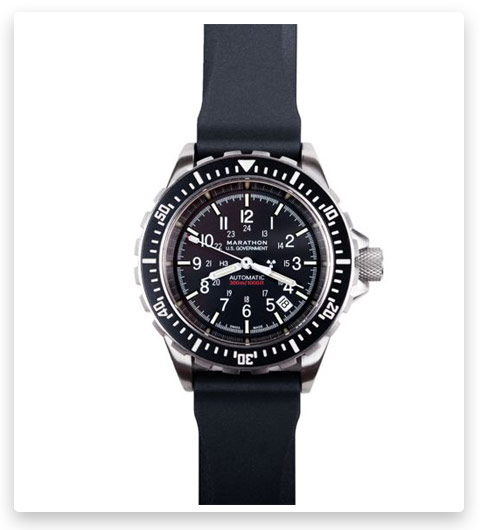 View on OpticsPlanet View on Amazon
This is a military-grade analog watch in a classic style. GSAR (41 mm) very successfully combines time-tested traditions and innovative technologies. With a relatively small size (41 mm in diameter / 20 mm width for the strap / 14 mm thickness), this watch is very durable and can withstand immersion up to 300 meters! The first thing that catches your eye is the brilliance of the branded toothed bezel made of 316L medical stainless steel. With the help of a confident bezel revolution, the watch turns into a stopwatch in one second.
Scratch-resistant sapphire crystal protects the dial reliably and allows you to see all the numbers, both in direct sunlight and underwater. In addition to the duplicated numbers, the dial has an already familiar calendar and constant backlight. The hands and hour markers contain small ampoules of radioactive tritium, which emits green light. To facilitate orientation in complete darkness, the label of the number 12 glows red. It looks very impressive and most importantly – the light is completely stable and autonomous (does not require third-party sources).
In addition to all of the listed advantages, this watch does not require batteries or regular spring winding. ETA 2824 24 self-winding watches while you do your normal business. The only thing that upsets me is the $ 1,200 and the black rubber strap in the kit. A branded steel strap requires a separate purchase and will make your wallet even a little thinner. Swiss craftsmen are faithful to the traditions of their craft and very carefully introduce innovations into their products. This watch has army reliability and looks very stylish and prestigious.
2# Luminox ICE SAR Arctic Mens Wrist Watch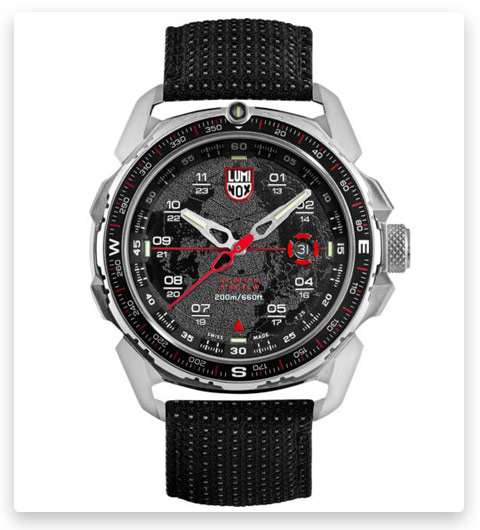 View on OpticsPlanet View on Amazon
This is an original Luminox watch designed in collaboration with existing military special forces (the Navy seal). Luminox is proud to be an official partner of ICE SAR, the Icelandic Search, and Rescue Association. You need to know this to get an understanding of the company's philosophy when designing the ICE SAR Arctic 46 mm watch. But the actual result is important to us.
The stainless-steel case can withstand immersion up to 200 meters and looks reliable. If we talk about size, this silver watch is quite massive (46 x 24 x 13 mm) with a weight of only 110 grams. The bi-directional bezel has a double gasket and a relief shape, which makes it easy to turn a watch into a stopwatch.
Sapphire crystal with anti-reflective coating tolerates household scratches and provides good transparency in all conditions. The dial has a lot of labels and will show the time and date, and compass marks will help you find the right path. An important feature of this watch is an autonomous backlight with a life of 25 years!
Regardless of the external sources of illumination, the orange light of the arrows will indicate the green lights of the marks and you will be able to navigate, even in complete darkness.
The only drawback of this stylish watch is the presence of a replaceable battery. In terms of survival, being dependent on a small battery is not very prudent.
3# Casio Tactical G Shock Rangeman Triple Sensor Watch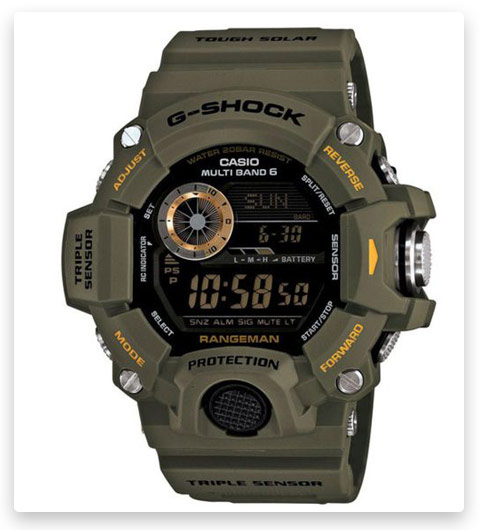 View on OpticsPlanet View on Amazon
This digital watch from the legendary Casio is a worthy continuation of the G Shock series. Corporate identity and really large sizes make them recognizable and very noticeable. If you are looking for a small watch for everyday wear in an office setting – this offer is not for you. This watch is challenging and ready for any extreme tests, from falling from an airplane to diving into the water at 200 meters.
The GW9400-3CR accurately displays the time in 24-hour format thanks to the atomic synchronization function. This feature is not available for all countries – this must be taken into account to get only a good experience. Two design options are available (in this configuration) – the usual black numbers on a light background and white numbers on a dark background (inversion). Choose whichever you prefer and enjoy.
With additional features, not everything is as good. Altimeter gives an error of + -15 meters, it is a height of 4-5 floors! A thermometer and a barometer pick up the heat of the hand and give inaccurate information. To find out the true information – leave the watch alone for 20 minutes. The highlight of this watch is its fully autonomous charging system. Leave the watch for 12 hours in direct sunlight and the battery will receive a full charge.
The unpleasant minus is that the backlight can be adjusted for 1 or 3 seconds, without other options. And when you start flipping through the functions of the phone without an external light source, the backlight goes out at each press of a button. This is not critical, but an unpleasant discovery. The rest is a legendary watch from a legendary manufacturer. They are hardy, autonomous, accurate, and have many functions for survival.
4# Suunto 9 Multisport GPS Watch with BARO and Wrist-Based Heart Rate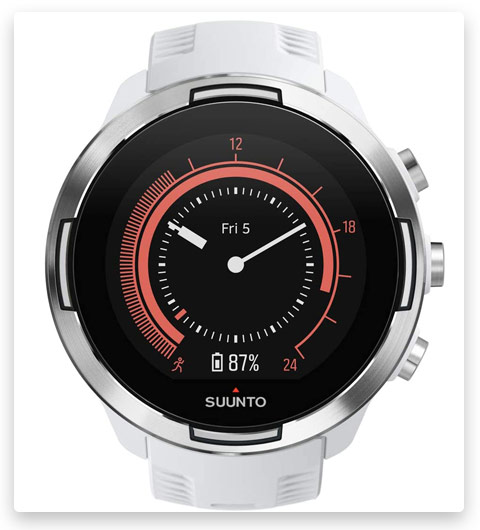 View on OpticsPlanet View on Amazon
This is a strong GPS-tracking watch for active sports. They are hardy enough to accompany your entire adventure with the maximum activity mode. A large display with a clear display of information is visible even in direct sunlight. The strap is adjustable for any wrist from 130 to 230mm but may look too bulky on a small hand.
This watch synchronizes well with the Bluetooth of all devices, so using it gives you only a pleasant experience.
Among the small but unpleasant features, the transition to the Suunto App should be noted. With Movescount, you could very easily download your data to your computer and find out the statistics of your activity. With the new application, you cannot do this so easily. The opportunity to share your achievements remains, but your data is no longer only yours.
5# Casio Men's Mudmaster G-Shock Quartz Casual Watch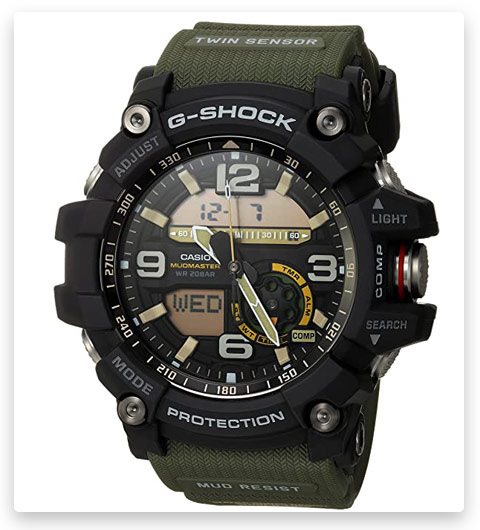 View on OpticsPlanet View on Amazon
G-Shock has become Casio's hallmark. Mudmaster is the continuation of the legendary range with an analog-to-digital quartz movement. This watch is designed for everyday use in harsh conditions. Surfing, traveling through the desert, working in a workshop – with this watch, you have no restrictions on freedom.  The only design flaw is the large thickness. You will not be able to wear a shirt and tie and this must be taken into account with this watch.
Like all Casio products, Mudmaster is very hardy. Shockproof housing with high water resistance allows you to dive up to 200 meters! Magnetic resistance of class ISO 764 makes the compass more accurate and the watch itself is resistant to magnetic fields. To get the real temperature, you need to remove the watch so that it gets rid of the heat of the hand. This takes extra time. Double-time displaying looks like a good idea while it's light enough.
When the lighting is too weak you will find out that the backlight illuminates the arrows well, but not the digital display. In addition, when the minute hand rises above 10-11, it closes a large sector of the display, which can be annoying. Also, Casio warns of a 15-second error every month. The atomic time function could fix it – but here it is not there, nor is the use of solar energy. This is a good and reliable watch, but not the best in the G-SHOCK lineup. If you like it, try it, but it will be only your choice.
6# Isobrite ISO302 Valor Series Black/Orange T100 Tritium Watch
View on OpticsPlanet View on Amazon
This stylish men's watch with a Swiss quartz movement will become not only a bright accent in your business style but also a reliable assistant for outdoor activities. The orange color of the dial along with the orange high-power trituration tube (T100) will allow you to see the time and date at dusk or complete darkness.
To facilitate orientation in complete darkness, blue tubes are used at the noon position. A sapphire crystal protects against scratches, and a durable carbon fiber case will not let water pass even at a depth of 200 meters! The full warranty against any breakdowns is 2 years, and the warranty battery life is 10 years. Perhaps this is a marketing move, but it would be better to give a full guarantee for 10 years without additional reservations.
7# Luminox Black Divers Mens Watch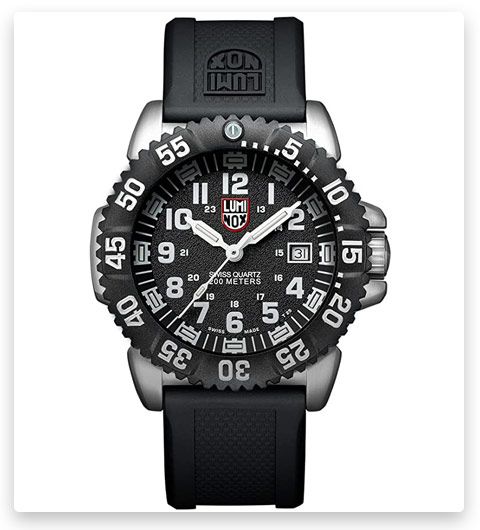 View on OpticsPlanet View on Amazon
This is an analog watch in a classic version with a Swiss quartz movement. They have a large dial with large numbers. At night, the backlight from the blue cones will tell you what time it is, but to see the date you need an external light source. The manufacturer claims that the backlight is equally good even after a few years (up to 25 years), but it does not seem to us as bright as we would like.
The durable steel case and sapphire crystal make an excellent choice for everyday wear and active sports. Water-resistant up to 200 meters allows you to surf and dive, without fear of breakage. The watch sits very tightly on the hand thanks to a hard strap made of soft plastic. If this stiffness is excessive for you, replace the strap with a nylon one. It is important to say that the warranty for this watch is 2 years if purchased from an authorized distributor such as Lumondi. Therefore, choose the seller carefully, service will depend on this.
8# G-Shock GW2310 Atomic Solar Watch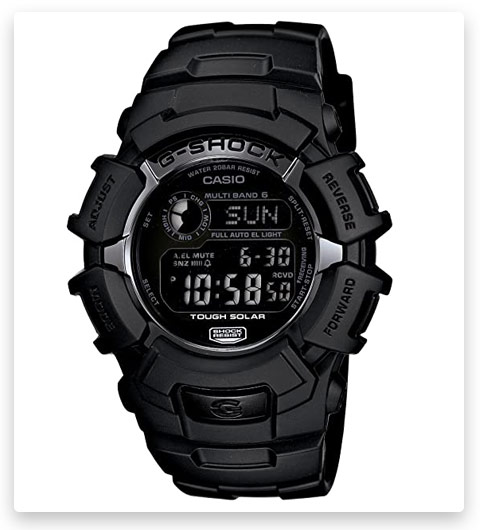 View on OpticsPlanet View on Amazon
This G-Shock with a digital display is best suited for active city life, but, as usual, with a large margin of safety. The first thing that catches your eye is a corporate design. These are all the same G-Shock but without capital letters on the front side. Instead, the name is neatly engraved on the back cover. The inversion in the display of numbers can be unusual and not so easily determined especially on bright days, but it is still good. The backlight illuminates all fields of the display well but is very gluttonous.
To restore the battery charge, use the solar receiver. 1 sunny day and you will forget about the need for recharging for months. The manufacturer warns of an error of 15 seconds in 1 month. This is quite a lot if you plan to use your G-Shock for many years. To correct this, this situation included the atomic synchronization function. At exactly midnight, the clock will try to connect with one of the NIST stations and correct the error. Another feature of this watch is the lack of a compass, altimeter, and thermometer. Let's be honest – we rarely use these functions in the city, so this is not a loss. If this is important for you, choose another G-Shock (for example, No. 3 of our G Shock Rangeman rating).
9# Luminox Navy Seal Watch for Men
View on OpticsPlanet View on Amazon
The Swiss tactical watch Black Ops Automatic 8882 by Luminox, the official distributor of the Luminox and Mondaine brands, is always of stable quality and has a real masculine style. The design of the watch is made both bold and strict. It seems that the tread of the wheel peeks out from under the large gear.
This watch is positioned as a military-grade watch for harsh conditions. It is for these purposes that water resistance (up to 200 meters) and shock-resistant sapphire crystal have been added. To free hands from the need for constant activation of the backlight, tritium was used with a warranty period of up to 25 years. All this fits into the philosophy of the product, but not the full truth.
The accuracy class does not meet the needs of the military (+ – 20 seconds per month). Besides, the hard strap may weaken and break after 1 year of wearing. This does not look like arguments that support reliability. This is a good watch to demonstrate status in the office, but not on the battlefield.
10# Reactor Fermi Men's Watch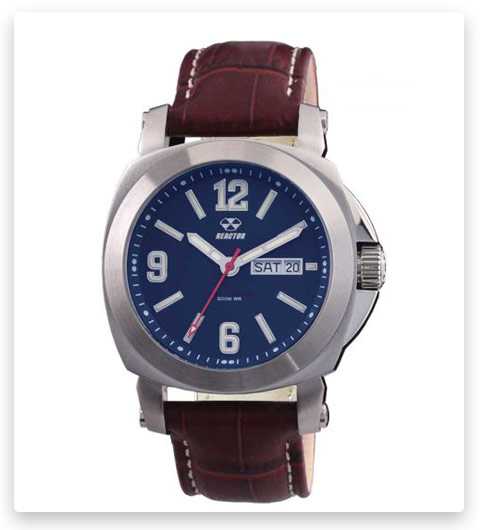 This simple and reliable Swiss watch is for use in harsh conditions. The dial has large numbers at 6, 9, and 12. The place for number 3 is the calendar with the day of the week and the day of the month. The case and bracelet made of 316L stainless steel go through many tests, including diving to a depth of 200 meters. This watch has nothing superfluous and looks like an ordinary men's watch. If you liked one of the 4 design options, look into your wallet. If there are free 140-200 dollars there – Reactor Fermi can be yours.
11# Timex Ironman Classic 30 Full-Size 38mm Watch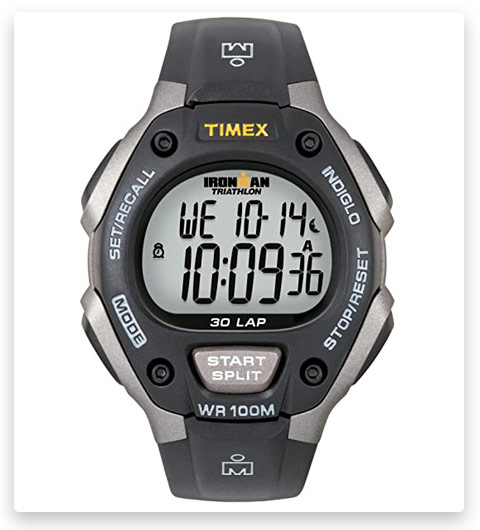 The Timex Ironman Classic watch has many modifications that differ in price and design. When choosing, be careful to get only the best experience from us. The first thing you will see is a large digital display with clear and large time digits. But that's not all. Small letters will indicate the day of the week and the day of the month.
The alarm icon will remind you of your plans for the future, and if it does not light up, it will remind you that you need to set an alarm. Alarm settings are very extensive. 3 for each day and a separate setting for weekends and weekdays – very convenient. If we talk about stamina.
This watch can be used in water, in harsh conditions, or at night. The Indiglo backlight is not very bright but economical enough not to think about replacing the battery. It's easy to see the display at dusk or in total darkness, but it's not enough that the light from the clock illuminates at least something in the area. Among the many advantages, there are also weaknesses, but if the price is 5-6 times less than that of the G-Shock, it can be forgiven, probably.
12# Casio Analog Sport Watch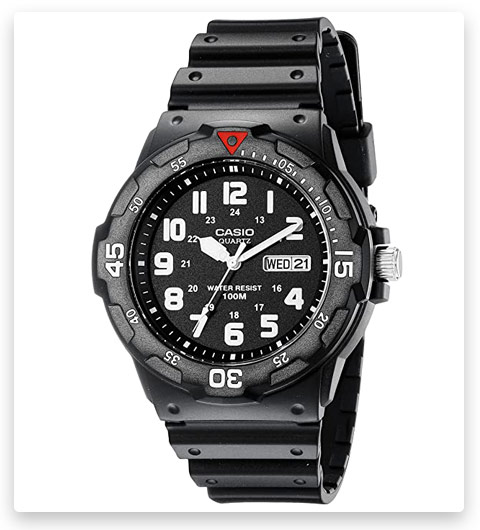 Analog sports watch of the famous Casio brand. This brand is known and loved all over the world for its quality and reliability. But we will talk about the Chinese replica of this watch. It is important to understand that a real Casio watch cannot be three times cheaper than the official price. The case is made of plastic, the back is made of stainless steel, and the strap is made of resin.
A nice addition is a rotating bezel, day/date display, and backlight. The bezel turns smoothly and quietly, there is no unpleasant rattle. They are ticking quietly, so people with hypersensitive hearing will not have to store them in a drawer. Water-resistant to 100 meters, this is enough to not worry about daily use, including showers and even shallow water sports. It may be a good choice for teens, as their first watch for daily wear. Also suitable for people with difficult working conditions (miners, plumbers, roadworkers, and others).
13# Garmin Fenix 5 Sapphire Multisport GPS Watch
This watch is created with thoughts on the convenience of planning training and controlling health. Everything you might need during your tests Garmin tried to squeeze into a 1.9 x 1.9 x 0.6-inch polymer case. A strong base and elastic shell make this watch resistant to falls and dives.
This makes it possible to engage in your favorite sport and keep track of key indicators, without regard to limitations. This watch has many functions for active sports such as Elevate heart rate indicator, sunrise and sunset graph, GPS navigation, built-in altimeter, barometer, and even a 3-axis compass. Special mention deserves a full-color display made by transflective technology.
This allows you to increase the clarity and readability of text in bright light. With the active use of gluttonous GPS, the battery capacity is enough for 24 hours, but when using more careful modes, the clock can last up to 2 weeks.
14# Smith & Bradley Watches SANS-13 Tactical Sport Watch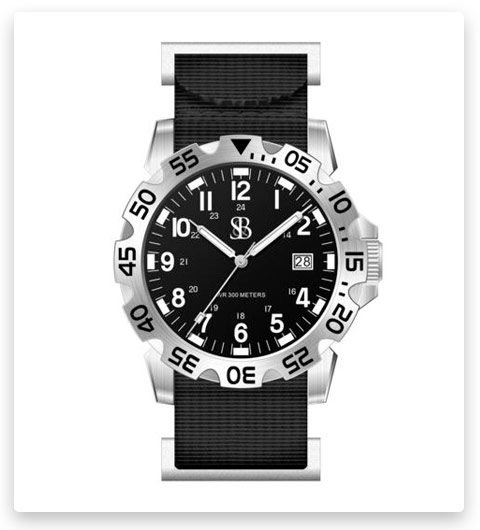 View on OpticsPlanet View on Amazon
SANS-13 Tactical is a stylish analog sports watch for active people. The steel bezel in the form of gear makes the design ruder and more suitable specifically for men. The stainless-steel case has a thickness of only 12 mm, which allows you to wear a watch with a sponge and tie. Durable sapphire crystal will resist scratches and maintain excellent visibility even on a sunny day. Ronda's quartz filling and Swiss quality control turn this watch into a small fortress, which is not afraid of dirt, sand, or even immersion in water up to 300m. That is why this watch is popular with members of the armed forces and law enforcement agencies.
15# Hazard 4 Heavy Water Diver Tritium Dive Watch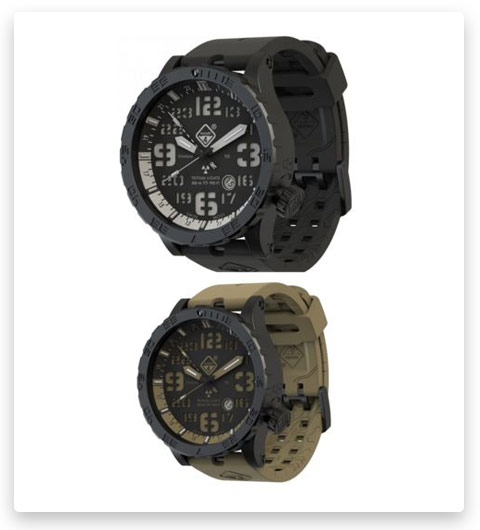 View on OpticsPlanet View on Amazon
Hazard 4 is a watch that can look good even after a zombie apocalypse. Swiss quartz in a titanium frame from a trusted manufacturer – it sounds very good, but that's not all. Durable sapphire crystal with internal anti-reflective coating and H3 tritium backlight ensures crystal clear day and night. With all the benefits, this tactical watch is very lightweight and weighs less than 4 ounces. They resist any dirt and can withstand immersion up to 300 meters. Reliability is the middle name of this watch. In addition to a powerful backlight and a built-in calendar, this watch does not have additional tactical improvements. The philosophy of the component was to create the best classic watches with tactical strength. Admittedly, they succeeded.
16# Nautica NSR Tide Compass Watch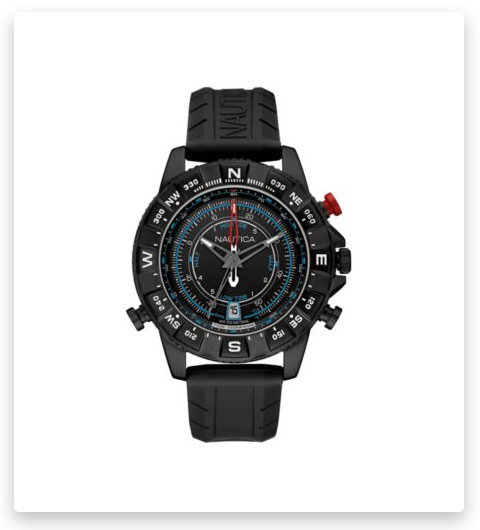 The Nautica NSR Tide Compass Watch is the perfect choice for nautical travelers and yachtsmen. This watch allows you to adjust the level of the ebb and flow, contains a compass with a double-sided bezel, and resists water up to a depth of 100 m. The Japanese quartz movement is connected to a stainless-steel case in the Philippines. The main disadvantage of this watch is the lack of a backlight for night use. This is an unpleasant discovery and a huge concession to competitors. When the world requires more and more functions with the same dimensions, some manufacturers simply do their job by designing a classic watch like this.
Navigate with a watch band compass 🧭
A watch band compass is a small, cylindrical device that fits onto the band of your watch. It's designed to offer basic navigational information when you're in an unfamiliar area or lost in the wilderness. 🔍 The basic parts of a compass are a needle and a dial. When rotated correctly, the needle will point north, allowing for relatively accurate navigation when combined with other navigational tools.
➡️ Using a watch band compass is simple:
✔️ To begin, turn your watch so that the hour hand matches up with the sun's position. This will give you an approximation of true north (or south if you are in the Southern Hemisphere). You can also check a map or use other navigational tools to double-check your north direction.
✔️ Once you have established the correct orientation, simply adjust the watch band compass until the needle points accurately toward the north.
✔️ After you have determined which way is north, it's time to begin navigating. Use landmarks and natural features such as rivers and mountains to help orient yourself on your route, adjusting your course as needed concerning your trusty watch band compass.
FAQ ❓
Conclusion 😊
When it comes to finding the best survival watch for your needs, there is no one-size-fits-all solution. Depending on what you plan to use it for and where you'll be using it, different features may be more important than others. Whether you are searching for a basic timepiece or something with advanced navigation capabilities, we hope that this buyer's guide has provided some helpful tips in narrowing down your search so that you can find the perfect watch for your circumstances. Good luck! 😎👍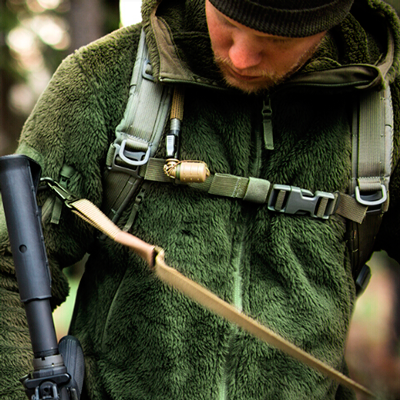 Dmitry Koval
Tactical & Survival Expert
I am from the generation that tried to repeat all the tricks of Jackie Chan, hunted birds with homemade bows, and built my mini-base in the forest. At the age of 18, I was a scout in PLAST (scout organization) and participated in campaigns and quests. Somehow we decided to test ourselves, took our backpacks and walked 50 km (31 miles) in 1 day. We had a lot of fun!
Remembering my past, I ask in bewilderment: "How am I alive after all my adventures?" - harsh trials, reckless parties, love affairs, and a sea of silliness.
My hobbies are weapon upgrades,
tactical gear
, and the latest in wilderness survival technology. I have hundreds of different survival gadgets in my collections, which are sent to me for "test-driving" by Amazon, eBay, and other online retailers. That's what I write about, and I also make YouTube videos about them! Stay tuned!
Read more
about our team
of expert authors.
Affiliate Disclosure: Rotorm.com sometimes gets paid for listings, through sponsors or affiliate programs like Amazon, Optics Planet, Lucky Gunner, Brownells, Cabelas, Rainier Arms, 5.11 Tactical, Bass Pro Shop, etс. Clicking a link helps keep Rotorm.com free, at no extra cost to you!
About the author: Each article on our site is written by experts in survival and tactical equipment, gun enthusiasts, extreme travelers, military, law enforcement and desperate professionals, read about the author at the bottom of the article or visit "About Us" page.
Note: The views and opinions expressed in this article are those of the authors and do not necessarily reflect the official policy or position of any agency.