Affiliate Disclosure: Rotorm.com sometimes gets paid for listings, through sponsors or affiliate programs like Amazon, Optics Planet, Lucky Gunner, Brownells, Cabelas, Rainier Arms, 5.11 Tactical, Bass Pro Shop, etс. Clicking a link helps keep Rotorm.com free, at no extra cost to you!
About the author: Each article on our site is written by experts in survival and tactical equipment, gun enthusiasts, extreme travelers, military, law enforcement and desperate professionals, read about the author at the bottom of the article or visit "About Us" page.
Note: The views and opinions expressed in this article are those of the authors and do not necessarily reflect the official policy or position of any agency.
When you hear about Aviator hat or ushanka, it always reminds you either about different comedy shows or harsh Russian characters in chilly winter weather.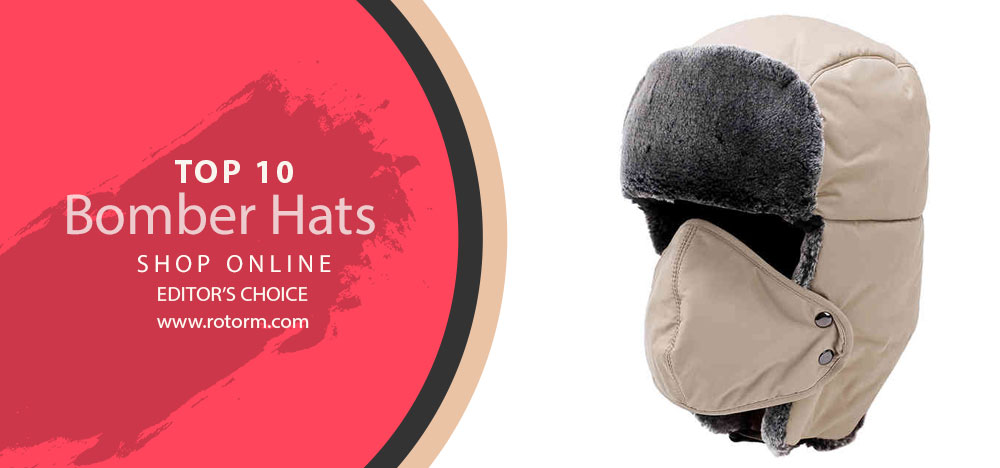 But it became so popular amongst winter outdoors workers and those who live in cold climates for a reason. These kinds of hats are a must-have for your wardrobe in chilly weather conditions. This style will suit every gender and age. The unique shape of hats is perfect for protecting your head, face, and ears. And mostly all of them are completely wind and waterproof, even if it is raining outside and believe me, you would not like to get your head wet in freezing temperature. Despite being insulated with modern technology materials, they will always keep their vintage and classic look.
Best Bomber Hats | Bomber Hat Review + BONUS
| Image | Product | Brand | |
| --- | --- | --- | --- |
| | Connectyle Warm Bomber Hat | Connectyle | |
| | Greenery-GRE Winter Bomber Hat | Greenery-GRE | |
| | HOMFUL Unisex Bomber Hat | HOMFUL | |
| | Ergodyne N-Ferno Thermal Winter Bomber Hat | Ergodyne | |
| | SIGGI Unisex Ratit Fur Bomber Hat | SIGGI | |
| | Connectyle Unisex Trapper Hat | Connectyle | |
| | SIGGI Wool Blend Trapper Hat | SIGGI | |
| | Chaos Men's Trapper Hat | Chaos | |
| | Mad Bomber Aviator Hat with Real Rabbit Fur | Mad Bomber | |
| | Fancet Unisex Aviator Bomber Hat | Fancet | |
| | Gravity Falls Wendy's Bomber Hat | BioWorld | |
#1 Connectyle Warm Bomber Hat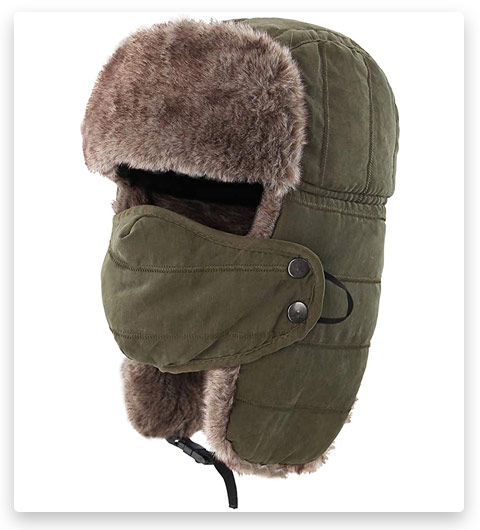 When your hobby is hiking or camping, no weather conditions and season can stop you. Every experienced traveler knows that it is all about equipment and clothing to make you comfortable even in the heaviest snowfall. When it comes to harsh winter you should probably take a glance at this Russian ushanka hat, because region with one of the coldest winters must know something about keeping their heads protected. Thanks to outer polyester this hat is completely waterproof while plush inner coating makes it warm and comfortable to wear. And for those who enjoy winter active sports like skiing or snowboarding, there is a removable face mask to protect you from wind and light snow. Forget about earaches and weathered face- your head will be as protected as your hands while you wear the warmest gloves in your closet. And it will probably match with any winter coat because it comes in six different colors.
#2 Greenery-GRE Winter Bomber Hat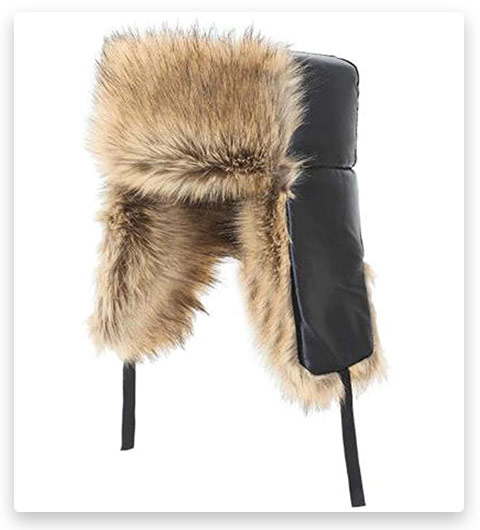 Lots of people prefer to stay inside on a chilly day but why should you force yourself to not go out on a lovely snowy walk? Treat yourself with some fresh air with a warm and cozy winter hat that will fully cover your face, head, and ears from wind and other unpredictable weather conditions. Being made of 100% polyester makes it completely water-resistant. It's one size fits mostly all adults and adjustable chin strap helps regulate how close to your head you want it to be. Earmuffs can also be flipped and turn this ushanka style hat into an awesome fur hat, making it a perfect gift to give your friends and family at Christmas. The package also includes a removable face protecting mask for the harshest winters. Combo of wind and moisture protecting polyester outer coating and fur lining inside will store your body heat and give you long-lasting warmth.
#3 HOMFUL Unisex Bomber Hat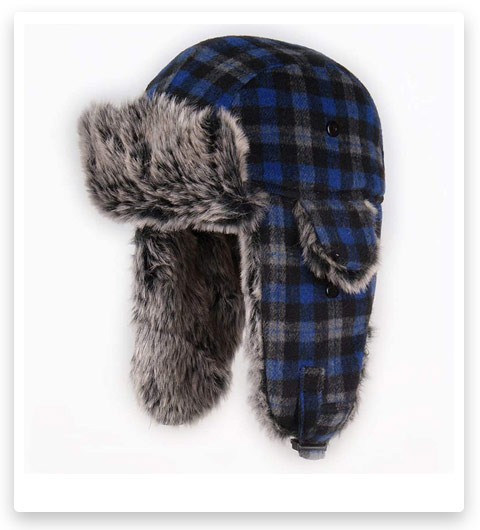 You will absolutely fall in love with this stylish trooper hat. The design and variety of colors will make you feel like a fashionista in the coldest region. No more excuses for staying home when the winter season is creating lovely snow magic, that is waiting for you to admire. Unisex style makes it a perfect gift for everyone you love so you can take your closest one on a short walk on chilly weekends. This hat is extremely warm, soft, and really cozy. You will recognize the high quality of the trapper the first time you touch it. The polyester coating will protect your face, ears and even eyebrows being completely snow and windproof. Package includes a winter mask that is completely breathable so you will not even notice it is there. The plaid Scottish design will steal your heart, especially if you're a fan of wearing flannel clothes. Feel yourself warm, comfortable, and stylish while enjoying skating, skiing, and snowboarding with your friends and family. This is definitely a must-have for your winter wardrobe, cause classic is basic.
#4 Ergodyne N-Ferno Thermal Winter Hat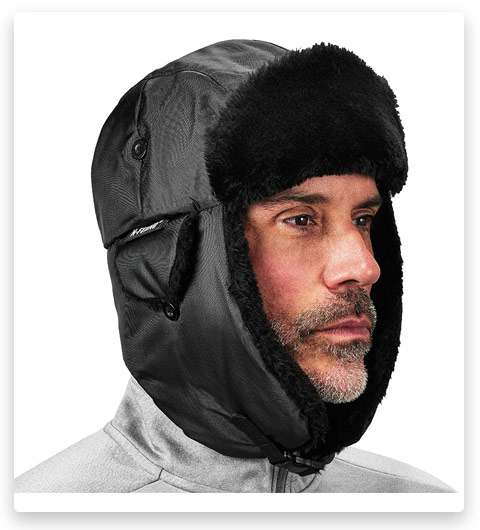 Give your head and ears durable shell on chilly winter days with a combo of truth worthy design and modern technologies. Completely wind and water-resistant coating helps you stay dry and warm during unpredictable weather and seasonal conditions while lining made with 60 grams of Thinsulate Insulation is storing and giving back your body warmth. It comes in three sizes and can become a great Christmas gift for all your family or friends if you are interested in outdoor sports and don't think winter and snow is an excuse to stay inside doing nothing. It also works well with protecting your ears without leaving you «deaf"- flaps have side holes for clear hearing. Old school style and progressive technology of storing warmth inside is a foolproof choice for those who can't imagine winter season without skiing or snowboarding.
#5 SIGGI Unisex Ratit Fur Ushanka Hat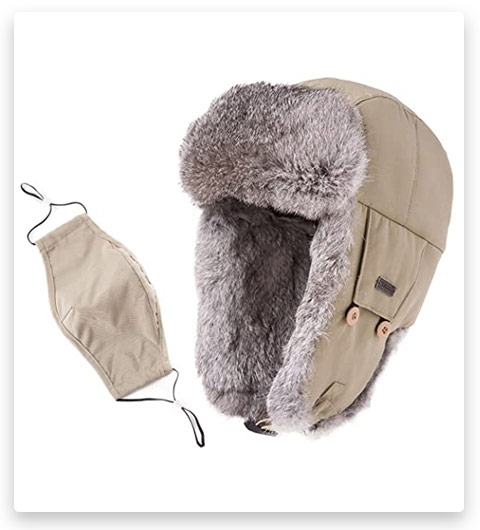 Protect your face, head, ears, and chin from harsh and chilly winter weather conditions with this cool and classic style Russian ushanka. Enjoy a snowy day by doing all your favorite activities like skiing, snowboarding, hiking, dog walking, or just spending time outside with family and friends while real rabbit fur will make you feel comfortable, warm, and cozy. 100% nylon outer coating and 100% polyester inner lining will protect you from any weather conditions by being completely water and windproof and will help you admire amazing seasonal magic. It comes with cotton and perfectly breathable mask to save your face from being weathered and dry. Purchase this and put in your luggage next time you are heading to the mountains trip- you will never regret buying it.
#6 Connectyle Unisex Trapper Hat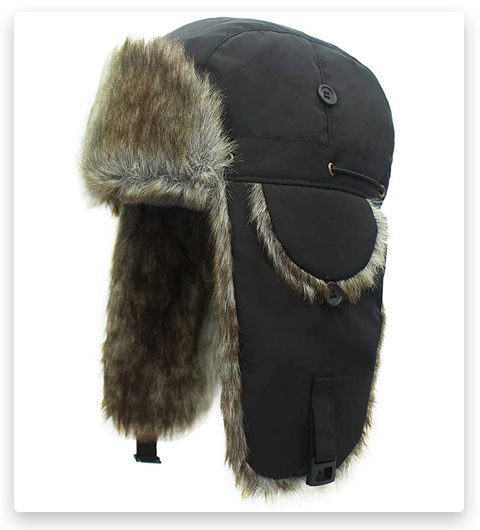 Keep yourself warm during a chilly season with this great unisex fur-lined hat which you can buy without leaving your house- just wait for it to deliver and then stop being afraid of getting cold in winter days. Despite being great in making its wearer cozy, it is also a good looking and stylish accessory. Ushanka went a long route from the Russian military to prove to you that it is a must-have even for the harshest weather conditions. Fur all over the inside lining insulates your ears, face, and head while being so comfortable and soft, you won't even want to stay inside and will be finding an excuse to go outdoors and be active. If you're not persuaded yet, notice that thanks to polyester outer coating the hat is completely waterproof and will be durable in the heaviest snowfall you can imagine yourself being at. This hat us very functional and you can also place ear flaps on top for a different style. Perfect for winter sports or work or for just a simple walk in the park with a family to admire nature.
#7 SIGGI Wool Blend Trapper Hat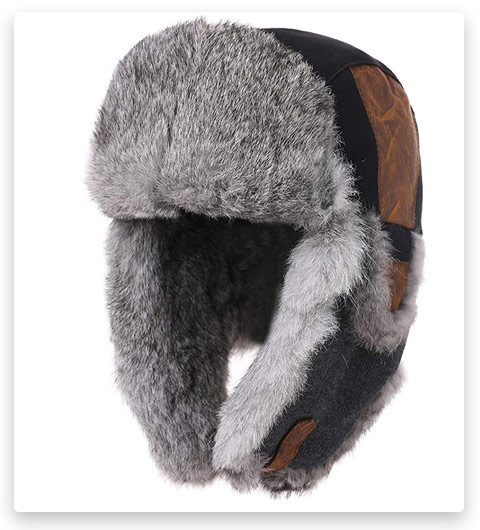 Have you ever seen a sheep that can't handle the chilly winter day? Pretty sure you haven't. That is why you will totally agree that this hat will be the best choice for freezing temperatures. 29% of the trapper is wool blend lining, which provides ultimate softness and comfort. It gives a cozy warm feeling for your head, face, chin, and ears while you are enjoying skiing, skating, running, hiking, and any other possible outdoor activities. Multitasking hat can be a great traditional style aviator hat with ear flaps down or Russian Russian historically inspired ushanka with flaps up if it is slightly cool outside. It comes in a different color and two sizes and can become a wonderful gift for your family and friends. Forget about locking yourself at home because you are afraid of low temperature- enjoy all kinds of activities you can imagine while polyester coating will protect your had from getting wet in any possible weather conditions. Also, don't ever worry again about weathered face- breathable cotton face mask will be your shield against wind and snow.
#8 Chaos Men's Trapper Hat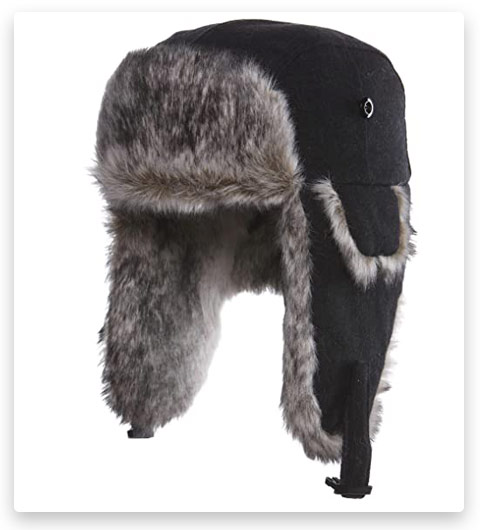 While an apple per day keeps the doctor away, this pretty hat will keep wind and moisture from your head. No wonder why Ushanka style hat is so popular among many people, especially in the regions with the harshest winters. Eye-catching design and great functionality will immediately steal your heart. Thanks to polyester outer shell this modernized hat is completely waterproof and protects your head, face, and ears from cold wind. Smooth fur lining will give you wonderful and cozy warmth by successfully storing your body heat. The interior wool is really soft and comfortable to wear, it will make you forget how chilly it is outdoors. If it is not too cold and you feel comfortable not covering your ears, you can easily place flaps on top, creating a brand new look. The size of a hat is the most common, so it fits mostly all.
#9 Mad Bomber Aviator Hat with Real Rabbit Fur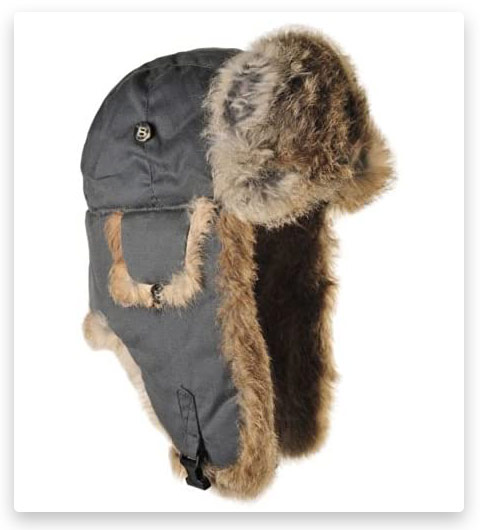 Don't be skeptical about wearing this hat on a daily basis. Even though it does not look like a fashionable piece, it does its job pretty well. This hat is completely waterproof, you can even wear it when its raining outside (winter rain is especially freezing) and your head will successfully stay dry and toasty warm inside. And we all know how well real fur or wool works- it is really warmth saving, soft and cozy, making you as comfortable as possible. You'll enjoy all your outdoor activities without thinking that it is too cold- believe me, you will not even feel it's chilly outside. It comes in four sizes so you should probably consider buying a few to have a wonderful and useful gift to give your loved ones on Thanksgiving or Christmas day. This hat was perfectly designed to help you get the best winter season experience without getting cold and it probably succeeded in it.
#10 Fancet Unisex Aviator Hat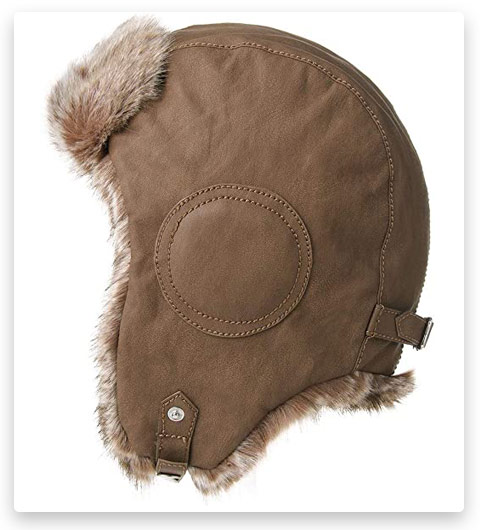 If you are already a real lover of fur hats and think that they are the best for a chilly season then take a look at this one here. It is Unisex and thanks to size and color variations will be a fashionable choice for men, woman, and teenagers. Like most of the Aviator hats, it can also be worn as an ushanka style hat with flaps rolled up when it's not too cold outside. It is coated with polyester to make it completely waterproof and windproof, but it still helps achieve a unique vintage look with a leather-like outer shell, so it would be a great gift and ideal for the costume design to wear on a Halloween party or other themed occasion. It will become your favorite stylish and cozy accessory for even the harshest winters of your life.
BONUS: Gravity Falls Wendy's Bomber Hat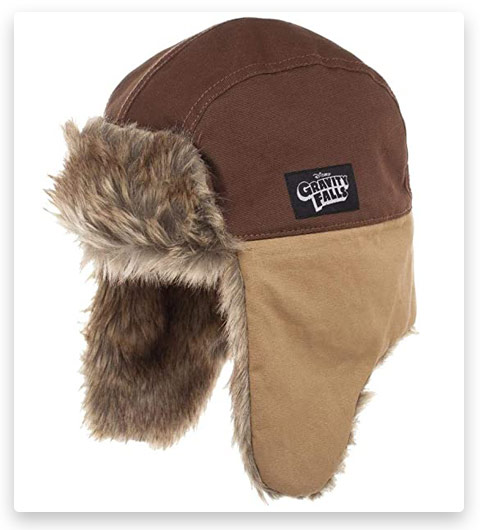 After watching the amazing two seasons Disney animated series everyone chose their favorite character and most of them successfully tried cosplaying or dressing up for Halloween. And if the main characters' accessories are pretty easy to find due to their popularity, side character outfits can be harder to copy. If you're looking for an accurate looking hat to dress up like Wendy, you should try this one here. With this cool and warm hat, you will immediately become the coolest girl (or a boy cause its gender-neutral) in Gravity Falls city. Feel yourself in the body of an easygoing and chill teen, don't be afraid to get adventurous and have a great time.
Conclusion
Are you still looking for a perfect hat for the cold and chilly winter season? I hope some of the options I listed for you will catch your eye and become your best friend later. With the best-chosen hats, it is easy to find a right Trapper bomber for you now. It will match all coats you have and provide you with stylish and functional head protection.
Best Pick:
Tags: bomber hat, mad bomber hat, woman bomber hat, man bomber hat, kid bomber hat, rabbit fur bomber hat, remnant bomber hat, dallas cowboys bomber hat
#Best #Bomber #Hat #Hats #Woman #Women #Men #Man #Rabbit #Remnant #Kid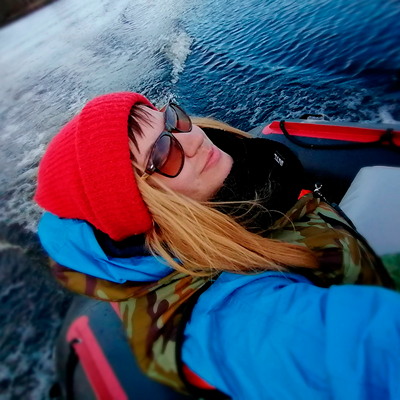 Olena Dubose
Traveler & Camping Expert
I was born in a family of experienced travelers and used to spend all my school breaks and long weekends camping and hiking around the most admirable places in Canada and sometimes United States. My dad used to be a soldier and always taught me how to survive during unpredictable circumstances. Like every other kid, I wasn't really interested in my parents' extreme lifestyle when I was little, but I can't imagine my life now without regular outdoor trips and extreme sports.
Thanks to my intense childhood and a few decades of experience I can now choose the best equipment for any adventure waiting for me to dive in. And after all, I have been through, I want to share my knowledge so more people could join an enjoyable and breathtaking trip to discovering magical nature around us. Forget about five-star hotels and treat yourself with thousands more in a cozy camping trip!
Read more
about our team
of expert authors.