Affiliate Disclosure: Rotorm.com sometimes gets paid for listings, through sponsors or affiliate programs like Amazon, Optics Planet, Lucky Gunner, Brownells, Cabelas, Rainier Arms, 5.11 Tactical, Bass Pro Shop, etс. Clicking a link helps keep Rotorm.com free, at no extra cost to you!
About the author: Each article on our site is written by experts in survival and tactical equipment, gun enthusiasts, extreme travelers, military, law enforcement and desperate professionals, read about the author at the bottom of the article or visit "About Us" page.
Note: The views and opinions expressed in this article are those of the authors and do not necessarily reflect the official policy or position of any agency.
The choice of the main sighting system depends only on your preferences. It can be a red dot, 15x optics, or a thermal imager. But what if this "technical miracle" got damaged / broken / lost focus or the batteries just ran out?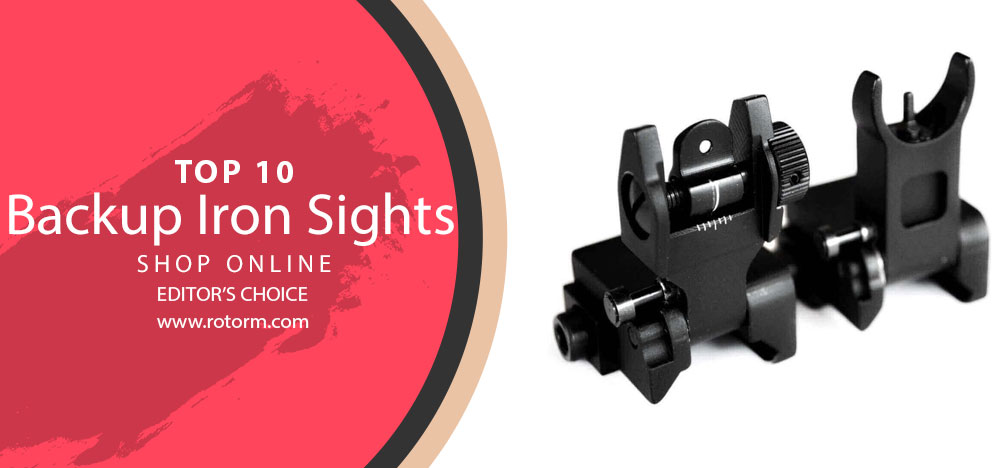 There is a good solution for these situations – backup sights. Let's see what Amazon recommends to us and choose the best. Let's start!
TOP-10 Backup Iron Sights
| Image | Product | Brand | Link |
| --- | --- | --- | --- |
| | Feyachi 45 Degree Offset Iron Sights Flip Up BUIS Rapid Transition Backup Front and Rear Iron Sight Set Picatinny Weaver Rails | Feyachi | |
| | Ultralight Flip Up Sight 45 Degree Offset Rapid Transition Front and Backup Rear Sight | IORMAN | |
| | Marmot 45 Degree Offset Flip Up Sight Low Profile Rapid Transition Front & Rear Iron Sights | Marmot | |
| | Troy BattleSight Front HK Fixed, black | Troy Industries | |
| | SOUFORCE 45 Degree Offset Backup Iron Sights, Front and Rear Canted Flip Up Sight Set for Picatinny and Weaver Rail Mount | SOUFORCE | |
| | Ozark Armament Flip Up Battle Sights - Best Military Grade Battle Sights with All Metal Construction - Two Aperture Rear Sight for Close and Precision Targets - Designed to Mount on Picatinny Rails | OZARK ARMAMENT | |
| | UTG Super Slim Flip-up Front Sight , Black | UTG | |
| | Tacticon Flip Up Iron Sights for Rifle Includes Front Sight Adjustment Tool | Rapid Transition Backup Front and Rear Iron Sight BUIS Set Picatinny Rail and Weaver Rail | Tacticon Armament | |
| | | | |
| | Tacticon Armament 45 Degree Offset Flip Up Iron Sights for Rifle Includes Front Sight Adjustment Tool | Rapid Transition Backup Front and Rear Iron Sight BUIS Set Picatinny Rail and Weaver Rails | Tacticon Armament | |
#1 Feyachi 45 Degree Offset Iron Sights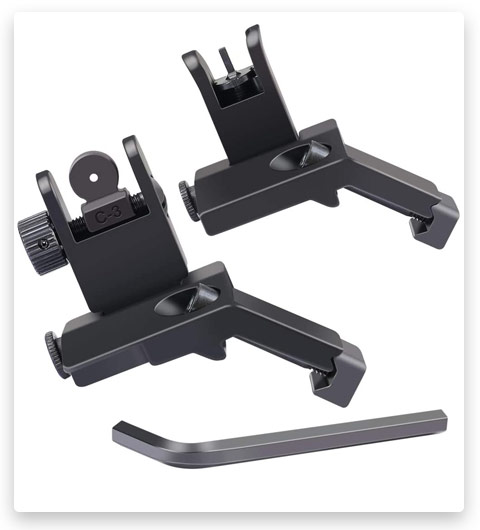 This is a simple backup sight for left-handed and right-handed people which is mounted at 45 degrees and is made in the style of A2. It can be called iron only for the reason that it is made of metal, not plastic. Made by the Chinese company Feyachi from an aluminum alloy, and therefore optimally light and durable. Rather tough activation buttons protect against self-disclosure, but it takes some getting used to. The adjusting screw allows you to adjust the sight taking into account wind and height. A good option for a small budget or when your main optics are not reliable.
#2 IORMAN Ultralight Flip Up Sight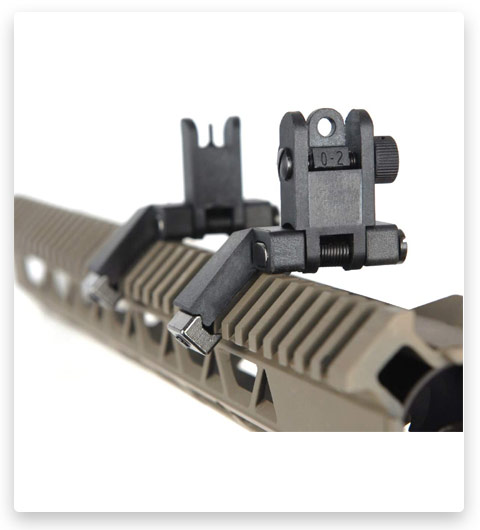 This is an ultra-light backup sight made of hard plastic. Strong enough and resilient to hold its shape, but very light and small so as not to interfere with other ammunition. After a long and fine-tuning allows you to hit targets up to 50 yards. To use, you need to press the small button and the spring mechanism activates the sight. Tilt your weapon 45 degrees and your shot will be accurate! This is a really small and light product from a Chinese factory for a small price. If you do not need a designer logo and a big name for the manufacturer, this may be a good choice as a RESERVE SIGHT.
#3 Marmot 45 Degree Offset Flip Up Sight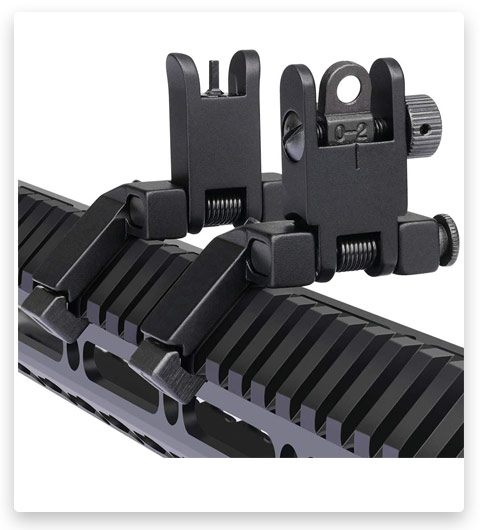 Sometimes Chinese manufacturers are pleasantly surprised, and this is an example of such cases. "Marmot" introduced a really good sight for shooting at 45 degrees. Aluminum alloy provides excellent rigidity and does not create additional pressure or significant weight. The design is very smooth and neat. The standard Pic mount fits all things and the A2-style scope provides true pleasure. When setting the wind scale and altitude and hear a nice tactical click. This indicates that the setting will not be lost. In the cheap price range, this thing leaves plastic competitors far behind.
#4 Troy BattleSight Front HK Fixed, black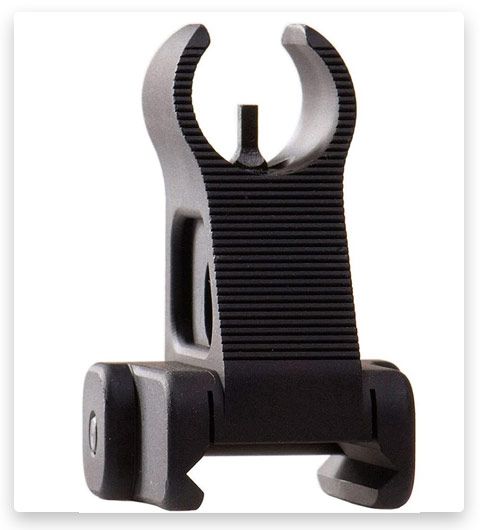 This triangular sight brings us back to the old triangular shape of the gas block. This has its own style and charm. Notches on the back really help reduce glare and make aiming more enjoyable. There should be no problems with this sight because of the absolute simplicity and mandatory compliance of all AR sights with "industry standards". But if difficulties nevertheless arose here is a small army trick. You can use a conventional bullet to calibrate the sight. Insert the tip of the bullet to press the piston, pushing the scope clockwise or counterclockwise. The rest is a sturdy product from American gunsmiths. The high price is a fee for quality and name.
#5 SOUFORCE Premium Flip Up Mil Spec Iron Sights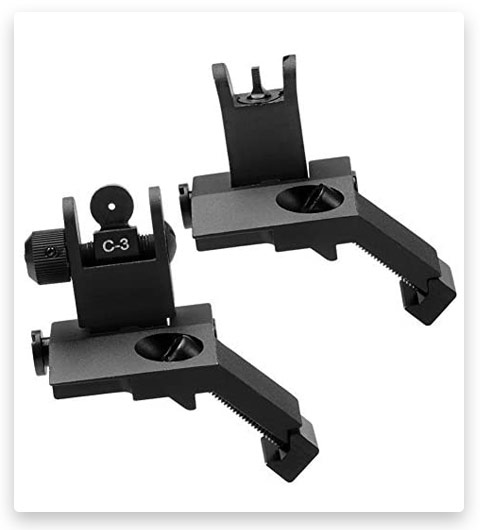 This is a sturdy metal angular sight. Easy to install due to compatibility with most rail systems. It can be mounted on the left and right sides. If you do not want to scratch, use bolts, not the supplied screws. To adjust the up / down, press the small locking pin on the left. Take a flat-head screwdriver (or something small) and insert it into the round base with cutouts and rotate. Clockwise removes it, counterclockwise returns it. When you get what you want, release the button. It is spring-loaded and allows it to pop out back between one of these cutouts. Chinese quality has left its mark on this product. A weak spring unreliably activates the sight. If you have thumbs – manual opening can bring additional troubles.
#6 OZARK ARMAMENT Flip Up Backup Battle Sights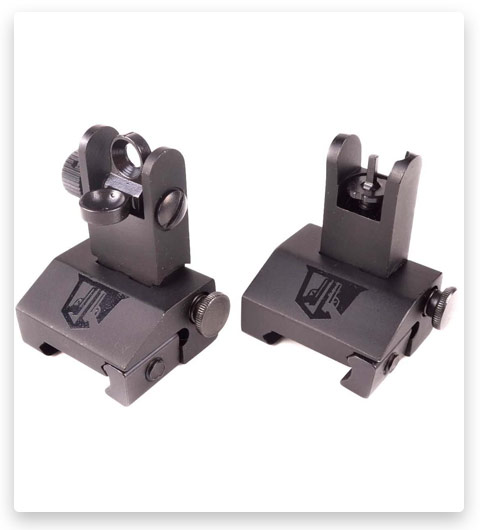 OZARK's hinged back-up scope is the power of metal and the accuracy of American gunsmiths. If you do not compare this sight with an elite brand, you will get a decent product, especially for this price! Suitable for airsoft and for shooting at 100 yards with proper settings. For better adjustment, use a drop of pistol oil (before installation) to slide all the joints. The sight can look bulky and protrude 1.41 "above the rail. This is the price for high strength and reliable mount.
#7 UTG Super Slim Flip-up Front Sight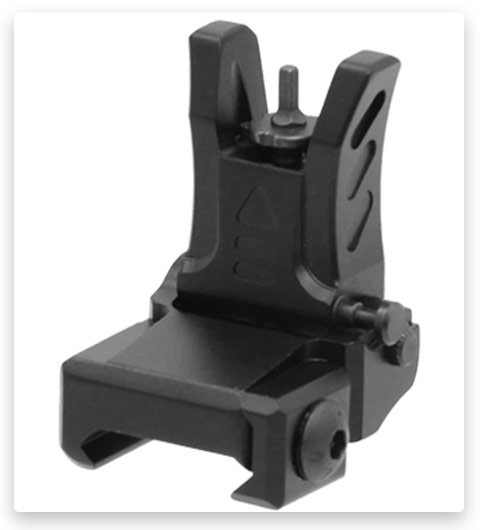 This is a simple backup sight for short and medium distances. Full compatibility with Picatinny rails and flexible adjustment allows for quick and easy setup without using a lot of rounds. This is not 5 stars and is not activated by a button with a spring, but enough to do your job. The locking mechanism is a little clumsy and can be either too stiff or loose. Before use – be sure to use pistol oil for lubrication, as a plastic retainer ball hides behind durable aluminum. Without lubrication, each activation will quickly erase a small layer of plastic and this will loosen the lock. To prolong the life of the sight, try not to warm up the weapon too much.
#8 Tacticon Armament Flip Up Iron Sights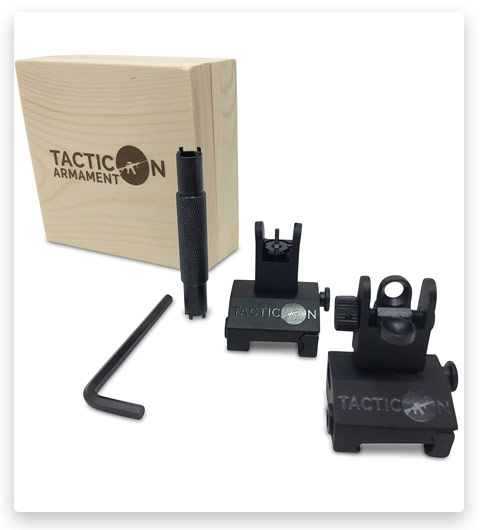 This is an iron backup of the main sight. It is shipped in a beautiful wooden box with a universal hex key and a key for setting the front sight. Thanks to a presentable appearance, it can be a good gift for a weapon lover. This sight fits snugly enough against the rails and when folded has a very small gap. Folded height for front sight 1/2 inch, rear 7/8 inch. If in doubt whether this backup sight will fit on your rifle, simply measure 2 steps for each part. If you succeed, then sight will be a suitable backup addition. By the way, the rear sight will work successfully with the standard A2 front sight. This gives additional maneuverability when choosing a kit.
#9 Magpul MBUS Front & Rear Flip Up Backup Sight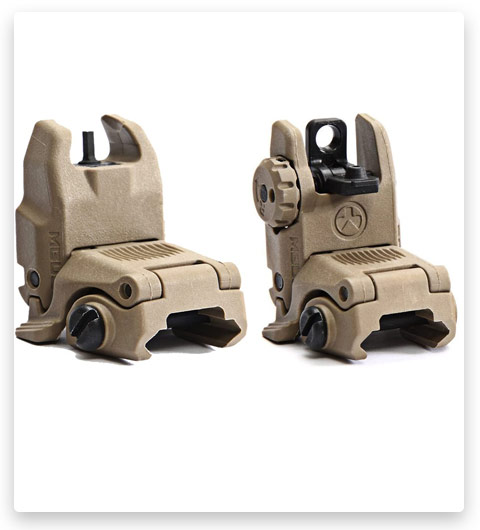 If you are tired of Chinese fakes and metal sights look flimsy – the original magpul is what you are looking for. The shock-resistant polymer backup sight leaves no chance even for a small play. Sometimes there are cases when the sight has to be hammered onto the rail with a tactical hammer (very tight)! The front sight can be mounted directly on the gas block. Even after 200 shots, he will not lose shape and remain strong. If the design of your weapon is important to you, this scope has the color Flat Dark Earth. This is very stylishly combined with an FDE color rifle and many others. This seller only sells original magpul. If you are looking for true quality among polymers – this is the offer for you.
#10 TACTICON 45 Degree Offset Flip Up Iron Sights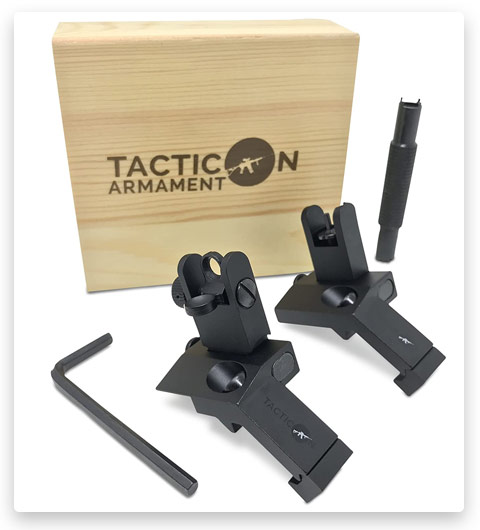 The side standby sight made of high-quality aluminum alloy is equally well suited for both left-handed and right-handed people. A sufficiently rigid opening button protects against accidental activation but requires moderate strength for both opening and closing. The kit has assembled a universal key and a key for the front sight. It is all packed in a beautiful wooden box. Sometimes it seems that with the help of these useful pieces the seller distracts from the quality of the sight itself. We can not say that this is 100% true, but it seems the secret of the popularity of attractions from the "Tacticon armament" is very simple. They set the price for a new product at the cost level and receive positive feedback. After which Amazon recommends their product as the best. Now the price rises to normal, but a large sales portfolio can be misleading when compared with competitors. If this is true, this is not fair play.
FAQ
Conclusion
We hope you were interested and you learned something new. We tried to be objective and wanted to find the maximum number of negative points to warn you from making the wrong choice. In our opinion, here are two winners:
We wish you always to be hit the bullseye and of course GOOD LUCK!)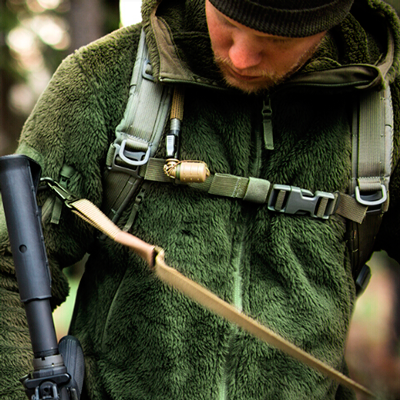 Dmitry Koval
Tactical & Survival Expert
I am from the generation that tried to repeat all the tricks of Jackie Chan, hunted birds with homemade bows, and built my mini-base in the forest. At the age of 18, I was a scout in PLAST (scout organization) and participated in campaigns and quests. Somehow we decided to test ourselves, took our backpacks and walked 50 km (31 miles) in 1 day. We had a lot of fun!
Remembering my past, I ask in bewilderment: "How am I alive after all my adventures?" - harsh trials, reckless parties, love affairs, and a sea of silliness.
My hobbies are weapon upgrades,
tactical gear
, and the latest in wilderness survival technology. I have hundreds of different survival gadgets in my collections, which are sent to me for "test-driving" by Amazon, eBay, and other online retailers. That's what I write about, and I also make YouTube videos about them! Stay tuned!
Read more
about our team
of expert authors.