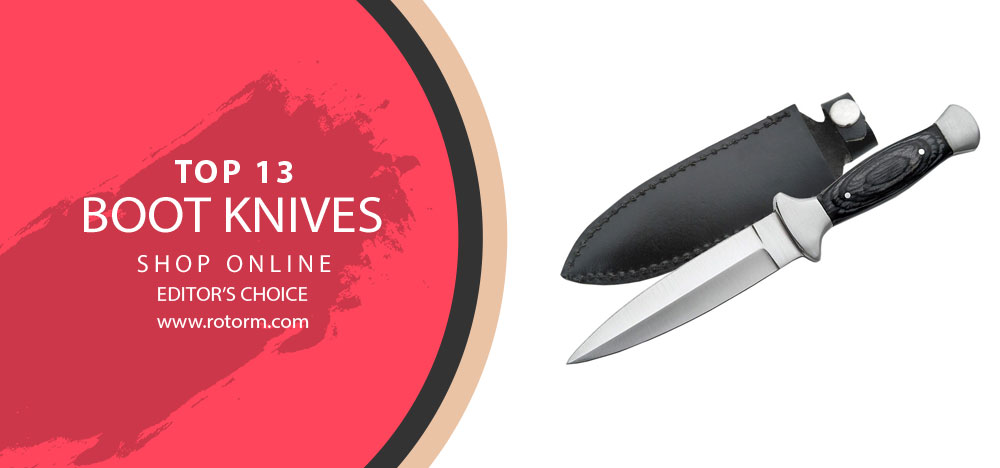 What is a Boot Knife? 🔪
It is a type of fixed-blade knife that is designed to be carried discreetly inside a boot or attached to a boot or leg using a sheath or strap. It is typically a small and compact knife with a sharp, double-edged blade and a handle that is easy to grip
Watch this video to find more information 💻
Features 🧐
🔘 The blade is perhaps the most important component. Typical blades range from 3 to 5 inches in length. The steel should be durable yet easy to sharpen. Many blades have a double edge for maximum cutting capability. The blade shape should allow for easy concealment while still offering enough cutting edge to be effective as a defensive tool. A finger guard helps protect the wielder's hands during use.
🔘 The handle will be made from grippy yet durable materials like G-10 composite, polymers, or micarta. This provides a secure grip even in emergencies. The handle shape should contour to the user's hand for comfort and control. Any guards, quillons, or pommels should not interfere with drawing and concealing the knife.
🔘 The sheath is vital for safe carry and quick deployment of a knife. Kydex and Boltaron are commonly used sheath materials that are moldable to fit the knife precisely. A good sheath will fully encase the blade and attach securely to the boot. Often a clip, strap, or other locking mechanism helps keep the knife firmly planted until needed.
🔘 Finally, the size and weight of the knife should not cause discomfort during wear. Aim for a lightweight yet sturdy knife that rides comfortably in the boot. The design goal is undetectable concealment combined with fast access and confidence in an emergency situation. Considering these key features helps choose the ideal knife for your personal needs and usage.
Our Top Pick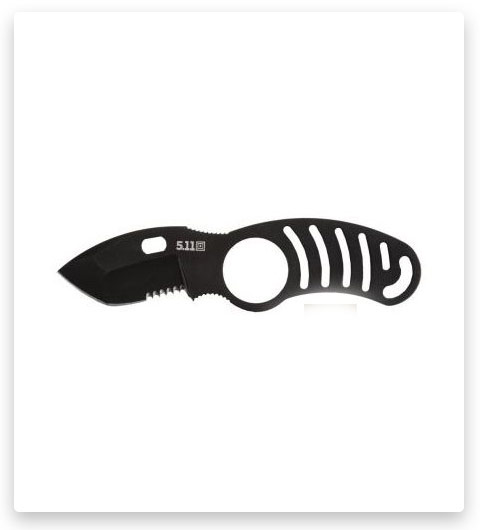 5.11 Tactical Sidekick Boot Knife
The 5.11 boot knife is a high-quality combat weapon designed by well-known blade designer Mike Wellekamp. It is made of high-grade AUS 8 from the handle to the blade edge, with a 2-inch sharp edge and 4mm width for strength and moderate mass. The knife is also coated with black oxide for a matte effect.
Buy Now On Amazon
If you click this link and make a purchase, we earn a commission at no additional cost to you.
Types 😎
| | |
| --- | --- |
| Type: | Description: |
| 🔎 Traditional | The traditional knife is a classic design featuring a slim profile, a single-edge blade, and a handle that is comfortable to grip. These knives are often used for self-defence and everyday utility tasks. |
| 🔎 Dagger | They are characterized by their symmetrical, double-edge blades with sharp tips. They are designed for piercing and stabbing motions, making them effective for self-defence situations. The symmetrical blade also offers versatility in combat scenarios. |
| 🔎 Tanto | They feature a distinctive blade shape with a strong and reinforced point. The tanto blade design provides excellent piercing ability and strength, making it popular among tactical and self-defence users. |
| 🔎 Drop Point | These knives have a curved blade with the spine dropping gradually from the handle to the tip. This design offers a robust tip and a large cutting surface, making it versatile for various cutting tasks. Drop point blades are known for their durability and ease of control. |
Popular Uses 🤠
⚫ They are designed primarily for personal defence and survival applications. Their concealable size and placement in a boot make them uniquely suited for situations where a visible knife is not acceptable or ideal. We found their ease of access and rapid deployment to be major advantages – they can be drawn and opened very quickly from a natural position. This could be extremely valuable in an unexpected self-defence encounter.
⚫ Yet these knives have other helpful uses beyond defence. We found their compact size and robust construction also made them suitable as survival or utility knives. The short, sturdy blade can accomplish common camping or hunting tasks like preparing kindling, cleaning fish, cutting cordage and more. Having a concealed backup knife provides peace of mind when venturing into the wilderness.
⚫ Throughout our testing, the boot knives accompanied us on hiking, camping, fishing and hunting excursions. It handled game cleaning, food prep, and gear repairs admirably. The discreet carry was safe and comfortable over long periods, unlike a belt knife which can become annoying. We appreciated having the extra cutting tool without needing to carry another visible knife on our person.
Our team discovered boot knives are versatile tools offering much more utility than their perception as solely a concealed self-defence weapon. The unique wearability provides easy access without open carry. We highly recommend including a high-quality knife in your boot along with any outdoor adventures or excursions where preparedness is key. With appropriate training, a boot knife can be an invaluable addition to your everyday carry in the backcountry.
TOP-13 Best Boot Knife
| Image | Product | Brand | |
| --- | --- | --- | --- |
| | CRKT Seismic EDC Folding Pocket Knife | CRKT | |
| | 5.11 Tactical Sidekick Boot Knife | 5.11 | |
| | Cold Steel Drop Forged Boot Knife 36MB Blade Length | Cold Steel | |
| | Eickhorn Solingen Boot Knife Black Handle Fixed Blade Knife 825212 Blade Length | Eickhorn Solingen | |
| | SOG 7.75" Mini Pentagon Knife M14K-CP Blade Length | SOG | |
| | Schrade Boot Knife Fixed Blade SCHF44LS Blade Length | Schrade | |
| | Mtech Boot Knife Up to 57% Off | Mtech | |
| | Smith & Wesson M&P 4.57in Fixed Blade Boot Knife SWMPF3G Blade Length | Smith & Wesson | |
| | BucknBear Boot Hunter Dagger Fixed Knife BNB15916 Blade Length | BucknBear | |
| | Damascus 8.25" Fixed Blade Boot Knife DM1030 Blade Length | Damascus | |
| | Boker USA Applegate Boot Knife | Boker USA | |
| | Mantis BK1B Privateer Boot Knife | Mantis | |
| | Smith & Wesson HRT Military Boot Fixed Blade Knife | Smith & Wesson | |
1# CRKT Seismic EDC Folding Pocket Knife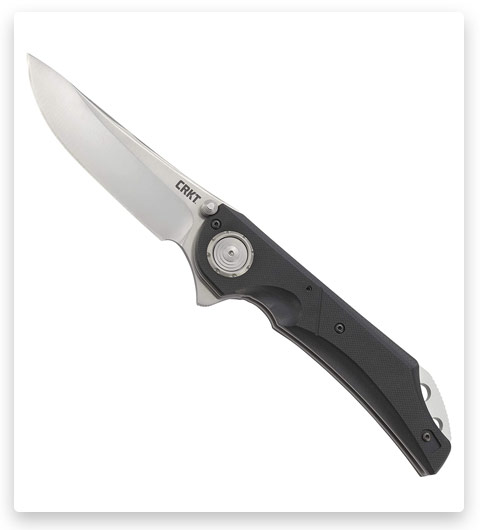 View on OpticsPlanet View on VipertecKnives View on Amazon
Folding Pocket Knife CRKT Seismic EDC. The CRKT brand is a fairly young company that was born in the mid-90s of the last century. Since its founding, the brand creator has set himself the difficult task of reaching the same level as world-class knife brands. Now, after almost a quarter of a century, we can say that Rod Bremer chose the right path. His knives are known and loved around the world for their quality and reliability.
The knife blade is made of high-quality 1.4116 stainless steel, which is best suited for making knives. The knife is equipped with a Deadbolt locking mechanism that is quick and easy. Steel bolts fasten to the blade when deployed to provide incredible strength. The IKBS articulated support button is located at the pivot point for easy opening/closing, keeping your fingers from the blade path. The handle is made of modern durable and high-quality material – G10. This material has good strength, shockproof, and moisture-resistant properties. It is light, hard, and tough, and has a textured surface. All these qualities and properties are great for making knife handles. The knife has a deep pocket clip for easy use.
It may be a good choice for people who value quality and do not look at the price. It will be a good helper in any situation, from camping to small homework. Also a gift for lovers and collectors, because it comes in a company box.
2# 5.11 Tactical Sidekick Boot Knife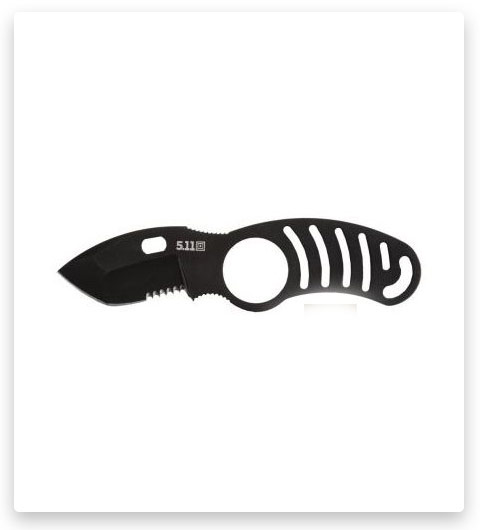 View on OpticsPlanet View on Amazon
This boot knife from 5.11 is a real combat weapon. For its design, Mike Wellekamp, a well-known blade designer, was involved. From the handle to the edge of the blade, the knife is made of high-grade AUS 8. The combined blade holds well 2 inches of sharp edge and large width of 4 mm ensures good strength and moderate massiveness. Our findings show that the knife is coated with black oxide with a matte effect. Less gloss is better for tactical invisibility. Through the use of a skeletonized design, the knife has reduced weight and better balance.
This is a good tool for those who know how to use knives for their intended purpose. If you were looking for spectacular toys for tricks and showing friends this offer is not for you.
3# Cold Steel Drop Forged Boot Knife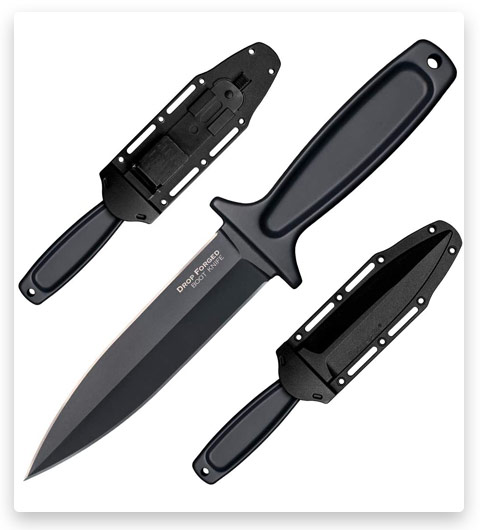 View on OpticsPlanet View on Amazon
This forged knife with a fixed blade is very secretive and dangerous. It can be a real surprise for your opponent. The 5″ stainless steel blade has a sharp edge on 2 sides and a very fast profile. This knife does not include weak plastic parts and is made from a solid steel bar (material 52100). The massive handle has a thickening contour for a more comfortable grip and to increase the force of stabbing blows. The long blade length gives an advantage in hand-to-hand combat and significantly expands the number of possible combinations of blows. This knife feels very good and confident. For discreet wearing, a moulded polymer case with integrated Ulti-Clip is provided. This allows you to carry the knife in a boot or on a belt, as you like.
4# Eickhorn Solingen Boot Knife (Black Handle)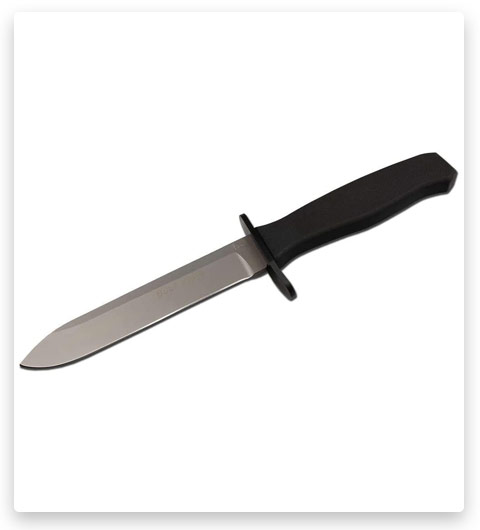 View on OpticsPlanet View on Amazon
This reserve knife is not only a formidable weapon but also very stylish. A long and smooth blade has strict parallel edges that bend only closer to the sharp edge. 5.63 "stainless steel has a metallic lustre and looks very dangerous. This is not a toy, it is a cold weapon for real professionals whose life is connected with danger.
Black textured handle made of G10 polymers. Smooth curved lines feel good in the hand and give a feeling of complete control. To prevent fingers from slipping on a sharp edge, an emphasis is made on both sides. From the bottom, it is slightly larger to better protect your fingers during grip.
But it comes with a metal shell of the same colour as the handle (black). This makes it even more secretive and inconspicuous. In addition, the kit also has a black strap for tying the knife to the belt and a napkin for carrying these weapons. This is a good knife, but perhaps the price is somewhat overpriced. If the price becomes more attractive – the popularity of the knife will be much more.
5# SOG 7.75″ Mini Pentagon Knife M14K-CP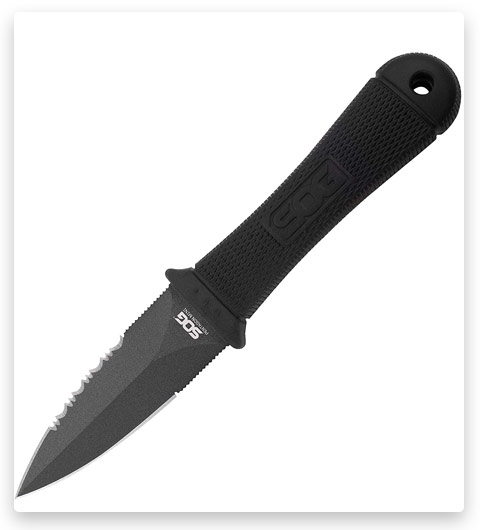 View on OpticsPlanet View on Amazon
This small knife may be almost invisible in your luggage or pocket, but it will greatly surprise the enemy if he dares to attack you. 3.5″ blade made of very strong steel will not only withstand any bayonet strike but also shows excellent performance with sliding blows. On one side, the blade is straight and sharp, on the other, it is serrated for most of the length.
The handle has a textured rubberized handle with stops for the thumb. As a result of using this product, we found that holding such a knife in your hand, you can very easily control it without fear of slipping. The central part of the handle has a smaller thickness, which makes the grip even more stable. There is also room for threading the cord at the end of the handle. The knife blade is hiding the Kydex shell with a tactical clamp.
This knife can be worn as a backup directly on the body, or put in a purse. It weighs only 3.3 ounces and will not be a heavy burden. If we talk about the ratio of benefits – this is a good offer at a reasonable price.
6# Schrade Boot Knife Fixed Blade SCHF44LS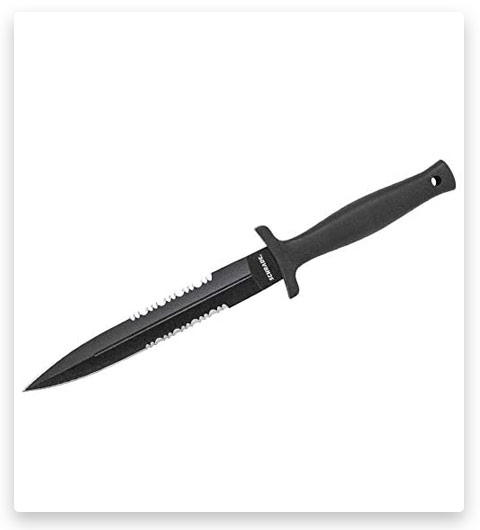 View on OpticsPlanet View on Amazon
Imagine the enemy's surprised face when you slowly kneel down, raise your trouser leg, and take out a knife with a blade length of 7.62″. These are no longer jokes and no frog hunting knives – these are large and sharp weapons. The blade has a thin and swift force resembling a point. The lateral parts of the blade (in the middle part of the blade) have forged depressions forming teeth. Whatever the blow, it will be destructive! The blade length is enough to reach the enemy at a great distance and can pierce half the body of an adult and cause additional damage to the side This edged weapon is very dangerous, so we call for prudence and caution!
The textured TPE handle has smooth bends along the entire length and ends with a rapid break. There are protrusions serving as finger rests and will not allow your hand to slip to a sharp edge on the handle. The hole for the strap (or paracord) is located on the very edge of the handle and you have a choice. Either fasten the knife with a cord or with the tactical clamp of the sheath. The black leather sheath completely hides the blades making the knife secretive and not obvious.
This is a great knife to solve really big problems. Be careful, this melee weapon is very dangerous!
7# Mtech Boot Knife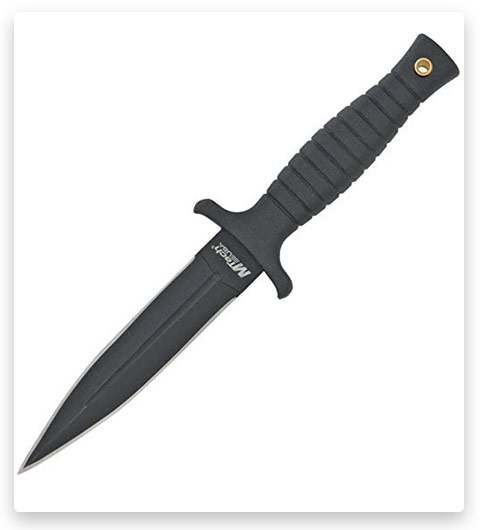 View on OpticsPlanet View on Amazon
This 9-inch knife from Mtech is ideal as a backup. From 4 models you can choose any, they are all good. The difference in price between all models is minimal. The model we are considering a steel blade has a black Teflon coating. This serves as a protection against water and scratches, but it also looks good. A straight double-edged edge over an entire 4.5 inches of length may not be the best from the box, but you can turn this knife into a razor with a stone. The shape of the blade is very rapid and resembles the spear point. This dagger looks agile and dangerous.
The moulded rubber grip has a small texture and circular grooves. For better stability, the knife has small bends along the length of the handle and protruding finger rests. The end of the handle has a straight break and a hole for the lace.
We would like to warn you about the shortcomings that you need to know BEFORE the purchase. The blade does not extend to the full depth of the handle. This does not mean that it is weak, it just needs to be taken into account to prevent this knife from working with which it cannot cope.
Tactical nylon sheaths look and feel very cheap. Do not expect them to survive a full month with active use. If you are going to use it as a backup knife for your table, this is not a problem. As a result, this is a great knife for its price but be prepared to make an effort to get the most out of it.
8# Smith & Wesson M&P 4.57in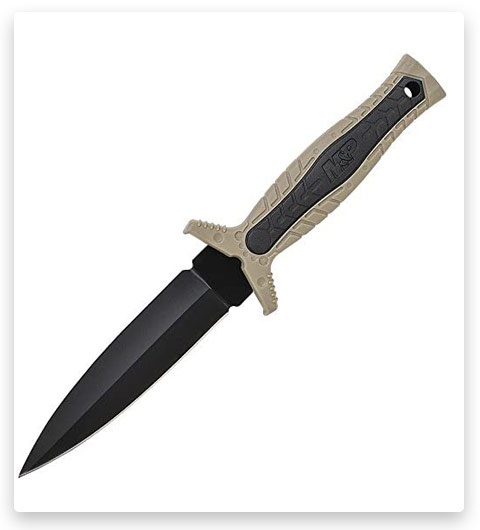 View on OpticsPlanet View on Amazon
Smith & Wesson is an American company, founded in 1852 by Horace Smith and D. B. Wesson. Known to all as a manufacturer of firearms. But Smith & Wesson is also focused on creating knives that are ready for any situation. Regardless of whether you are a knife collector, survival specialist, or primary user, you can be sure that your S & W knife will be the tool you can rely on in any situation.
We'll talk about the Smith & Wesson SWMPF3BR fixed blade knife. The knife is made of 8Cr13MoV – high-carbon stainless and corrosion-resistant steel, with increased hardness and good strength. The handle is made of rubberized material, which will allow you to firmly fix the knife in your hand under any conditions. A nice addition is a cover that protects you from cuts and injuries because the knife is very sharp. It attaches well to the belt and even when worn in a boot. You will be protected. The knife is very lightweight only 3.5 ounces, so it is almost not felt when worn. It will be a good addition to your survival kit.
The only drawback is the blade, or rather its description on the seller's website. It is written that he is double-edged, but this is not so. The knife has a sharp edge on one side. But this does not prevent this knife from being a high-quality and reliable assistant.
9# BucknBear Boot Hunter Dagger Fixed Knife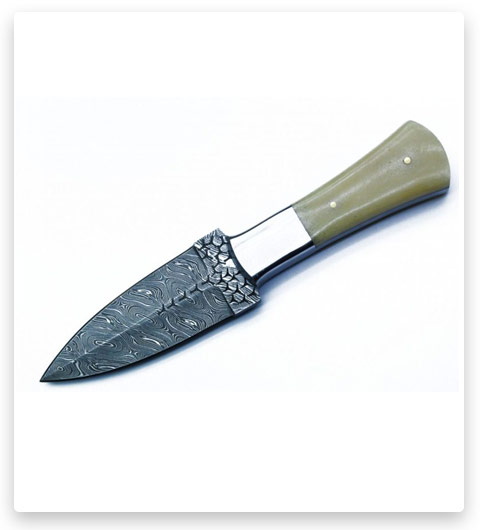 This dagger is a great gift for collectors and lovers of edged weapons. He is very effective and looks beautiful. When you see him for the first time, you will admire the elegance of a camel bone handle, black horns, and metal inserts. The handle is much smaller than the width of the blade, so the wide metal edge serves as a stop for the fingers.
Taking this dagger in your hand you will feel a pleasant weight and excellent balance. The 4-inch Damascus steel blade has a thin straight edge on each side and mysterious patterns that can be viewed for a very long time.
The natural leather shell is lubricated inside with gun oil to keep this work of art from corrosion. Based on our observations the shell does not have enough rigidity to securely hold the knife on the belt while walking. Be ready to add a seal (rags) for greater rigidity or replace the cover with a more reliable one.
This knife can be a backup for your boot, open paint cans, or a collectable for your arsenal. BucknBear's dagger is capable of any task.
10# Damascus 8.25″ Fixed Blade (Boot Knife)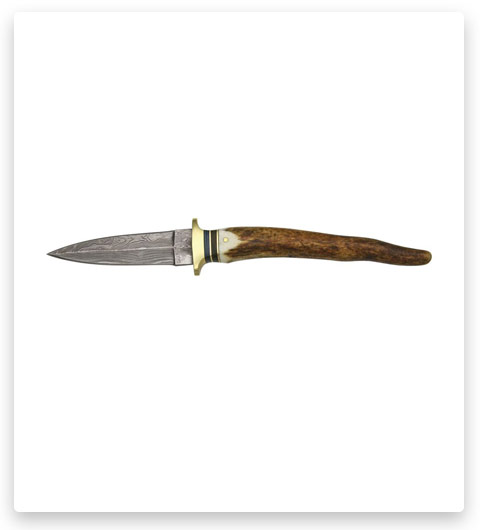 This dagger with a very original design came to us from Pakistan. The fixed double-edged blade has a total length of 8.25 inches, of which 3.25 are Damascus blades. The blade has a wedge shape and tapers towards the end.
The pearl of this blade is a real deer horn from which the handle is made. It may seem that this is a strange curved wooden stick that is covered with brown varnish at first glance. But it's not, it's a real deer horn! Nature does not tolerate repetition, so you can be sure that your handmade knife will really be unique. And after prolonged use, you can recognize it even from a thousand!
For reliable fixation of the handle and the steel blade, a brass insert is used, which serves as a finger rest. As a result, a gray blade with a recognizable type of pattern goes into a bright shiny insert and turns brown to the edge of the handle. Included with this knife is a case with brown leather. When closed, this knife is very secretive and does not attract attention, but it looks unusual and very elegant.
11# Boker USA Applegate Boot Knife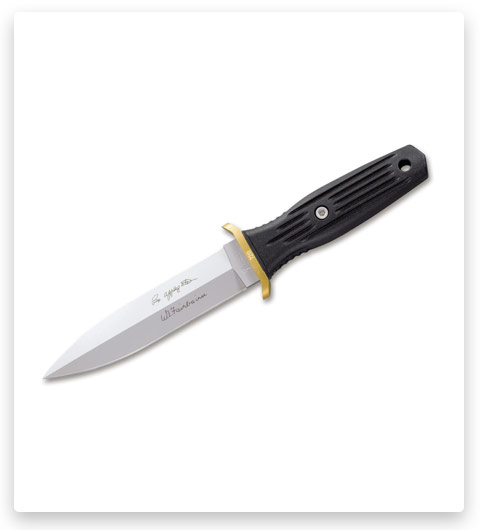 This knife is a repeat of the classic dagger from the Second World War Fairbairn-Sykes and has been of genuine interest to special forces until this time. Knives of this type were improved by Rex Applegate and became a real symbol for Secret services. This version is slightly reduced for greater ease of use and this has become even more dangerous.
The Delrin handle has fiberglass reinforcement for greater durability and is complemented by stainless steel weights for better balance. The 440C stainless steel double-edged blade is hardened and has tremendous strength. An additional design element is the engraved signature of the great masters of Rex Applegate and W.E. Fairbairn. To protect the hand from getting on a sharp edge, a brass cross member is used. If you are interested in knives, this knife can be the pearl of your collection.
12# Mantis BK1B Privateer Boot Knife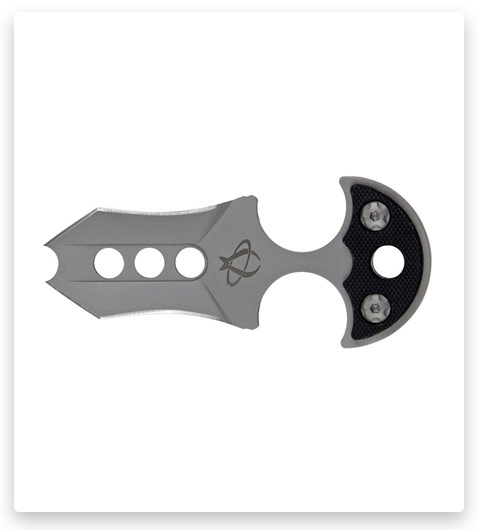 This dagger is really secretive and inconspicuous. Just 4 inches of length is enough to turn you from prey into a hunter. The 2-inch blade has a design shape and is unlike anything on the planet. The broken lines of the tip have 2 peaks and a smooth transition in the form of a semicircle. At the very center of the blade is a 3-hole system. The stainless-steel oxide coating provides good corrosion protection and reduces gloss, making the dagger truly secretive. The handle has black pads made of G-10 which are attached to the steel core with star bolts. This significantly increases the thickness providing a comfortable and reliable grip.
The Mantis Privateer polymer shell has a removable tactical pocket clip. In addition, it can be fixed in the boot area using a special mount. The shell is designed with the participation of the military and meets all the requirements of their dangerous service. This is a truly unique design that you most likely learned only from us. If you are ready to experiment, this knife is for you.
13# Smith & Wesson HRT Military Boot Fixed Blade Knife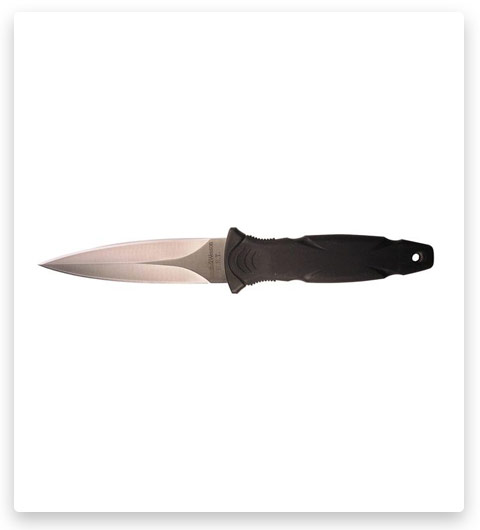 View on OpticsPlanet View on Amazon
Smith & Wesson is one of the most recognizable brands in the world. Almost all major law enforcement and military agencies in the world use the products of this company (weapons, knives, accessories).
Talk about their knife, Smith & Wesson HRT Military Boot Fixed Blade Knife. 7.50-inch fixed-blade military tactical knife, 3.5-inch blade length, and 4-inch handle length. The blade is made of high-quality stainless steel (7Cr17), which is characterized by high carbon content and excellent resistance to corrosion. It has good wear resistance and at the same time, it is quite easy to sharpen.
The handle is made of aluminium and coated with black synthetic rubber (craton) for a good grip. Included with this knife is a case with a clip made of nylon / fibreglass, which will reliably protect your fingers. You can carry this knife on a chain or cord because there is a hole at the end of the handle. It may be a good choice for people who love knives and cannot imagine life without this companion. An excellent knife for all occasions at an affordable price.
How To Use ⌛
| | |
| --- | --- |
| 🟡 Choosing the Right Boot | The first step is choosing a boot that can comfortably accommodate carrying a knife. A hiking or tactical-style boot with a taller shaft works best. Cowboy boots also allow plenty of room. The boot should be loose enough in the calf to allow you to insert and remove the knife cleanly. |
| 🟡 Positioning the Knife | Insert the knife on the interior side of the calf on the same side as your dominant hand. For example, if you are right-handed, wear the knife on your right leg. This allows you to reach across and draw it more naturally. The knife handle should be oriented vertically, pointing down towards your ankle. |
| 🟡 Secure the Sheath | Most boot knives come with a sheath that has some type of clip or loop to attach securely to the interior boot shaft. Make sure the sheath is firmly anchored in place and the retention is tight enough that the knife won't slide around or fall out accidentally. Yet it shouldn't be so tight that drawing the knife requires excessive force. |
| 🟡 Concealing the Knife | The key to concealment is making sure your pant leg falls properly over the boot shaft, covering the knife handle. Straight-leg and bootcut jeans allow plenty of room. Examine the look from all angles to ensure no part of the knife is visible through the fabric. If needed, use tape or a neoprene wrap around the handle to build it up slightly so it presses less on the outer pant leg. |
| 🟡 Drawing the Knife | Practice drawing the knife smoothly in one quick motion. Reach down with your dominant hand. Grasp the handle and draw upwards in an arc, keeping the knife oriented vertically as it exits the boot. Reverse the motion to re-insert the knife when done. Repetition builds confidence and muscle memory. |
With some practice, a properly positioned knife allows nearly invisible yet easily accessible carry. Pay close attention to local laws and train extensively for responsible carrying. It can be a discreet lifesaver but requires caution and preparation.
FAQ ❓
Conclusion 📡
The best boot knife for you depends on your individual needs and preferences. We've highlighted some of our favourite models in this review, but there are plenty more out there to explore! When selecting a knife, it's important to consider factors such as blade type, handle material, size & weight. Additionally, be sure to check state laws before buying any kind of concealed weapon.
With these tips in mind and an understanding of what makes a good quality item from our buyer's guide above – you should have all the information needed to make an informed decision when purchasing one for yourself or someone else. 🔪🛒
Thank you for spending this time with us. See you soon with interesting new purchases.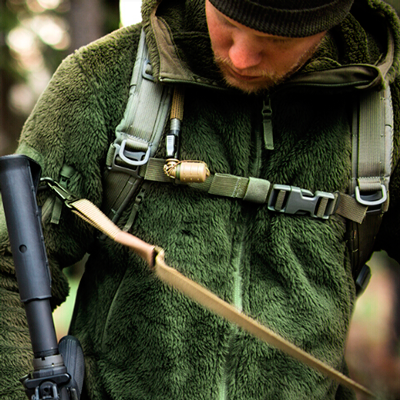 Dmitry Koval
Tactical & Survival Expert
I am from the generation that tried to repeat all the tricks of Jackie Chan, hunted birds with homemade bows, and built my mini-base in the forest. At the age of 18, I was a scout in PLAST (scout organization) and participated in campaigns and quests. Somehow we decided to test ourselves, took our backpacks and walked 50 km (31 miles) in 1 day. We had a lot of fun!
Remembering my past, I ask in bewilderment: "How am I alive after all my adventures?" - harsh trials, reckless parties, love affairs, and a sea of silliness.
My hobbies are weapon upgrades,
tactical gear
, and the latest in wilderness survival technology. I have hundreds of different survival gadgets in my collections, which are sent to me for "test-driving" by Amazon, eBay, and other online retailers. That's what I write about, and I also make YouTube videos about them! Stay tuned!
Read more
about our team
of expert authors.
Affiliate Disclosure: Rotorm.com sometimes gets paid for listings, through sponsors or affiliate programs like Amazon, Optics Planet, Lucky Gunner, Brownells, Cabelas, Rainier Arms, 5.11 Tactical, Bass Pro Shop, etс. Clicking a link helps keep Rotorm.com free, at no extra cost to you!
About the author: Each article on our site is written by experts in survival and tactical equipment, gun enthusiasts, extreme travelers, military, law enforcement and desperate professionals, read about the author at the bottom of the article or visit "About Us" page.
Note: The views and opinions expressed in this article are those of the authors and do not necessarily reflect the official policy or position of any agency.