Affiliate Disclosure: Rotorm.com sometimes gets paid for listings, through sponsors or affiliate programs like Amazon, Optics Planet, Lucky Gunner, Brownells, Cabelas, Rainier Arms, 5.11 Tactical, Bass Pro Shop, etс. Clicking a link helps keep Rotorm.com free, at no extra cost to you!
About the author: Each article on our site is written by experts in survival and tactical equipment, gun enthusiasts, extreme travelers, military, law enforcement and desperate professionals, read about the author at the bottom of the article or visit "About Us" page.
Note: The views and opinions expressed in this article are those of the authors and do not necessarily reflect the official policy or position of any agency.
We tend not to think about things that do not bother us. If we choose a flashlight or pants for a long time and painstakingly, choosing a belt usually does not take much time.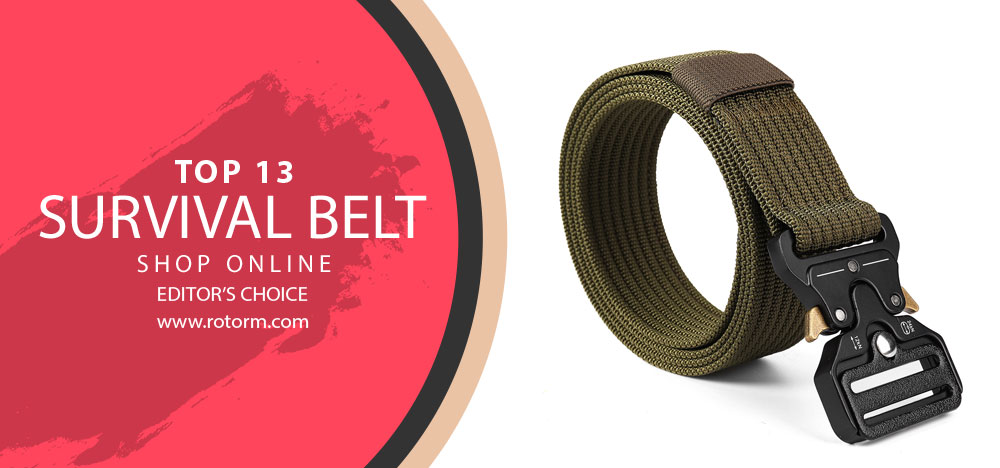 We decided to open the Internet chest with tactical belts and analyzed the best offers of the day. Have a seat, we begin!
TOP-13 Best Survival Belt | Best Tactical Belt
| Image | Product | Brand | |
| --- | --- | --- | --- |
| | 5.11 Tactical Men's 1.75-Inch Nylon Maverick Assaulters Belt | 5.11 Tactical | |
| | Condor Tactical Belt | Condor | |
| | Blade-Tech UCB Titan Nylon Tactical Belt | Blade-Tech | |
| | JUKMO Tactical Belt, Military Style Rigger | JUKMO | |
| | Fairwin Tactical Belt, Military Style Webbing Riggers Web Belt | Fairwin | |
| | PuPeiLife Military Tactical Travel Belt | PuPeiLife | |
| | KingMoore Men's Tactical Belt Heavy Duty Webbing Belt | KingMoore | |
| | BOSTANTEN Men's Leather Ratchet Dress Belt with Automatic Sliding Buckle | BOSTANTEN | |
| | WOLF TACTICAL Heavy Duty Riggers Belt | WOLF TACTICAL | |
| | Fairwin Tactical Rigger Belt | Fairwin | |
| | Mensbeltee Tactical Belts,Men's Rigger EDC 1.5 | Mensbeltee | |
| | WYuZe 2 Pack Nylon Belt Outdoor Military Web Belt 1.5" Men Tactical Webbing Belt | WYuZe | |
#1 5.11 Tactical Men's Maverick Assaulters Belt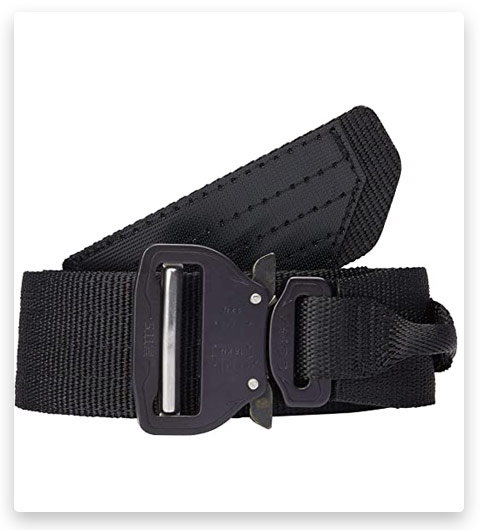 The Maverick Assaulters Belt is an ergonomic 100% nylon strap with a height of 1 inch and a width of 1.75 inches. This belt is designed by qualified 5.11 Tactical specialists using reliable and efficient resources to provide you with a product that will be useful for a long time. Equipped with a patented AustriAlpine clasp, which provides quick and reliable closing and opening.
The belt is light but strong enough to withstand loads such as a holster for waist weapons or a working tool. Works great for every day with tactical pants for carrying firearms and EDC. The metal buckle is ideally designed, easy to operate, and withstands heavy loads. The design of this belt allows you to tuck it without any problems without removing any of the buckles. The belt is reinforced by a built-in front loop and is designed for a comfortable fit. You need only once to adjust it for yourself and enjoy.
The seller on the site indicated that it is recommended to order a belt one size larger! Be careful and read the descriptions in detail so as not to be disappointed. The disadvantage of this belt is the front latch. When bending, squats, or just sitting, she can dig into her stomach causing discomfort. Not quite a well-thought-out design of this belt for the money. The price is a bit overpriced.
#2 Condor Tactical Belt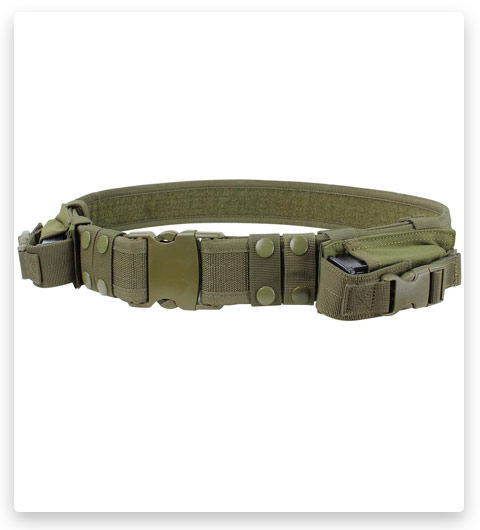 This seller has 4 variants of tactical belts from Condor Outdoor Products in different color options. We will talk about a tactical belt in a classic olive color. This 100% nylon belt is adjustable and fits 44" waist. This is really not small and suitable for almost everyone. With a semi-rigid design and a standard 2" thickness, it provides a secure fit. Included with this belt are two removable and adjustable pockets that can be used for standard replaceable gun magazines, for the fastest reloading. 4 adjustable loops allow you to customize the mounts for maximum convenience. It may be a good choice for airsoft, photo equipment, and carrying oversized weapons in a holster with replaceable magazines. The weak point of this belt is a plastic buckle. But these are not frequent cases. For such a price it can be forgiven them. And the buckle is easy to replace with a new one. Shop thoughtfully and get what you pay for.
#3 Blade-Tech UCB Titan Nylon Tactical Belt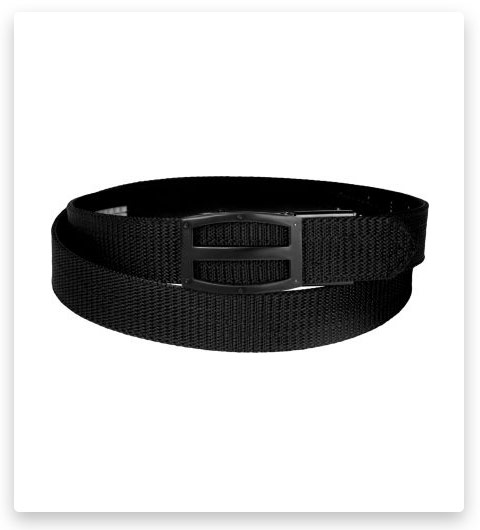 Blade-Tech UCB Titan Nylon Tactical Belt is your reliable assistant in any daily business. With a relatively small width of 1.25 inches, this belt is much stronger than competitors. This is made possible thanks to the polymer core woven-nylon structure. The 0.25-inch ratchet locking system makes adjusting the belt quick and easy. In an instant, we can expand the waist belt to 50 inches, or narrow it to the size of a collar. The strength of this belt allows you to wear a heavy holster on the belt, without fear of stretching, deformation, or twisting. This tactical belt is as it should be – lightweight, simple, and reliable. You have the opportunity to choose between two colors, classic black and brown. The only disappointment is the relatively high price, but this is the price of reliability from Blade-Tech
#4 JUKMO Tactical Belt (Military Style Rigger)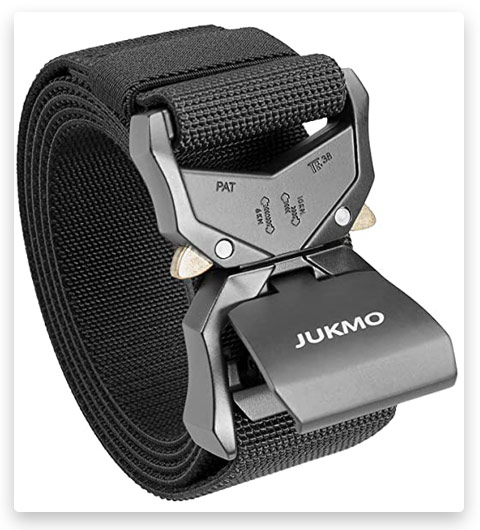 JUKMO tactical military-style belt has a width of 1.5 inches, a thickness of 2.20 mm, and three sizes for your choice. The company made sure that this belt fits every customer. The belt is made of an innovative material, consisting of nylon with the addition of elastane, which allows the material to be plastic, keep its shape well, and provide freedom of movement. Aluminum buckle with clasp for a secure and sturdy fit. Opening and closing the buckle in one click is quick and convenient. The belt does not slip and does not weaken during an active 12-hour working day. It is easily adjustable and you can easily play with this belt as you like. If it turned out to be great in length for you, you can easily cut off the extra length and adjust it for yourself. It can be a good choice for outdoor activities, military and working professions. The belt is delivered in a beautiful gift box, which will make it possible to make a pleasant surprise for a loved one, without making additional efforts for a beautiful presentation. Everyone will be happy with such a gift!
#5 Fairwin Tactical Belt (Military Style)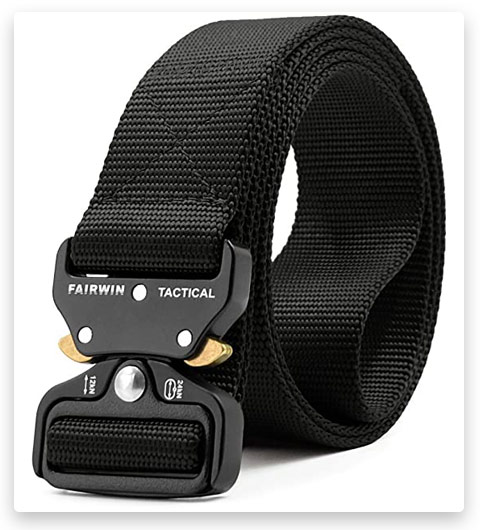 Fairwin Tactical Belt has a classic design for this type of belt with quick fasteners. An important difference among the more famous manufacturers of tactical ammunition is the lower price. At the same level of quality, you get a good belt with savings and 4 types of nylon strip design to choose from. The main advantage of this belt is certainly a buckle made of heavy-duty alloy metal.
To open, both golden buttons must be pressed at the same time. This provides a secure lock for tilting or sitting. It requires a pressing force of 24 kN along the axis, which is too much for involuntary pressing. The disadvantage of this type of belt is the difficulty of passing the buckle through the belt loops. It is possible to do this, but be prepared to spend much more time than for any other belt. To avoid this, you will have to remove part of the buckle and only then put the nylon belt in the belt loops. Another unpleasant discovery – the buckle does not lie on one side.
When the webbed belt passes through the buckle, one side sticks out farther than the other. Otherwise, it is a very high-quality product. The strength of this belt is enough to tie the log to the roof rack of the car! This is unbelievable! If the received belt does not meet your quality expectations, the seller guarantees a 2-year guarantee and a 60-day return without further questions.
#6 PuPeiLife Military Tactical Travel Belt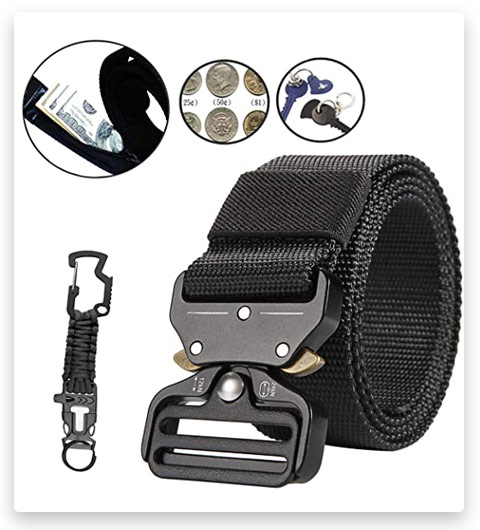 This is a belt with a popular type of 1-second buckle. Like all buckles of this type, it requires troublesome passing through all the loops and re-parsing for complete removal. The zinc alloy latch mechanism is quite reliable, but it is still metal that does not always silently pass the TSA at the airport. Be prepared to delay the queue and disassemble part of the buckle to completely remove the belt. The main difference between this belt and the competitors presented in our rating is a secret pocket for money. While traveling, you can hide several banknotes and keys. The credit card is too large for this pocket – keep this in mind. Sometimes a zipper can create unpleasant pressure.
In addition to the belt, the seller attaches the EDC PARACORD KEYCHAIN – with 5 convenient camping tools (scraper, whistle, keyring, screw key, and bottle opener). This nice addition can be put in the glove box and used as needed.
#7  KingMoore Men's Tactical Belt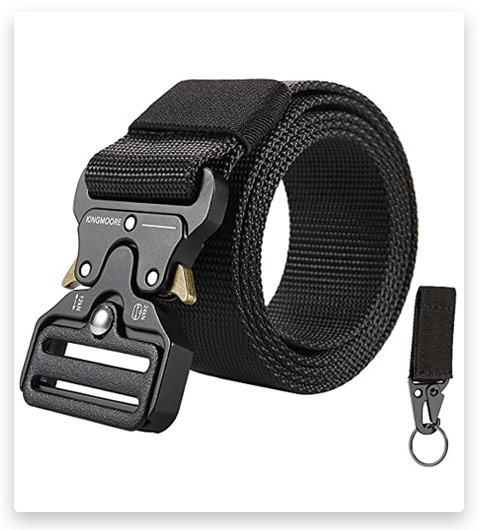 This belt from KingMoore is a one-stop solution for the military, builders, installers, or tourists. Thickened weave made of durable nylon fiber (1000D) withstands impact up to 900 kg! This strength is not enough to pull a pickup out of the mud, but this is a belt and not a rescue cable! 9000N is protection against falling from a height if a safety carabiner was used.
If you just use a belt to carry a heavy hand tool such as a hammer drill, this belt will do the job. The aluminum alloy buckle is as strong as the belt itself, but the whole design problem. Clasps of this type are quick to fasten and remove but troublesome in changing clothes. When replacing pants, adjust the length again. A nice addition to this offer is the removable nylon loop with a latch for keys or a hand tool. If you are not going to use it, just remove it, it does not affect the main product.
#8 BOSTANTEN Men's Leather Ratchet Dress Belt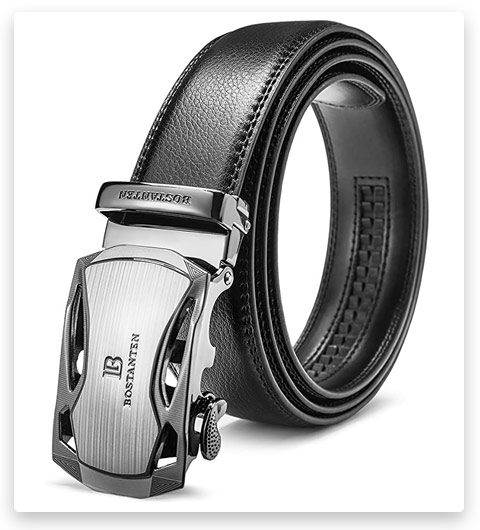 BOSTANTEN men's leather belt with a ratchet and automatic clasp. The belt is available in trendy colors and different styles of buckles so that everyone finds their style. It will be perfectly combined with almost any everyday or professional outfit. A large selection of sizes will allow you to easily choose what your waistline needs. We will talk about a black classic belt in the color 1-black with a silver buckle.
The belt is made of genuine leather, and its size is 1.25″/ 3.5 cm wide. The buckle with a ratchet mechanism made of zinc alloy is protected from corrosion and scratches. Before using this belt, we recommend watching the video or studying the instructions. For most buyers, this turned out to be a very difficult task. To unfasten the belt requires a little practice and 2 hands.) The belt comes in a gift box and can be a good gift for your men and sons.
The manufacturer has poor quality control, so there is a chance of getting a belt with a defective fastener or damaged skin. But don't worry, you can send this back, and customer support will always help. Another important point is the peculiar smell. But I think this is typical for leather products. For this money, a good and affordable product. But more suitable for holidays and important events than for daily use. So it is guaranteed to serve you longer.
#9 WOLF TACTICAL Heavy Duty Riggers Belt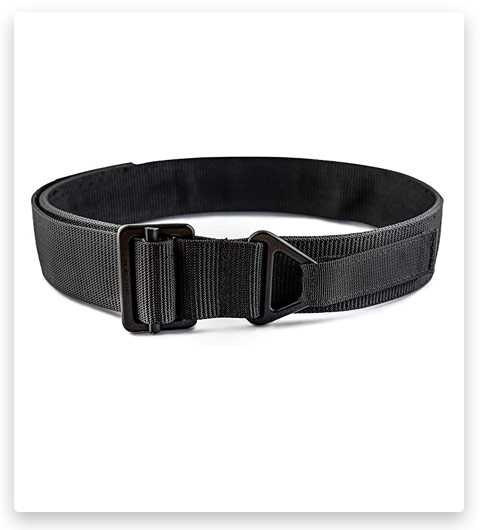 Tactical, heavy-duty Riggers belt from WOLF TACTICAL. The seller has three color palettes. We will talk about a black belt with a black buckle. This belt has a wide range of sizes, from the smallest – 28 "to a maximum of 51". This is a big plus, each buyer will find their size. 1.75-inch wide, tear-resistant, two-layer nylon strap. Therefore, it retains its shape, does not curl, and does not sag under the weight of a pistol in a holster or EDC of everyday objects (knives, tools, multitools, flashlights).
Strong steel buckle and ring, hook and loop fastener for better fixation. The belt can be transformed into a tactical, tethered, or carrying belt, thanks to metal mounts. This belt will work harmoniously with tactical pants. It can be a good choice for people of all working professions, military, extreme and outdoor activities. The disadvantage of this belt is Velcro.
It is very poorly sewn to the belt and may require repair after a week of active use. But for such a price, this disadvantage can not be taken into account, because it is easy to fix. The second problem is the size chart, it does not correspond to the one provided by the seller. We recommend taking a size larger to avoid disappointment.
#10 Fairwin Tactical Rigger Belt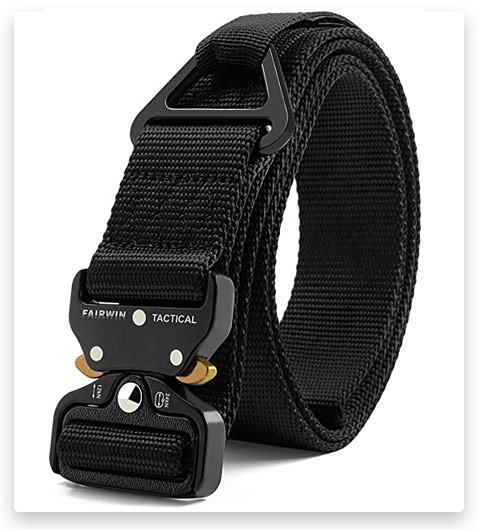 Fairwin Tactical Belt – a good addition to work pants and able to withstand large daily loads. It is designed taking into account the experience of military service and meets all the requirements of tactical training. The belt can be fastened and or removed in 1 second thanks to a strong metal buckle. The buckle mechanism has 2 protruding levers when pressed simultaneously, the belt instantly opens.
It should be noted that the size of the buckle itself is large enough and it cannot be pushed into the usual loop of the pants. To fill the belt in the pants, you have to remove 1 part of the buckle and tuck the nylon belt in loops. Only after that 2 half buckles are put on and adjusted to the size of the waist. This may cause some hitch during the first dressing, but in the future – you will get used to it and will quickly perform this operation.
This will have to be done often, every time you need to wash your pants – a metal buckle will give you little trouble. If we talk about functionality, this belt also has a V-shaped ring for attaching tools, equipment, or a dog leash. So that the ring does not move around the belt, it can be fixed with a tape with Velcro. From frequent use, Velcro will lose its adhesive strength, but this is an additional feature. The belt itself from very durable army nylon will work for a very long time.
#11 Mensbeltee Tactical Belts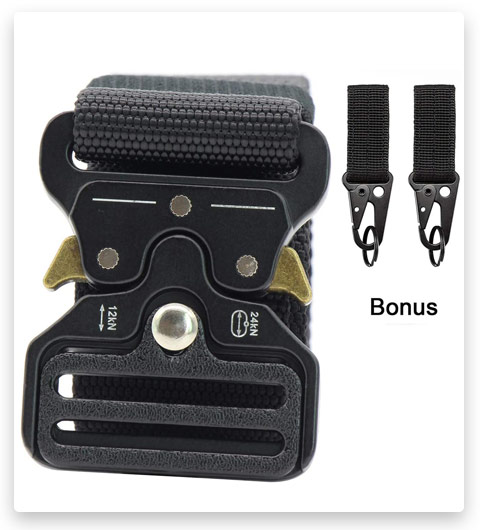 The offer from Mensbeltee is Amazon's choice. Attractive price, good quality, and a nice bonus – these are the main reasons for its popularity. Let's look at this proposal in more detail. The aluminum buckle has a familiar "cobra" lock with a one-second snap. All the same problems with threading through the belt loops due to the large size of the buckle. To solve this problem, the seller recommends removing the insert buckle and threading the nylon strap through the hinges.
After all the preparation, you need to re-wear the buckle and adjust the length of the belt for your waist. This is a fairly compromise solution that will take time each time you change your pants or when washing. Durable nylon strip withstands enormous load and does not deform or twist. This is made possible by the use of durable army-grade 1000D nylon with triple reinforcement. As a bonus, the seller attaches 2 tactical key holders. These holders have very poor quality (made in China). Be prepared that they may break in the first month of use. This is a sweet but useless gift.
#12 1.75″ TDU BELT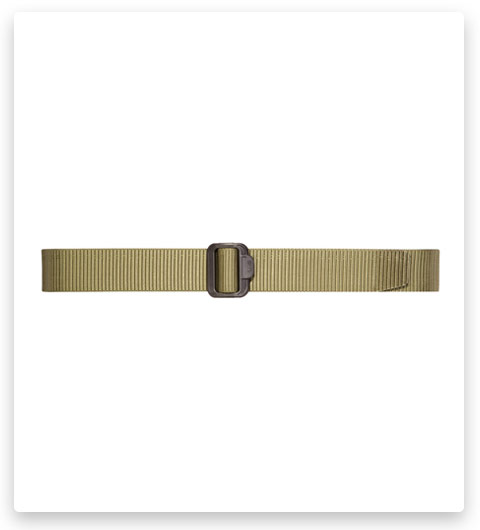 Choosing the perfect belt for daily wear, you need to consider a lot of factors. If you regularly pass a metal detector, or you have work with combustible materials – the belt should be without metal parts. If your figure is prone to seasonal changes – you need a belt without fixed fastener levels. If you are a vegan and do not use materials of animal origin – the material of the belt should be synthetic. If your belt should have a lot of tools or ammunition – the clasp should hold tight to the additional load. The belt from 5.11 TDU® meets all these conditions.
The thickness of the nylon belt is only 1.75 ", which allows it to be used with all types of trousers, both jeans, and tactical pants. Regardless of your rhythm of life or changes in the figure, the belt remains tightened exactly as much as you could tighten it To use a regular belt with fixed levels of ties as a tourniquet, you have to wrap it around your leg or arm several times (to stop bleeding). This is not always convenient and not very practical. This belt from 5.11 can easily turn into a tourniquet or strap for cargo.
When ordering this belt, order 2 sizes larger than your waist. If it turns out to be a little larger – cut off the excess area and with a hot iron or lighter, process the end so that it does not fray. Simple, reliable, and cheap – what else do you expect from a tactical belt?
#13 WYuZe Nylon Belt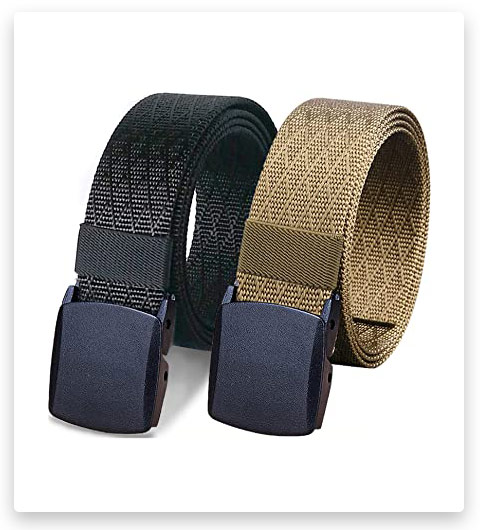 Good tactical belt for daily wear. This offer is in great demand due to the configuration. When making one purchase, you get immediately 2 strong nylon straps. The belt is decorated with a beautiful geometric ornament, which distinguishes it from the same and boring competitors. You also have the opportunity to choose any of 10 sets with different colors. A light belt is suitable for sand pants and blue will be combined with jeans, black – universal for every day. Another advantage of nylon is its durability and water resistance.
Yes, it can get wet but will dry quickly and will not show the difference between 1 and 1000 when wet. Leather belts crack and warp. Nylon remains unchanged for many years. The pearl of this belt is a plastic buckle from YKK. It looks very fragile and feels very lightweight, but this is only the first impression. The buckle has several teeth which press nylon fabric.
The teeth securely fix the belt – without damaging it. Mechanisms of this type are good for their functionality. You can adjust the belt as you wish. You no longer have to choose between loops that do not hold pants and that cause pain from high pressure. To make this offer so profitable, choose the right size. It's better to get the belt a little longer and trim the excess. Order 2-4 sizes larger and be sure that the length is enough.
Conclusion:
No. 1. 5.11 Tactical Men's 1.75-Inch Nylon Maverick Assaulters Belt – legendary quality and renowned reliability.
No. 2. Condor Tactical Belt – Quick tactical belt with pockets for shops (offer for the shooter).
No. 5. Fairwin Tactical Belt, Military Style Webbing Riggers Web Belt – good price and impeccable seller reputation.
No. 6. PuPeiLife Military Tactical Travel Belt – Hidden Pocket Concealed Money – an offer for travelers.
No. 13. Nylon Belt Outdoor Military Web Belt 1.5 "- two stylish nylon belts with plastic buckles for quick passage of the metal detector at the airport, at a good price.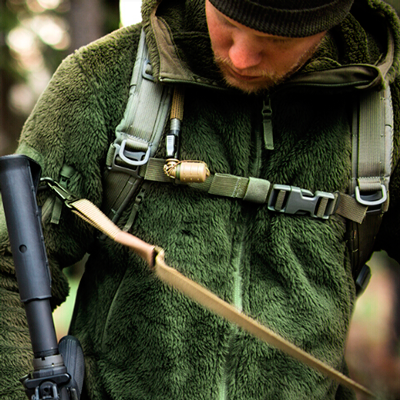 Dmitry Koval
Tactical & Survival Expert
I am from the generation that tried to repeat all the tricks of Jackie Chan, hunted birds with homemade bows, and built my mini-base in the forest. At the age of 18, I was a scout in PLAST (scout organization) and participated in campaigns and quests. Somehow we decided to test ourselves, took our backpacks and walked 50 km (31 miles) in 1 day. We had a lot of fun!
Remembering my past, I ask in bewilderment: "How am I alive after all my adventures?" - harsh trials, reckless parties, love affairs, and a sea of silliness.
My hobbies are weapon upgrades,
tactical gear
, and the latest in wilderness survival technology. I have hundreds of different survival gadgets in my collections, which are sent to me for "test-driving" by Amazon, eBay, and other online retailers. That's what I write about, and I also make YouTube videos about them! Stay tuned!
Read more
about our team
of expert authors.