Affiliate Disclosure: Rotorm.com sometimes gets paid for listings, through sponsors or affiliate programs like Amazon, Optics Planet, Lucky Gunner, Brownells, Cabelas, Rainier Arms, 5.11 Tactical, Bass Pro Shop, etс. Clicking a link helps keep Rotorm.com free, at no extra cost to you!
About the author: Each article on our site is written by experts in survival and tactical equipment, gun enthusiasts, extreme travelers, military, law enforcement and desperate professionals, read about the author at the bottom of the article or visit "About Us" page.
Note: The views and opinions expressed in this article are those of the authors and do not necessarily reflect the official policy or position of any agency.
Safes from ancient times are very necessary and useful things. How often did you hide something precious away from your eyes, with the help of a safe you can conceal any object? Safes kept securities, weapons, and valuables. I would like to stop at the storage of weapons. This process requires multiple compartments. The gun must be well fixed. This protects it from external damage. If the safe, in addition to the key, is blocked by a fingerprint, this is double protection. You need a biometric gun safe in this case.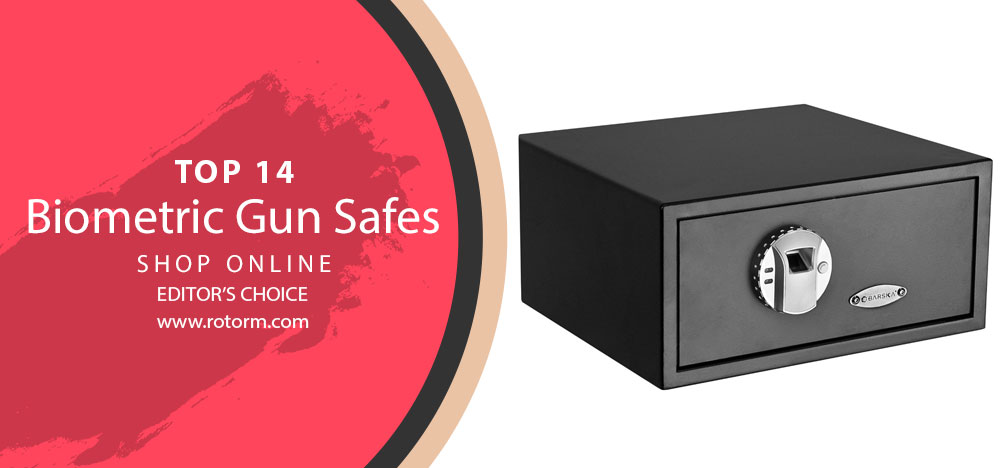 Why do we need the biometric gun safe?
The safe is often an iron box with a lock and a reliable case. This case can be opened with a key or with a fingerprint. Technology does not stand the same, I offer you an overview of 14 modern safes for storing weapons. This is not just a closed iron box, it is fingerprint recognition, user bases, and multiple settings. The forms of fastening and carrying have also changed, you do not need to drag a lot of things. In new models of safes, everything is compactly stored. They are not noticeable and well protected.
How to use the biometric gun safe?
Choose a compartment for your weapon. Put your weapon in the package. The inside of the safe should not be wet so that the gun does not suffer from corrosion. Create a safe access code, and also select a key for double protection. Remember the finger if the safe is opened with its fingerprint. Also, do not forget the place where you put the safe. Sometimes in a big house looking for it for a long time. Create user groups who will use your safe, be sure to keep the keys at home.
Biometric Gun Safe Review | Best Biometric Gun Safes
| Image | Product | Brand | |
| --- | --- | --- | --- |
| | Barska HQ800 Standard Biometric Gun Safe | Barska | |
| | Bulldog Cases 11.5in x 10in x 8in Magnum Biometric Gun Safe | Bulldog | |
| | GunVault Bio MiniVault Biometric Gun Safe | GunVault | |
| | Barska Top Opening Biometric Gun Safe AX11556 | Barska | |
| | RPNB Gun Security Biometric Safe | RPNB | |
| | Awesome Biometric Gun Safe | Awesome | |
| | SentrySafe QAP1BE Biometric Gun Safe | SentrySafe | |
| | Artemis Biometric Handgun, Pistol Safe | Artemis | |
| | Viking Security Safe VS-52BLX Biometric Gun Safe | Viking | |
| | Liberty Safe HDX-350 Smart Vault Biometric Handgun Safe | Liberty | |
| | CACAGOO Gun Safe, Biometric Gun Safe | CACAGOO | |
| | Verifi Smart.Safe. Biometric Gun Safe | Verifi Smart.Safe. | |
| | SentrySafe SFW123GDC Fireproof Waterproof Biometric Safe | SentrySafe | |
| | IDENTILOCK Biometric Fingerprint Gun Lock | IDENTILOCK | |
#1 Barska HQ800 Biometric Gun Safe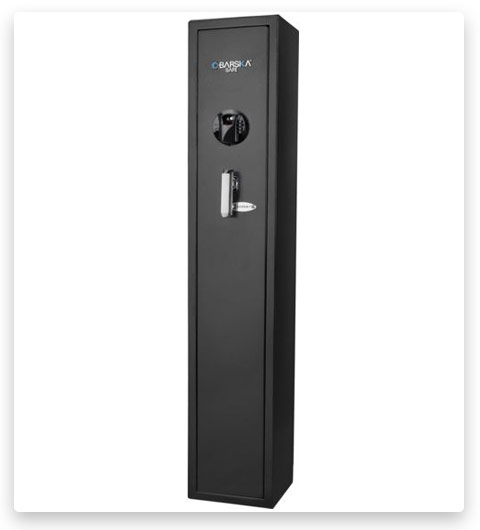 The way of locking is made by Braska Quick Acess Standart. The access has two ways using keys and using a password. The database can store about 120 different fingerprints. You can open your safe using only a fingerprint. The color of the safe is black. To start working you will need 4 batteries. The batteries are included with the kit of the case. It consists of the removable rifle, file rack position, mounting hardware, and beck-up keys. Inside the safe, there are 4 positions for your guns. It is well protected from children.
#2 Bulldog Cases Biometric Gun Safe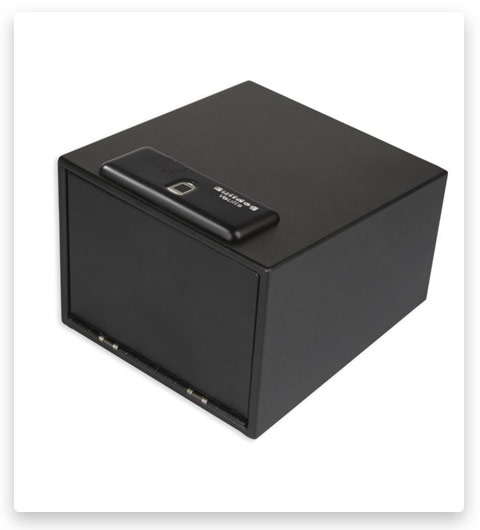 The color of the safe is deep black. The length is about 11.5 inches. The high is 8 inches. The gun safe is made with a biometric lock. The width is 10 inches. The method is used called Bulldog. It includes a belt and a safe. Above is a convenient panel for reading prints. The width of the finger is not limited. The edges of the safe are very smooth. Such a safe open only from above, that is why it is more portable than built-in.
#3 GunVault Bio MiniVault Biometric Gun Safe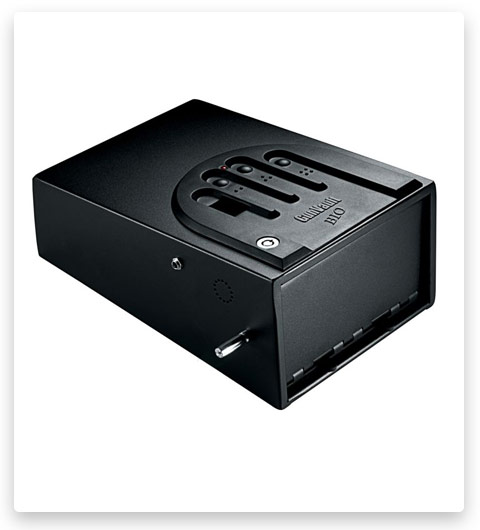 The way of creation was founded by the GunVoult Incorporation. The safe's color is grey. It contains a steel housing, spring-loaded door, gear, battery light, audio warning, power connection. There are thirty fingerprints in the kit. So the multiple users can have access to this safe. The cover of the case is made of steel. The interior inside is soft, so you will not have problems carrying it and possibly damage something.
.
#4 Barska Top Opening Biometric Gun Safe AX11556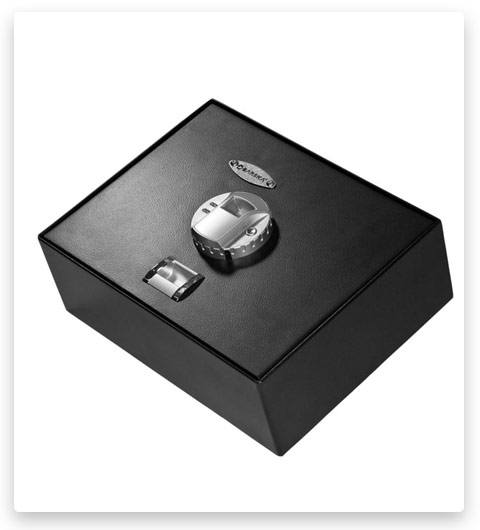 The technology is used is called Barska Biometric. There are a lot of products from this line. but only this product has a pre-drill hole to attach to the wall. Thanks to steel bolts your guns will be fixed and secured. If you can't open it by mistake the back-up keys will help. The supplier gives 1 year of warranty. The whole kit consists of 2 keys, batteries, steel case, protective floor mat, 4 locking bolts. It is enough durable for home and carrying.
#5 RPNB Gun Security Biometric Gun Safe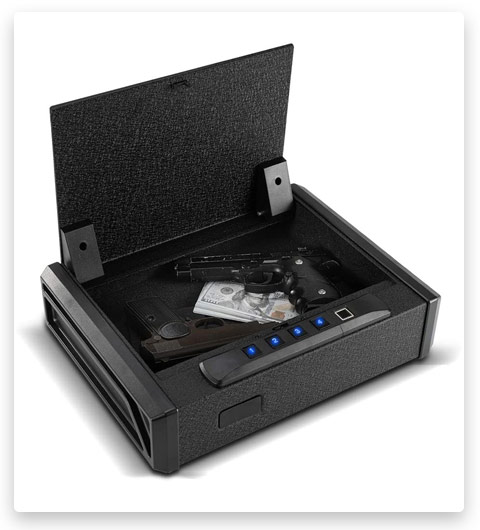 The kid's protection elements are included. You can take it with you to nature and when you stay at home. It has 3 steps authorization. It includes a smart biometric scanner, that helps to access your valuables things thanks to only your fingerprint. It is good to store also guns and documents. It is made of rugged steel and can be used for many years. The gun safe has a possibility to be mounted into the floor. The supplier gives 1 year of warranty.
It contains a safe space, door, buttons, and inside covers.
#6 Awesome Biometric Gun Safe with Fingerprint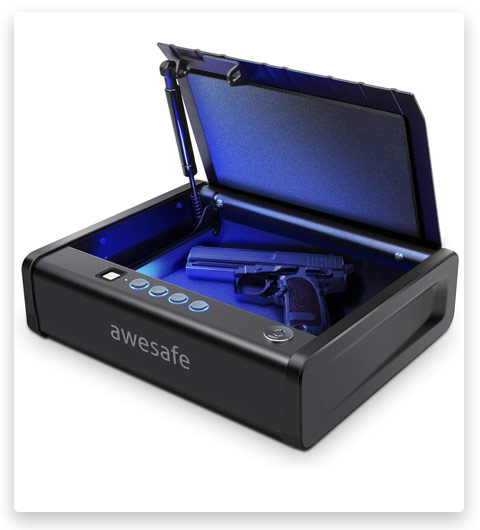 The two standard handguns can be put in the kit. If your children don't understand the potential danger for your gun, you can lock it in safe. The additional keypad gives protection in code. It can't be open with hand tools that make it reliable. Additional illumination at night allows you to consider the components of the safe. The handle, steel case, protected door, keys, and buttons, LED light is included for the best protection.
#7 SentrySafe Biometric Gun Safe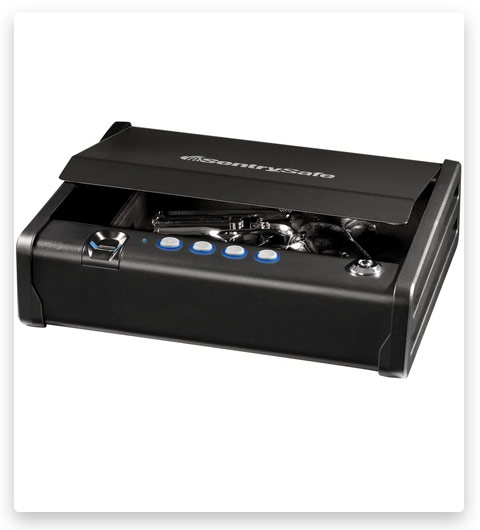 The kit has several parts: space for the gun, fingerprint scanner, single-handed access, manual keyboard, branded batteries. It can be used as a bedside gun safe. It is certified by California DOJ. The weight is about 12 pounds. The housing is made of solid steel. The door is pry-resistant. The performance is made by Sentry safe popular brand. The fingerprint scanner will give extra protection. The new technology of fingerprints reading is in new updated models.
#8 Artemis Biometric Handgun Safe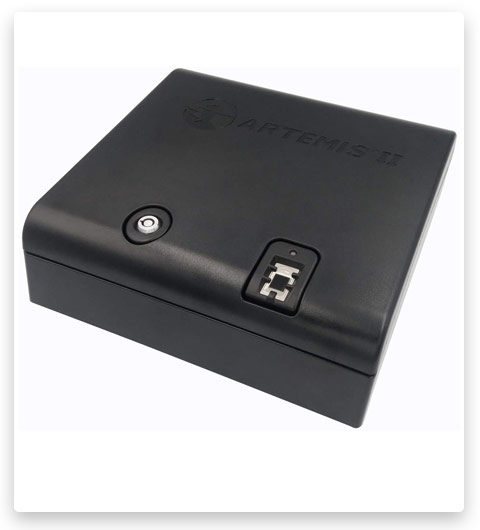 This device is used for carrying in the car or in a simple bag. It can recognize one fingerprint at one time. It can store about 394 fingerprints. The plastic materials make it easy to carry. The safe is decorated with a logo. The weight is about 4.5 lbs. It contains a lock, key, grey case, bolts, handle for carrying. If you don't like something you can return it in 30 days.
#9 Viking Security Safe Fingerprint Biometric Gun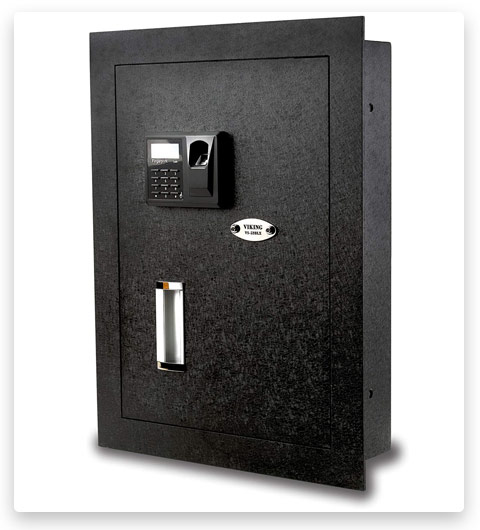 This product is valuable because the memory saves fingerprints even without batteries. It contains a bolt locking mechanism, 32 fingerprints, led light, and an optical sensor. It can be used in households for your jewelry, important documents, cash, and electronics. It has a military look. It can be closed by the PIN Code. The body is made of steel. It is ideal for office defense and household.
#10 Liberty Safe HDX-350 Biometric Handgun Safe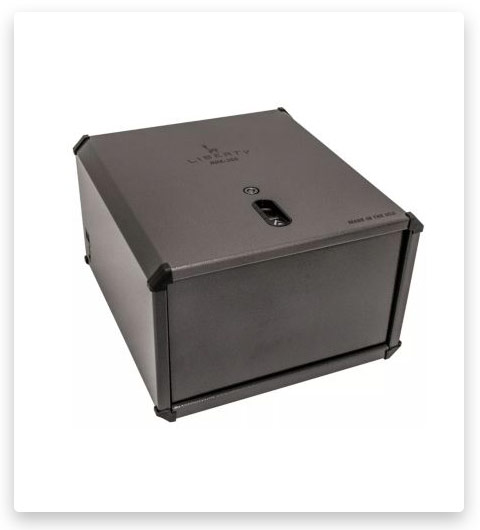 This safe can be used for a handgun. The database is for 30 fingerprints only. I think that's not ideal for offices and large places. The Liberty system has not the highest rate in the market. But it is enough good for simple purposes. It contains safe, adapters, batteries, and keys. It is durable for small homes.
#11 CACAGOO Gun Safe, Biometric Gun Safe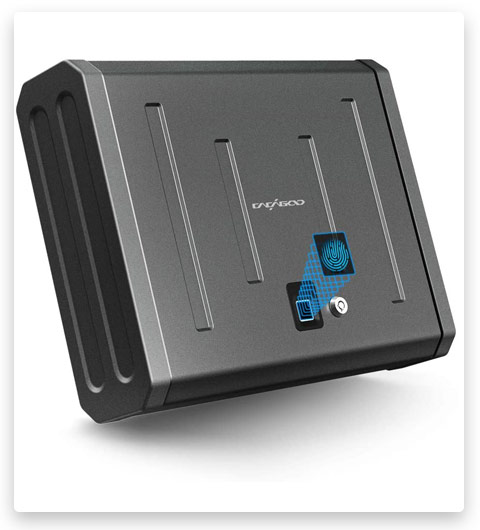 This safe has a durable powder coating. It doesn't afraid of damages. You can receive access to it for little than 1 second. It can hold up 40 individual fingerprints. If the recorder gives the light it means the fingerprint is written successfully. You need to write your fingerprint six times to receive a good result. The system will give the signal of success after the successful reading of the fingerprint. To supply the power will be enough the 4 batteries.
#12 Verifi Smart.Safe. Biometric Gun Safe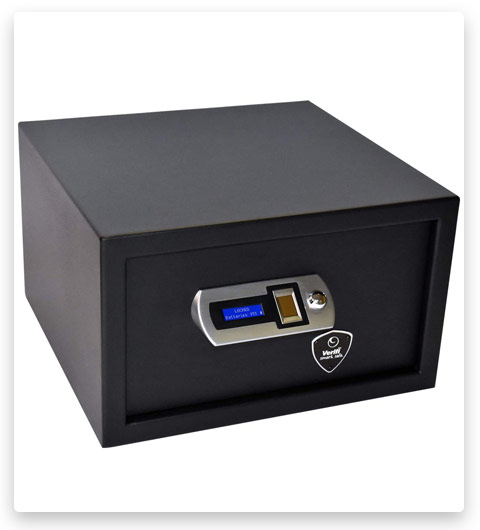 This product is certified by the FBI. It has proven compatibility for home usage and any other sites. It includes a smart lock system, keys, buttons, housing, LED lite inside. The product is made in United States. It works with fingerprints at a time. Pay attention to the resolution of fingerprints. It has back-up key if you will have problems with locking. The size is compact and portable for the safe.
#13 SentrySafe SFW123GDC Biometric Gun Safe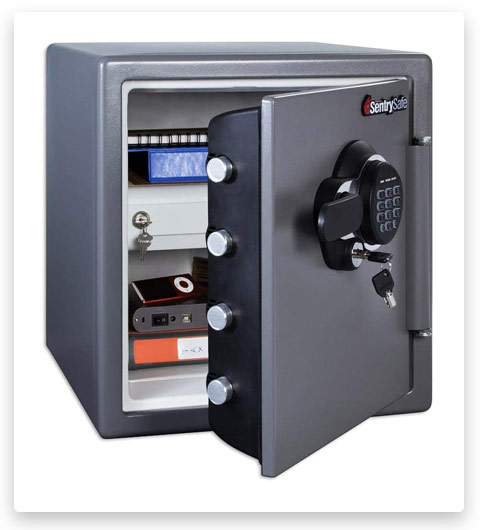 This safe doesn't afraid of the highest temperatures. It can be used for guns, DVDs, documents, valuables, and USB. It contains bolts, hard door, steel housing, pry-resistant bar, inside light, batteries for code. After testing it can be for 24 hours in the water without damages. You can add your own digital combination for code or close by key. The weight is 87 pounds. The inside deep is 8 inches. It is made by Sentry Safe. I think it will be difficult for any thief to steal this safe from the wall. And it will be difficult for the user to transport it.
BONUS: IDENTILOCK Biometric Fingerprint Gun Lock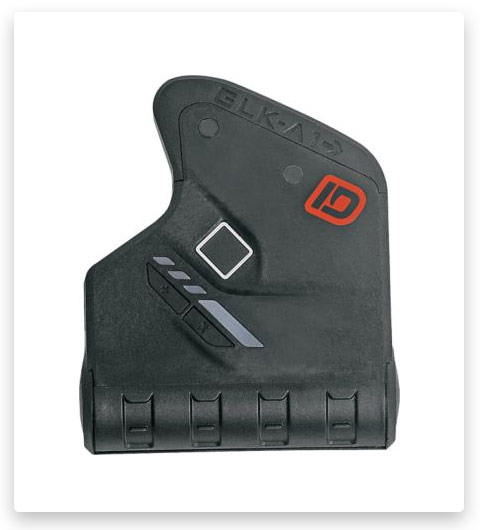 It consists of the trigger lock, mechanical key, and built-in USB port. The gun safe is made by the method of IDENTILOCK. It means that it opens from one touch of your fingerprint. To recognize it is enough about 300 milliseconds. That is faster than the one blick of the eye. You can open the safe using the metal key, but you can also recognize three fingerprints at one time. The appearance resembles a pistol case with snaps. The case is decorated with a company logo.
Conclusion
It depends only on you biometric safe will serve you in difficult conditions, will it be safe enough and easy to carry or heavy with a lot of filling. In this article we have analyzed 14 unique gun safes, now you clarify all the information to buy the best in your particular case – to receive elementary safety from children, if your budget is limited, pay attention to model 4 if you want to be the owner of the best safe with fingerprint lock with the steel handle and case, anti-corrosive cover, instructions, and damage protection, your budget is not limited – choose a model 13.
Tags: #Best #Biometric #Gun #Safe #Review #2020 #2021 #Editor's Choice #Handgun #Rifle #Pistol #Sale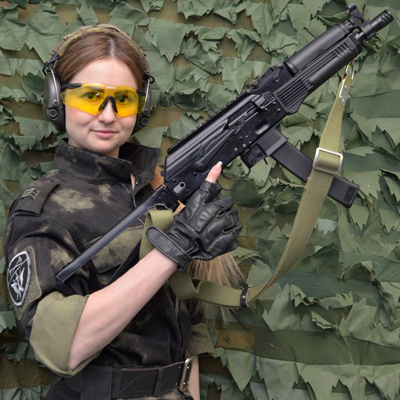 Helen Hernandez
Survival Expert & Gun Lover
Hello, I am Helen. It would seem a successful product manager in an IT company and an expert on weapons - these two roles can never get along in one person. No matter how sometimes there are exceptions. From early childhood, I realized that the love of weapons, such as knives and bows, arrows, crossbows is not just a hobby.
Shooted a hat of the neighbor in the country at the age of 4 with a miniature bow was the first successful step in studying military history. Fortunately, everyone survived. Coming on a date in adulthood, I surprised guys with my knowledge of knives, that's often played a trick on me. No normal man likes a woman smarter than him.
Now it gives me special pleasure to simply study various sets and types of weapons, survival, and
tactical gear
on Amazon, OpticsPlanet, Cabelas, Brownells, and other stores, helping people choose exactly what they need.
At the same time, I show products with natural defects so that the user does not have an ideal picture of what is far from done. After all, no matter how many good reviews were written about the product, the true quality is always important when receiving a parcel.
Read more
about our team
of expert authors.