The backpacking thermometer is a multifunctional item which may be used for different purposes. In a way to measure temperature in extreme conditions, this gadget is ideal for outdoor activities: camping, hiking, skiing, survival, fishing, hunting, and backpacking.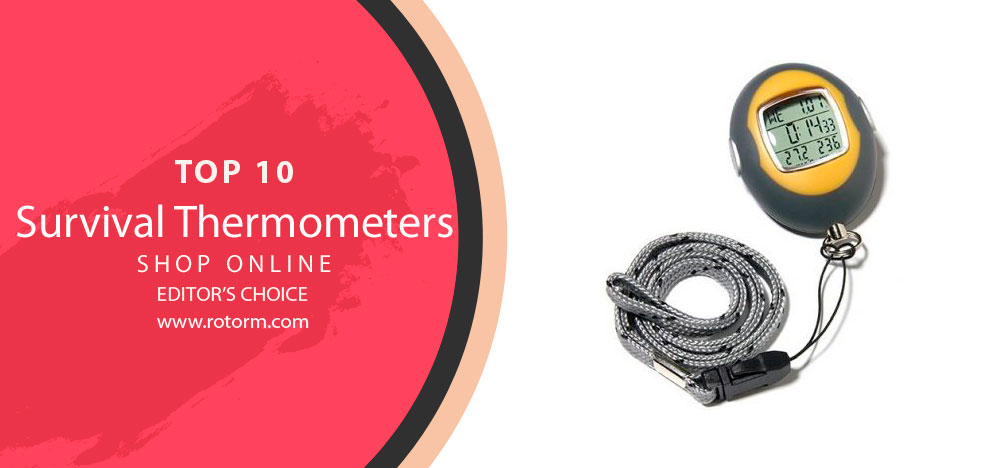 Packing all the necessary equipment takes plenty of time, but don't forget something important like a thermometer – changes of outside temperature make a person unprotected to nature, so a traveler needs to have a device to detect the outside situation. This guide is about choosing the most suitable thermometer from 10 top-rated thermometers.
Why do we need the backpacking thermometers?
The backpacking thermometer helps you to check the temperature outside and inside the tent, the strength of the wind when driving on a bicycle or during a simple walk. Modern devices are getting clever and support many modern things, so such a thermometer can contain not only the main functions of measuring temperature but also a compass, timer, whistle or light bulb that can be useful for adventure trips. Such gadgets can improve your travel hobbies and enhances your experience as a smart traveler.
Backpacking Thermometer Review | Best Hiking Thermometer
| Image | Product | Brand | |
| --- | --- | --- | --- |
| | AcuRite Wireless Thermometer | AcuRite | |
| | Coghlan's Zipper Pull Thermometer | Coghlan's | |
| | Sun Company Original Zip-o-gage | Sun Company | |
| | Sun Company TempaComp Ball Compass and Thermometer Carabiner | Sun Company | |
| | Sun Company Brrr-ometer - Snowsport Zipperpull Thermometer | Sun Company | |
| | Sun Company Outsider - 4-in-1 Survival Multi-Tool | Sun Company | |
| | Sun Company Digital Zipogage Compact Zipperpull Digital Thermometer | Sun Company | |
| | Coghlan's 4 Function Whistle For Kids Camping Gear | Coghlan's | |
| | AceCamp Munkees Small Compass and Thermometer Keychain | AceCamp | |
| | Ambient Weather WM-2 Handheld Weather Meter | Ambient Weather | |
#1 AcuRite Wireless Thermometer (Indoor/Outdoor)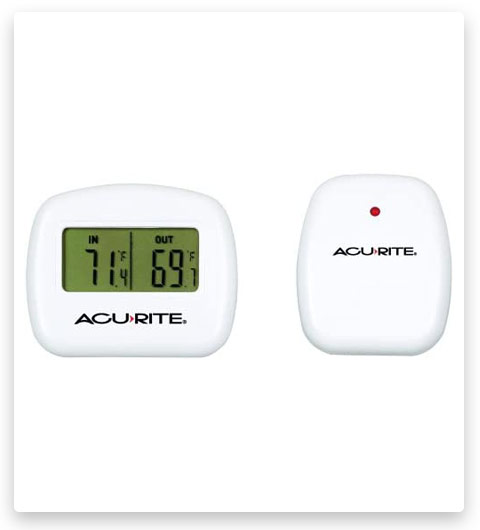 The scale of the thermometer is divided into indoor and outdoor temperatures. That's a great option for measuring the temperature inside and outside the tent. For a minute it reminded me the first game for children called "Tamagotchi" – it fits with clever display and sensor. The user experience of this thermometer is highly divided into parts of completely satisfied and unsatisfied customers.
#2 Coghlan's Zipper Pull Thermometer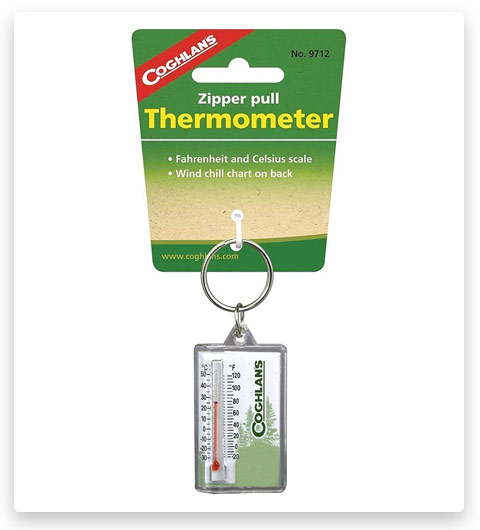 The green color of this backpacking thermometer gives the calming effect for eyes. The simple scale is in Fahrenheit and Celsius. This thermometer can be a good gift thanks to the design. Consider customers' feedbacks it can be used for trips into mountains.
#3 Sun Company Original Zip-o-gage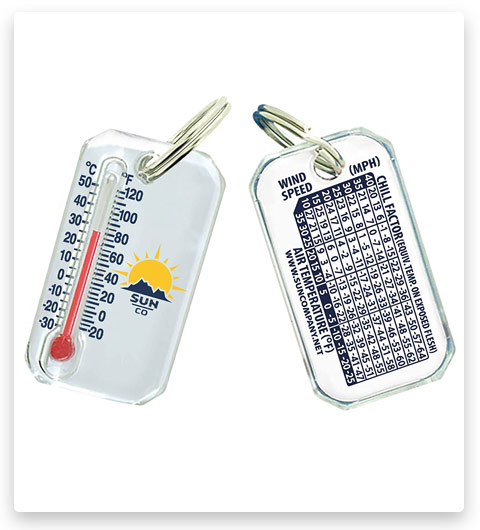 The thermometer is suitable for outdoor needs. Difficult in reading can be connected with small letters and numbers, so it can be a little problem for people with vision problems. The temperature sometimes doesn't coincide with thermometers in the same condition. An advantage that makes this thermometer perfect is a wind chill chart and handy keyring, which shows its portable and carrying options. The scale from chilly -20 degrees Fahrenheit to -30 degrees Celsius makes this thermometer most trusted since 1971.
#4 Sun Company TempaComp Ball Compass and Thermometer Carabiner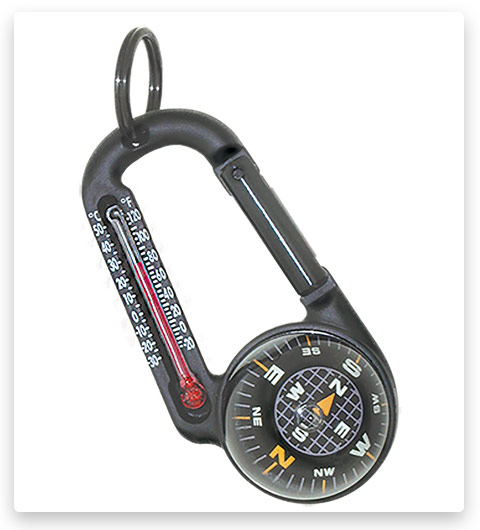 For travelers with love for smart things, the large ball compass will surely impress. The main problem that the compass shows only two directions, if using incorrect you will receive the wrong direction. A great plus is that the thermometer is easy to read and it comes with a split ring that makes it simple to attach to a zipper or anything with locker.
#5 Sun Company Brrr-ometer – Snowsport Zipperpull Thermometer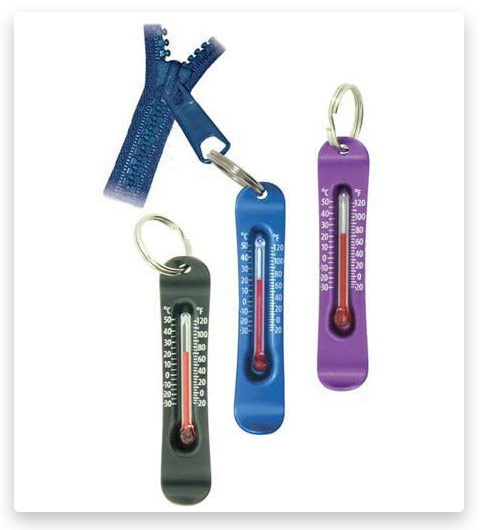 The bright colors of these thermometers impress. We need to pay attention to a strong structure that saves thermometer from outside damages. It helps the thermometer tube stays secured in the housing. In congestion, it has scales in Fahrenheit and Celsius. The thermometer can be easily attached to clothing or anything preferred. 3 different color satisfies male and female tastes and can be the trendy accessory to you wearing.
#6 Sun Company Outsider – 4-in-1 Survival Multi-Tool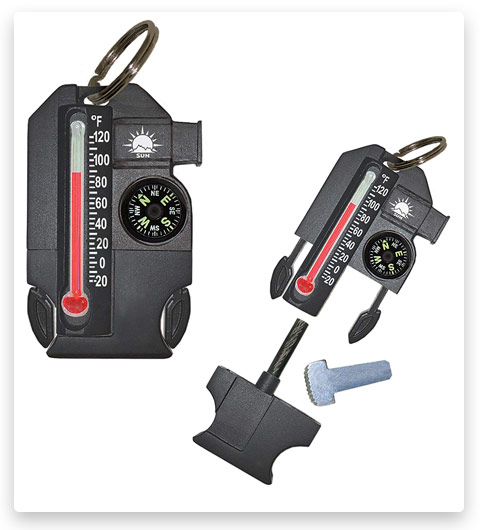 The compass of the thermometer works in low light conditions because it has a light bulb. It can be useful for camping or hunting. This device is reliable in emergency situations. They say it is a part of the first aid survival kit because the thermometer is fit by the whistle, which can be useful to ask for help. The fire starter makes this thermometer non-standard. Included key-ring makes it easily attached to any part of a coat or simple bag.
#7 Sun Company Digital Zipogage Compact Zipperpull Digital Thermometer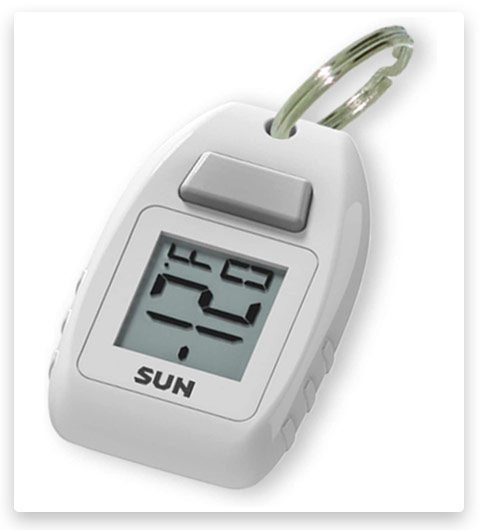 The thermometer is staffed with an easy-read display. The battery is easily replaced. The main advantage of this device that it supports the lowest temperatures.
#8 Coghlan's 4 Function Whistle For Kids Camping Gear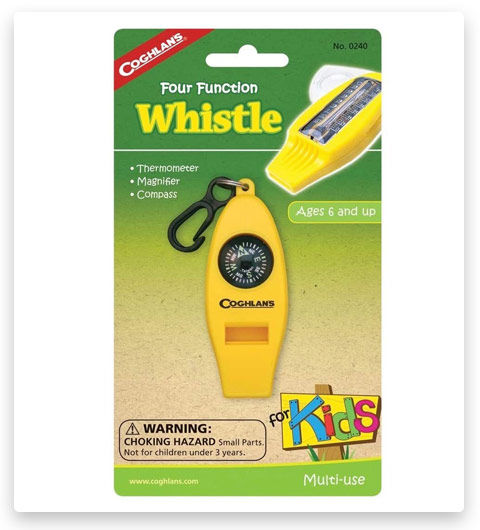 The yellow color of this thermometer impresses the mood on an unhappy day. It includes two sides: one side is a compass, another – a thermometer. The magnifier makes any scale 100% visible. It especially will be an interesting thing for children because it is bright and funny.
#9 AceCamp Munkees Small Compass and Thermometer Keychain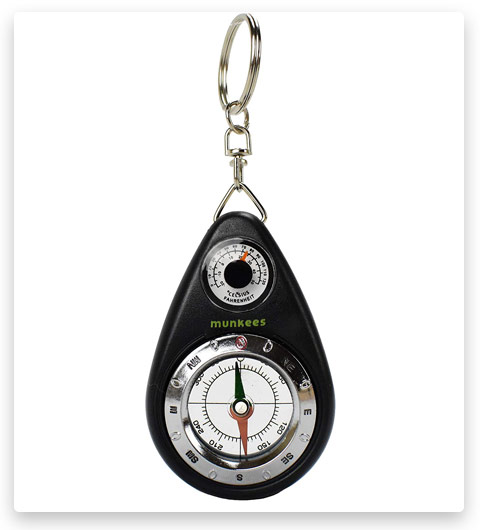 This designer thermometer can be attached to anything due to the long key ring. It will have success in camping, hiking and other kinds of rest. The portable design of the item helps to carry it anywhere in the pocket, working case or simple coat. For black color lovers, it will be a good accessory to wear or an anti-stress toy in hands.
#10 Ambient Weather WM-2 Handheld Weather Meter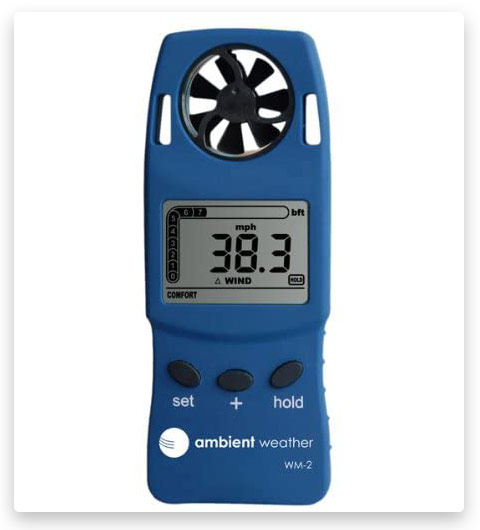 The thermometer includes smart features but unfortunately has a difference while using inhouse and outside. The temperature jumps don't give assurance of results. It looks like this scale needs to be updated a little bit. This thermometer mostly can be used as a toy.
Conclusion
In this article we have analyzed 10 unique backpack thermometers, now you clarify all the information to buy the best in your particular case. If your budget is limited, pay attention to model №2 (Coghlan's Zipper Pull Thermometer) in our list, if you want to be the owner of the best backpacking thermometer with sensor display and the smart unit and your budget is not limited – choose model №1 (AcuRite Wireless Indoor/Outdoor Thermometer).
Tags: #Backpaking #Thermometer #Survial #Best #Min #Max #Review #Editor's Choice #Ultralight #Sun Company #Digital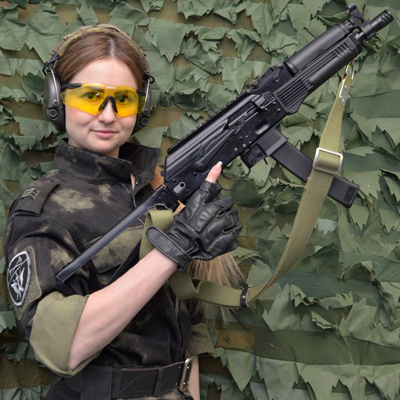 Helen Hernandez
Survival Expert & Gun Lover
Hello, I am Helen. It would seem a successful product manager in an IT company and an expert on weapons - these two roles can never get along in one person. No matter how sometimes there are exceptions. From early childhood, I realized that the love of weapons, such as knives and bows, arrows, crossbows is not just a hobby.
Shooted a hat of the neighbor in the country at the age of 4 with a miniature bow was the first successful step in studying military history. Fortunately, everyone survived. Coming on a date in adulthood, I surprised guys with my knowledge of knives, that's often played a trick on me. No normal man likes a woman smarter than him.
Now it gives me special pleasure to simply study various sets and types of weapons, survival, and
tactical gear
on Amazon, OpticsPlanet, Cabelas, Brownells, and other stores, helping people choose exactly what they need.
At the same time, I show products with natural defects so that the user does not have an ideal picture of what is far from done. After all, no matter how many good reviews were written about the product, the true quality is always important when receiving a parcel.
Read more
about our team
of expert authors.
Affiliate Disclosure: Rotorm.com sometimes gets paid for listings, through sponsors or affiliate programs like Amazon, Optics Planet, Lucky Gunner, Brownells, Cabelas, Rainier Arms, 5.11 Tactical, Bass Pro Shop, etс. Clicking a link helps keep Rotorm.com free, at no extra cost to you!
About the author: Each article on our site is written by experts in survival and tactical equipment, gun enthusiasts, extreme travelers, military, law enforcement and desperate professionals, read about the author at the bottom of the article or visit "About Us" page.
Note: The views and opinions expressed in this article are those of the authors and do not necessarily reflect the official policy or position of any agency.