Affiliate Disclosure: Rotorm.com sometimes gets paid for listings, through sponsors or affiliate programs like Amazon, Optics Planet, Lucky Gunner, Brownells, Cabelas, Rainier Arms, 5.11 Tactical, Bass Pro Shop, etс. Clicking a link helps keep Rotorm.com free, at no extra cost to you!
About the author: Each article on our site is written by experts in survival and tactical equipment, gun enthusiasts, extreme travelers, military, law enforcement and desperate professionals, read about the author at the bottom of the article or visit "About Us" page.
Note: The views and opinions expressed in this article are those of the authors and do not necessarily reflect the official policy or position of any agency.
If you clicked on this title then you are probably looking for an affordable lock with great quality and trying to choose which one is best for you. The choice out there is huge that it's like an embarrassment of riches! We are here to help you out. Look through our list of best puck locks on Amazon and choose which one is best for you! Let's start!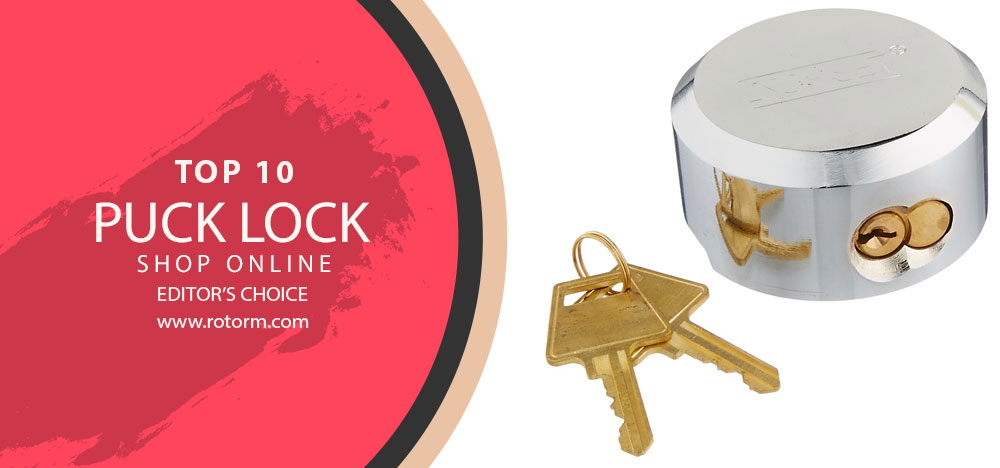 TOP 10 Puck Locks
| Image | Product | Brand | Link |
| --- | --- | --- | --- |
| | Master Lock Pro Series - (3) Hidden Shackle Padlocks Keyed Alike 6271KA-3 | Master Lock | |
| | Mardili Lock Hidden Shackle Trailer Puck Padlocks Rekeyable Keyed Alike, Soild Steel, Pack of 3 | Mardili | |
| | NU-SET 2-7/8 Inch Heavy Duty Solid Steel Hockey Puck Padlock with Hardened Reinforced shackle for superior cut resistance.Hidden Shackle Design resists pulling and prying, Chrome Finish, 5373-3 | NU-SET | |
| | Trimax THP2XL Keyed Alike Trailer Door Lock, (Pack of 2) | Trimax | |
| | WAR-LOK Heavy Duty Puck Lock and Hasp | WAR-LOK | |
| | Ft. Knox Locks Andersen Hitch Ultimate Connection Lock - Bolt Cutter Proof | Ft. Knox Locks | |
| | Key Padlock, Stainless Steel – Set of 2 Padlocks Keyed Alike, Classic Discus Design – Includes 4 Keys – Ideal Lock for Indoor/Outdoor Security, Storage and Tool Box, Gate & Shed | SnapSafe | |
| | 4 Digit Combination Disc Padlock with Hardened Steel Keyless Heavy Duty Combo Lock for Sheds,Fence,Storage Unit,Trailer,Moving Cube | DAYGOS | |
| | Brinks 673-70401 70mm Commercial Discus Lock with Stainless Steel Shackle, 4-Pack , Black | BRINKS | |
| | Master Lock 6271D Hidden Shackle Padlock | Master Lock | |
#1 Master Lock Hidden Shackle Locks Keyed Alike 6271KA-3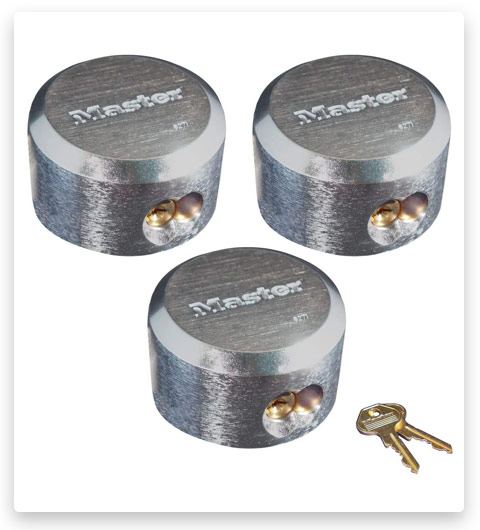 This puck lock is made by the Master Lock company and the reviews are very nice. This lock is made of Zinc alloys, which is a pretty good choice of metal and we'll explain to you why. First of all, the impact resistance of zinc alloys is higher than those of other alloys like cast aluminum alloys, plastics, and some others. Of course, zinc is not the toughest material out there, but the lock is of good quality for its price. The next thing we'd like to point out is that the zinc alloys provide high strength and protection against bolt cutter attacks. Zinc alloys are non-sparking as well so they can be used for hazardous objects. Of course, you can not use these locks for everything, they might not fit your trailer or whatever you are going to use the lock for, so you need to carefully measure the hasp/latch on your door. Also, check the depth of the hole on the hasp. The manufacturer left the size dimensions in the provided schematic; you should read the description carefully to ensure that the lock will fit you, all exact parameters are indicated by the seller. Talking about the downfalls of the product, some people complain about the keys. The key is difficult to take out of the cylinder. Some people even managed to break the keys, so you must be aware of the fact if you think of buying this product. Nevertheless, people are satisfied with its quality, so you can consider buying this one.
#2 Mardili Lock Hidden Shackle Trailer Puck Padlocks Rekeyable Keyed Alike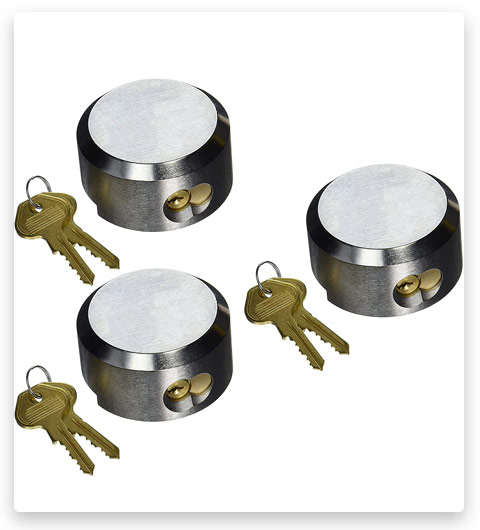 All in all, the reviews on this product are very nice, there are a few comments with remarks though. The lock itself constitutes a 6-pin cylinder with spool pins. The manufacturer says that due to the solid steel shackle the lock can resist bolt cutters or any physical attacks. That is probably fair because there are no comments about the lock being not tough or safe enough. The manufacturer claims that the lock is weather resistant because it is made of Steel with the chrome surface, which can withstand different weather conditions, no spring to rust or jam. Nevertheless, we've found some comments about the rusting of the lock. The manufacturer warns, however, that the lock may not suit with very wet weather. In that case, you should probably choose stainless steel material. It is more expensive, but it will worth the money if your living area is rainy. Again, you should carefully measure everything to ensure that the lock will fit with your door and if it does you should totally consider buying it because the lock may be a very good choice for an affordable price.
#3 NU-SET 5373-3 Hidden Shackle Padlock with Hockey Puck Lock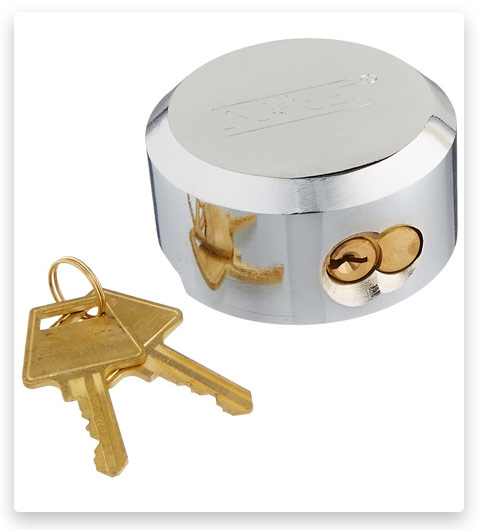 Our next competitor is a padlock made by the NU-SET company. The negative comments, in general, did not have remarks for the lock itself, but the most common problem is that upon receipt keys are missing. It is a question towards quality control. Nevertheless, there are numerous reviewers pleased with the lock. Case padlock of solid steel and the hidden steel shackle protects against forcible attacks and bolt cutters. Chrome rustproofing provides longer use of the lock. You should be careful because the lock certainly does not fit for every door, you should check before purchasing it. To sum up, we'd like to say that the lock is a decent choice and despite some of the limitations it has a good value for money.
#4 Trimax THP2XL Keyed Alike Trailer Door Lock, (Pack of 2)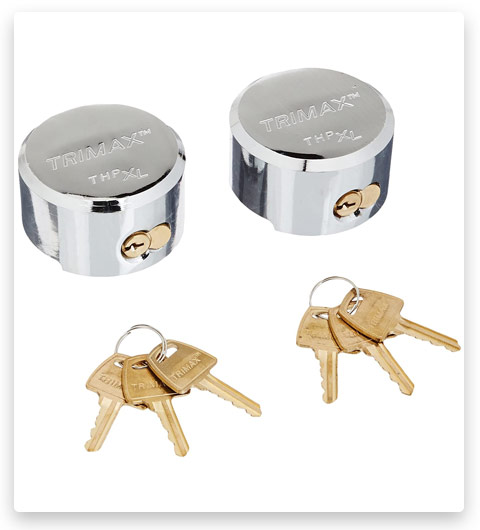 The Trimax lock has a pretty solid heavy construction, protects against bolt cutters, has no exposed shackle to cut. Solid steel and thick body with 3/8 diameter internal shackle do the protection job just fine and all of the positive comments confirm that fact. Despite its high protection ability, there are some complaints about the quality. Rusting is probably one of the most common problems with the lock. Many comments point out that the lock starts rusting pretty fast. This lock may be suitable if you need to use it for a short time and you do not want to spend a lot of money. It does not tolerate cold and rainy weather conditions, but considering its price, you should expect that. Some of the comments claim that the lock works just fine after a few years of use, but it seems like not everyone is that lucky with the product. We'd recommend you to think about all the pros and cons before purchasing it.
#5 WAR-LOK Heavy Duty Puck Lock and Hasp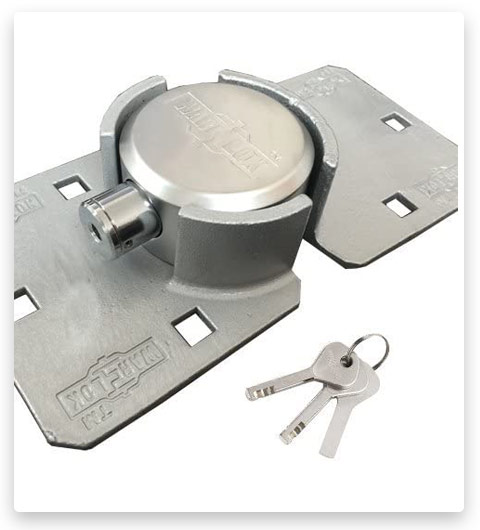 The WAR-LOK Heavy Duty Puck Lock fits with different kinds of doors like van rear, vending, industrial, storefront, business gates, and swing doors. Sure everything is individual and of course, you should check all the available information before buying it. The lock should withstand hammers, bolt cutters, drills, sledgehammers, and physical attacks. A good thing is that the lost keys can be replaced (if registered with the manufacturer). There are not many negative reviews and they are mainly related to delivery and customer service. Some received a completely different lock or a key was missing in the package, it may be really frustrating. The manufacturer claims that the hardened steel lock is non-corrosive and is weather-resistant. However, some people may not agree, it seems that the lock doesn't fit with very cold or wet weather, may freeze or rust (there were isolated cases, there were no such complaints in general). Nevertheless, the lock itself seems to be very strong and secure, considering most of the comments. You should definitely consider this an option for you, if you are not ready to spend too much money on the lock this may be a good option.
#6 Ft. Knox Locks Andersen Hitch Ultimate Connection Lock Includes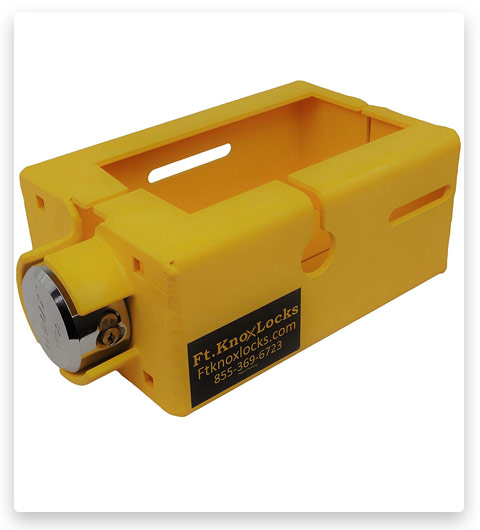 Our next participant seems to be extraordinary. First in our top with a 100% 5 stars rating from Amazon users! Actually, there are very few comments, but everyone is happy with the quality. Let's see what is so great about it! The lock is made with fully welded steel with welded hinges and hinge pins to provide very high security against bolt cutters, physical attacks and can only be defeated with power tools or a cutting torch! This lock is custom made to fit the Andersen Ultimate Connection RV 5th wheel to gooseneck conversion, which means it will not fit with ordinary doors!!! You should read more information on the web site, to decide whether it is worth it. The company also provides a lifetime warranty against manufacturing defects, which is a very pleasant bonus. If the lock fits you, we believe that it is an amazing choice for you!
#7 SnapSafe Key Padlock, Stainless Steel (Set of 2 Padlocks Keyed Alike)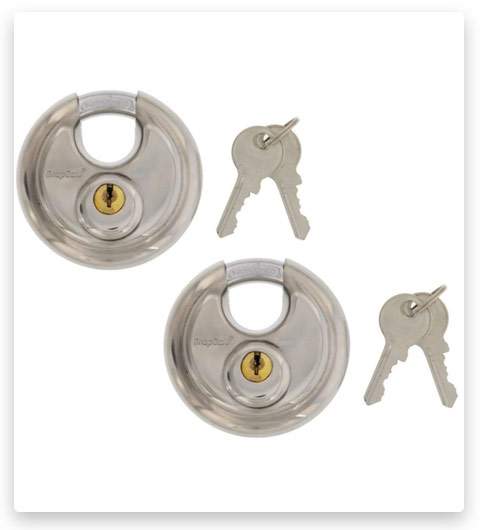 This lock is made of stainless steel and was сreated to be used for many different tasks like padlocks for storage, tool, and trailer boxes. There are many other uses, such as securing sheds, gates, and bicycles. The padlock can be used outdoors or indoors due to its rust and corrosion-proof abilities. A great feature is that the lock has three drain holes, they protect from water filling during the rain. Appears to be a good quality lock. However, people complain that different padlocks can be opened using the key from another one of them, which is a serious security issue. This is practically the only significant drawback, but it can cross out all the advantages of the padlock. You probably should think twice before buying this product!
#8 DAYGOS 4 Digit Combination Disc Padlock with Hardened Steel Keyless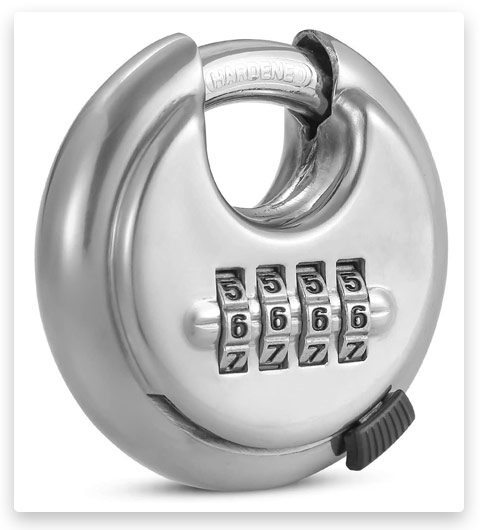 This lock is made of stainless steel and it should fit great for different tasks like storage units, fence, garages, sheds, trailers, moving trucks, etc. A great thing is that you can easily set a combination of your password and reset it if needed (there is an instruction in the description on the product). The 4-digit combination padlock logically is much more secure than the 3 digit one. Despite its durability and reliability, there is one little remark though, some people think that the plastic slider that opens the lock feels flimsy and is not suitable for the steel lock. It can easily break. Most of the reviews are very satisfied with the quality though and the lock seems to be durable so we would totally recommend you to think about purchasing this product!
#9 BRINKS Home Security 673-70401 Discus Lock 4 Pack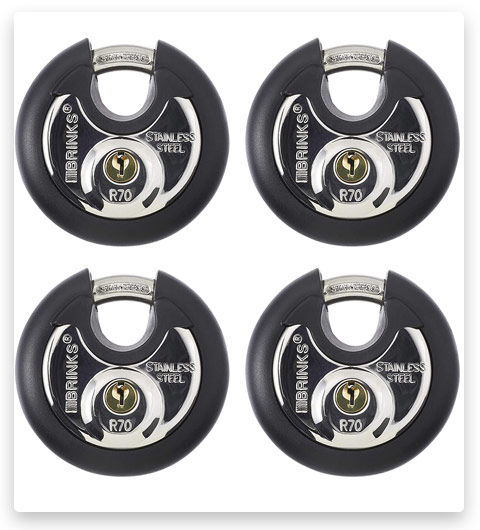 The next lock we want to introduce you to is the lock by BRINKS. Let's see its strong and weak points. Stainless steel shackle provides superior cut resistance. The lock seems to be doing an excellent job for those places where weather-resistant security is required, so if that's what you're looking for don't pass by. The manufacturer claims that by purchasing it what you get is a 4-pack of locks all keyed alike, but some reviewers say that the information is misleading and they are not keyed alike, be aware of that fact. That information may be important for some customers. You can read more accurate information in the product description. This lock provides pretty good security, but if you need extra high one then you probably should use another lock. All in all, we'd say that the lock is worth your attention and does its job just right, and if it suits your requirements, it may become a good purchase for a great price!
#10 Master Lock 6271D Hidden Shackle Padlock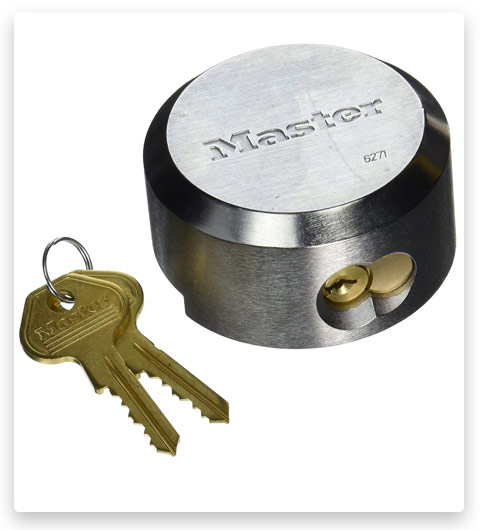 Last but not least in our top 10 is this Master lock 6271D Padlock. The Master Lock seems to be getting good reviews by the purchasers; the quality of their product may be worth your attention. The lock seems to protect the doors very well, made sturdy. However, it seems like not all weather conditions are suitable for the lock, it may rust. This lock can get gummed up in the cold weather. You should see all the technical details on the website, but be careful with the size, measure everything before purchasing because the lock is made more for commercial and industrial applications and does not fit with some trailer doors. If the measurements and everything else is suitable for your aims, then this product is a pretty decent choice for the price.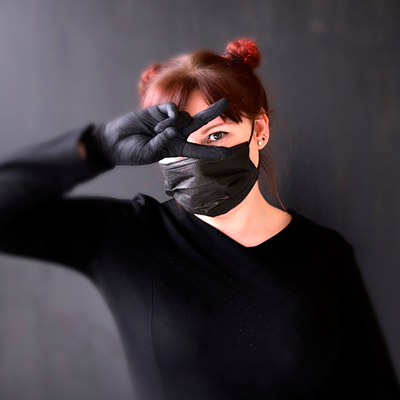 Ann Burwell
Mother, Extreme Lover, Author, and Outdoor Gear Expert
Nice to meet you, my name is Ann. What I can say about myself is that I am a supporter of a healthy lifestyle and enjoy spending my leisure time actively (most frequently outdoors). My hobby is camping, hiking, climbing mountains. And of course, I adore various survival and
tactical gear
, which is so necessary for a comfortable stay in extreme conditions. I am fortunate that my husband and family support me about this.
That is why it is important for me to find good items that will help me and my family have a good time without too much hassle. I like to look for stuff for myself or gifts for my loved ones. We also share the high-quality products we find with each other, and I think it is really important to transfer your opinion and knowledge, that is why I am pleased to share the useful information I find with other people. I'm so happy that my family helps me in this matter. We hope that someone really finds this helpful and interesting enough!
Read more
about our team
of expert authors.