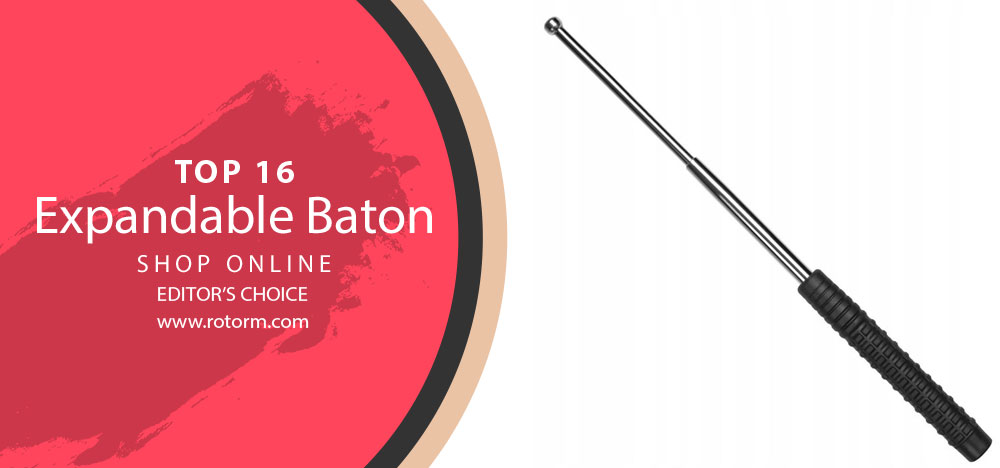 What is The Best Expandable Baton? 🤔
Self-defense is a very important part of our safety. That's why people buy firearms, practice karate, and sambo, and learn how to fight.
If you don't have enough time or opportunities to become a street fighter or you just want to be sure you can put up a fight when it's needed, you should use one of the most ancient weapons — the baton. This is a close-combat weapon that can help you defend yourself and your loved ones. Today, the baton is not just a big branch, it's a well-designed weapon. There is a great variety of expandable or telescopic batons on the market. And so the question is how to pick the best one? Look at this top 16 to figure out what you should buy.
Benefits 🔥
🛡️ Non-Lethal Force: They allow law enforcement and security personnel to maintain order and control situations without resorting to lethal force.
🎒 Compact and Portable: Due to their expandable nature, they are very compact when collapsed. This makes them highly portable, easy to carry, and concealable.
👀 Intimidation Factor: The sight and sound being deployed can serve as a deterrent, often dissuading potential offenders without the need for physical confrontation.
🤝 Versatility: They can be used for a variety of defensive tactics, including blocking attacks, striking, and controlling a suspect.
🔩 Durability: Most of them are made from high-grade materials like steel or aluminum, ensuring they can withstand the rigors of heavy-duty use.
🔐 Easy to Use: With minimal training, anyone can effectively use it for self-defense.
🌍 Legal in Many Jurisdictions: While it varies by country and state, expandable it is often legal to carry for self-defense purposes, unlike other defensive tools such as firearms.
Our Top Pick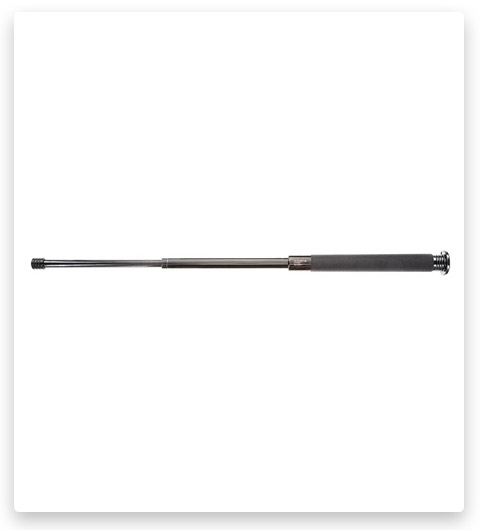 Smith & Wesson Quick Release Baton
Crafted with resilient 4140 carbon steel, this exceptional tool is purpose-built to endure even the most demanding situations. With its generous 24-inch length, it empowers you with the ideal reach, ensuring a safe distance between you and potential threats.
Buy Now On OpticsPlanet
If you click this link and make a purchase, we earn a commission at no additional cost to you.
Features 👍
💪 One-Handed Operation: They are designed for quick, one-handed deployment, which is a critical feature in high-stress situations.
🔒 Locking Mechanism: It comes with a reliable locking mechanism that ensures they stay extended when in use and collapse when not, increasing user safety.
🛠️ Material and Build: They are typically made from high-grade materials like hardened steel or aluminum for maximum durability.
📏 Various Lengths: Come in a variety of lengths, catering to different needs and preferences. Some models can extend up to 26 inches or more.
🖐️ Grip: Many of them feature ergonomic grips designed for comfort and to reduce the chance of the baton slipping from your hand during use.
🎒 Holster Included: Often come with a specially designed holster for easy storage and quick access.
⚖️ Weight: They are weighted for balance, ensuring that they are easy to handle and effective in delivering strikes.
⚙️ Friction Loc Design: Many of them use a friction lock design, which allows for swift expansion and a secure lock when extended.
🛠️ Optional Accessories: Depending on the model, it may come with or support additional accessories like LED lights, glass breakers, and different types of grip upgrades.
Our Top Pick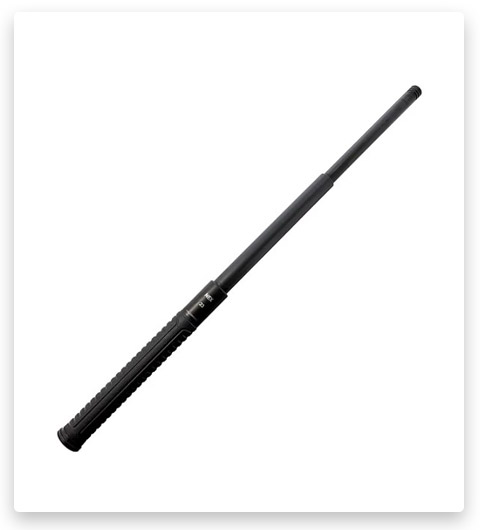 NexTool NEX 23 Quicker Steel Baton
Meticulously fashioned from premium 42CrMo steel and complemented by a TPE rubber handle, this remarkable tool effortlessly combines the resilience and ergonomic comfort. Its robust build ensures long-lasting performance, solidifying its standing as the ultimate selection for discerning law enforcement professionals seeking unparalleled quality.
Buy Now On OpticsPlanet
If you click this link and make a purchase, we earn a commission at no additional cost to you.
Are Expanding Batons Legal in the US? 👮
The legality of carrying or using expandable batons varies from state to state in the United States. Some states fully allow the possession and use of them, some allow them with restrictions or require a permit, and others ban them entirely.
For example, in some states like Arizona and Texas, you can generally carry it without a permit. In contrast, states like California, New York, and Massachusetts have much stricter laws, and possession of such a weapon may be illegal without appropriate permission.
It's important to note that even in states where carrying it is generally legal, there might be restrictions related to where you can carry it (e.g., certain public buildings, schools, etc.).
Given this variation and the potential for changes in law, it is crucial for anyone considering carrying it to research the specific laws in their local jurisdiction and consult with a legal professional if necessary.
Here is a table that summarizes the legality of them in the United States in 2023:
| | |
| --- | --- |
| State 🌇 | Legality ✅ |
| California | Illegal |
| Massachusetts | Illegal |
| New York | Illegal |
| Washington D.C. | Illegal |
| Florida | Legal with a concealed carry permit |
| Arizona | Legal without permit |
| Texas | Legal without permit |
Best Expandable Baton Review
1# ASP Sentry Tactical Baton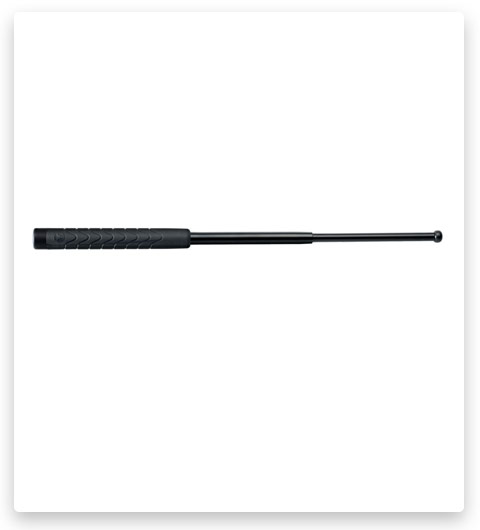 The first model is something in between — it's not the best but it's not bad either. So the price is also average. This tactical baton is designed for professional use, which means it has great quality. 4130 high carbon steel shafts altogether with a nickel finish ensure the best performance at a tensile strength of 201,000 PSI.
Thanks to the Santoprene handle that is undercoated with zinc, the grip is pretty strong, which is also an advantage. In addition to this, the cap and base retaining clip is aluminum, so the durability is good. The baton is weather-resistant and ready to be used under various extreme conditions.
2# ASP Talon Baton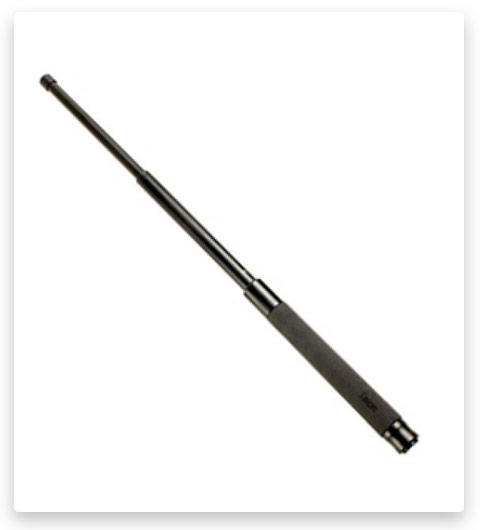 A better and more expensive model features an innovative design with two opposite discs in an internal groove, which makes the operation smoother and simpler. Plus, the baton is pretty easy to use, thanks to the push-button construction.
The talon locking mechanism also works great, securely locking all sections. The model is lightweight, durable, and stable. This is a perfect choice to guard yourself if you can afford it.
3# ASP F21 Tactical Batons Friction Loc 21″ Baton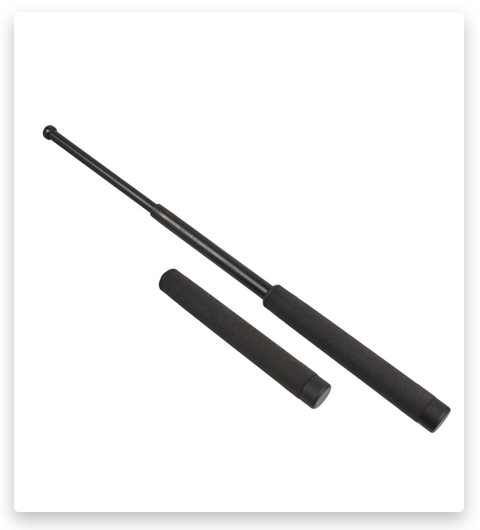 This is a very popular model that is used by law enforcement agencies, which is a great sign of quality. It is made of solid material and provides decent parameters to satisfy all your needs.
The overall length of this model is 21 inches, which is bigger than other competitors. Another great advantage that you will enjoy is that this baton is pretty compact and easy to carry.
4# ASP P16 Collapsible Baton w/ Snap Loc Clip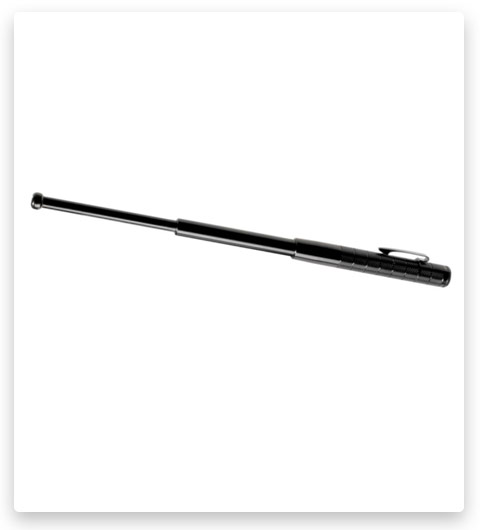 If you need something more discreet, you will like this model that is only 6.5 inches when collapsed. Despite the small size, it can do a lot of damage and it's also very convenient to use. 4140 high carbon steel striking surface and 7075 T6 aluminum middle shaft make the baton durable and strong. Thanks to tiny spiral grooves, fine line knurling, and cross knurling, the grip is firm, and you won't ever feel uncomfortable. This model will suit those who don't want to be revealed.
ASP Collapsible baton is comfortable enough to fit even in a pocket and can be used by officers, investigators, and administrators. The impact surface is made of steel and protects against damaging impacts. There is also a convenient clip that allows you to easily attach the baton to a belt.
5# Smith & Wesson S.w.a.t. Lite 24inch Collapsible Baton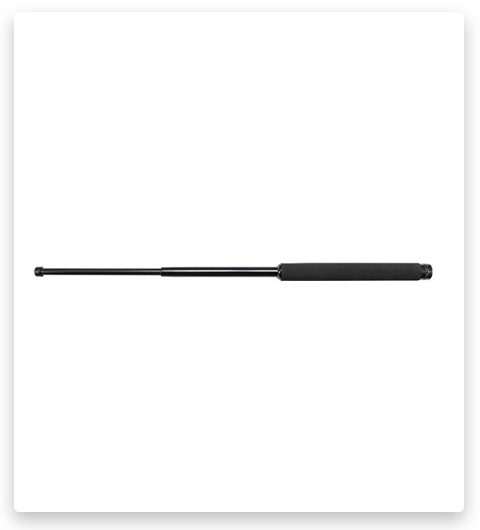 Crafted with precision, it is made from a combination of carbon steel and 7076 T6 aluminum, ensuring its durability and strength. Weighing in at just 9.7 ounces, it offers a lightweight and compact solution that won't weigh you down during critical moments.
Featuring a soft foam grip and a rugged sheath, it ensures comfort and easy access when you need it most. Its shockproof construction allows you to deliver powerful strikes, providing you with a sense of security and the ability to neutralize threats effectively.
Measuring 24 inches in length, it is designed for maximum reach while maintaining maneuverability. Whether you're facing potential dangers or navigating challenging situations, it is your reliable companion.
6# Fury Straight Expandable Steel Police Baton Up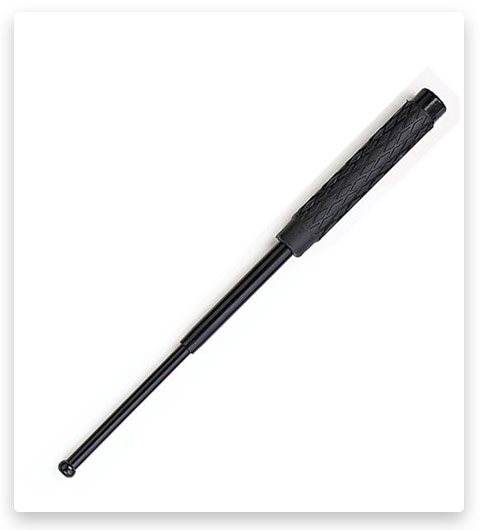 Crafted from premium steel, it provides exceptional strength and resilience. Its straight design offers enhanced control and precision during use, giving you the confidence to handle any situation with ease. The rubber grip ensures a secure and comfortable hold, even in intense and fast-paced scenarios.
It is available in three lengths to suit your specific needs. Whether you choose the 21-inch, 16-inch, or 26-inch model, you can rely on its solid construction and superior performance. With an easy-to-use mechanism, it expands swiftly and smoothly, allowing you to respond rapidly to potential threats.
Aside from its impressive functionality, it also adheres to government regulations. It is suitable for sale to military and law enforcement agencies, private security guards, correctional facility personnel, peace officers, and other qualified personnel. Please ensure compliance with federal, state, and local laws and regulations before purchase.
7# PSPI NS16R Expandable Baton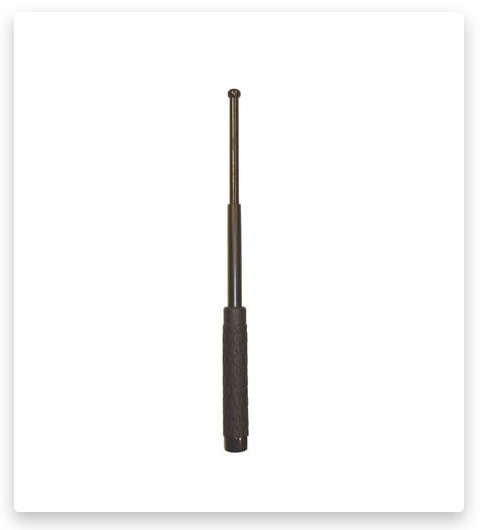 If you think there are no cheaper models on the market, you are wrong. Take a closer look at this 16-inch steel baton with a padded handle. This is another example of simplicity and quality. In addition to this, the device is extremely easy to use: you can easily open it by flicking your wrist.
The structure has a sliding shape that allows easy access. The rubber grip makes it easy to hold the device in your hand. Also, together with the set, loops are delivered to fasten the baton on a belt or shoulder. The handle itself is made in a soft shape which makes it easy to carry.
8# Smith & Wesson Heat Treated Collapsible Baton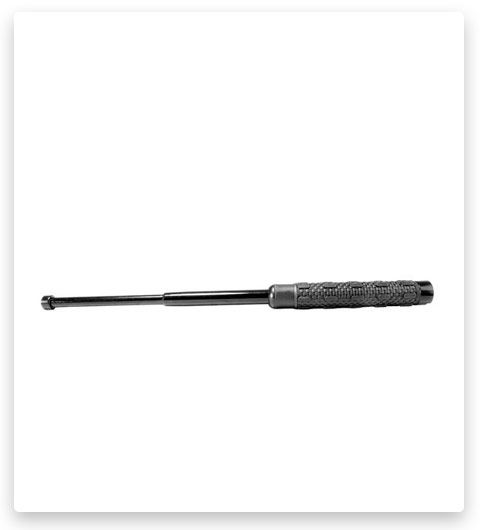 Crafted from 4130 seamless alloy steel tubing, it exhibits impressive strength and durability. With a heat-treated HRC of 46-47, it delivers unparalleled toughness and resilience. The baton's bending strength of 4055.84lbf ensures it can withstand rigorous use, while the textured and raised rubber handle provides a secure and comfortable grip, even in high-stress situations.
Available in multiple lengths, including 24 inches, 21 inches, and 16 inches, you can choose the size that best suits your preferences and needs. The shorter options offer increased portability, while the longer ones provide extended reach. It's all about finding the perfect fit for your personal use.
In addition to its exceptional performance, it adheres to government regulations. It is available for sale to military and law enforcement agencies, private security guards, correctional facility personnel, peace officers, and other qualified individuals. Please ensure compliance with applicable federal, state, and local laws and regulations.
9# Rothco Expandable Baton With Sheath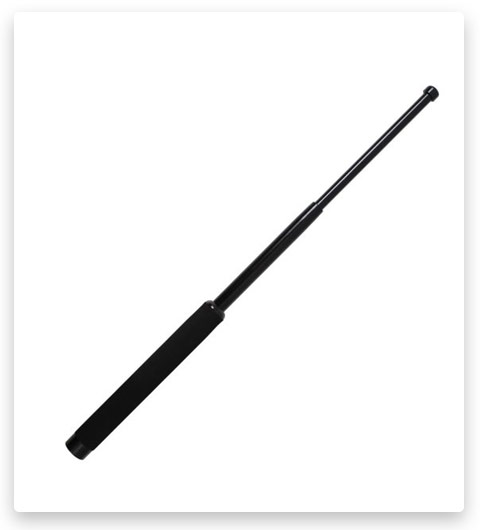 It is specifically designed to meet the needs of military and law enforcement agencies, private security guards, correctional facility personnel, peace officers, and other qualified personnel. It comes with a nylon sheath that easily fits on our duty belt (item #10570), ensuring quick and convenient access whenever you need it.
Featuring a solid steel construction, it guarantees strength and reliability in any situation. Its expandable design allows for easy deployment, while the sheath keeps it securely in place when not in use. With lengths ranging from 16 to 31 inches, you can choose the perfect size to suit your needs.
10# UZI Expandable Baton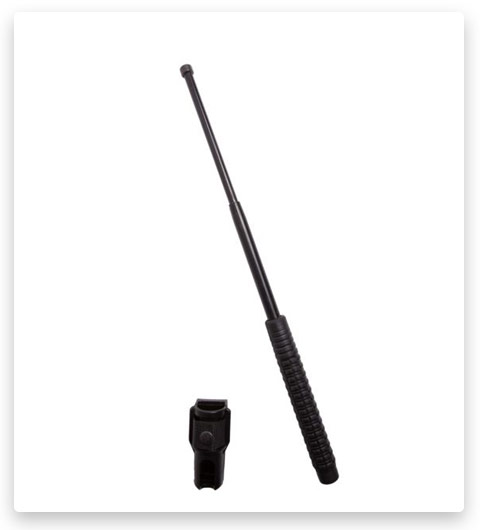 It is expertly crafted to ensure optimal performance and durability. Its 21-inch length provides an ideal balance between compactness and reach, allowing you to effectively handle potential threats without compromising safety. With its solid construction and black shaft, it exudes strength and professionalism.
One of the key benefits is its collapsible design. When closed, it becomes a compact and easily portable tool, fitting conveniently into the included nylon case. This feature ensures quick and hassle-free deployment when you need it most.
11# Monadnock Autolock Expandable Batons – Positive Lock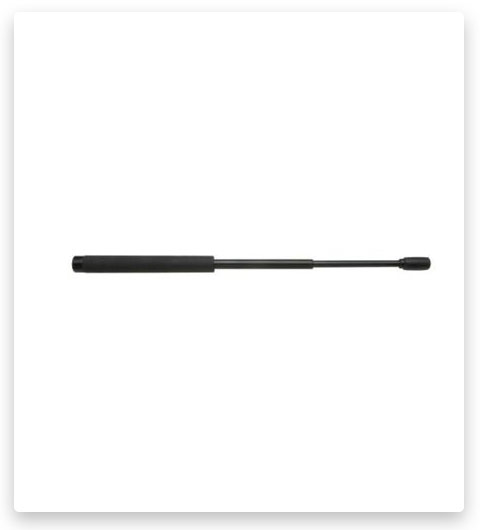 Low-priced models are boring, so let's go back and review something from a high-budget segment. What comes to particularly this model, it's concentrated on the locking mechanism. The locking technology used by the baton is a combination of friction lock and positive lock. You can close this baton as easily as you can open it.
Besides, it's just an amazing baton made of high-quality, solid materials. Cam bearing and forced-locking mechanisms were used in the structure of the baton, which will help to quickly respond to the situation and calculate the force of the blow. The urethane material removes sharp edges and causes fewer injuries. This baton model was developed in California.
12# NexTool NEX 21 Quicker Airweight Baton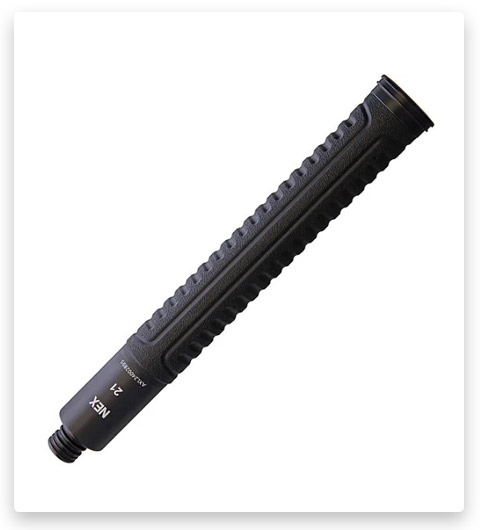 Crafted with precision from 42CrMo and 7075 aluminum alloy, it offers unmatched strength and reliability. Its black electroless nickel plating adds a sleek and professional touch. Measuring 21″ when expanded and 8.82″ when retracted, it strikes the perfect balance between compactness and effectiveness.
Features an innovative Nexlock locking system in each segment, ensuring absolute stability and reliability during use. You can trust it to provide the security and control you need in any situation.
NexTool has a long-standing reputation for crafting high-quality tactical gear, and this baton is a testament to its commitment to excellence.
13# NexTool NEX 23 Quicker Steel Baton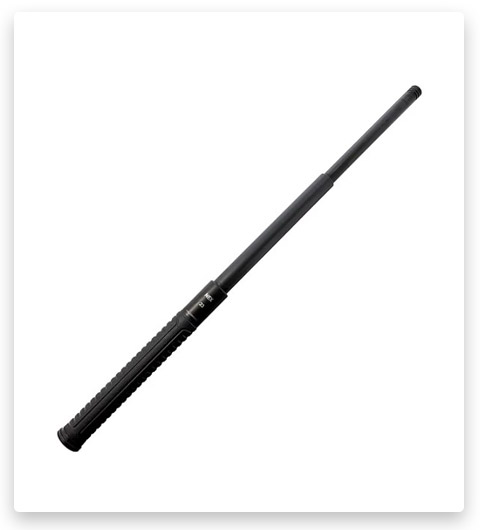 Crafted from high-quality 42CrMo steel and featuring a TPE rubber handle, it offers a perfect balance of strength and comfort. Its sturdy construction guarantees years of reliable use, making it an ideal choice for law enforcement professionals who demand the best.
With a diameter of 1.1″ and expert craftsmanship, it is built to withstand the toughest situations.
NexTool, renowned for its commitment to excellence, has been delivering top-tier tactical batons for years. This Steel Baton is a testament to their dedication to providing law enforcement officers with the most effective tools on the market.
14# Monadnock Control Device Expandable Side-handle Baton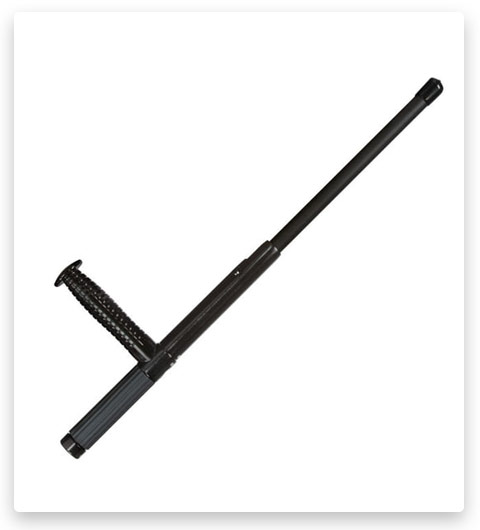 It is designed to empower law enforcement professionals with maximum effectiveness and safety.
It features a polycarbonate grip that offers superior retention and ensures a firm hold during critical situations. With its 21-inch length, it provides optimal reach without compromising maneuverability.
One of the key benefits is its expandable design. With a simple flick of your wrist, it quickly extends to a combat-ready position, allowing you to respond swiftly to threats. When not in use, it easily closes with the push of a button, ensuring convenient storage and transport.
15# PS Products Expandable Baton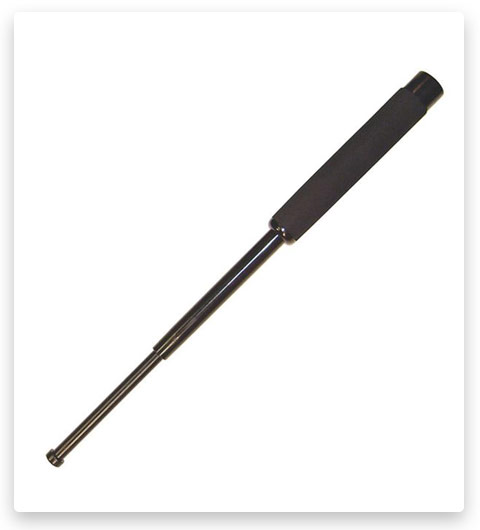 Designed with the needs of corrections professionals in mind, It offers unrivaled protection and convenience.
One of the standout benefits is its versatility. With a compact design and included custom-made high-grade thermoplastic sheath, you can easily carry and store it without compromising on safety. Whether you need it for personal defense or professional use, it's the perfect tool to have by your side.
Featuring a specialized mechanism, it automatically ratchets to a determinate size, ensuring reliable performance every time. It can be quickly extended to its full length with a simple flick of the wrist, allowing you to respond swiftly to any threatening situation.
The foam handle provides a comfortable and secure grip, giving you enhanced control and minimizing the risk of slippage. It offers peace of mind knowing that you can confidently handle the baton during critical moments.
BONUS: Smith & Wesson Quick Release Baton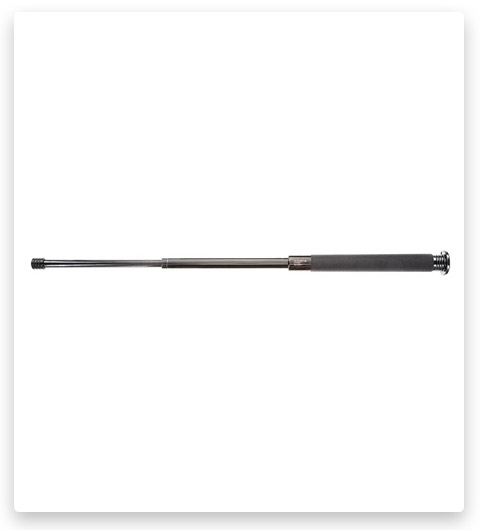 Made from durable 4140 carbon steel, it is built to withstand any situation. Its 24-inch length provides you with optimal reach, allowing you to maintain a safe distance from potential threats. The collapsible design, enabled by a convenient push-button mechanism, ensures quick and effortless deployment, giving you an advantage in critical moments.
One of the standout features is its portability. When not in use, it effortlessly collapses into a compact size, making it easy to carry and discreetly store. Its lightweight construction adds to its convenience, allowing you to take it anywhere without feeling burdened.
The 360-degree rotating synthetic sheath enhances your accessibility, ensuring a smooth and rapid draw whenever needed. The removable threaded end cap and foam grip provide added functionality and comfort during use.
Whether you're a law enforcement professional, a private security guard, or a peace officer, it is designed to meet your needs. It complies with government restrictions and is available exclusively to qualified personnel.
How to Choose an Expandable Baton 🛒
Choosing the right expandable baton involves considering several factors to ensure it meets your needs and preferences. Here are a few tips on what to consider:
📜 Legal Restrictions: Before purchasing, it's important to verify whether they are legal to own and carry in your specific jurisdiction.
🛠️ Material and Build Quality: Ensure that is made from high-quality, durable materials like hardened steel or aerospace-grade aluminum that can withstand the rigors of use.
📏 Length: They come in various lengths. The right length depends on your intended use. A longer model can reach further and has a larger swing radius, but it's also heavier and harder to control. Shorter models are easier to handle and conceal but have a shorter reach.
⚖️ Weight: The weight affects its handling and striking power. Heavier variants can deliver more powerful blows, but they can also be more difficult to maneuver swiftly.
✊ Grip: Look for it with a secure and comfortable grip. This will make it easier to handle and reduce the risk of it slipping out of your hand during use. Some of them offer a foam or rubberized grip for added comfort and security.
🔒 Locking Mechanism: The locking mechanism is a critical feature to consider. It should reliably lock it in its extended and collapsed positions to prevent accidental retraction or expansion.
⚙️ Ease of Use: It should be easy to deploy and retract. Some models are designed to extend with a quick flick of the wrist and retract with a simple push of a button.
🎁 Accessories: Consider if you want any additional features like a glass breaker tip, a holster for carrying, or even an integrated flashlight.
🎓 Training: Keep in mind that while it can be a useful self-defense tool, it requires some skill to use effectively and responsibly. Consider seeking professional training to ensure you know how to use it properly.
Price and Manufacturer Reputation: Lastly, consider your budget and the reputation of the manufacturer. Look for brands that are known for their quality and reliability and that provide good customer service.
FAQ 📚
Conclusion 🏁
😉 In conclusion, this article provides a comprehensive guide to choosing the best expandable baton for self-defense or professional use. It highlights the benefits of these tools, such as their compactness, durability, and versatility, and the fact that they are legal to carry in many jurisdictions. The article also provides detailed reviews of 16 top-rated expandable batons, covering their features, pros, and cons.
It emphasizes the importance of considering factors such as material, locking mechanism, length, grip, and weight when making a purchase. However, the article also reminds readers to check the legality of carrying it in their specific location, as laws vary from state to state.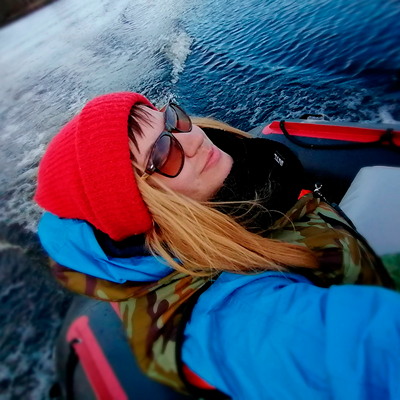 Olena Dubose
Traveler & Camping Expert
I was born in a family of experienced travelers and used to spend all my school breaks and long weekends camping and hiking around the most admirable places in Canada and sometimes United States. My dad used to be a soldier and always taught me how to survive during unpredictable circumstances. Like every other kid, I wasn't really interested in my parents' extreme lifestyle when I was little, but I can't imagine my life now without regular outdoor trips and extreme sports.
Thanks to my intense childhood and a few decades of experience I can now choose the best equipment for any adventure waiting for me to dive in. And after all, I have been through, I want to share my knowledge so more people could join an enjoyable and breathtaking trip to discovering magical nature around us. Forget about five-star hotels and treat yourself with thousands more in a cozy camping trip!
Read more
about our team
of expert authors.
Affiliate Disclosure: Rotorm.com sometimes gets paid for listings, through sponsors or affiliate programs like Amazon, Optics Planet, Lucky Gunner, Brownells, Cabelas, Rainier Arms, 5.11 Tactical, Bass Pro Shop, etс. Clicking a link helps keep Rotorm.com free, at no extra cost to you!
About the author: Each article on our site is written by experts in survival and tactical equipment, gun enthusiasts, extreme travelers, military, law enforcement and desperate professionals, read about the author at the bottom of the article or visit "About Us" page.
Note: The views and opinions expressed in this article are those of the authors and do not necessarily reflect the official policy or position of any agency.