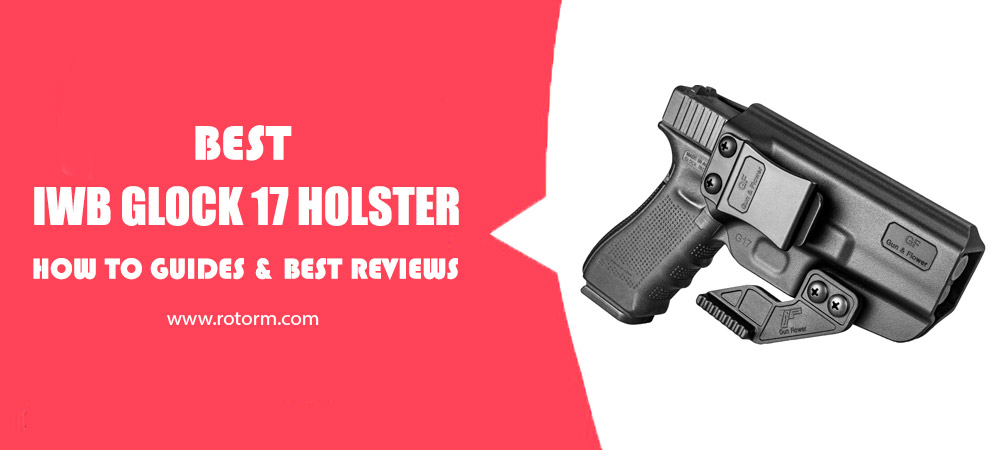 What is the IWB Glock 17 holster?🧐
It is a type of concealed carry holster designed to be worn inside the waistband of your pants or shorts. It is specifically designed to securely hold and conceal a Glock 17 handgun, which is a popular model of semi-automatic pistol made by Glock. It's important to choose an IWB holster that fits your pistol properly and suits your carrying preferences.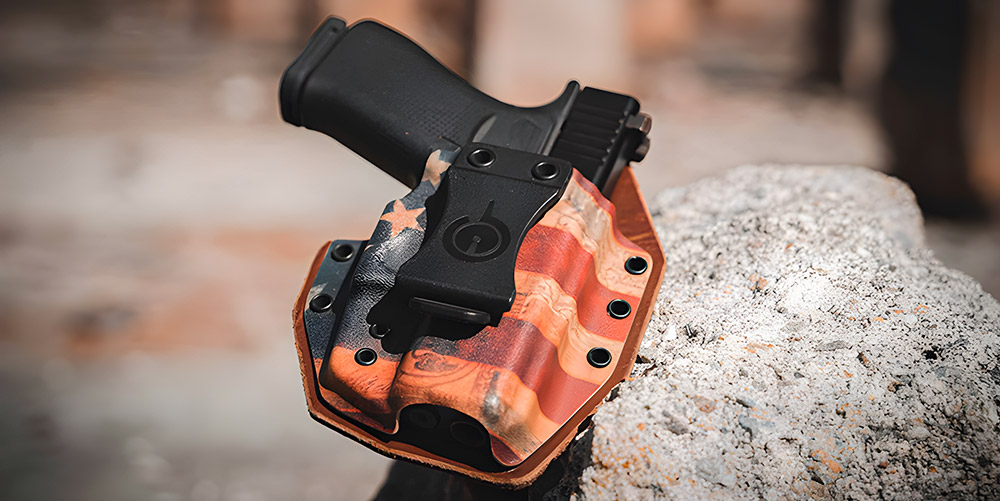 Features⌛️
An IWB (Inside the Waistband) holster for a Glock 17 should have several important features to ensure safe, secure, and comfortable concealed carry. Here are some key ones:
✅ Trigger Guard Coverage: The holster should completely cover the trigger guard of the Glock 17 to prevent accidental discharges and to keep the trigger protected.
✅ Retention System: Look for a retention system that securely holds the firearm in place but allows for a smooth and quick draw when needed. Common retention mechanisms include passive friction, adjustable screws, or retention straps.
✅ Concealment and Low Profile: The holster should be designed for effective concealment, minimizing printing (visible outline of the gun through clothing) to maintain a low profile when carrying concealed.
✅ Ambidextrous or Handedness: Ensure the holster is designed for your dominant hand, whether you're right-handed or left-handed. Some holsters are ambidextrous, allowing for both left and right-handed use.
✅ Sweat Guard: A sweat guard or body shield is a raised portion of the holster that separates the gun from your body, preventing sweat and moisture from reaching the firearm.
Our Top Pick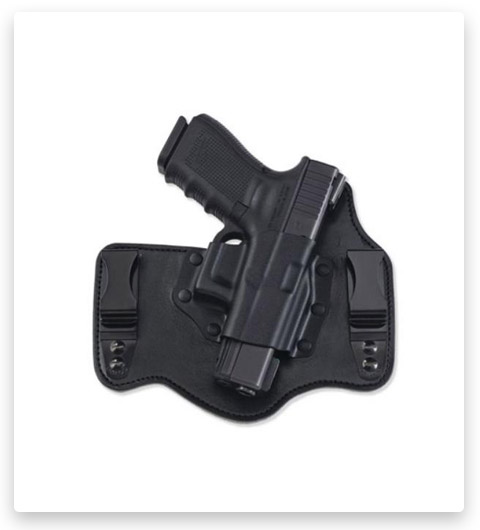 Galco Kingtuk IWB Leather Holster
Designed to be worn inside the waistband (IWB), this holster from Galco offers a high degree of flexibility. It boasts a comfortable backing plate crafted from lined saddle leather, combined with a Napa leather front. This blend of materials not only feels great against your skin but also provides durability and longevity. Inside, you'll find a rigid Kydex holster pocket that ensures a quick and smooth draw while allowing for easy holstering. The metal clips used for securing it to your belt are removable, allowing you to tailor your carry experience to your liking. This versatility is a significant advantage for those who value flexibility in their concealed carry setup.
Buy Now On OpticsPlanet
If you click this link and make a purchase, we earn a commission at no additional cost to you.
Benefits🤩
There are several benefits to using an IWB (Inside the Waistband) holster for carrying a Glock 17 or any similar handgun. Here are some of the advantages:
⭐️ One of the primary benefits is its ability to effectively conceal your firearm. When worn inside your pants or shorts, the gun is hidden from view, reducing the likelihood of alarming or offending others. This makes IWB holsters an excellent choice for concealed carry.
⭐️ Such holsters create a minimal profile, reducing the chances of printing (visible outline of the gun through clothing). This allows you to carry your Glock 17 discreetly without drawing unnecessary attention.
⭐️ Many holsters are designed with comfort in mind. They often have padded backing or materials that reduce irritation and discomfort when the holster contacts your body. This is especially important for daily carry, as it encourages consistent and comfortable use.
⭐️ Some IWB holsters feature retention mechanisms that produce an audible "click" when the firearm is fully seated. This tactile and audible confirmation provides peace of mind that the gun is securely holstered.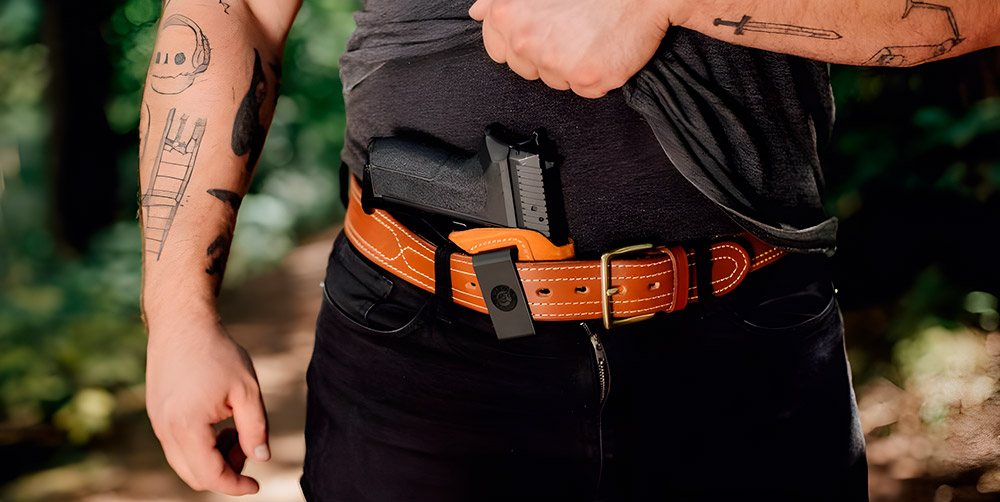 IWB holster belt clip options🔐
IWB (Inside the Waistband) holsters typically come with various belt clip options, allowing you to choose the one that suits your preferences and needs. Here are some common belt clip options:
| | |
| --- | --- |
| 🧩 Standard Belt Clips: | These are the most common belt clips found on IWB holsters. They are typically made of sturdy polymer or metal and are designed to securely attach to your belt. Standard clips come in different sizes and styles, including single-clip and dual-clip configurations. They are easy to use and offer a secure attachment to your belt. |
| 🧩 J-Clips: | They are designed to hook under your belt, providing a discreet and low-profile attachment. They help tuck the holster and firearm closer to your body, enhancing concealment. J-Clips can be a good option if you want minimal visibility of the holster. |
| 🧩 C-Clips: | Such clips, also known as "over the belt" clips, loop over the top of your belt, providing a secure attachment while minimizing the holster's visibility. They are often used for deep concealment, as they keep the holster and firearm tucked close to your body. |
| 🧩 Soft Loops: | They are flexible, and often made of durable nylon or similar materials. They are designed to secure the holster to your belt and can be adjusted to different belt widths. Soft loops are known for their stability and can provide a high level of retention, making them a popular choice for IWB holsters. |
| 🧩 Discreet Carry Clips: | Some holsters come with clips designed to look like common items such as cellphone cases or keychains. These discreet carry clips are intended to help conceal the fact that you're carrying a firearm. They can be a good choice for concealed carry in situations where you want to minimize attention. |
| 🧩 UltiClip: | It is a brand of versatile clips that can attach to various fabrics and materials, including clothing without a belt. They are designed to provide secure retention even without a traditional belt and are ideal for deep concealment or when you're not wearing a belt. |
| 🧩 Tuckable Clips:  | Such clips have an extra attachment point that allows you to tuck your shirt or garment between the clip and the holster, providing even better concealment. This option is useful when you need to wear a tucked-in shirt while carrying concealed. |
| 🧩 Adjustable Clips: | Some holsters come with clips that have adjustable cant (carry angle) and ride height settings. These allow you to fine-tune the holster's position and draw an angle to your liking. |
📌 When choosing an IWB holster with belt clip options, consider factors such as concealment, comfort, and ease of use. Experimenting with different clip types and configurations can help you find the most comfortable and effective setup for your concealed carry needs. Additionally, make sure the chosen clip is compatible with your belt width and style for a secure fit.
Best IWB Glock 17 Holster Reviews
1# Alien Gear Holsters Shapeshift Core Carry Pack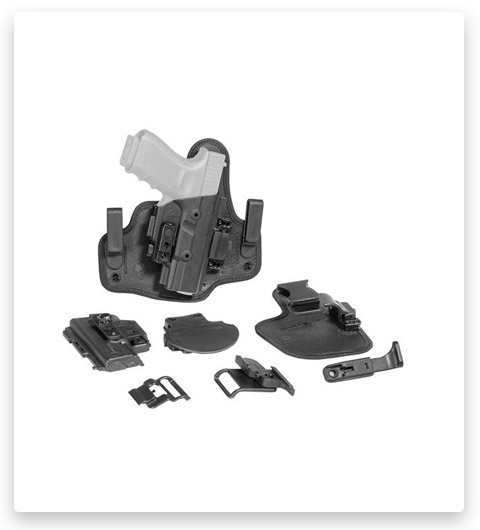 View on OpticsPlanet  View on Amazon
Need a versatile and concealable holster system? Notice the Alien Gear Holsters Shapeshift Core Carry Pack! This Modular Holster System went through two years of development and includes everything you need to carry in four distinct ways. In just a few quick steps, you can quickly transform the ShapeShift into an IWB holster, appendix carry holster, OWB belt slide, or OWB paddle holster. The Core Carry Pack also includes a bonus Holster Mount, so you can attach your ShapeShift to a variety of surfaces in seconds. Order yours today and experience the alien difference!
2# Alien Gear Cloak Tuck 3.5 IWB Holster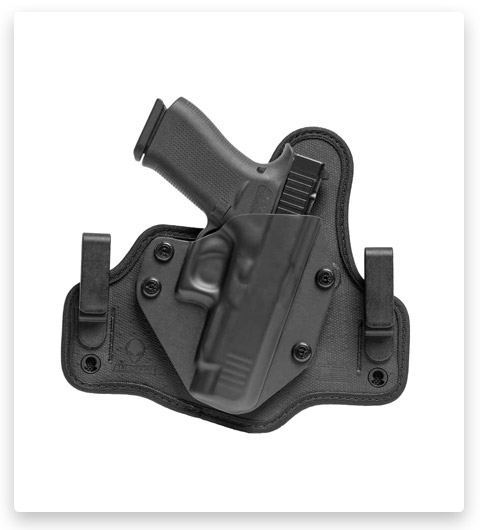 The Alien Gear Cloak Tuck 3.5 IWB Holster is the best way to conceal your firearm while still being comfortable. Using this product, our team found that the neoprene backing is soft and flexible, yet retains its shape for easy reholstering. The material is also sweat-wicking and breathable, reducing irritation when worn for extended periods. The simple design is made with high-quality materials and craftsmanship. The Alien Gear Iron Clad program guarantees you a holster for life.
3# Alien Gear Holsters ShapeShift Appendix Carry Holster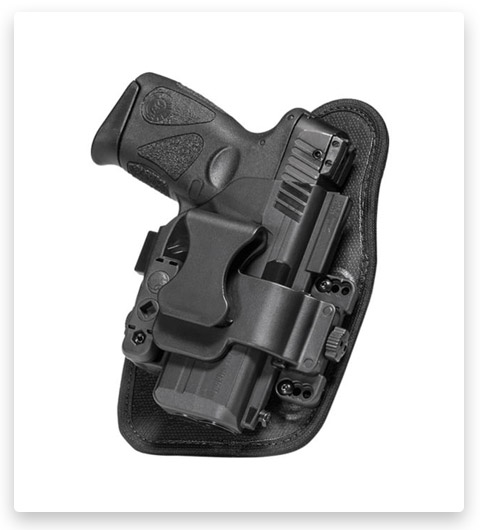 Introducing the Alien Gear Holsters ShapeShift Appendix Carry Holster. This holster is crafted from breathable perforated neoprene and conforms to your body for a comfortable carry experience. The optional thumb release ensures that your firearm stays in your hands only while also allowing for swift draws when you need them most. Best of all, this holster is fully compatible with this holster system so that you can swap out your holster for a different style of carry. Don't settle for anything less – choose it just now!
4# Galco Triton Kydex IWB Holster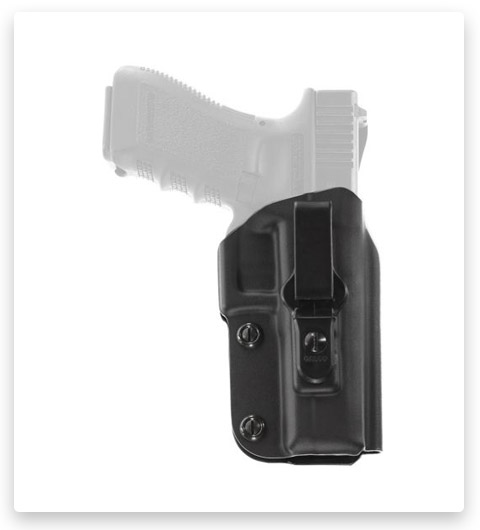 View on OpticsPlanet  View on Amazon
The Galco Triton Kydex IWB Handgun Holster by the product engineers at Galco is constructed of a Kydex triton material that is virtually maintenance-free. It has a firm body that allows a smooth and easy return to the holster after a draw. The raised sweat guard on this Galco Holster protects your firearm from corrosive perspiration and your hand from hard steel. The belt clip on this holster offers quick on-and-off capabilities. With its sleek design and simple functionality, this holster will make it easy for you to keep your gun close at hand without drawing any unwanted attention.
5# Galco Kingtuk Air IWB Holster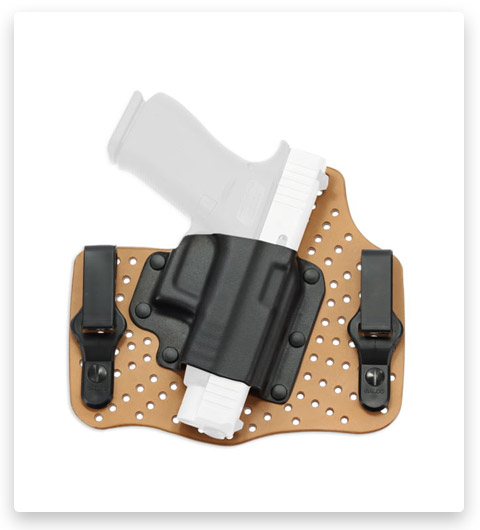 View on OpticsPlanet  View on Amazon
The Galco Kingtuk Air IWB Holster is the holster for those who are searching for a great fit, comfort, and concealment. The hybrid Kydex/premium steer hide construction is ventilated to allow airflow and cool your body. It also features their patent-pending polymer UniClip and Ultimate Stealth clips, which provide excellent concealment, stability, and ease of on/off capability. These clips can be moved up or down in the corresponding holes in the leather, enabling the user to set the carry height and angle to suit their preferences.
6# Galco Kingtuk IWB Leather Holster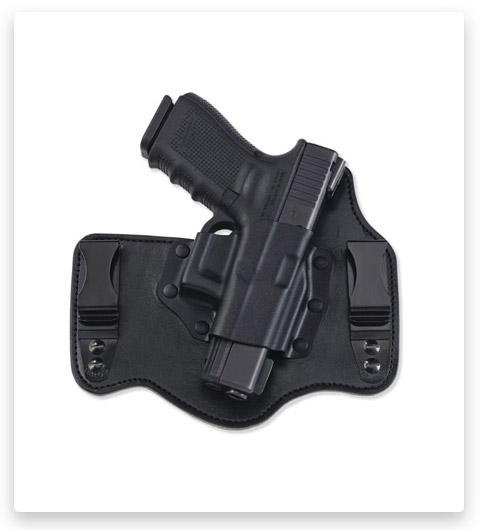 View on OpticsPlanet  View on Amazon
Presenting the Galco Kingtuk IWB Sidearm Holster. It is top-of-the-line for comfort, speed, and versatility. As a result of using this product, we found that this hybrid IWB holster is made of premium steer hide and Kydex for a fast draw and easy holstering. The Kingtuk has metal clips that are removable so you can customize your holster. For a great way to make sure you can blend into a crowd, choose this handgun holster.
7# Galco Tuck-N-Go 2.0 Strongside/Crossdraw IWB Holster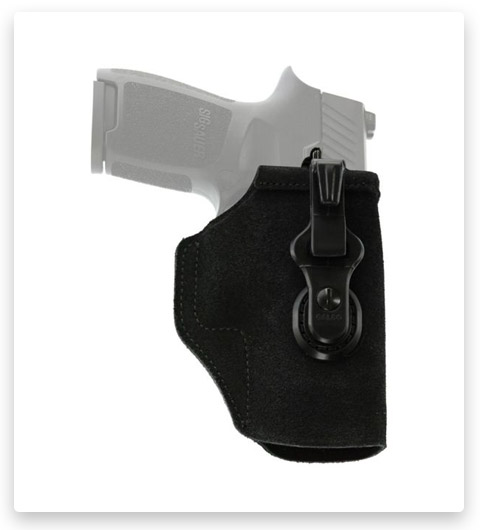 The Galco Tuck-N-Go 2.0 IWB Holster is an excellent option for those who need deep concealment and a fast draw. The open-top design and reinforced mouth offer speed and precision, while the patented Gen III J-Hook provides a secure and streamlined attachment. This holster is made from premium center-cut steer hide for comfort and durability. Whether you're working undercover or just want to keep a low profile, this holster is the best choice. Don't wait – order it just now!
8# Galco Underwraps Belly Band 2.0 IWB Holsters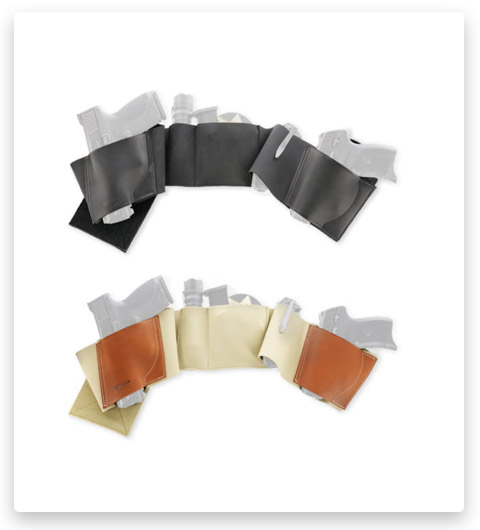 View on OpticsPlanet  View on Amazon
Want to find a versatile and comfortable way to concealed carry? Notice the Galco Underwraps Belly Band 2.0 IWB Holsters. This updated take on the traditional belly band allows you to carry multiple weapons and accessories in an infinite variety of configurations. The UnderWraps also enables you to make instant additions and changes to your carry rig, making it the perfect choice for both everyday carry and tactical applications. Made from premium leather, this belly band is comfortable to wear all day long and will stand up to the rigors of daily use.
9# Concealment Express IWB Kydex Claw Compatible Holster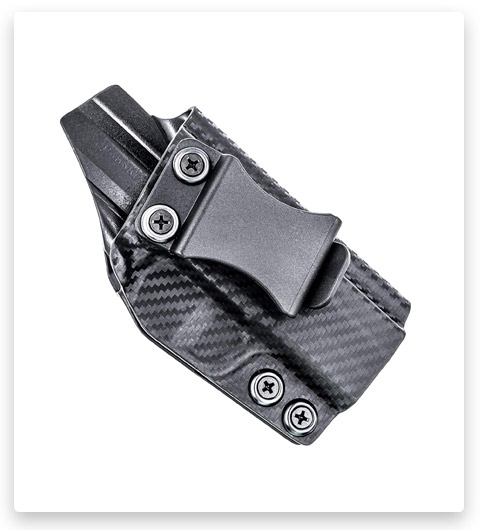 Concealment Express IWB Kydex Claw Compatible Holster is the best available choice for those who want both comfort and safety. It has an easily adjustable retention pressure and carries an angle (cant). Our findings show that the material used is .08 inch Kydex for a perfect custom-molded fit and it weighs only 2.5 oz. The holster also has a Posi Click Audible Retention Lock System and an integrated full-length sweat guard. Black oxide-treated hardware w/threadlock is used for durability and comfort.
10# Concealment Express OWB Kydex Belt Loop Holster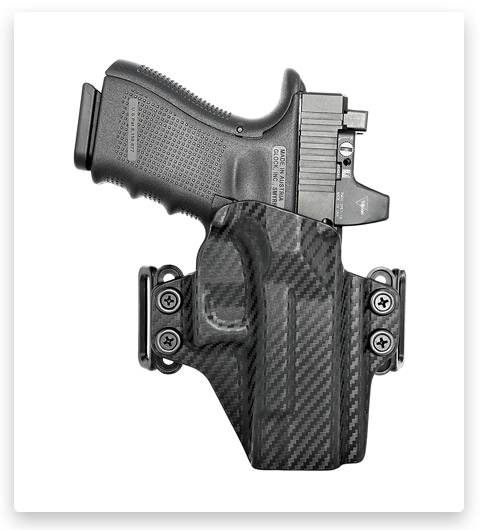 Do you want a compact, lightweight holster that doesn't sacrifice durability or retention? Check out the OWB Belt Loop Holster from Concealment Express. The proprietary belt loop design allows for a more comfortable carry, while precision aluminum molds provide a consistent, fit and uniformity of features. This holster is also slide-mounted optics / MOS / RMR / Red Dot Compatible, making it a versatile option for those who want to be able to utilize different types of optics on their gun. So whether you need a concealable option for daily carry or a versatile holster for the range, this holster from Concealment Express is a good choice!
11# Gun & Flower IWB Kydex Holsters with Claw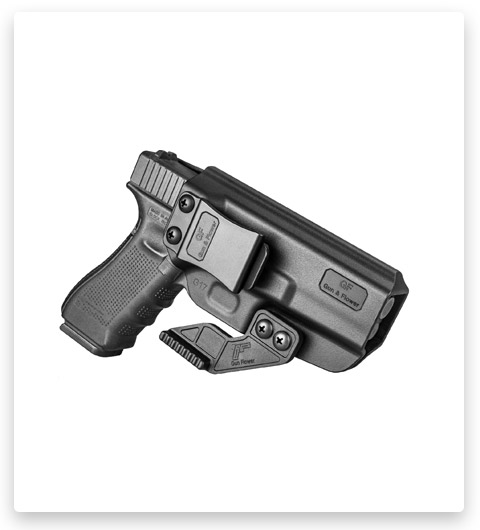 The Gun & Flower IWB Kydex Holster with Claw is made from high-quality Kydex, this holster features a claw that helps to conceal the gun better by pressing against the belt. The aluminum molds provide exceptional consistency and accuracy, while the hard-shell exterior protects your gun from scratches and scuffs. The trigger is completely covered by the holster, and there is no chance of accidentally pulling the trigger. The audible click feedback lets you know that your gun is securely in place.
12# L.A.G. Tactical Defender Holster
View on OpticsPlanet  View on Amazon
The LAG Tactical Defender IWB/OWB Holster is the most popular model and is perfect for those who want maximum flexibility in their carry options. These holsters have interchangeable belt loops so you can quickly and easily convert from the outside (OWB) waistband to the inside (IWB). It is made of a lightweight and durable Kydex with adjustable retention. It is also compatible with the MOLLE backplate, making it even more versatile for different carry options.
13# L.A.G. Tactical Appendix MK II IWB Holster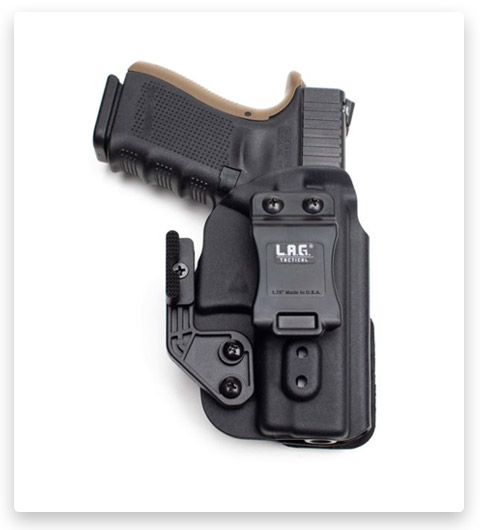 The L.A.G. Tactical Appendix MK II IWB Holster is the perfect option for those who prefer the appendix carry. As a result of using this product, we found that his pressure-formed and CNC cut holster was designed in CAD and released just this year. Choose this appendix holster for a reliable, durable, and concealable option. Say goodbye to complicated jobs and hello to the simplicity and quality of this appendix IWB holster!
14# FDO Industries The Paladin IWB Kydex Holster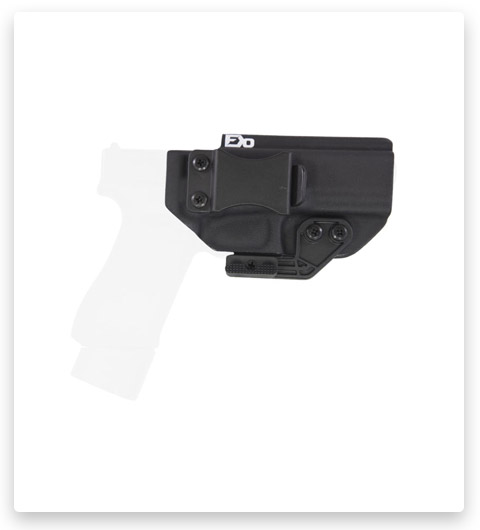 Introducing the Paladin IWB Kydex Holster from FDO Industries. This concealment solution is comfortable, affordable, and high in quality, making it the perfect choice for responsible gun owners who take concealed carry seriously. The Paladin features an add-on "claw" that pushes against your belt, causing the handle of your gun to press closer to you. Made from tough Kydex material, this holster is built to last and will quickly become a part of your everyday carry setup. So don't wait any longer, order your Kydex holster today!
15# Relentless Tactical The Defender Leather IWB Holster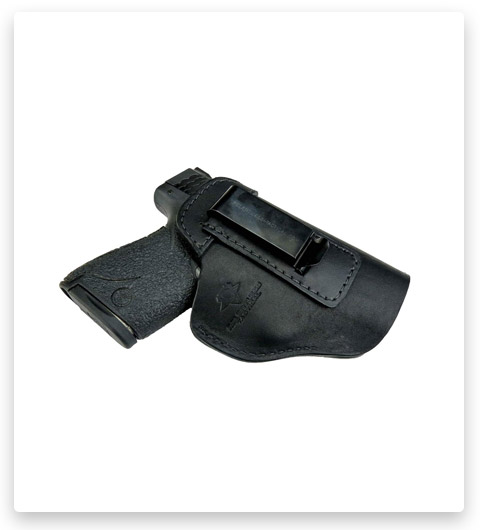 The Defender Leather IWB Holster offers unbeatable American craftsmanship, blending function, comfort, and durability. Our research has shown that hand-made from genuine bull hide leather, it is the top choice for carrying your concealed firearm "inside the waistband". With its comfortable form-fit and maximum protection, this holster lets you go about your day with ease and peace of mind, knowing that your firearms are secure. Don't settle for knock-offs – trust this IWB holster to provide years of dependable service.
16# C&G Holsters IWB Tactical Holster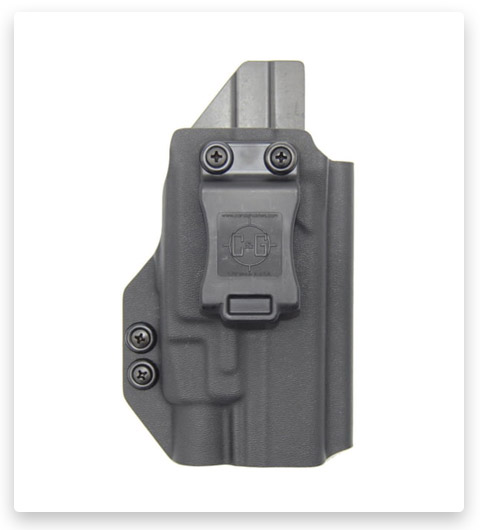 Want to buy the perfect holster for concealed carry? The C&G Holsters IWB Tactical Holster is just for it. Made from proprietary molds and CNC milled for precision, this holster provides a level of comfort and concealment that you have never experienced before. The solid locking retention system keeps your gun securely in place, while the open bottom design accommodates threaded barrels and compensators. The NTOA-tested and recommended holster is also designed to fit any red dot sight on the market today, making it the perfect choice for any shooter.
17# Raven Concealment Eidolon Holster Kit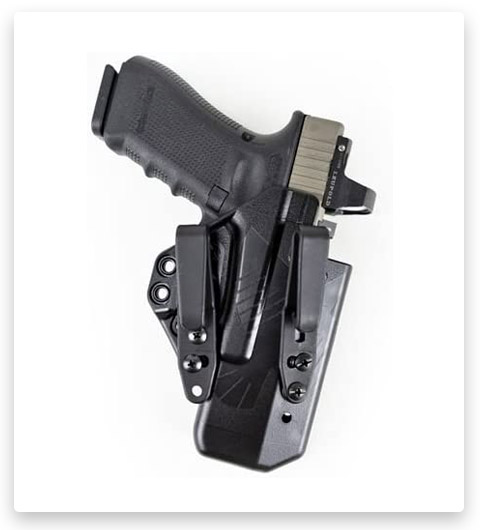 View on OpticsPlanet  View on Amazon
The Raven Concealment Eidolon Holster Kit is the culmination of over three years of design and development. Based on our experience it is designed to be the most refined and functional inside-the-waistband holster on the market. At the core of the Eidolon is the holster shell. At the same time, the shell provides attachment points for a host of accessories to allow the user to tailor the holster for their specific carry needs. Don't settle for less than the best, pick up this holster kit today!
Conceal carry tips for beginners💡
Concealed carry is a significant responsibility that comes with legal, ethical, and safety considerations. If you are a beginner looking to carry a concealed firearm, here are some crucial tips to keep in mind:
✴️

Know the Law

: Understand the concealed carry laws and regulations in your state or jurisdiction. Laws can vary significantly from one place to another, so it's essential to be aware of local requirements, permit processes, and restrictions.
✴️

Choose the Right Firearm

: Select a firearm that you can comfortably and safely handle. Consider factors such as size, caliber, capacity, and reliability. Spend time at a shooting range to test different options and find the one that suits you best.
✴️

Select an Appropriate Holster

: Invest in a high-quality holster designed for your specific firearm. The holster should provide secure retention, trigger guard coverage, and comfort. The type of holster (IWB, OWB, shoulder, etc.) should also match your carry style and clothing choices.
✴️

Practice Regularly

: Regular practice is crucial for proficiency and confidence in using your firearm. Familiarize yourself with the operation of your gun and practice drawing, aiming, and firing safely at a range.
✴️

Maintain Firearm Safety

: Always treat your firearm as if it's loaded, even when you know it isn't. Keep your finger off the trigger until you're ready to fire. Follow the four primary firearm safety rules: treat every firearm as if it's loaded, never point a firearm at anything you don't intend to shoot, keep your finger off the trigger until you're ready to fire, and know your target and what lies beyond it.
✴️

Practice Situational Awareness

: Stay aware of your surroundings at all times. Avoid potentially dangerous situations when possible, and be prepared to react if you perceive a threat. Avoid distractions, such as smartphones, when in public spaces.
✴️

Carry Spare Ammunition

: Consider carrying spare magazines or speed loaders to ensure you have an adequate supply of ammunition in case of an extended confrontation or a malfunction.
✴️

Stay Informed

: Keep up to date with changes in firearms laws and concealed carry regulations in your area. Laws can change, so it's essential to stay informed.
✴️

Maintain Concealment

: Ensure your firearm remains concealed at all times. Avoid "printing" (visible outline of the gun through clothing), and be mindful of your movements to prevent accidental exposure.
❗ Remember that concealed carry comes with the responsibility to prioritize safety, legality, and ethical considerations. Regular training and a commitment to responsible firearm ownership are essential for anyone carrying a concealed weapon.
FAQ🤓
Conclusion🙂
The IWB Glock 17 holster is a great choice for concealed carry. It is comfortable to wear and easy to access. There are many different types available, so it is important to do your research before making a purchase. We have provided some helpful tips and reviews in this article to make the process easier for you. Make sure to consider all of your needs before selecting a holster, as this will be one of the most important decisions you make about your firearm. Thanks for reading!🥰❤️‍🔥
Affiliate Disclosure: Rotorm.com sometimes gets paid for listings, through sponsors or affiliate programs like Amazon, Optics Planet, Lucky Gunner, Brownells, Cabelas, Rainier Arms, 5.11 Tactical, Bass Pro Shop, etс. Clicking a link helps keep Rotorm.com free, at no extra cost to you!
About the author: Each article on our site is written by experts in survival and tactical equipment, gun enthusiasts, extreme travelers, military, law enforcement and desperate professionals, read about the author at the bottom of the article or visit "About Us" page.
Note: The views and opinions expressed in this article are those of the authors and do not necessarily reflect the official policy or position of any agency.