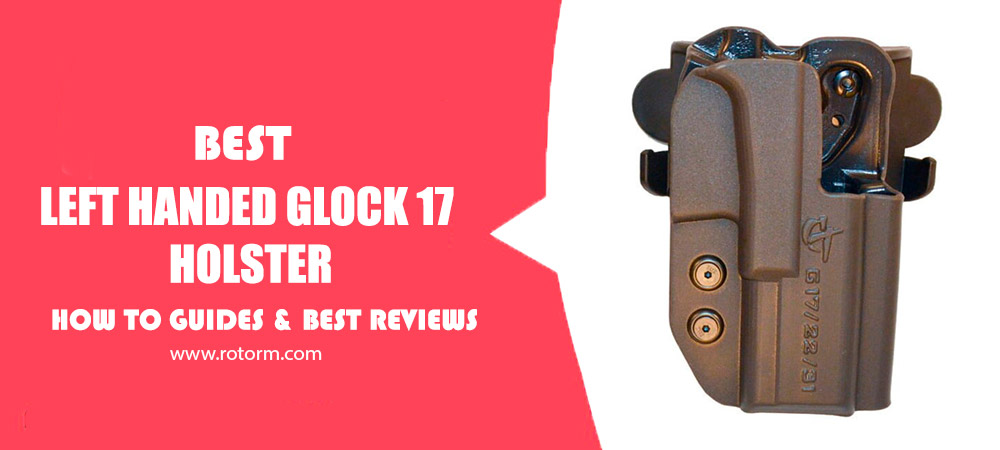 What is the left-handed holster for Glock 17? 🧐
It is a specialized carrying accessory designed specifically for individuals who are left-handed and wish to carry a Glock 17 pistol. It may have different orientations, features, and materials to suit the preferences and needs of left-handed individuals and come in various styles, such as inside-the-waistband (IWB) holsters, outside-the-waistband (OWB) holsters, shoulder holsters, and more.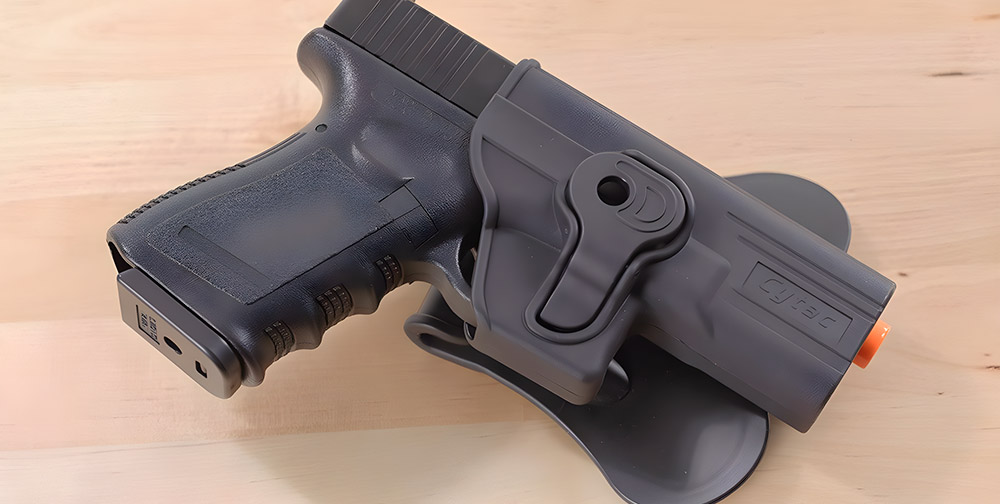 Features 🧩
The features of a left-handed holster for a Glock 17 can vary based on the specific design and brand, but here are some common features you might find:
🔶 Molded Fit: A good left-handed holster will be molded to precisely fit the Glock 17. This ensures a secure fit, and proper retention, and prevents the pistol from moving around or falling out unintentionally.
🔶 Trigger Guard Coverage: The holster should cover the trigger guard area completely to prevent accidental discharges while the pistol is holstered.
🔶 Retention Mechanism: Many holsters have retention mechanisms to keep the firearm securely in place. This could be in the form of friction, adjustable screws, thumb breaks, or other retention devices.
🔶 Belt Attachment: The holster should have a method for attaching it to a belt. This could be in the form of belt loops, clips, paddles, or other mechanisms. The attachment method should securely hold the holster in place during movement.
🔶 Adjustability: Some holsters offer adjustable cant (the angle at which the pistol is carried), allowing the user to customize the draw angle to their preference.
Our Top Pick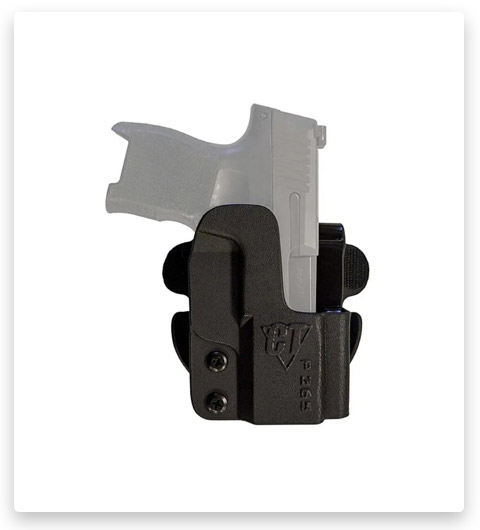 Comp-Tac Paddle Outside The Waistband Holster
Crafted from Kydex, these holsters are tailor-made for IDPA, USPSA, and IPSC competitions, ensuring they meet all the requirements for these events. Re-holstering your handgun becomes a breeze thanks to this feature. Additionally, the holster's construction showcases two tabs that curve forward, securely gripping the base of your belt. This ensures consistent and reliable positioning each time you wear it. One of the standout qualities of this holster is its unwavering structure. Even when your pistol is drawn, the holster maintains its shape without faltering. This is a testament to its robust build and the attention to detail in its crafting. Its versatility, dependable design, and performance-driven features make it a solid choice for various shooting applications.
Buy Now On OpticsPlanet
If you click this link and make a purchase, we earn a commission at no additional cost to you.
Benefits 🤩
Using a left-handed holster for a Glock 17 offers several benefits for left-handed individuals who carry firearms:
⭐️ Such a holster is designed to be worn on the left side of the body, allowing left-handed individuals to access their pistols more easily with their dominant hand.
⭐️ Using a holster designed for the non-dominant hand ensures a more comfortable and ergonomic carry experience. The holster will be positioned in a way that aligns with the natural movement and positioning of the left hand.
⭐️ For left-handed individuals, using this holster can potentially lead to faster response times in self-defense scenarios. The pistol is readily accessible and can be drawn more efficiently compared to using a holster designed for the opposite hand.
⭐️ A well-designed left-handed holster provides proper retention and security for the Glock 17. The firearm will be held securely in place, preventing accidental dislodging or unauthorized access.
Tips on picking a holster 💡
Picking the right holster is crucial for comfortable, safe, and effective concealed carry. Here are some tips to help you choose the right holster for your needs:
🔰 Firearm Compatibility: Ensure the holster is specifically designed to fit your firearm model, in this case, the Glock 17. A proper fit is essential for safety and retention.
🔰 Carry Method: Decide on your preferred carry method – inside-the-waistband (IWB), outside-the-waistband (OWB), shoulder holster, ankle holster, etc. Choose a method that suits your lifestyle, clothing choices, and comfort.
🔰 Retention Level: Consider the level of retention you're comfortable with. Different holsters offer varying levels of retention, from passive friction to active retention mechanisms like thumb breaks or trigger guard locks.
🔰 Concealment: If discreet carry is important to you, choose a holster that offers good concealment. IWB holsters often provide better concealment compared to OWB holsters.
🔰 Comfort: A comfortable holster is more likely to be worn consistently. Look for features like padded backings, ergonomic designs, and materials that won't cause discomfort during extended wear.
🔰 Adjustability: Look for holsters with adjustable features like cant (angle), ride height, and retention. These features allow you to customize the holster's position and draw to your preference.
🔰 Material: Holsters are made from materials like leather, Kydex, nylon, and hybrid combinations. Each material has its pros and cons in terms of durability, retention, and comfort.
🔰 Try Before You Buy: Whenever possible, try out different holsters before making a decision. This can involve borrowing from friends, visiting a local gun store, or attending shooting events where you can test different setups.
🔰 Budget: Holsters come in a wide price range. While quality is important, you can find reliable holsters within various budget constraints.
📌 Remember that finding the perfect holster may take some trial and error. What works well for one person might not work for another due to differences in body shape, preferences, and carry styles. Take your time, do your research, and prioritize safety and comfort when making your selection.
Best Left Handed Glock 17 Holster Review
1# Comp-Tac International Outside The Waistband Holster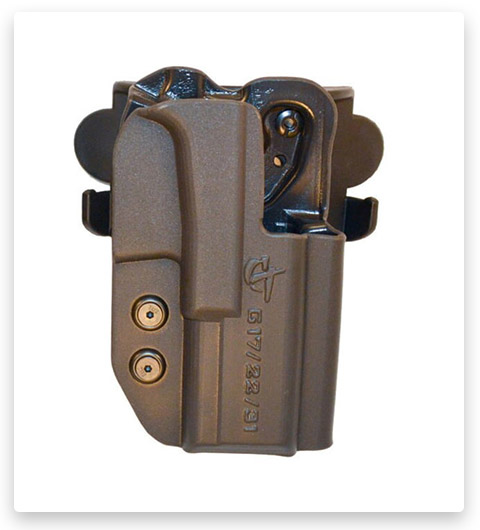 The Comp-Tac International Outside The Waistband holster is a top-quality holster perfect for competitive shooting sports. It is made of durable Kydex material and features adjustable cant and belt width for a custom fit. Because of our knowledge gained through practice, the retention adjustment allows you to tighten or loosen the hold on your firearm as needed. Don't wait any longer – order this holster just now!
2# Comp-Tac Paddle Outside The Waistband Holster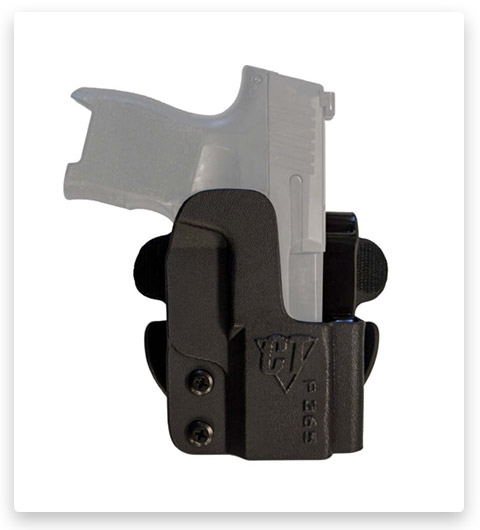 If you're searching for an edge in your next shooting competition, the Comp-Tac Paddle Outside the Waistband Holster is a great option. With its low-friction surface, this holster provides smooth, fast draws while allowing you to easily re-holster your handgun. The rigid construction means this holster always holds its shape, even when your pistol is unholstered. Plus, the two forward curving tabs grip the bottom of your belt, stabilizing the holster for reliable positioning with every wear. So get this holster and gain the advantage you need to come out on top.
3# Galco Kingtuk IWB Holster
View on OpticsPlanet View on Brownells
The Galco Kingtuk IWB Holster is a top-of-the-line concealment holster made from premium materials. It features a hybrid Kydex/premium steer hide construction for durability and long-lasting wear. Based on our experience the holster is lined with premium center-cut steer hide for a comfortable fit and has a tuckable design with polymer belt clips for easy attachment. The raised sweat guard protects the pistol and wearer from perspiration and the Kydex pocket allows for easy holstering. The 1.5″ UniClips and Ultimate Stealth clips are included for added convenience.
4# Galco Miami Classic Shoulder Handgun Holster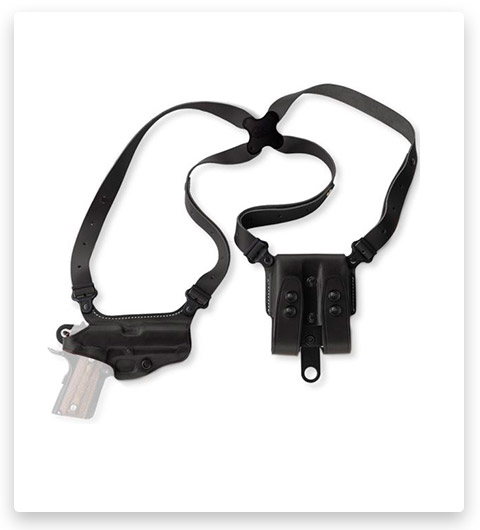 The Galco Miami Classic Shoulder Handgun Holster is a high-quality holster made from premium leather. It features a horizontal double magazine carrier with an open front and a set of system screws, an ammo carrier, a harness, and a holster. The finish is plain, and the holster is made for concealment. It weighs 1.5 oz. Say goodbye to complicated jobs and hello to the simplicity and quality of this shoulder holster!
5# Alien Gear Holsters Shapeshift Core Carry Pack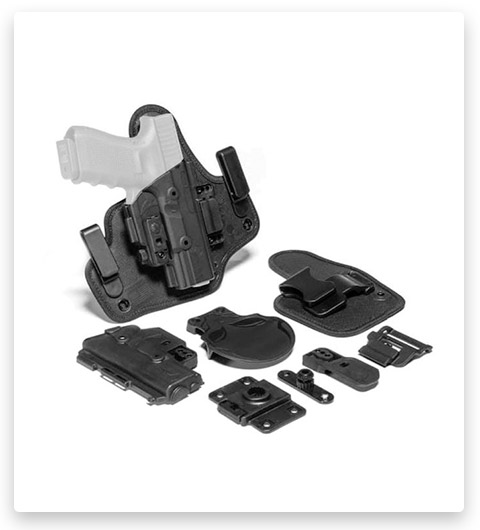 If you want a sturdy, easily hidden holster for your everyday carry needs, look at the ShapeShift Modular Holster System. This innovative system includes everything you need to carry in four distinct ways, quickly and easily transforming from one holster type to another. This carry pack is the foundation of the system and includes an IWB holster, appendix carry holster, OWB belt slide, and OWB paddle holster, along with a bonus Holster Mount. As our tests have shown each method is designed for maximum comfort and concealability so that you can carry with confidence knowing your weapon is secure and out of sight. With two years of development behind it, the ShapeShift Modular Holster System is the most versatile and user-friendly carrying solution on the market. Get your hands on one today and experience the difference!
6# Fobus LH Paddle Holster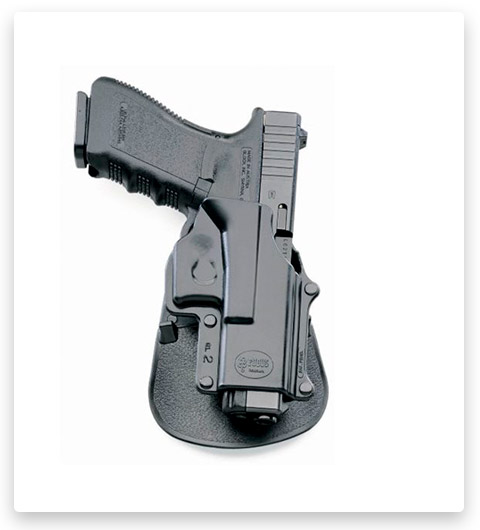 View on OpticsPlanet View on Amazon
The Fobus Glock 17, 19, 22, 23, 31, 32, 34, 35, Walther PK 380 LH Paddle Holster is the perfect concealment holster for your Glock pistol. With its one-piece body construction and steel-reinforced rivet attachment system, this holster is built for strength and durability. The retention adjustment screw allows you to select the perfect presentation for your needs, while the rubberized paddle insert provides comfort and stability. The sight channel protects your gun's sights from being damaged, and the open-top design allows for quick and easy access to your firearm.
7# Rounded Glock Tuckable IWB Kydex Holster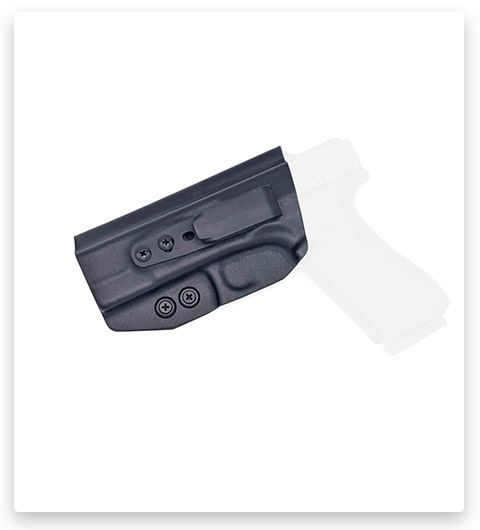 The Rounded Glock Tuckable IWB Kydex Holster is the perfect way to concealed carry your Glock. The tuckable design allows you to tuck in your shirt while carrying, and the adjustable cant and ride height let you customize the fit for maximum comfort. Using this product, our team found that the Posi-Click retention system ensures a secure fit, and the full-length sweat guard protects your gun from moisture. The all-black oxide steel hardware is durable and subject to our lifetime warranty, making this holster a great choice for any Glock owner.
8# Concealment Express IWB Kydex Holster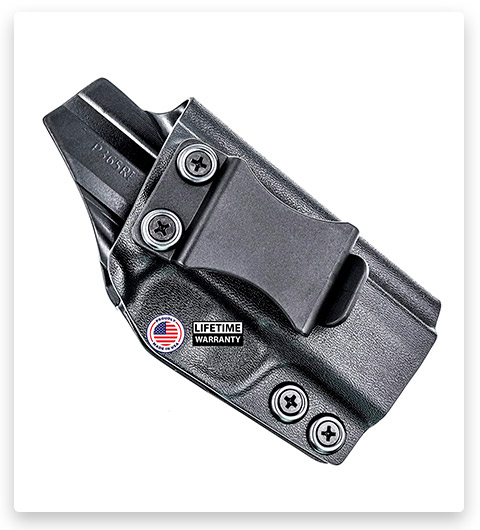 The Concealment Express IWB Kydex Holster is the perfect option for those who are looking for a concealable, easily adjustable holster. Made from .08″ Kydex, this holster is custom molded to fit your 1911 4.25″ Commander perfectly. The Posi 'Click' Audible Retention Lock System ensures that your gun is securely in place, while the integrated full-length sweat guard protects your gun from body moisture. Black oxide-treated hardware and a thread lock provide durability and security, while the 1.5″ fiber-reinforced stealth ABS belt clip ensures that your holster stays in place when you need it most. For an added level of security, this holster is also claw-compatible. at only 2.5 ounces, this holster is lightweight and easy to carry, making it the perfect option for concealed carry.
9# Gould & Goodrich Three-Slot Pancake Concealment Holster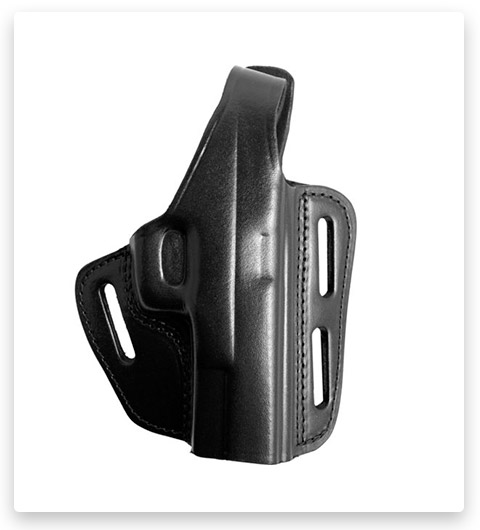 Gould & Goodrich's Three Slot Pancake Concealment Holster is an excellent choice for those who need a reliable and well-crafted holster that will allow them to hide their handgun with ease. After we tested it in practice this holster is made from high-quality leather and features deep-definition molding for a precise fit. It also has a belt loop/snap width of 1.75 inches, making it compatible with most belts. Whether you're carrying your handgun for self-defense or simply want the option of concealed carry, this holster is a great option.
10# Gould & Goodrich Shoulder Concealment Holster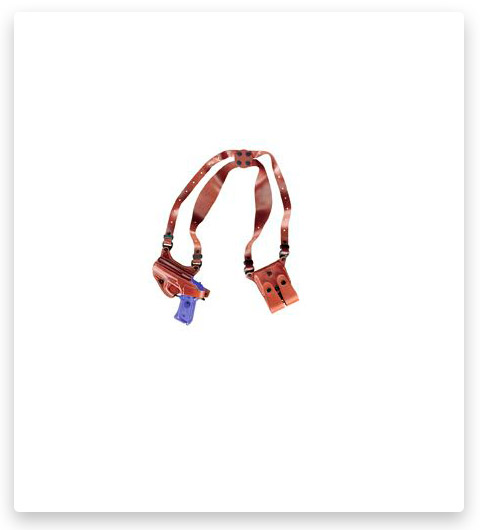 The Gould & Goodrich Shoulder Concealment Holster is a top-of-the-line holster made from genuine leather. This horizontal-style holster is double-stitched for durability and has a thumb break for added security. The straps are fully adjustable and lay flat against your body for concealment. Don't miss the opportunity to get an excellent performance – order this shoulder holster just now!
11# DeSantis Thumb Break Mini Slide Leather Belt Holsters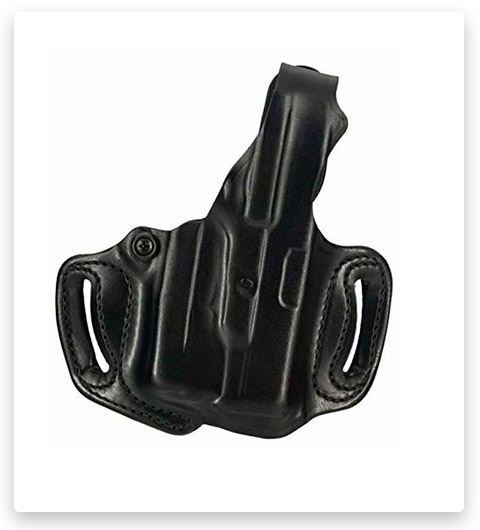 This holster is the perfect way to carry your concealed firearm. The ultra-low-profile design ensures easy access to your pistol, and the automatic retention system keeps your gun secure. As a result of our tests, we determined that this holster is made from premium leather for a durable, rugged construction that will withstand all conditions. The highly detailed design ensures a comfortable fit all day long. Build your ideal gun-carrying system with the DeSantis Thumb Break Mini Slide Belt Holster.
12# DeSantis New York Undercover Rig Shoulder Leather Holster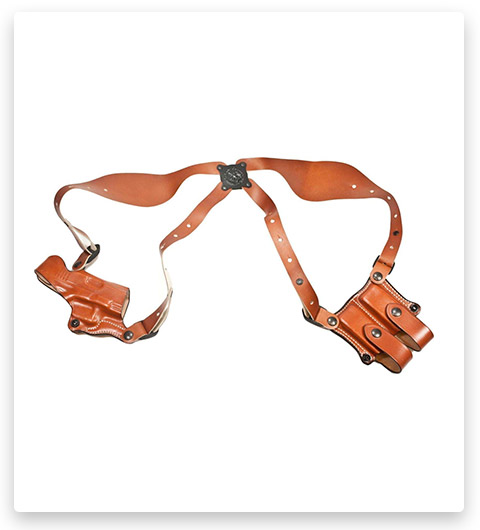 The DeSantis New York Undercover Rig Shoulder Leather Holster is a reliable and durable product that has been on the market for decades. It is made from top-grain cowhide and is designed to fit a variety of different firearms. The holster is shipped fully assembled with a double ammo carrier, and additional accessories are available separately. This shoulder holster is comfortable to wear and will fit up to 54 chests. It is available in black or tan unlined leather. Don't wait – order this holster just now!
13# BlackHawk T-Series L2C Compact Holster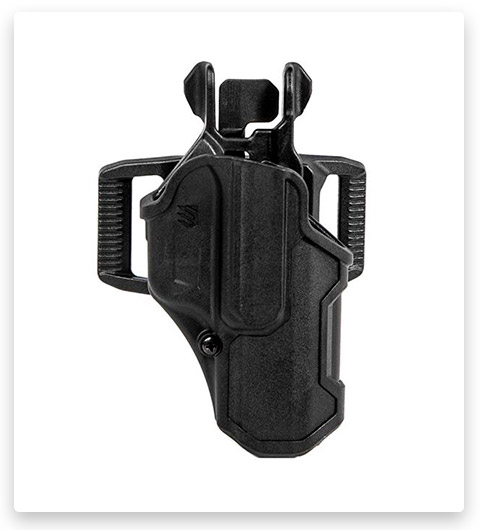 The BlackHawk T-Series L2C Compact Holster is a top choice for law enforcement and military personnel who need a dependable and discreet way to carry their sidearm. This holster features thumb-activated retention, which follows the Master Grip Principle for the quick and secure drawing of your weapon. Based on our observations the low-friction internal material ensures a smooth and effortless draw, while the sound-dampening lining provides stealth when drawing and holstering. The durable material protects your weapon while still providing a sleek design that minimizes bulk.
14# BlackHawk Sepra Level 3 Duty Holster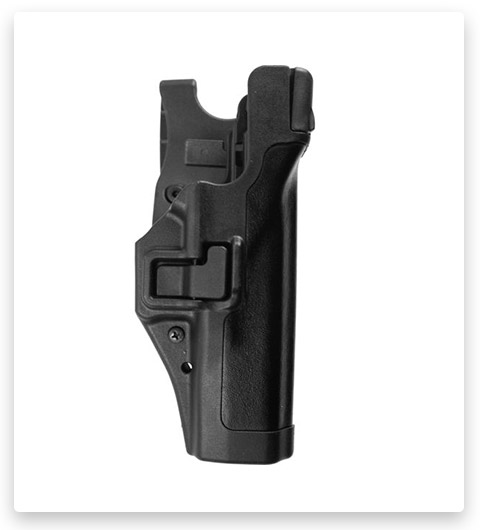 The BlackHawk Sepra Level 3 Duty Holster is the latest and greatest in concealable, high-performance holsters. The Sepra Auto-Lock technology ensures a fast and secure draw, while the passive retention detent adjustment screw guarantees a perfect fit for your firearm. The thumb-activated Pivot Guard adds an extra level of security, and the full-length holster body protects your rear sights. The mid-ride duty Belt loop and high-ride duty belt loop are also available (sold separately), making this the most versatile and user-friendly duty holster on the market. Fits all Blackhawk injection-molded firearms.
15# Safariland Model 6304RDS ALS/SLS Drop Leg Holster
The Safariland 6304RDS drop leg holster is specifically designed for firearms with red dot sights mounted to them. This holster features the Automatic Locking System (ALS), which locks the weapon in all directions upon holstering. The ALS is operable with the thumb, and the weapon can be drawn straight out of the holster with no twisting required. According to our experience, additional retention is achieved when used with the SLS rotating hood. This model also features the quick-release double-leg strap for low-profile carry. The suede lining helps protect the gun's sights and finish.
16# Safariland Model 578 7TS GLS Pro-Fit Glock Holster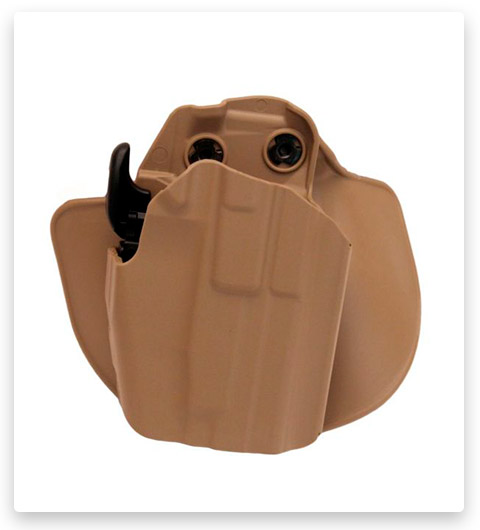 If you're looking for a holster that is both concealable and easily accessible, then the Safariland Model 578 7TS GLS Pro-Fit Glock Holster is the ideal option. The GLS (Grip Lock System) secures your weapon once it is holstered, and the retention is deactivated with the middle finger upon a standard shooting grip on the weapon. The low-cut and compact design makes concealment easy while also allowing for a quick draw. The injection-molded paddle design is highly concealable and comfortable for extended wear.
17# Safariland Model 6360 ALS/SLS Mid-Ride Duty Holster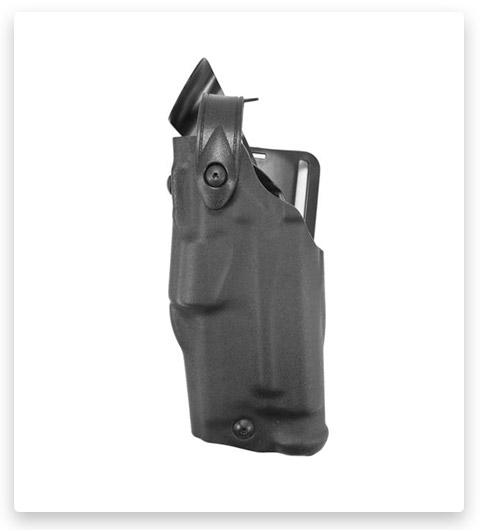 The Safariland Model 6360 ALS/SLS Mid-Ride Duty Holster is the perfect choice for those who demand the utmost in security and comfort. Constructed of durable SafariLaminate and lined with suede, this holster provides level III retention thanks to the ALS (Automatic Locking System) and SLS (Self Locking System). Our research has shown that the rotating hood and tension device offer added security, while the mid-ride belt loop ensures a snug and comfortable fit. For even more peace of mind, the optional Sentry attachment can be used to upgrade the 6360 to level IV retention.
18# UM Tactical IWB Carbon Holster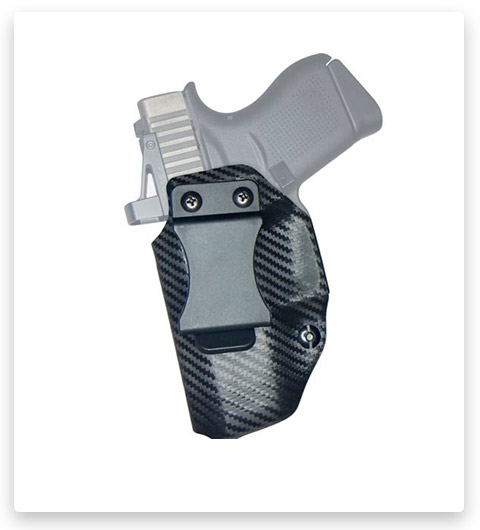 This holster is the perfect choice for those who are searching for a high-quality, durable, and comfortable holster. Made of Boltaron, this holster is built to last and can withstand even the most extreme temperatures. With an adjustable cant of 0-15 degrees, you can customize the fit of your holster to your specific needs. With unmatched quality control and form, the UM Tactical IWB Holster is the only choice for serious shooters. This quality-made holster is an awesome choice for your needs!
⚙️ How to set up a holster? ⚙️
Setting up a holster for left-handed shooters involves configuring the holster and its attachments in a way that facilitates a safe, comfortable, and efficient draw using the left hand. Here's how you can set up a holster for left-handed shooters:
☑️

Choose the Right Holster

:
Ensure you have a holster designed specifically for left-handed shooters. The holster should be molded or designed to fit your Glock 17 securely.
☑️

Adjust Cant and Ride Height

:
Many holsters allow you to adjust the cant (angle) at which the pistol is carried and the ride height (how high or low it sits on your body). Experiment with different settings to find what feels most natural and accessible.
☑️

Attach the Holster to Your Belt

:
Follow the manufacturer's instructions to attach it securely to your belt. Common attachment methods include belt loops, clips, or paddles.
☑️

Holster Positioning

:
Position the holster on the left side of your body, where you can comfortably and easily reach it with your left hand. The holster should allow for a full grip on the pistol's handle while still being concealed.
☑️

Test Draw and Holstering

:
With an unloaded firearm, practice drawing, and holstering from various positions. Ensure the holster's retention mechanism (if present) doesn't impede a smooth draw. Practice until the draw feels natural and safe.
☑️

Concealment Check

:
If concealment is important to you, wear the holster with your typical clothing to ensure the firearm remains hidden under your garments.
☑️

Adjust as Needed

:
If you find that the holster's positioning or settings aren't optimal, make necessary adjustments to enhance your comfort, accessibility, and safety.
☑️

Safety Considerations

:
Always follow firearm safety rules, even during holster setup and practice. Keep the firearm unloaded, finger off the trigger, and pointed in a safe direction at all times.
❗ Remember, setting up a holster is a personal process, and what works best can vary depending on your body shape, carry style, and preferences.
📺 More examples in this video:
FAQ 🤓
Conclusion 😉
As a lefty, it can be tough to find the right holster for your Glock 17. In this article, we discussed some of the best holsters for left-handed shooters and provided tips on how to find the perfect one for you. We also reviewed some popular models to help you make an informed decision before making your purchase. Good luck and thanks for reading! 😀💝
Affiliate Disclosure: Rotorm.com sometimes gets paid for listings, through sponsors or affiliate programs like Amazon, Optics Planet, Lucky Gunner, Brownells, Cabelas, Rainier Arms, 5.11 Tactical, Bass Pro Shop, etс. Clicking a link helps keep Rotorm.com free, at no extra cost to you!
About the author: Each article on our site is written by experts in survival and tactical equipment, gun enthusiasts, extreme travelers, military, law enforcement and desperate professionals, read about the author at the bottom of the article or visit "About Us" page.
Note: The views and opinions expressed in this article are those of the authors and do not necessarily reflect the official policy or position of any agency.