Affiliate Disclosure: Rotorm.com sometimes gets paid for listings, through sponsors or affiliate programs like Amazon, Optics Planet, Lucky Gunner, Brownells, Cabelas, Rainier Arms, 5.11 Tactical, Bass Pro Shop, etс. Clicking a link helps keep Rotorm.com free, at no extra cost to you!
About the author: Each article on our site is written by experts in survival and tactical equipment, gun enthusiasts, extreme travelers, military, law enforcement and desperate professionals, read about the author at the bottom of the article or visit "About Us" page.
Note: The views and opinions expressed in this article are those of the authors and do not necessarily reflect the official policy or position of any agency.
Do you like to eat fish? I think the majority of people like it. But what about removing scales? In my opinion, it is a hard, boring and dangerous activity. First of all, you should spend a lot of time on this.Also, a husk flies in your face, and a pungent smell hits your nose. At any moment you can get hurt by knife and start bleeding. But it is a necessary process for cooking tasteful diner. To make your life easier you can get a fish scaler. It is a special kitchen device and is made for such cases. Its design allows making everything faster and protecting hands. You definitely need it if your husband likes fishing and every weekend comes with a lot of kilograms of fresh catch or if you like to cook somewhere outside. The small size allows taking it everywhere.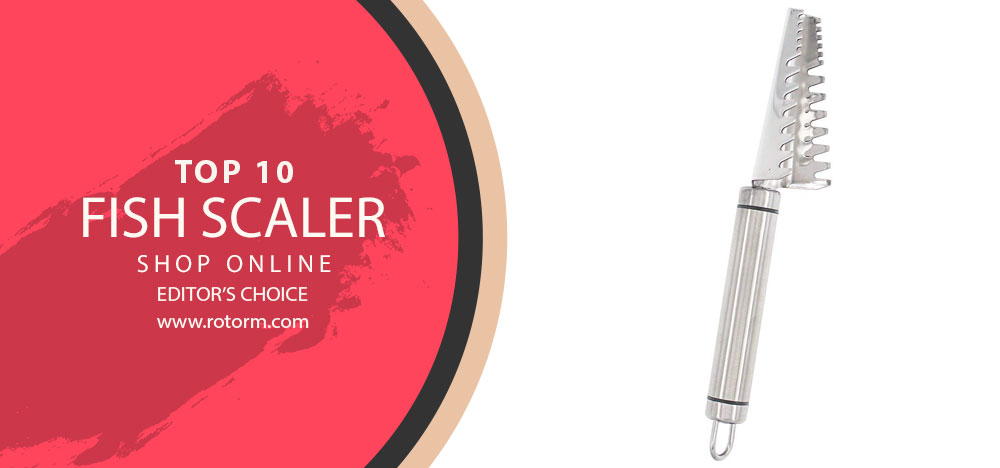 The scaler is safe even for children. You can give it to your son or daughter and ask them to help. Also, the device is delicate and does not harm the surface of the fish. So, this little tool is really useful. There are top-10 offers. Choose the best one for yourself!
TOP-10 Fish Scalers
| Image | Product | Brand | Link |
| --- | --- | --- | --- |
| | Sea Striker Sea Strike SSFS1 Fish Scaler Packaged | Sea Striker | |
| | SKINZIT Electric Fish Skinner, 7.25 x 6 x 7.45-Inch, Black/Red | SKINZIT | |
| | Bicco BS-2 Fish Scaler | Bicco | |
| | Big Norm-Feets 88111 Magic Fish Scaler | Tackle Factory | |
| | Electric Fish Scaler Remover, Amayia Upgrade Powerful Electric Fish Scaler Skin Deslagger Scaler Rechargeable Waterproof Fish Scaler Automatic Electric Fish Skin Clean Brush (with One Extra Head) | Amayia | |
| | Powerful Electric Fish Scalers Electric Fish Scaler Scale Remover Fish Cesarean Section Tool Automatic Waterproof Fishing Scale Seafood Cleaner Brush Tool (with extra Cutter head) | Fashionyourlife | |
| | SILVERHERO Fishing Board Tools Set, 4 Piece Fishing Cutlery Set, Includes Stainless Steel Filleting Knife, Min Knife Sharpener and Stainless Steel Scaler.Best Gift for Fishermen. | SILVERHERO | |
| | Electric Fish Scaler Remover, Viiwuu Portable Electric Fish Remover Powerful Fish Skin Deslagger Fish Scaler Automatic Clean Brush Scraper Cleaner Skinner Kit Build in Rechargeable Battery Waterproof | Yiamayia &KsquaresMaQue | |
| | Kocome Stainless Steel Fish Scale Remover Cleaner Scaler Scraper Peeler Kitchen Tool | Kocome | |
| | Stainless Steel Fish Scaler - 9-1/2", set of 5 | Winco | |
#1 Sea Strike SSFS1 Fish Scaler Packaged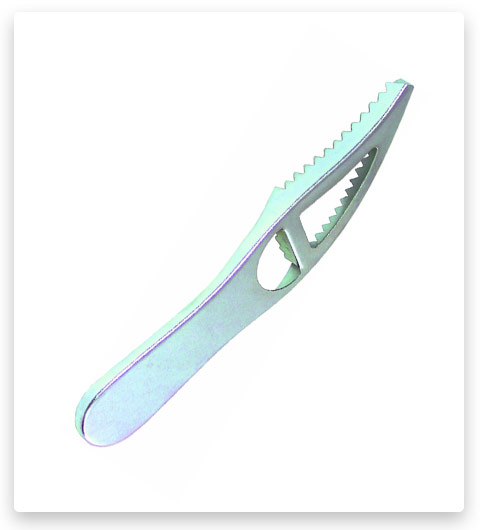 There is a usual scaler with a minimalistic design. It is made of steel and comfortable to use. The sharp teeth allow removing the scale fast. It can be used both for big and small fishes. Buy it for home or outdoor use, it doesn't matter. It is multifunctional. There is a small size. Put it into your pocket and go fishing. In the evening, when you decide to prepare a tasty supper, you will highlight the convenience of this little accessory. You don't need any special skills to use it. Even small children can handle it. But don't put it in the dishwasher. The material is not rust proof.
#2 SKINZIT Electric Fish Skinner, 7.25 x 6 x 7.45-Inch, Black/Red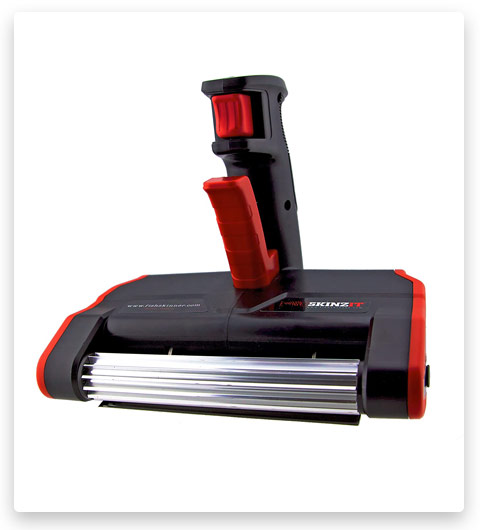 This is an indispensable thing for the home. Forget about the knife. With this scaler, your hand will not be tired. You can clean all catch of your husband in half time. The way of use is quite easy. Even your children can try! The device takes care of your safety. Firstly, it is impossible to get hurt with it. Secondly, a special mechanism removes all the costal bones. The scaler is easy to clean. Unfortunately, there are a lot of complaints. The majority says that the device removing skin with a meal, so 30% of your food becoming garbage. Maybe they do something wrong? There are a lot of positive reviews too.
#3 Bicco BS-2 Fish Scaler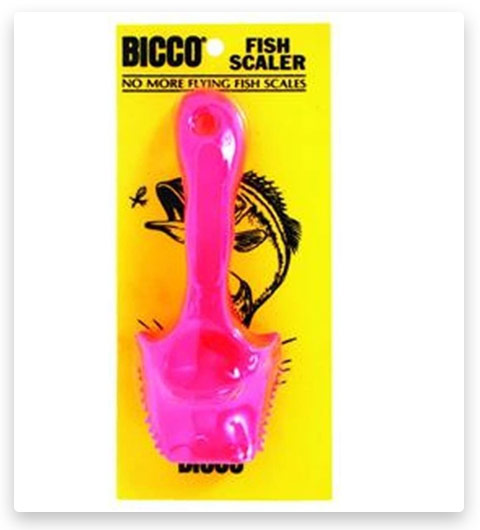 This cute scaler can be a gift for your mother or wife. As for me, it is a good way to hint that the fishing time comes and all weekends you are going to spend somewhere on the lake with friends. And, of course, you have an idea to bring a big catch to your woman. I think she is not a big fan of cleaning the husk. But the scaler can make her life easier. It is absolutely safe for hands. Using it, she can finish much quicker as always. She does not need to exert as much effort as when cleaning with an ordinary knife. Also, beautiful pink color can cheer her. By the way, you can ask a daughter to help. The safety of the product is really amazing. But be ready to buy more than one. It is not durable because made of plastic.
#4 Big Norm-Feets 88111 Magic Fish Scaler
It is a classic example of scalers. It is made in black color. The main material is plastic but is equipped with steel tears. If you buy it, you can minimize the time for removing scales from a meal. Also, it takes care of your fingers. I think the majority of people who try to clean fish at least once have a cut. It is impossible with Magic Fish Scaler in your kitchen. The manufacturer promises product durability. Buy one and use it for a long time! But there is no warranty. So, customers should take the world.
#5 Electric Fish Scaler Remover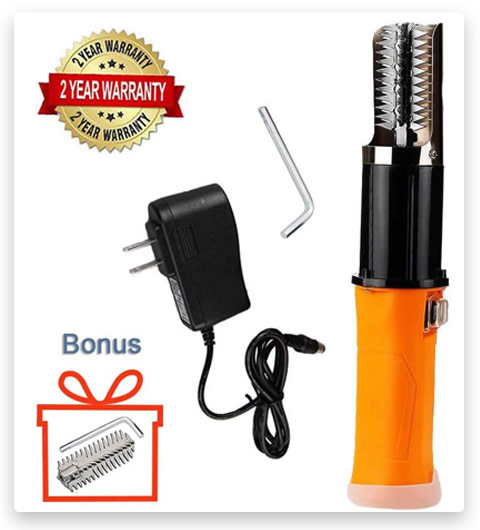 It is quite a new lot on the market. But it has a long least of features. First of all, it is fast. After the first use, you will be surprised how easy can be a fish cleaning. The device is perfect fits for restaurants, cafes, or fresh markets. It is easy and safe. The construction is specially designed to minimize the chance of cuts. Also, it is waterproof. You need just to press the button to start cleaning. It is a perfect helper for home. Forget about knives and feel all pluses of modern technologies! The scaler is equipped with a powerful battery. It can clean approximately 100 fishes without recharging. The manufacturer offers the highest quality and gives a 2-years warranty. Feel free to buy it.
#6 Powerful Electric Fish Scalers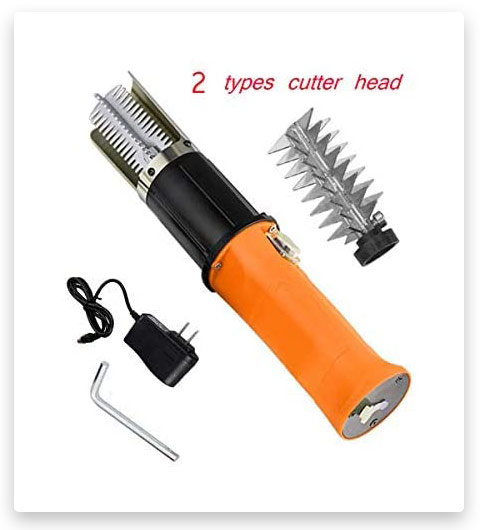 Look at one more example of using modern technology in everyday life. There is a powerful scaler in bright orange color. The safety of the product is high. During all cleaning processes, your hand is located far from the cutting part. Forget about red fingers. You are fully protected! The way of use is simple. Just press the button to start. It is not necessary to have any special skills. It is a good buy for restaurants or fish shops. They have a large amount of work that cannot be done with a knife. But it can be good for home too. The rechargeable battery allows us to use it everywhere during a lot of time. One full charge is enough to clean a 100 fish. By the way, the scaler comes with 2 cutter heads for different cases. If you have some troubles you can stay calm, because there is a 2-years warranty.
#7 SILVERHERO Fishing Board Tools Set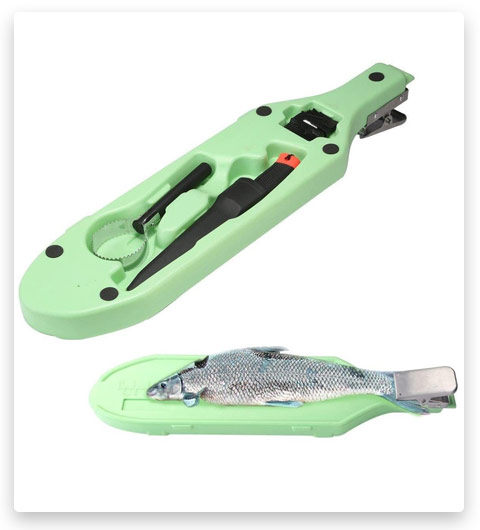 It is a travel set for fishing lovers. It consists of a filleting board, steel knife, knife sharper, and steel scaler. Another world, there is everything that you need. All materials are high-qualitative and durable. The knife is multifunctional. You can cook dinner with it or cut something that you need. It is sharp, if it is not you can correct it with sharper. Put the fish on the boat and clip the tail. It should make a process of cleaning easier and faster. This set is perfect for camping or family fishing trip. But be careful! Some elements can be dangerous! Don't allow your children to play with the set. The kit can be a good gift for friends or relatives because it consists only of useful things. Also, the manufacturer is confident in his good and offers a lifetime warranty!
#8 MaQue Electric Fish Scaler Fishing Cleaner Skinner Scale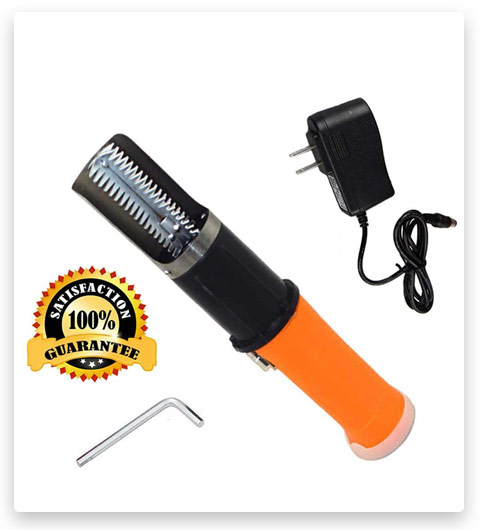 It is an electric scaler. The owners of different restaurants, cafes, and shops should pay attention to it. It is multifunctional and can remove a lot of scales from fish in a short time. A built-in battery allows you to use it anywhere you need. You shouldn't recharge it often. The special design takes care of you or your workers. The sharp part is located far from fingers to avoid cuts. You don't need any tutorials or manuals to use it. Push the button and start. After finish, you can clean it without problems. It is fully waterproofed. All materials are durable and qualitative. All steel used is rustproof. It is an irreplaceable thing for a home. Especially if somebody from your family is a fan of fishing. If you have doubts about the good you can relax because the manufacturer offers a 100% warranty.
#9 Kocome Stainless Steel Fish Scale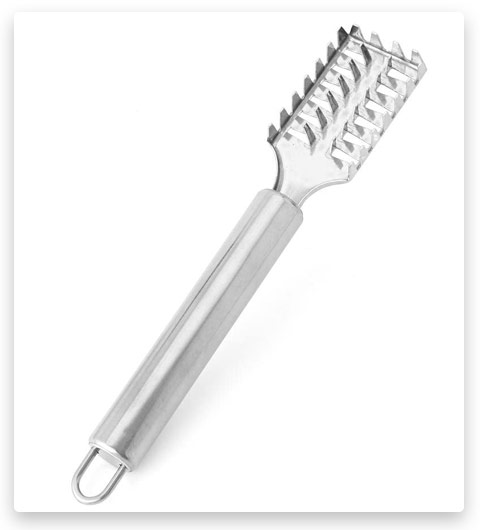 This usual accessory can make your life a little bit easier. It is made of steel. The steel is durable and rustproof material. You can take it to hunting, camping, fishing, or use at home. The small size allows fitting anywhere. By the way, it is lightweight. It means that the scaler is not adding a lot of extra weight to your luggage. You can remove the fish's skin much faster with it. You cannot get a cut like with a knife. The scaler is fully safe for your hands. As for me, it is a necessary buy for home. You or your wife will begin to cook fish dishes more often!
#10 Stainless Steel Fish Scaler – 9-1/2″, set of 5
It is a set of 5 fish scalers. It is made of rustproof steel. The way of use is simple. You don't need any additional skills. When you finish your entire job you can clean the scaler with water. The main feature of good is hand protection. Using the scaler it is impossible to get cut like with a knife. The product is durable because I can't imagine what you can break here. It is also multifunctional. Perfect fits for home, camping, or fishing. But, there is a version with a new design and we don't know is it comfortable or not.
Conclusion
So, as we can see the fish scaler is a useful multifunctional buy. It helps to remove scale faster and protect hands from cuts. Also, it is good for camping, fishing, and long trips. The small size allows taking it anywhere. You can see a huge variety of kinds. Choose what is suitable for you. As for me, I like the number 5. I believe that it greatly facilitates the unpleasant process of cleaning fish and I can fully recommend it!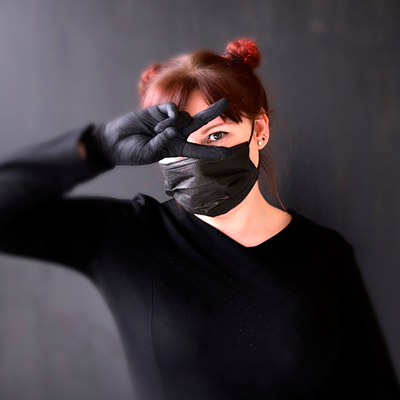 Ann Burwell
Mother, Extreme Lover, Author, and Outdoor Gear Expert
Nice to meet you, my name is Ann. What I can say about myself is that I am a supporter of a healthy lifestyle and enjoy spending my leisure time actively (most frequently outdoors). My hobby is camping, hiking, climbing mountains. And of course, I adore various survival and
tactical gear
, which is so necessary for a comfortable stay in extreme conditions. I am fortunate that my husband and family support me about this.
That is why it is important for me to find good items that will help me and my family have a good time without too much hassle. I like to look for stuff for myself or gifts for my loved ones. We also share the high-quality products we find with each other, and I think it is really important to transfer your opinion and knowledge, that is why I am pleased to share the useful information I find with other people. I'm so happy that my family helps me in this matter. We hope that someone really finds this helpful and interesting enough!
Read more
about our team
of expert authors.