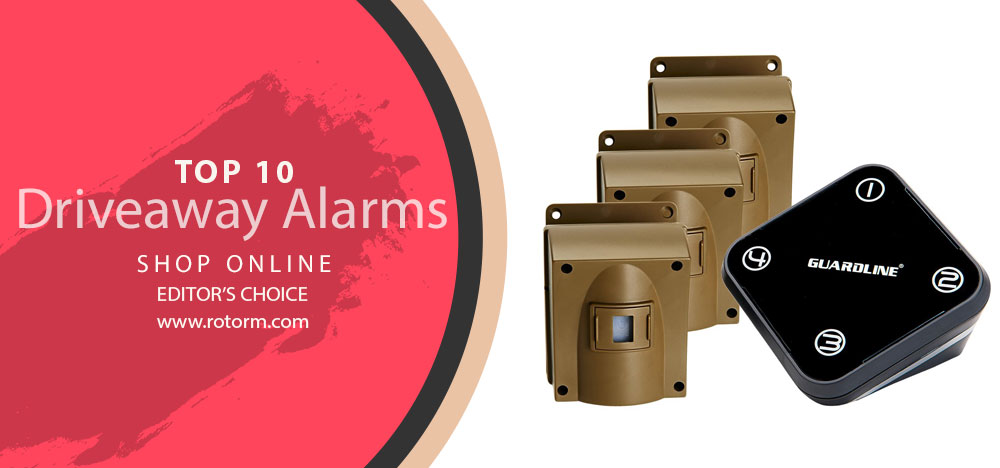 What are Driveway Alarms?💡
These are security devices designed to alert homeowners or property owners when someone or something enters their driveway or property. They are typically used as a part of a home security system to monitor and protect the area surrounding a residence or business.
A typical system consists of two main components: a sensor and a receiver.
The sensor, which is usually installed near the entrance of the driveway, detects motion or changes in pressure caused by a vehicle or a person crossing its detection zone.
The sensor can be a motion detector, a magnetic sensor, a pressure sensor, or an infrared beam sensor, depending on the specific model.
Purposes 🔐
Firstly, they can deter crime. When a driveway alarm is triggered, it emits a loud siren that can alert the homeowner and deter intruders from entering the property. This can be particularly effective at night or when the homeowner is away.
Secondly, they can provide peace of mind. Knowing that you have an alarm in place can give you the peace of mind that you and your family are safe and secure. This is especially important if you live in an area with a high crime rate.
Moreover, the alarms can be used to monitor activity on your property. Some of these systems can be connected to your smartphone, allowing you to receive alerts whenever someone enters your driveway. This can be useful for tracking deliveries, monitoring visitors, and even keeping an eye on your children and pets.
Finally, they can be integrated into a larger home security system. This allows you to arm and disarm your alarm system from a single location and receive alerts whenever there is activity on your property.
Our Top Pick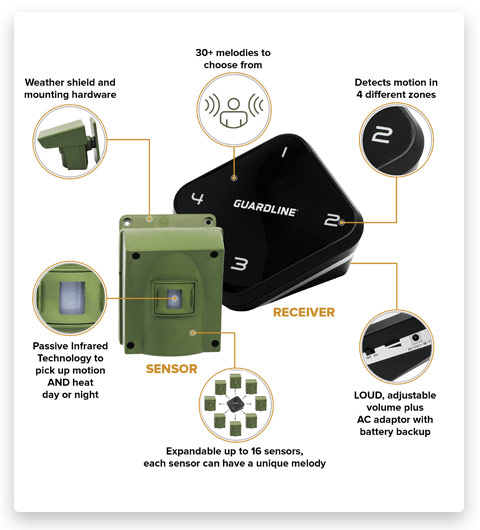 How It Works 🚩
A typical system consists of two main components: a sensor and a receiver. ☑️ The first step is to install the sensor in a strategic location near your driveway or in the area you want to monitor.  The sensor is usually placed on a post or mounted to a wall or a tree, and it contains the detection technology, which can vary depending on the type of sensor. ➡️ When someone or something enters the sensor's detection zone, it triggers the sensor to send a signal. This activation can occur for various reasons, depending on the type of sensor.
Once the sensor is triggered, it sends a signal to the receiver unit located inside your home or in a designated area. ➡️ The signal is typically transmitted wirelessly, often using radio frequencies. 📶 Some systems may use Wi-Fi, Bluetooth, or other wireless technologies for signal transmission.
The receiver, which is connected to the sensor, receives the signal and produces an alert.☑️  This alert can take various forms:
Audible Alert: Many of them come with a chime, buzzer, or alarm sound that plays when the sensor is triggered.
Visual Alert: Some systems have LED indicators or a display screen that shows which sensor was triggered.
Notification: Advanced systems can send notifications to your smartphone or other devices, allowing you to receive alerts even when you're away from home.
These alarms provide property owners with early warning and the ability to take appropriate action when activity is detected. This could include checking a security camera feed, verifying the identity of visitors, or simply being aware of who is approaching your property. ↪️  It enhances security, safety, and peace of mind by giving you advanced notice of any activity in your driveway or monitored area.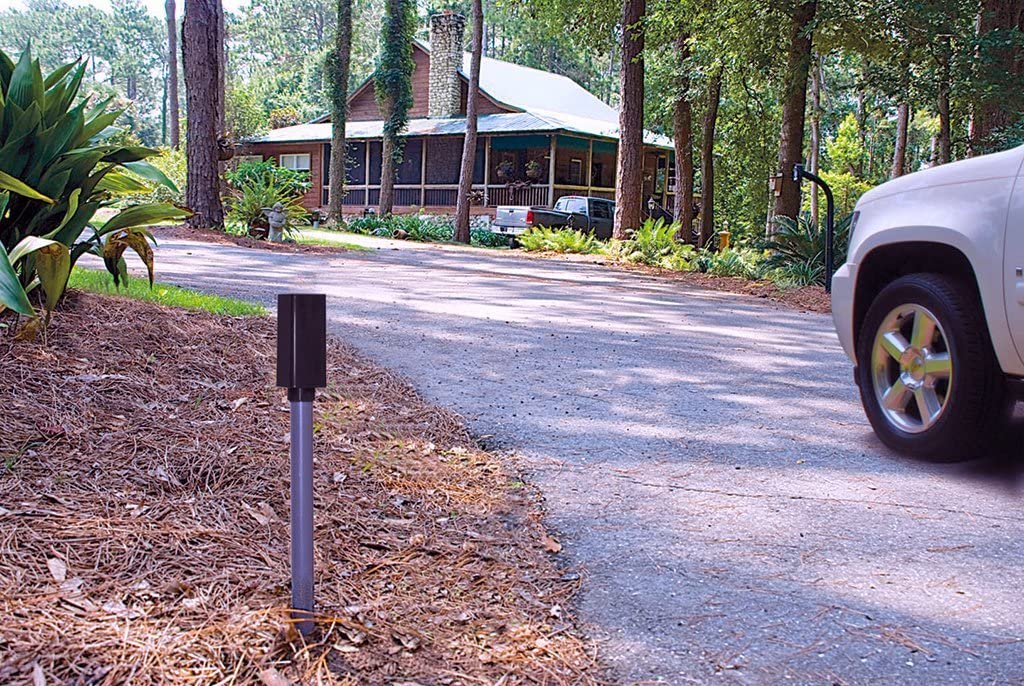 Types 🔊
🟡 Motion Sensor Alarm: It uses motion sensors to detect movement in the driveway. When a person or vehicle enters the detection zone, the sensor triggers an alert.
🟡 Magnetic Alarms: They use sensors that detect changes in the magnetic field caused by a vehicle passing over a buried magnet. They are particularly useful for monitoring vehicles entering or leaving the driveway.
🟡 Infrared Beam Alarm: These alarms consist of two units: a transmitter and a receiver. When the beam between them is interrupted by a person or vehicle, it triggers the alarm. They offer precise detection and are suitable for longer driveways.
🟡 Wireless Alarm: These items use radio frequency or Wi-Fi signals to transmit alerts from the sensor to the receiver. They offer flexibility in installation and are convenient for remote monitoring.
Best Driveway Alarms | TOP-10 Outdoor Motion Alert
| Image | Product | Brand | |
| --- | --- | --- | --- |
| | GUARDLINE 500 FT. WIRELESS DRIVEWAY ALARM | GUARDLINE | |
| | Guardline 1/4 Mile Wireless Driveway Alarm | Guardline | |
| | DAKOTA ALERT 4-MILE DRIVEWAY ALARM | DAKOTA ALERT | |
| | DAKOTA ALERT 4-MILE METAL DETECTING DRIVEWAY ALARM | DAKOTA ALERT | |
| | 1/2 Mile Long Range Solar Wireless Driveway Alarm Outdoor Weather Resistant Motion Sensor | 1/2 Mile Long Range | |
| | Chamberlain Group CWA2000 Chamberlain Driveway Alert, Black | Chamberlain Group | |
| | Driveway Alarm, 1byone Motion Sensor 1000ft Operating Range | Driveway Alarm | |
| | 1/4 Mile Hosmart Rechargable Driveway Alarm Wireless Sensor System | 1/4 Mile | |
| | Mighty Mule Wireless Driveway Alarm (FM231) | Mighty Mule | |
| | DAKOTA ALERT 4-MILE WIRELESS INTERCOM AND RADIO | DAKOTA ALERT | |
1# Guardline 500 Ft. Wireless Driveway Alarm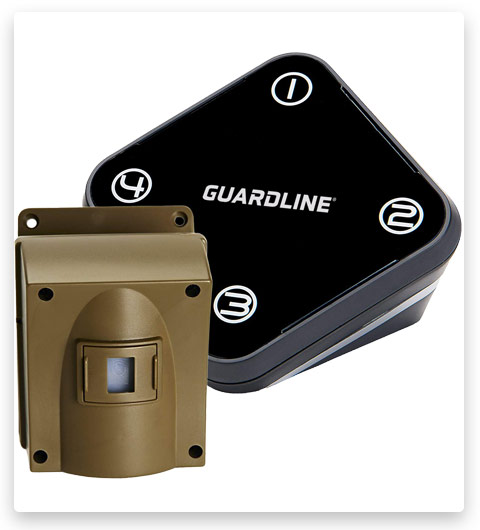 Surveillance systems can be both a reliable defender and a master key from home. With a good knowledge of the technological features of the equipment, all data collected and transmitted can be stolen and used against the owner of the system. Guardline 500 Ft. Wireless Driveway Alarm is a system with a good balance of simplicity and reliability. This system does not store your data and does not connect to the Internet.
The system setup takes place in just a few minutes with simple and understandable instructions. The receiver can simultaneously poll 4 zones, each of which has 4 sensors. The signal for each of the monitored zones is configured separately. This allows you in just 1 second to find out which side is the invasion of your property. Infrared sensors respond to any changes in thermal signatures in their field of view up to 500 feet away. To understand if you have enough 12-degree viewing angles – make a visual model of paper.
Fold a square sheet 2 times. Now 1 more time. And another 1. This sharp triangle is the angle of view. Infrared sensors really dislike direct sunlight and reflected sunspots. If you take into account this feature of work during installation – there will be much fewer false alarms! When used in really cold conditions (in Alaska), lithium batteries are used for sensors.
2# Guardline 1/4 Mile Wireless Driveway Alarm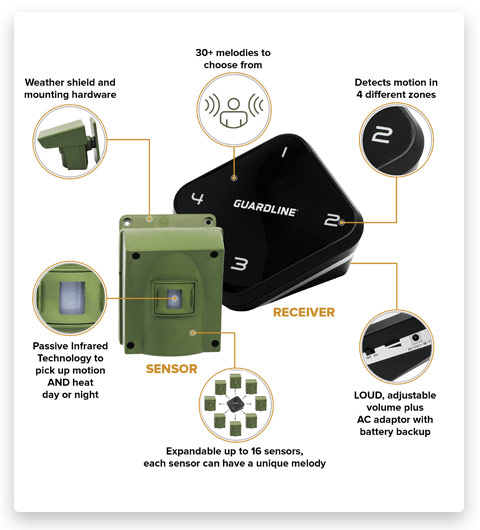 The Guardline 1/4 Mile Wireless system is a more advanced continuation of the line of "optimally intelligent" alarms for the roadway. The main improvement of this system is the increased monitoring distance of the sensors. 16 sensitive sensors notify the owner of the approach of "guests" at a distance of 1/4 mile! The system does not have an Internet connection, does not store data, and cannot be hacked by hackers. It acts as a guard dog but does not spoil the postman's pants and does not stain the house.
As our tests have shown you don't need to connect wires to the sensors, but you can just easily place it near all roads – this is really impressive. This system is not intended to be "circular protection." In the best case, get an overview of up to 200/360 degrees. This is enough to control all roads and paths and to notify about an approximation of about 1300 feet. This system does not have great programming capabilities (which protects against the loss of personal data), but there is a night mode. When the illumination becomes less – the system works more sensitively. This guard is not afraid of rain, snow, or large temperature drops. He will simply do his job while you are resting or busy with your own affairs.
3# Dakota Alert 4-Mile Driveway Alarm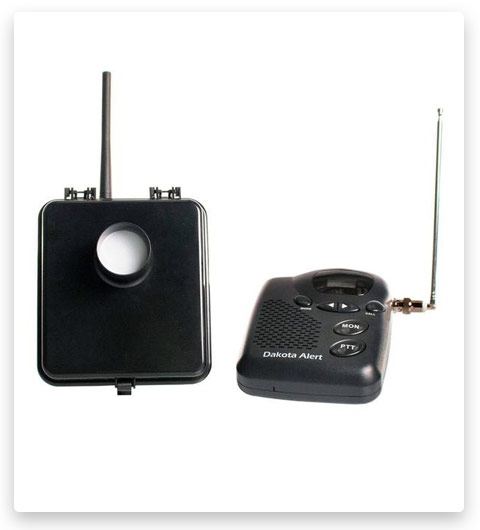 A good warning system should warn of approaching the control zone even at distant approaches. Dakota Alert 4 miles – allows you to divide control zones into 4 and at the same time interrogate several tens of sensors. The strength of this system is the unlimited connection of sensors. Under ideal conditions, there can be up to 4 miles between the sensor and the base station!
This is a good indicator. But in reality, this may differ, because the "base" is in the house, and the walls give distorting interference. The sensor itself will be installed, for example, on a tree or fence, this also gives a signal distortion. The actual range is less than 4 miles, but that's enough. Dakota Alert 4 Miles has some features in the alert system. Musical signals are replaced by speech commands, and a false sensor may produce wheezing. To enhance the sounds there are connectors for connecting external speakers to the system.
4# Dakota Alert 4-Mile Metal Detecting Driveway Alarm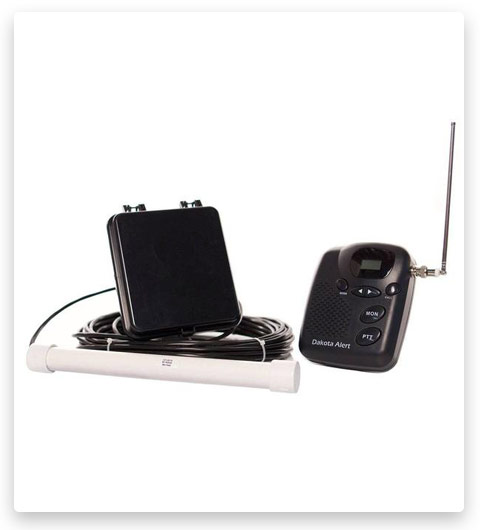 This offer from Dakota Alert is an alternative extension to their alarm system concept. If the infrared sensor can report a false alarm, the metal detector does not respond to animals or debris. It simply picks up changes in the magnetic field and any metal object within a radius of 12 feet will be detected. When properly installed in the ground near the road, the probe will remain invisible to the "guests", which will translate the effect of surprise on your side. An underground probe recognizes the approach of a car and a motorcycle, but a modern bike with a small amount of metal may not be noticed. A good addition to the classic Dakota Alert system is 4 miles but is very limited when used alone.
5# 1/2 Mile Long Range Solar Wireless Driveway Alarm Outdoor Weather Resistant Motion Sensor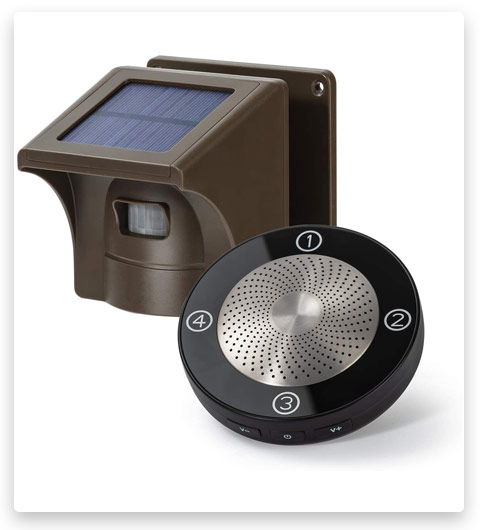 This system works autonomously even in difficult weather conditions. The infrared motion sensor is sealed and self-contained. Using a solar panel, it collects the energy of the sun and recharges lithium-ion batteries. Even when the sensor is located 100% of the time in the shade, a small amount of reflected light slowly restores the battery charge. If this is not enough, there is an opportunity for quick charging from USB.
The sensitivity of the sensor depends on the correct installation. When setting 30-45 degrees to the road, the sensor will have time to detect differences in thermal signatures and transmit a signal. With a direct installation on the road, the response time will be too short and the sensor will think that it is a false alarm. The system can expand to any size required. When using multiple receivers, the distance between them should be more than 7 feet. If this is not done, the sensors and receivers will duplicate each other's signals.
6# Chamberlain Group CWA2000 Chamberlain Driveway Alert, Black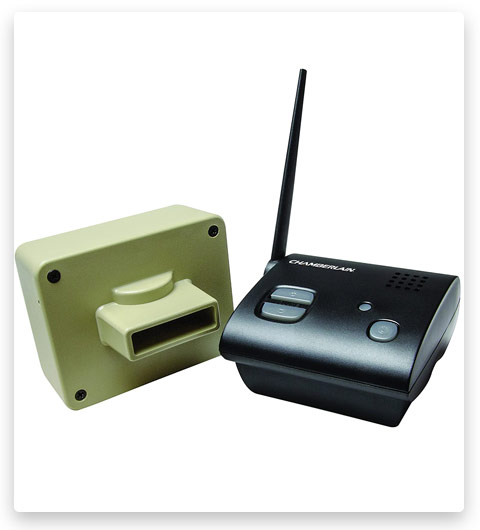 Easy to set up and fairly reliable alarm kit. A self-contained infrared sensor transmits a signal about the approach of "guests" at a distance of 1/2 mile from the receiver. The system can expand flexibly by adding more sensors and receivers. The settings for these situations are indicated by the manufacturer in simple and understandable instructions. False alarms or "blindness" of the infrared sensor can be caused by bad batteries for power or improper installation of the sensor itself.
To ensure that the sensor does not give false alarms when travelling with a hedgehog or cat, set the PIR at the height of the thigh. But this is not enough, for effective recognition of the proximity of the car on the road – set the PIR in the direction of following. The heat from the exhaust pipe allows cars to be recognized with 100% efficiency even in rainy or cold weather. The actual operating distance may be less than specified by the manufacturer. This is caused by signal distortion interference such as thick wood, metal fence, or concrete walls.
7# Driveway Alarm, 1byone Motion Sensor 1000ft Operating Range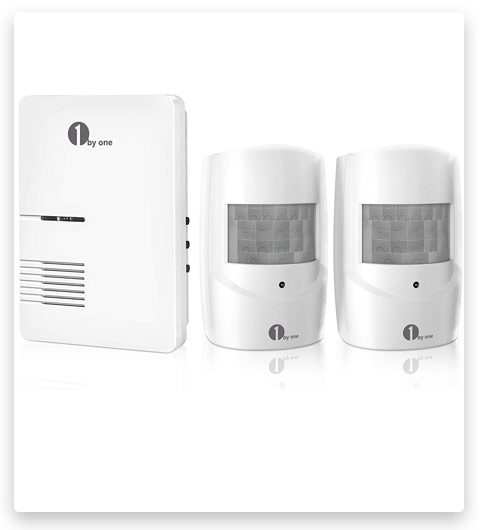 This seems to be a completely self-sufficient and advantageous offer for a basic warning about approaching a controlled area. Easy setup, a large viewing angle, expanding the system to 5 IR sensors on 1 receiver – sounds nice. The receiver can monitor sensors up to 1,000 feet away (under ideal conditions) and signal alarms in many different ways. Before you click on the "buy" button, you should know about the "little secrets" of this system. Sensors should only be placed under the roof because they are not protected from rain or sun.
Based on our experience strong winds or small animals will create a permanent alarm. To fix this, you need to partially tape the corners of the sensor window with masking tape. A smaller window means less sensitivity. You need to play with it. The best place to use this system is the porch and front door. The sensor will tell you when the cat returned from the walk so that you could let her into the house as soon as possible.
8# 1/4 Mile Hosmart Rechargable Driveway Alarm Wireless Sensor System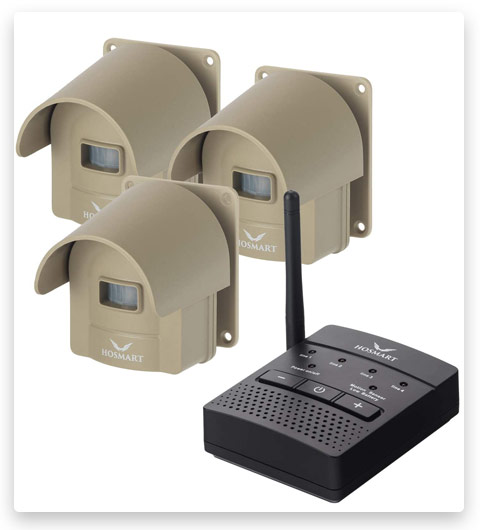 It is an all-weather outdoor surveillance system with an amazing range. The working distance between the sensor and the receiver can reach up to 1/4 mile. This will allow you to know in advance about the approach of strangers to private property. Sensors can be set to be rougher or more sensitive. If your property needs to go through places with a large number of trees, an incorrectly set focus will provide many false alarms.
Try setting the optimum response distance (30 to 15 feet). The sensors are made of PVC and contain rechargeable lithium batteries which will last for several months of continuous duty. When they are discharged, just charge them. It's as easy as charging your phone. There are only 3 sensors out of 4 possible in this offer. You can expand the system to 4 at any time by purchasing the appropriate equipment. Be careful – early versions of the system do not integrate with modern ones.
9# Mighty Mule Wireless Driveway Alarm (FM231)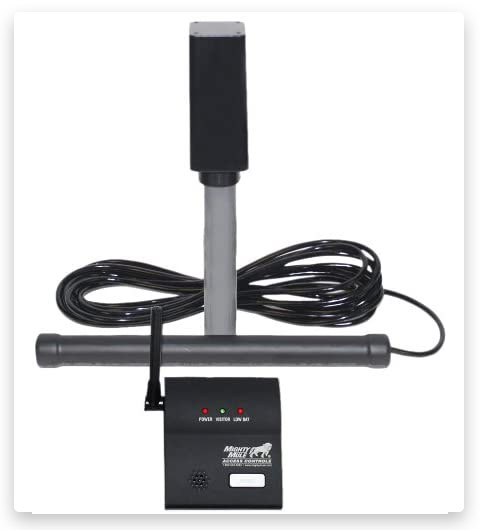 This road warning system is great for remote suburban estates. The sensor consists of an electromagnetic catcher (wand) to which a signal transmitter is connected with a 6-foot cable. The transmitter sends an alarm to the base from a distance of 400 feet. The electromagnetic sensor can be imperceptibly buried near the road and report on cars passing in your direction.
It is best to place the sensor at a shallow depth on the side of the movement in your direction. This will notify you when driving smaller vehicles, such as motorcycles. A solar panel can be connected to the transmitter. This will allow you to no longer worry about the power supply of the sensor. This is especially important if it is installed or buried in a secret place. The manufacturer offers many additional modules but does not sell spare parts for repairs. For equipment that is partially buried and may be damaged by wild animals – this is unpleasant news.
10# Dakota Alert 4-Mile Wireless Intercom And Radio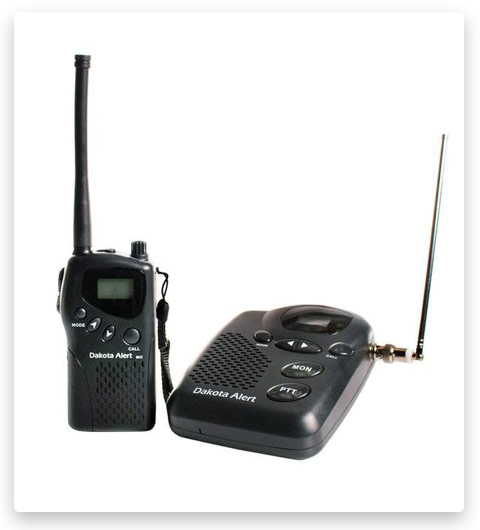 For large possessions, you need a tool with a large range. Dakota Alert 4-Mile Wireless Intercom And Radio are one of the most distant intercoms that you can find in the civilian sector. This communication and notification system has 5 secure channels for communication with both devices and with a separately selected walkie-talkie. Even if your neighbour decides to purchase the same system, you can protect yourself from interference and false signals by blocking one of the frequencies (151.82-154.60 MHz) for personal use. The strength of this kit is its powerful rechargeable batteries. The device can withstand 40 hours a working day, but can you? When both of you need a rest – put your working walkie-talkie on charge (which comes with the kit).
Installation 🎯
⚪ To begin, gather all the necessary materials and tools, including the driveway alarm system (receiver and sensor), batteries (if needed), a screwdriver or mounting hardware, a step ladder, and a pencil with a tape measure for positioning.
⚪ Next, carefully choose the placement for the sensor. To optimize its performance, position it parallel to the direction of your driveway while avoiding proximity to the road or any potential obstructions like trees or bushes.
⚪ With the ideal location determined, proceed to install the sensor. Use the step ladder to reach the chosen height, typically around waist level. Mark the mounting hole positions with a pencil and tape measure, then securely attach the sensor to the mounting surface using a screwdriver or the provided hardware.
If your sensor requires batteries, insert them as per the manufacturer's instructions, ensuring they are fresh and correctly seated to ensure reliable operation.
⚪ Inside your home, set up the receiver. Plug it into a power outlet and turn it on, referring to the manufacturer's instructions for programming. Adjust the receiver's volume level and chime tone to your preference.
⚠️ Before relying on your driveway alarm, it's crucial to conduct a thorough test. Ask a family member or friend to walk or drive past the sensor, ensuring the receiver inside your home successfully detects the motion and triggers the alarm. If necessary, make sensitivity or receiver setting adjustments to minimize false alarms.
We believe this video can be helpful for you 📺
FAQ 🔔
Conclusion 🍀
By strategically installing a driveway alarm, you can bolster the security of your property, deter trespassers, receive early warnings, and enjoy peace of mind. The range can vary, so it's important to choose a system that suits the size of your property and your specific monitoring needs.
Always refer to the manufacturer's guidelines for installation and setup instructions. Overall, these alarms serve as a valuable addition to your home or property security measures, providing convenience, awareness, and improved surveillance capabilities.
Consider your requirements, explore the different types available, and select a driveway alarm system that best fits your needs to enhance the overall safety and monitoring of your driveway area.
If we compare price and value, we have a proposal that might interest you.
P.S. No matter how good the road warning system is, the gun is always more reliable. Be safe and let adversity bypass your home.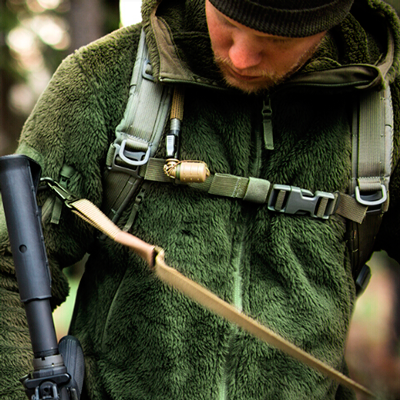 Dmitry Koval
Tactical & Survival Expert
I am from the generation that tried to repeat all the tricks of Jackie Chan, hunted birds with homemade bows, and built my mini-base in the forest. At the age of 18, I was a scout in PLAST (scout organization) and participated in campaigns and quests. Somehow we decided to test ourselves, took our backpacks and walked 50 km (31 miles) in 1 day. We had a lot of fun!
Remembering my past, I ask in bewilderment: "How am I alive after all my adventures?" - harsh trials, reckless parties, love affairs, and a sea of silliness.
My hobbies are weapon upgrades,
tactical gear
, and the latest in wilderness survival technology. I have hundreds of different survival gadgets in my collections, which are sent to me for "test-driving" by Amazon, eBay, and other online retailers. That's what I write about, and I also make YouTube videos about them! Stay tuned!
Read more
about our team
of expert authors.
Affiliate Disclosure: Rotorm.com sometimes gets paid for listings, through sponsors or affiliate programs like Amazon, Optics Planet, Lucky Gunner, Brownells, Cabelas, Rainier Arms, 5.11 Tactical, Bass Pro Shop, etс. Clicking a link helps keep Rotorm.com free, at no extra cost to you!
About the author: Each article on our site is written by experts in survival and tactical equipment, gun enthusiasts, extreme travelers, military, law enforcement and desperate professionals, read about the author at the bottom of the article or visit "About Us" page.
Note: The views and opinions expressed in this article are those of the authors and do not necessarily reflect the official policy or position of any agency.