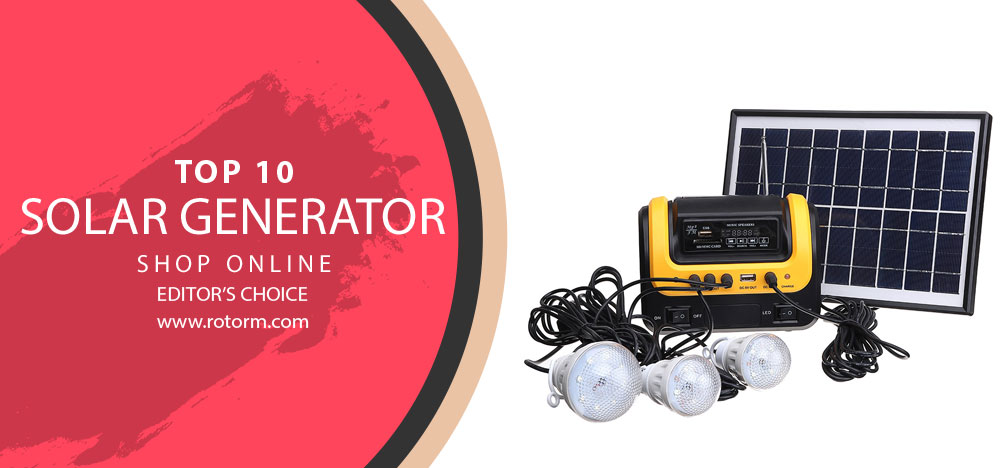 What is a solar generator?
Solar generators, unlike fuel-powered gas generators, use solar energy (absorbed from the solar panels) and convert it to energy-storing it in batteries.
Why do I need one?
Solar energy-powered generators, or most commonly known as Solar Generators, offer a considerably better and sustainable alternative for standard gas generators. They are effectively more practical since they don't need constant oil checks and fuel refills. Less noisy and extra compact, these generators are capable of fulfilling your power needs in various situations – in cases of a power outage, power grid shutdowns, or any other circumstance wherever you would need a regular fuel generator.
Disclaimer: Not all solar stations include solar panels, which are required for the solar station to work optimally.
Solar Generator Review | Best Portable Solar Station
| Image | Product | Brand | |
| --- | --- | --- | --- |
| | Goal Zero Yeti Solar Generator | Goal Zero | |
| | Jackery Portable Power Solar Generator Station Explorer | Jackery | |
| | Flshfish 300W Solar Generator | Flshfish | |
| | WAWUI Portable Solar Generator Station 84Wh | WAWUI | |
| | Flashfish 200W Peak Solar Generator Station | Flashfish | |
| | EF ECOFLOW Portable Solar Station RIVER 288Wh Backup Lithium Battery | EF ECOFLOW | |
| | NinjaBatt Portable Solar Station with 288Wh Lithium Battery | NinjaBatt | |
| | Portable Power Station RAVPower 252.7Wh/70200mAh Solar Generator | Portable Power Station | |
| | NEXPOW Portable Power Station | NEXPOW | |
| | BLUETTI Portable Power Station | BLUETTI | |
| | SPECSTAR 500W 78000mAh 288WH Portable Solar Generator | SPECSTAR | |
#1 Goal Zero Yeti Solar Generator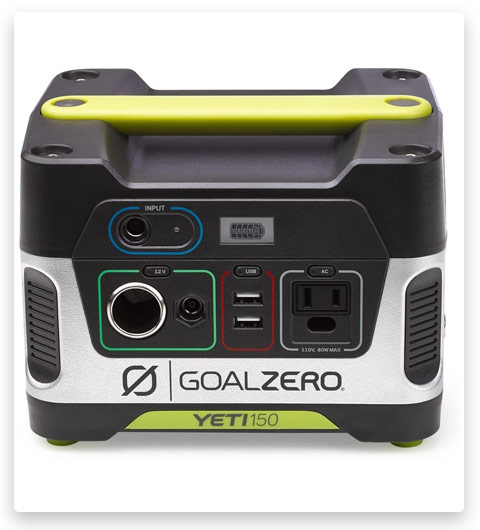 150 WH 200 Wh 400 Wh 500 Wh 2000 Wh
Goal Zero Yeti 150 is a member of the portable power stations family. It is a power backup solution meant to supply the power needs of your electronic devices and gadgets when you're not at home. It is a considerably light and small unit, weighing approximately 12 pounds with the form of about small handbag. Provides about 10 smartphone charges, 5-6 tablet charges, and 35 headlamp charges. The small display indicates the charging capacity left, and the interface has a car charger input, a wall plug, and two USB plugs. You should buy the Yeti 150 if you're out adventuring and if your demands are not "powering a grill".
#2 Jackery Portable Power Solar Generator Station Explorer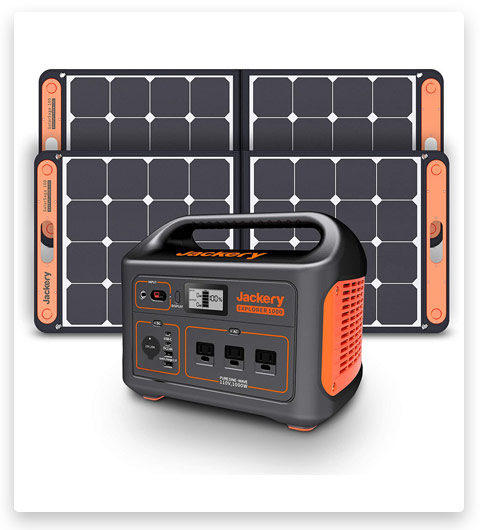 Jackery 1000 is one powerful compact solar generator. Packing more power compared to the Yeti 150, its capable of even powering an electric grill. It has a robust body, with rubber feet and a bulky protective casing. It has a clear LCD with charge, discharge data, and battery status, weighing 22 pounds. Includes multiple ports: 2 USB, 2 USB C ports, a DC carport, and 3 AC outlets. If you're looking for a robust higher power station, Jackery 1000 might be the best choice for you. It can charge your smartphone, camera, tablet, and provide you with the energy to enjoy BBQ while camping.
#3 Flshfish 300W Solar Generator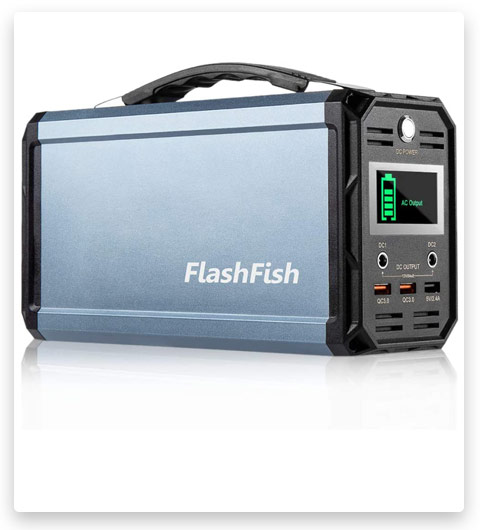 The FlashFish G300 is the answer to the ultra-portable demands when it comes to the outdoor power supply. Featuring a capacity of 60.000mAh, it can maintain your gadgets running for larger periods. Its selling point is its tremendous battery, packed into 5,6 pounds. The body is extremely lightweight, and it has handles attached to the sides, to make it easier to transport. When it comes to output ports, it has 2 QuickCharge 3,0 ports, a USB port, 2 AC, and 2 DC ports. A lightweight and capable generator, FlashFish G300 would be great for you if you value the simplicity of design and portability.
#4 WAWUI Portable Solar Generator Station 84Wh
WAWUI is a distinctively exceptional, portable power station. This station performs like a power bank, perfect for emergency energy backup for home emergencies, or travels/camping. As an all-rounder, this unit has 3 ultra-efficient, extra-bright – white LED bulbs housed in a small body (14.2 in * 9.5in), with an impressive capacity of 26.000 mAh. What's great about this product – is that the package includes a solar panel, LED bulbs, and a USB cable – practically everything you need to turn it on and use it immediately.
#5 Flashfish 200W Peak Solar Generator Station (Battery 166Wh, 45000mAh)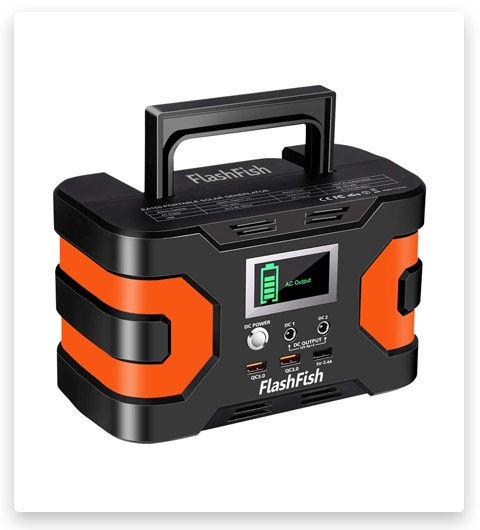 Flashfish EA150 is a great power supply solution when it comes to recharging multiple devices simultaneously. With its lightweight design, weighing 4,5 lbs – this station has a 45.000mAh capacity. This is more than enough for outdoor activities, camping, or emergencies. Flashfish also stars a complex safety module, incorporating protection from overheating, short-circuits, low-voltage, over-voltage, and over-current which prevents devices from getting any damage.
#6 EF ECOFLOW Portable Solar Station RIVER 288Wh Backup Lithium Battery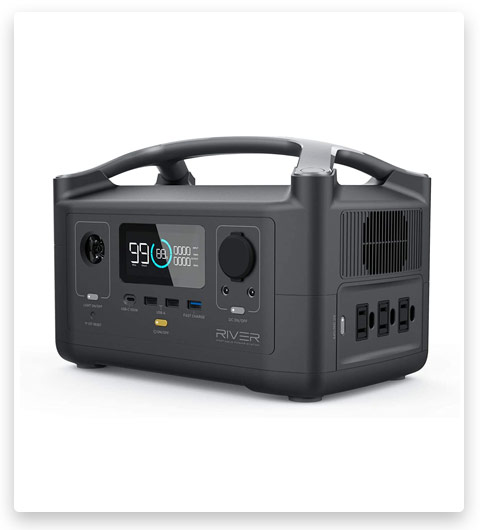 EF ECOFLOW RIVER 600 is an exceptionally innovative energy solution when it comes to portability. Its bestselling feature is the amount of time it takes for it to charge. It takes approximately 90-100 minutes for a full charge. The power banks make no unnecessary noises, and the noise level can be controlled from the EcoFlow app. Weighing around 15,7 pounds, RIVER features an X-Boost mode, which can power even kitchen appliances. The X-Boost mode is only available and can be regulated through the app. A great choice for individuals seeks an extra powerful power station, which can power almost everything.
#7 NinjaBatt Portable Solar Station with 288Wh Lithium Battery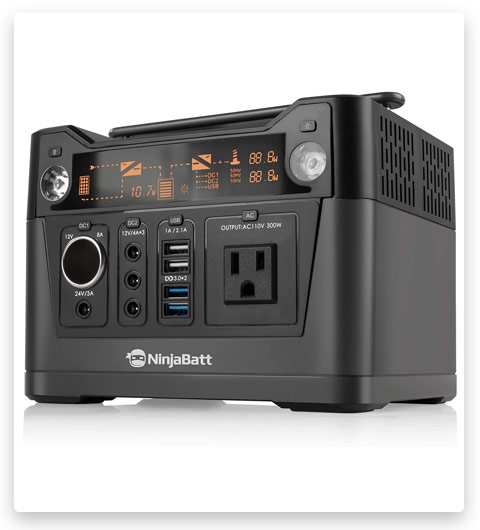 NinjaBatt is a conventional solar generator with a capacity of 25,000mAh. It has several outputs – 4 USB ports 12V/24V DC outlets, an AC outlet, and emergency LED lights. The packaging comes with a number of cables bundled in, including cables to connect to a DC power point in vehicles, and a cable to connect to solar panels. With an integrated battery management system, this unit controls voltage, temperatures, and short-circuit protection systems. Altogether, NinjaBatt is an outstanding, practical power station in rather small construction.
#8 Portable Power Station RAVPower 252.7Wh/70200mAh Solar Generator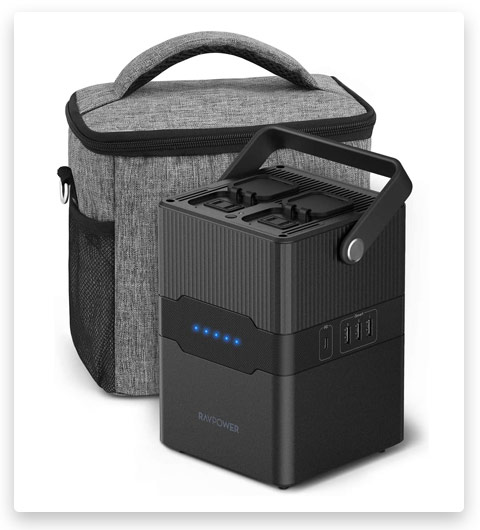 RAVPower is a must-have when it comes to adventuring. It can power most small household appliances – whether it is charging your smartphone, powering up smart accessories, or just using it as a power source in case of emergencies. Although looks like a minimal setup, RAVPower has a capacity of 70200mah, all of that wrapped in a compact format (5.12 x 5.12 x 7.28 inches). Another excellent feature that I just love, is its support for QuickCharging. RAVPower will automatically enter sleep mode after working for a while, saving energy and maintaining stable temperatures through its exceptional Heat Dissipation Outlet.
#9 NEXPOW Portable Power Station, 296Wh 80000mAh Solar Generator 110V/300W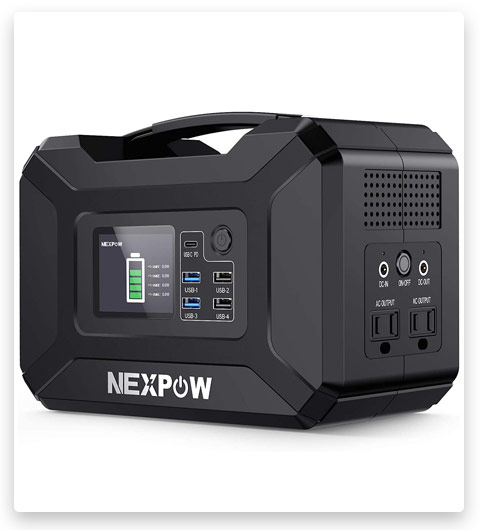 Nexpow is a quite underrated portable station, powered by 178 watt-hour capacity. Sporting a total of 5 outlets, Nexpow can charge various home devices and gadgets. It includes 2 USB ports, 1 USB C port, AC outlet, and a DC port. An important feature is the emergency torch and the built-in torch, which should prove extremely useful in case of emergencies. The system includes safety modules, like voltage control, current control, and temperature control. The charge indicator displays information on a small LCD on the front.
#10 BLUETTI Portable Power Station AC200P 2000W 2000Wh Solar Generator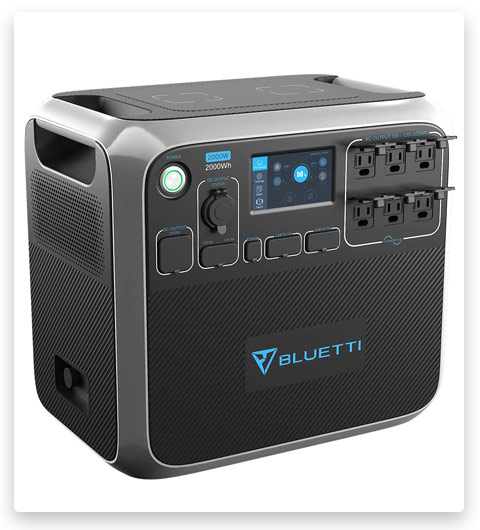 Imagine a multifunctional robust technological contraption, powered by solar energy. That's what Bluetti is. It is an extremely capable power station, with a 2000wh battery and 17 charging output options. The box is quite bulky, and unfortunately, the price is quite steep. It is a device aimed at specific needs, which bought by the right customer will do more than impress.
#11 SPECSTAR 500W 78000mAh 288WH Portable Solar Generator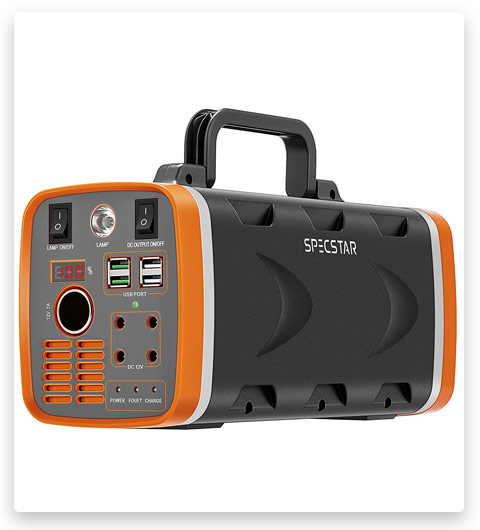 Specstar is among the best portable solar stations featuring a capacity of 78000mah. Ideally, it will be your backup resolution when it comes to power failures and outdoor activities. It is very easy to charge, and small enough to be taken with you. Has three outlets, an AC outlet, DC outlet, and a USB outlet, being able to upkeep charging various devices simultaneously. The built-in LED light is bright and large, which helps to light up the area if needed.
FAQ
Most Popular Brands:
#1 Titan INC. Solar Genarators – (www.titansolar.com)
#2 Goal Zero Yeti – (www.goalzero.com)
#3 Costco – (www.costco.com)
Tags: best solar powered generator, best portable solar generator, best diy solar generator, best solar generator for home, best portable solar power generator, best solar generator for camping, best solar backup generator, best rated solar generator
#Best #Solar-Powered #Generator #Portable Generator #Solar Station #Review #Solar Energy #Solar Generator Kit #Home Use #Camping Generator #Cheap Price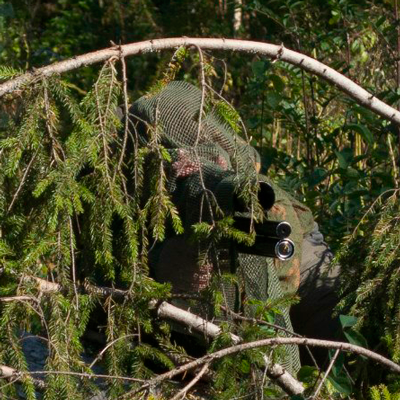 Vlad Miller
Athlete, Survivor, Writer
Hi! I am Vlad! Multi-profile athlete with professional education in sports and physical culture. Devoted to calisthenics, functional- and weight-trainings, boxing, shooting, long-distance bike touring, survivalism, and all kinds of outdoor activity imaginable. Qualified writer and interpreter. Perfectionist who likes to delve into and investigate various specific topics.
Taking apart my favorite AR-15 and Glock 43 with my eyes closed, I write on fascinating and favorite topics: guns,
tactical gear
, survival, and hunting. I share useful finds and do reviews of products I like, and gun upgrades are my best subjects!
Read more
about our team
of expert authors.
Affiliate Disclosure: Rotorm.com sometimes gets paid for listings, through sponsors or affiliate programs like Amazon, Optics Planet, Lucky Gunner, Brownells, Cabelas, Rainier Arms, 5.11 Tactical, Bass Pro Shop, etс. Clicking a link helps keep Rotorm.com free, at no extra cost to you!
About the author: Each article on our site is written by experts in survival and tactical equipment, gun enthusiasts, extreme travelers, military, law enforcement and desperate professionals, read about the author at the bottom of the article or visit "About Us" page.
Note: The views and opinions expressed in this article are those of the authors and do not necessarily reflect the official policy or position of any agency.