Affiliate Disclosure: Rotorm.com sometimes gets paid for listings, through sponsors or affiliate programs like Amazon, Optics Planet, Lucky Gunner, Brownells, Cabelas, Rainier Arms, 5.11 Tactical, Bass Pro Shop, etс. Clicking a link helps keep Rotorm.com free, at no extra cost to you!
About the author: Each article on our site is written by experts in survival and tactical equipment, gun enthusiasts, extreme travelers, military, law enforcement and desperate professionals, read about the author at the bottom of the article or visit "About Us" page.
Note: The views and opinions expressed in this article are those of the authors and do not necessarily reflect the official policy or position of any agency.
Due to statistics, 85% of preventable deaths on the battlefield are caused by uncontrolled hemorrhage (bleeding to death). The next 9% die from pneumothorax.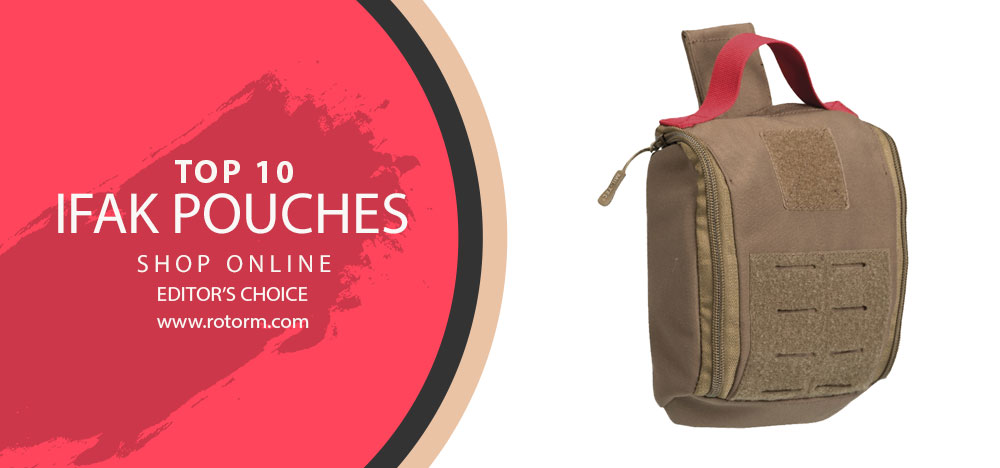 So every military or soldier in accident situation will need and ifak pouch. One can survive using such a simple medical kit. Combat death statistics change as combat medicine evolves. The compactness and color of this bag, as well as a large number of pockets, making it an indispensable assistant in the field, in the forest or when injured on the battlefield. IFAK Pouch is designed to organize a first aid kit. It is designed for compact and convenient placement of a standard first aid kit. Everyone will find their way of use and fill it with their medicines and tools.
Why do we need an ifak pouches?
IFAK is an individual first aid kit. It can be used for scrapes, burns, cuts, lacerations, and other tragic affairs. Bags differ in color and shape. Locks in the bag can be opened all the way or only on top. Pay attention to the quality of the straps. Stretched straps will not hold your bag well. For the military in combat, the color of the bag is important, pay attention to the color khaki. The ifak pouch can save a life in an accident situation. Offer you the review of 10 best pouches.
Best Ifak | Ifak Pouch Review
| Image | Product | Brand | |
| --- | --- | --- | --- |
| | S.O.Tech Viper Flat IFAK Pouch | S.O.Tech | |
| | Barbarians Tactical MOLLE Ifak Pouch | Barbarians | |
| | Gonex MOLLE Ifak Pouch | Gonex | |
| | WYNEX First Aid Tactical IFAK Pouch | WYNEX | |
| | Delta Provision Co. Tactical First Aid Kit - IFAK Pouch | Delta Provision Co. | |
| | Carlebben EMT Pouch MOLLE Ifak Pouch | Carlebben | |
| | Condor Rip-Away Ifak Pouch | Condor | |
| | WYNEX Tactical Molle Admin IFAK Pouch | WYNEX | |
| | Orca Tactical First Aid IFAK Blowout Pouch | Orca Tactical | |
| | Everlit Emergency Survival Trauma Kit | Everlit | |
#1 S.O.Tech Viper Flat IFAK Pouch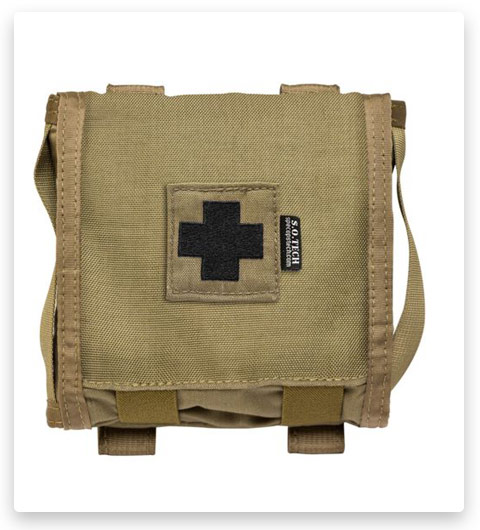 The first aid pouch is made of 500D Cordura Nylon. The product comes in two colors: Black and brown. Thanks to elastic holders you can always carry it with you anywhere: to the market, playground or the trip. This kit has plenty of options that suit your needs. The pouch can be filled with both repair tools and medicines and medical instruments for first aid. The medical pouch has a double zipper which improves component conservation and protection against external access. The strap on the platform keeps it from falling off. All strong snaps allow you to attach it to any compatible gear. The material of housing is water-resistant, so your medical supplies will be protected. Usually, this first aid ifak pouch is used by military personnel, EMT, police, and firemen. It's completed with accessories for hikers, campers, and other outdoor enthusiasts, which will possibly treat bites, wounds and strong injures. The product is also ideal for hunting, shooting and active outdoor activities.
#2 Barbarians Tactical MOLLE Ifak Pouch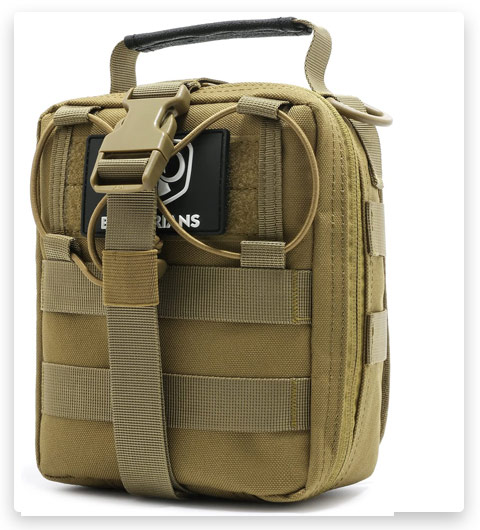 This bag, unlike the previous one, comes already in 3 colors: black, green and brown. The size of it 8 x 6.5 x 3 inches. The cover of ifak pouch is made of high-density 600D Polyester, which is durable and water-resistant material. The bag contains 3 pockets inside. Instrument holders guarantee that your medical supplies will be safe. The pouch can be opened in two ways thanks to the dual zippers. The first aid pouch has a tri-fold design. A huge belt at the top is not only a design accessory but also saves the whole placed inside. The snaps, made of copper, are durable and have premium quality.
#3 Gonex MOLLE Ifak Pouch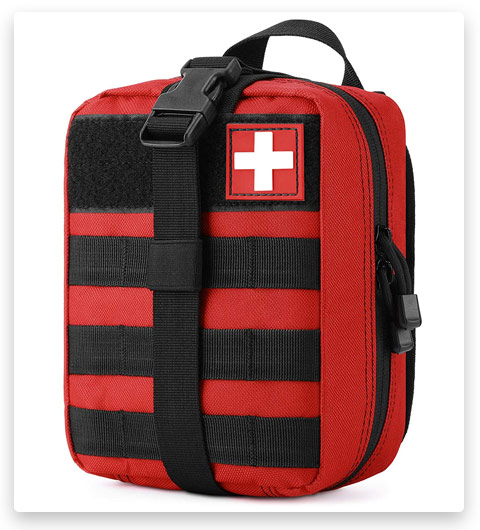 That's easy to store plenty of first aid supplies. The bag has multi pockets. The size of the pouch is 6″x8″x3″. The emergency pouch is made of premium high-quality material, called density nylon. This medical pouch is equipped with durable metal zippers which easily protects emergency medicine. That's very simple to take in and out things. The storage can be applied for any occasion, like cycling, camping, hiking, backpacking, and adventure. 100% money-back guarantee makes this ifak pouch attractive for anyone.
#4 WYNEX First Aid Tactical IFAK Pouch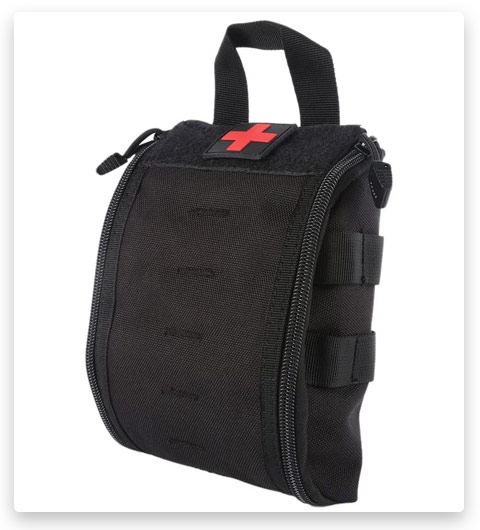 Compared to others, this bag is only black and with a hand holder. It completely opens, which is good if you need to find something quickly and at the same time bad if the components are lost. The cover of the pouch is made of nylon. The advantage is water resistance. The supplier offers 30 days money guarantee. The ifak pouch has professional design for the cylindrical items. The compact size and high visibility make this pouch ideal for first aid.
#5 Delta Provision Co. Tactical First Aid Kit – IFAK Pouch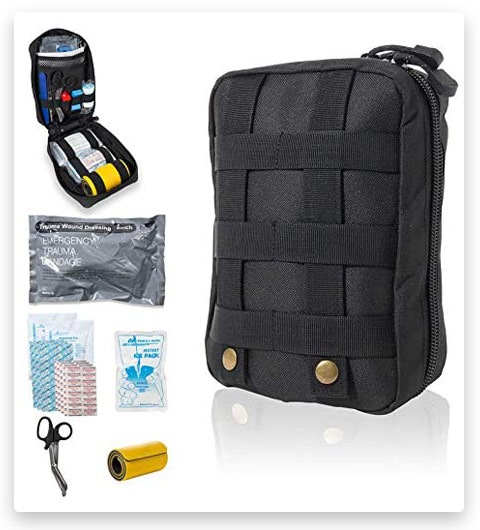 The set can be transported in different modes of transport: car, lorry or truck. The kit allows you to cope with injuries of varying difficulty in camping, wilderness, military, survival, emergency. If you accidentally injure yourself in nature, a set with adhesives, bandages, and disinfectants will be very necessary for you. In this bag, they are already provided for various injuries. The product is also distinguished by specific components from Israel. Also, this set can be well attached to other components of baggage. The material of housing is nylon. This kit is also equipped with bone elastic bandages.
#6 Carlebben EMT Pouch MOLLE Ifak Pouch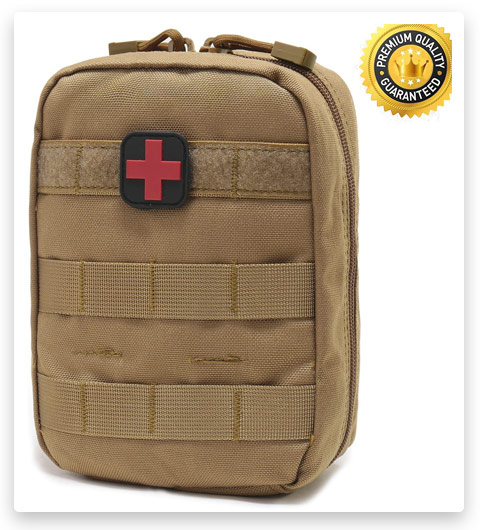 The material if high-quality nylon. Most straps are strong. You can attach this medical pouch to any compatible gear. The kit is very convenient to take with you anywhere in the car or use it in the home yard. You will have the possibility to complain about the product for 90 days. Zippers and pockets make it suitable in emergency situations.
#7 Condor Rip-Away Ifak Pouch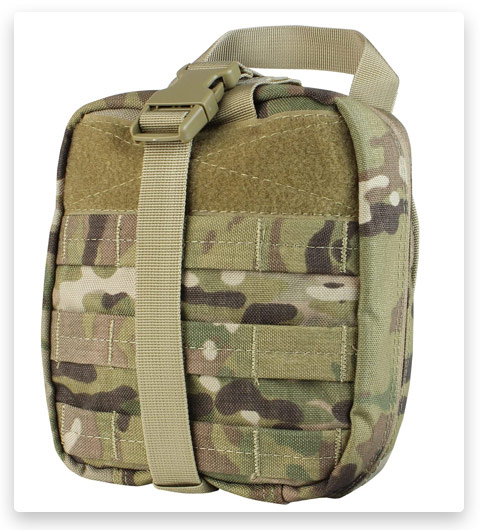 The bag is different from the rest because of the khaki color. This pouch can attract the military and the police. Multi-pockets make it useful for any little thing. Also, the handbag is made in different colors for every taste. Double clasp helps not to lose important little things. Wide handle helps to carry or rapid removal. Two D-rings are located on the back for shoulder strap. Unfortunately, shoulder straps are not included in this kit.
#8 WYNEX Tactical Molle Admin IFAK Pouch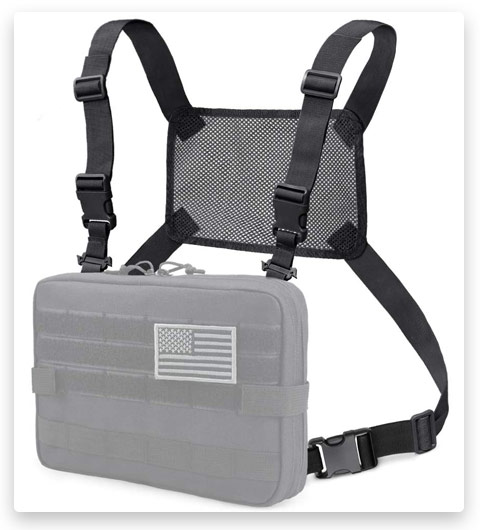 This kit is comfortable to carry on your back. The holder on the back helps to maintain posture. The housing is made of nylon, which is a strong material. The pouch has plastic tactical connectors for straps. These extra straps help in the most difficult cases. This equipment helps hands-free for something else. Lining on the back helps to carry a heavy load without causing back discomfort. The kit includes only suspenders but does not include a bag.
#9 Orca Tactical First Aid IFAK Blowout Pouch (Bag Only)
The product has been used in the USA and is well tested. It has a handle for quick removal and timely first aid. The bag is made of polyester. The inside of the bag is protected by strong locks. This set also has upscale double-sided zippers. Inner straps and mesh compartments with zippers keep everything in place. The solution is the standard used by the military, police, firefighters and responsible civilians as an easily accessible and necessary component for first aid. It can store first aid items for the treatment of bites, wounds and any other injuries quickly and at any time. The kit is designed to provide you with maximum protection and security.
#10 Everlit Emergency Survival Trauma Kit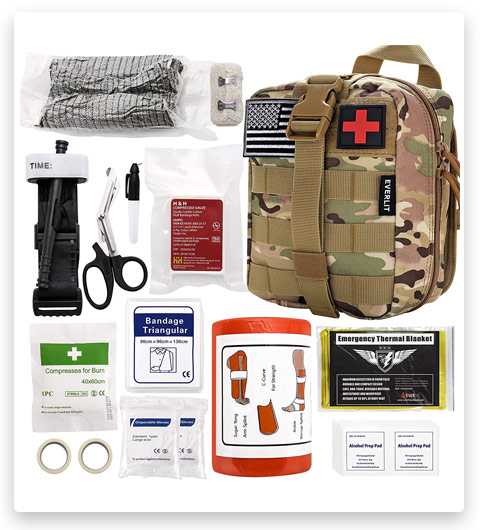 This kit will prepare you for emergencies during the outdoor adventure, hunting, camping, travel, disaster, and accident. It can be used mostly by tactical medics, police, military and combat lifesavers. The kit contains most user-friendly things. The first aid includes military combat tourniquet, tactical Israeli pressure dressing, and compressed gauze. Especially it will help in open wounds and bleeding. The emergency thermal blanket is designed to keep body temperature in an accident situation. Enough items are also for bone fracture treatment. The bandages secure limb from moving around.
Conclusion
In this article we have analyzed 10 unique survival ifak pouches, now you clarify all the information to buy the best in your particular case – to receive an elementary safety in accident occasions, if your budget is limited, pay attention to model 8 if you want to be the owner of the best ifak pouch with the Israeli medical tools, multiple pockets, strong zippers, and strap holders, your budget is not limited – choose model 10.
Tags: #Ifak #Pouch #Review #Best #Kit #Edc #First Aid #Editor's Choice #On The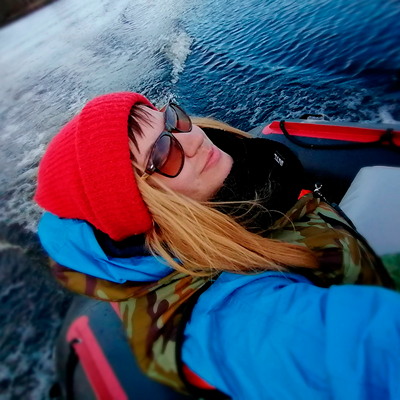 Olena Dubose
Traveler & Camping Expert
I was born in a family of experienced travelers and used to spend all my school breaks and long weekends camping and hiking around the most admirable places in Canada and sometimes United States. My dad used to be a soldier and always taught me how to survive during unpredictable circumstances. Like every other kid, I wasn't really interested in my parents' extreme lifestyle when I was little, but I can't imagine my life now without regular outdoor trips and extreme sports.
Thanks to my intense childhood and a few decades of experience I can now choose the best equipment for any adventure waiting for me to dive in. And after all, I have been through, I want to share my knowledge so more people could join an enjoyable and breathtaking trip to discovering magical nature around us. Forget about five-star hotels and treat yourself with thousands more in a cozy camping trip!
Read more
about our team
of expert authors.