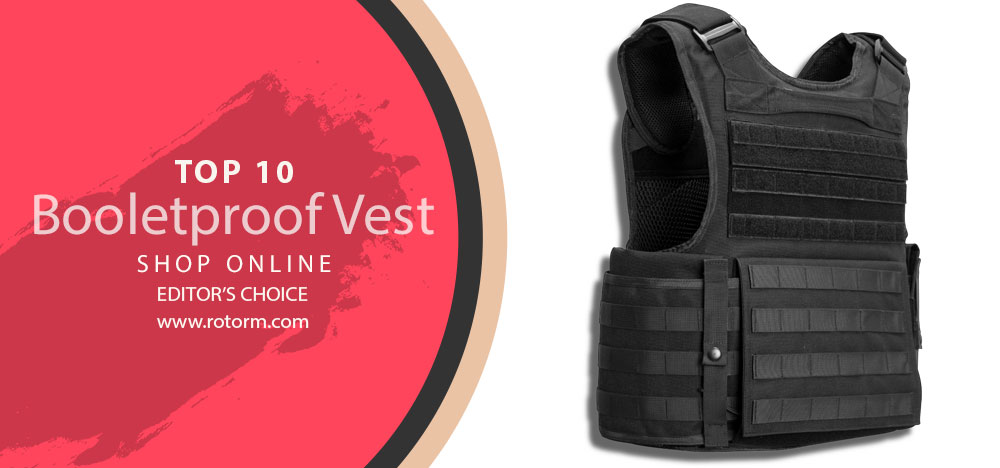 What is a Bulletproof Vest? 🔔
It is a protective garment worn by individuals, primarily law enforcement officers and military personnel, to shield themselves from bullets and projectiles. It is designed to absorb and distribute the impact force, reducing the risk of injury or death in potentially dangerous situations. The vest consists of multiple layers of strong and durable materials, such as Kevlar or other synthetic fibres, which are capable of stopping or slowing down bullets before they can penetrate the wearer's body.
Please watch this video to learn more information📺
Parts 🚨
🔰 Kevlar: Kevlar is a synthetic fibre known for its exceptional strength and resistance to penetration. It is woven into layers to create a flexible yet durable fabric used in many vests.
🔰  Dyneema: Dyneema is another high-performance synthetic fibre that is incredibly strong and lightweight. It is often used in conjunction with or as an alternative to Kevlar, providing excellent protection against ballistic threats.
🔰  Twaron: Twaron is a heat-resistant and strong synthetic fibre that is also used in the construction of vests. It offers excellent protection against various types of projectiles.
🔰 Spectra: Spectra is a brand of high-strength polyethene fibre used in the production of these vests. It has a high tensile strength and is lightweight, making it a popular choice for ballistic protection.
🔰 Composite Materials: Some of them incorporate composite materials that combine different fibres, such as Kevlar, Dyneema, or Spectra, with additional reinforcement layers. These composites provide enhanced protection while maintaining flexibility.
🔰 Ceramic Plates: In vests designed for higher-level threats, such as rifle rounds, ceramic plates may be used in conjunction with the above materials. Ceramic plates are rigid and have excellent ballistic resistance, helping to stop high-velocity projectiles.
🔰 Ballistic Gel: Ballistic gel is a substance used for testing and evaluating the performance of these items. It simulates the density and behaviour of human tissue, allowing manufacturers to assess how well the vest can stop bullets.
Features 🧲
The main feature is that it provides protection for the wearer's torso against bullets and other projectiles. The vest is made of multiple layers of strong, resistant materials such as Kevlar or polyethene fibres that are capable of stopping or slowing down bullets before they can penetrate the body.
Next, they are designed to be lightweight and flexible to allow freedom of movement. The vest covers important organs like the heart, lungs, liver, and spine that are most vulnerable to gunshot wounds. However, they do not provide full-body protection. Most vests only cover the front and back torso.
Moreover, they are engineered to dissipate and absorb the high-impact energy from bullets or shrapnel to minimize blunt force trauma to the body. The material layers catch the bullet to spread its force over a larger portion of the vest, allowing the wearer to escape injury.
Finally, they come in different levels of protection or ratings based on their ability to stop ammunition of varying calibres and velocities. Most law enforcement uses Level II or IIIA vests that can thwart handguns and shotguns but not high-powered rifles. Military and tactical vests are Levels III and IV, capable of withstanding higher velocity and armour-piercing rounds from rifles.
Our Top Pick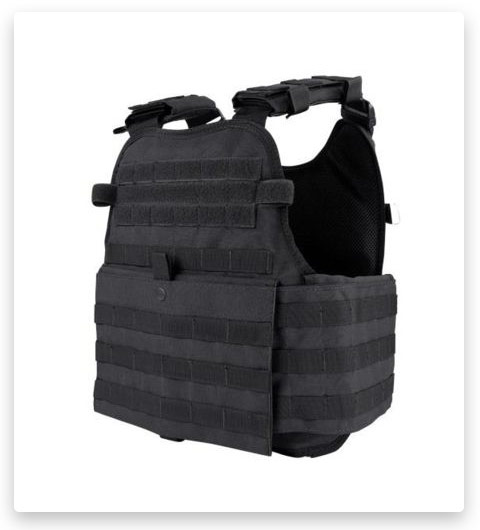 Condor Modular Operator Bulletproof Vest
Condor initially focused on producing camping equipment, but as the company grew, it began to specialize in tactical and military gear. Eventually, Condor expanded to offer a diverse range of tactical equipment, including clothing, magazine pouches, tactical backpacks, rifle cases, and plate carriers.
Buy Now On Amazon
If you click this link and make a purchase, we earn a commission at no additional cost to you.
Types 💡
There are two main types: soft armour and hard armour.
💠 Let's consider the soft armour. ⏭️ It is made of flexible materials such as Kevlar, Dyneema, and Twaron. It is designed to stop bullets from handguns and shotguns. Soft armour is typically lightweight and comfortable to wear, making it ideal for everyday use by law enforcement and security personnel.
💠 On the other hand, hard armour is made of rigid materials such as steel, ceramic, and titanium. ⏭️ It is designed to stop bullets from high-powered rifles. Hard armour is typically heavier and less comfortable to wear than soft armour, but it provides a higher level of protection. Hard armour is often worn by military personnel and law enforcement officers who face a high risk of being shot with high-powered rifles.
TOP 3 Online Stores To Buy Bullet Proof Vests
Bulletproof Vest Review | Best 💣 Bulletproof Vests | TOP 10 Bulletproof Vest
| Image | Product | Brand | |
| --- | --- | --- | --- |
| | 5.11 Tactical TacTec Plate Carrier | 5.11 | |
| | BulletSafe Bulletproof Vest | BulletSafe | |
| | Condor Modular Operator Place Carrier (MOPC) | Condor | |
| | Tactical Assault Gear Plate Carrier | Tactical Assault | |
| | NcSTAR Vism Plate Carrier | NcSTAR | |
| | BulletSafe Alpha Plate | BulletSafe | |
| | Vism Discreet Plate Carrier Vest | Vism Discreet | |
| | BlackHawk Low Vis Plate Carrier | BlackHawk | |
| | Shellback Tactical Banshee Rifle Plate Carrier | Shellback | |
| | BulletSafe Bulletproof Ballistic Plate | BulletSafe | |
1# 5.11 Tactical TacTec Bulletproof Vest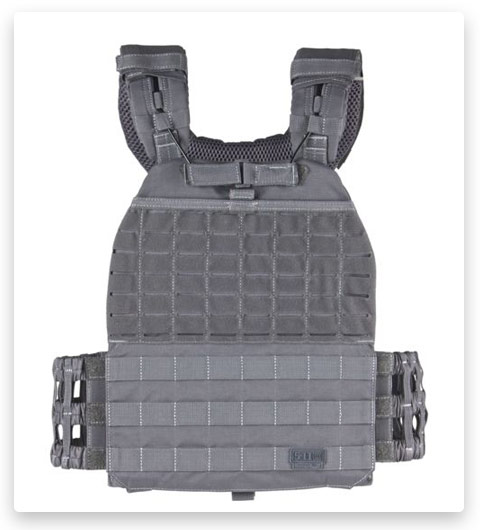 5.11 Tactical is a well-known company from California with almost two decades of experience in designing and creating clothing and various tactical military and law-enforcement equipment like backpacks, gun holsters, tactical knives, gloves, and boots. Also, 5.11 is famous among sportsmen for being the official provider of plate carriers for CrossFit Games. Keeping this in mind you can probably already assume the great versatility and comfort the TacTec Plate Carrier has to offer.
As a multidisciplinary athlete, first of all, I have been really delighted with how it fits me during HIIT and shadowboxing training, it fits you perfectly tight in all the right places, and plate weight is perfectly distributed thanks to well-made shoulder straps. Speaking of ballistic plates – it fits SAPI medium and large ones and has a reliable plate fixation system to make it stick in its place perfectly still, and when necessary the whole vest can be dropped using a quick-release system that can be activated with one hand.
There are also plenty of MOLLEs available useful for carrying a good count of magazines and other stuff you want to carry. Made of 500D Nylon and covered with a water-resistant coating, TacTec carrier vest is available in 7 different colours – from black to sandstone and all camo variations.
2# BulletSafe Bulletproof Vest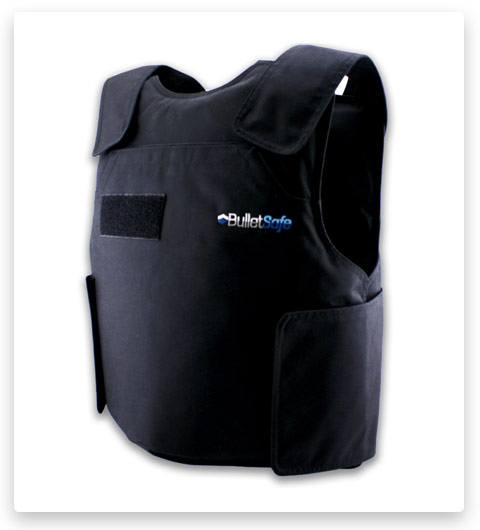 View on OpticsPlanet View on BulletSafe
Bulletsafe (the name speaks for itself) was founded in the USA with the idea to create affordable yet quality bulletproof vests for everyone who needs some extra protection due to their dangerous jobs. According to such policy, the BulletSafe Bulletproof Vest price is set to a generous 299$ with Level IIIa ballistic defence straight from the box. This vest can withstand calibres up to .357 Sig and 44.
Magnum, and all lesser accordingly. It means that this protection surpasses all hits that can be delivered with all common pistols and SMGs AND (this is important because not all vests offer you protection from stabbing and piercing) all variety of melee weapons. But if this is still not enough and there is a real warzone around you, additional ballistic defence plates can be placed inside special pockets on the front and the rear sides of the vest improving its ballistics protection to formidable Level IV.
I tried this vest on with no additional plates first and then with Alpha Plate from the same manufacturer, and I can say that the vest is really well designed, lightweight (2.5 kg for M size with no additional plate), and comfortable. But for sure there will be some issues with concealing it without any outwear, especially if you are a lean athlete guy as I am. In everything else, it is a simple and reliable potential lifesaver for a decent price.
3# Condor Modular Operator Bulletproof Vest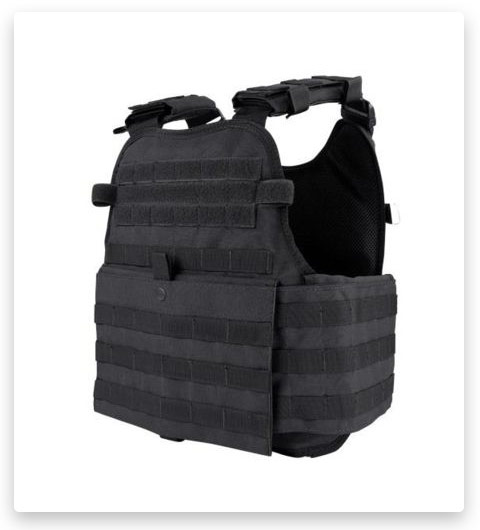 View on OpticsPlanet View on Amazon
Condor started as a company that profiled camping equipment, the more the company expanded the more tactical and military it became. And finally, Condor covered with its wings all kinds of tactical equipment – from clothes and magazine pouches to tactical backpacks and rifle cases, and obviously plate carriers.
At first glance, MOPC looks very solid, with a closer look it has good double stitches that are unfortunately visually spoiled a couple of annoying frayed edges. Traditional velcro and plenty of moles in front of the mag pouches and on its sides for utility stuff. You can fit large SAPI plates in back and front plate holders and the side ones can take 6×6 or 6×8 plates.
Vest feels quite comfy once I manage to make it fit, net lining on its insides is a really nice thing for hot conditions or if you are going to make some workouts in it. Also, there is a useful tactical handle on the back to carry the vest around or drag its user out of trouble.
4# Tactical Assault Gear Bulletproof Vest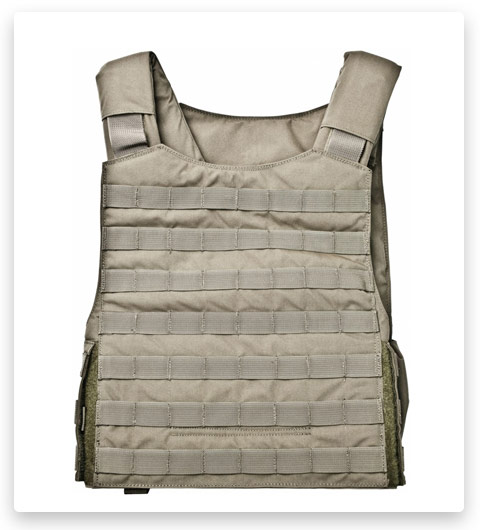 Tactical Assault Gear (TAG) has been supplying hunting and tactical gear markets with its products since the year 2001. TAG presents its tough military-grade gear, made of extremely strong tactical nylon that is solidly stitched, for tough conditions. For me, TAG Plate Carrier has one of the most militaristic looks, beyond any doubt it gives you the sensation of real defence. This one is definitely not for concealed wearing.
But when you wear it fully loaded with Level IV ballistic plates you will feel how well made and balanced the vest is, there are no constraints for whatever movement you are willing to make. Unfortunately, there is no net lining on the inside layer, and the vest itself is quite short leaving the bottom part of your abdomen area vulnerable. Overall it is a good carrier with lots of moles and circular defense with plenty of color and camo variations to choose from. It will provide you with top protection with proper ballistic plates.
5# NcSTAR Vism Bulletproof Vest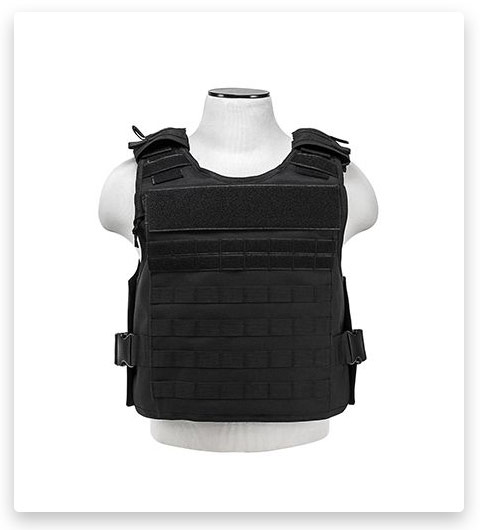 NcSTAR is a manufacturer with a really impressive reach in everything that concerns tactical gear. Originating in sunny California it has already been on the market for recent 23 years. I can't just pass by the cost of Vism Plate Carrier – for such money I bet you can't find any better. I could not tell the difference between this one when I tried it on, and more expensive carriers, it feels solid and well made and easily adjustable. There is a useful drag-and-carry handle for better convenience.
Inner plate holders are made for the soft type of ballistic plates providing defence from pistol ammunition. The plate carrier can be upgraded with additional hard plates placed on the fly to external plate holders available through a forceful zipper, improving your protection to Level IV. However, this carrier does not provide side protection.
6# BulletSafe Alpha Plate Carrier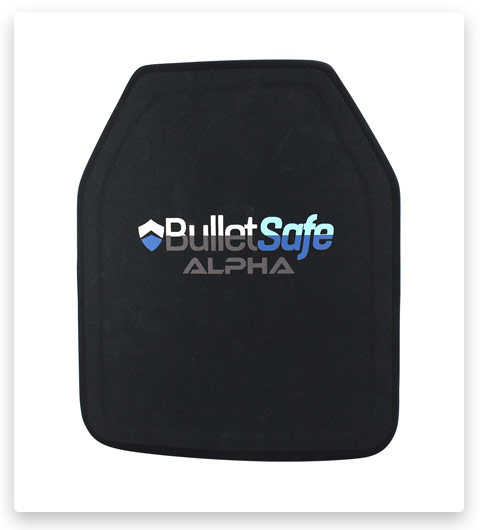 View on OpticsPlanet View on BulletSafe
We have already had BulletSafe creation in this chart, it was their Bulletproof vest with Level IIIa defence straight from the package. If this level is not sufficient and you need protection able to stop a rifle round like 7.62 moving at a speed of more than 800 m/s Alpha Plate is here to help you out.
It will be a great complement to your Bulletproof Vest from the same manufacturer, in theory, it will upgrade your protection to the highest Level IV. But the first thing I noticed how light the package with the plate is, it is really hard to believe that such a lightweight thing can catch up to 6 or more AK rounds. If you have ever held a ceramic and especially steel plate in your hands, you know what I'm talking about. In everything else, it is a solid plate of great quality that fits in every plate carrier I observed here.
7# Vism Discreet Plate Carrier Vest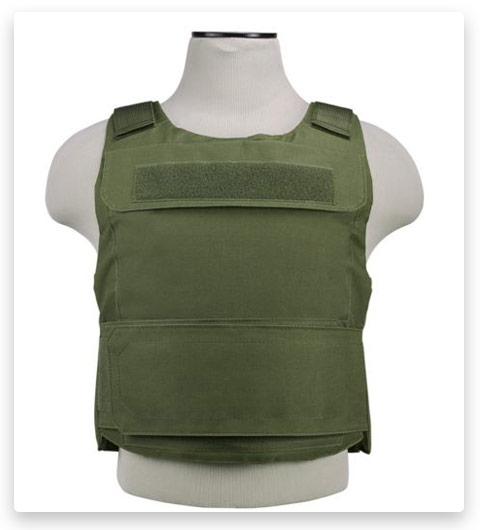 Vism is a division of NcSTAR and their previous Plate Carrier impressed me with its price-quality ratio, but Discreet Plate Carrier Vest made a step even further. 16$ (with discount) for a plate carrier? Give me a break. It passed the try-on and trial process easily thanks to adjustable velcro straps on the shoulders and abdomen areas. You can insert back and front armour plates into external plate pockets, easily accessible through velcro fasteners. And a couple of my IIIa soft plates fit there without any problem.
It is a modest plate carrier – no side protection, no molles, loops for hydrator tubes, and other stuff, but it does what it was meant to do – it feels comfortable to wear, and with a proper plate in it, it will protect you from any gunfire. And it is available in different colours.
8# BlackHawk Low Vis Plate Carrier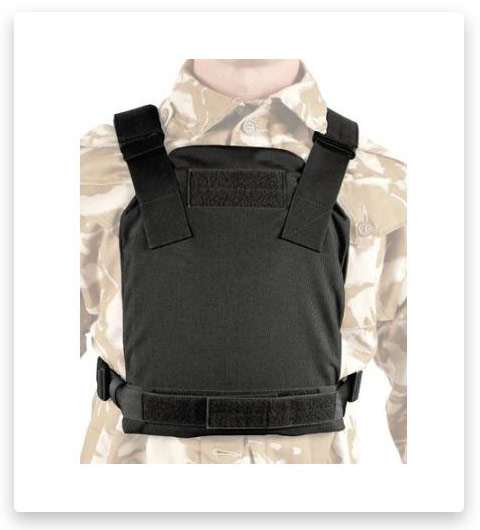 Founded by the Iraq war veteran BlackHawk is a manufacturer with a professional approach when it comes to tactical gear. It is not only about the real combat experience of its founder, but also because of his attitude – as a soldier he experienced gear failure on the battlefield, survived through this, and promised to build fault-tolerant and trustworthy gear that can be used in the high intensity of modern tactical operations. Now let's take a look at Low Vis Plate Carrier by BlackHawk.
It is a minimalistic carrier created with the purpose of being easily concealed under the clothes. That's why there are no molles and other tactical stuff you can find on carriers made for open-wearing. The material it is made of is rather rough, a bit rougher than on other carriers. There are adjustable quick-release buckles on the sides, to make it fit your shape or to easily take it off. It fits really well due to upper straps that are a bit angled to make it comfortable to wear in the shoulder area, especially if you are an owner of an athletic «frame».
With steel armour plate in it does not draw any attention if you are wearing at least a light jacket above your t-shirt or any kind of loose-fit shirt or other baggy clothes. To sum things up – it is a great minimalistic carrier, easy to use, carry and fit, suitable for you, and the ones you want to take care of.
9# Shellback Tactical Banshee Rifle Plate Carrier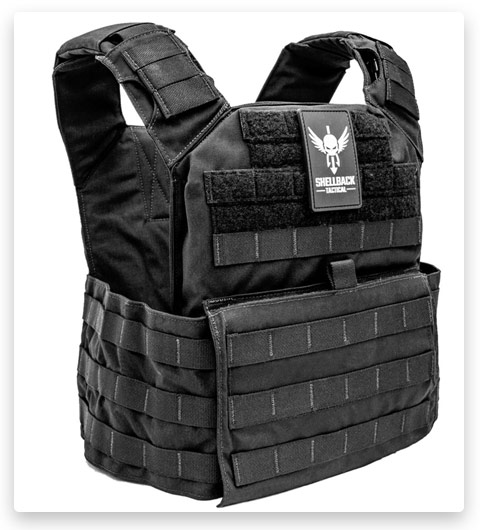 Shellback Tactical focuses on tactical gear for a real combat environment, to keep you safe anywhere from shooting range to a warzone. So they satiate the market with reliable and quality gear with plenty of options to choose from. Banshee Rifle Plate Carrier is everything included type of carrier, it has a lot of variations to customize it with additional mag pouches and utility bags through the molle system.
There are no different sizes for this carrier, instead the carrier is fully adjustable and has one size for everyone, and will fit 10×12 Level III and IV ballistic protection plates in front sides and additional side plates in the cummerbund. It also has a large «kangaroo» pocket in front, but unfortunately, I could not use it without struggling with velcro that (for some reason) fills all pocket space, making it really hard to put something in quickly. There is a strong drag and carry loop on the rear with its ends stitched to the middle of the back.
Fully loaded with plates and mag pouches in front, the carrier sits tight and firm, not restricting your movements, there is even additional padding between your chest and armour plate. All this makes a sensation of a well-thought and quality product that was approved for Law Enforcement officers' usage.
10# BulletSafe Bulletproof Ballistic Plate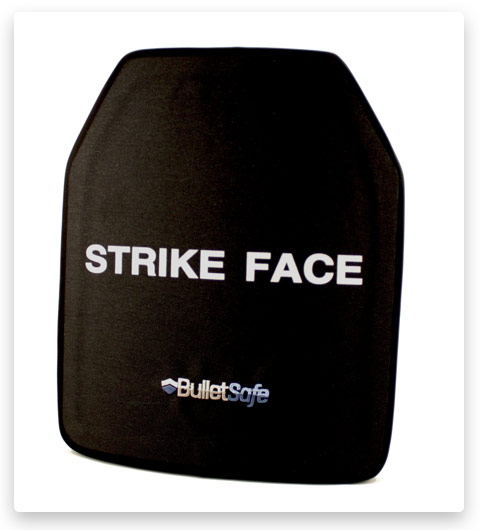 View on OpticsPlanet View on BulletSafe
Another BulletSafe brainchild in this chart is the Bulletproof Ballistic Plate. It offers you Level III ballistic protection as does its elder brother Ultralight Alpha plate, but instead of polyethene, it is made of ceramics. It makes the plate 70% heavier, and it can withstand fewer rifle round hits in the same spot, but in return, it is much more affordable. All this makes this plate a must-buy product if you are looking for high defence possibilities from time to time and not participating in real firearms combat where every lb counts.
How To Wear 😎
🔰 Firstly, it is important to inspect the vest thoroughly before putting it on. We recommend checking if there are no tears or damage to the fabric or seams that could compromise its bullet-resistant integrity. Also, check that all straps and closures are intact.
🔰 Secondly, put the vest on over a thin, tight-fitting undershirt to avoid rubbing or chafing from the coarse vest material. Make sure the front and back panels completely cover your vital organs.
🔰 Moreover, tighten all of the side straps and closure systems starting from the bottom up. It is important to ensure the vest fits snugly against your body with minimal shifts or gaps. The vest should allow for a full range of motion in your arms and torso. Too loose and the vest will be ineffective at stopping bullets.
🔰 In addition, make sure the front and back plate pockets have your body armor plates inserted. The plates provide extra impact protection though they add weight. Make any adjustments to ensure the plates sit properly in their compartments.
🔰 Finally, wear the vest closed with all velcro straps fastened for maximum coverage and ballistic protection. Keep the vest on throughout your entire shift or mission. And only remove it once you are in a secured, safe location away from any live threats.
FAQ ❓
Conclusion 🏆
Bulletproof vests play a crucial role in providing personal protection against ballistic threats in various professions and situations. These vests are designed with layers of resilient materials to absorb and disperse the energy of incoming projectiles, reducing the risk of injury. With advancements in technology, these vests have become more effective, lightweight, and comfortable, offering a balance between protection and mobility.
So as you see there are numerous vests and plate carriers to choose from for any needs, their design may vary but all of them are created with one purpose – to protect you. So these are the ones I'd go for:
BulletSafe Bulletproof Vest. Reason: Level IIIa straight from the package, no need to do additional orders. Appropriate for the majority of civilians.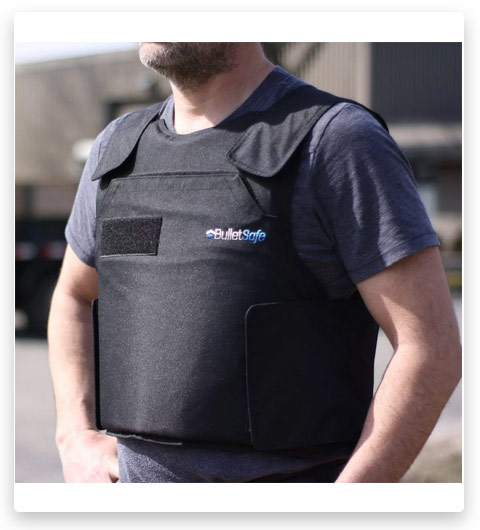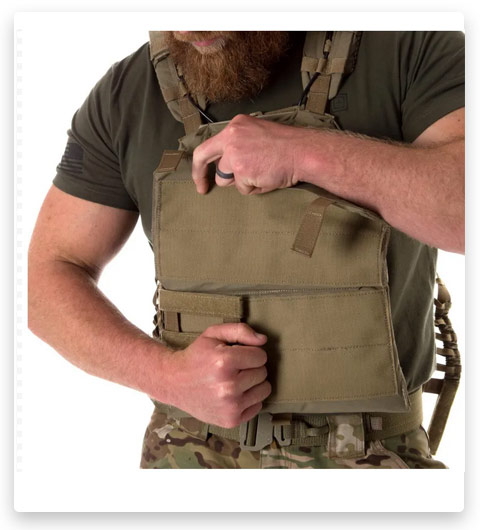 BulletSafe Alpha Plate. Reason: so you encountered the worst scenario and found yourself in the middle of a firefight? Take two of these to cover your front and rear, fit em' in and I bet you survive this fight, just don't forget the helmet.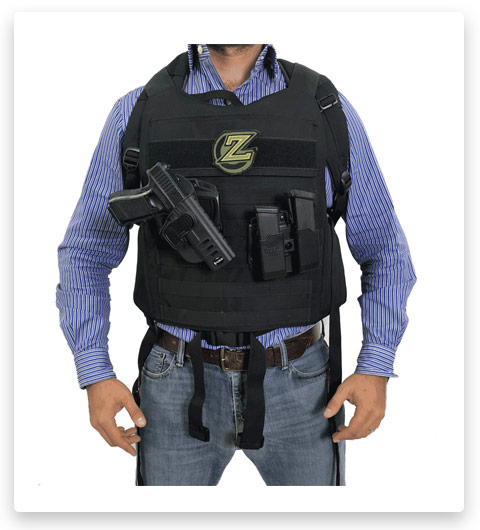 Tags: bulletproof vest, bulletproof vest for sale, best bulletproof vest, tactical bulletproof vest, concealable bulletproof vest, bulletproof vest with plates, bulletproof vest fashion, military bulletproof vest, kevlar bulletproof vest, bulletproof vest plates
#Bulletproof #Vest #Best #Sale #Tactical #Plates #Buy #Millitary #Wear #Illegal #Kevlar #Police #Concealed #Cheap #Backpack #Plate #Legal #Carrier #Review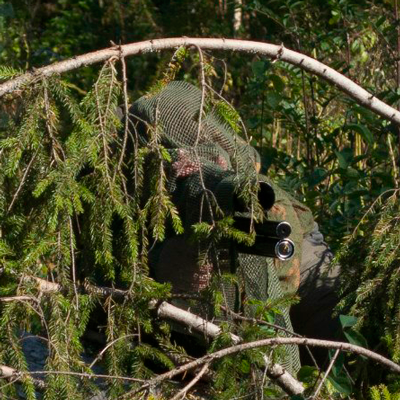 Vlad Miller
Athlete, Survivor, Writer
Hi! I am Vlad! Multi-profile athlete with professional education in sports and physical culture. Devoted to calisthenics, functional- and weight-trainings, boxing, shooting, long-distance bike touring, survivalism, and all kinds of outdoor activity imaginable. Qualified writer and interpreter. Perfectionist who likes to delve into and investigate various specific topics.
Taking apart my favorite AR-15 and Glock 43 with my eyes closed, I write on fascinating and favorite topics: guns, tactical gear, survival, and hunting. I share useful finds and do reviews of products I like, and gun upgrades are my best subjects!
Read more
about our team
of expert authors.
Affiliate Disclosure: Rotorm.com sometimes gets paid for listings, through sponsors or affiliate programs like Amazon, Optics Planet, Lucky Gunner, Brownells, Cabelas, Rainier Arms, 5.11 Tactical, Bass Pro Shop, etс. Clicking a link helps keep Rotorm.com free, at no extra cost to you!
About the author: Each article on our site is written by experts in survival and tactical equipment, gun enthusiasts, extreme travelers, military, law enforcement and desperate professionals, read about the author at the bottom of the article or visit "About Us" page.
Note: The views and opinions expressed in this article are those of the authors and do not necessarily reflect the official policy or position of any agency.