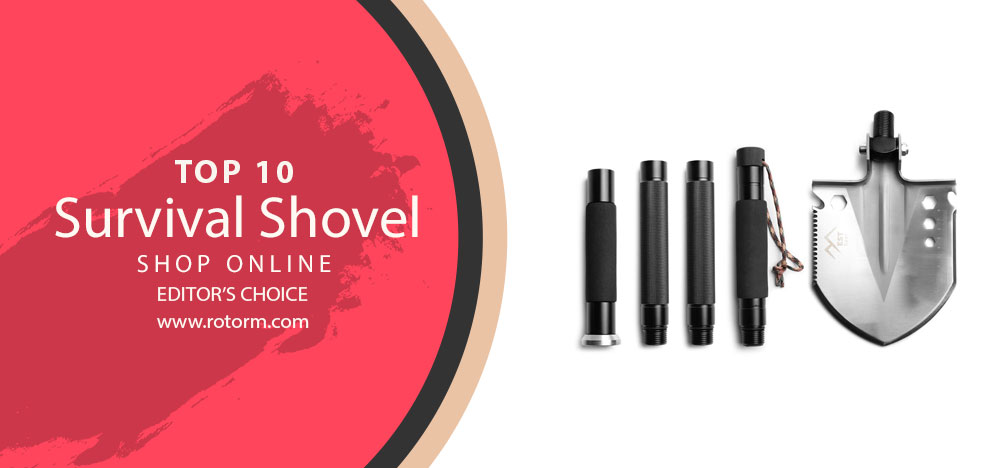 What is a Survival Shovel? 🧐
It is a tool that is essential for any outdoor enthusiast. It is a multi-purpose tool that can be used to dig, chop, cut, and pry your way through various terrain and situations.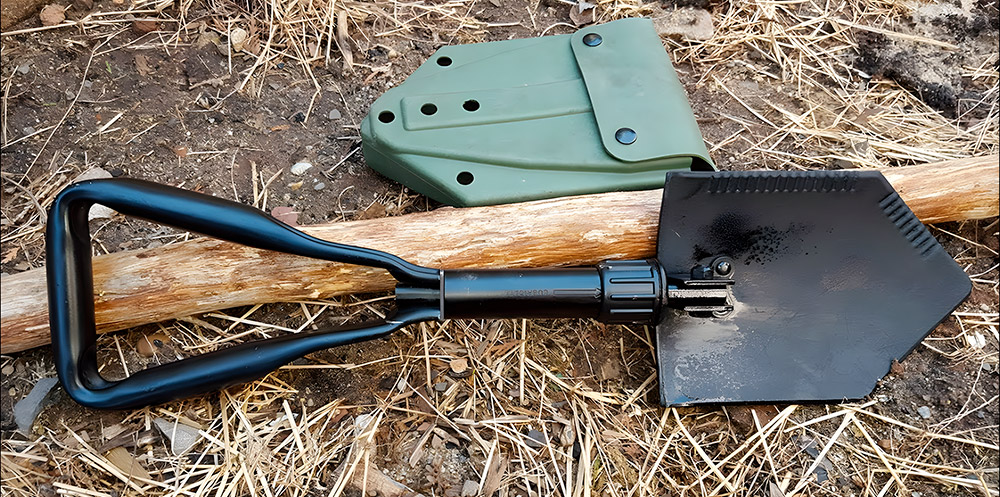 Features 🔥
Survival shovels are a multi-purpose tool that can be used for a variety of tasks related to survival and outdoor activities. These tools typically have features such as serrated edges, heavy-duty steel blades, collapsible handles, and ergonomic designs for easy use.
☑️ Serrated edges are ideal for cutting through tough surfaces like ice, roots, and vegetation. They can also be used for digging in hard soils or to make firewood kindling.
☑️ Heavy-duty steel blades are built with thicker material so they can withstand more abuse than ordinary shovels. This is especially helpful when doing tasks like removing tree stumps or prying rocks from the ground.
☑️ Collapsible handles are great for packing the shovel away when not in use. This makes them perfect to carry in a bag or backpack so they won't take up too much space.
☑️ Ergonomic design allows for comfortable and easy use, even if the user is working for extended periods. An ergonomic handle also reduces strain on the arms and back, making it easier to get more done without getting tired out too quickly.
Our Top Pick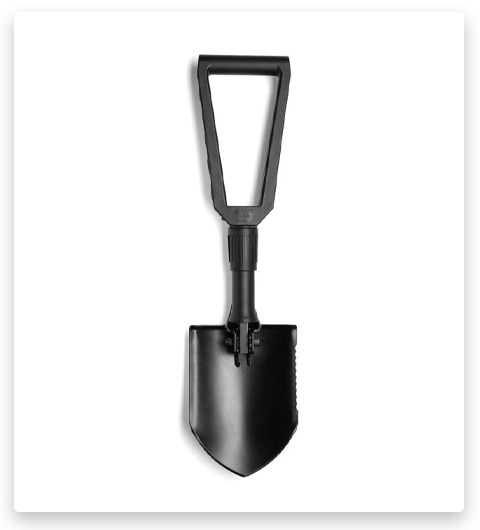 Gerber E-Tool Folding Survival Shovel
Featuring a serrated edge and a cast pick attachment, this shovel is designed to easily chop through even the most solid terrain. Its glass-filled nylon handle provides a comfortable grip, while its powder-coated boron carbon steel spade and anodized 7075 aluminum spade handle make it lightweight yet tough. Weighing in at just 2.3 pounds, this folding spade is easy to transport and store, making it an ideal choice for camping trips, hiking, or even as a portable snow shovel. The integral pick and serrated blade edge add to the tool's versatility, making it a practical choice for a wide range of outdoor activities.
Buy Now On OpticsPlanet
If you click this link and make a purchase, we earn a commission at no additional cost to you.
Benefits 😍
When it comes to preparing for a survival situation, having the right equipment is essential. A survival shovel can be an invaluable tool during an emergency or when faced with challenging conditions. Here are some of the benefits:
💡 Versatility – Such shovels are designed to be multi-functional tools that can come in handy in a variety of situations. They can be used to dig latrines, clear brush and debris, make shelter, fashion weapons, and build fire pits. Their versatility makes them invaluable assets in any survivalist's toolbox.
💡 Compact Size – Unlike traditional full-sized shovels, most of these shovels are compact enough to fit into a backpack or glove box without taking up too much space or adding extra weight. This makes them great for storing and easy to transport when you need it most.
💡 Durability – They are designed to withstand extreme conditions, from cold weather to hard surfaces like rocks and soil. Most models are made of stainless steel, aluminum alloy, or titanium alloy which makes them strong and sturdy enough to use for digging and chopping without fear of damage or breakage even in tough terrain.
💡 Cost-Effective – Shovels tend to be more affordable than traditional hand tools such as spades and pickaxes due to their size and lightweight construction materials used in their production – meaning that they won't break the bank either!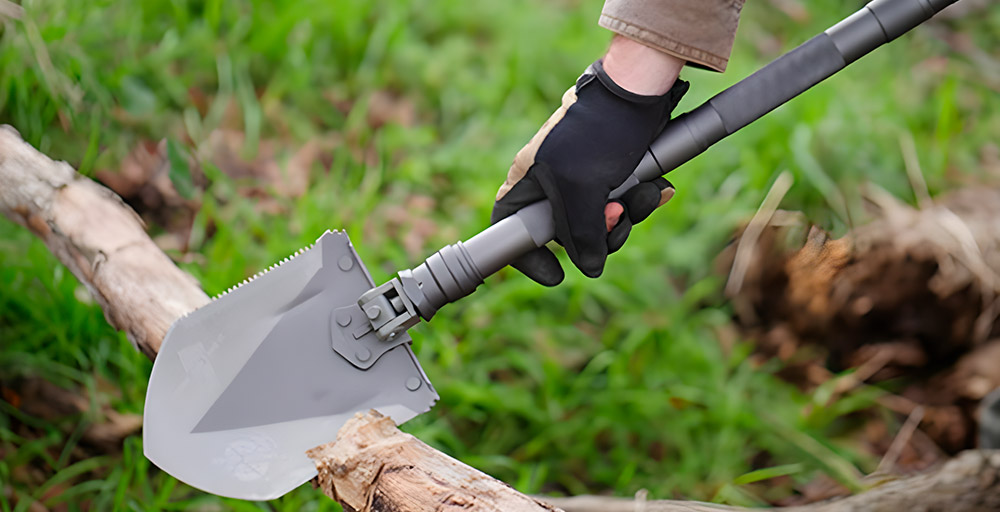 Options & Types 📝
When it comes to purchasing a survival shovel, there are three main options that customers must consider: folding shovels, collapsible shovels, and regular full-sized shovels.
🟦 Folding shovels are compact and lightweight – ideal for quick setup and easy transport. They may come with various features such as serrated edges for cutting roots or branches, pickaxe blades for breaking up rocks saw blades for cutting wood, and more., some folding shovels lack durability compared to full-sized ones due to their smaller size.
🟦 Collapsible shovels benefit from being able to fit into a small carrying bag when not in use but often have less strength than other models. Additionally, they usually require assembly before use, which can be a bit of a hassle.
🟦 Full-sized shovels are the bulkier and heavier option, but they are much more durable than folding or collapsible models. If you're expecting to do heavy-duty work, then a full-sized shovel should be your top choice. They also tend to come with better grip handles and larger blades for maximum efficiency when digging.
Survival Shovel Review | Best Tactical Shovel 🚀
1# SOG Folding Survival Shovel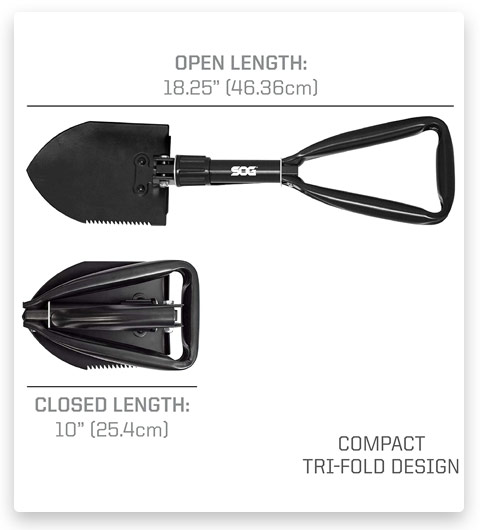 View on OpticsPlanet View on Amazon
Survival Shovel SOG Folding Show – small and compact. Its actual weight is 24.5 ounces (with a case), size is 12 x 9 x 3 inches – folds three times. The ideal size to always take with you because it fits in any baggage and even a pocket. Made of high carbon steel and developed in the USA. On one side of the shovel, there are teeth for cutting wood, it is convenient to cut branches or roots. The use of a shovel as a pickaxe (hoe) is also provided, which makes this shovel multifunctional. A decent shovel to add to your survival kit, but make sure you need one as small as 18". It will be a great helper in camping, gardening, or relaxation. The manufacturer claims that this will help the driver to cope with snowdrifts, sand traps, or a fallen tree, but we have doubts.
The main disadvantage of this shovel is poor quality control. Many buyers are disappointed with the metal thickness and overall quality. In actual use, the metal bends from a slight pressure (even in loose soil). The locking mechanism works very unstable and also – it is plastic! This shovel is stylish and beautiful but can break when first used. How can this be? It's simple, it is made in China, and not in the United States as described. Many buyers do not carefully read the description of the product, and then they are outraged that the shovel is small and suitable only for the child to play in the sandbox. But for children, this is not the best choice. In the manufacture of the shovel, materials are used that can cause cancer and impair reproductive function. Be careful and shop carefully. If you need to dig a large hole or do large excavation work, then this shovel will not suit you.
2# Gerber E-Tool Folding Survival Shovel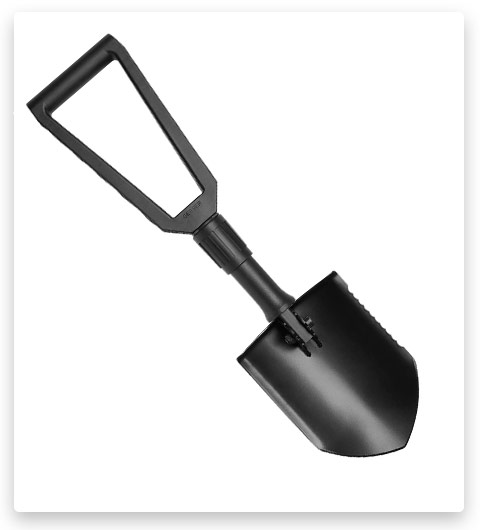 View on OpticsPlanet View on Amazon
Gerber introduces a compact, powder-coated boron carbon steel folding shovel. At one edge of the edge are pointed teeth. They are very sharp and can cope with any task, from destroying the roots to breaking through the ice. Due to its weight (2.25 pounds), it is not very comfortable to wear on a belt or pocket but is well suited for discreet storage in a car. This is a good option for hunting, camping, or an emergency set – but not for daily use. The shovel opens and closes easily and locks in place well. But you may need pliers or another multifunctional tool to adjust the angle of the head of the scapula.
But it depends on the habit, physiology, and the applied. When used in sand, the locking mechanism can be tough, as the sand gets stuck inside, but after cleaning everything falls into place. Due to the plastic handle, especially in the cold season, your hands will not freeze (as from a metal handle). High-quality shovel that copes with its task at 100%. The only negative of this shovel is that it goes without a cover. Its jagged side edge is so sharp that it cuts a bag or bag, while cardboard is dressed on the edge of the blade. And if you have to fold/unfold it in the dark, you can easily get hurt. It needs a durable and reliable case, which unfortunately is not included.
3# Cold Steel Survival Shovel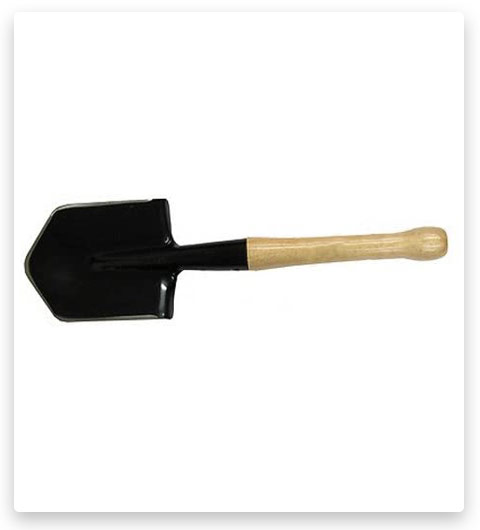 View on OpticsPlanet View on Amazon
This is a true legend! This shovel was a mandatory item of ammunition for the special forces of the Soviet Union (equivalent to the green berets of the US Army). This tool is more than a shovel. This is an ax/machete for chopping branches, it is a frying pan for cooking at the stake, it is a small paddle, and even a weapon for close combat and throws like a tomahawk. If it's good to grind this shovel – it can even be turned into a razor! Thick metal makes the shovel strong and stiff, and the absence of additional tilt or folding mechanisms makes it reliable. This shovel has nothing to break! If you can break the handle with some incredible effort and bad luck, in just 15 minutes you can make a new one from a suitable branch. Take the metal head of a shovel and use it as a small ax. Purchase with small additions (purchase a spare wooden handle and case separately) and your survival kit will be incredible.
4# Rhino USA Folding Survival Shovel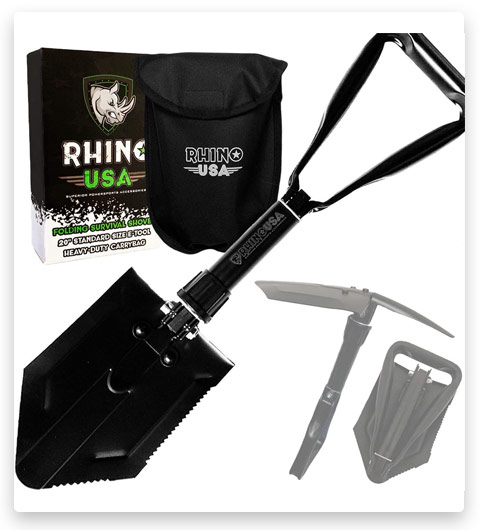 Small neat universal tool for quick work in unprepared conditions. If you need to make a small dig (even in hard clay) or filed a small root or branch – this shovel is your salvation. This tool is designed in California and has a very spectacular look and good functionality. This shovel can tilt the blade 90 degrees and turn it into a scoop (or hoe). During this transformation, a large spike appears on the reverse side, which can be used as a pick. When folding in 3 layers – this shovel takes up very few places and easily fits in the neat case that comes with the kit. Manufacturer Rhino USA, Inc. deliberately used "USA" in the name to gain more trust from customers. The production of metal parts and assembly takes place in China (unexpectedly). This allows you to make the price minimal, but the quality can be very different. The risk may be justified – but you choose.
5# Radius Survival Shovel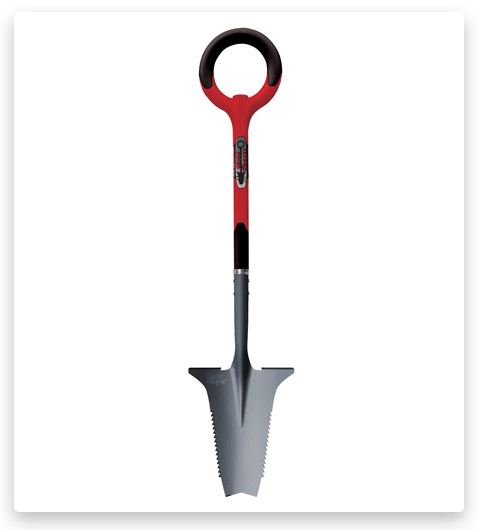 This is not a classic shovel for digging holes and not a shovel for survival in the jungle or forest. This toothy monster was created for gardening. With it, you can easily transplant bushes and small trees without using axes and root saws. According to the manufacturer, such a shovel in the trunk of a car will be an excellent tool for freeing from snow captivity or will help remove a small tree that has fallen on the road. A Root Slayer with a D-shaped handle will be convenient for people of short and medium height and strong and healthy Root Slayer XL with an elongated (and strengthened) straight handle. Speaking about this tool, the manufacturer uses the expression "root killer" – this is not entirely honest.
This shovel is much more maneuverable and can cope with the roots better than usual if they are no more than 1.5″. It is enough to transplant the bush quickly, but it may not be enough to uproot a large stump. In addition, the efficiency of cutting the roots depends on the sharpness of the teeth. Hard clay soil with an admixture of stones – nullify the strongest advantages of this toothed. Whether this shovel will help to quickly dig a dugout in the forest is possible. Will this be your favorite tool when replanting bushes – no doubt! But, do not forget that the shovel itself does not dig, it needs to be picked up and worked.
6# TABOR TOOLS Folding Survival Shovel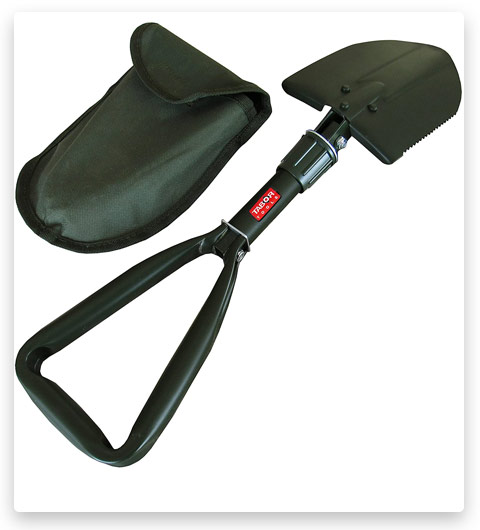 TABOR's folding shovel is made of hardened steel, which makes it very strong and durable. Compactness, lightweight and small dimensions will allow you to take it everywhere. It does not take up much space in tourist luggage or the trunk of a car. It comes in a durable military-grade case, which is easily attached to the belt for convenience. The assembly mechanism works very easily and intuitively (it folds twice). A unique feature is that you can rotate the shovel blade 90 degrees! It turns the tool into a little hoe!
Using sharp notches (only on one side) you can easily cope even with a dense root system of the tree. Such a baby must be in every home, car, and survival kit. She will be your lifesaver if your car gets stuck in the mud. Now back to reality. Not suitable for digging large pits and trenches, so carefully consider the dimensions before buying. It is also not recommended to use this shovel in saltwater, because all parts with unpainted metal can rust. Children also should not give it for games in the sand, although it looks like a toy, they can get hurt on the scalloped edge. Made in China, this may be unstable quality (depending on your luck). BUT! If that happens, 24/7 customer support will always help you.
7# Smittybilt Survival Shovel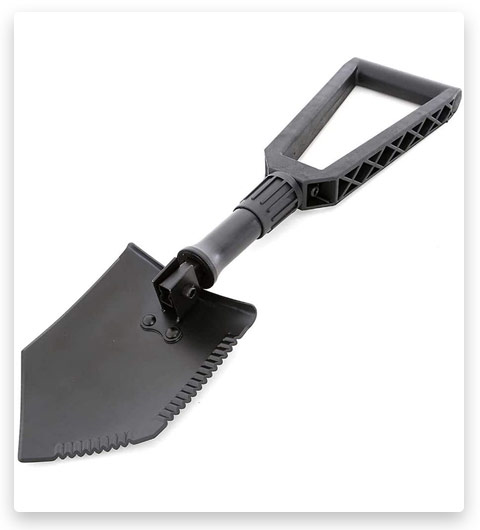 This shovel is designed with a clear understanding of the matter. It is compact and quite convenient to use and at the same time not too heavy. Smittybilt values its reputation and does not put its logo under frank rubbish, therefore – it looks like a good option for emergency dialing. If you have your workshop – you can make this shovel even better! To begin, disassemble it and take measurements from all the details of the spread. Knowing that it was in pristine condition, you can relatively easily restore it in the event of a breakdown. In addition, all blades are not sharpened! Try to sharpen the side saw blades in a checkerboard pattern. Each even clove is on the right side, and the odd cloves are on the left side. This will make the cutting edges as effective as possible in the fight against roots and branches. The rest is an ordinary emergency shovel from China, nothing more.
8# Root Assassin One Shot Survival Shovel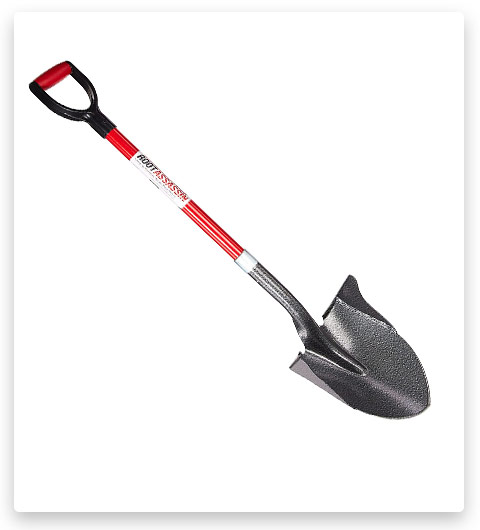 Every good garden tool should be reliable and accurate when used. Root Assassin One Shot is a strong argument for solving any earthly problems. If you need to dig a small trench through solid bamboo roots – this shovel will simplify the process of digging and make the work simple, and the edge of the pit even. This is possible thanks to a durable metal "bucket" of the complex 3D shape. Each dive of 1 inch deflects the lump of soil from the ground, making it separate and light, and the side wings prevent the contents of the shovel from scattering during transport.
For greater convenience, 2 handle options are provided. For small people – a 43-inch D-shaped handle, for tall – a 60-inch long handle. It looks reasonable, but working guys have much larger hands – so the handle itself could be made a little thicker. The convenient curved edge protects the foot when pressed, but can catch on the sole protector.
9# TAC9ER Collapsible Survival Shovel Multi-tool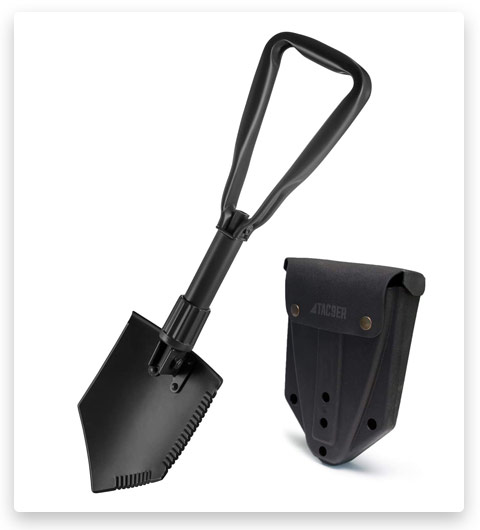 This little shovel for survival is very similar to our competitor No. 7 – but there are differences. It sounds corny, but the main difference is the quality. The manufacturer recommends using a shovel in all possible situations and states: "You break it, we replace it." For a 1-year warranty, you can experience this shovel in all possible adventures, without any risks! If you compare this shovel with the ammunition of the "marine" – it is a little heavier but just as durable. The inclined blade and handle allow you to use it in a variety of situations. An experienced survivor may notice – there are difficulties in turning this shovel into a frying pan – and will be right. It is almost impossible to turn this shovel into a flat frying pan, without a long and painstaking leveling of the soil on which it will stand. Another minus is the rumble inside the case. Small gaps inside the plastic case become very noticeable when transporting the cover in the car. This is easily fixed by adding soft-pressure inserts.
10# Bond Survival Shovel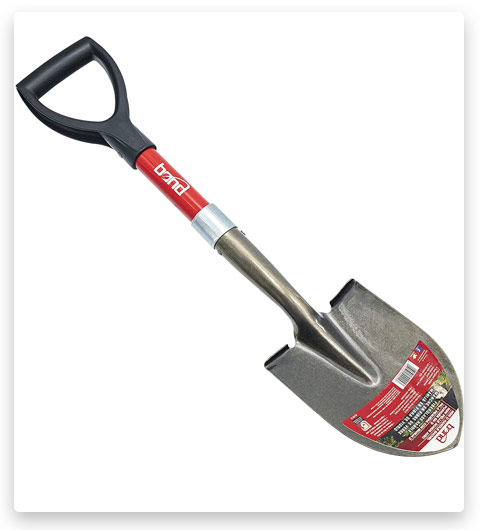 This small manual bulldozer will be a great addition to your travel kit, will become an assistant when working in the garden, and will not take up much space in the trunk of the car. Small, comfortable, and very durable (no plastic adapters or parts) – that's what you can say about the Bond LH015 Mini. Thanks to the short handle this blade is convenient to work in tight spaces and trenches. It is possible to use the small size for other purposes, for example, to involve young children (over 8-10 years old) in gardening. It perfectly educates the character, and love of agriculture, and distracts from gadgets (addiction gadgets). In addition, with such a shovel you are sure to build the largest castle on the shore, and this will be another happy memory! This is the widest blade shovel in the Bond Manufacturing range. If you want to check this – measure the width not in a straight line, but in an external arc! Metal – rounded off! In order not to be disappointed, consider this feature. The rest is an ordinary shovel with a small handle.
How to pick the right one? 😉
When looking for a survival shovel, there are a few factors to consider: weight, size, durability, and cost.
🟣 Weight: For those who plan to carry the shovel in their backpacks on long hikes or camping trips, it's important to choose one that is lightweight but also strong enough to handle tough digging tasks.
🟣 Size: The size of a shovel should fit comfortably in your hand so you can get maximum leverage out of each dig or scoop. Look for something with an ergonomic design that makes it easy to grip and maneuver through soil or snow without straining your muscles.
🟣 Durability: Make sure the shovel is constructed from high-quality materials that won't break easily or rust over time if exposed to water or other elements. Look for features such as powder coating and reinforced handles to ensure it stands up to tough outdoor conditions.
🟣 Cost: Such shovels come in a range of prices, so it's important to consider how much you are willing to spend on one before making a purchase. Generally more expensive models offer improved durability, performance, and comfort but may not be necessary for somebody who plans to use their tool only occasionally or under moderate conditions.
FAQ 🤠
Conclusion 😊
In conclusion, having the best survival shovel is an essential piece of gear for any outdoor enthusiast. Not only can it be used to dig fire pits or trenches in a pinch, but it's also great for clearing debris and making shelter. We hope that this buyer's guide has provided you with enough information about some of the top models available on the market today so that you can make an informed decision when purchasing your shovel! 🤠👍
Tags: #Survival Shovel #Tactical Shovel #Best #Review #Camping #Hiking #Gardening #Multi-tool #Emergency #Folding #Ultimate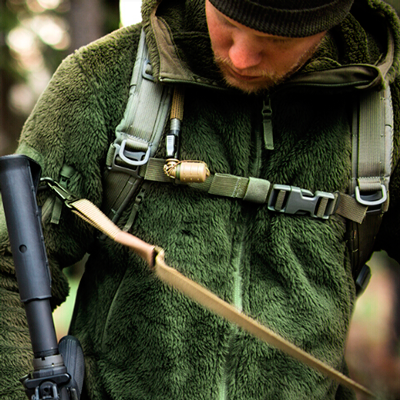 Dmitry Koval
Tactical & Survival Expert
I am from the generation that tried to repeat all the tricks of Jackie Chan, hunted birds with homemade bows, and built my mini-base in the forest. At the age of 18, I was a scout in PLAST (scout organization) and participated in campaigns and quests. Somehow we decided to test ourselves, took our backpacks and walked 50 km (31 miles) in 1 day. We had a lot of fun!
Remembering my past, I ask in bewilderment: "How am I alive after all my adventures?" - harsh trials, reckless parties, love affairs, and a sea of silliness.
My hobbies are weapon upgrades,
tactical gear
, and the latest in wilderness survival technology. I have hundreds of different survival gadgets in my collections, which are sent to me for "test-driving" by Amazon, eBay, and other online retailers. That's what I write about, and I also make YouTube videos about them! Stay tuned!
Read more
about our team
of expert authors.
Affiliate Disclosure: Rotorm.com sometimes gets paid for listings, through sponsors or affiliate programs like Amazon, Optics Planet, Lucky Gunner, Brownells, Cabelas, Rainier Arms, 5.11 Tactical, Bass Pro Shop, etс. Clicking a link helps keep Rotorm.com free, at no extra cost to you!
About the author: Each article on our site is written by experts in survival and tactical equipment, gun enthusiasts, extreme travelers, military, law enforcement and desperate professionals, read about the author at the bottom of the article or visit "About Us" page.
Note: The views and opinions expressed in this article are those of the authors and do not necessarily reflect the official policy or position of any agency.