Affiliate Disclosure: Rotorm.com sometimes gets paid for listings, through sponsors or affiliate programs like Amazon, Optics Planet, Lucky Gunner, Brownells, Cabelas, Rainier Arms, 5.11 Tactical, Bass Pro Shop, etс. Clicking a link helps keep Rotorm.com free, at no extra cost to you!
About the author: Each article on our site is written by experts in survival and tactical equipment, gun enthusiasts, extreme travelers, military, law enforcement and desperate professionals, read about the author at the bottom of the article or visit "About Us" page.
Note: The views and opinions expressed in this article are those of the authors and do not necessarily reflect the official policy or position of any agency.
Are you preparing for going hiking, looking for a suitable means of self-defense, or just going to chop some meat? Then an EDC knife is certainly what you need!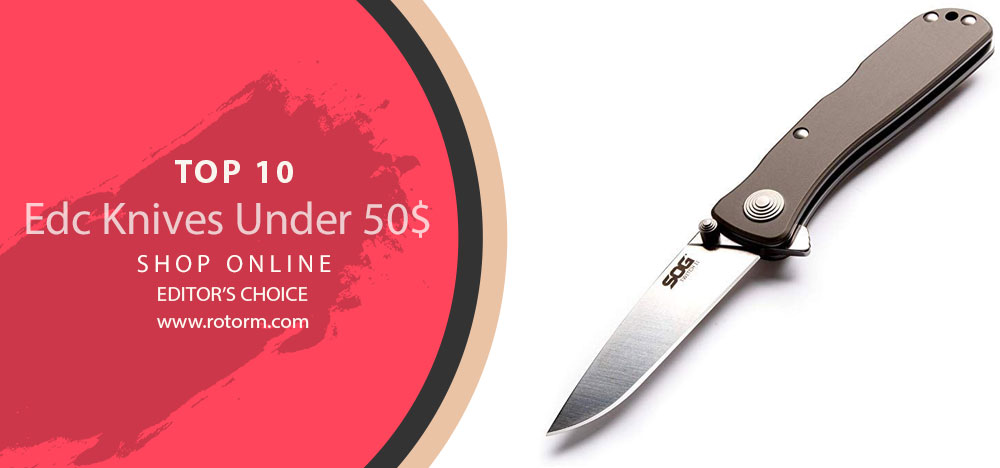 Such a knife could be extremely useful for you whatever you want to do. Its name speaks for itself – it's meant for every day carry. An EDC knife is sure to come in handy during camping, in a household, and of course, in case of a dangerous situation – it can be your companion in any business! So, EDC knives are accepted to be universal which is absolutely a crucial advantage. They are also rather light and convenient in operation. Beyond that, these devices are very compact and elegant and can serve as a unique accessory. Sounds impressive, doesn't it?
While choosing your own EDC knife, make sure you take into consideration the following points:
Portability
Weight and size
Functionality
Long lifespan
Durability
Ratio of price and quality
Thorough choosing a knife is compulsory because it makes it possible for you to draw maximum benefit from your purchase and to get a device that will become an indispensable assistant in your everyday life for a long time. Let's see which variety of EDC knives Amazon offers us. Let's start!
Best Edc Knife Under 50$ | EDC Knives Under 50$ Review
| Image | Product | Brand | |
| --- | --- | --- | --- |
| | CRKT M16-10KZ EDC Folding Pocket EDC Knife | CRKT | |
| | Smith & Wesson Extreme Ops Folding EDC Knife | Smith & Wesson | |
| | Kershaw Barricade Pocket EDC Knife | Kershaw | |
| | Kershaw Cryo II Pocket EDC Knife | Kershaw Cryo | |
| | Ontario Knife Rat-1 EDC Knife | Ontario Knife | |
| | Kershaw Cinder Pocket EDC Knife | Kershaw | |
| | CRKT Squid Folding Pocket EDC Knife | CRKT | |
| | Kershaw Cryo Pocket EDC Knife | Kershaw | |
| | CRKT Pilar EDC Folding Pocket EDC Knife | CRKT | |
| | CRKT CEO Folder 3.1 EDC Knife | CRKT | |
#1 CRKT M16-10KZ EDC Folding Pocket EDC Knife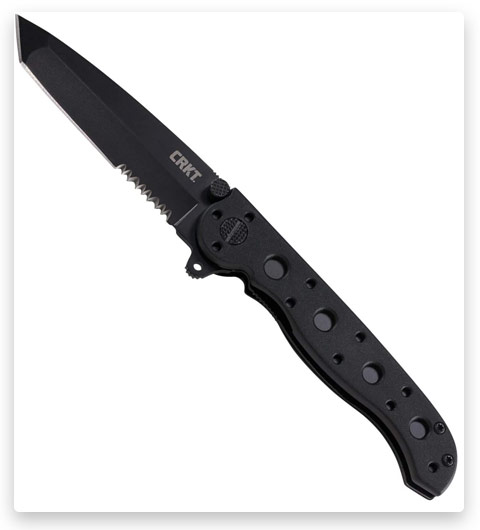 View on Optics Planet View on Amazon
An affordable EDC knife, it is designed perfectly to be used in each case you need. That's why it's overbuilt with an open build frame and high carbon stainless steel blade. It also features an astonishing blade available in plain edge and Triple-Point serrated edges. The result is maximum blade strength and ability to saw through cord, webbing, nets, or vegetation extremely quickly. The knife possesses a distinctive black frame as well. Sounds impressive, doesn't it? The blade opens and closes easily as if you move it with your mind. Amazing Carson Flipper Opening makes you feel this way. Due to the automated liner safety that automatically actuates when the blades are opened, you can feel safe and sound operating with the knife. The handle features easy-to-grip glass-reinforced nylon scales and stainless steel. It makes it possible for the handle to be rigid and to offer excellent toughness and resistance to solvents.
#2 Smith & Wesson Extreme Ops Folding EDC Knife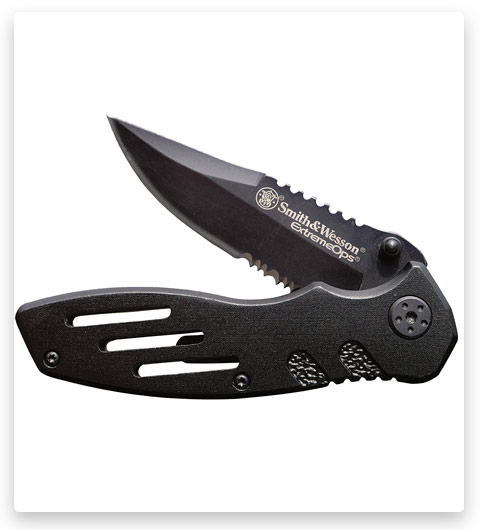 This EDC knife is made with a black high carbon stainless steel partially serrated clip point blade. It has ambidextrous thumb knobs, jimping, and an index flipper that made it really convenient in use. The other nice thing about this device is that its handle features textured material and finger indentions providing a secure and solid grip when in use. Moreover, the knife is so compact that you can smoothly bear it everywhere!
View on Optics Planet View on Amazon
#3 Kershaw Barricade Pocket EDC Knife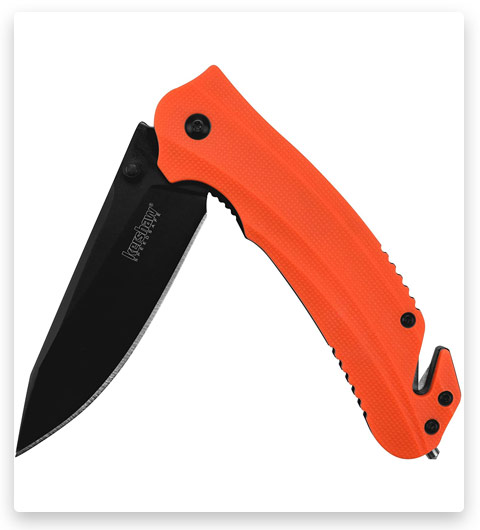 View on Optics Planet View on Amazon
This knife is a real treasure! The Kershaw Barricade is a ready-to-use multi-functional rescue knife without. The bright orange color if the handle provides high visibility and it won't be an issue for you to find it even in the densest grass. We also find it incredible that the device is fitted with carbide glass breaker into the end of the pocketknife allowing unhindered accessibility in emergencies. The Barricade's built-in cord cutter can not only zip through seatbelts but also strip wire and can even cut laminate. The black-oxide coating adds extra protection and complements the orange handle. Moreover, such a coating creates some mild corrosion resistance and tends to minimize light reflection from the blade. The blackening process gives the blade an attractive, smooth, and elegant black surface that is sure to be very desirable to knife owners. So it goes without saying that this knife is definitely a powerful gorgeous monster! What also struck us about this knife is the fact it has two options for one-handed blade deployment. The one-handed flipper is easy to operate by both left- and right-handed users. And it also turned out that a single position pocket clip of the knife allows for a comfortable carry with ease and accessibility. It features a deep-carry pocket clip that enables the knife to ride low in pockets as well.
#4 Kershaw Cryo II Pocket EDC Knife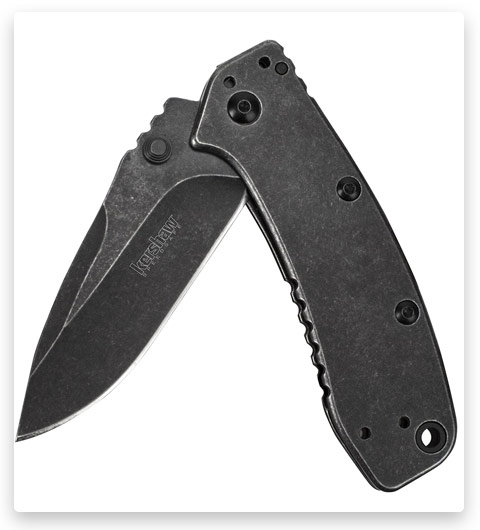 View on Optics Planet View on Amazon
This example is ideal for any backpacker, hunter, wilderness guide, gardener, mechanic, or anyone in need of a sturdy, strong everyday carry. The steel the blade is made of is worth mentioning. Reliable, top-of-the-line steel strongly takes and holds an edge and offers wear resistance that can withstand damage from both abrasive and adhesive wear. And how stunning it looks! The blade performs a precisely formulated all-black matte finish impervious to fingerprints, smudges, and marring.
#5 Ontario Knife Rat-1 EDC Knife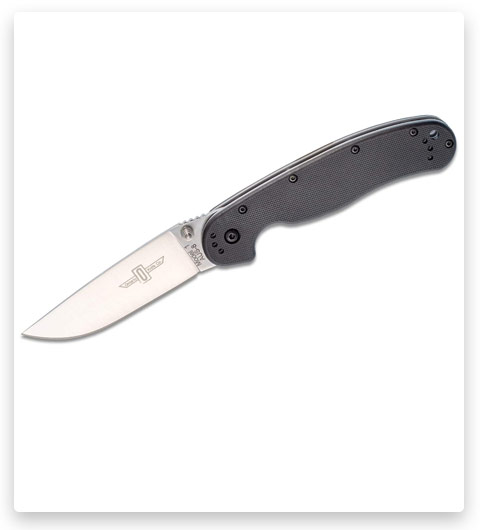 View on Optics Planet View on Amazon
Simple but practical – it can be surely said about this knife. The Ontario EDC knife features an open post construction for easy cleaning. Both the ergonomic nylon handles and spine jimping create a great design with great control. This knife is complete with a 4-way position pocket clip and lanyard hole for a choice of carrying options, which is quite convenient. The device is famous for its quick and easy access with the convenient and removable pocket clip along with a thumb stud flipper, making it perfectly suitable for everyday carry. You can operate with this Ontario knife boldly as its liner lock possesses a secure open position on the knife along with a textured nylon handle for a tight grip.
#6 Kershaw Cinder Pocket EDC Knife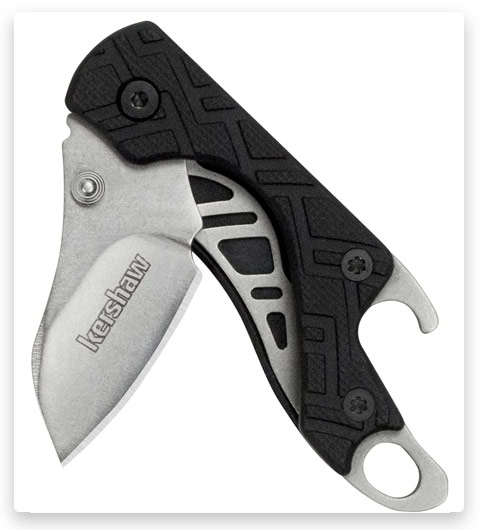 View on Optics Planet View on Amazon
Here is a tiny but mighty EDC knife. It is very likely to become your companion in any business! Kershaw's non-reflective stonewashed finish may be either pronounced or subtle, but in both cases, it transforms the blade by creating a fade-resistant, scuffed look that hides smudges and fingerprints. A stonewashed finish profitably enhances a blade's rugged appearance as well as its indestructibility during field use. Besides, the sophisticated construction of the knife makes it possible for you to deploy is rapidly and safely. This little device is full of other useful crucial features. The Secure locking system safely secures the blade open and prevents unwanted blade closure. The knife is also exposed manual flippers which appeal to inexperienced users as well as experienced ones who give their preference to classic, old-style opening.
#7 CRKT Squid Folding Pocket EDC Knife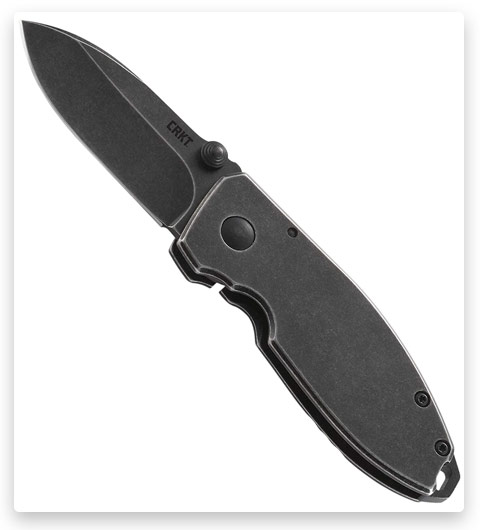 View on Optics Planet View on Amazon
Comprehensive and very convenient, this EDC knife meets all your demands – it is durable due to black stonewash finish, has friction grooves for perfect grip on the blade, and a low-profile pocket clip which enables you to attach it to any item of your clothing.
#8 Kershaw Cryo Pocket EDC Knife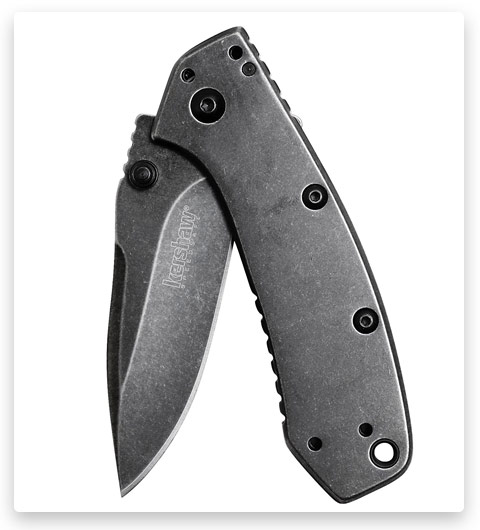 View on Optics Planet View on Amazon
Another impressive EDC knife by Kershaw. This model possesses pre-drilled holes for a 4-way pocket clip providing tip-up or tip-down carry on right and left side. The handle accommodates clip for deep pocket carry. So, you can be sure you will bear it with comfort. The handle also features open construction aluminum tube spacers for lightness for easy maintenance and ageless good looks. The construction of a knife makes it possible for you to make one-handed deployment for a utility or in an emergency when hunting, fishing, camping, or working around the home, office, barn, or garage.
#9 CRKT Pilar EDC Folding Pocket EDC Knife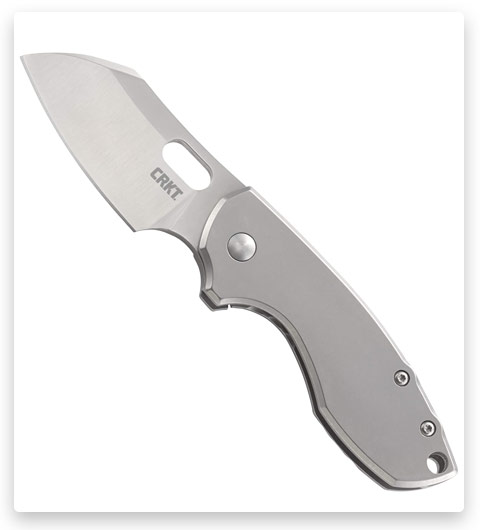 View on Optics Planet View on Amazon
In this EDC knife minimal design meets maximum utility. The device exposes low profile and understated when tucked away, and carefully designed to punch above its weight when using it. Make sure you pay attention to the unusual blade form! The flat grind blade features a satin finish and the fine, but a strong tip is useful for more detailed tasks. It is also suitable for big slicing. The knife is deployed from its stainless-steel handle with a thumb slot opening mechanism and is secured with a frame lock for your safety. Another amazing thing about pillar is that it slips into the pocket easily – smooth handle design never snags on tight pockets.
#10 CRKT CEO Folder 3.1 EDC Knife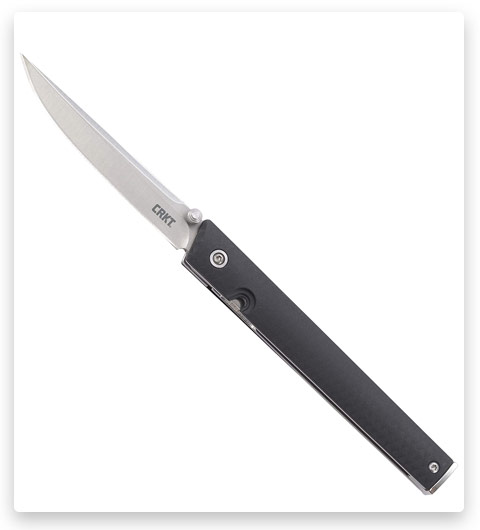 View on Optics Planet View on Amazon
A knife that is created for success. At first glance, it could be mistaken for a pen tucked into a shirt pocket. With a supremely low profile and no corners cut on usability and ergonomics, it embodies the working spirit of everyday carry. Known for its clean, simple, highly-usable design, the knife features an extremely low profile and lightweight so it is extremely comfortable to carry in the front shirt pocket. IKBS ball bearing pivot system enables us to deploy the blade smoothly and fast. The durable glass-reinforced nylon handle is lightweight with an excellent grip. A locking liner keeps it securely in place between the sleek and strong glass-reinforced nylon handle.
Conclusion
To sum up, we can emphasize that an EDC knife can be a useful and necessary item for you whatever you are going to do. Though we ranged these knives in the Top-10, each of them has its advantages, disadvantages, and unique features. And, of course, the choice depends on many factors: price, way of applying, appearance, size, and weight. So we wish you to choose the right knife and hope you will enjoy your purchase. Good luck!
Best Pick:
Tags: #EDC #Knife #Knives #Best #Fixed Blade #Under 50 #EDC #Top 10 #Pocket #Budget #Small #Folding #Sale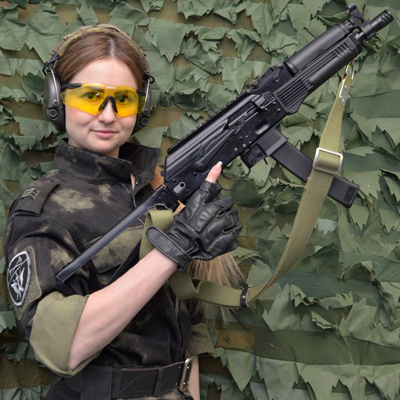 Helen Hernandez
Survival Expert & Gun Lover
Hello, I am Helen. It would seem a successful product manager in an IT company and an expert on weapons - these two roles can never get along in one person. No matter how sometimes there are exceptions. From early childhood, I realized that the love of weapons, such as knives and bows, arrows, crossbows is not just a hobby.
Shooted a hat of the neighbor in the country at the age of 4 with a miniature bow was the first successful step in studying military history. Fortunately, everyone survived. Coming on a date in adulthood, I surprised guys with my knowledge of knives, that's often played a trick on me. No normal man likes a woman smarter than him.
Now it gives me special pleasure to simply study various sets and types of weapons, survival, and
tactical gear
on Amazon, OpticsPlanet, Cabelas, Brownells, and other stores, helping people choose exactly what they need.
At the same time, I show products with natural defects so that the user does not have an ideal picture of what is far from done. After all, no matter how many good reviews were written about the product, the true quality is always important when receiving a parcel.
Read more
about our team
of expert authors.