Affiliate Disclosure: Rotorm.com sometimes gets paid for listings, through sponsors or affiliate programs like Amazon, Optics Planet, Lucky Gunner, Brownells, Cabelas, Rainier Arms, 5.11 Tactical, Bass Pro Shop, etс. Clicking a link helps keep Rotorm.com free, at no extra cost to you!
About the author: Each article on our site is written by experts in survival and tactical equipment, gun enthusiasts, extreme travelers, military, law enforcement and desperate professionals, read about the author at the bottom of the article or visit "About Us" page.
Note: The views and opinions expressed in this article are those of the authors and do not necessarily reflect the official policy or position of any agency.
Hi! I'm sure if you check your daddy's wardrobe you will find at list one Boonie hat. Don't throw it out! Nowadays it is a useful and fashionable accessory. For example, it was used for men's collection in New York Fashion Week this year.
A Boonie hat has been inspired by an Australian bush hat or giggle hat or slouch hat. Such hats became popular in Australia in 1885. After 70 years at the beginning of the Vietnam War, it comes to the USA. It was comfortable and American people adapted it for the US military. This headpiece reached its peak of popularity in 1980. A Boonie hat has a wide brim and is made of elastic material.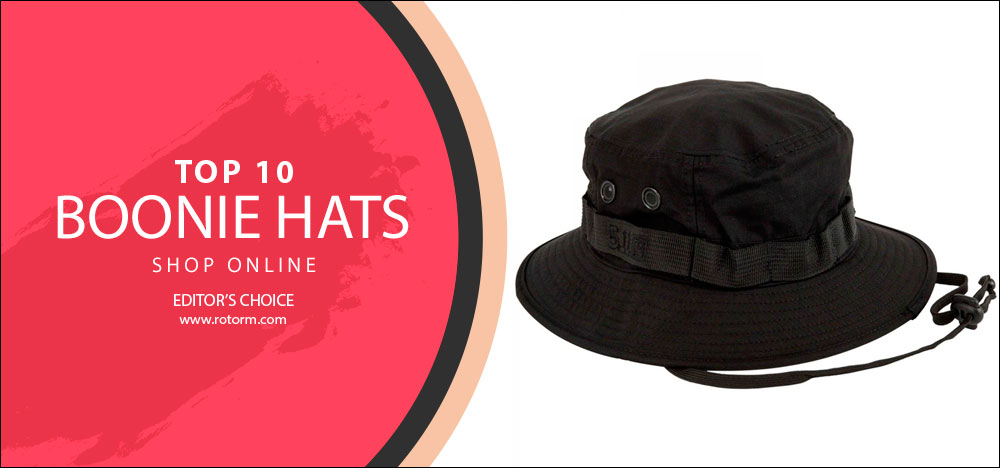 It can protect the owner from hot sun, rain, and wind during fishing, hunting or working. Military versions of Boonie hats have an anchorages ring on top. During the war, this design saved millions of lives: thanks to the rings and ordinary branches, the military created camouflage, this allowed them to hide among the trees. Today boonie hats are popular all over the world. It's not a big surprise – such a headpiece will help you feel comfortable in a big city and in wild nature.
TOP 10 Boonie Hats – Editor's Picks
| Image | Product | Brand | |
| --- | --- | --- | --- |
| | Columbia Unisex Bora Bora Booney Hat | Columbia | |
| | LETHMIK Outdoor Waterproof Boonie Hat | LETHMIK | |
| | EINSKEY Sun Protection Waterproof Breathable Hat | EINSKEY | |
| | HLLMAN Super Wide Brim Sun Hat | HLLMAN | |
| | Tru-Spec Boonie | Tru-Spec | |
| | Kolumb Wide Brim Boonie Hat (Women / Men) | Kolumb | |
| | Tough Headwear Boonie Sun Hat for Men & Women | Tough Headwear | |
| | GearTOP Fishing Hat & Safari Cap | GearTOP | |
| | Frogg Toggs Waterproof Breathable Boonie Hat | Frogg Toggs | |
| | Home Prefer Sun Protection Boonie Hat | Home Prefer | |
#1 Columbia Unisex Bora Bora Booney Hat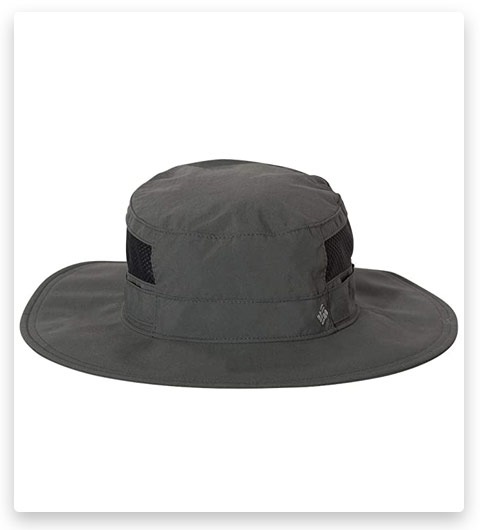 So, our hit parade opens this cute hat. It is made of 100% Textured Nylon Poplin. There are 8 designs to choose from. It suits both men and women. There is an adjustable clasp. But don't put it in the washing machine! Just hand wash. As for me, it's not useful. The hat is from a famous company «Columbia». I think it is a good idea to buy branded items because companies always take care about quality. Especially if it is a big corporation like this. The manufacturer claims that the hat can protect from the hot sun, heavy rain and strong wind. I read feedbacks and almost everybody agrees with it. Almost all customers put 5 stars. One guy said that it has 50spf and really good protection from the sun. But he also was sad because his wife doesn't want to kiss him while he has the hat on. So, the Boonie hat is a good idea for spending time with friends but not for a romantic date with a girlfriend.
#2 LETHMIK Outdoor Waterproof Boonie Hat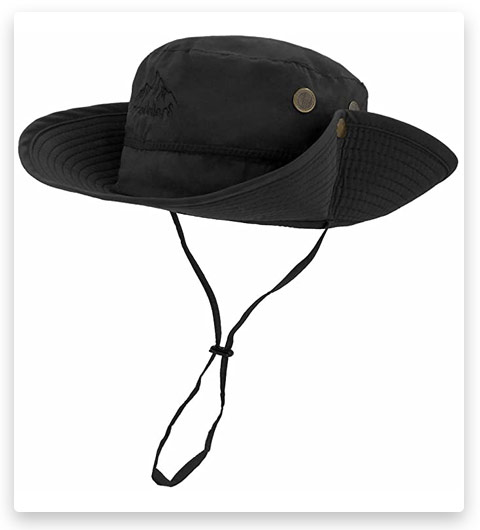 Meet our next lot from Lethmik. It is not a famous company as previously. However, they have a huge assortment and a lot of good reviews. They say that they always glad to help their customers, so if you have questions you can contact the company. «Practically and beauty» are their moto. That's why the hat is equipped with an adjustable wind strap. In windy days it will hold the headpiece on you. The manufacturer uses a waterproof material for this lot. But, unfortunately, in deep rain, it will not help you. It is not an umbrella. The hat is foldable and crushable. Even if you put it in the pocket it will be okay, because of the high quality of materials. This headpiece is unisex. There are 7 colors to choose from. Again, only hands wash. Why?! So, as for me, I like it. It is not expensive. It costs only 14 dollars. And it seems really qualitative. There are nice bright colors. Especially pink looks good.
#3 EINSKEY Sun Protection Waterproof Breathable Hat (Unisex)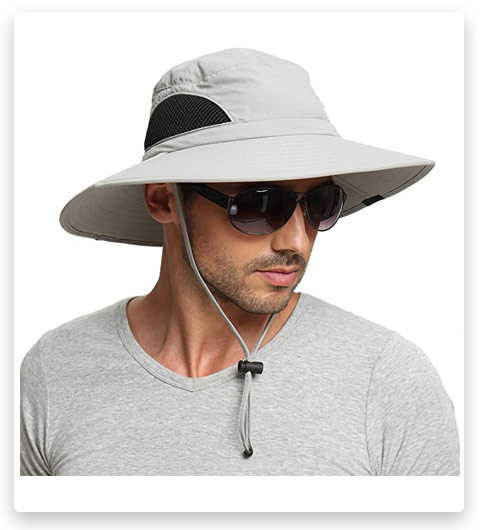 Our third lot is cheap. So, let's look at it in more detail. It is sun protection and water repellent. There are 50UPF, says the manufacturer. But some customers do not agree. They write the hat is thin on the top. Others are fully satisfied. There is one size for everybody. The hat is comfortable and breathable. Special materials allow air to circulate. So, you will not sweat even in the hottest weather. This Boonie hat is packable. Don't afraid to put it in your bag. It will be ok. Also, it is lightweight. It allows taking the hat everywhere. But be ready to wash it by hand. It's bad news. There are 6 designs and colors. As for me, the navy is the best. But everybody can choose what they like.
#4 HLLMAN Super Wide Brim Sun Hat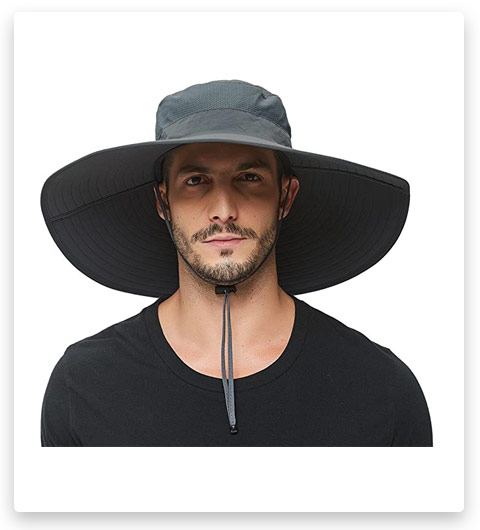 Are you a real man? Does hot blood flow in your veins? If yes, I am absolutely sure, that you like hunting, camping, and fishing. Our 4th hat is just for true men. It is made of 100% Nylon. Fully protection will save you from the hottest sun. It has 50UPF. Thanks to the wide brim, the hat also protects the face and ears. This headpiece has a high quality of the material. It is also breathable. It is the first hat with machine washing. And my favorite. Don't be afraid to stain your headgear. It is easy to clean. Stay cool! There is a fashionable design. Your girlfriend will like it. The hat is great for all outdoor activities, such as camping, fishing, hunting or crazy weekends with friends. One size fits for everybody. There is a lot of good feedback. The price is also ok. Not chip and not expensive. I think it's worth it. By the way, this company suggests you buy hats for women, but with another design and in other colors. In my opinion, it is a good idea to buy for her and him.
#5 Tru-Spec Boonie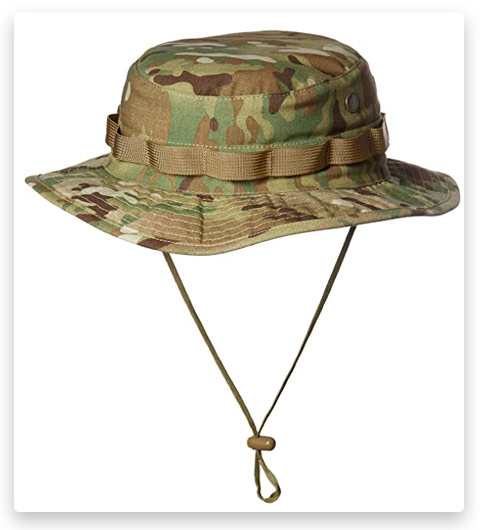 Another great bonnie hat that is made from a mix of cotton and nylon material therefore you can be sure that the material is stretchable yet breathable. There are some sizes to choose from. You can open a special size card to do the order. But some customers say that it is not correct. Moreover, the hat comes with soft drawstrings that will not irritate your skin plus they can be adjusted using the plastic drawstring closure. This will prevent the bonnie hat from moving on your hat during walking, hiking and running. It is a multicolored Boonie hat! There are 7 different camouflage colors. It is protected from the rain.
#6 Kolumb Wide Brim Boonie Hat (Women / Men)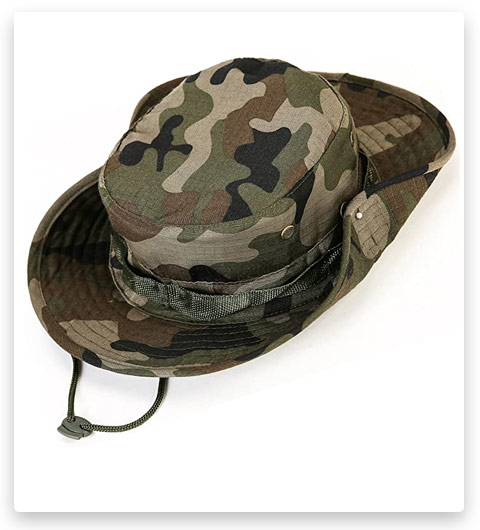 Our next lot is cheap but the quality is the same. I saw some bad reviews. But let's look. The price is really low. I see a big variety of colors. As for me, the colors are really nice. There is one size for everybody. Customers say that it is too small, like for children. The hat is made of polyester and cotton. So it's breathable and elastic. This Boonie hat can be a good gift for children or grandchildren. It looks funny and can be used for different games. You can easily wash it in the machine or even throw it out. Why not? It is cheap.
#7 Tough Headwear Boonie Sun Hat for Men & Women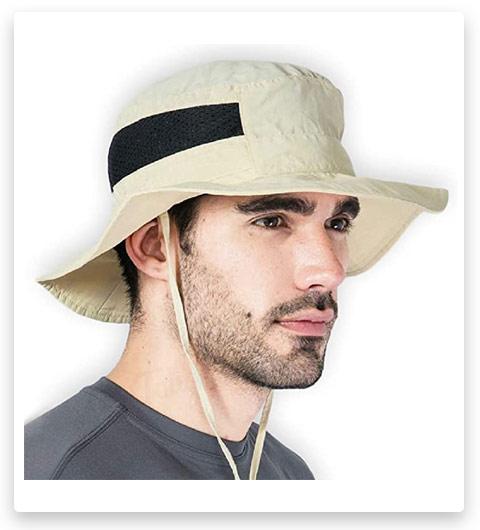 It is a unisex Boonie hat with one size fits for everybody. As for me, it is more for the city or the countryside. Not for wild nature. There are 9 colors. Most of them are light. Not very useful for outdoor activities. But it has 50 UPF. One hot summer day you will be glad to have this accessory. This hat has military, minimalistic design. Made using premium nylon, this lightweight Boonie hat absorbs and wicks sweat quicker than cotton-based hats. It also dries quickly so you can use it when you need it. It is travel-friendly. You can put it in your bag or pocket and everything will be fine. This hat is enough cheap. But it has some bad reviews connected with too small sizes.
#8 GearTOP Fishing Hat & Safari Cap (Sun Protection) – Premium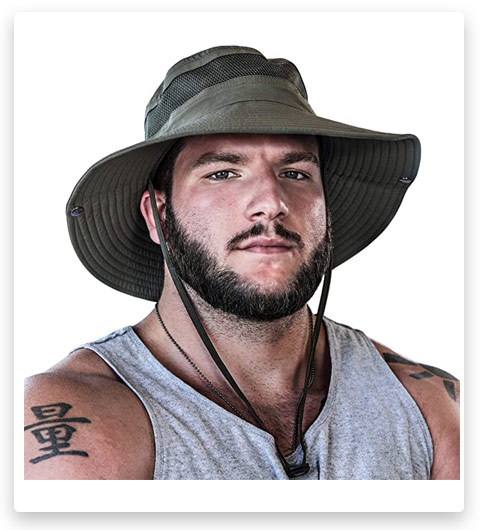 Several features make GearTop Fishing hat perfect for outdoor activities. First of all, it has ultimate sun protection to keep your neck, ears and face safe from harmful UVA and UVB rays. This hat was designed for outdoor activities. So, every detail will help you to feel comfortable everywhere. You also will stay cool with breathable materials. The Boonie hat is quick to dry. If this hat were to go with you for a swim, leave it in the sun for a minute or two. It will be dry in no time. Finally, it has a lifetime satisfaction guarantee. If you have any problems with your hat, just contact the company, and they will give you all the money back. But some customers had trouble with size. They said it is too small for the man's head.
#9 Frogg Toggs Waterproof Breathable Boonie Hat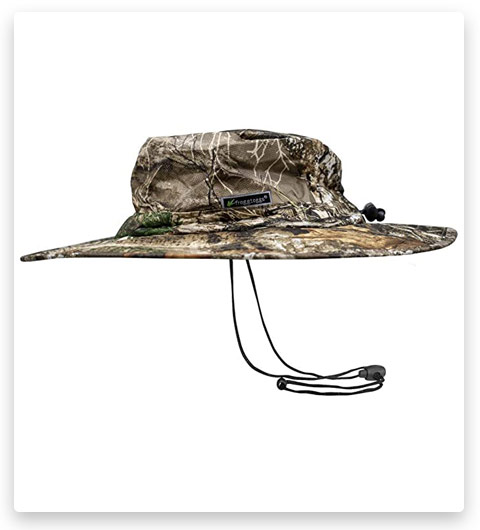 When you spend a lot of time outdoors, one thing you expect is changes in the weather. You may be sitting on your boat with beautiful sunny skies and five minutes later, a rainstorm has blown out of the west. The Frogg Toggs waterproof breathable Boonie hat has a lot of advantages. There is a low price, first of all. Secondly, the hat is travel-friendly. It is lightweight and packable. There are 5 colors to choose from. It has 50 UPF to protect you in the hottest days and breathable materials to help you to stay cool. There is one size, fits both for men and women. But if you have a large had it will be too small. Be careful! The hat is waterproof, but in hard rain, it is better to use an umbrella.
#10 Home Prefer Sun Protection Boonie Hat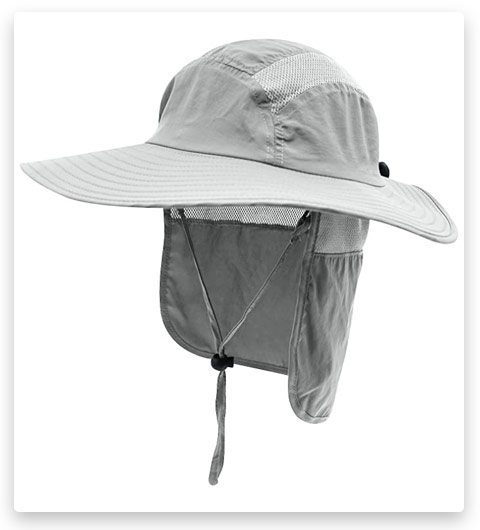 One of the best hot weather Boonie hats is the last one. As for me, it is perfect for all kinds of outdoor activities, such as hiking, fishing, hunting or even safari. With this hat, you will feel good as in the desert as in the jungle. It has 50UPF sun protection. The hat is made of breathable waterproof qualitative materials. It is featured wide brim and mesh vents for cooling airflow through the crown and back flap. But, there are some bad reviews about the back flap. Some customers write that it is really hot and useless. I really like the design and colors. They look beautiful and unusual.
Conclusion
So, as for me, the Boonie hat is a perfect choice for people with an active lifestyle. First of all, it has everything to help you to feel good: 50Upf, breathable, waterproof material. Such a hat looks nice and fits both for men and for women. The majority of the hats are travel-friendly. It means that you can put it in your bag or pocket without fear. It is also lightweight. There is a big variety of prices. You can choose what is suitable for your valet.
Tags: #hiking, #fishing, #hunting, #military, #waterproof, #boonie, #hats
See also similar Rotorm's reviews: Tactical Hat Reviews, Bomber Hat Reviews, Ushanka Hat Reviews, Aviator Hat Reviews, Trapper Hat Reviews.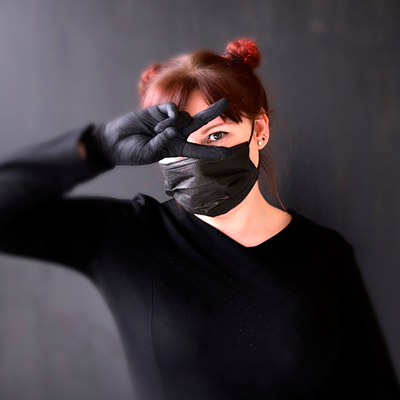 Ann Burwell
Mother, Extreme Lover, Author, and Outdoor Gear Expert
Nice to meet you, my name is Ann. What I can say about myself is that I am a supporter of a healthy lifestyle and enjoy spending my leisure time actively (most frequently outdoors). My hobby is camping, hiking, climbing mountains. And of course, I adore various survival and
tactical gear
, which is so necessary for a comfortable stay in extreme conditions. I am fortunate that my husband and family support me about this.
That is why it is important for me to find good items that will help me and my family have a good time without too much hassle. I like to look for stuff for myself or gifts for my loved ones. We also share the high-quality products we find with each other, and I think it is really important to transfer your opinion and knowledge, that is why I am pleased to share the useful information I find with other people. I'm so happy that my family helps me in this matter. We hope that someone really finds this helpful and interesting enough!
Read more
about our team
of expert authors.