Tactical pen – self-defense weapon, glass-breaker, flashlight, DNA collector, lever arm and even more, combined in one palm-sized piece on the bottom of your jacket pocket, on your belt or on your shirt.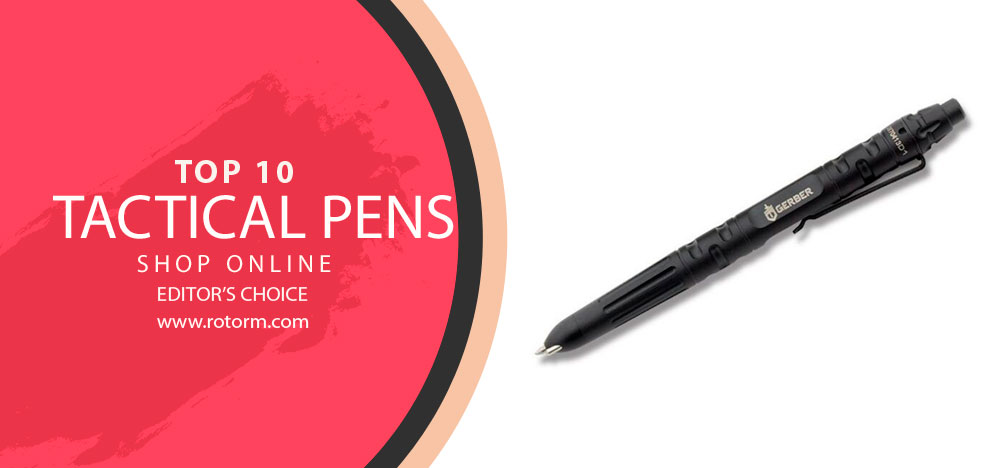 Tactical pen is truly a mighty tool in disguise of a writing accessory that reminds us of its weapon kinship only by its brutal traits, solidness and credible weight.
Why should I get one?
Essentially designed as a self-defense weapon, carrying great surprise effect, it is still a writing item that is, like its ancestor – a simple pen, is not suppressed by any rules and regulations. So you can easily carry it to the places where other means like knives and firearms are prohibited. Confucius said that sometimes you must carry a sword all your lifetime, only to use it once. So in the modern world a tactical pen is your sword, it could save your life one day, or just be useful in filling up your daily planner. Oh, and yes, it definitely has style.
Best Tactical Pen For The Money | Best Tactical Pens Self Defense
| Image | Product | Brand | |
| --- | --- | --- | --- |
| | Gerber Impromptu Tactical Pen | Gerber | |
| | Smith & Wesson SWPENMP2BK Tactical Pen | Smith & Wesson | |
| | KEPEAK Military Tactical Pen | KEPEAK | |
| | Schrade SCPEN4BK Tactical Pen | Schrade | |
| | ANKAKA Most Loaded 6-in-1 Tactical Pen | ANKAKA | |
| | CRKT Williams Tactical Pen | CRKT | |
| | The Atomic Bear SWAT Tactical Pen | The Atomic Bear | |
| | Sminiker Professional Defender Tactical Pen | Sminiker | |
| | TAKEFLIGHT Tactical Pen for Self-Defense | TAKEFLIGHT | |
| | AZYC Tactical Pen | AZYC | |
#1 Gerber Impromptu Tactical Pen (#1 TOP Pick / Editor's Choice)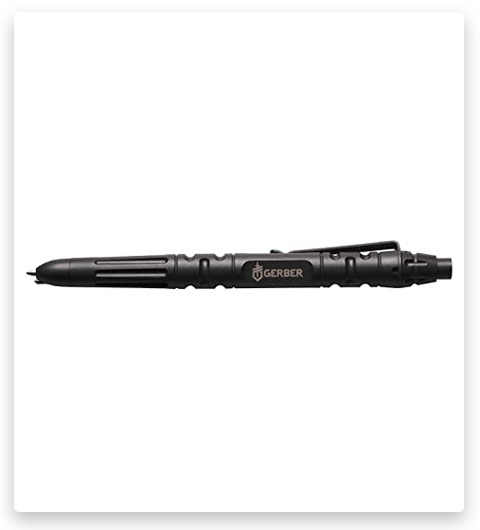 View on OpticsPlanet View on Amazon
Collaboration of the American knife and multi-tool manufacturer Gerber and law enforcement professionals gave birth to Impromptu Tactical Pen. A rugged machine steel body coated with Cerakote™ (special polymer ceramic coating) granted me solid sensation while I was holding it in my hand, solid enough to put my trust into it.
But despite I have entrusted my safety to this fine piece of work, would it still be able to fulfill its writing duties placed in harsh environment settings as its «Rite in the Rain» ink cartridge claims? I made a couple of experiments and I proudly confirm – regardless of the surface you might use, this pen is always ready for some writing action after you push its vintage click-button. It does not matter how hard it rains today, with this pen you will get a fine and smooth line without any smudging.
Another key feature is an integrated glass-breaker made of tempered steel that could be used for car windows shattering, to defend yourself from any attacker or to impromptu actions in extreme situations where you need an object hard enough to strike and break things with. The pen is available in three colors: brutal Black, gunmetal Grey and camouflaging Earth.
Result
Very happy with this purchase! It looks perfect! I don't know what a tactical pen can do in the event of a real attack, but I like it. I love that it is solid, heavy, and made of durable metal. And it has a stylish design. In any case, it is built tough to last a long time. By the way, tactical pens look a little bulky in photos. Actually, they are not that big. I've had no problem flying with it.
#2 Smith & Wesson SWPENMP2BK Tactical Pen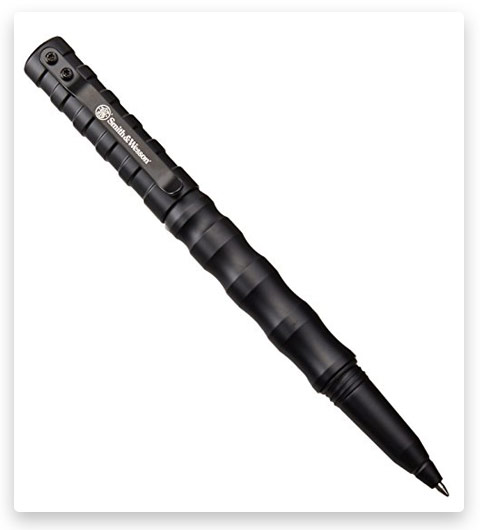 View on OpticsPlanet View on Amazon
Smith & Wesson. That's when things are getting real. What do you think about when you hear this imposing name? Correct – legendary guns and particularly revolvers. So now this weapon manufacturing giant presents you its tactical pen. This one is made from Aircraft Aluminum alloy T6061 that is resistant to all kinds of corrosion even abraded. Design is simple and laconic – no buttons, no automatics, no extras, simply fix it on your belt, in your pocket or wherever you want with a clip and draw it out when you need it as an emergency tool. The ridged grip provided by the pen's hull is incredibly comfortable, and won't slip from your grasp even if you put a serious force on its tip.
When there is some paperwork businesses to deal with simply unscrew the cap and smooth things over. At first, I was worried about the cap that possibly could unscrew by itself while walking, jogging, etc. But S & W already thought it over by placing a rubber O-ring to hold it in place no matter how hard the ride is. I found it only in black color, but it's not a problem due to its universality.
#3 KEPEAK Military Tactical Pen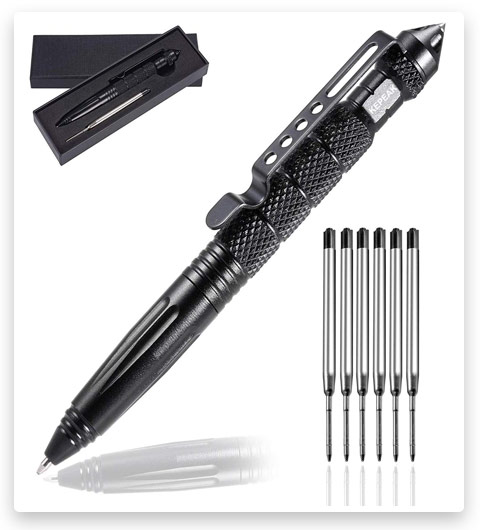 KEPEAK is a China company that specializes on the touring and sporting equipment, kicks in on tactical pens market with its remarkable Military Tactical Pen. IMHO it looks amazing, perhaps too amazing for a self-defense tool with a surprise element. It has Aircraft Aluminum alloy body, with an always ready to use as a windshield breaker or in the matter of self-defense cap made of tungsten steel. The pen is pleasantly heavy and quite thick.
Again there are no buttons, but you can make the tip of ink cartridge go in or out by simply turning the lower part of the pen. If you keep turning you will unscrew it making the change of ink cartridge possible, speaking of those – you are provided with the 6 spare ones (!) straight from the box, that are similar to standard Parker Gel cartridges. The lower part lacks ribs to make a writing grip a bit more comfortable, the surface is bold and your fingers could slip, especially in hot or wet conditions.
The upper part of the pen's body is strongly corrugated to ensure a good grip crowned by the tip of the windshield breaker tip, encircled by special holes made to collect DNA – skin tissue or blood to identify attacker, if you have managed to stab him with this pen.
#4 Schrade SCPEN4BK Tactical Pen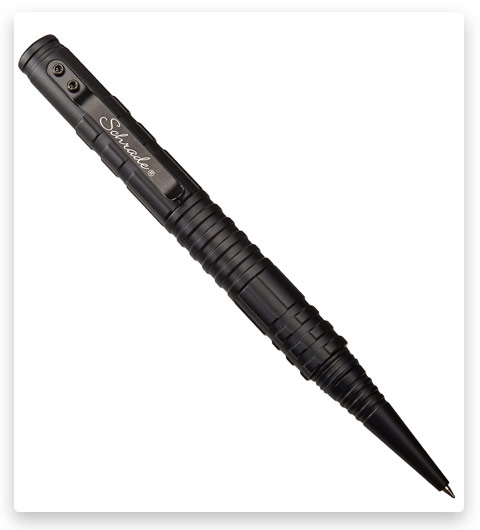 View on OpticsPlanet View on Amazon
Schrade is a well-known American tools manufacturing company founded in 1892 with their goods aimed to satisfy the needs of travelers, hunters, fishermen and all kinds of outdoorsmen. That is why the SCPEN4BK tactical pen carries some distinctive features, making it truly a Survival Pen. This one's body is completely made of 6061 T6 aluminum alloy and feels quite comfortable. In this form it could be straight away as a kubotan-like striking tool with a special pointed tip on one of its ends. It has a standard pocket clip but the essence of this pen is hidden on its inside. So I turned a cap and took it off to figure out that the cap itself is happened to be a signal whistle!
So I tested it instantly, and I affirm that with that little thing at hand you won't ever be unheard, especially if you are a lucky strong lungs owner. The pen without a cap could be used for writing routine, and it looks quite civil. I mean its design is not screaming about its tactical of survival origin. After some writing and drawing testing, I twisted a pointed end on pen's top to reveal a striker which I put aside and turned both sides of the pen's body in opposite directions to completely disassembly it in two pieces, one of which turned out to be a ferro rod! Combined with a striker I got good bright sparks with minimum efforts. You are a survival maniac with the visions of the doomsday and how you will outlive after? You NEED this pen!
Result
These pens look quite heavy and solid. In addition, they can be used in everyday life, for example, for taking notes. I think I'll buy myself one and I'll carry it in my pocket instead of a regular ballpoint pen. You never know what might happen. And you can get used to such a tactical pen and practice using it every day.
#5 ANKAKA Most Loaded 6-in-1 Tactical Pen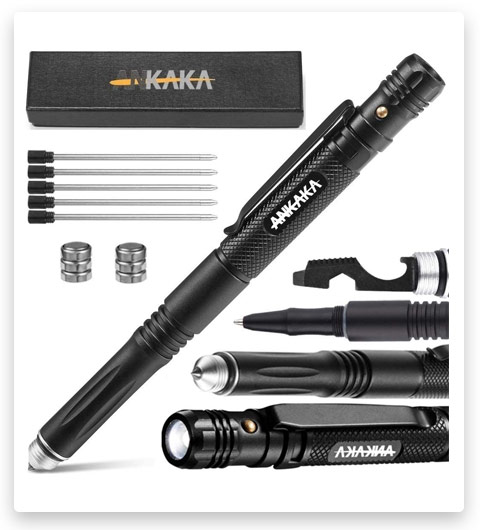 ANKAKA is another East Asian company that manufacturing electronic gadgets, spy cameras, and security products. This high-tech inclination definitely is reflected in their brainchild – Most Loaded 6-in-1 Tactical Pen. Despite we have already had pens with 6061 T6 aluminum body, this one feels really lightweight which gives me two senses – the confrontation between «the heavier the better» and the conception that the lightweight tactical pen is far more suitable for civil carry and use.
Design is rather strict in everything besides the pointed tungsten carbide tip that is literally screaming about its «predatory» mission. The cap of the pen is a led light powered by 3 micro batteries that could be used in normal and strobe modes. The manufacturer claimed the led is «Enough to light up the room», I have tested it in mine and I can say – don't expect some kind of miracle from the modestly sized flashlight, but from now on you are protected against issues like finding something in your dark storeroom. The other handy thing is a unique combo-tool – bottle opener, hexagonal wrench, and flat blade screwdriver. Placed instead of a glass-breaker tip it could be used in various situations – no one would like to stuck in the middle of nowhere with an unscrewed bolt and nothing but a tooth to open a beer bottle. Pen goes with 6 batteries total and 5 ink cartridges and available in common black color.
#6 CRKT Williams Tactical Pen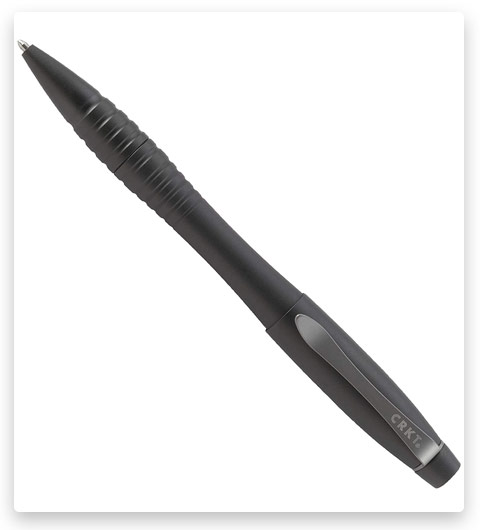 View on OpticsPlanet View on Amazon
Columbia River Knife and Tool (CRKT) is an American company founded in 1994 producing quality knives and multi-tools. The Williams Tactical Pen made in collaboration with James Williams former Army officer and martial instructor with 45 years of experience, and this pen is a real ninja amidst other tactical writing accessories. The pen is made of 6061 aluminum alloy coated in a matte black finish and has matchless stealth appearance.
It really looks like a stylish writing tool – no aggressive pointed tips, no DNA-collectors, and all this self-defense stuff BUT it is capable of breaking the car window if you strike properly with a pointed top part. Minimalistic design no turning or button pressing – just snap the cap off and it is ready for writing. The pocket clip could be removed if wanted to. The grip feels very confident thanks to the pen's hull shape, despite it is not hardly ribbed it still has ridges in all right places providing comfort in both civil and «battle» modes. This is a real EDC item suitable for everyone.
#7 The Atomic Bear SWAT Tactical Pen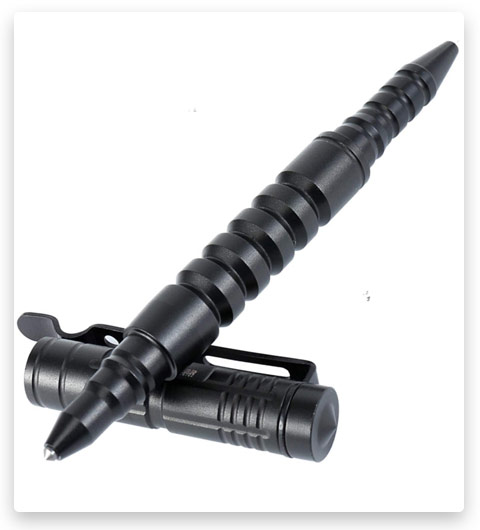 Atomic Bear is a USA company with a really serious approach to survival and self-defense because it is their main course. Just read their motto: «Our mission is to equip more people like you, no matter what the government, authorities, criminals, and mother nature throw at us, we'll be ready». Just wow. Really ridged 6061 aluminum alloy body with 2mm thick walls and removable pocket clip. Hardened tungsten glass breaker tip at one side and the pen cap on another.
The cap itself has an interesting decision – a slightly protruding thumb rest, making reverse grip much more stable if used for striking something (or someone) and providing a full force transfer without a treacherous thump slip. There is a bit of finger strength required needed to snap off the cap, but that gave me the sensation of solidity. The pen comes with a carry pouch with velcro top that is really a generous extra, it fitted great on all belts I have. On everything else it is a solid kubotan like a pen, it does what a tactical pen should without squandering its purpose on numerous options.
#8 Sminiker Professional Defender Tactical Pen
Sminiker is a manufacturer from China mostly known for its grooming devices now is exhibiting its creation called Professional Defender to a self-defense pens market. This pen's body consists of three parts – the lower one used for writing is polymer, then goes grippy rugged aluminum alloy part with steel pocket clip crowned with a tungsten glass breaker in a polymer frame with a special hole for DNA collection. So far it the only pen with polymer pieces used in its body, but before I have already used a couple of things made from polymer composite, and it has proven itself extremely trustworthy and resistant to force application. So I do not have any preconception against it, the polymer part felt really cozy to hold when I was testing pen's writing capabilities, just twist a lower part to start the paperwork. The pen comes with 6 extra refills. It is a solid good pen for a good price, but stealth is not its forte.
#9 TAKEFLIGHT Tactical Pen for Self-Defense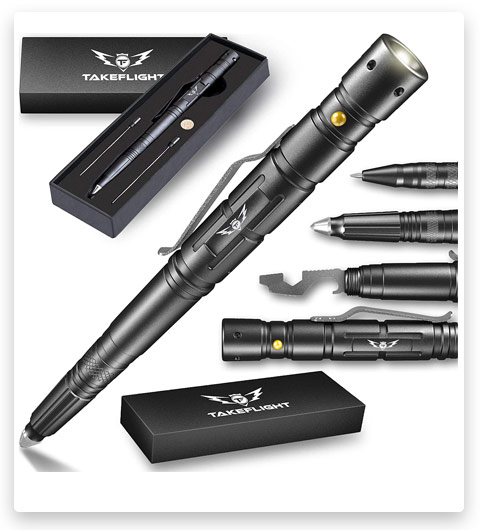 TAKEFLIGHT is an American company owned by a veteran attack helicopter pilot that thinks that if something must be done right, just do it yourself. Company products are various EDC multi-tools and, obviously tactical pens of premium quality. So here is its multipurpose tactical pen. Aircraft aluminum body with a pocket clip, the reversed grip feels secure to use thanks to the thumb rest which is actually a led flashlight (and a ball pen cap) with a small button nearby to turn it on.
The flashlight is quite bright for its size and sure will help you if you drop your keys at the parking lot in the middle of the moonless night. And the glass breaker tungsten tip on the other pen's side will help you out if you somehow got locked inside a car or got assaulted on the street on good blow with that thing will break a windshield and certainly make the attacker put off his intensions. You can unscrew the pen to reveal a combined multi-tool head that has united a bottle opener, hexagonal wrench, and a flat-blade screwdriver to complete an image of ultimate EDC survival item. The pen comes in a nice box with two spare ink cartridges and a spare battery set.
#10 AZYC Tactical Pen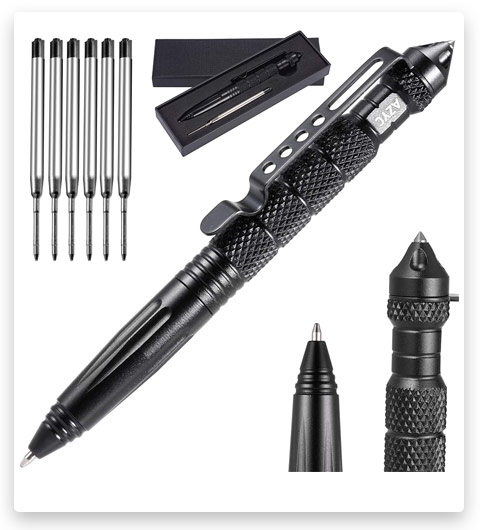 One more Eastern Asia brand presenting us with its tactical pen solution. This one is fully made of aircraft aluminum alloy, has a brutal manly design with diamond pattern ridges for a strong grip, solid clip and a glass breaker tungsten steel «fang» on its top. DNA collector is there too and a pen is always ready to use straight from the writing position. Speaking of writing – it has a retractable pen tip that goes in and out with one turn of a lower side, which definitely misses some a kind of ledges for a comfortable finger position. If you are not involved in monotone writing of paper filling you won't probably notice this, I did after several minutes of constant drawing. The pen comes with 6 extra refill cartridges.
Result
Glad I bought it. I ordered this pen through Amazon Prime and have already received it. I don't know what to say yet. I think it needs some experience before I can draw conclusions. But I really like the design. This pen is almost too heavy to write comfortably, but it is just perfect for hitting someone. I like it. It looks very durable. I will update this review after I get some field experience.
FAQ
Tags: #Best #Tactical #Pen #Review #for the Money #Self Defense #Under 50$ #EDC #Tactical Pens #Cheap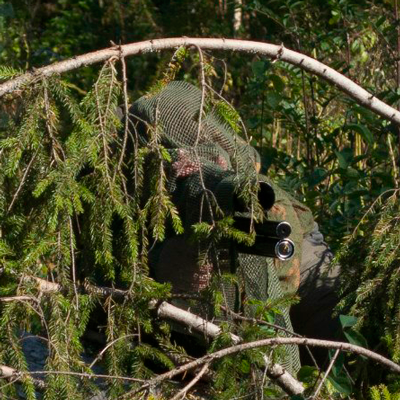 Vlad Miller
Athlete, Survivor, Writer
Hi! I am Vlad! Multi-profile athlete with professional education in sports and physical culture. Devoted to calisthenics, functional- and weight-trainings, boxing, shooting, long-distance bike touring, survivalism, and all kinds of outdoor activity imaginable. Qualified writer and interpreter. Perfectionist who likes to delve into and investigate various specific topics.
Taking apart my favorite AR-15 and Glock 43 with my eyes closed, I write on fascinating and favorite topics: guns,
tactical gear
, survival, and hunting. I share useful finds and do reviews of products I like, and gun upgrades are my best subjects!
Read more
about our team
of expert authors.
Affiliate Disclosure: Rotorm.com sometimes gets paid for listings, through sponsors or affiliate programs like Amazon, Optics Planet, Lucky Gunner, Brownells, Cabelas, Rainier Arms, 5.11 Tactical, Bass Pro Shop, etс. Clicking a link helps keep Rotorm.com free, at no extra cost to you!
About the author: Each article on our site is written by experts in survival and tactical equipment, gun enthusiasts, extreme travelers, military, law enforcement and desperate professionals, read about the author at the bottom of the article or visit "About Us" page.
Note: The views and opinions expressed in this article are those of the authors and do not necessarily reflect the official policy or position of any agency.