What is the Best 300 Win Mag Ammo? 😎
The .300 Winchester Magnum (also known as .300 Win Mag) is a popular belted, bottlenecked magnum rifle cartridge introduced by Winchester Repeating Arms Company in 1963. The .300 Win Mag is based on the .375 H&H Magnum, and it fits in a standard-length action, unlike the larger .300 Weatherby Magnum and .338 Lapua Magnum cartridges.
It is used by various shooters, including hunters, competitive shooters, and military and law enforcement personnel. Its versatility and performance are well-regarded for a wide range of applications.
Typically, it fires bullets in the 150-230 grain weight range, although other weights are available. It provides substantial velocity and energy, capable of taking game animals like elk, moose, and bears at extended distances.
Military forces and law enforcement have also adopted it as a long-range precision cartridge, where its balance of velocity, accuracy, and energy make it an attractive choice.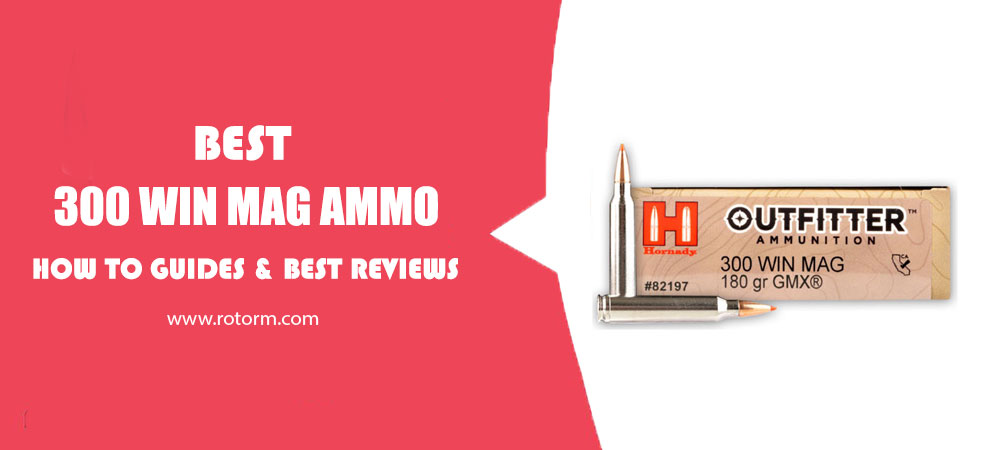 Benefits 🔥
✅ It offers several advantages that have made it a favorite among hunters and long-range shooters. One of its primary benefits is the extended range capability. With a flatter trajectory compared to many other cartridges, it allows shooters to confidently engage targets at longer distances. This extended range capability is particularly beneficial for hunting in open terrains where the game might be spotted from afar.
✅ Additionally, it provides significant kinetic energy, ensuring ethical and efficient kills even on larger game species. Its versatility is another notable advantage. With a wide variety of bullet weights and types available, it can be used for hunting different game, from deer to larger animals like elk and moose.
Our Top Pick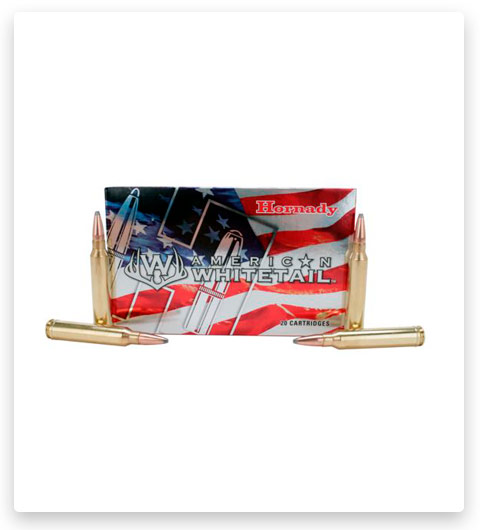 Hornady American Whitetail 300 Winchester Magnum Ammo 150 Grain
Forged from premium brass casings, this ammo features the innovative InterLock bullet with visible lead tips for precise expansion and impactful punch. The integrated InterLock ring secures core and jacket during expansion, retaining mass and energy for unmatched stopping power.
Buy Now On OpticsPlanet
If you click this link and make a purchase, we earn a commission at no additional cost to you.
Features ⭐
☑️ When examining the feature, its design stands out. It's based on a belted, bottlenecked magnum design, which contributes to its impressive ballistics. The cartridge can accommodate heavier bullet weights, making it suitable for a range of applications, from precision shooting to big game hunting. Its case design also ensures consistent powder combustion, leading to reliable performance and accuracy.
☑️ Another feature is its widespread availability. Being a popular cartridge, many firearm manufacturers produce rifles chambered in 300 Win Mag, and a plethora of bullet types and loads are available to suit different shooting needs. This widespread adoption also means that shooters can often find this cartridge even in remote hunting locations, adding to its appeal for those on hunting expeditions.
Our Top Pick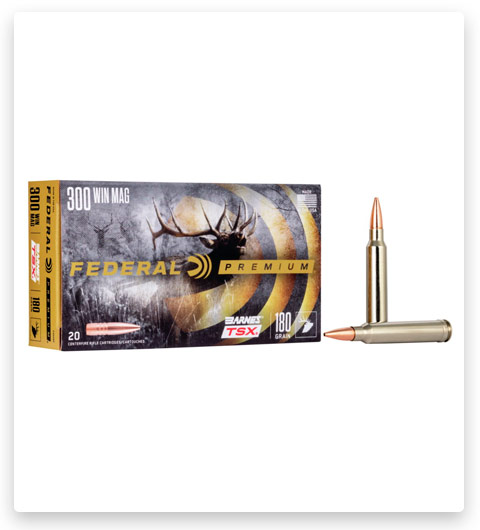 Federal Premium BARNES TSX 300 Winchester Magnum Ammo 180 Grain
Experience the 180-grain monolithic copper Barnes Triple-Shock X bullet. Renowned for uniform expansion, 95% weight retention, and minimal fouling. Exceptional grouping at extended distances, deep penetration, thanks to its profound hollow point tip.
Buy Now On OpticsPlanet
If you click this link and make a purchase, we earn a commission at no additional cost to you.
Buying Guide: Factors to Consider When Purchasing 300 Win Mag Ammo 🛒
When looking to purchase, there are several factors to consider. Here's a comprehensive guide to help you make the best choice for your needs:
Factor

Considerations

🔷 Intended Use
Hunting: Bullets designed for expansion

Target Shooting: Match-grade ammo

Tactical: Penetration & reliability

🔷 Bullet Type
Soft Point (SP): For hunting

Hollow Point (HP): For target shooting

Full Metal Jacket (FMJ): For practice

Ballistic Tip: For long-range

🔷 Bullet Weight
Lighter (150-165 grains): Flatter trajectory, wind-sensitive

Heavier (180-220 grains): Better wind resistance

🔷 Muzzle Velocity
Higher velocity: Flatter trajectory

Balance with barrel wear considerations

🔷Brand and Quality
Choose reputable and consistent brands
🔷 Price
Determine budget and essential features
🔷 Availability
Check availability locally or online
🔷 Legal Considerations
Comply with local, state, and federal laws
🔷 Compatibility
Ensure suitability with your specific firearm
This table presents a concise view of what you need to think about when purchasing. Always remember to refer to detailed guidelines and consult with professionals to get the best ammunition for your specific needs.
Best 300 Win Mag Ammo Review
#1 Sig Sauer SIG Match Grade Rifle 300 Winchester Magnum Ammo 190 grain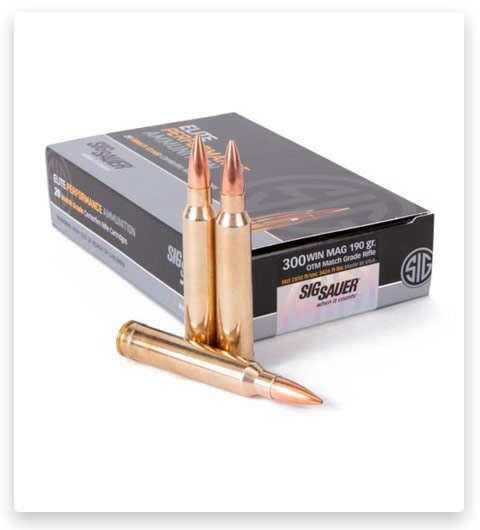 This innovative load pairs a lead-free solid copper bullet with match-grade accuracy and precision for a deadly accurate, eco-friendly hunting round.
The streamlined 120-grain bullet made of CNC-machined copper sheds up to 95% less toxic lead residue compared to conventional lead core projectiles. Its rifling-engaging copper shank ensures a tight seal for [consistent pressure and precision. The sleek design also has a high ballistic coefficient for flat trajectories.
This potent magnum load generates nearly 3000 ft-lbs of muzzle energy, while the polymer tip initiates smooth, reliable expansion without fragmenting. The military-grade brass cases are meticulously loaded for optimal pressures and smooth cycling. Experience next-level performance hunting moose, elk, bear, and more with it. The future of lead-free hunting is here.
#2 Nosler Trophy Grade 300 Winchester Magnum Ammo 190 Grain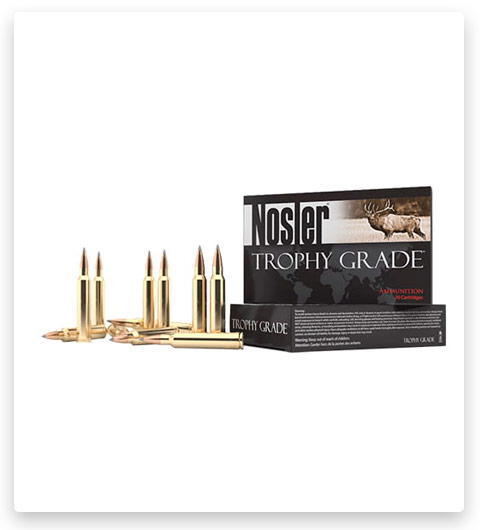 Loaded to Hornady's strict quality standards, this ammo features a high BC 178-grain ELD-X bullet for unmatched accuracy at long range. The streamlined secant ogive design provides an incredibly flat trajectory along with rapid expansion and deep penetration on impact.
The Heat Shield tip initiates expansion at any velocity or angle. This load maintains sub-MOA accuracy out to distances beyond 1000 yards. The brass cases feature Hornady's precision crimp and are loaded with temperature-stable propellants for consistent performance in all conditions. When you need surgical precision on a big game, trust your shot to it.
Experience match-grade precision and performance in the field with this premium hunting ammunition.
#3 Nosler 300 Winchester Magnum Ammo 180 Grain
Loaded with Nosler's cutting-edge lead-free bullet, this ammunition delivers rapid expansion, 95%+ weight retention, and unmatched penetration on the big game.
The streamlined E-Tip bullet features a polymer tip for consistent expansion and a heavy jacket designed to resist deformation. Upon impact, the jacket and core stay bonded together, plowing through thick hide and bone for ethical kills. The precision neck sizing provides smooth feeding and extraction in your favorite hunting rifle.
It loads each round to strict quality standards for match-grade accuracy in the field. When you need a reliable, hard-hitting load that performs consistently from the first shot to the last, reach for it.
#4 Nosler 300 Winchester Magnum Ammo 210 Grain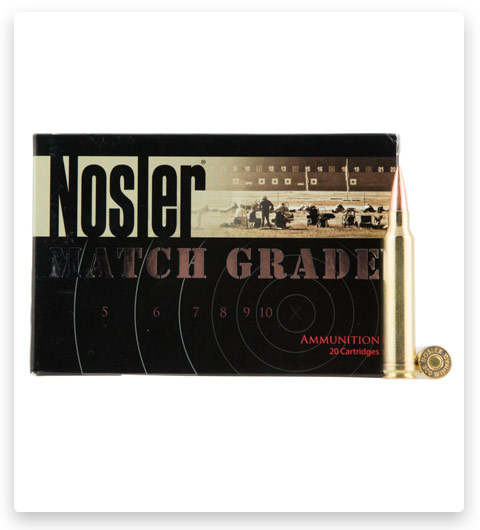 Engineered specifically for competitive long-range shooting, this premium match-grade load features Nosler's cutting-edge 210-grain Hollow Point Boat Tail bullet.
The streamlined hollow point design provides an incredibly high ballistic coefficient for retained velocity and energy at extreme distances. This allows for a flatter trajectory and surgical accuracy at ranges beyond 1,000 yards. The boat tail profile further enhances long-range ballistics.
Meticulously loaded by expert technicians, each round is precisely filled with temperature-stable propellants for superb shot-to-shot consistency. The custom brass cases are optimized for smooth feeding and extraction.
If you're looking for the ultimate in long-range accuracy, this ammunition will deliver the precision you need to prevail in your next PRS or NRL match.
#5 Winchester SUPER-X RIFLE 300 Winchester Magnum Ammo 180 grain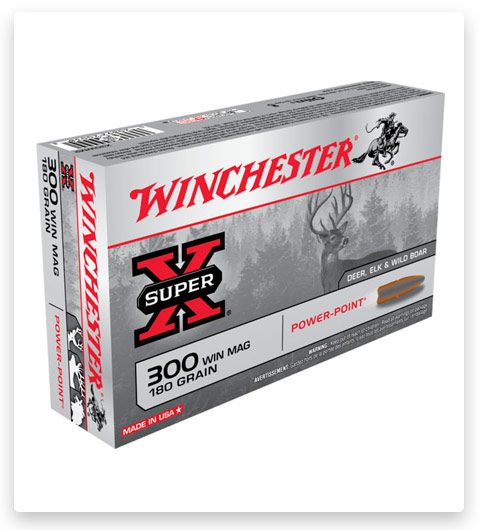 It is loaded with a rugged 180-grain Power-Point bullet, this hunting ammunition delivers deep penetration and massive expansion for ethical, one-shot kills.
The lead core is strategically notched to split into four symmetrical petals upon impact. This fragmentation creates devastating wound channels and immediate energy transfer, dropping animals quickly. The contoured copper jacket is designed for maximum weight retention and deep penetration through thick hide, dense bone, and muscle mass.
Trusted by hunters for generations, SUPER-X provides unmatched terminal performance and consistent accuracy. The precision-loaded brass cases ensure smooth feeding and reliable function. When you need a hard-hitting, big game hunting load that performs in the field as it does on paper, reach for it.
#6 Winchester BALLISTIC SILVERTIP 300 Winchester Magnum Ammo 180 grain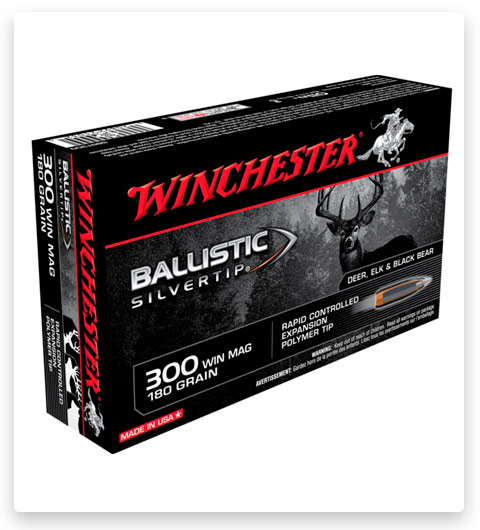 Specifically engineered for big game hunters who demand outstanding ballistic performance at long range, this premium ammunition delivers immediate knock-down and extreme precision.
The innovative 180-grain fragmenting polymer tip bullet features an alloyed lead core for deep penetration and a contoured jacket for controlled, rapid expansion. The streamlined boat tail design provides excellent long-range accuracy, while the Lubalox coating minimizes barrel fouling.
It is loaded to SAAMI specifications for flawless reliability. It provides the discerning hunter with proven performance in the field – extreme velocities, energies, and terminal performance.
#7 Hornady American Whitetail 300 Winchester Magnum Ammo 180 Grain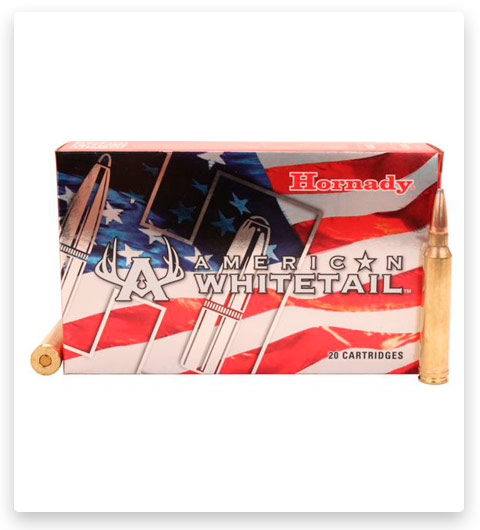 Specifically designed for big game hunters, it 180 Grain InterLock SP Centerfire Rifle Ammunition delivers the ultimate combination of stopping power, accuracy, and reliability.
Crafted with a 180-grain InterLock spire point bullet, this hard-hitting ammo mushrooms upon impact to produce massive terminal performance. The pioneering secant ogive design and exclusive InterLock ring work together to control expansion and retain energy downrange.
This ammo truly shines at long distances thanks to its flat trajectory and high ballistic coefficient. It achieves velocities of 2960 ft/s and energies of 3502 ft-lbs for taking down deer, elk, moose, bear, and more with authority.
Reliability is guaranteed by strict quality control standards. Each component, from premium brass cases to centerfire primers, is hand inspected to Hornady's stringent specifications.
#8 Winchester DEER SEASON XP 300 Winchester Magnum Ammo 150 grain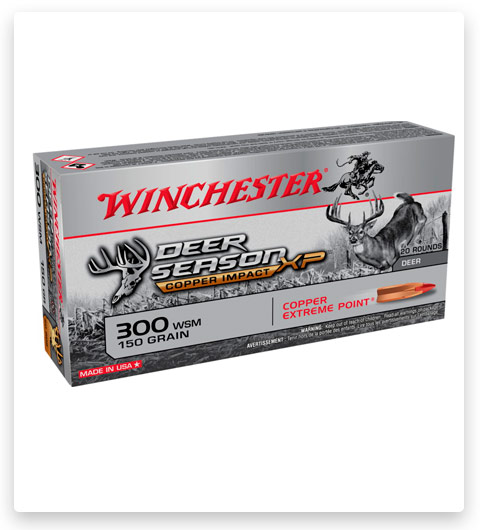 Make every shot count this deer season with this 150-grain rifle ammo. Featuring the innovative Copper Extreme Point bullet with a large diameter polymer tip, it delivers rapid expansion, massive trauma, and supreme energy transfer on impact.
With its hollow nose cavity and solid copper construction, it creates lethal terminal performance and maximizes weight retention. The streamlined profile and boattail also ensure a flat trajectory for consistent and accurate shots on deer up to 200+ yards.
Experience the knockdown power and devastation of these premium hunting rounds specifically designed for confident takedowns on deer. Crafted from high-quality brass cases and primers, it functions reliably with smooth feeding and extraction. So you can focus on the moment of truth and make the perfect shot when it counts.
#9 Federal Premium BARNES TSX 300 Winchester Magnum Ammo 180 grain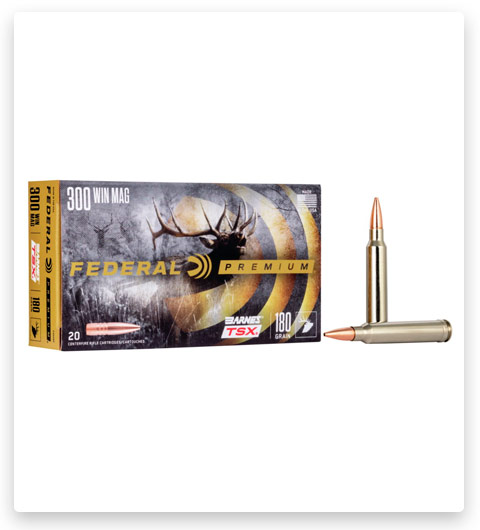 Specifically designed for big game hunters who demand both accuracy and deep penetration, this 180-grain rifle ammo delivers unmatched performance.
The 180-grain monolithic copper Barnes Triple-Shock X bullet provides consistent expansion, 95% weight retention, and minimal barrel fouling. This proven bullet design groups tightly even at long range and penetrates deep thanks to its deep hollow point tip.
Suitable for hunting deer, elk, moose, and other big game, it drives through thick hide and bone. The nickel-plated brass cases and centerfire primers ensure smooth, reliable cycling in your favorite hunting rifle.
Available in convenient 20-round boxes, this exceptional ammo ships for free. Made in the USA, it meets stringent quality standards. For serious hunters pursuing large games at long range, the accuracy and terminal performance of it is hard to beat.
#10 Hornady American Whitetail 300 Winchester Magnum Ammo 150 Grain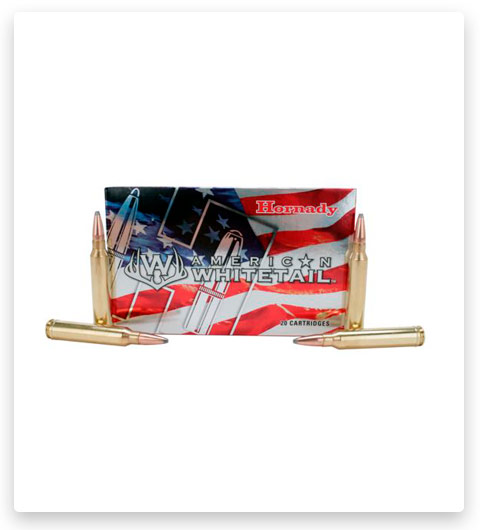 Experience superior accuracy and terminal performance with this 150 Grain InterLock SP Centerfire Rifle Ammunition, specifically designed for big game hunters.
Crafted from high-quality brass cases, it features the pioneering InterLock bullet design with exposed lead tips for controlled expansion and hard-hitting impact. With the exclusive InterLock ring embedded in the bullet's core, it keeps the core and jacket locked together during expansion to retain mass and energy for excellent knock-down power.
The InterLock bullet technology not only adds to its accuracy and energy transfer but also guarantees deep penetration, promising ammunition that delivers fast velocities and maximum terminal performance.
Available in 150-grain weight, you can choose the one that pairs perfectly with your .300 Winchester Magnum caliber rifle. With unmatched consistency and hunting performance right out of the box, these rounds use top-tier cases and primers for shot-to-shot precision.
How To Reload 300 Win Mag Ammo 🔃
Reloading is a process that many shooting enthusiasts undertake to customize their loads and potentially save on costs. Before diving into the reloading process, it's essential to have a clear understanding of the cartridge specifications and to always prioritize safety.
🚩 Start by preparing the brass cases. If you're using once-fired brass, it's crucial to clean them thoroughly. This can be done using a tumbler filled with either walnut or corn cob media. Once cleaned, inspect each case for any signs of damage or excessive wear. Discard any cases with cracks or defects.
🚩 Next, the cases need to be resized to ensure they'll chamber correctly. Using a reloading press and a 300 Win Mag resizing die, resize each case. After resizing, it's essential to check the case length. Due to the pressures involved in firing, brass cases can stretch. If they exceed the maximum case length for the 300 Win Mag, they'll need to be trimmed down to size using a case trimmer.
🚩 With the cases prepared, you can move on to priming. Using a priming tool, place a new primer in the base of each case. Ensure that the primer is seated just below the case base's surface.
🚩 Now, it's time to add the powder. It's crucial to consult a reliable reloading manual to determine the correct type and amount of powder for the bullet weight you're using. Using a powder measure and scale, dispense the appropriate amount of powder into each case.
🚩 With the cases charged, you can seat the bullets. Place a bullet atop each charged case and use the reloading press with a bullet seating die to press each bullet into its case. It's essential to ensure that the overall length of the completed cartridge matches the specifications for the 300 Win Mag.
🚩 Lastly, some reloaders opt to crimp the bullet into the case, especially if they're reloading for semi-automatic rifles. This can be done using a crimping die in the reloading press.
Once you've completed these steps, you should have a batch of freshly reloaded cartridges. However, always remember to start with a reduced load and work your way up, checking for pressure signs. And always prioritize safety, ensuring that you're using components and loads that are compatible and within safe limits.
FAQ 📚
Conclusion 🏁
The article provides a comprehensive guide to the best 300 Win Mag Ammo, highlighting the versatility and performance of this popular rifle cartridge. Introduced by Winchester Repeating Arms Company in 1963, it is renowned for its long-range precision, high energy retention, and versatile use in hunting, competitive shooting, and military applications.
The article reviews various top picks, detailing their features, pros, and cons, and offers insights into factors to consider when purchasing, such as intended use, bullet type, weight, muzzle velocity, brand quality, price, availability, legal considerations, and compatibility. Additionally, it includes a section on how to reload it, outlining the equipment, supplies, and process involved.
For those looking to understand or purchase this specific ammunition, the article serves as an ultimate shopping guide, offering valuable information on top products and essential considerations. 😎
Tags: 300 win mag ammo, .300 win mag ammo, 300 win mag ammo for sale, best 300 win mag ammo, remington 300 win mag ammo, 300 win mag ammo ballistics
#Best #300 Win Mag #Ammo #Review #Remington #Winchester #Self #Homme #Defense #Hornady #Sale #Ballistics
Affiliate Disclosure: Rotorm.com sometimes gets paid for listings, through sponsors or affiliate programs like Amazon, Optics Planet, Lucky Gunner, Brownells, Cabelas, Rainier Arms, 5.11 Tactical, Bass Pro Shop, etс. Clicking a link helps keep Rotorm.com free, at no extra cost to you!
About the author: Each article on our site is written by experts in survival and tactical equipment, gun enthusiasts, extreme travelers, military, law enforcement and desperate professionals, read about the author at the bottom of the article or visit "About Us" page.
Note: The views and opinions expressed in this article are those of the authors and do not necessarily reflect the official policy or position of any agency.