What is the Best 10 Gauge Ammo? 📖
10-gauge ammunition refers to shotgun shells designed to fit a 10-gauge shotgun. The "gauge" is a measurement of the shotgun's bore diameter, and in the case of it, the diameter is approximately 0.775 inches (19.7 mm).
It is a larger bore size than the more common 12-gauge, and thus typically has a larger shell that can hold more shots or a larger slug. This can make it more powerful but also leads to greater recoil. It was historically used for hunting large waterfowl and other big game, as well as some industrial applications.
They and their corresponding ammunition have become less popular in recent years, largely supplanted by the 12 gauge, which offers a wide variety of load options and generally lower recoil. However, it still has its adherents, particularly among those who need the additional power and range it can provide.
It's worth noting that due to the size and power, their ammunition is not suitable for all shooters or all applications. It's essential to ensure that the ammo and firearm match and are used in accordance with all relevant laws and safety guidelines.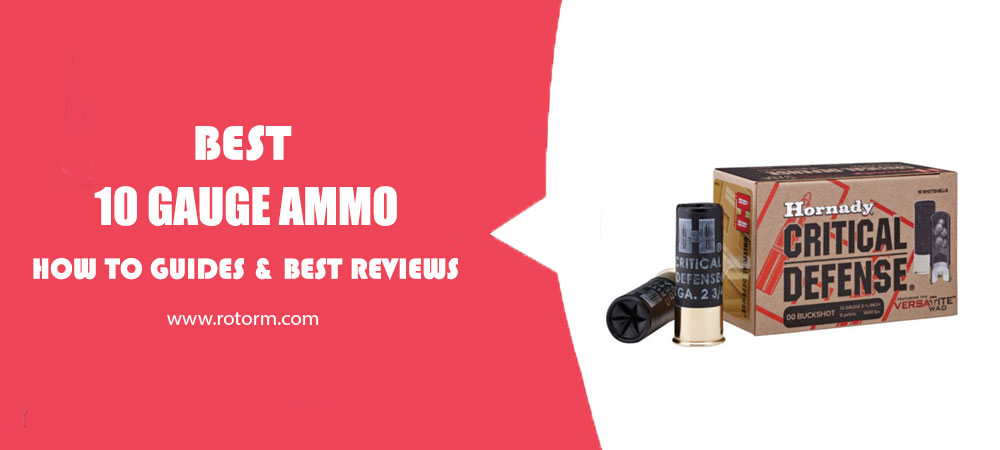 Benefits 😎
✅ Offers several advantages that make it stand out in specific shooting scenarios. One of its primary benefits is its sheer power and payload capacity. It can deliver a larger shot charge than most other commonly used shotgun gauges, making it particularly effective for waterfowl hunting, especially for larger birds like geese. This increased payload also translates to a denser shot pattern, increasing the chances of hitting fast-flying or distant birds.
✅ Another benefit is its versatility. While it's especially renowned for waterfowl hunting, it can also be used for hunting big game with slugs, or even for home defense, given its stopping power. For those who hunt in areas where larger, potentially dangerous wildlife might be encountered, it provides an added sense of security due to its formidable firepower.
Our Top Pick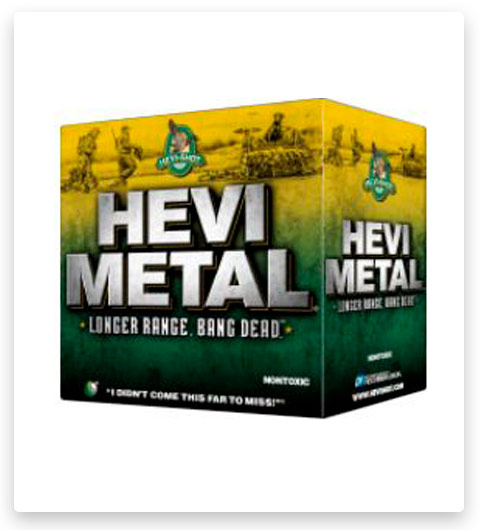 HEVI-Shot HEVI-METAL LONGER RANGE 10 Gauge Ammo
Engineered for superior performance, it blends innovation and design seamlessly. Through its refined composition, witness exceptional synergy between steel-alloy pellets and 16% denser bismuth shot. This unique blend maximizes shooting distance and accuracy, granting a distinct hunting advantage.
Buy Now On OpticsPlanet
If you click this link and make a purchase, we earn a commission at no additional cost to you.
Features ⭐
☑️ When examining the features, its design and specifications are noteworthy. The 10 gauge typically has a 3.5-inch shell length, although other lengths are available. This longer shell allows for more shots or a larger slug, contributing to its effectiveness. It is also designed to achieve higher velocities, ensuring that the shot or slug reaches its target quickly, which is crucial for moving targets like birds in flight.
☑️ Another feature is the variety of loads available. From bird shots of various sizes to buckshot and slugs, shooters can select the appropriate load for their specific needs. However, it's essential to note that the 10 gauge's size and power also mean it has a more substantial recoil compared to smaller gauges, which can be a consideration for some shooters.
☑️ In terms of availability, while it is not as ubiquitous as the 12 or 20 gauge, its niche popularity ensures that a range of ammunition types is available for different hunting and shooting applications.
Our Top Pick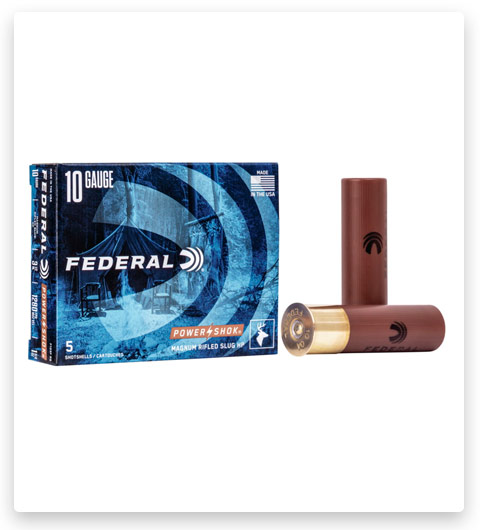 Federal Premium Power Shok 10 Gauge Ammo
Expertly engineered for unparalleled accuracy, this ammunition excels in medium-game hunting and precise target shooting. The 10-gauge 1 3/4 oz rifled slug reaches 1280 ft/s muzzle velocity for impactful results.
Buy Now On OpticsPlanet
If you click this link and make a purchase, we earn a commission at no additional cost to you.
Types of the 10-Gauge Ammo 🔎
🚩 The 10-gauge shotgun offers a variety of ammunition types tailored to different shooting needs. One of the most common types is birdshot, which consists of small pellets designed for hunting birds and small game. The size of these pellets can vary, with smaller numbers indicating larger pellets. For instance, No. 2 birdshot is often used for larger waterfowl, while higher numbers like No. 7 or 8 might be chosen for upland birds such as quail or dove.
🚩 Buckshot is another option, comprising larger pellets intended for bigger games or self-defense. The size of the pellets in buckshot loads is denoted by terms like "00" (double-aught) or "000" (triple-aught). Given its stopping power, buckshot is effective for hunting medium-sized game or as a defensive load, though its use in populated areas requires careful consideration due to the potential for over-penetration.
🚩 Slugs offer a different approach. Instead of multiple pellets, a slug is a solid projectile designed for hunting big game or for situations where precision is needed. Given its mass and design, a slug can deliver significant energy on impact, making it suitable for larger game like deer or even bear.
🚩 It's also worth noting that there are specialized loads available, such as those designed for reduced recoil or with specific patterns for unique hunting scenarios. Some loads might also feature a combination of shot sizes or even a mix of shots and slugs to provide versatility in the field.
🚩 It is adaptable to various shooting needs, from bird hunting to self-defense, thanks to the diverse range of ammunition types available. As always, choosing the right load requires understanding the intended use and the specific characteristics of each ammunition type.
Best Gauge Ammo Review
#1 Winchester DRYLOK 10 Gauge Ammo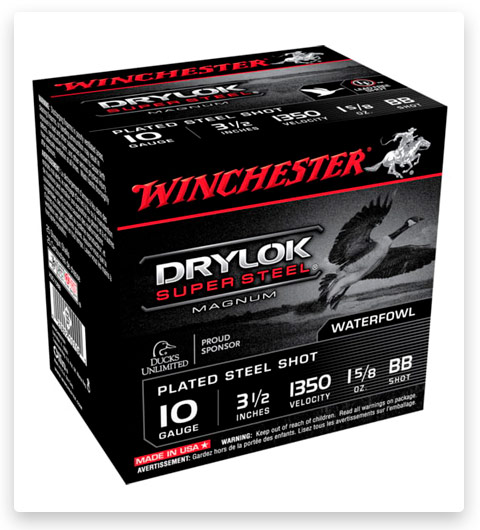 Crafted for the dedicated waterfowl hunter, it is designed to provide unmatched performance and reliability, ensuring a successful hunting experience every time.
Designed to conquer even the harshest hunting conditions, its line of ammunition boasts exceptional water resistance. This means that rain, sleet, or wet environments won't compromise your ammunition's performance. Combined with its premium-quality plated steel shot, it delivers denser patterning and increased knockdown power. Take down your targets with confidence, knowing that every shot counts.
It features the innovative Drylok Super Steel Wad, a two-piece double-seal wad system. This system guarantees maximum water resistance, providing a reliable gas seal for consistent velocity, shot after shot. Your shots will maintain their accuracy and trajectory, even in challenging weather conditions.
The lacquered primer in this ammo further enhances its reliability. This primer, working harmoniously with the Drylok Super Steel wad, ensures that the powder stays dry, no matter the conditions. With a heavy wad design that protects your barrels and offers tight patterns for long-range knock-downs, you can confidently take aim at distant waterfowl.
#2 HEVI-Shot HEVI-BISMUTH WATERFOWL 10 Gauge Ammo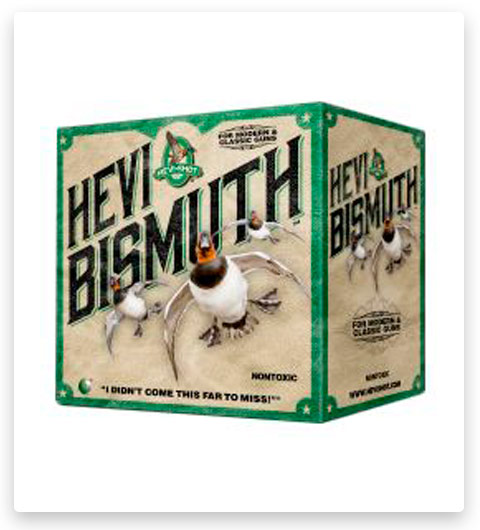 Gear up for waterfowl hunting like never before with this ammunition. Designed to cater to the needs of serious hunters, it boasts impressive benefits that ensure outstanding performance in the field.
Crafted with precision, each 3.5″ shell contains 1-3/4 ounces of high-density bismuth shot. This advanced material delivers 22% more density compared to steel, translating to unparalleled accuracy and superior impact. Whether you're targeting smaller ducks or larger geese, the available shot sizes (#1, #2, and #4) provide versatility to match your game.
What sets it apart is its compatibility with older fixed-choke shotguns and classic doubles, allowing you to embrace modern performance without worrying about your equipment. The muzzle velocity of 1,350 feet per second ensures a consistent and powerful shot, ensuring you never miss your mark.
#3 HEVI-Shot HEVI-Steel 10 Gauge Ammo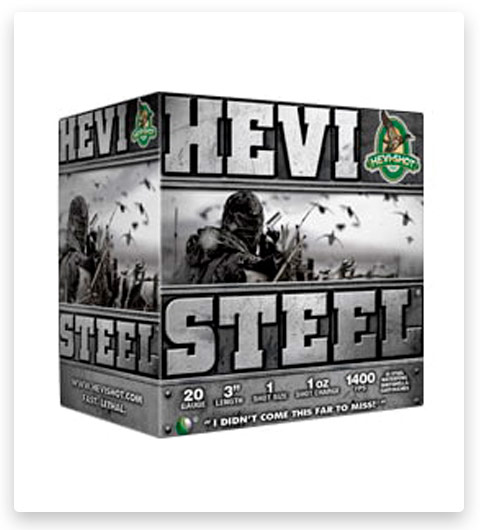 Designed for avid hunters seeking superior performance, this ammunition brings forth the perfect blend of power and precision. Crafted with the waterfowl enthusiast in mind, these shells redefine your hunting prowess.
Each 3.5-inch shell boasts a substantial 1 3/4 ounce load, providing unmatched impact and accuracy. The custom wad and flax seed crimp spacer ensure consistent velocity and tight patterns, making every shot count. With a muzzle velocity of 1,350 feet per second, you'll witness remarkable stopping power in action.
Whether you're pursuing geese or ducks, the hard-hitting load offers exceptional versatility, promising a successful hunt every time. Embrace the industry standard with it, your ultimate choice for reliable performance and unmatched results.
#4 Winchester DOUBLE X 10 Gauge Ammo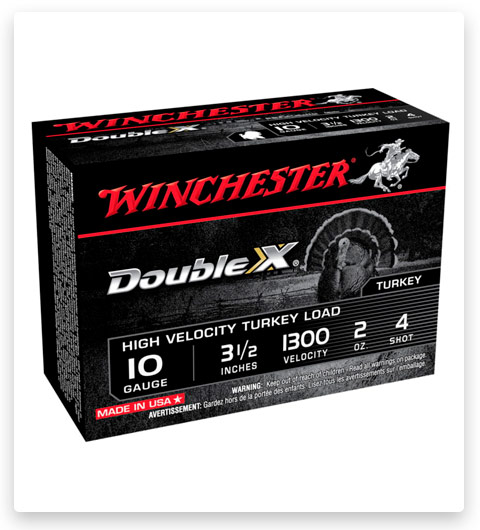 Elevate your hunting game with Gauge 2 oz 3.5″ Shotgun Ammunition. Designed for the dedicated hunter seeking ultimate performance, it delivers knock-down power and consistent, tight patterns. Crafted with precision using copper-plated lead shot, this ammo ensures superior impact, making it a trusted choice for generations of hunters who demand excellence.
With a high muzzle velocity of 1300 ft/s, this packs a punch that's perfect for taking down tough targets like turkeys. The copper-plated lead shot guarantees tighter patterns at longer ranges, giving you the confidence to make clean, effective shots. The custom-blended powders used in its manufacturing contribute to its high-velocity payload, further enhancing its performance.
Take your hunting experience to the next level with it. Whether you're an experienced hunter or just starting out, it will give you the edge you need in the field.
#5 Remington Nitro-Steel High Velocity 10 Gauge Ammo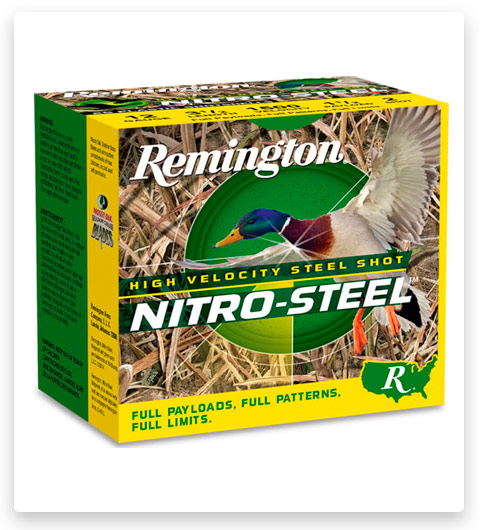 Crafted for the avid waterfowler, it is your key to superior results on every hunt. Designed with the discerning hunter in mind, it offers a plethora of benefits that will enhance your shooting experience.
Crafted with the highest quality materials, it boasts a unique combination of power and precision. Its specially designed zinc-plated steel shot ensures consistent patterns and optimal downrange performance. Each shot is optimized for high velocity and high recoil, giving you the edge you need to take down waterfowl with confidence.
The advanced technology integrated into this ammo not only enhances your shooting capabilities but also guarantees unmatched accuracy. With a muzzle velocity of 1450 ft/s, you can trust that your shots will hit their mark, even at extended ranges. It is fully optimized to meet the demands of waterfowl hunting, making it an indispensable asset for every dedicated hunter.
#6 Remington Premier Magnum Copper Plated 10 Gauge Ammo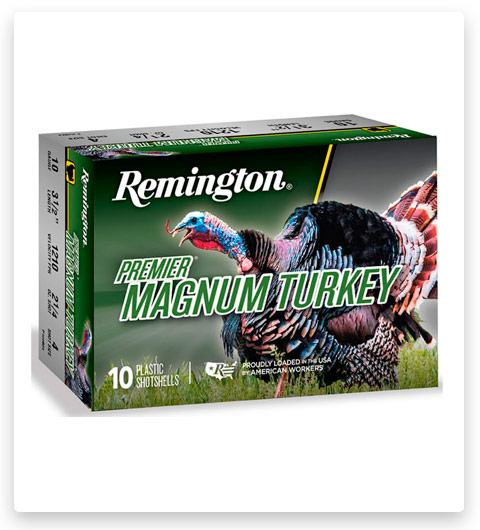 Crafted for dedicated hunters and shooters who demand top-tier performance, it is your ticket to unparalleled accuracy and power in the field.
Designed as part of the Remington Premiere line, it packs an extra punch to tackle even the densest fowl. Specifically engineered for turkey hunting, this 10 gauge, 3.5-inch shotshell rounds deliver an extra jolt of energy, ensuring that those challenging targets go down with resounding force.
Boasting enhanced velocities, they offer exceptional accuracy that sets you up for success. The waterproof Power Piston wad and polymer buffering ensure consistent and precise shots, even in varying conditions. You can count on the Copper-Lokt shot to consistently pattern your prey with impressive accuracy, giving you the edge you need to make that critical shot count.
No compromises are made when it comes to quality. It ensures that the cases are crimped, providing a seamless shooting experience without any hiccups. It is not just about firepower; it's about reliability and confidence, qualities that every hunter seeks. With a shot size of 4 and a shotgun shot weight of 2 1/4 oz, these rounds are tailor-made for taking down those big old Toms.
#7 Federal Premium Vital Shok 10 Gauge Ammo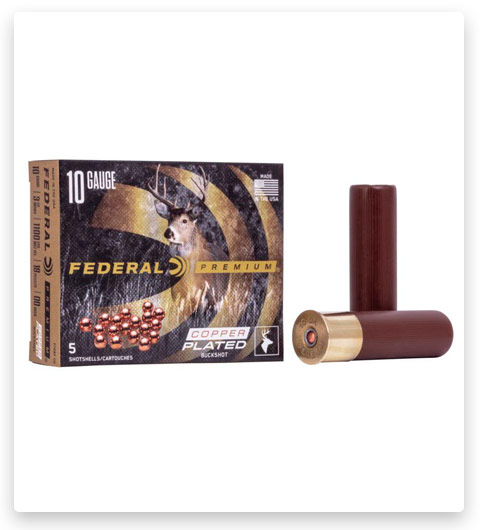 Designed for discerning hunters and shooting enthusiasts, it boasts exceptional precision and power, ensuring your shots hit their mark every time.
Crafted with cutting-edge engineering and utilizing copper-plated pellets, it delivers tight and consistent patterns downrange. The unique buffering system prevents pellet deformation, guaranteeing uniform patterns even at extended distances. Whether you're pursuing predators, hogs, or deer, the impressive stopping power of this ammunition ensures a swift and ethical takedown.
Imagine the confidence you'll feel knowing your shots are backed by Federal's unrivaled reputation for excellence. Whether you're tackling challenging upland hunting or navigating dense underbrush, it is your trusted companion.
Equip yourself with it that performs flawlessly in all weather conditions, giving you the edge you need in any hunting scenario. Don't settle for less when your success depends on precision and power.
#8 Federal Premium Power Shok 10 Gauge Ammo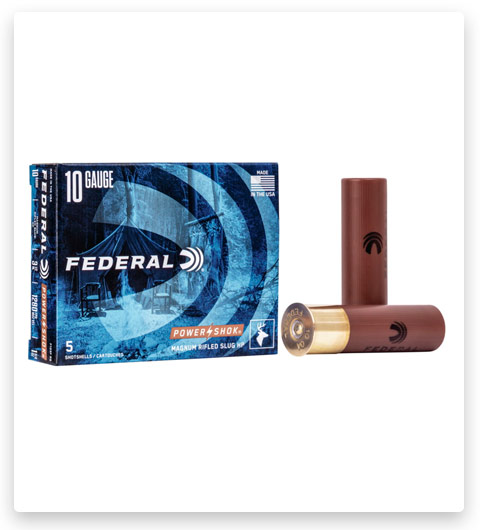 Designed to provide exceptional accuracy and stopping power, it is your trusted companion for medium-game hunting and target shooting.
The carefully crafted 10-gauge 1 3/4 oz rifled slug boasts a muzzle velocity of 1280 ft/s, ensuring devastating impact and reliable terminal ballistics.
Engineered for smoothbore barrels, it features a lead slug with a unique design that maximizes accuracy. The distinct rifling helps stabilize the slug in flight, resulting in impressive accuracy and tight groupings. The slug's high-velocity impact guarantees deep penetration and swift takedowns, making it an ideal choice for bringing down medium-sized games with confidence.
Its lead slug design delivers excellent expansion upon impact, ensuring effective energy transfer and stopping power. Whether you're hunting deer or practicing at the range, it promises optimal performance and consistent results.
#9 HEVI-Shot HEVI-METAL LONGER RANGE 10 Gauge Ammo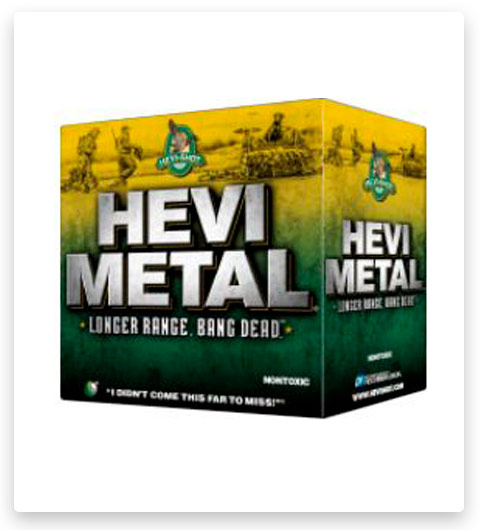 Engineered to exceed expectations, it is your ultimate companion for achieving unparalleled results in the field.
Crafted to provide enhanced performance, it boasts a remarkable combination of innovation and design. With its meticulously crafted composition, you'll witness the exceptional synergy between the steel-alloy pellets and the 16% denser bismuth shot. This unique blend maximizes your shooting distance and accuracy, offering a decisive edge during every hunting session.
Equipped with a 1-3/4 oz non-toxic shot load, this ammunition's potential is fully realized within its 3.5″ shell. The powerful muzzle velocity of 1,350 fps in sizes ranging from #4 to BBB guarantees an impressive increase in both performance and shot distance. Experience the thrill of precise shots, even at a distance, and elevate your hunting game to new heights.
It is not only a performance powerhouse, but it's also a smart investment. Available at a reasonable price, it provides a cost-effective solution for hunters who demand the best without breaking the bank. Experience the advantages of cutting-edge technology and impeccable design without compromise.
How to Reload 10 Gauge Brass Shotgun Shells? 🎓
Reloading brass shotgun shells, especially for the 10-gauge, is a process that harks back to the early days of shotgun shooting. While modern plastic shells have become the standard, there's a certain nostalgia and appeal to brass shells.
Here's a general overview of how to reload them.
➡️ Start by inspecting each brass shell for any signs of damage or excessive wear. Given the age and rarity of many of them, it's crucial to ensure they're still in good condition. Any shells with cracks, splits, or other defects should be set aside and not used.
➡️ Next, clean the shells. This can be done using a mix of warm water and mild detergent, followed by a thorough rinse and drying. Some reloaders also use a tumbler, similar to those used for cleaning brass cartridge cases.
➡️ Once cleaned, the primer pockets should be checked. If the old primers are still in place, they'll need to be removed. This can be done using a depriming tool or punch. After removing the old primers, new shotgun primers can be seated using a hand priming tool or a reloading press equipped with the appropriate primer seating accessory.
➡️ With the shells primed, it's time to add the powder. As always, consult a reliable reloading manual for the correct type and amount of powder. Using a powder measure and scale, dispense the appropriate amount of powder into each shell.
➡️ Wads are the next component. Given their unique nature them, traditional plastic wads used for modern plastic shotgun shells might not be suitable. Cardboard or felt wads, reminiscent of older shotgun reloading practices, are often used. Place a wad over the powder charge, and then firmly seat it using a dowel or a specialized wad seating tool.
➡️ Now, you can add the shot. Measure out the desired amount of shot using a shot scoop or scale and pour it into the shell. On top of the shot, place an over-shot card, which is a thin cardboard disc that helps keep the shot in place.
➡️ To finish, the open end of the shell needs to be crimped to hold the over-shot card and shot in place. Given the rigidity of brass compared to plastic, a specialized crimping tool or a carefully used reloading press is often required to achieve a good crimp without damaging the shell.
Reloading brass shotgun shells is a blend of modern techniques and traditional practices. While it might not be as straightforward as reloading plastic shells, the process offers a unique experience and a connection to the history of shotgun shooting. Always prioritize safety and consult reliable sources for load data.
FAQ 📚
Conclusion 😉
The 10-gauge ammunition, while less popular than the 12-gauge, offers unique advantages for specific hunting and shooting scenarios. Its larger bore size provides more firepower, making it suitable for hunting larger games.
The article provides a comprehensive review of various ammo brands, showcasing their features and benefits. Whether you're an avid hunter or a shooting enthusiast, understanding the capabilities and characteristics of this ammo can help you make an informed decision for your shooting needs. 😎
Tags: 10 gauge ammo, 10 gauge shotgun ammo, 10 gauge ammo for sale, 10 gauge slug ammo, custom 10 gauge ammo, federal 10 gauge ammo
#Best #10 Gauge #Ammo #Review #Remington #Winchester #Self #Homme #Defense #Hornady #Sale #Ballistics #Shotgun #Custom
Affiliate Disclosure: Rotorm.com sometimes gets paid for listings, through sponsors or affiliate programs like Amazon, Optics Planet, Lucky Gunner, Brownells, Cabelas, Rainier Arms, 5.11 Tactical, Bass Pro Shop, etс. Clicking a link helps keep Rotorm.com free, at no extra cost to you!
About the author: Each article on our site is written by experts in survival and tactical equipment, gun enthusiasts, extreme travelers, military, law enforcement and desperate professionals, read about the author at the bottom of the article or visit "About Us" page.
Note: The views and opinions expressed in this article are those of the authors and do not necessarily reflect the official policy or position of any agency.