What is the Best 450 Bushmaster Muzzle Brake? 😎
Serious hobbies such as hunting take away free time and extra spending for reliable outfits. A good hunter should gain a trophy, equipped with a dependable rifle.
A .450 Bushmaster is designed for hunting, an AR-15-friendly bullet, featuring down-range performance and energy. If you want to shoot down the game quickly, cleanly, and humanely at 200 to 300 yards, it is the right choice. The best efficacy is reached by firing from the barrel of a 16-inch to 20-inch length.
It is more abusive with recoil than the 350 Legend, so it's better to have such a rifle with a good stopping power amount as a muzzle brake for comfort shooting. A recoil compensator minimizes muzzle rise, ensuring faster sight realignment on the target and issuing with better precision. While firing the round, the gases are redirected from the forward to the sides by the pressure of the burning powder out of the rifle muzzle, making the rearward propulsion weaker and the recoil twice less, taking care of the shoulder as well.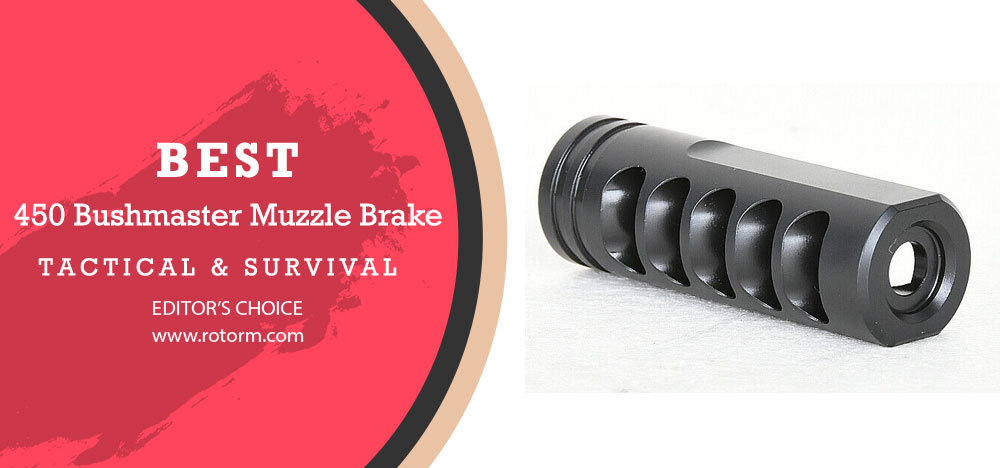 Benefits 🔥
| | |
| --- | --- |
| ✅ Greatly reduces felt recoil: | This can reduce recoil by 30-50% on the stout 450 Bushmaster cartridge, making it more comfortable and manageable to shoot. |
| ✅ Faster follow-up shots: | Mitigating recoil, allows the shooter to get back on target faster for quicker follow-up shots. This improves shooting accuracy. |
| ✅ Increased shooting comfort: | The reduction in kick and rise helps decrease shooter fatigue, especially during long-range sessions. Shooting the 450 Bushmaster becomes less punishing. |
| ✅ Manages muzzle rise: | The gases redirected out the sides counteract muzzle rise, keeping the barrel flat and on target for faster transitions between shots. |
| ✅ Improved shooting form: | With less recoil, the shooter can maintain proper form instead of developing flinching or recoil anticipation issues. |
Our Top Pick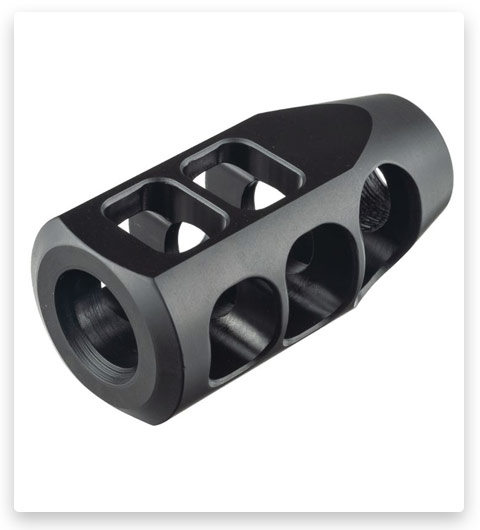 Guntec USA Gen 2 .450 Bushmaster Muzzle Brake
Crafted with precision to enhance your firearm's performance, this cutting-edge accessory is meticulously designed to cater to the requirements of dedicated marksmen and enthusiastic aficionados alike. Constructed from premium-grade steel, it delivers more than just a stylish appearance – it's a revolutionary addition that redefines the game.
Buy Now On OpticsPlanet
If you click this link and make a purchase, we earn a commission at no additional cost to you.
Features 👍
| | |
| --- | --- |
| ☑️ Multiple side vents: | Precisely angled vents on the sides redirect gases to produce rearward counterforce against recoil. |
| ☑️ Hardened construction: | Made from heat-treated alloys like steel to withstand high pressures and temperatures. |
| ☑️ Caliber-specific design: | Engineered specifically for the 450 Bushmaster's ballistics to maximize braking effect. |
| ☑️ Crush washer: | Included washer properly times and indexes the brake to the barrel. |
| ☑️ QD mount options: | Some models include mounts for quick and easy installation and removal. |
| ☑️ Multiple styles: | Various styles like fluted, tactical, or slim-profile to match the rifle and application. |
Our Top Pick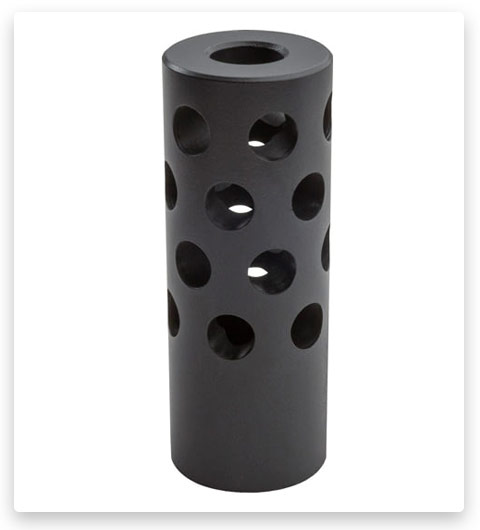 Aimshot Cva Cascade .450 Bushmaster Muzzle Brake
Say farewell to recoil. Advanced technology minimizes felt recoil, enhancing shooting comfort. Extend range time without fatigue. Swift follow-up shots are vital. Effective recoil reduction lets you quickly regain the target sight picture for speedy, accurate shots.
Buy Now On OpticsPlanet
If you click this link and make a purchase, we earn a commission at no additional cost to you.
How Does A 450 Bushmaster Muzzle Brake Work? ⚙️
🚩 The 450 Bushmaster is a heavy-hitting cartridge known for its powerful recoil. A muzzle brake helps counteract this recoil by redirecting propellant gases emerging from the muzzle.
🚩 When it is fired, high-pressure gases rapidly expand out of the barrel behind the bullet. A portion of these gases follow the bullet out the muzzle, but some escape through vents in the sides of the brake.
🚩 The escaping gases create back pressure that pushes the brake (and attached rifle) forward, counteracting the rearward recoil force. This helps reduce the amount of recoil felt by the shooter.
🚩 An effective brake will have several vents at precise angles that redirect these muzzle gases to maximize recoil reduction. The vents are positioned to push the barrel straight back into the shooter's shoulder rather than allowing the barrel to rise up.
🚩 A properly designed model can reduce the felt recoil by 30-50%. This helps the shooter stay on target for faster follow-up shots. The reduction in recoil also increases shooting comfort and decreases fatigue when firing multiple rounds.
🚩 They are useful for shooters of all experience levels looking to manage the stout recoil of the hard-hitting cartridge. They provide major advantages any time rapid-fire accuracy is desired.
450 Bushmaster Muzzle Brake Review | Best 450 Bushmaster Muzzle Brake
#1 Next Level Armament .450 Bushmaster Muzzle Brake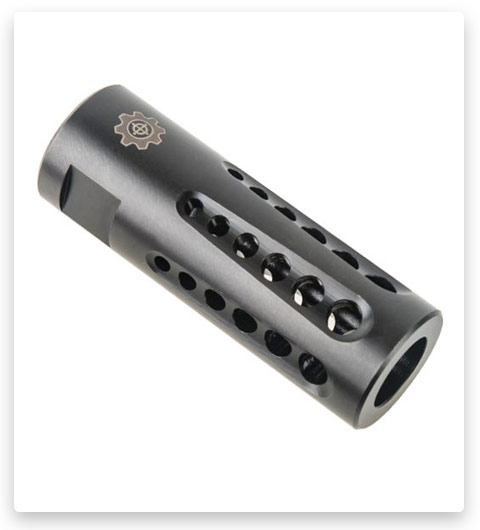 Designed specifically for the robust power of the .450 Bushmaster caliber, the NLX-11 Muzzle Brake is your ultimate solution to taming recoil and mitigating muzzle rise. No longer will you be hindered by the punishing recoil of your rifle. Embrace better accuracy, quicker follow-up shots, and increased control over your firearm.
Crafted from high-quality 4140 steel and finished with a durable Nitride coating, it is engineered to withstand the rigors of intense shooting sessions while maintaining its performance and aesthetics. Its unique design incorporates advanced technology to reduce recoil and muzzle jump, ensuring that every shot is a testament to your skill.
Whether you're shooting from an AR Platform or another, it guarantees compatibility and functionality. Its precision threads (11/16×24) ensure a secure fit and consistent performance, making it a versatile addition to your firearm setup.
#2 Faxon Firearms 450 Bushmaster Muzzle Brake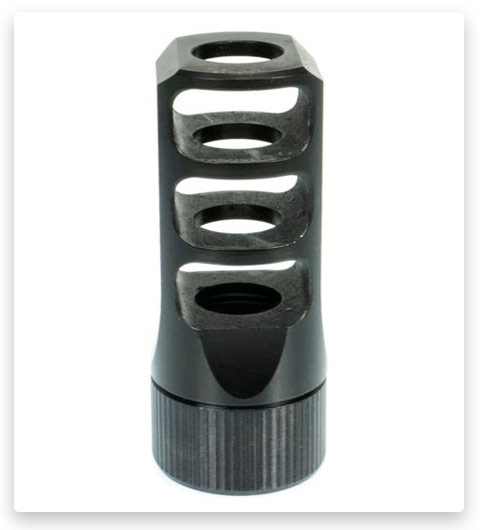 Crafted from high-quality steel and finished with a durable salt bath nitride coating, it ensures longevity and reliable performance. Its unique design incorporates three ports that effectively redirect propellant gasses, resulting in maximum recoil reduction. The outcome? A more controlled shooting experience, especially with higher pressure rounds, as the increased gas funneling through the ports mitigates felt recoil by an impressive 30-45%.
It stands out not only for its performance but also for its innovative MUZZLOK feature. This exclusive technology facilitates easy installation and timing of the device without the need for additional crush washers or shims. You can effortlessly adjust the rotational timing using the extension nut, allowing for quick modifications even in the field. This added flexibility ensures a hassle-free shooting experience, contributing to your overall satisfaction.
#3 Aimshot Cva Cascade .450 Bushmaster Muzzle Brake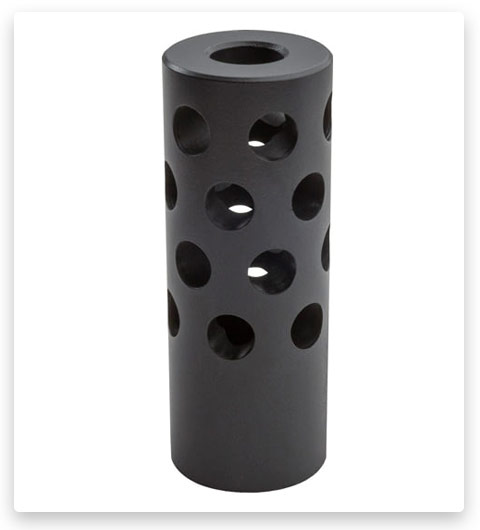 Say goodbye to uncomfortable recoil. Its advanced technology significantly reduces felt recoil, making your shooting sessions more enjoyable and comfortable. Spend more time on the range without the fatigue. Faster follow-up shots are crucial in various shooting scenarios. This efficient recoil reduction allows you to regain the target sight picture quickly, enabling rapid and accurate consecutive shots.
Crafted from robust steel, it is designed to withstand the rigors of regular shooting. Its durability ensures it will be a reliable companion for countless shooting sessions. Installing is a breeze. Its user-friendly design means you spend less time fitting it and more time honing your shooting skills.
#4 Guntec USA Gen 2 .450 Bushmaster Muzzle Brake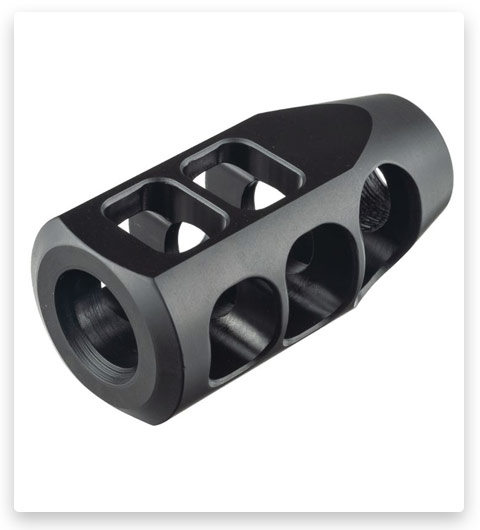 Designed to elevate your firearm's performance, this innovative accessory is tailored to meet the needs of passionate shooters and avid enthusiasts. Crafted from high-quality steel, it offers more than just sleek aesthetics – it's a game-changer.
With its advanced design featuring three side porting slots and two top porting holes, you'll enjoy significantly reduced muzzle climb and recoil. This means faster follow-up shots and enhanced accuracy, allowing you to maintain better control over your firearm.
Installing is hassle-free. Its compatibility with various AR-15 models and thread specifications ensures a seamless fit. Say goodbye to complex installations and hello to enhanced shooting experiences.
How to Install a Muzzle Brake 🔧
➡️ Installing a muzzle brake on a firearm can significantly reduce its recoil and muzzle rise, making it more comfortable to shoot and potentially improving accuracy. Before you begin the installation process, it's essential to ensure safety by following some preliminary steps.
➡️ First and foremost, always check to make sure the firearm is unloaded. Remove the magazine, open the action, and visually inspect the chamber to ensure no ammunition is present. Once you're certain the firearm is safe, move to a well-lit workspace where you can lay out all the necessary tools and the brake itself.
➡️ To prepare the firearm, you'll need to remove the existing muzzle device if there's one already installed. This might require a wrench or other specific tools, depending on the design of the device. Turn the device counterclockwise to unscrew and remove it. If it's tightly fixed, applying some penetrating oil can help loosen it. Once removed, clean the threads on the muzzle to ensure they're free of debris and oil.
➡️ With the old device removed and the threads cleaned, you're ready to install the new brake. Before screwing it on, apply a small amount of gun-specific thread locker to the threads. This will help keep the brake in place during firing. Screw the brake onto the muzzle by turning it clockwise. Make sure to align it properly; some brakes have ports or vents that need to be oriented in a specific direction to function correctly. If the brake doesn't align correctly when hand-tightened, you might need to use shims or crush washers to get the correct orientation.
➡️ Once the brake is hand-tight and properly aligned, use a wrench to snug it down. Be careful not to over-tighten, as this can damage the threads or the brake itself. After the brake is securely in place, let the thread locker set for the recommended time, usually 24 hours.
➡️ After the installation is complete, it's a good idea to test the firearm in a safe environment to ensure the brake is functioning as expected. Remember, a properly installed brake can significantly improve the shooting experience, but safety should always be the top priority. Always wear appropriate eye and ear protection when shooting, and regularly inspect the brake for signs of wear or damage.
FAQ 📚
Conclusion 🏁
Muzzle brakes are worth purchasing, as they provide the rifle with less felt recoil, less upward and from side-to-side motions while shooting, quicker sight realignment on the target, and better accuracy. Withstanding the felt recoil, the muzzle device, attached to the rifle barrel, enlarges its length (consider that best 450 bushmaster performance at a 16–20-inch barrel length).
These cartridges are compatible with a standard AR-15 magazine with a single-stack follower and should be stacked in a single row.
If you are sometimes hunting prone, for convenience firing, it's better to select one it without ports on the bottom to minimize the dust cloud. Muzzle devices will help your rifle to shoot down big game, while you need to take care of your ear protection.
Tags:450 bushmaster muzzle brake, 450 bushmaster muzzle brake 5/8×32, best 450 bushmaster muzzle brake, muzzle brake 450 bushmaster, 11/16-24 muzzle brake 450 bushmaster, ruger 450 bushmaster muzzle brake
#Best #450 Bushmaster #Muzzle Brake #Ruger #Sale #Ruger #Review #Mossberg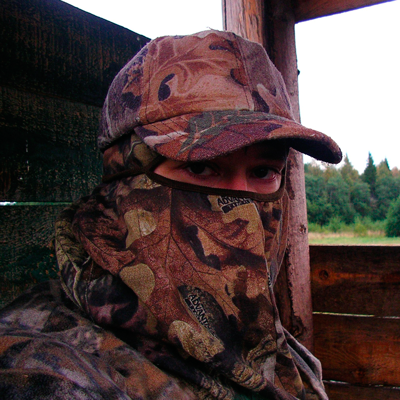 Tatiana Kursakova
Professional shooter, traveller, survivalist
My love of guns is in my blood, since childhood I have spent hours enjoying the beauty of guns and adored going through their parts.
Tactical accessories are another passion of mine that I could write about endlessly - my house and garage are full of tactical gadgets, luckily my family shares my interests.
I'm infatuated with traveling that's why work at one place with a daily routine and standard schedule is not for me. I prefer copywriting and English tutoring as a freelancer. I live in a male family among constant talks about cars, guns, hunting, fishing, and, of course, dinosaurs 😊.
My husband is an obsessed hunter, and my two sons are fans of «Demolition Ranch» of YouTube blogger Matt Carriker. They are my best consultants about weapon and all-around ammunition topics. All together we share a love for adventures. Every camping or mounting hiking trip is a "small survival", giving irreplaceable experiences. Nothing can be better than the satisfaction of observing wild nature.
Motto: «Born in Ukraine, made is the USA».
Read more
about our team
of expert authors.
Affiliate Disclosure: Rotorm.com sometimes gets paid for listings, through sponsors or affiliate programs like Amazon, Optics Planet, Lucky Gunner, Brownells, Cabelas, Rainier Arms, 5.11 Tactical, Bass Pro Shop, etс. Clicking a link helps keep Rotorm.com free, at no extra cost to you!
About the author: Each article on our site is written by experts in survival and tactical equipment, gun enthusiasts, extreme travelers, military, law enforcement and desperate professionals, read about the author at the bottom of the article or visit "About Us" page.
Note: The views and opinions expressed in this article are those of the authors and do not necessarily reflect the official policy or position of any agency.