The .50 Beowulf is a 12mm caliber round, designed by Bill Alexander (Alexander Arms company), chambered for AR-15 rifles.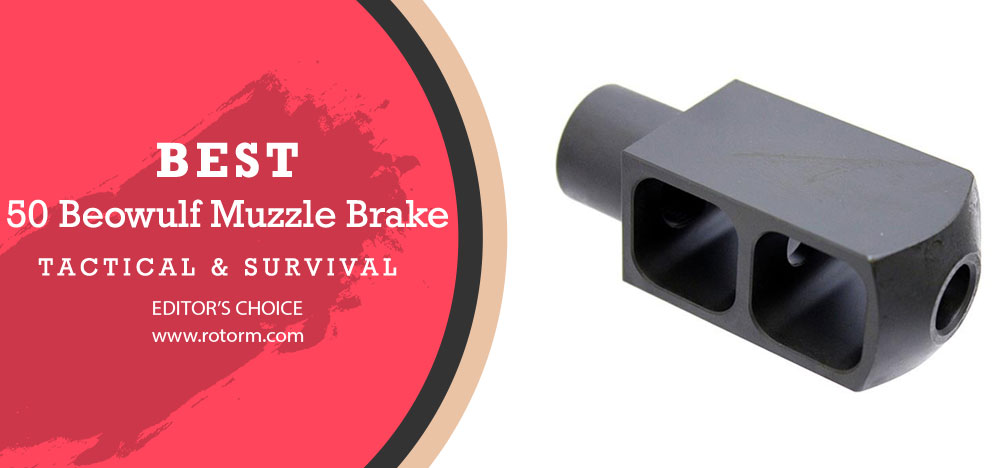 The bullet case is outfitted with a rebated rim, which size matches the 7.62×39mm and 6.5mm Grendel rounds' rim. The dimensions of the case body resemble the .500 S&W Magnum revolver patron, but the .50 Beowulf is a bit longer and fully tapered for automatic firearm feeding.
Why do we need a .50 Beowulf muzzle brake?
The .50 Beowulf cartridge has the energy about five times and the weight about three times more than most 9mm rounds. A muzzle brake should be attached to the barrel (sometimes it can be an integral rifle part of the muzzle, cannon, or barrel construction as well); such devices are intended to redirect a portion of propelling gases to mitigate felt recoil, taking care of the shoulder, and prevent unwished muzzle rise, allowing to make faster follow-up shots and improve accuracy.
.50 Beowulf Muzzle Brake Review | Best 50 Beowulf Muzzle Brake
| Image | Product | Brand | |
| --- | --- | --- | --- |
| | Alexander Arms Tank .50 Beowulf Muzzle Brake M-BEOTNK | Alexander Arms | |
| | Alexander Arms Alexander Mellennium .50 Beowulf Muzzle Brake | Alexander Arms | |
| | Alexander Arms Pepper Pot Threaded .50 Beowulf Muzzle Brake | Alexander Arms | |
| | Guntec USA .50 Beowulf Muzzle Brake | Guntec | |
#1 Alexander Arms Tank .50 Beowulf Muzzle Brake M-BEOTNK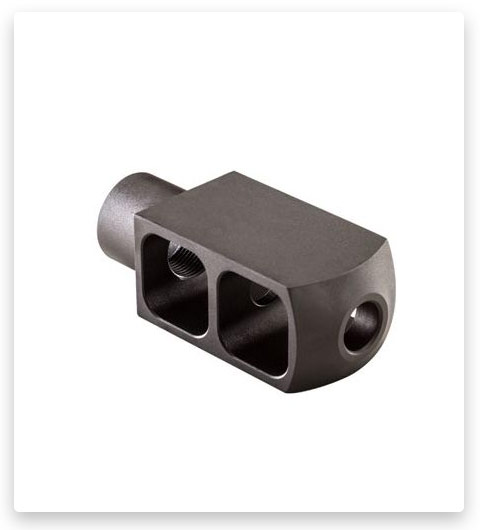 The Alexander Arms implemented in its muzzle device artillery brakes design of open form with two large impact baffles to reach significant recoil mitigation. There are two opposite-facing ports on each muzzle brake side that direct the noticeable blast to the rifle sideways, while the back-blast to the shooter is insignificant. The device is symmetrical in work, not delivering a muzzle jump decrease. Black tank muzzle brake features standard .50 Beowulf muzzle thread (49/64-20 RH), compatible only with AA barrel. A crush washer is not included. While muzzle brake mounting it's better to use a blue Loctite on the thread, backing up to right orientation, lock a locking set screw on the bottom, and keep a couple of days to set up.
#2 Alexander Arms Alexander Mellennium .50 Beowulf Muzzle Brake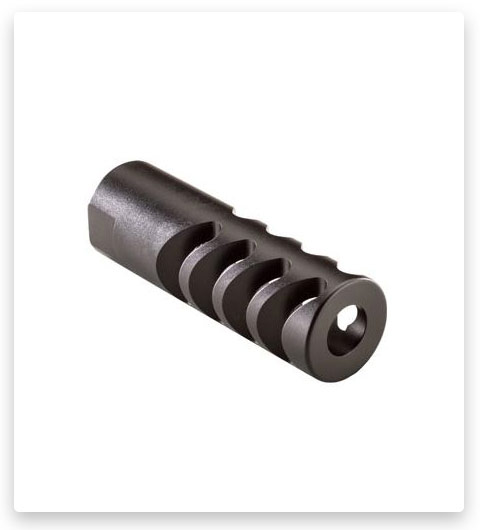 The Alexander Arms developed a row of four compound angled ports on each device side to redirect gas in a back and upwards way. The Millennium steel compensator is not similar to other AA .50 Beowulf muzzle brake models, as it features both a braking effect and a specific downward force to prevent the rifle muzzle climb. Back-blast is sensible from this type of the AA compensator.
#3 Alexander Arms Pepper Pot Threaded .50 Beowulf Muzzle Brake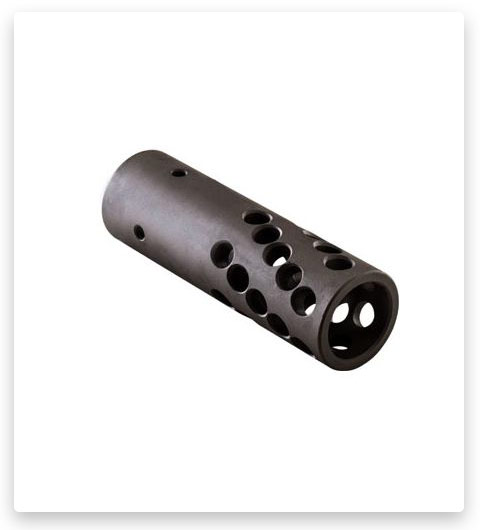 The Alexander Arms designed a muzzle device body with symmetrical five simple series of slots, placed in a helical order, and the conical internal bore, which allows gas flows and makes enough clearance for the projectile. The .50 Beowulf Pepper Pot threaded muzzle brake to redirect the propelling gas, delivering a braking effect on the rifle recoil at 30%. The muzzle brake is suitable for a hunting firearm, ensuring the barrel crown protection apart from recoil mitigation. The .50 Beowulf can hardly be called a quiet rifle, meanwhile, this brake almost does not influence the noise.
#4 Guntec USA .50 Beowulf Muzzle Brake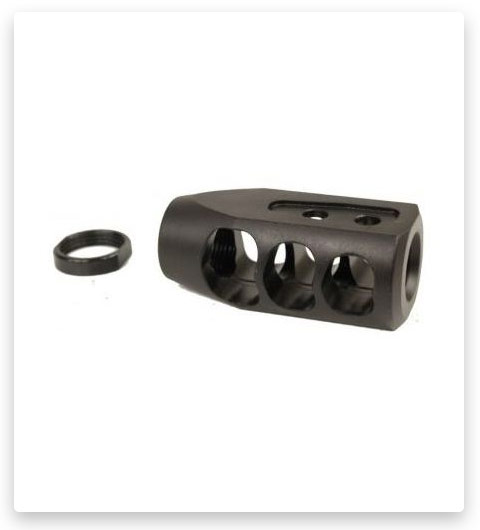 Multi-Port threaded compensator with three porting holes on each side and two porting slots on the top to diminish muzzle climb and recoil. The Guntec designed muzzle devices with all-steel constructions with Anodized Black. This Guntec comes with a locking nut for timing.
How to install .50 Beowulf Muzzle Brake
Always before the .50 Beowulf muzzle brake installation or removal, unload the rifle; it must stay empty.
A recoil compensator, which is a separate unit, is easily mounted, but sometimes these devices can be integrated at the factory, becoming a rifle part of the muzzle, cannon, or barrel construction, so removal can take more time and effort.
If the factory muzzle brakes are attached by four Allen head screws around the brake, and additionally fixed with the Loctite, the bonding agent can be heated with a high-temp electric heat gun to simplify the removal.
Alexander Arms manufactures its own FF tube, compatible with the barrel nut (in case of tube replacement, it's better to contact AA to provide proper fitment).
For the .50 Beowulf muzzle brake installation, use a locking ring and the barrel nut.
The actions will be the same as for all compensators mounting /dismounting.
Follow the instruction to reach due orientation: the muzzle brake ports should be perpendicular to the rifle vertical axis.
A crush washer makes the device timing easier and helps to line up it duly, although some muzzle brake types don't require timing. This soft ring operates as a seal between the muzzle device and barrel, mounted without any tools, it's necessary just to slip the washer on the barrel.
Tightening the muzzle brake with your hand tightly to the 10 o'clock (open-end wrenches can help), align the muzzle device with the barrel at 12 o'clock position (take the barrel face like a clock face). Then in short increments without over-tightening, turn the muzzle brake till getting the 12 o'clock position.
When the muzzle brake comes without a crush washer, then it's recommended to use a couple of drops of blue Loctite on the thread, after that back up to due orientation, lock a locking set screw on the bottom, and give two days to set up.
FAQ
Conclusion
If you want to keep your shoulder safe, by reducing the rifle recoil, and receive more rifle control while shooting, the muzzle brake will make your wishes come true, even more, it will allow you to improve accuracy and quicken the follow-up shots and sights realignment on the target. The only two issues left, which you should take care of: loud firing sound, so ear protection is compulsory for healthy hearing every time, and beforehand checking of the total barrel length, as it should include muzzle brake one according to ATF regulations, be aware that 16-inch barrel length is considered the best for the .50 Beowulf performance.For comfortable prone shooting, choose the muzzle brake without bottom ports to minimize the dust cloud (Guntec USA Cal Multi Port Steel Compensator will be good for this aim). The .50 Beowulf muzzle devices on the rifle will serve you in getting more hunting trophies.
Best Pick:
Tags: 50 beowulf muzzle brake kit, best muzzle brake for .50 beowulf, 50 beowulf muzzle brake
#Best #50 beowulf #Muzzle Brake #Reviews #Kit #Sale #Tank #Cal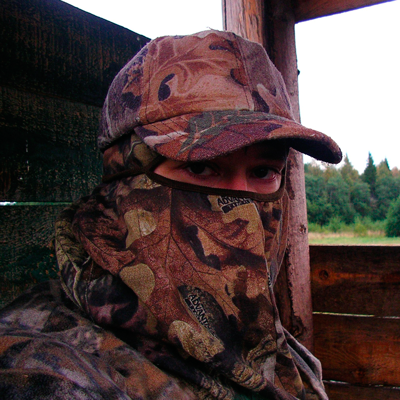 Tatiana Kursakova
Professional shooter, traveller, survivalist
My love of guns is in my blood, since childhood I have spent hours enjoying the beauty of guns and adored going through their parts.
Tactical accessories are another passion of mine that I could write about endlessly - my house and garage are full of tactical gadgets, luckily my family shares my interests.
I'm infatuated with traveling that's why work at one place with a daily routine and standard schedule is not for me. I prefer copywriting and English tutoring as a freelancer. I live in a male family among constant talks about cars, guns, hunting, fishing, and, of course, dinosaurs 😊.
My husband is an obsessed hunter, and my two sons are fans of «Demolition Ranch» of YouTube blogger Matt Carriker. They are my best consultants about weapon and all-around ammunition topics. All together we share a love for adventures. Every camping or mounting hiking trip is a "small survival", giving irreplaceable experiences. Nothing can be better than the satisfaction of observing wild nature.
Motto: «Born in Ukraine, made is the USA».
Read more
about our team
of expert authors.
Affiliate Disclosure: Rotorm.com sometimes gets paid for listings, through sponsors or affiliate programs like Amazon, Optics Planet, Lucky Gunner, Brownells, Cabelas, Rainier Arms, 5.11 Tactical, Bass Pro Shop, etс. Clicking a link helps keep Rotorm.com free, at no extra cost to you!
About the author: Each article on our site is written by experts in survival and tactical equipment, gun enthusiasts, extreme travelers, military, law enforcement and desperate professionals, read about the author at the bottom of the article or visit "About Us" page.
Note: The views and opinions expressed in this article are those of the authors and do not necessarily reflect the official policy or position of any agency.