What is the Best Muzzle Brake For Hunting Rifle? 🤔
A muzzle brake is a device attached to the end of the barrel of a firearm, primarily designed to reduce felt recoil and muzzle rise. By redirecting the propellant gases emitted when the bullet is fired, it can reduce the rearward motion of the gun, thus mitigating the impact of the recoil on the shooter. The concept dates back to the early 20th century, with the initial designs being used for artillery pieces to prevent them from shifting out of position after firing.
The utilization of it on hunting rifles started to gain traction in the latter half of the 20th century. As hunters began using more powerful cartridges, which naturally produced greater recoil, the need for mechanisms to enhance shooting comfort and accuracy became apparent. Although there were some reservations among purists, who believed that traditional hunting rifles shouldn't be modified, the undeniable benefits of it in reducing shooter fatigue and enhancing follow-up shot accuracy led to their widespread adoption.
In the modern hunting scenario, they are frequently seen on rifles chambered in magnum calibers, or where the shooter is particularly sensitive to recoil. However, it's essential to note that while they reduce recoil, they can increase the loudness of the shot, potentially causing hearing damage if proper ear protection isn't worn. For this reason, while they are embraced by some hunters, others choose to forgo them, depending on personal preference and the specific hunting environment.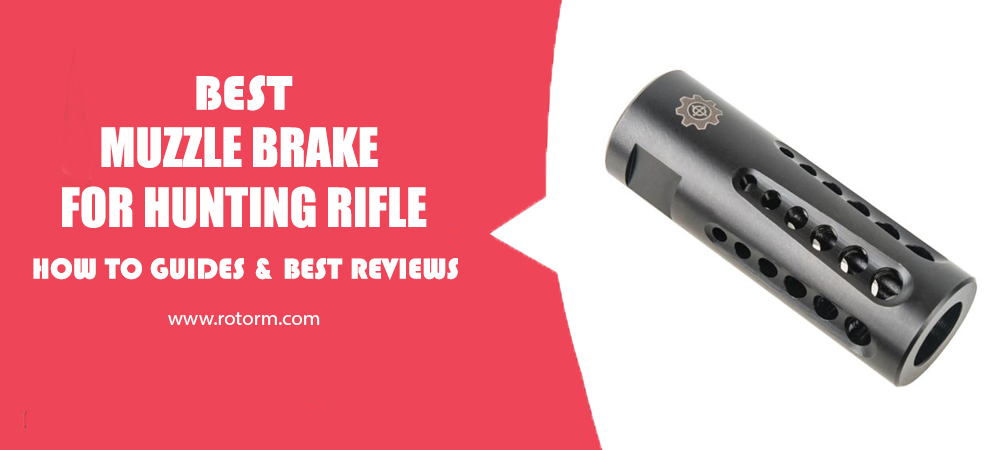 Benefits 🔥
| | |
| --- | --- |
| ✅ Reduced Recoil: | The primary advantage is the significant reduction in felt recoil. This not only provides a more comfortable shooting experience but also reduces the physical strain on the shooter. |
| ✅ Enhanced Accuracy: | With reduced recoil and muzzle rise, shooters can maintain better sight alignment and sight picture, leading to improved shot placement, especially during rapid follow-up shots. |
| ✅ Decreased Shooter Fatigue: | For those who spend extended periods at the range or in the field, the cumulative effects of recoil can be tiring. They help lessen this fatigue, allowing for prolonged shooting sessions. |
| ✅ Improved Rifle Longevity: | By reducing the violent backward motion associated with recoil, they can potentially extend the life of the rifle by subjecting it to less stress and wear. |
| ✅ Confidence Booster: | For those sensitive to recoil or new to shooting, knowing that the rifle's kick is mitigated can boost confidence, leading to better shooting performance. |
Our Top Pick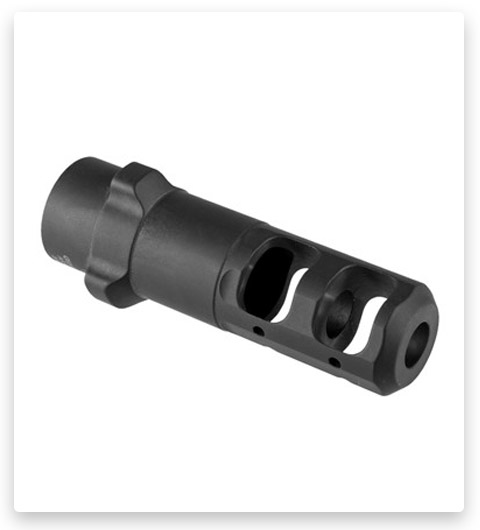 Gemtech Tri-Lock Muzzle Break
Presenting more than just an accessory, this muzzle brake epitomizes innovation and efficiency. Crafted exclusively for the .338 Lapua ARROW suppressor, it distinguishes itself by facilitating rapid attachment and detachment. This attribute is especially advantageous for shooters in need of seamless transitions between suppressed and unsuppressed firing modes.
Buy Now On Brownells
If you click this link and make a purchase, we earn a commission at no additional cost to you.
Features ⭐
| | |
| --- | --- |
| ☑️ Gas Redirection: | They operate by redirecting propellant gases through strategically placed ports, diverting the force that would typically contribute to recoil. |
| ☑️ Versatility: | Modern variants are available for a variety of rifle calibers and designs, ensuring compatibility with a wide range of firearms. |
| ☑️ Material and Construction: | Made typically from high-strength materials like steel or titanium, they are built to withstand the intense pressures of gunfire, ensuring durability and longevity. |
| ☑️ Easy Installation: | Many of them are designed for quick attachment and detachment, allowing the shooter to choose when to use them based on their shooting needs. |
| ☑️ Aesthetic Appeal: | Beyond their functional aspects, many of them are crafted with aesthetic considerations in mind, adding a distinctive look to the rifle. |
| ☑️ Compact Design: | While they add some length to the firearm, many modern variants are designed to be compact, ensuring they don't overly extend the rifle's overall length. |
Our Top Pick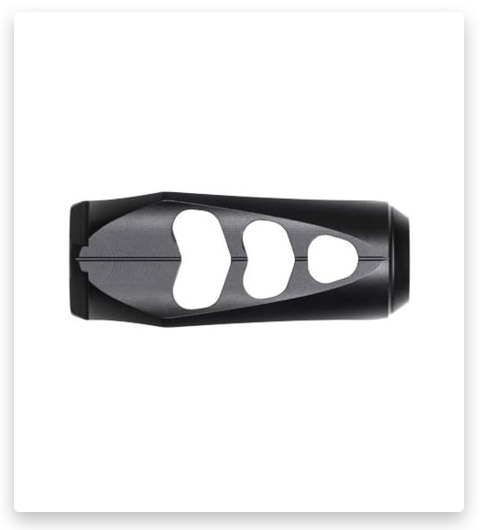 The Muzzle Brake's Buyer's Guide 🛒
🚩 When venturing into the world of firearm accessories, one component that often garners attention is the device attached to the end of a gun barrel, designed to redirect propellant gases and counteract recoil and unwanted rising of the barrel during rapid fire. Understanding how to choose the right one can significantly enhance your shooting experience.
🚩 The primary purpose of this device is to reduce recoil, the backward momentum of a gun when discharged. By redirecting gases in specific directions, usually upward and to the sides, it can counteract the natural tendency of the barrel to rise during firing. This not only aids in faster target reacquisition but also reduces the physical strain on the shooter, especially with more powerful calibers.
🚩 Another consideration is the type of shooting you'll be doing. For competitive shooters, especially those in rapid-fire events, having a device that minimizes barrel movement can be crucial. On the other hand, hunters might prioritize other factors, such as the device's weight or how it affects the gun's report (loudness). It's worth noting that while it can reduce felt recoil, it can also increase the noise level, potentially harmful to the shooter's hearing if proper protection isn't used.
🚩 Compatibility with your firearm is essential. Ensure that the threading and diameter of the device match your gun barrel. Some are caliber-specific, designed to work optimally with specific bullet diameters, while others might be more versatile.
🚩 The material and construction are also vital. Many are made from high-strength steel or titanium to withstand the intense pressures and temperatures of firing. Durability is crucial, especially if you plan on shooting frequently.
🚩 Lastly, aesthetics and design might play a role for some buyers. While the primary purpose is functional, the look and feel can influence a shooter's choice, especially if they have a particular vision for their firearm's appearance.
🚩 When considering an addition to the end of your gun barrel to manage recoil and muzzle rise, it's essential to weigh factors like shooting purpose, compatibility, construction, and even aesthetics. Making an informed choice can lead to a more enjoyable and effective shooting experience.
Best Muzzle Brake For Hunting Rifle Reviews
#1 Alexander Arms Muzzle Brake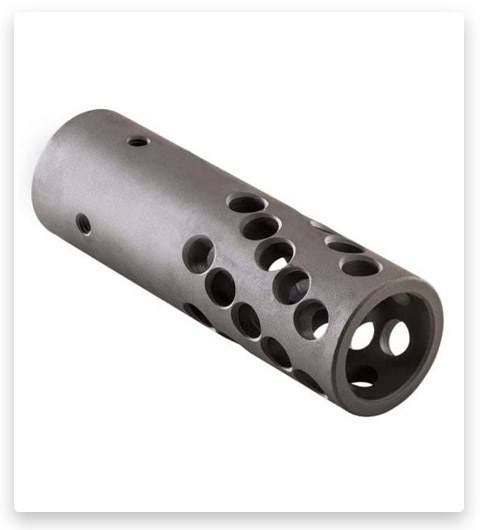 Designed specifically for the .50 Beowulf caliber, it offers a dual functionality that is rarely seen in muzzle devices. Not only does it provide a significant braking effect to reduce recoil, but it also exerts a distinct downward force. This force is meticulously engineered to counteract the muzzle flip of the weapon, ensuring that the shooter maintains a consistent sight picture even after firing.
The underlying principle of its design is its series of four compound-angled slots on each side. These slots are strategically positioned to redirect the gas in a backward and upward direction. The result is a combined effect of recoil reduction and muzzle jump mitigation. This synergy allows shooters to achieve rapid follow-up shots with enhanced accuracy. It's worth noting that while the compensator is highly effective in its function, it does produce a noticeable back blast. This is a small trade-off for the significant advantages it offers in terms of shooting performance.
It is constructed from durable steel, ensuring longevity and resistance to wear and tear. It comes in a sleek black color, which not only adds to the aesthetic appeal but also provides a layer of protection against corrosion. With threads per inch measured at 49/64×20, it is tailored to fit seamlessly onto the AR platform
#2 Alexander Arms Muzzle Brake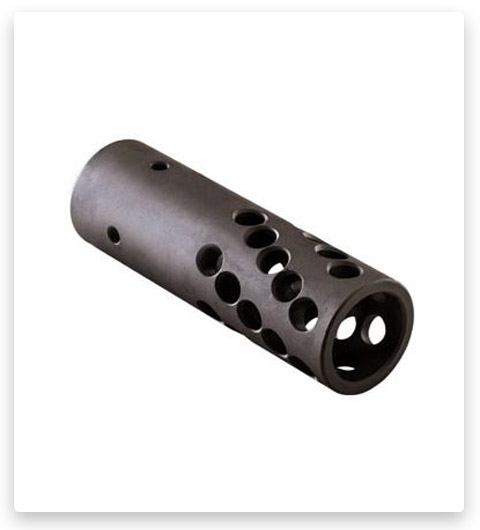 The brake is threaded with a 49/64-20 RH standard, which is the typical threading for a .50 Beowulf muzzle. Its design is symmetrical, featuring five rows of holes arranged in a helical pattern. This strategic arrangement is intended to redirect the muzzle gas, producing a braking effect on the weapon's recoil.
One of the standout features is its internal bore, which is conically shaped. This design aids in the efficient flow of gas and ensures ample clearance for the projectile. When it comes to performance, users can expect a conservative reduction in recoil by up to 30%. This is a significant advantage for shooters, as it allows for better control and accuracy during rapid-firing sessions.
While the .50 Beowulf is known for its power, this brake ensures that the noise levels are not significantly amplified. Moreover, it does not produce any backblast, ensuring the comfort and safety of the shooter and those nearby. This makes the brake particularly suitable for hunting weapons, as it not only reduces recoil but also offers protection for the barrel crown.
Constructed from high-quality steel, promises durability and longevity. Its black finish not only enhances its aesthetic appeal but also offers protection against potential corrosion. In essence, it is a blend of functionality and style, making it a valuable addition to the .50 Beowulf weapon system.
#3 Alexander Arms Muzzle Brake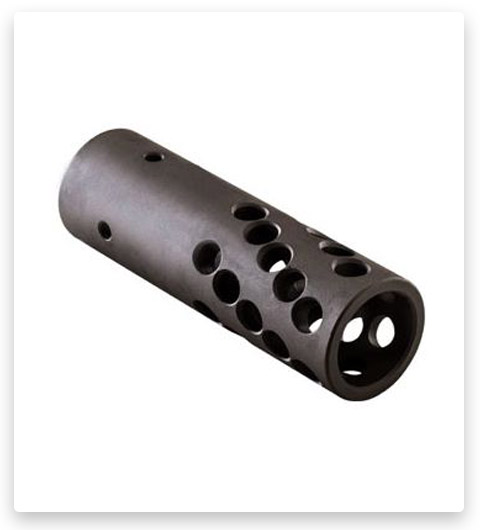 The brake's symmetrical design boasts five rows of holes, arranged in a helical pattern. This design is intentional, aiming to redirect the muzzle gas in a manner that produces a braking effect on the weapon's recoil. The result? A significant reduction in recoil, with some users experiencing a conservative reduction of up to 30%.
The internal bore is conically shaped, ensuring an efficient gas flow and ample clearance for the projectile. This design consideration ensures that the brake not only functions optimally but also guarantees the safety and integrity of the projectile's path. One of the standout features is its installation method. It employs an industrial-grade adhesive combined with set screws, making it a permanent addition to the weapon system. Once installed correctly, it's there to stay.
While the .50 Beowulf is renowned for its power, it ensures that the noise levels remain manageable. It neither amplifies the sound significantly nor produces any back-blast, ensuring the comfort of the shooter and those nearby. This feature makes it particularly suitable for hunting weapons, offering dual benefits of recoil reduction and barrel crown protection.
Constructed from high-quality steel, it is built to last. Its black finish not only adds an aesthetic touch but also provides a protective layer against potential corrosion and wear.
#4 Carlson's Choke Tubes Tactical Muzzle Brake

Its design ensures that the expelled gases are redirected in a manner that significantly reduces the backward momentum of the gun. This not only ensures a more stable shooting stance but also allows for quicker target re-acquisition, a crucial factor in tactical scenarios. The reduced recoil also means less wear and tear on the shooter, allowing for extended shooting sessions without the usual fatigue.
Another standout feature is its ability to reduce muzzle rise. This is particularly beneficial for rapid-fire scenarios, ensuring that the barrel remains level and the shots remain accurate. The design intricacies ensure that the gas redirection is optimal, achieving this muzzle stabilization without compromising the overall performance of the firearm.
Constructed from 17-4 heat-treated stainless steel, it promises durability and longevity. It's built to withstand the rigors of regular use, ensuring that it remains a reliable accessory for years to come. The matte black finish not only adds a touch of elegance but also serves a functional purpose, providing a layer of protection against potential corrosion and wear.
Installation is straightforward, thanks to the innovative design. It comes with a matte blue choke tube, ensuring a snug fit and seamless integration with the firearm. This ensures that once it's on, it stays on, providing consistent performance every time.
#5 Precision Armament M11-SPR Muzzle Brake
This product stands out due to its unique design that incorporates a large symmetrical blast baffle in tandem with compensated forward baffles. This combination ensures unparalleled muzzle and recoil control, which, when coupled with its ability to reduce bullet yaw, guarantees exceptional accuracy over long distances.
Constructed with durability in mind, it boasts an optimal strength-to-weight ratio. Made from heat-treated stainless steel, it promises superior resilience, ensuring it can withstand the rigors of the field. Additionally, it is designed with wrench flats, making its installation and removal a breeze for users.
One of the standout features is its ability to deliver unmatched shot accuracy with every pull of the trigger. It's worth noting that for optimal installation, it's recommended to use the Accu-Washer Muzzle Alignment system. Furthermore, users are advised against using crush washers with this product.
#6 Next Level Armament Muzzle Brake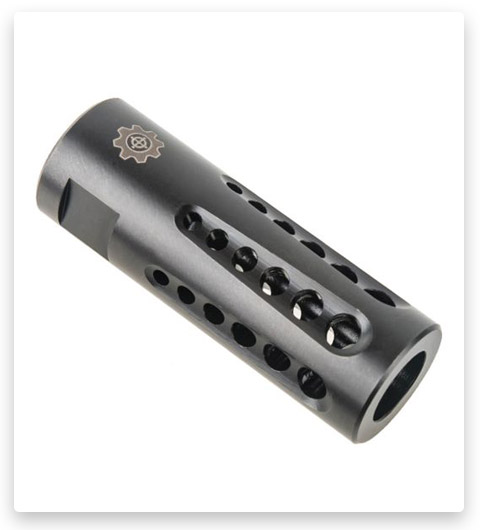 Specifically designed for the .450 Bushmaster caliber, it is a game-changer for those seeking to enhance their shooting experience. The .450 Bushmaster is known for its significant recoil, especially when used in the AR15 platform. It is engineered to tame this recoil, ensuring shooters can maintain accuracy and control with every shot.
Constructed from 4140 stainless steel raw stock, it is not only robust but also boasts a Nitride finish, ensuring longevity and resistance to wear and tear. Its design is intended to mitigate both muzzle rise and recoil, allowing for better shot placement and quicker follow-up shots. Whether you're hunting deer or hogs, it ensures that the powerful .450 Bushmaster's recoil is significantly reduced, making for a more comfortable and controlled shooting experience.
A notable feature is its specific design to reduce recoil and muzzle jump. This precision is achieved through its construction and the strategic placement of its port holes at 11 and 1 o'clock positions. This orientation ensures optimal performance and recoil management.
However, users should be cautious during installation. Due to the large diameter of the 11/16 x 24 .450 Bushmaster barrel threads, the accompanying crush washer is relatively thin. It's recommended to hand-tighten the brake and then index it using no more than a 1/3 turn to avoid snapping the crush washer.
#7 Tyrant Designs CyberBrake Compensating Muzzle Brake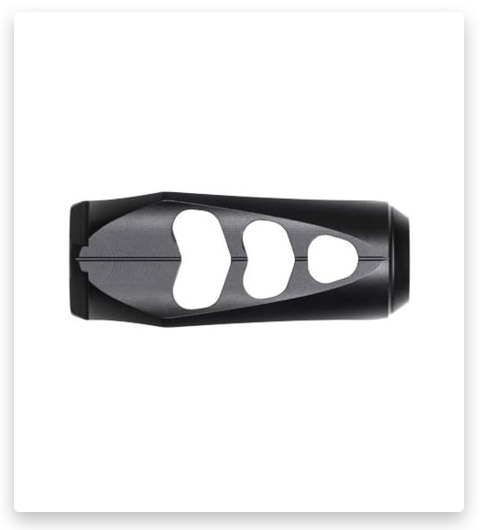 This product is specifically designed for the AR-15 platform and is tailored to enhance the shooting experience of the user. It boasts a unique triple chamber design, which serves a threefold purpose: to reduce recoil, minimize flash signature, and mitigate muzzle rise. This combination ensures that the shooter experiences minimal disturbance when firing, allowing for consistent accuracy and control.
It is constructed for the .223/5.56 caliber and comes with a 1/2×28 thread specification. Made from high-quality steel, it promises durability and longevity. The finish is available in both raw steel and black chrome, catering to the aesthetic preferences of different users. With an outer diameter of 1.15 inches and a length of 2.62 inches, it is compact yet effective. Weighing in at 3.8 oz, it doesn't add significant weight to the firearm, ensuring that the balance and handling of the weapon remain optimal.
One of the standout features is its ability to serve both as a compensator and a muzzle brake. This dual functionality ensures that the shooter gets the best of both worlds, with reduced felt recoil and enhanced shooting accuracy. The product comes complete with all the necessary components, ensuring a hassle-free installation process.
#8 Gemtech Tri-Lock Muzzle Break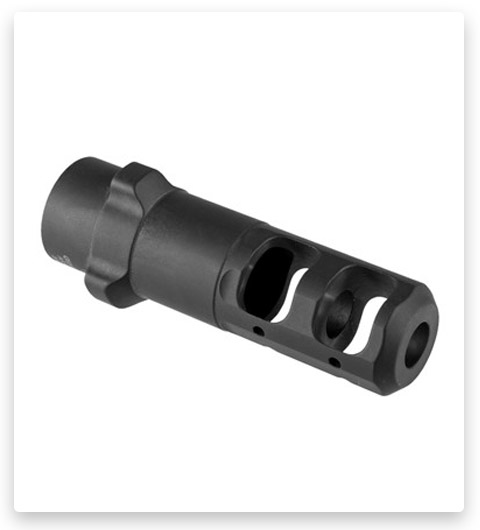 This muzzle brake is not just another accessory; it's an embodiment of innovation and efficiency. Tailored for the .338 Lapua ARROW suppressor, it stands out for its ability to allow quick mounting and detachment. This feature is particularly beneficial for shooters who require swift transitions between suppressed and unsuppressed firing modes.
Constructed with precision, it ensures that the ARROW suppressor is securely attached, minimizing any chances of misalignment or accidental detachment. The threading options available for it include 3/4″x24 and M18X1.5, catering to a variety of firearm specifications.
The integration of the Tri-Lock system is a testament to GEMTECH's commitment to enhancing the user experience. Facilitating quick and hassle-free mounting and detachment ensures that shooters can adapt to different shooting scenarios with ease.
Difference Between Muzzle Brake, Compensator, and Flash Hider 📊
➡️ When discussing firearm accessories designed to be attached to the end of a gun barrel, three terms often come up: muzzle brake, compensator, and flash hider. While they might appear similar or even interchangeable to the uninitiated, each serves a distinct purpose and operates based on different principles.
➡️ Starting with the muzzle brake, its primary function is to reduce the recoil felt by the shooter. When a firearm is discharged, the exiting propellant gases exert a force on the gun, pushing it backward. This device works by redirecting these gases, typically to the sides or slightly angled backward, counteracting the rearward force and thereby reducing the felt recoil. This can be especially beneficial for firearms chambered in more powerful calibers, making them more manageable to shoot.
➡️ Moving on to compensators, their main objective is to counteract muzzle rise or the upward movement of the gun's barrel during firing. When a bullet exits the barrel, the force of the propellant gases can cause the muzzle to climb, especially during rapid fire. A compensator addresses this by venting the gases upward, creating a downward force that helps keep the barrel level. This allows for faster target reacquisition and more accurate follow-up shots.
➡️ Lastly, the flash hider, as the name suggests, is designed to minimize the visible muzzle flash. When gunpowder ignites, it can produce a bright flash as the propellant gases burn upon exiting the barrel. This flash can be blinding in low-light conditions and can give away a shooter's position, especially in tactical scenarios. A flash hider works by dispersing the gases and cooling them rapidly, reducing the chances of them igniting and producing a visible flash.
➡️ In essence, while all three devices attach to the end of a firearm's barrel, they serve distinct purposes. The choice between them depends on the shooter's needs, whether it's reducing recoil, maintaining a level barrel, or minimizing muzzle flash. Some devices even combine these functions, offering multi-purpose solutions for various shooting scenarios.
FAQ 📚
Conclusion 🏁
A muzzle brake is a device that is attached to the barrel of a gun in order to redirect the gasses that escape after the bullet has been fired. This can help to reduce recoil and make it easier to stay on target. They can also help to reduce noise levels, which can be helpful when hunting in close quarters.
If you are looking for improved recoil management and reduced noise, it may be the right solution for you. It is important to note that it can also affect the accuracy of a rifle, so it is best to consult with a gunsmith before making a purchase.
Affiliate Disclosure: Rotorm.com sometimes gets paid for listings, through sponsors or affiliate programs like Amazon, Optics Planet, Lucky Gunner, Brownells, Cabelas, Rainier Arms, 5.11 Tactical, Bass Pro Shop, etс. Clicking a link helps keep Rotorm.com free, at no extra cost to you!
About the author: Each article on our site is written by experts in survival and tactical equipment, gun enthusiasts, extreme travelers, military, law enforcement and desperate professionals, read about the author at the bottom of the article or visit "About Us" page.
Note: The views and opinions expressed in this article are those of the authors and do not necessarily reflect the official policy or position of any agency.