Affiliate Disclosure: Rotorm.com sometimes gets paid for listings, through sponsors or affiliate programs like Amazon, Optics Planet, Lucky Gunner, Brownells, Cabelas, Rainier Arms, 5.11 Tactical, Bass Pro Shop, etс. Clicking a link helps keep Rotorm.com free, at no extra cost to you!
About the author: Each article on our site is written by experts in survival and tactical equipment, gun enthusiasts, extreme travelers, military, law enforcement and desperate professionals, read about the author at the bottom of the article or visit "About Us" page.
Note: The views and opinions expressed in this article are those of the authors and do not necessarily reflect the official policy or position of any agency.
There are a lot of good rifles out there, one of them is the Remington 700 and similar clones such as the ELF 700. These rifles have already proven their simplicity and reliability. Every novice shooter can fully acquire basic weapon skills, and with due diligence, he will be able to show sniper accuracy at distances of 100 and 200 yards.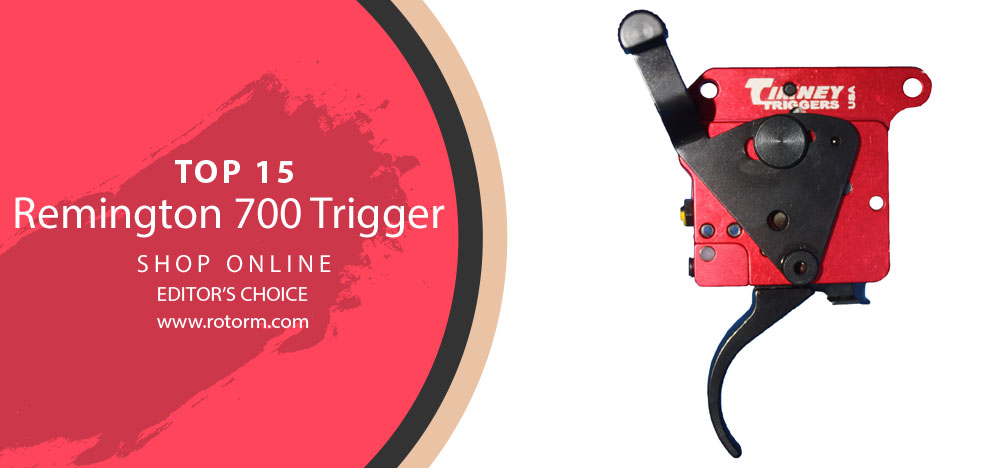 Today we will talk about such an important parameter of shooting as accuracy. It is the last moments before pulling the trigger that determine the accuracy of the shot. For the shot to be exactly at the moment when you decide to do it, you need an accurate and sensitive trigger. 15 triggers with a very good reputation today in our roundup. Enough words and let's choose your new trigger!
Best Remington 700 Trigger | Remington Trigger Reviews
| Image | Product | Brand | |
| --- | --- | --- | --- |
| | Timney Triggers Elite Hunter Remington 700 Trigger | Timney | |
| | Triggertech Remington 700 Diamond Trigger | Triggertech | |
| | TriggerTech Remington 700 Primary Trigger | TriggerTech | |
| | TriggerTech Remington 700 Special Trigger | TriggerTech | |
| | Timney Triggers Remington 700 Calvin Elite Stage-2 Trigger | Timney | |
| | Timney Triggers Remington 700 Flat Trigger | Timney | |
| | Timney Triggers Remington 700 Thin Trigger | Timney | |
| | Timney Triggers Remington 700 Hit Trigger | Timney | |
| | Timney Triggers Remington 700 2-Stage Straight Trigger | Timney | |
| | Christensen Arms Remington 700 Match Trigger Assembly | TriggerTech | |
| | Triggertech Remington 700 Primary Trigger | Triggertech | |
| | Rifle Basix Trigger Kit, Remington | Rifle Basix | |
| | Triggertech Remington 700 Special Trigger | Triggertech | |
| | Timney Triggers 520CE-A Calvin Elite Custom Remington 700 RH Trigger | Timney | |
| | Elftmann Tactical ELF Rifle Trigger 700 | Elftmann | |
#1 Timney Triggers Elite Hunter Remington 700 Trigger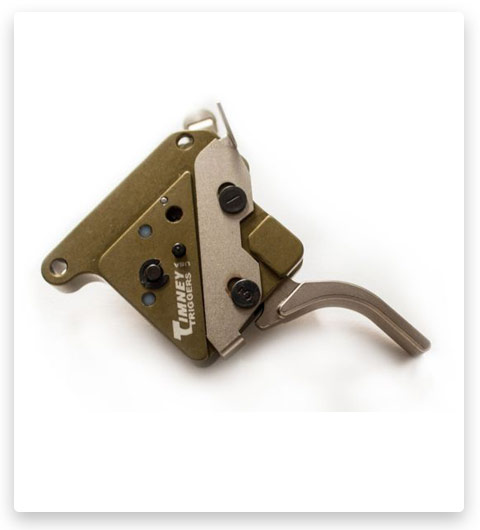 Your understanding of triggers will change forever when you try the Timney Triggers Elite Hunter Remington 700. This add-on to your rifle will receive a solid appreciation from you thanks to individual tests and manual calibration of each trigger. The Remington 700 allows you to fine-tune your optimal force from 1.5 to 4 lbs. The factory default is 3 lbs, but you can easily change that. The smooth and stable trigger travel will allow you to be relaxed about safety and significantly improve accuracy over long distances (200 yards or more). This trigger comes with a shutter for a complete set, if you don't need it, just remove it.
#2 Triggertech Remington 700 Diamond Trigger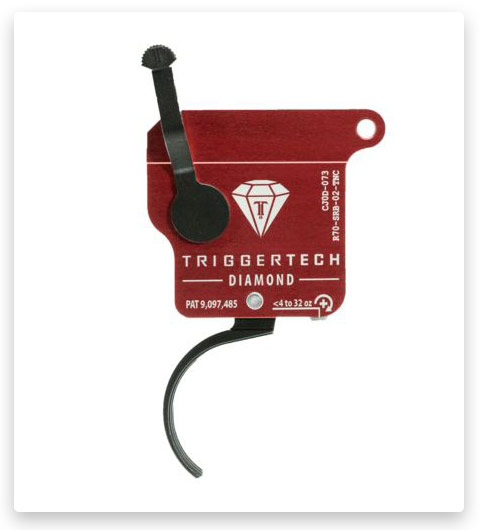 If you really want to experience zero creep, the TriggerTech Remington 700 Diamond will open this world for you. You can take advantage of the patented CLKR TriggerTech technology, which allows precise adjustment from 0.25 to 2 lbs (4 to 32 oz). Also, the technology used is protected from dust and works completely autonomously, without friction. The 440C stainless steel and 7075-T6 aluminum parts are the perfect match for the best synergy between these materials. Pressing force can be large if the spring of the striker is too stiff.
#3 TriggerTech Remington 700 Primary Trigger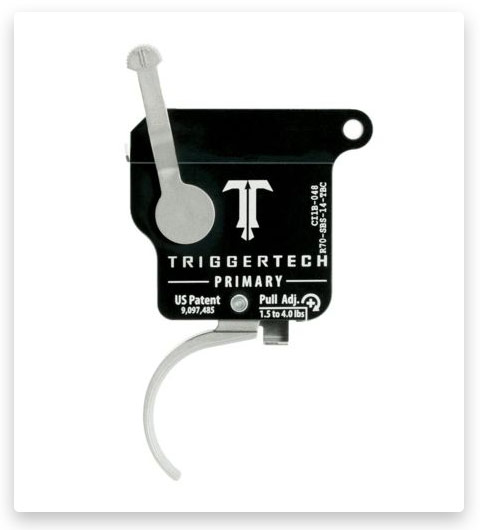 The anodized aluminum case houses the 440C stainless steel movement. This allows for high corrosion resistance and long service life. Frictionless release technology relies on the smooth operation of the spring, so it does not rely on polishing, lubricating, or coating the main engaging surfaces. Even after a thousand shots, the trigger will be just as obedient. With an external screw, the TriggerTech R700 allows you to adjust the trigger force from 1.5 to 4 lbs, in 1 oz increments. A range of just 0.015 inches is optimal for concentration before precision shooting at long range. Smooth and stable trigger travel is what TriggerTech is loved around the world.
#4 TriggerTech Remington 700 Special Trigger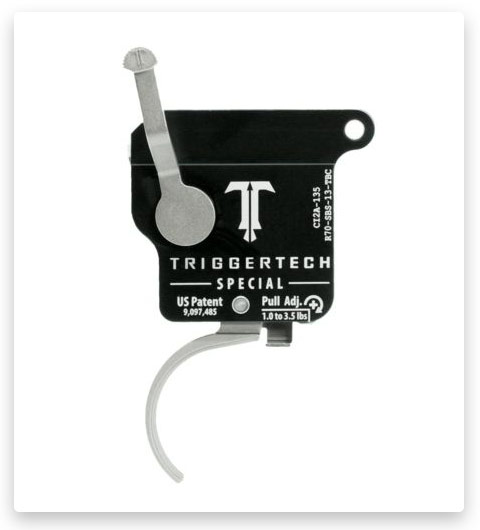 TriggerTech is a traditional Canadian quality in every trigger they release. The design of this trigger model will be of interest to both right-handers and left-handers and has both a straight and curved trigger shape. Considering that reliability is always at its best, you can choose the most convenient option for yourself. The pulling force of this trigger is adjustable from 1.0 to 3.5 pounds in 0.0625-pound increments. As you turn the externally accessible adjusting screw, you will hear a clear clicking sound, indicating that one more ounce has been added to the trigger. Otherwise, it is a trigger with a very short but stable travel. If you want to shoot more accurately at long distances – this trigger is for you.
#5 Timney Triggers Remington 700 Calvin Elite Stage-2 Trigger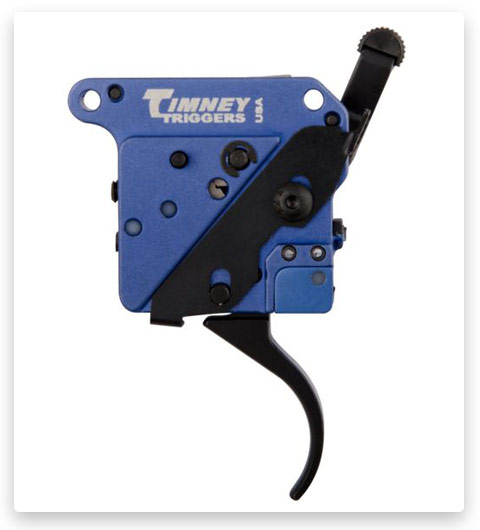 Timney's trigger has a two-stage direct escapement. You can calibrate the force of the first stage from 8 ounces to 1.5 lbs, while the second stage has a slightly wider range, from 8 ounces to 2 lbs. To increase the accuracy and reliability of the entire mechanism – parts made of tool steel A2 have a very high hardness and are processed on CNC machines. In general, the company pays great attention to testing each product and, if necessary, manually calibrates all triggers. This is a good replacement for the standard Remington trigger. A 5-minute setting allows you to reduce the trigger force without any fuss (Remington factory sets about 5 pounds) and achieve a better trigger, which means increased accuracy and added pleasure when targeting or hunting.
#6 Timney Triggers Remington 700 Flat Trigger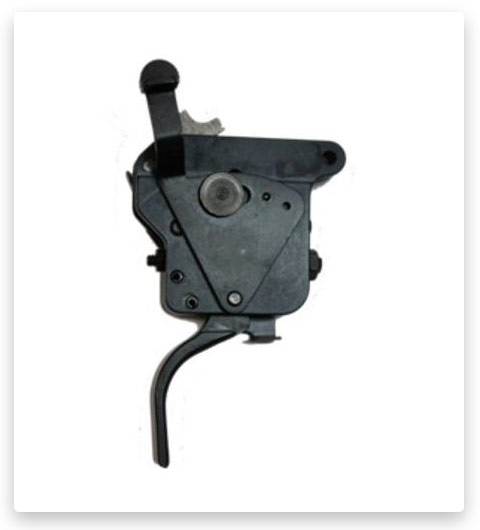 This trigger has a light alloy body and hardened steel parts. A simple adjustment with a "tuning bolt" allows the trigger weight to be varied from 1.5 to 4 pounds and there is an additional option to adjust the trigger travel (for slippage or overrun). Precision machining and stringent quality controls ensure flawless trigger performance. It is worth noting that this trigger also has a side fuse. Safety is one of Timney's priorities, so even accidentally hitting the ground with the butt will not fire.
#7 Timney Triggers Remington 700 Thin Trigger
If you're looking for a decent replacement for the factory trigger system for the Remington 700, check out the Timney Triggers Remington 700 Thin Trigger w / Safety 510THIN. The pre-installed X-Mark Pro system does not allow for adjusting the launch weight and has a fairly heavy pressure at 5-7 pounds. The Timney system allows you to adjust the pressing weight from 1.5 to 4 pounds and consists of hardened steel parts. All working surfaces match each other as accurately as possible and will work flawlessly for more than 10 000 shots! Do not forget about a reliable fuse. All this will delight you, adding safety and accuracy during every shot.
#8 Timney Triggers Remington 700 Hit Trigger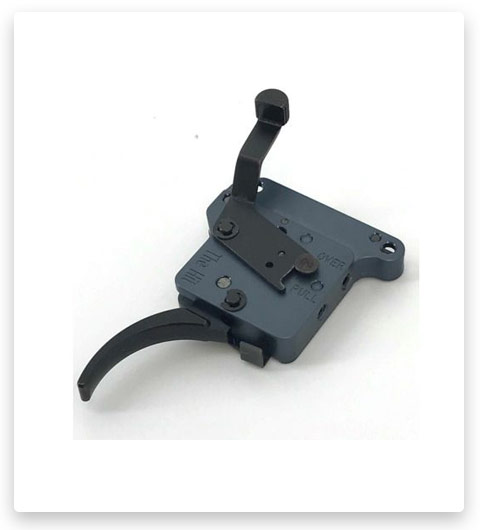 If you like precision in everything, try the Timney Triggers Remington 700 Hit Trigger. This trigger can be set to a tiny 8-ounce weight and is capable of up to 2 pounds of force. This meets the needs of professional shooters who compete! Timney manufactures the parts for this trigger himself. You will not find stamped or injection molded parts here, as was done before. Now every part is CNC machined and heat-treated for greater durability. With this trigger, you can show your accuracy to the fullest.
#9 Timney Triggers Remington 700 2-Stage Straight Trigger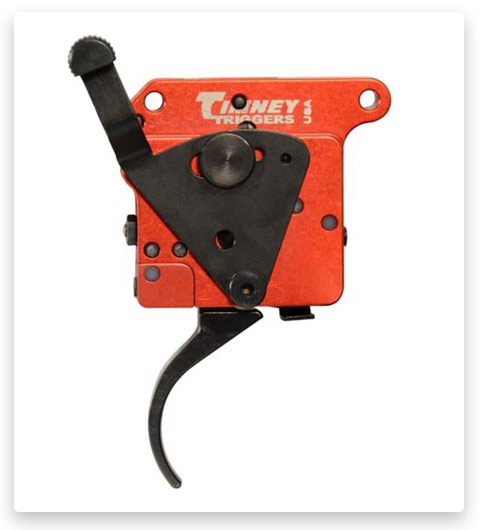 This trigger from Timney deserves special attention. Firstly, it is a two-stage escapement with a separate second stage setting. The first stage already has a preset pulling weight of 1 lb. The second stage is also set to 1 pound but can be adjusted from 1 to 4 pounds of traction weight. The second important difference is the component parts. This trigger combines parts made of A2 tool steel (CNC milled and heat-hardened) and anodized aluminum bodies. Also, the shoe and trigger guard are carbon nitrided to significantly extend life. The third important feature of this trigger is the trim options. You may have noticed 3 trim levels where 2 of them (533-ST-16 and 533-ST) may appear identical. The difference is hidden in the last digits "-16" denoting the nickel-plated trigger. If this part is completely unimportant to you, you can save a little and buy an additional pack of cartridges to enjoy the new Timney trigger.
#10 Christensen Arms Remington 700 Match Trigger Assembly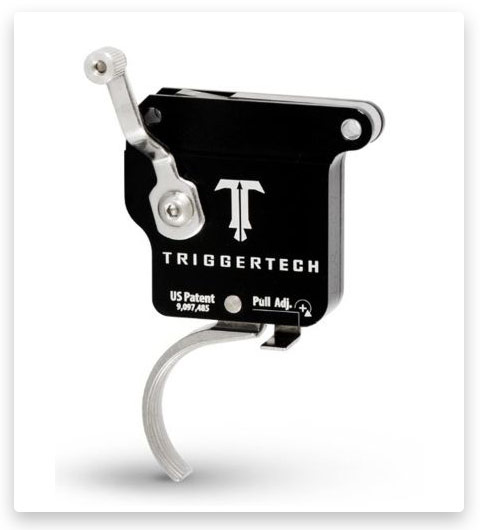 This model of the trigger has already won its army of fans, so Christensen Arms decided to repeat the success by reprinting this module. Why was it done? It's simple, the company already has a successful and accurate trigger, now they have refined the production technology and are using more innovative materials. This trigger is already calibrated for a pulling weight of 3.5 lbs. This seems perfectly reasonable for most shooters, but if you wish to change it, it shouldn't take long. Otherwise, this is a very attractive silver trigger for a very reasonable price.
#11 Triggertech Remington 700 Primary Trigger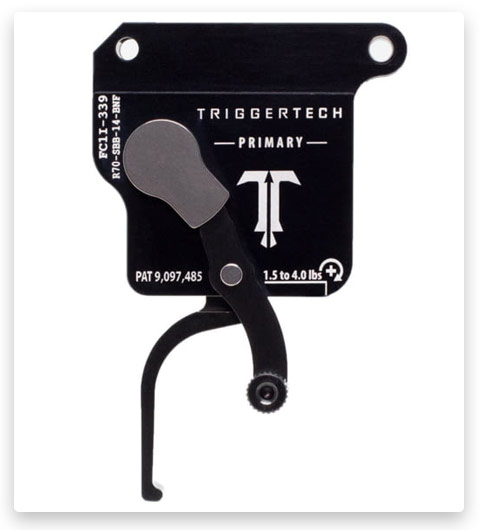 Rem 700 Bottom Safety from TriggerTech is, first of all, reliability and safety in everything. The escapement utilizes the latest "frictionless" CLKR technology. This provides greater durability and allows a pulling weight to be felt 0.5 lbs lighter than a friction-based trigger. Hardened 440C stainless steel components are used to dramatically increase corrosion resistance and extend service life. If you're looking for the most obedient trigger, this might be a good option. The launch weight is quickly and easily adjusted in 1-ounce increments, with a weight of 1.5 to 4 pounds. You also get very short .010 / .015in mileage and zero slip. This trigger can significantly improve your shooting accuracy, all you have to do is buy it!
#12 Rifle Basix Trigger Kit, Remington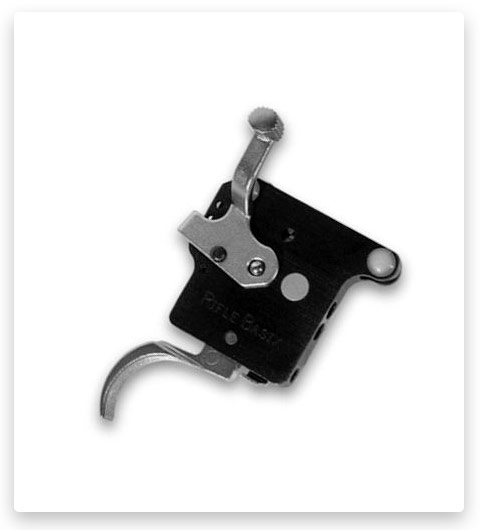 Rifle Basix introduced 8 triggers suitable for replacing the Remington 700. Each kit has its own characteristics, but it will be easy for you to figure it out. The L-1K kit is a spare safety trigger that can easily replace the X-Mark Pro. This kit weights with a pull range of 1.5 lb 4.0 lb, in 0.5 lb increments. If this release weakening is too small and insignificant for you, take a look at the Rifle Basix LV-1K. This kit provides a low starting force, from 0.5 to 1.5 lbs. Rifle Basix kits come with a basic do-it-yourself kit. Besides, the thrusting weight is selected at the time of order, which indicates that each trigger is individually checked and configured before shipment.
#13 Triggertech Remington 700 Special Trigger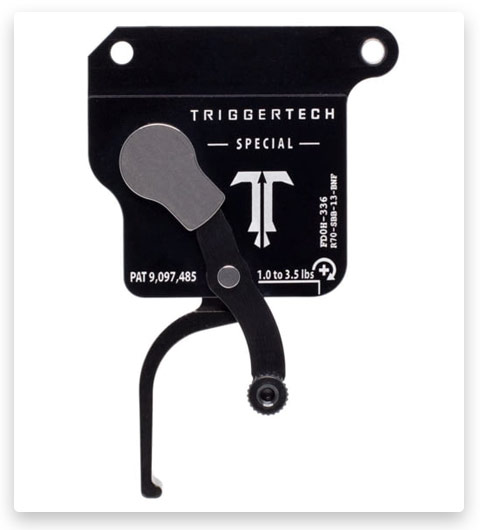 If you are looking for a zero-slip escapement system with fine-tuning in 1-ounce increments, check out the Rem 700 Bottom Safety. This is made possible by the introduction of frictionless CLKR technology. An external adjustment screw allows you to adjust the trigger weight in just one instant. This trigger uses 440C hardened stainless steel parts in an anodized aluminum housing. This guarantees a high level of reliability and corrosion resistance. These kits feature a trigger design to satisfy even the most demanding shooter.
#14 Timney Triggers 520CE-A Calvin Elite Custom Remington 700 RH Trigger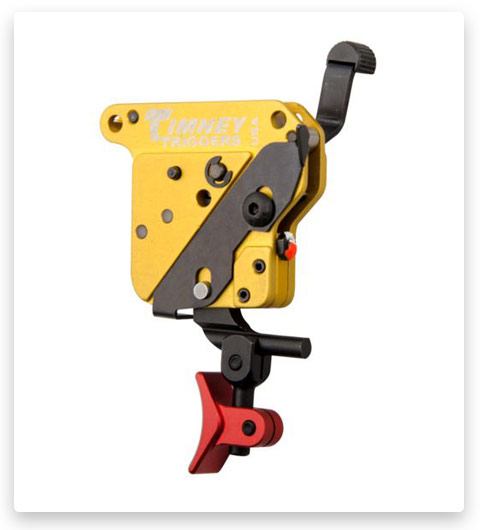 This is a case where the trigger design can be completely different to satisfy the desires of the most demanding shooters. This trigger can have 4 types of boots: curved, flat, heel, and grooved. The presented sets have all the necessary tools for trying on and adjusting the shoes you like. With this trigger, you can customize your pull length, cast, and pad height. In addition, Timney allows you to adjust the tension and overrun. In addition to the thoughtful design and wide range of settings, you get the superior reliability of Timney triggers.
#15 Elftmann Tactical ELF Rifle Trigger 700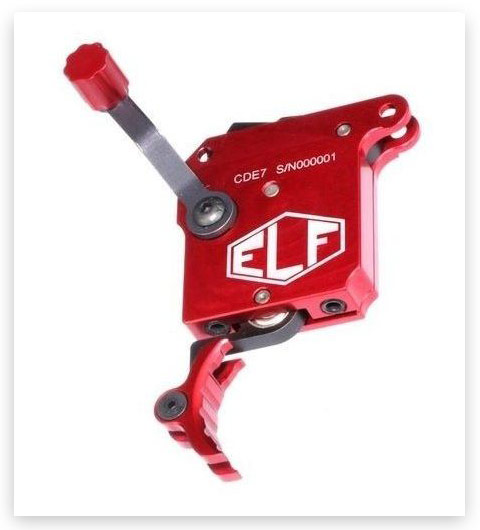 This trigger has convenient external traction weight adjustment from less than 2 ounces to over 5 pounds. Adjustment can be made right between shots by changing the number of turns of the adjusting screw, which is located near the shutter. The ELF trigger is uniquely designed with 3 aerospace grade bearings. During manufacturing, all parts are installed in their places using a press, which means that any backlash is completely excluded. Another interesting feature of this escapement system is the 6:1 aspect ratio lever that pivots thanks to roller bearings. This allows any deviation in the operation of the traction spring to be effectively eliminated. The ELF didn't stop there and went on to create your dream escapement system. Additionally, they created an oversized safety handle and an internal bolt release mechanism. The bolt, by the way, is an add-on if you are using a cloned rifle. The aluminum trigger shoe can be adjusted to your liking or even replaced with a flat or curved one.
FAQ
Conclusion
Among today's nominees, there is no product with negative reviews! They are all good in their own way, but we would like to reward those who impressed us the most.
Our current winners: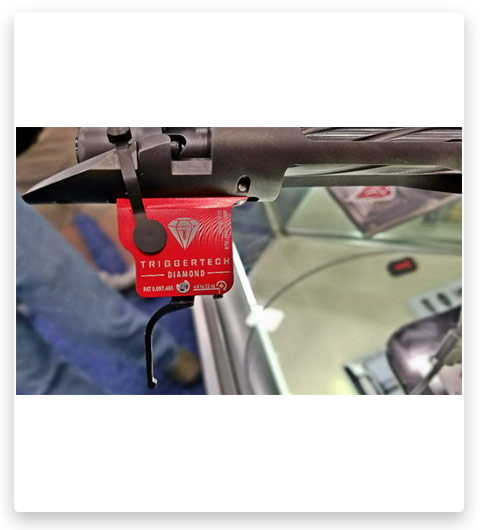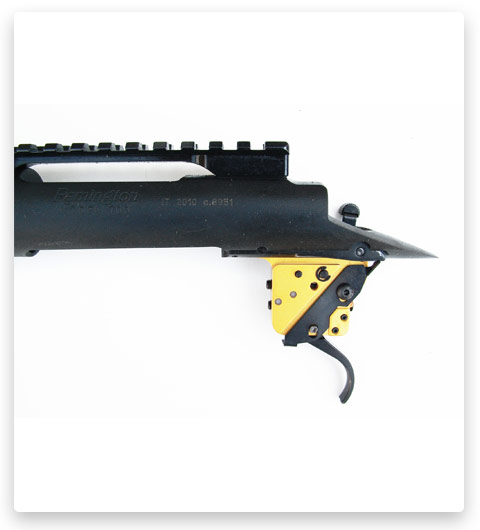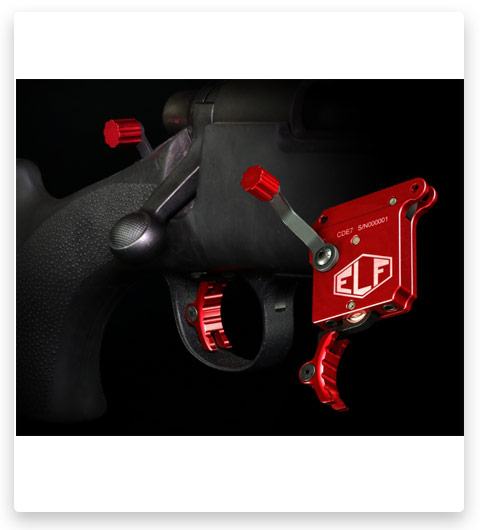 Tags: #Best #Remington 700 #Trigger #Reviews #Adjustment #Diagram #Jewell #Timney #Reviews #Sale #Price #Cheap #Guard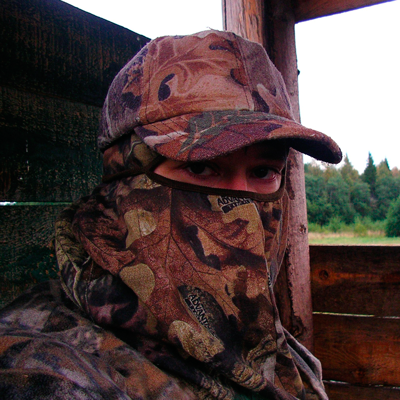 Tatiana Kursakova
Professional shooter, traveller, survivalist
My love of guns is in my blood, since childhood I have spent hours enjoying the beauty of guns and adored going through their parts.
Tactical accessories are another passion of mine that I could write about endlessly - my house and garage are full of tactical gadgets, luckily my family shares my interests.
I'm infatuated with traveling that's why work at one place with a daily routine and standard schedule is not for me. I prefer copywriting and English tutoring as a freelancer. I live in a male family among constant talks about cars, guns, hunting, fishing, and, of course, dinosaurs 😊.
My husband is an obsessed hunter, and my two sons are fans of «Demolition Ranch» of YouTube blogger Matt Carriker. They are my best consultants about weapon and all-around ammunition topics. All together we share a love for adventures. Every camping or mounting hiking trip is a "small survival", giving irreplaceable experiences. Nothing can be better than the satisfaction of observing wild nature.
Motto: «Born in Ukraine, made is the USA».
Read more
about our team
of expert authors.