In the vast world of firearm accessories, the paddle holster stands out as a favorite for many gun enthusiasts and professionals alike. Whether you're a law enforcement officer, a competitive shooter, or just someone who values personal safety, finding the right holster is crucial. In this guide, we'll dive deep into the realm of these holsters, ensuring you're well-informed and ready to make the best choice for your needs.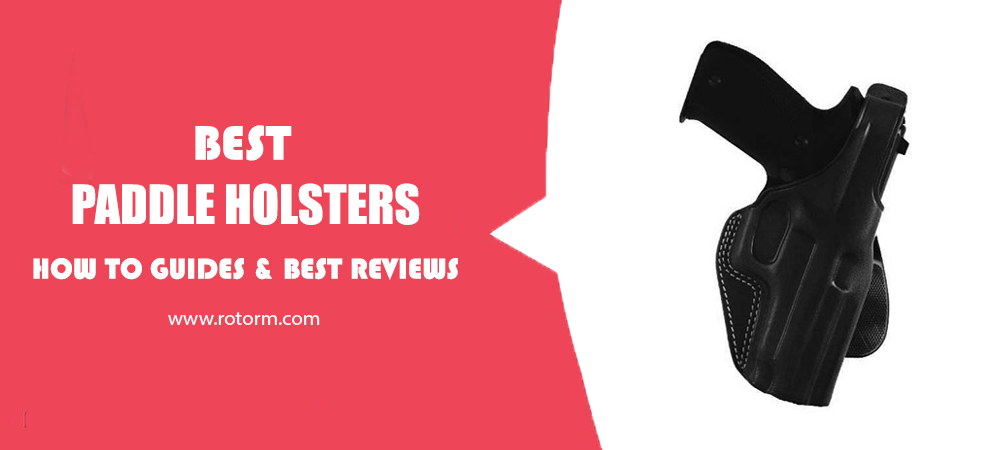 What is a Paddle Holster? 🤔
It is a type of firearm holster designed to be worn outside the waistband (OWB). Its name derives from the "paddle" shaped piece that slides inside your pants, while the holster itself remains outside. This design ensures:
✅ Comfort: The paddle distributes the weight of the gun, making it more comfortable for extended wear.
✅ Ease of Attachment and Removal: Unlike belt loop holsters, these holsters can be easily attached or removed without taking off your belt.
✅ Versatility: They can be worn with almost any type of clothing, making them a popular choice for many.
Quick Summary
✅ Paddle holsters have carved a niche for themselves in the world of firearm accessories, primarily due to their user-friendly design and versatility.
✅ Recognized for their ease of attachment, they eliminate the hassle of threading a belt, making them a favorite for many. Their adjustability further allows users to set the cant and position for optimal comfort and draw speed.
❌ However, it's not all praise; the article also addresses some concerns. While these holsters excel in convenience, they might fall short in providing the deep concealment that other inside-the-waistband options offer.
✅ Additionally, the article touches upon the importance of material choice, retention, and the balance between accessibility and security. As with all gear, the right choice often boils down to individual needs and preferences.
This comprehensive look into holsters aims to equip readers with the knowledge to discern if it's the right fit for their concealed carry requirements.
Top picks of best paddle holsters include:
1.🥇 BlackHawk CQC SERPA Holster
2.🥈 Gould & Goodrich Paddle Concealment Holster
3.🥉 Aker Leather FlatSider XR17 Paddle Holster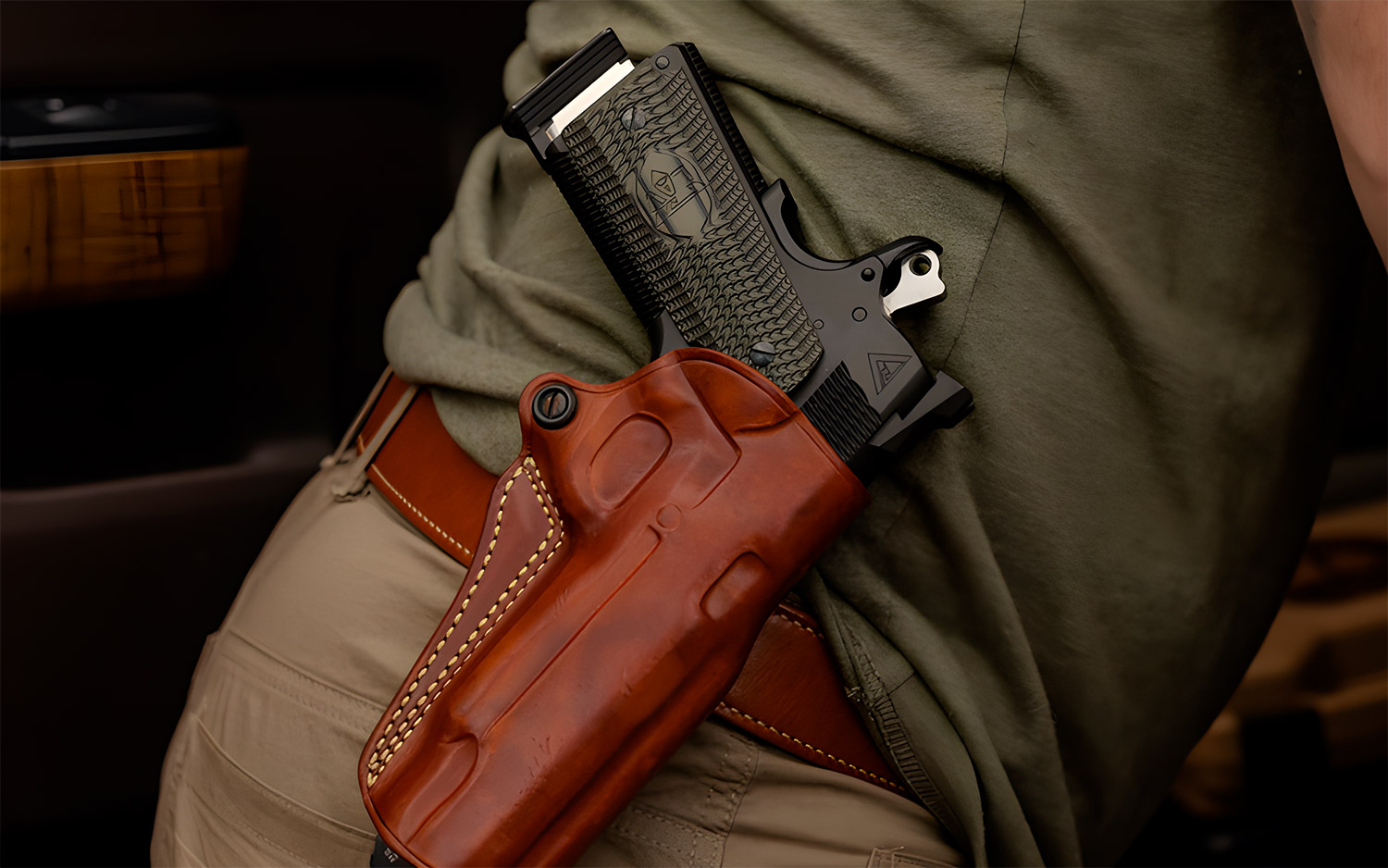 Features 💥
These holsters come packed with features that make them a top choice for many:
| | |
| --- | --- |
| ➡️ Features: | 💬 Description: |
| 🟡 Adjustability | Many holsters allow you to adjust the cant and retention, ensuring a custom fit for your firearm and draw style. |
| 🟡 Durability | Materials like Kydex and high-quality leather ensure your holster stands up to daily wear and tear. |
| 🟡 Concealability | While they're OWB holsters, a good paddle holster will sit close to the body, making it easier to conceal under a jacket or loose shirt. |
| 🟡 Quick Release | Many models come with a quick-release mechanism, ensuring you can draw your firearm swiftly and smoothly when needed. |
Our Top Pick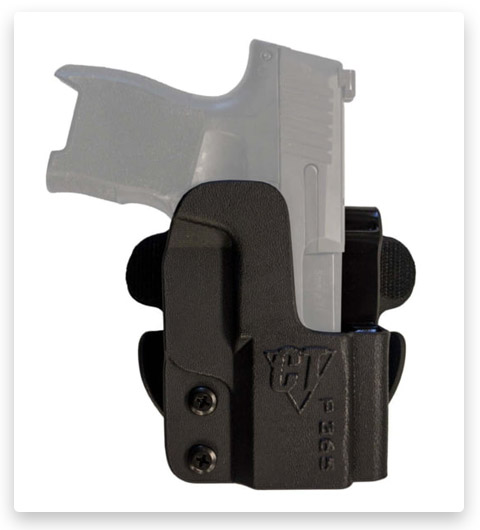 Comp-Tac Paddle Outside The Waistband Holster
For shooting competitions or regular concealed carry, you can use the Comp-Tac Paddle Outside the Waistband Holster. This Kydex holster allows for a fast and smooth draw, while also being compliant with IDPA, USPSA, and IPSC regulations. It is recommended to keep your handgun easily accessible during shooting matches. The holster's low-friction surface prevents any potential drag on your firearm.
Buy Now On OpticsPlanet
If you click this link and make a purchase, we earn a commission at no additional cost to you.
Types 😎
There's a variety of paddle holsters available, catering to different needs and preferences:
| | |
| --- | --- |
| ➡️ Types:  | 💬 Description: |
| 🟡 Open Top | These holsters don't have a strap over the top of the gun. They rely on tension to keep the firearm in place, offering a faster draw. |
| 🟡 Thumb Break | This type features a strap that goes over the back of the gun's grip, which you release with your thumb during the draw. |
| 🟡 Level II or III Retention | These are often used by law enforcement and offer additional security features, like thumb releases or buttons, to prevent someone else from easily drawing the gun. |
| 🟡 Molded vs. Generic | Molded holsters are designed for a specific gun model, ensuring a snug fit. Generic holsters can accommodate various firearms but might not offer the same level of retention or comfort. |
How To Choose? 😎
When it comes to selecting the best paddle holster, several factors come into play, and understanding them can make your decision-making process smoother.
1️⃣ Firstly, consider the material of the holster. Holsters are typically crafted from leather, Kydex (a type of plastic), or nylon. Leather offers a timeless, classic look and a comfortable feel against the skin. However, if you're looking for something more resistant to environmental factors, Kydex and nylon might be more up your alley, as they tend to be more durable and can withstand the elements better.
2️⃣ Retention is another crucial aspect. It refers to how securely the holster holds your firearm. A good holster should strike a balance between securing the gun and allowing for a smooth draw. While some holsters offer adjustable retention screws to customize the fit, others might incorporate thumb breaks or other mechanisms to ensure the firearm stays in place.
3️⃣ The cant, or the angle at which the gun sits in the holster, is also worth paying attention to. Some individuals might prefer a forward cant, which angles the grip upwards, while others might opt for a neutral or rearward cant. The ideal cant often depends on personal comfort and how quickly one can draw the firearm. It's beneficial to opt for a holster that provides adjustability in this regard, allowing you to find the most comfortable and efficient draw angle.
4️⃣ Coverage is a safety feature that shouldn't be overlooked. Ensure that the holster you choose covers the trigger guard entirely. This prevents any accidental discharges and ensures that nothing can snag on the trigger when drawing or holstering the firearm.
5️⃣ Lastly, while price is always a consideration, it's essential to view a holster as an investment in your safety. While it might be tempting to save a few bucks on a cheaper model, spending a bit more can often get you a product that's more reliable, comfortable, and durable.
Remember, the best paddle holster is one that seamlessly blends comfort, safety, and functionality.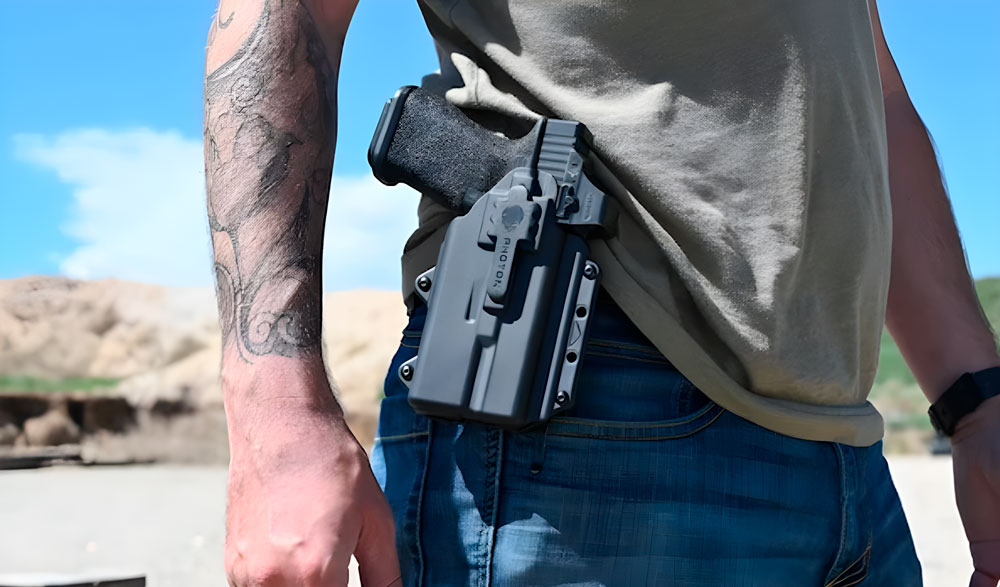 🥇 Best Paddle Holsters Reviews
1# Aker Leather Flatside Paddle Xr17 Thumb Break Holsters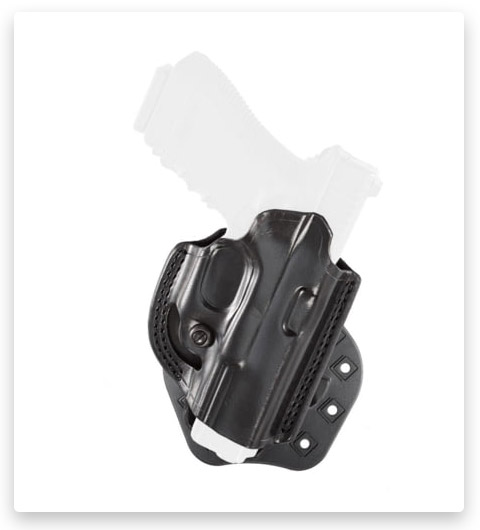 The Aker Leather 268 FlatSider XR17 is a well-crafted paddle holster suitable for individuals seeking a dependable method for handgun carry.
Made from high-quality leather, this holster is tailored to match the unique shape of specific handguns, guaranteeing a snug fit. Its Air-Flo paddle design enhances its stability, ensuring the holster remains securely positioned.
With its construction from top-grade US vegetable-tan cowhide, users can expect this holster to be durable and long-lasting.
2# BlackHawk Sportster SERPA Paddle Holsters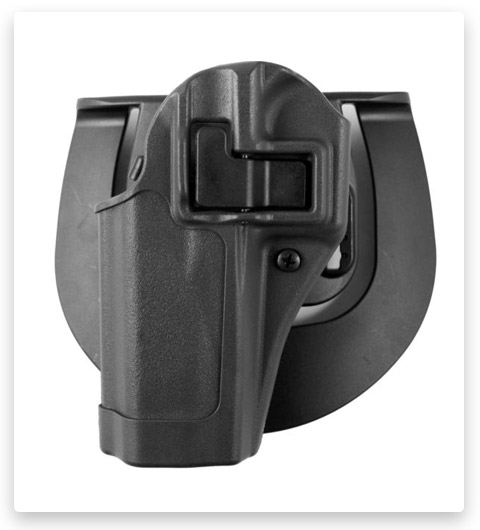 For those in search of a holster suitable for concealed carry or range activities, the Blackhawk Sportster Serpa Paddle Holster might fit the bill. Based on findings, this holster facilitates a straightforward draw and offers a comfortable cant for regular wear. It can also be attached to belts with a width of up to 2-1/4″ and maintains a discreet appearance.
3# BlackHawk CQC SERPA Holster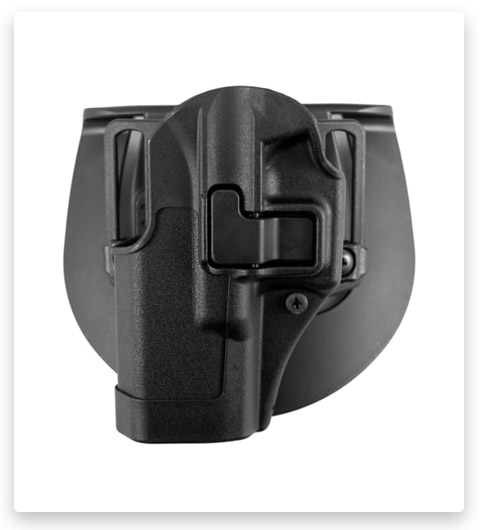 This Holster is a carrying solution tailored for tools like the Special Operations Hallagan Tool, Special Operations Breacher, ThunderMaul, Mini ThunderSledge, and BoltMaster. It has a matte appearance and is equipped with both a belt loop and paddle for attachment.
4# Comp-Tac Paddle Outside The Waistband Holster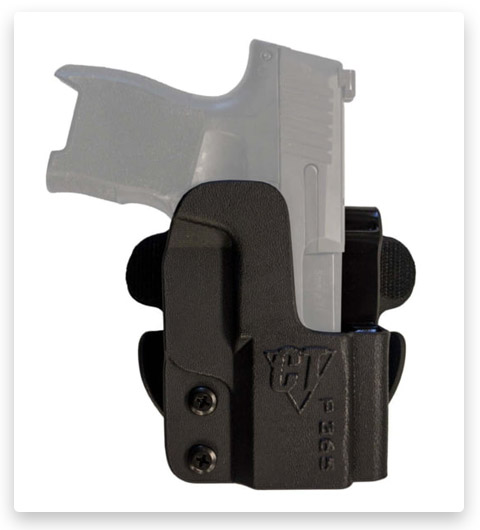 For those participating in shooting matches, the Comp-Tac Paddle Outside the Waistband Holster allows you to have your handgun readily accessible. It's suitable for everyday concealed carry and aligns with IDPA, USPSA, and IPSC regulations.
Made entirely of Kydex, the holster promotes a quick draw, and its smooth surface minimizes resistance against the firearm.
5# DeSantis DS Paddle Kydex Holsters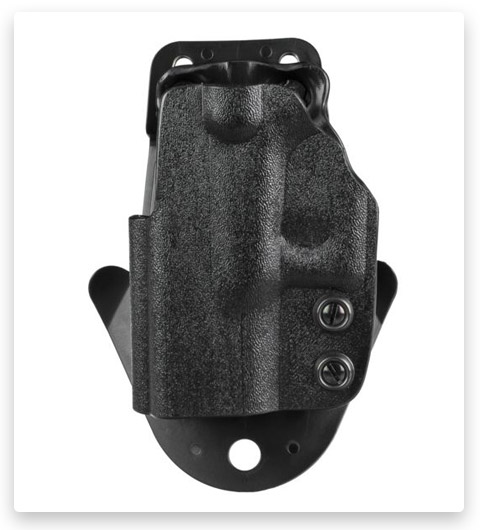 If you're in search of a compact and lightweight holster, the DeSantis DS Paddle Kydex Holster might be worth considering. Constructed from thermoplastic material, it offers durability without added weight. The paddle's angle can be adjusted from forward to rearward, allowing for a customized fit. Additionally, it can be attached to belts with a width of up to 1 3/4 inches.
6# Gould & Goodrich Paddle Concealment Holster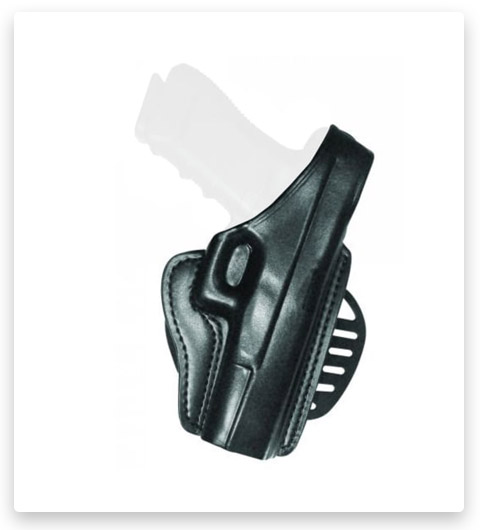 This well-made holster showcases attention to detail and quality, crafted by artisans who prioritize precision and craftsmanship. Its design includes a contoured paddle with flexible wings, ensuring stability during a draw, which can be essential for those who choose to carry concealed.
7# Galco Professional Law Enforcement Paddle Holsters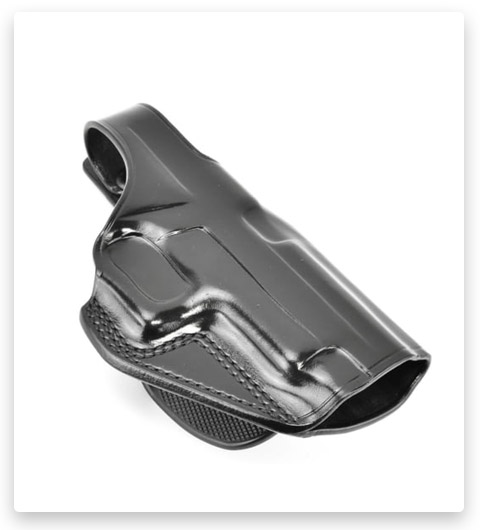 The Galco Professional Law Enforcement Paddle Holster allows you to have your weapon readily accessible. Constructed from lightweight saddle leather, it includes a thumb break retention strap for added security. Its belt-lock copolymer injection-molded paddle provides stability, and the holster's design ensures comfort throughout the day, suitable for prolonged use.
8# Galco International Ple Paddle Holsters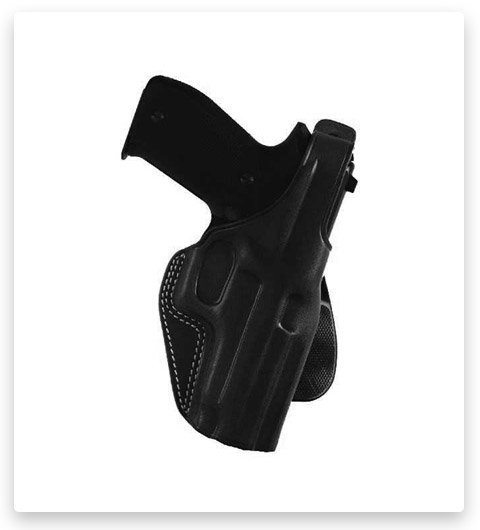 This holster features a thumb break retention strap, enhancing the security of your firearm. Its belt-lock copolymer injection-molded paddle allows for straightforward attachment and removal without the need to unbuckle your belt. Crafted from quality saddle leather, it's compatible with belts up to 1 3/4″ wide.
9# Galco International Speed Paddle Holsters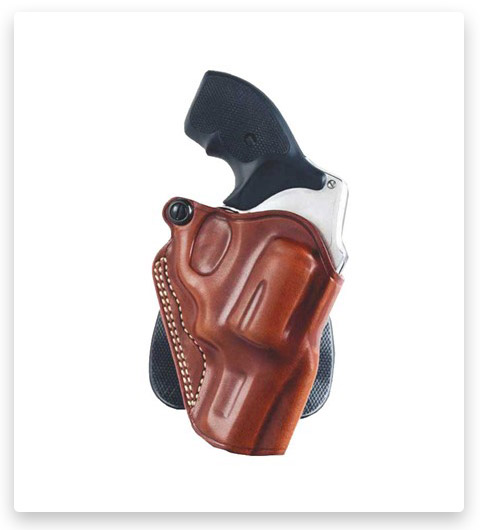 The Galco Holster offers a balance between quick access and safety. With an open-top design, they allow for swift drawing, while the covered trigger guard ensures safety. A tension screw adjustment further enhances firearm security.
The holster's copolymer injection-molded belt-lock paddle facilitates easy attachment and detachment without unbuckling your belt. Made from quality saddle leather, it's compatible with belts up to 1 3/4″ wide.
It's a suitable choice for both law enforcement personnel and civilian concealed carry permit holders.
10# Galco International Paddle Lite Holsters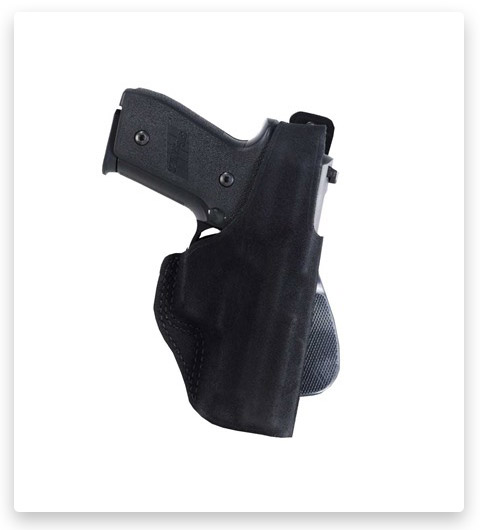 The Galco International Paddle Lite Holster serves those in need of a practical concealment holster. It incorporates Galco's patented belt-lock copolymer injection-molded paddle, ensuring stability while also allowing for straightforward detachment and reattachment without unbuckling the belt. Compatible with belts up to 1.75″ wide, this holster offers both comfort and functionality.
11# Galco Gunleather Paddle Lite Paddle Holster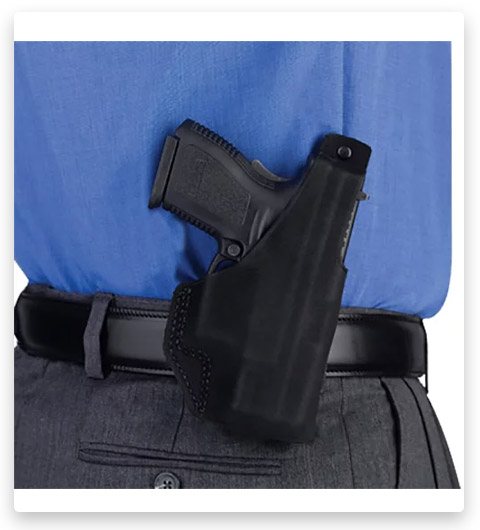 This Galco Holster is a notable concealment holster, integrating standout features from the Carry Lite series with a well-regarded paddle structure.
Crafted from high-quality Center Cut Steerhide, it offers comfort and efficiency. Its patented belt-lock copolymer injection-molded paddle provides stability, allowing for easy detachment and reattachment without unbuckling the belt.
For those prioritizing concealment and safety, this American-crafted holster is a fitting consideration.
12# Safariland Paddle & Belt Slide Holster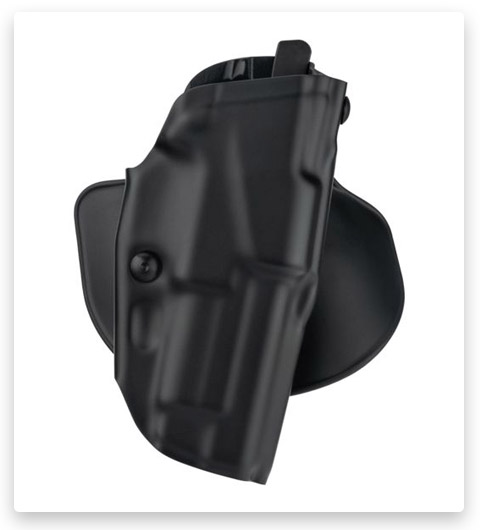 Constructed from sturdy SafariLaminate, it also has an inner suede lining to safeguard the firearm's finish. It allows for a fluid draw and sits close to the body, aiding in discreet carrying.
13# Safariland ALS Concealment Paddle Holster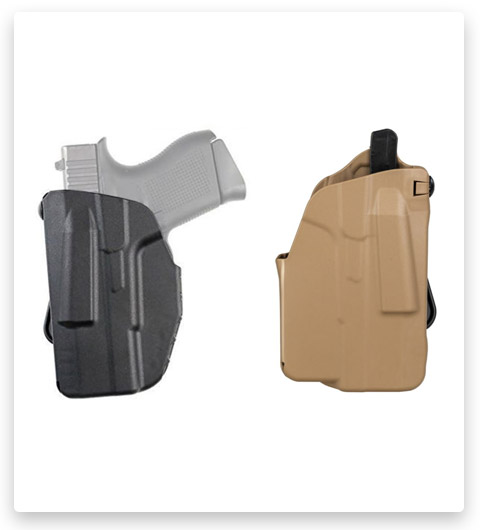 Made from the SafariSeven non-marking nylon blend, it's designed to prevent any scratches or marks on your firearm. The ALS mechanism provides automatic security upon holstering, and a straightforward thumb release allows for prompt weapon retrieval when necessary.
14# Safariland Paddle/Belt Loop Glock Holster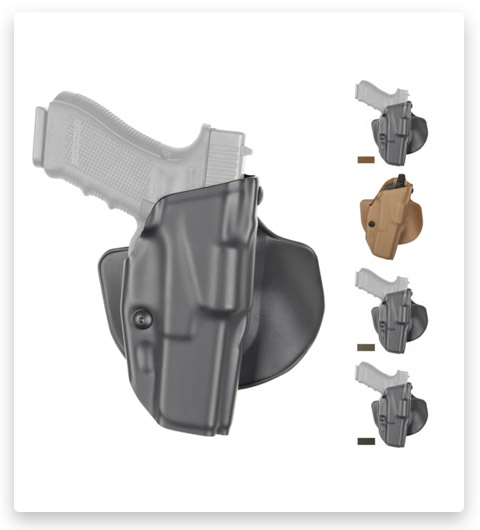 This holster caters to individuals seeking both functionality and comfort. Suitable for active duty personnel, military members, and civilians, it offers a straightforward draw.
From our observations, the thumb-activated Automatic Locking System (ALS) ensures firearm stability, and the suede interior helps preserve the firearm's finish. Its paddle structure contributes to wearability and a secure fit.
15# Safariland Concealment Paddle & Belt Loop Combo Holster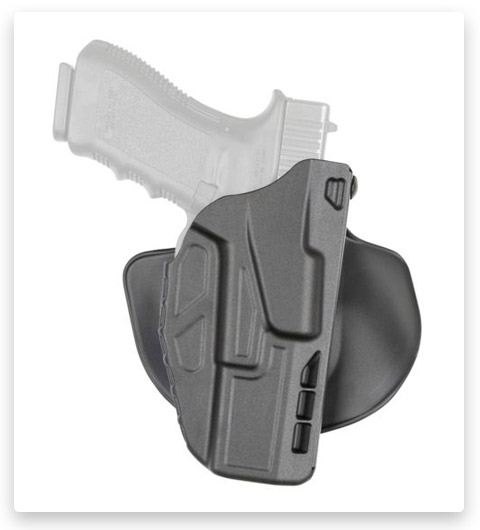 The Safariland Concealment Paddle & Belt Loop Combo Holster provides a balance between quick access and safety. Constructed from a SafariSeven nylon blend, it helps maintain the firearm's appearance, and its internal stand-offs ensure the weapon stays clear of dirt and moisture.
How to Wear? 🤨
Wearing a holster properly is crucial for both comfort and safety. Here's a step-by-step guide on how to wear a paddle holster correctly.
1️⃣ Start with a sturdy belt. While holsters can be worn without a belt, a good belt provides additional stability. Your pants should be snug but comfortable.
2️⃣ Decide where on your waist you want to position the holster. Common positions include:
Strongside Carry: Just behind the hip bone.
Appendix Carry: In front of the hip bone.
Crossdraw: On the opposite side of your dominant hand.
Small of Back: Centered on the back, though this position can be uncomfortable when sitting and can present safety concerns.
3️⃣ Slide the paddle (the flat piece that goes against your body) down between your pants and your body. Ensure the paddle is fully seated with the widest part resting below the top edge of the belt. This helps prevent the holster from being pulled up and out when drawing your firearm.
4️⃣ Now, adjust the cant. Some holsters allow you to adjust the angle (or "cant") of the gun. Adjust to your preferred angle, whether it's straight up and down (neutral cant) or tilted forward or backward.
5️⃣ Once the holster is in place, insert your (unloaded) firearm and check the retention. The gun should be held securely but still allow for a smooth draw. Some holsters have adjustable retention systems; adjust as necessary.
6️⃣ With an unloaded firearm, practice drawing and re-holstering to ensure you're comfortable with the holster's position and retention. Make sure the gun's muzzle direction is always safe.
7️⃣ If you're using the paddle holster for concealed carry, ensure your clothing adequately covers the firearm and holster. A loose shirt or jacket can help conceal the outline of the gun.
8️⃣ Throughout the day, occasionally check to ensure the holster is still securely in place, especially after physical activity.
⚠️ Remember, safety is paramount. Always handle firearms with care, ensuring they are unloaded when adjusting or practicing with your holster.
Familiarize yourself with the holster's features and mechanisms, and regularly practice drawing and re-holstering to ensure you can do so safely and efficiently.
⬇️ Please, watch this video to learn more information:
FAQ ❓
Conclusion 🏁
In wrapping up, paddle holsters are a practical choice for many gun owners. They're easy to put on and take off, and they can be adjusted to fit comfortably.
However, like all gear, they have their pros and cons. While they might not be the most concealed option out there, they offer a blend of convenience and accessibility.
If you're considering a this holster, it's essential to weigh these factors and think about what's most important for your needs.
Remember, the best holster is the one that feels right for you and ensures your safety and comfort. 🤩🛒
Affiliate Disclosure: Rotorm.com sometimes gets paid for listings, through sponsors or affiliate programs like Amazon, Optics Planet, Lucky Gunner, Brownells, Cabelas, Rainier Arms, 5.11 Tactical, Bass Pro Shop, etс. Clicking a link helps keep Rotorm.com free, at no extra cost to you!
About the author: Each article on our site is written by experts in survival and tactical equipment, gun enthusiasts, extreme travelers, military, law enforcement and desperate professionals, read about the author at the bottom of the article or visit "About Us" page.
Note: The views and opinions expressed in this article are those of the authors and do not necessarily reflect the official policy or position of any agency.