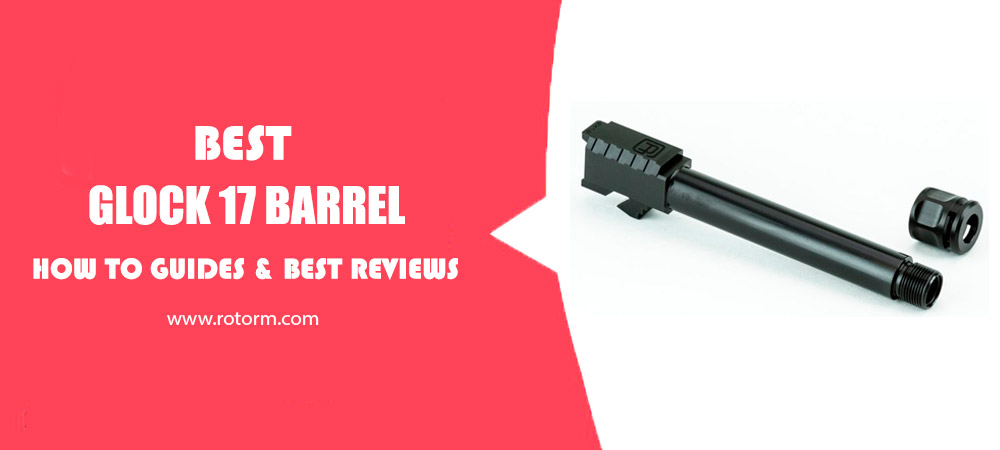 What is a Glock 17 barrel?🧐
It is a crucial component of the firearm, responsible for guiding the bullet's trajectory as it exits the chamber and providing stability to the bullet as it travels down the barrel. It's typically made from high-quality steel and is rifled, which means it has spiral grooves on the inside to impart a stabilizing spin to the bullet. This spin improves accuracy and overall performance.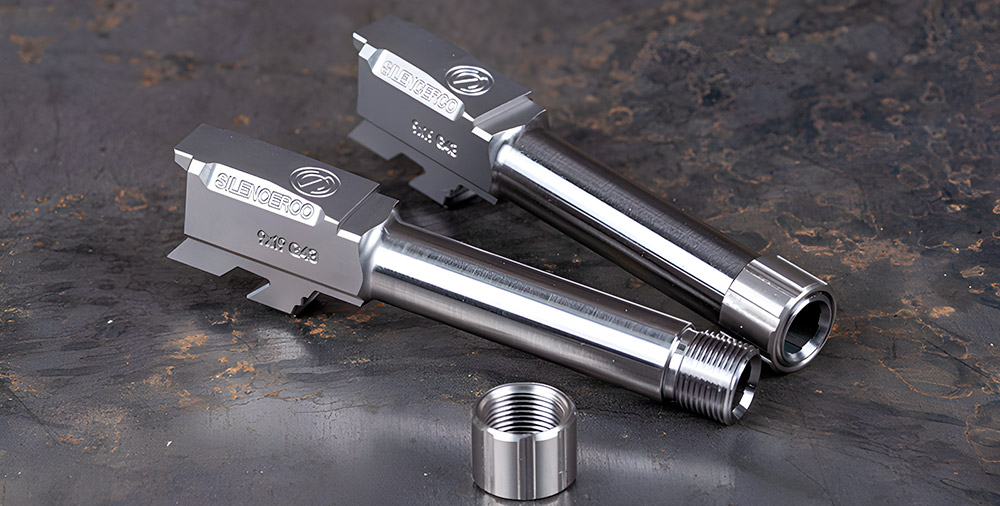 Features✏️
The Glock 17 barrel, like all firearm barrels, has several key features that contribute to the performance and characteristics of the pistol. Here are some important ones:
🔰 Material: The barrel is typically made from high-quality steel. Glock uses advanced manufacturing processes and quality control to ensure consistency and durability in their barrels.
🔰 Length: The Glock 17 has a standard barrel length of approximately 4.49 inches (114 mm). The length of the barrel can impact factors such as accuracy, muzzle velocity, and overall handling of the firearm.
🔰 Rifling: The barrel features rifling, which consists of spiral grooves cut into the interior of the barrel. These grooves cause the bullet to spin as it travels down the barrel, improving stability and accuracy. Glock barrels typically have polygonal rifling, which differs from traditional land and grooves rifling.
🔰 Finish: The barrel is often finished with a corrosion-resistant coating to protect it from environmental factors, moisture, and wear over time.
Our Top Pick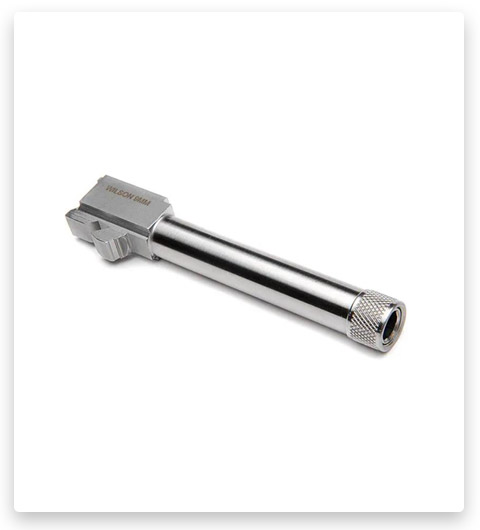 Wilson Combat Match Grade Threaded Barrel
Discover the remarkable precision of such barrels, renowned for their exceptional quality and accuracy. Now, you can enjoy this remarkable accuracy without the hassle of sending your pistol to a master pistol smith and enduring lengthy waits. These drop-in match barrels are meticulously crafted from high-grade stainless steel blanks, ensuring durability and longevity. But what truly sets these barrels apart is the attention to detail in the chamber's glass-smooth finish and perfect concentricity with the bore. You can rest assured that any barrel bearing the Wilson insignia represents the pinnacle of quality and precision.
Buy Now On OpticsPlanet
If you click this link and make a purchase, we earn a commission at no additional cost to you.
Benefits💥
The barrel offers several benefits that contribute to the overall performance and characteristics of the Glock 17 pistol. Here are some of the key advantages:
💣 Glock barrels have a reputation for lasting a long time even with extended use. This reduces the need for frequent barrel replacements, which can be costly and time-consuming.
💣 The barrel, like other Glock components, is designed for easy disassembly and cleaning. This makes routine maintenance and cleaning straightforward for users.
💣 The materials and design of them help dissipate heat evenly during firing, reducing the likelihood of overheating and maintaining consistent performance.
💣 The design of the barrel, along with the overall design of the Glock system, helps mitigate recoil and muzzle flip, allowing for quicker follow-up shots and better control.
💣 Some aftermarket manufacturers produce match-grade barrels that are precision-machined for even greater accuracy. These barrels are popular among competitive shooters who demand the highest level of performance.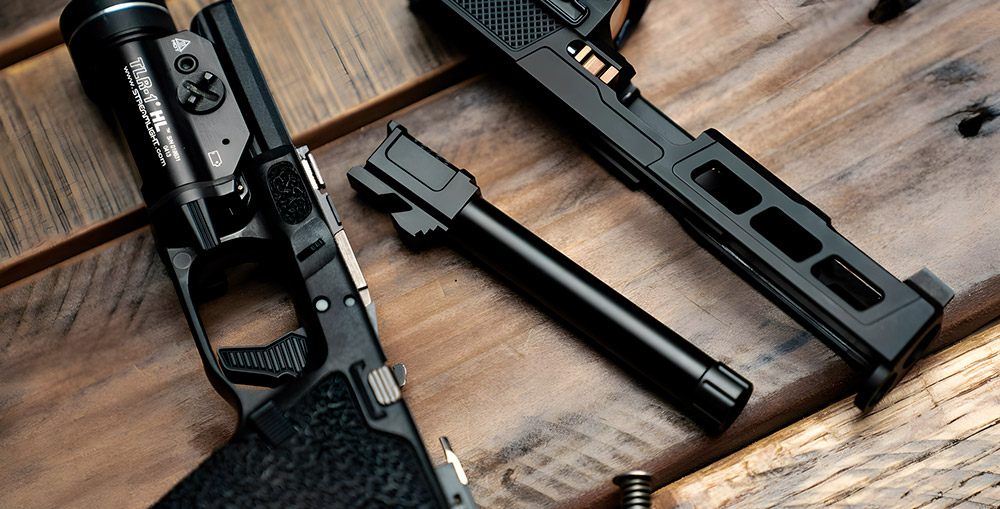 Step-by-step select guide🧩
Choosing a Glock barrel involves considering several factors to ensure that the barrel you select suits your needs and preferences. Here's a step-by-step guide to help you choose the right barrel:
| | |
| --- | --- |
| ⭕ Purpose and Intended Use:  | Determine why you want to replace or upgrade the barrel. Are you looking to improve accuracy, shoot competitively, use specific types of ammunition, or attach accessories like suppressors? Your intended use will influence the features you prioritize in a barrel. |
| ⭕ Caliber: | Decide if you want to stick with the original caliber (9x19mm Parabellum) or if you're interested in converting to a different caliber. Different calibers can have varying performance characteristics, recoil levels, and ammunition availability. |
| ⭕ Quality and Brand: | Opt for reputable brands known for producing high-quality barrels. Brands like Lone Wolf Distributors, ZEV Technologies, and Agency Arms are well-regarded for their Glock barrels. |
| ⭕ Materials and Manufacturing:  | Look for barrels made from quality materials such as stainless steel or match-grade steel. Consider barrels with precision manufacturing processes for consistent performance. |
| ⭕ Rifling Type:  | Glock barrels often have polygonal rifling, but some aftermarket barrels offer traditional lands and grooves rifling. Research the pros and cons of each rifling type and decide which one aligns with your preferences. |
| ⭕ Barrel Length: | While the Glock 17's standard barrel length is around 4.49 inches, some aftermarket barrels offer variations in length. Longer barrels can provide increased muzzle velocity and accuracy, but they may affect the pistol's overall handling. |
| ⭕ Threaded vs. Non-Threaded: | Decide if you need a threaded barrel for attaching muzzle devices or suppressors. Threaded barrels offer more customization options but might impact the overall aesthetics and balance of the pistol. |
| ⭕ Budget: | Determine your budget for the barrel. Prices can vary significantly depending on the brand, features, and quality of the barrel. Remember that a quality barrel is an investment in improved performance and longevity. |
| ⭕ Warranty and Customer Support: | Check if the manufacturer offers a warranty on the barrel. Reliable customer support can be crucial if you encounter any issues with your purchase. |
😀 Once you've considered these factors, you'll be better equipped to choose a Glock barrel that enhances your shooting experience and meets your specific needs.
Best Glock 17 Barrel Reviews
1# Faxon Firearms G17 Threaded Barrel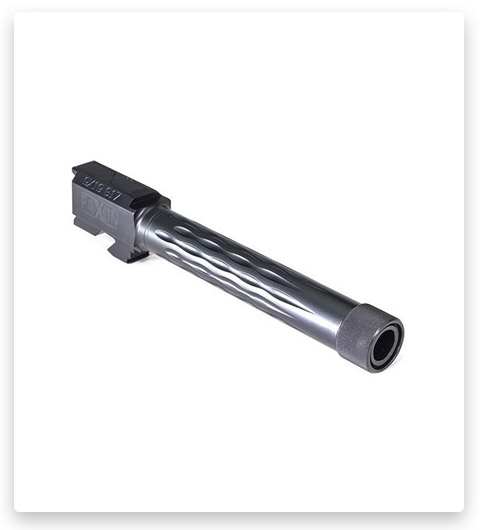 View on OpticsPlanet  View on Brownells
Searching for a simple way to improve your pistol performance? Check out the Faxon Firearms G17 Threaded Barrel. This barrel is designed for easy, drop-in installation and offers a snug, reliable fit. It's also button-rifled and fully stress-relieved for maximum accuracy. Based on our experience the salt bath nitride finish protects against corrosion and makes this barrel extremely durable. So if you're looking for a way to take your shooting to the next level, grab this threaded barrel today.
2# SilencerCo Glock Threaded Barrel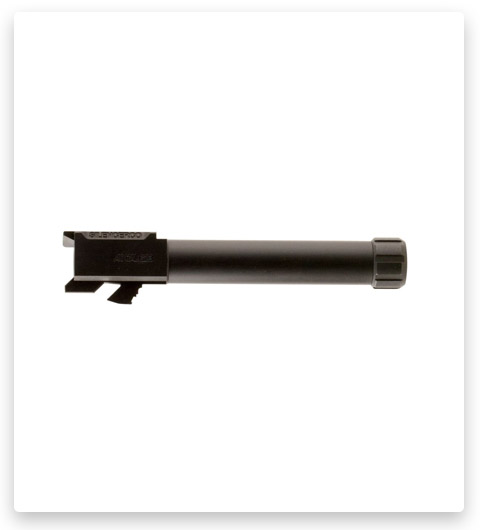 View on OpticsPlanet  View on Brownells
If you want to find the best way to incorporate a silencer into your handgun build, notice the SilencerCo Glock Threaded Barrels. These top-quality barrels are compatible with a variety of Glock models and Generations, making it easy to find the perfect one for your needs. Each barrel is constructed of stainless steel and finished in black nitride for durability and longevity. Plus, all SilencerCo threaded barrels come with a thread protector for added safety. Whether you're using it for hunting or recreation, you can trust this barrel will provide years of reliable performance.
3# Lone Wolf Arms AlphaWolf Threaded Barrel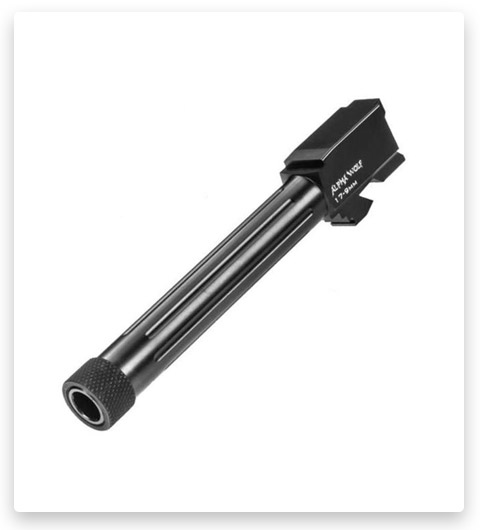 View on OpticsPlanet  View on Brownells
Introducing the Alpha Wolf Threaded Barrel from Lone Wolf Arms. This barrel is the pinnacle of what every other barrel manufacturer strives to be, and it's perfect for those who demand the very best. Using this product, our team found that this barrel is a perfect drop-in fit, and it's extremely easy to install and also proved to be very accurate. If you need an outstanding barrel that will give you years of reliable service, the barrel is a perfect choice.
4# Killer Innovations Velocity Glock 17 Non-Threaded Barrel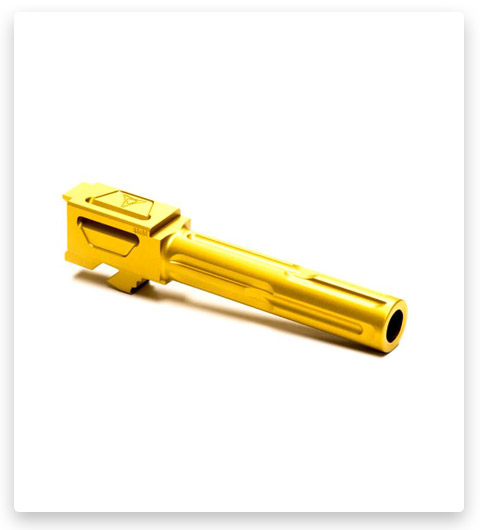 Do you need premium performance without the added weight? Check out the Killer Innovations Velocity Glock 17 Non-Threaded Barrel. These barrels are machined from stainless steel for unmatched durability and feature single-point cut rifling for superior accuracy. You can choose from a gold, gray, or black nitride finish to best suit your pistol's look. Installing this barrel is a great way to enhance your shooting game and take your gun to the next level.
5# Griffin Armament Glock Barrel with Griffin Micro Carry Comp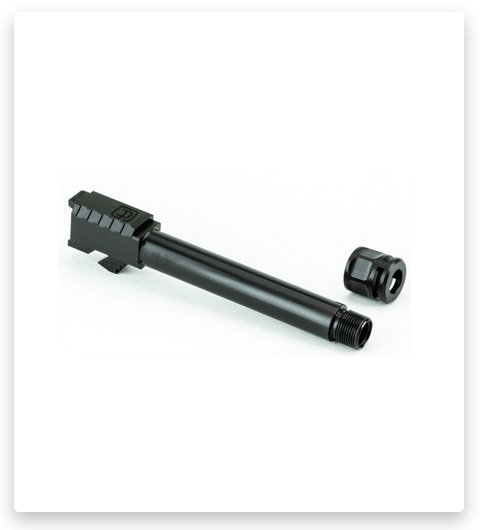 The Griffin Armament ATM Barrel is machined from stainless steel to exacting tolerances, ensuring drop-in match performance that will give you the edge you need on the range or in a self-defense situation. Based on our own experience the 5-axis machining and hand-polished chambers provide optimal reliability with a wide range of ammunition, from training to duty ammo. Additionally, the barrel is designed with concealed carry users in mind, providing the perfect balance of accessory and suppressor support while maintaining factory reliability. Make sure you're prepared for anything with this barrel.
6# Agency Arms Glock Mid Line Thread/Fluted Barrel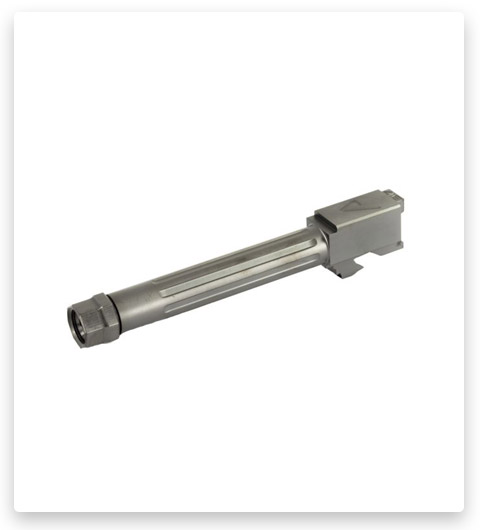 Want to get a high-quality, durable barrel for your Glock 9mm, please note the Agency Arms Mid Line Thread/Fluted Barrel. This barrel is made from the best materials available and is engineered to withstand any situation you may find yourself in. Whether you're using it for competition or defense, this barrel will serve you well. The fluting on the barrel adds not only an aesthetic touch but also aids in cooling and weight reduction. The threading on the muzzle end allows you to attach a suppressor or other muzzle device.
7# Brownells Match Grade Barrel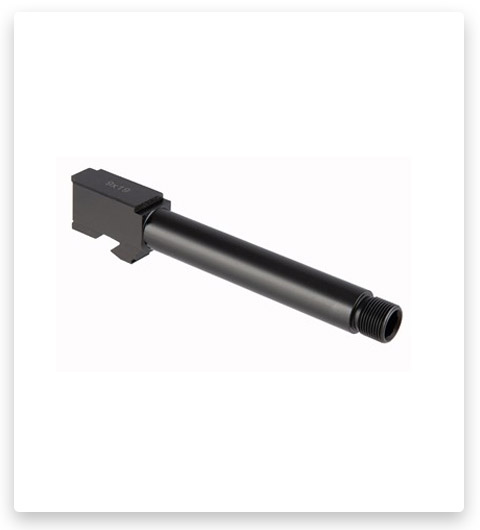 Searching for an excellent replacement barrel for your shot-out factory Glock or for completing a pistol build? Look at the Brownells Match Grade Barrel! This premium barrel is crafted from high-quality stainless steel, ensuring long service life and a tight lockup. Our research has shown that it also features an extra-hard black nitride finish to resist surface wear and corrosion. This an ideal barrel for both training and competition, that's why don't settle for anything less than the best – pick up this quality barrel today!
8# Wilson Combat Match Grade Threaded Barrel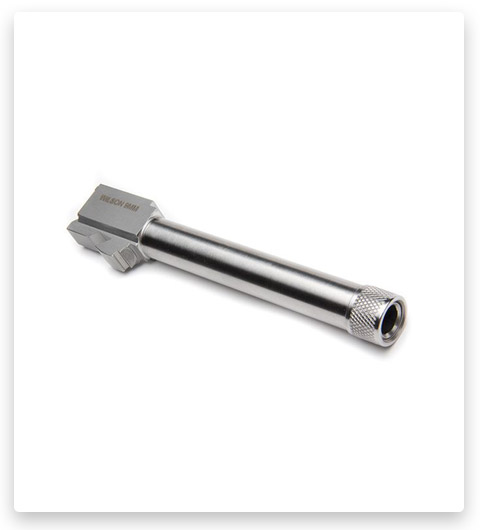 The Wilson Combat Match Grade Threaded Barrel is the best upgrade for your handgun. This barrel is machined from aircraft-grade stainless steel and heat-treated to R/C 40 for maximum durability. The chamber is glass smooth and perfectly concentric with the bore, ensuring exceptional accuracy. Throughout the manufacturing process, each barrel undergoes multiple quality-control checks for guaranteed performance. With this barrel, you can rest assured knowing that you're getting the highest quality and most accurate barrel available.
9# Wilson Combat Match Grade Barrel
Wilson Combat match-grade barrels are the perfect choice for those who demand the utmost in accuracy and quality. These barrels are fully machined from 416R stainless steel and heat-treated to R/C 40. As a result of using this product, we found that with superb workmanship and attention to detail, these barrels will provide years of reliable service. Order your match-grade barrel and try it just today!
10# Trybe Defense Match Grade Threaded Pistol Barrel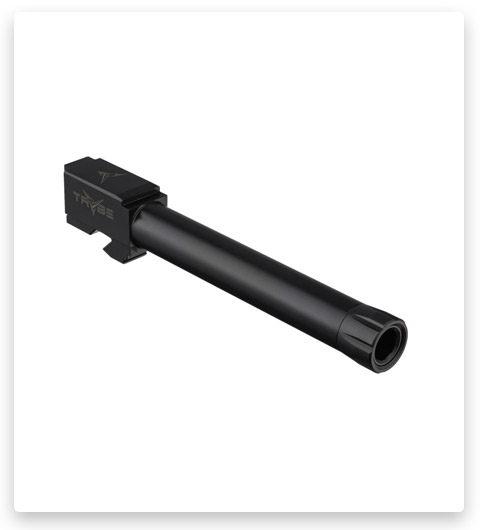 Thinking about upgrading to your Glock 17 pistol barrel? Check out the Trybe Defense Match Grade Threaded Pistol Barrel! This ultra-precise, match-grade barrel is made from coated stainless steel and heat-treated for hardness and durability. It's sure to please even the most ardent and exacting operator. In addition, this barrel comes in a variety of finishes to give your gun a unique look. So don't wait, order it just now!
11# Zaffiri Precision Flush and Crown Pistol Barrel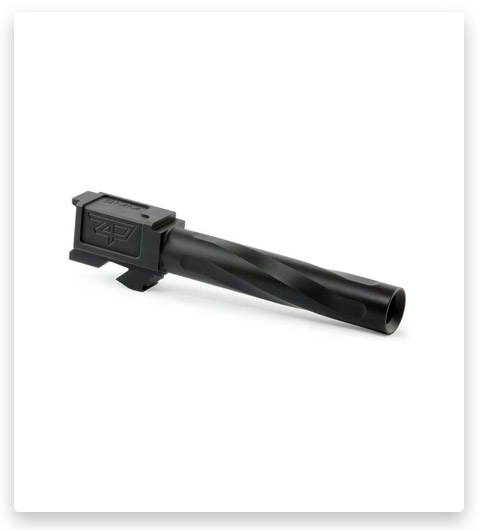 Introducing the Zaffiri Precision Flush & Crown Pistol Barrel. This high-quality, match-grade barrel is excellent for upgrading your Glock 17. Based on our observations fabricated from steel and stress-relieved/heat-treated to RC 40-42, this barrel is built to last. It's also made to work with lead, plated, or jacketed ammunition. And with the large ZP logo machined on the port side of the lockup, it's sure to turn heads. So don't wait any longer, get your hands on this pistol barrel today!
12# L2D Combat Precision Match Fluted Barrel
The L2D Combat Precision Match Series Barrel. These barrels are precisely machined to tight final tolerance requirements in all critical areas of function and manufactured using chromium stainless steel formulated specifically for the production of match-grade firearm barrels. Strict proprietary Quality Control processes combined with superior engineering allow for a consistent, accurate, and unmatched product. Give your Glock the upgrade it deserves with this barrel today!
How to strip, clean, and lubricate a pistol⌛️
Stripping, cleaning, and lubricating your Glock pistol are important steps to ensure its proper functioning, longevity, and reliability. Here's a step-by-step guide on how to perform these tasks:
🛠️ Stripping (Field Stripping):
🪛

Remove the Magazine

: Press the magazine release button and remove the magazine from the pistol.
🪛

Check Chamber

: Visually and physically inspect the chamber to ensure there is no ammunition present.
🪛

Pull Slide Back Slightly

: While pointing the pistol in a safe direction, pull the slide back slightly until you see the two notches on the slide align with the slide stop lever.
🪛

Release Slide Stop Lever

: Use your opposite hand's thumb to push down on the slide stop lever. This will release the slide forward, allowing you to remove it from the frame.
🪛

Remove Slide

: Push the slide forward and then lift it off the frame. Set the frame aside.
🪛

Remove Barrel

: Tilt the barrel slightly and then lift it out of the slide.
🫧 Cleaning and Lubricating:
💧

Clean the Barrel and Slide

: Use a cleaning brush or patch with a suitable gun-cleaning solvent to clean the barrel's interior. Scrub the chamber and bore. Clean the slide's interior surfaces, including the breech face and extractor.
💧

Clean the Frame

: Wipe down the frame with a clean cloth or patch to remove dirt, debris, and old lubricant.
💧

Inspect and Clean Small Parts

: Inspect the small parts such as the recoil spring assembly, firing pin assembly, and extractor. Clean them as needed.
💧

Lubrication

: Apply a small amount of firearm-specific lubricant to the slide's rails, barrel hood, barrel lug, and other moving parts. Less is often more – excessive lubrication can attract debris. Do not over-lubricate, as excess oil can accumulate dirt and debris.
💧

Reassemble the Pistol

: Reinsert the barrel into the slide, ensuring it is properly aligned. Slide the frame onto the slide rails until it clicks into place. Push the slide back slightly and engage the slide stop lever to lock the slide and frame together.
💧

Function Check

: With an empty chamber, point the pistol in a safe direction. Pull the trigger to ensure the pistol is reassembled correctly and functions properly.
💧

Exterior Cleaning

: Wipe down the exterior of the pistol with a clean cloth or gun-specific cleaning wipes.
❗ Regular maintenance is essential to keeping your Glock pistol in optimal condition. How often you clean and lubricate your pistol depends on factors like usage frequency, shooting environment, and ammunition type.
FAQ🤓
Conclusion🙂
Glock 17 barrels come in a variety of sizes and shapes. It can be difficult to determine which barrel is the best for your needs., but in this article, we have provided reviews of some of the top-rated models on the market and hope that this information will help you make a proper decision about which barrel is right for you. Good luck and thanks for reading!🥰❤️‍🔥
Affiliate Disclosure: Rotorm.com sometimes gets paid for listings, through sponsors or affiliate programs like Amazon, Optics Planet, Lucky Gunner, Brownells, Cabelas, Rainier Arms, 5.11 Tactical, Bass Pro Shop, etс. Clicking a link helps keep Rotorm.com free, at no extra cost to you!
About the author: Each article on our site is written by experts in survival and tactical equipment, gun enthusiasts, extreme travelers, military, law enforcement and desperate professionals, read about the author at the bottom of the article or visit "About Us" page.
Note: The views and opinions expressed in this article are those of the authors and do not necessarily reflect the official policy or position of any agency.