Affiliate Disclosure: Rotorm.com sometimes gets paid for listings, through sponsors or affiliate programs like Amazon, Optics Planet, Lucky Gunner, Brownells, Cabelas, Rainier Arms, 5.11 Tactical, Bass Pro Shop, etс. Clicking a link helps keep Rotorm.com free, at no extra cost to you!
About the author: Each article on our site is written by experts in survival and tactical equipment, gun enthusiasts, extreme travelers, military, law enforcement and desperate professionals, read about the author at the bottom of the article or visit "About Us" page.
Note: The views and opinions expressed in this article are those of the authors and do not necessarily reflect the official policy or position of any agency.
300 blackout (BLK) is a rifle cartridge of an intermediate class, suitable for home defense, hunting, target shooting, and plinking.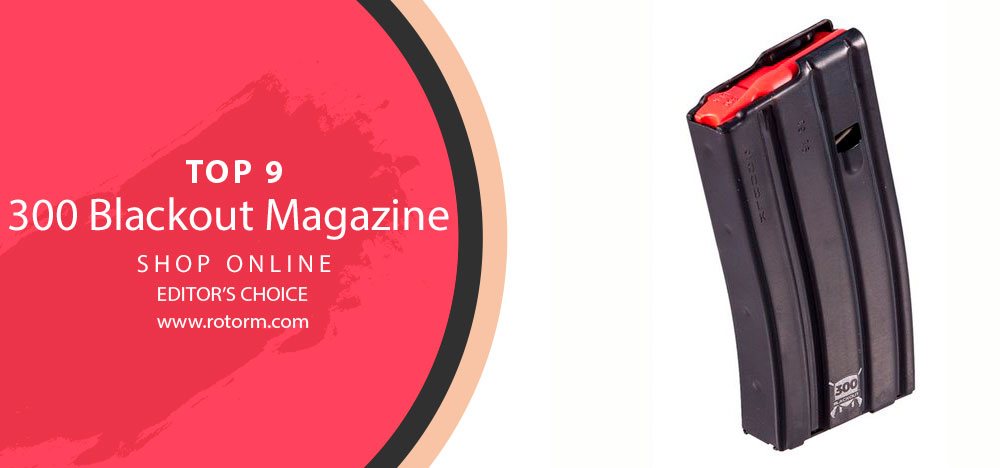 The effectiveness of shooting distance should be taken into account, depending on the 300 AAC Blackout barrel diameter: 460 meters for a 16-inch barrel, 440 meters for a 9-inch.
Why do we need a 300 blackout magazine?
300 Blackout or 300 AAC are different names for the same cartridge, which was developed to empower the AR platform and penetrate on intermediate distances with reduced recoil. 300 AAC magazine is considered for 30, 10, 20 round capacity or 5/30 crimped.
Best 300 Blackout Magazine Review | Best Magazine for 300 Blackout
| Image | Product | Brand | |
| --- | --- | --- | --- |
| | Lancer L5 Advanced Warfighter Magazine | Lancer | |
| | Daniel Defense DD Magazine 10 Round | Daniel Defense | |
| | Magpul PMAG Gen M3 .300 Blackout Magazine | Magpul | |
| | Lancer - AR-15 L5AWM 300BLK Translucent Smoke Magazine 30RD | Lancer | |
| | CZ 13014 CZ 527 300 AAC Blackout 5 Rd Black Finish | CZ - USA | |
| | MAGPUL - AR-15 30RD PMAG GEN M3 WINDOW magazine 300BLK | MAGPUL | |
| | Duramag Speed AR-15 300BLK Aluminum Rifle Magazine | Duramag | |
| | D&H INDUSTRIES AR-15 300 BLACKOUT Magazines | D&H INDUSTRIES | |
| | Duramag SS AR-15 300BLK | Duramag | |
#1 Lancer L5 Advanced Warfighter 300 Blackout Magazine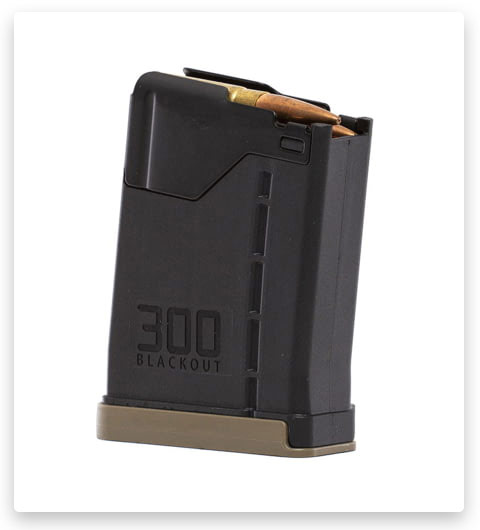 Lancer developed magazines, made from steel, with visually-noticeable flat dark earth floor plate, improving internal geometry of longer heavier cartridges to stack duly. Especially for 300 AAC, there are two 10-Round models: Opaque Black and Translucent Smoke with molded markings (.300 Blackout) on the outside of the mags casing.
#2 Daniel Defense DD 300 Blackout Magazine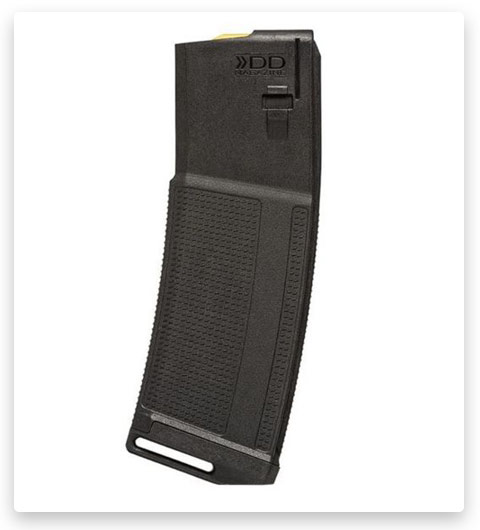 Daniel Defense refined the feed lip design to make magazine feeding and reliability more efficient. This 10-Round magazine has the non-snag design of impact-absorbing baseplate with a reinforced anti-tilt follower. The lightweight DD magazine is made from a reinforced molded carbon-fiber polymer.
#3 Magpul PMAG Gen M3 .300 Blackout Magazine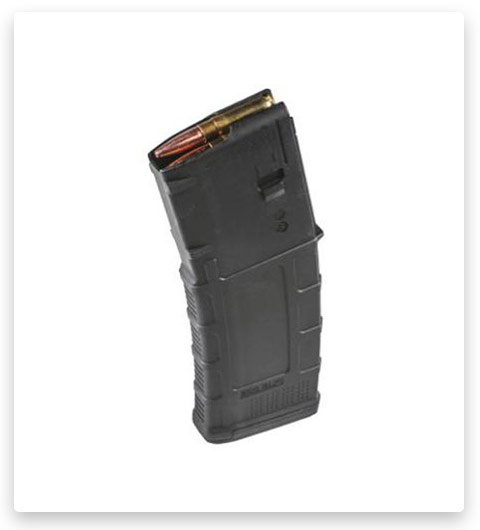 View on BassPro View on Cabelas View on Brownells
The .300 Blackout PMAG with 30-round capacity consists of a reinforced black casing with aggressive front and rear texture, a slim floorplate, which is simply to remove, a paint-pen dot matrix to mark identification, and a dust cover. Magpul developed .300 Blackout magazines with distinct rib design, ensuring visual and tactile differences, having excluded cross-loading danger with any other PMAG.
#4 Lancer AR-15 L5AWM 300 Blackout Magazine 30RD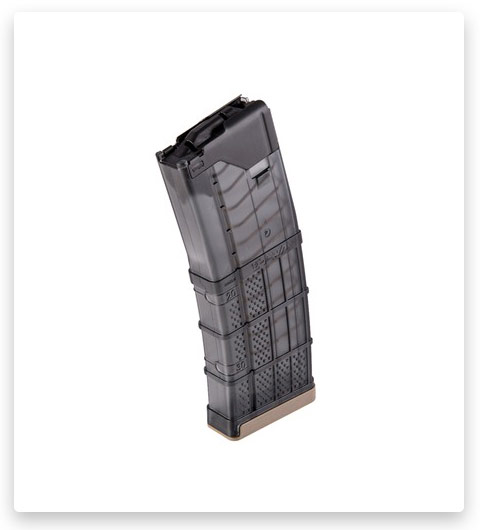 This magazine is crafted with hardened steel feed lips for one of the most popular calibers for the AR-15 platform, combining steel and polymer, adopting it for the dimensions of the .300 BLK cartridge. These Lancer magazines feature non-tilting followers with geometry, specially built for the cartridge, having passed all military-grade testing. These mags have a translucent smoke finish and a 30-round capacity.
#5 CZ 13014 CZ 527 300 Blackout Magazine 5 Rd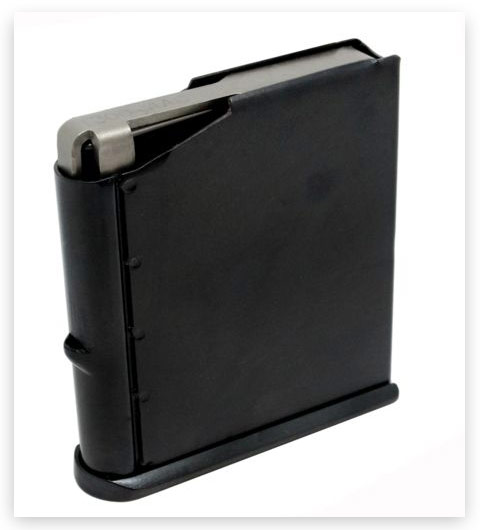 CZ-USA magazines are made of steel with a black finish. Due to the small capacity of 5 rounds can be used even in states, where the magazine's capacity limits exist. These detachable CZ 527 mags are designed for 300 AAC Blackout and Whisper calibers (7.62x35mm).
#6 MAGPUL – AR-15 30RD PMAG GEN M3 300 Blackout Magazine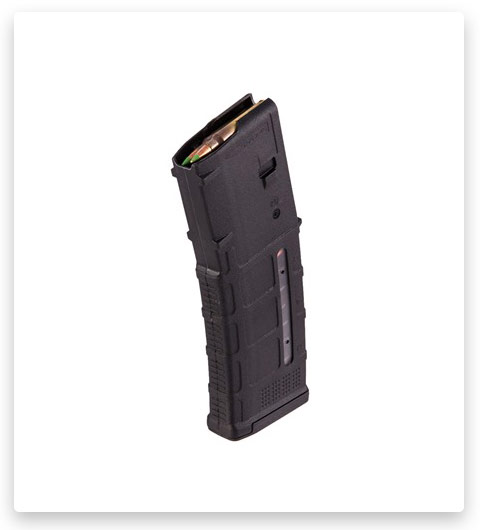 MAGPUL GEN M3 WINDOW is a refined polymer-molded magazine, purpose-built for the AR-15/M16/M4 platform, representing the 3d-generation of PMAG, improving its versatility, strength, and reliability. MAGPUL made a new construction four-way anti-tilt follower, providing smoother feeding, even being contaminated by sand or dust. This magazine features: a pop-off dust cover to diminish debris intrusion and secure storage; a rigid and slim removable floorplate to simplify side-by-side carrying in tight mags pockets.
#7 Duramag Speed AR-15 300BLK Aluminum Rifle Magazine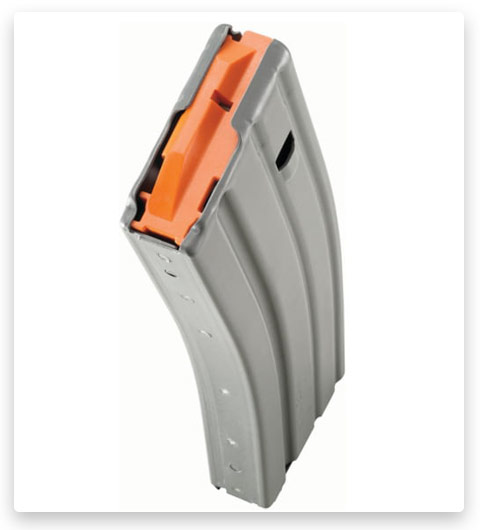 Duramag developed rifle magazines, combining heat treatment and stainless steel (400 series) to make them a bit heavier, but much more durable than aluminum ones. These CPD magazines with a new snap on the anti-tilt follower and bigger inner room improve rounds loading duly and minimize failure because of jams.
#8 D&H INDUSTRIES AR-15 300 BLACKOUT Magazines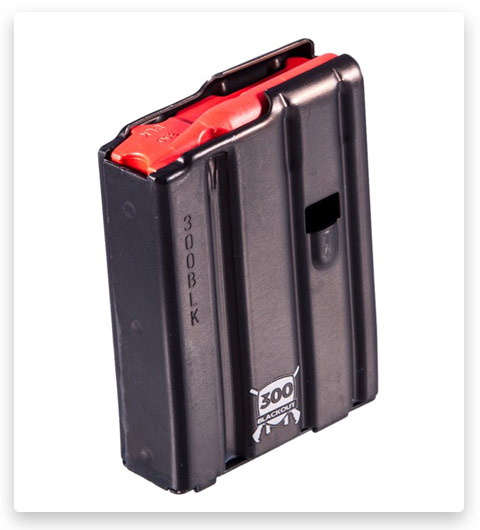 AR-15 magazine is crafted for a .300 Blackout cartridge. D&H designed magazines of an aluminum casing with a black finish and a red magazine follower. There are available 3 models, depending on the magazine capacity: in 10, 20, and 30 rounds.
#9 Duramag SS AR-15 300 Blackout Magazine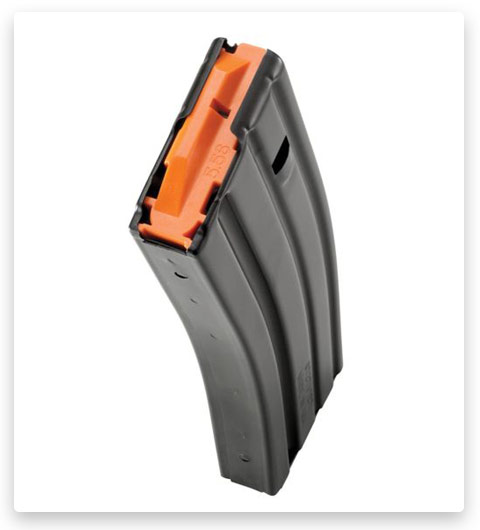 Duramag developed innovative proprietary coatings for magazines, containing Black-T with a good molecular attachment that greatly diminishes friction coefficient, giving smooth operation due to constant lubricity. This Stainless-Steel rifle magazine crimped from 30 Rounds to lower capacities. Sturdy CPD magazines body made of heat treatment and 400-series stainless steel combination, equipped with a bigger inner room and a new snap on the anti-tilt follower for duly rounds loading and jams excluding.
#BONUS 1: MagPump .223/5.56 AR-15 Magazine Loader, without MagDump MP-AR15-2
MagPump AR-15 Magazine Loader is suitable with such calibers as: .300 AAC Blackout, .223 Remington, 5.56x45mm NATO, and compatible with all Mil-Spec AR-15 mags. This 90-round capacity hopper-fed is made of lightweight and reinforced polymer, it can be attached to any Picatinny rail or Weaver and orient ammo in any direction. MagPump developed built-in safeties to prevent round damage while loading and after stopping loading when mags are full. Before loading, make sure that the mags are securely inserted and not bolted to your reloading bench.
#BONUS 2: Jagemann Munition Components .300 AAC Blackout Rifle Brass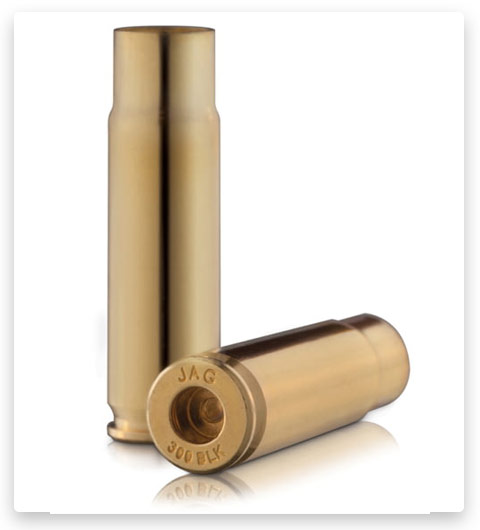 .30 caliber rounds, used in magazines to the AR platform, have the peculiarity of minimal recoil, still retaining the punch. Jagemann Munition Components presents a compact .30 caliber solution for .300 AAC Blackout Rifles, with 100 Piece quantity, made of brass.
#BONUS 3: Radical Firearms 10.5 in .300 AAC Blackout Upper Assembly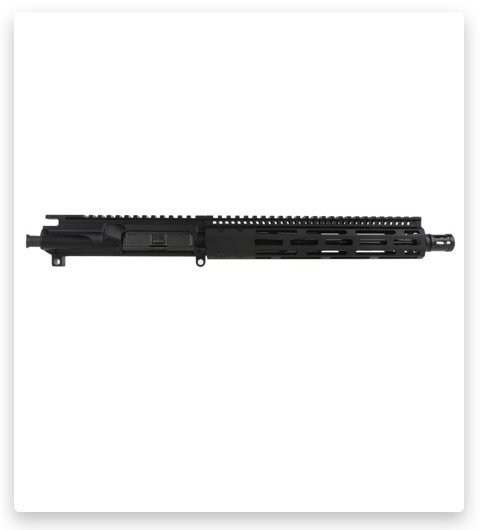 .300 AAC Blackout Upper Assembly, designed to be installed to any Mil-Spec AR-15 lower receiver, consists of a flat top, forged upper drop-in receiver with forward assist, shell deflector, barrel nut, ejection port door, 10.5-in barrel (HBAR), A2 flash hider, and low-profile micro gas block. Radical Firearms offers 5 models of upper assemblies for .300 AAC Blackout: for gun rail types: M-LOK, KeyMod, and Quad Rail with an anodized or matte finish.
FAQ
Conclusion
MAGPUL and Lancer are the best-rated .300 Blackout magazines' manufacturers, having more positive reviews than other ones from the list above. If you live in the states, where the magazine capacity is limited, you can choose models chambered for 5 or 10 rounds cartridges. 300 Blackout magazines can be made of aluminum or stainless steel, the last material makes the casing stronger, but a little heavier. Among convenient features are transparent windows to control the mags fullness and pen dot matrix to do ID marking. If you want to save your time and effort for mags loading, you can buy the hopper-fed as well. This tool for loading high-capacity magazines allows you to be prepared for a full day at the range.
Best pick
MAGPUL – AR-15 30RD PMAG GEN M3 WINDOW Magazine. It is a refined polymer-molded magazine, purpose-built for the AR-15/M16/M4 platform, representing the 3d-generation of PMAG, improving its versatility, strength, and reliability. This magazine has extra reinforced feed lip and mag catch areas.
Tags: 300 blackout magazine, lancer 300 blackout magazine, magpul 300 blackout magazine, 300 blackout magazine bands, 300 blackout magazine fde, .300 blackout magazine, ruger american 300 blackout magazine, 300 blackout magazine stencil, magazine for 300 blackout
#Best #300 Blackout #Magazine #Review #Magazines #Magpul #Bands #Stencil #Ruger #American #Sale #Lancer #Price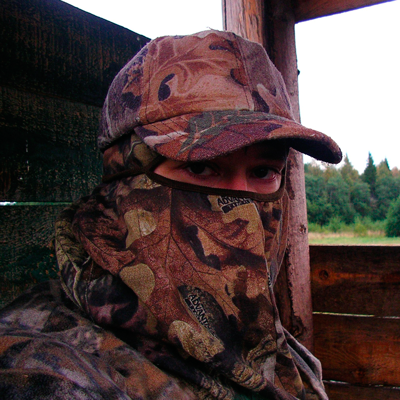 Tatiana Kursakova
Professional shooter, traveller, survivalist
My love of guns is in my blood, since childhood I have spent hours enjoying the beauty of guns and adored going through their parts.
Tactical accessories are another passion of mine that I could write about endlessly - my house and garage are full of tactical gadgets, luckily my family shares my interests.
I'm infatuated with traveling that's why work at one place with a daily routine and standard schedule is not for me. I prefer copywriting and English tutoring as a freelancer. I live in a male family among constant talks about cars, guns, hunting, fishing, and, of course, dinosaurs 😊.
My husband is an obsessed hunter, and my two sons are fans of «Demolition Ranch» of YouTube blogger Matt Carriker. They are my best consultants about weapon and all-around ammunition topics. All together we share a love for adventures. Every camping or mounting hiking trip is a "small survival", giving irreplaceable experiences. Nothing can be better than the satisfaction of observing wild nature.
Motto: «Born in Ukraine, made is the USA».
Read more
about our team
of expert authors.