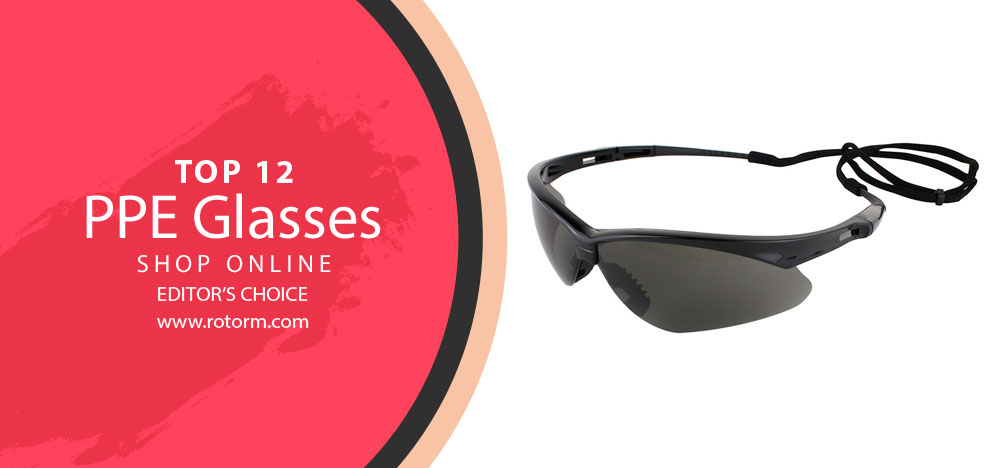 What are PPE glasses? 🧐
This personal protective eyewear is an important part of any worker safety program. They protect workers from potential eye injuries such as flying debris and chemical splashes and also protect against ultraviolet radiation exposure when working outdoors.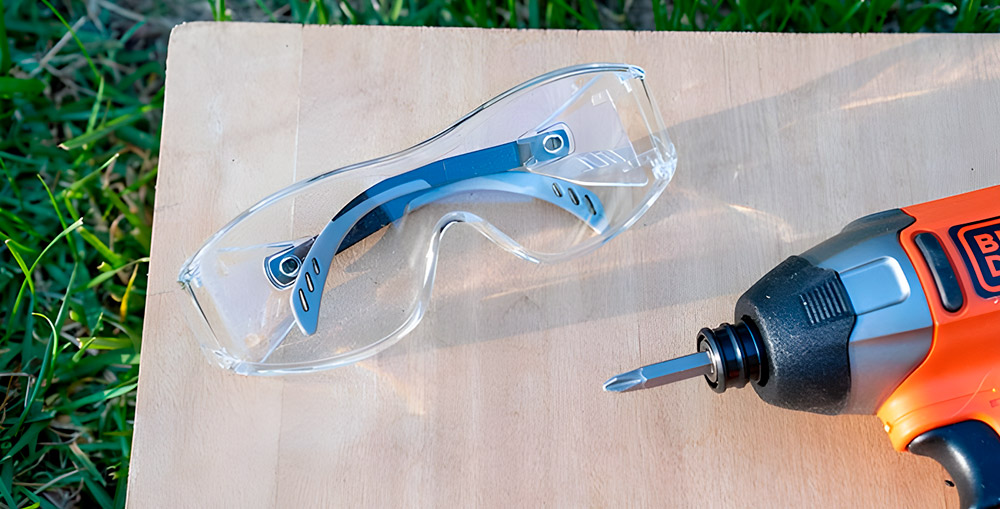 Features ⏰
➡️ The first factor is safety. Safety should always be the top priority when selecting protective eyewear. A lot of frames meet ANSI Z87.1 standards and offer UV protection from both UVA and UVB sun rays.
➡️ Comfort is also another important feature. The frames are lightweight and adjustable, with comfortable nose pads and temple tips. You should also make sure that the lens size is appropriate for your face shape.
➡️ The third factor is style. Protective eyewear comes in a variety of different styles, from classic aviators to modern wrap-around. Choose a frame that suits your taste and allows you to express yourself while keeping your eyes safe.
Our Top Pick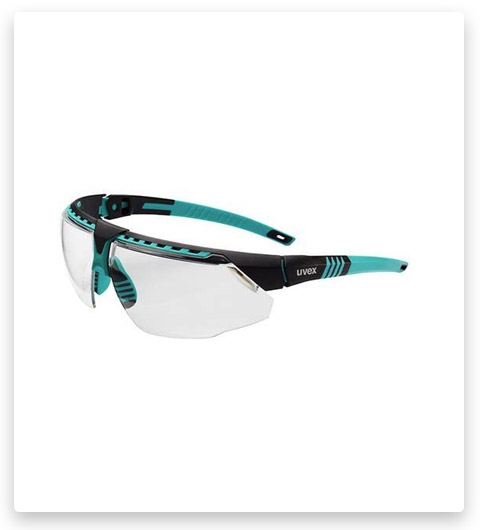 Uvex S2880HS Avatar Adjustable Safety Glasses
These eyewear options offer a stylish and customizable fit, providing a tailored experience for each individual. With eight points of adjustability, these glasses can be personalized to meet the specific needs of the wearer. Featuring a 9-base wraparound design, indirect venting, and wire-core temples, these safety glasses offer superior protection and functionality. The Multi-Material Technology (MMT) incorporated into every touchpoint ensures maximum comfort throughout the day, accommodating various facial profiles. These glasses adhere to the ANSI Z87.1 2015 high-impact standard, guaranteeing their ability to withstand rigorous conditions.
Buy Now On Amazon
If you click this link and make a purchase, we earn a commission at no additional cost to you.
Benefits 💡
When it comes to protecting yourself from debris and dust, the right Personal Protective Equipment (PPE) glasses are an essential piece of safety gear.
🥽 They provide superior protection compared to standard eyewear due to their design and construction.
🥽 Such glasses feature close-fitting sides and wraparound lenses that effectively block out particulates, as well as peripheral vision coverage for a higher degree of protection.
🥽 Additionally, many models are designed with anti-fog technology so you won't have to worry about your lenses fogging up in humid or wet conditions.
🥽 Furthermore, some glasses come with adjustable frames or nose pads for increased comfort when wearing them for extended periods.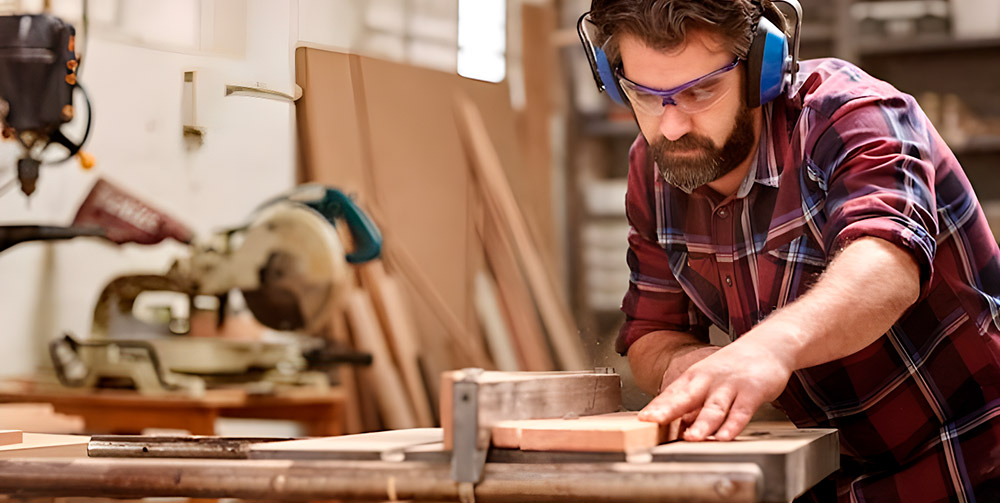 Why it is essential? 🤔
Safety glasses are essential personal protective equipment (PPE) to protect your eyes from hazardous substances, materials, foreign particles, or any other kind of danger that could potentially cause eye damage.
🔥 These glasses provide a physical barrier between the eyes and the danger so that potential injury is minimized.
🔥 They also help keep debris and liquids away from your face which can be dangerous if they enter contact with your skin or eyes.
🔥 In addition to protecting from physical dangers, safety glasses also help reduce exposure to UV rays and other sources of radiation that can lead to long-term vision issues such as cataracts or macular degeneration.
TOP 12 PPE Glasses | 3M Glasses | Safety Glasses 🥽
| Image | Product | Brand | Link |
| --- | --- | --- | --- |
| | NoCry Safety Glasses That Fit Over Your Prescription Eyewear. Clear Anti-Scratch Wraparound Lenses, UV400 Protection, ANSI Z87 & OSHA Certified. Use in the Lab, Travelling | NoCry | |
| | Aqulius 24 Pack of Safety Glasses (Protective Goggles) Anti Fog Clear Glasses. Nurses, Construction, Labs, Shooting Glasses Men Women | Aqulius | |
| | 3M Safety Glasses Solus 1000 Series ANSI Z87 Scotchgard Anti-Fog Clear Lens Low Profile Blue/Black Frame | 3M | |
| | Uvex S2880HS Avatar Adjustable Safety Glasses with HydroShield Anti-Fog Coating, Standard, Teal/Black | Uvex | |
| | MAGID Gemstone Y50 Performance Anti-Fog Safety Glasses with Side Shields, Clear & Gray Lens, Scratch-Resistant Polycarbonate Lenses, 2 Pairs | MAGID | |
| | SolidWork Safety Glasses for Men & Women (Advanced) Ultra-Light Flex-Fitting Safety Work Eye Glasses with Side Protection | Anti Fog Protective Eyewear Shooting Glasses | US ANSI Z87 | SolidWork | |
| | 3M Secure Fit 400 Series Protective Eyewear, Standard, Black/Green | 3M | |
| | JORESTECH Eyewear Protective Safety Glasses, Polycarbonate Impact Resistant Lens Pack of 12 (Clear) | JORESTECH | |
| | KleenGuard™ V30 Maverick Eye Protection (49309), with KleenVision™ Anti-Fog Coating, Clear Lenses, Black Frame (Qty 1) | KLEENGUARD | |
| | Uvex by Honeywell Genesis Safety Glasses with Uvextreme Anti-Fog Coating, Black Frame | Uvex | |
| | PAERDE Safety Goggles,Anti Fog Safety Glasses,Eye Protection-Medical Goggles Over Eyeglasses-Clear Protective Eyewear Unisex | PAERDE | |
1# NoCry Over-Glasses Safety Glasses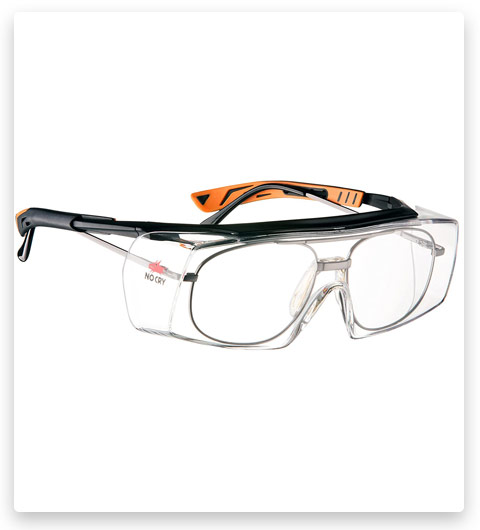 The glasses from the middle price segment open my top list. Put your attention if you are searching for something not very expensive but qualitative. It fits different goals, like, for example, outdoor activities, building or garden needs, dental work, and others. You can put these glasses over yours. It allows protection of your eyes from the small garbage and different damages. Be careful, and check that you have a little gap between your eyeglasses and goggles. Otherwise, you can get some scratches. The durability of the materials is amazing. It will serve you for a long time! Polycarbonate is hard to break. It is impossible to crush so you can't damage your eyes with a piece of the shard. You will always feel good with a comfortable fit. Thanks for the extendable arms the goggles suit men women and children. There is an opportunity to take the glasses anywhere you need because of their lightweight and small size. Be sure, you can put it in even the smallest bag or pocket.
2# 24 Pack of Safety Glasses Crystal Clear Eye Protection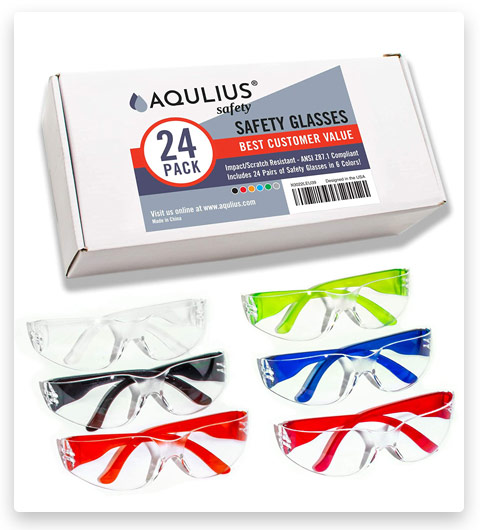 There is a pack of goggles. I was surprised when I saw the price. It is cheap. For this money, you will get 24 glasses in 6 different colors. This is a good opportunity if you need to provide a big quantity of people with protection. The goals of using can be different, like chemistry experiments, outdoor games, house or building needs, shooting, and others. The lenses are scratch-resistant because of the special finish. It has a crystal clear view to see everything during your work. It is a great choice if you need to change the glasses quite often because of different reasons. By the way, it is a piece of nice equipment for team games.
3# 3M Safety Glasses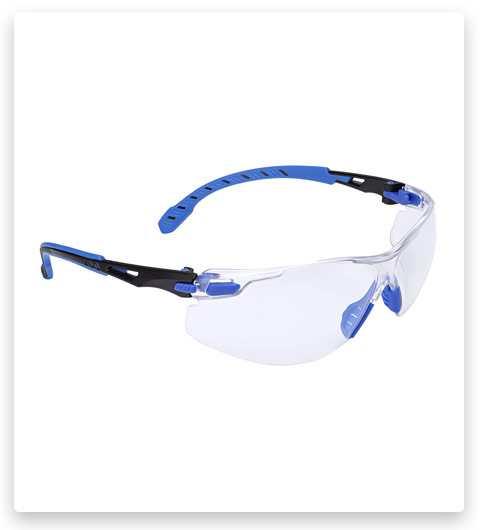 Everybody wants to feel comfortable and safe during doing any kind of work. These goggles can solve both 2 problems. It is crafted with qualitative materials, so you can be sure of the high level of durability. The lenses have a clear view and anti-fog coating. It means that glasses can be used for outdoor games, work, and even military needs. You will not get glass scratches with the protective finish. It is also impossible to crush. By the way, I want to highlight the nice futuristic design. Thanks to it, you can stay stylish in any living condition. Bright colors are enough fashion. Thanks to adjustable arms, goggles fit the majority of people.
4# Uvex S2880HS Avatar Adjustable Safety Glasses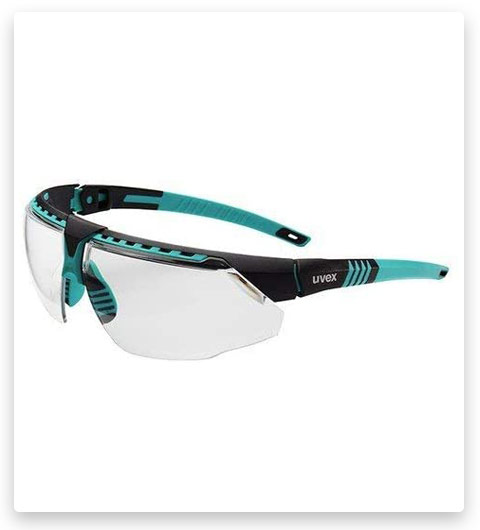 These a safety fashion goggles! They look great but protect your eyes quite well. Be free to buy them for yourself or your workers. Equipment should be qualitative. By the way, this lot is cheap. The manufacturer is a young but reliable company. The fans of Surviving should know this name. Let's come back to the description of the glasses. They have a lot of corn. The half-frame form has an amazing fit. It will not cause any uncomfortable feelings. Clean lens color does not interfere to watch. Anti-frog finish avoids crushing and fogging.
5# Magid Glove & Safety Iconic Y50 Design Series Safety Glasses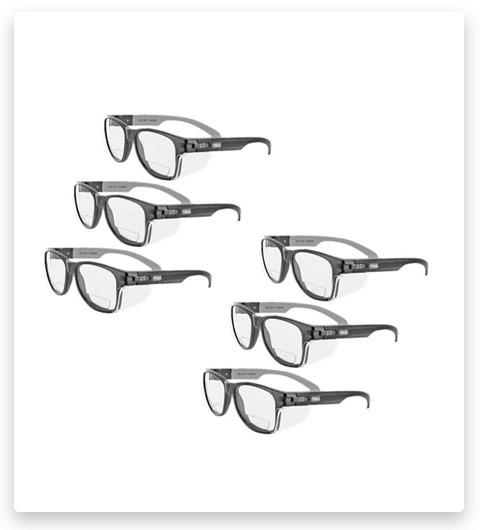 This is an interesting pair. The seller suggests buying light and dark glasses in one click! It is an attractive offer because you are ready for everything with it. You can use it for long trips, outdoor activities, military needs, dental or nail work, and others. A stylish black and white design help to stay confident. You will get a case that allows keeping 2 glasses in a kit. The scratched-resistant cover provides good durability. You can be sure that damages and crushing are almost impossible. The clean side shields provide excellent vision.
6# SolidWork SW8322 Professional Safety Glasses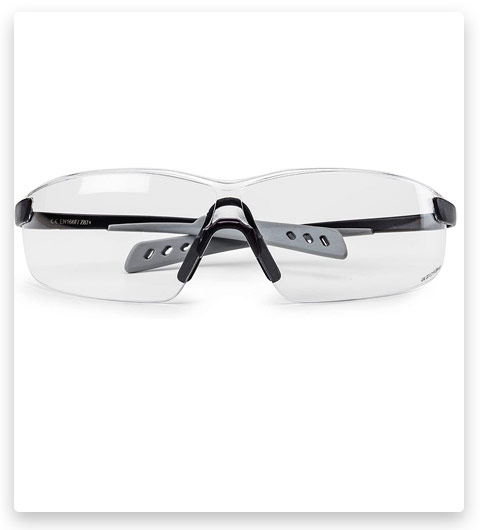 There is a classic example of safety eyewear. It is good for hunting and shooting because protects the eyes from small and big garbage or insects! The lenses are non-colorful and provide a clear view during use. The manufacturer takes note that the glass can be dangerous for eyes so the good is covered with a finish that avoids crushing. The lens is treated with an anti-fog cover, so you are ready for any weather with these goggles on! There is only one size. Thanks to the adjustable temples it fits perfectly for everyone. As for me, there are enough advantages to order this lot. By the way, the seller offers a 1-year-non-asking warranty, so you can put off all your doubts!
7# 3M Secure Fit 400 Series Protective Eyewear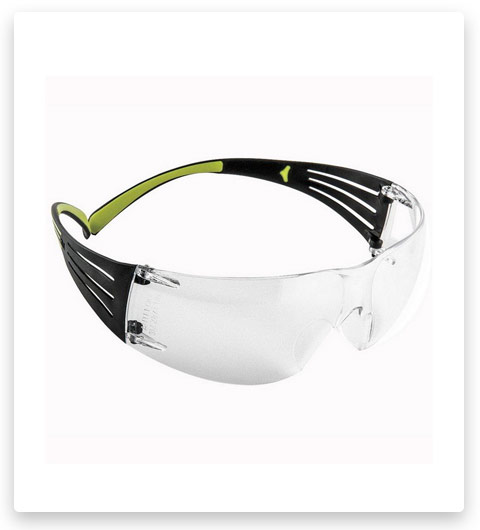 There is a polycarbonate glasses for any life situation. It is qualitative and you should put effort to break them. It is made in black and green color. This combination is stylish and practical. It allows anyone to mimic the environment and stays stylish at any work. The goggles are good eye protection for chemical experiments, military needs, shooting, and different active team games. The anti-fog finish avoids the lens from weeping. Thanks to innovative technologies glass crushing is impossible. By the way, the manufacturer is quite reliable, because of long years of good work and a lot of positive feedback.
8# Jorestech Eyewear Protective Safety Glasses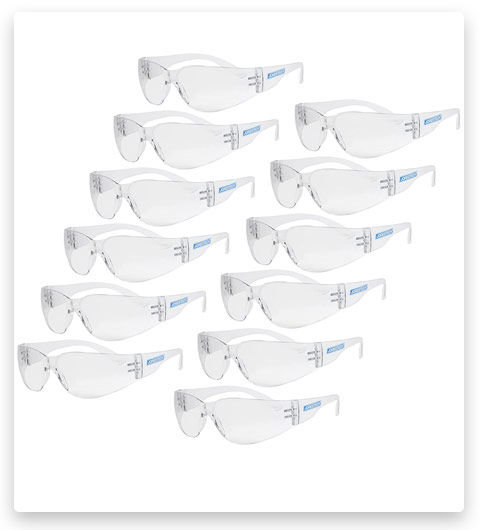 These are minimalistic glasses that are usual, but comfortable. It is a perfect choice if you need something for chemical experiments or medical needs. They are transparent and lightweight. You will not even feel them! The good protects from small garbage and insects. The UV safety finish takes care of you under bright sunlight. The reliable construction and an anti-scratch cover provide long durability. The half-frame form fits the majority of people.
9# KleenGuard Maverick Safety Eyewear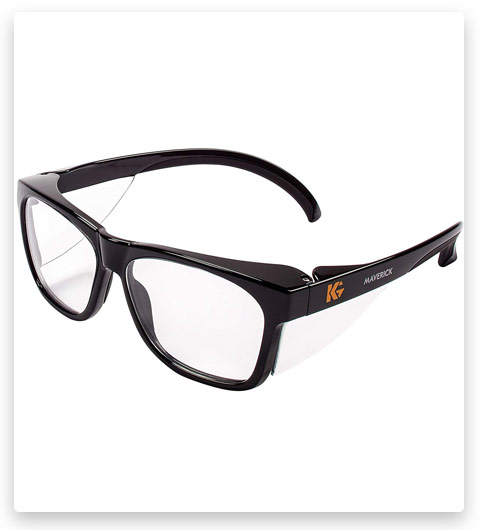 There is not a goggle. It looks more like stylish glasses that protect the eyes during computer work, reading, or watching a TV set. This good is also an accessory that will add some beauty points. There is an anti-fog cover. You will not feel weeping even in warm and wet conditions. The anti-scratch design provides long durability. The lenses are UV-resistant. It is one more corn. You can stay calm even under bright sunlight. The secure fit provides comfortable use. Forget about unpleasant feelings! You can leave your glasses on for the whole day!
10# Uvex by Honeywell Genesis Safety Glasses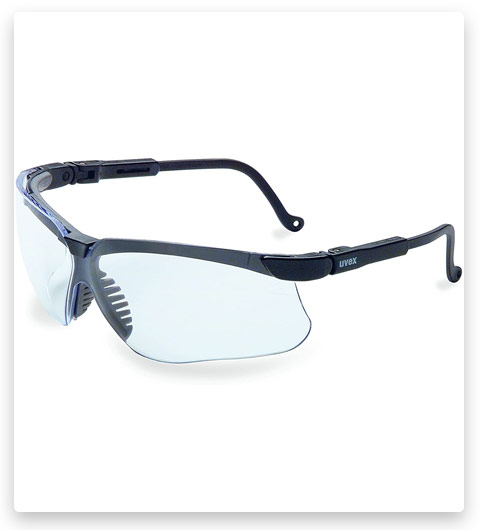 These glasses brake all rules that the goggles are thick big and uncomfortable. They have ultra-thin lenses. It is lightweight and doesn't cause any discomfort. This good is perfect for moto drivers because it protects them from small garbage, plants, and insects. These goggles are also nice equipment for shooting, paintball, and strike ball. Be free to choose this offer for dental or chemical works. The lenses are protected with anti-fog and scratch-resistant finishes. All these conditions provide easy cleaning, good vision, and long durability. Be sure, that the goggles are reliable and will serve you anywhere you need. The manufacturer takes care of the customers. The glasses have a secure fit and adjustable temples, so you can get the highest rate of comfort.
11# Paerde Clear Safety Glasses Anti-Fog Goggles Over Glasses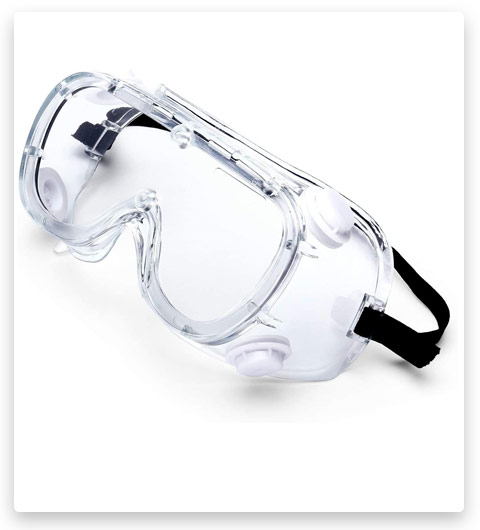 This is a piece of hard equipment for different kinds of activities. It has a thick lens that protects the eyes even from fire and dangerous chemicals. You can use it in combination with usual eyeglasses if you want to have a clear vision. Be free to buy these goggles for different team games, snowboarding, laboratory needs, polished, and others. It is an irreplaceable thing for buildings because can protect them from paint and dust. The anti-fog cover provides easy washing and clear vision. You can regulate the size with the elastic band behind.
12# Military Surplus DoD 6-mask Kit
There is an irreplaceable set for coronavirus. It consists of a medical mask, facemask, alcohol hand sanitizer, no-touch hand tool, goggles, and a non-contact thermometer. Be sure, you are ready for everything! The masks protect the face and can filter out approximately 95% of airborne. It has a secure fit and is crafted with a pleasant material. The alcohol sanitizer dries fast and kills 99% of bacteria. Thanks to the glycerin inside your hands will stay soft even with frequent use. Non-touch hand tool helps to avoid touching different surfaces, buttons, and doorknobs. And the last one is a non-contact thermometer. It is useful when you need to control a lot of people. One second is enough to measure the temperature. You can see all information on the screen. You will get a warning if the result is higher than should be. The device is automatically turned off.
How to polish it? 😎
When it comes to properly maintaining your PPE glasses, regular polishing is essential. This not only ensures a clear view through the lenses but also reduces the chances of scratches forming and causing disruption. Here are some steps:
⭕ Use a special cloth specifically designed for cleaning safety glasses – attempting to use any other type of fabric can cause additional damage or even scratch the lenses.
⭕ If you want to remove stubborn debris, gently apply an eyeglass cleaner spray onto the lens and rub it with the cloth until all residue is gone. Avoid using aggressive rubbing as this can cause scratching as well.
⭕ To prevent fogging while wearing your glasses, use an anti-fog spray or wipe before each wear.
⭕ If you need to make a minor adjustment, such as fitting the glasses more securely on your face, only use regular eyeglass cleaning tools – never attempt to adjust them with any other type of item such as scissors or tweezers.
📺 One more method in this video:
FAQ 😀
Conclusion 😊
When it comes to finding the best PPE glasses, there is no one-size-fits-all solution. Each type of glass has its strengths and weaknesses that must be considered when making a purchase decision. Ultimately, choosing the right pair of glasses for your needs will come down to evaluating different factors such as comfort level, protection rating, style options, and cost. We hope this buyer's guide has provided you with useful information about how to find the perfect set of glasses for yourself. Thanks for reading! 🥰❤️‍🔥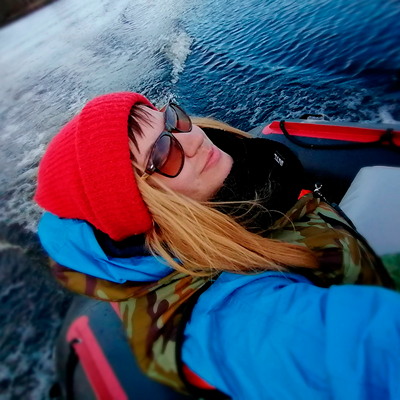 Olena Dubose
Traveler & Camping Expert
I was born in a family of experienced travelers and used to spend all my school breaks and long weekends camping and hiking around the most admirable places in Canada and sometimes United States. My dad used to be a soldier and always taught me how to survive during unpredictable circumstances. Like every other kid, I wasn't really interested in my parents' extreme lifestyle when I was little, but I can't imagine my life now without regular outdoor trips and extreme sports.
Thanks to my intense childhood and a few decades of experience I can now choose the best equipment for any adventure waiting for me to dive in. And after all, I have been through, I want to share my knowledge so more people could join an enjoyable and breathtaking trip to discovering magical nature around us. Forget about five-star hotels and treat yourself with thousands more in a cozy camping trip!
Read more
about our team
of expert authors.
Affiliate Disclosure: Rotorm.com sometimes gets paid for listings, through sponsors or affiliate programs like Amazon, Optics Planet, Lucky Gunner, Brownells, Cabelas, Rainier Arms, 5.11 Tactical, Bass Pro Shop, etс. Clicking a link helps keep Rotorm.com free, at no extra cost to you!
About the author: Each article on our site is written by experts in survival and tactical equipment, gun enthusiasts, extreme travelers, military, law enforcement and desperate professionals, read about the author at the bottom of the article or visit "About Us" page.
Note: The views and opinions expressed in this article are those of the authors and do not necessarily reflect the official policy or position of any agency.