What is Glock 19 Light? 💡
It is a tactical accessory that attaches to the rail system of a Glock 19 handgun. Designed to enhance visibility in low-light conditions, these lights are essential for both tactical and defensive situations. Some models even offer additional features such as strobe modes and lasers for further functionality. Here are a few key things to know about Glock lights:
◼️ They attach securely to the accessory rail on Glock pistols, providing a stable and integrated lighting solution. Many models have a rail clamp that locks onto the gun.
◼️ They are compact and lightweight, adding little bulk to the pistol. Common models are only about 3-4 inches long.
◼️ Most feature momentary or constant-on activation switches in easy reach of the shooting hand. Some models have strobe modes as well.
◼️ They are made from durable, impact-resistant polymer housings that stand up to recoil.
◼️ They allow low-light shooting, target identification, and weapon-mounted light capabilities for Glock owners. Useful for law enforcement, military, home defence, and more.

Types 💹
These lights are available in various types, including weapon-mounted lights and tactical flashlights, each serving different purposes. Weapon-mounted lights, ⏭️  such as the Streamlight TLR-7 and Surefire X300, are designed to be affixed directly to the firearm, providing reliable illumination and enhancing target identification in low-light conditions. These lights offer a seamless integration with the weapon, ensuring ease of use and quick access to light when needed.
On the other hand, tactical flashlights ⏭️ like the Fenix PD35 and Anker Bolder are handheld tools that offer versatility in illumination. They are not attached to the firearm but can be easily carried and used for general lighting purposes. These flashlights serve as a reliable backup option in case the weapon-mounted light fails or when a separate light source is required.
💠 Both weapon-mounted lights and tactical flashlights come with a wide range of lumen outputs and features, allowing users to choose the most suitable option for their specific use cases.
Advantages 🔥
⚡ Improved Low-Light Shooting – A bright tactical light allows for better target identification and accuracy in low-light conditions. This is crucial for defensive situations or police work at night.
⚡ Quick Access – Having the light integrated into the gun keeps it at the ready. A separate handheld light requires more time and coordination to deploy and aim.
⚡ Enhanced Manipulation – Tasks like reloading, malfunction clearing, or one-handed shooting can be done more easily with a weapon-mounted light providing illumination.
⚡ Weapon Retention – The extra grip and leverage provided by the attached light can aid in retaining control of the weapon in a close-quarters struggle.
⚡ Intimidation Factor – The blinding light can disorient assailants when shined in their face suddenly at close distances. This gives a tactical edge.
⚡ No Barrel Obstruction – Unlike a laser sight, the light sits below the barrel allowing a clear sight picture and no shift in point of impact.
⚡ Durability – Purpose-built for recoil and impacts, they are rugged enough to withstand defensive use.
Convenience – No need to juggle a separate flashlight. Everything is self-contained on the handgun.
Our Top Pick
Viridian C5L-R Red Laser Sight W/ TacLoc Holster
Introducing the Viridian C5L-R Red Laser Sight, paired with the TacLoc Holster, engineered to deliver rapid target acquisition across diverse lighting scenarios. Equipped with a potent 635nm Elite Red laser, this sight projects a distinct beam, ensuring precise targeting within 25 yards under daylight conditions and extending up to an impressive 1 mile during nighttime operations. Its versatile ambidextrous multi-mode configuration, coupled with a range of customization possibilities, positions the C5L-R as the ultimate companion for a wide spectrum of missions and tasks.
Buy Now On OpticsPlanet
If you click this link and make a purchase, we earn a commission at no additional cost to you.
How To Choose 🧐
| | |
| --- | --- |
| 🟡 Consider intended use | A light for home defence can favour brightness, while concealed carry may prioritize compact size. |
| 🟡 Lumens | Look for at least 200+ lumens for adequate brightness. Popular lights produce 500+ lumens. |
| 🟡 Rail interface | Ensure the light has a secure clamp/mount for the G19's accessory rail. A loose light will shift and lose zero. |
| 🟡 Controls | There is ambidextrous switching or switches accessible for left/right-hand use. Momentary or constant-on. |
| 🟡 Size/length | The size should be compact and not protrude too far beyond the muzzle or frame of the Glock 19. This ensures that the light doesn't interfere with holstering and drawing the firearm. |
| 🟡 Weight | Keep the weight of the light attachment to a minimum to avoid adding excessive weight to the handgun, which could affect balance and handling. Lightweight materials like polymer are often preferred. |
| 🟡 Battery Life | Look for a light with a reasonable battery life, especially if you plan to use it for extended periods. LED lights tend to offer longer battery life compared to incandescent bulbs. |
Best Glock 19 Light Reviews
#1 SIG SAUER Foxtrot1x Weapon Mounted Light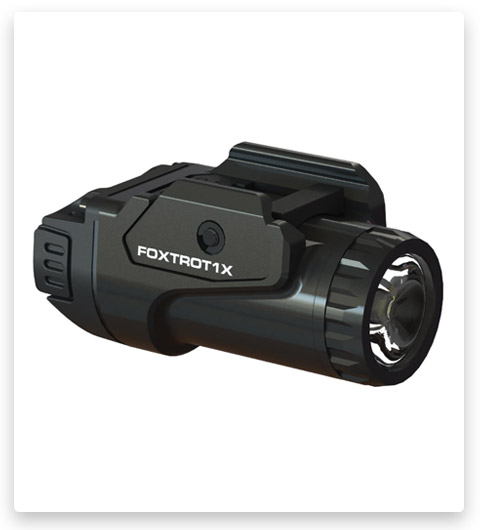 View on OpticsPlanet View on Amazon
When it comes to gun-mounted lights, the SIG SAUER Foxtrot1x is in a class of its own. This powerful light delivers 450 lumens of illumination, making it perfect for navigating dark environments or low-light tactical operations. The Foxtrot1x also features M1913 and Glock sliding rail interface plates for optimal adjustment range, as well as ambidextrous push-button side switches that make it easy to operate no matter which hand you're using. Plus, with momentary and latching modes, you can tailor the light to your specific needs. Get the SIG SAUER Foxtrot1x today and be ready for anything.
#2 Crimson Trace Rail Master Universal Tactical Light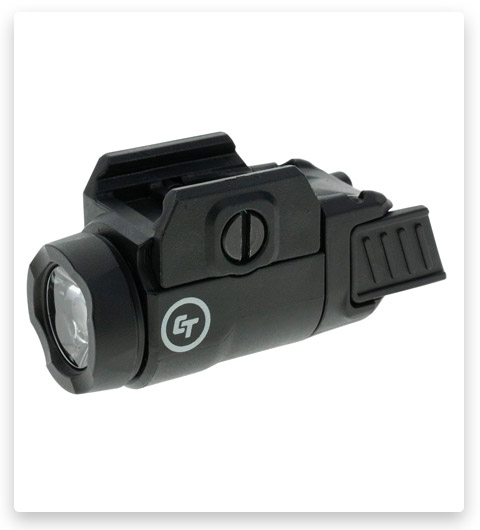 View on OpticsPlanet View on Amazon
Meet the Crimson Trace Rail Master Universal Tactical Light: a versatile and mighty weapon light that is perfect for mounting on any firearm. Its innovative design makes it also suitable for use on almost any M1913 Picatinny or Weaver rail.
The Crimson Trace Rail Master Universal Tactical Light is built with the industry-leading quality, ergonomics, and fit that you've come to expect from Crimson Trace. The compact size makes it an ideal flashlight for mounting on a pistol or other handgun, but the Crimson Trace Rail Master Universal LED Weapon Light works equally well on rifles and shotguns. The embedded software lets you operate the light in constant-on, momentary-on, or strobe mode. So whether you're looking for a general-purpose tactical light or a specialized self-defence light, the Crimson Trace Rail Master Universal Tactical Light is a perfect choice.
#3 Streamlight TLR-1 HL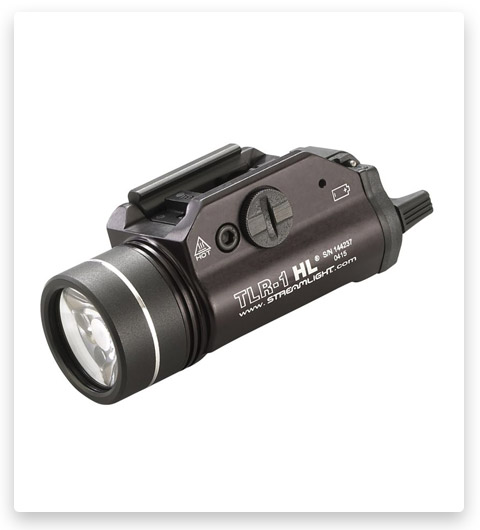 View on OpticsPlanet View on Brownells
The Streamlight TLR-1 HL is a high-output weapon light that provides superior illumination for all your tactical missions. With a powerful 1000-lumen beam, it has a beam distance of 283 meters and can run for 1.5 hours on a single charge. The Rail Grip Clamp system securely attaches the light to your gun without the need for tools, and the ambidextrous momentary/steady on/off switch makes it easy to use. The user-programmable strobe function can be enabled or disabled, making it a versatile and essential tool for any serious shooter.
#4 Streamlight TLR-6 C4 LED Weapon Light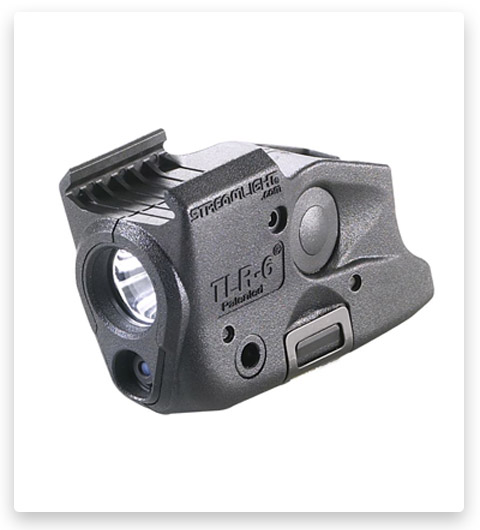 Looking for an ultra-light weapon light that won't weigh you down? The Streamlight SubCompact Gun Mounted Light w/ Red Laser is perfect for subcompact pistols. This lightweight light features a red laser sight that is visible up to 100 yards away in the daytime and up to 600 yards at night. With push buttons on both sides of the light, this tactical light can be easily and rapidly activated with either hand. The quick-release mount allows you to change batteries quickly and easily, even while the light is mounted. Whether you're using it for home defence or tactical situations, the Streamlight SubCompact Gun Mounted Tactical Light w/ Red Laser will help you quickly identify your target.
№5 Streamlight TLR-8 500-Lumen Pistol Light with Integrated Red Aiming Laser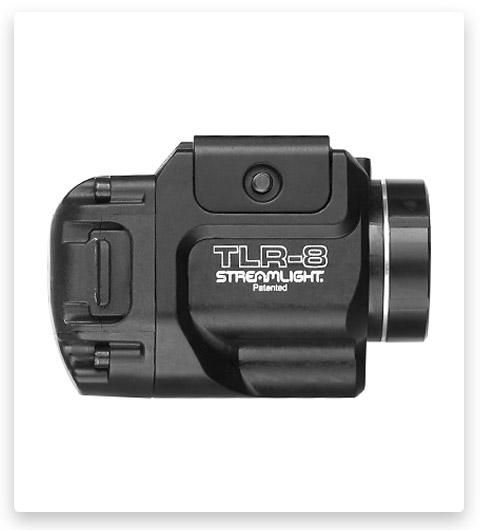 The Streamlight TLR-8 is a powerful and versatile pistol light that is perfect for a wide variety of applications. Featuring a custom TIR optic that produces a concentrated beam with optimum peripheral illumination, the TLR-8 is sure to light up whatever you need it to. The left and right side switches provide ambidextrous operation, and the quick press for constant operation and press and hold for momentary operation make it easy to use. The durable, machined aircraft aluminium construction with black anodized finish is built to last, and the safe off feature on the bezel prevents accidental activation. The rail grip clamp system securely attaches/detaches quickly and safely, making it easy to install and remove. The TLR-8 has been extensively live-fire tested and features a user-enable strobe function.
#6 Viridian Weapon Technologies Reactor TL Gen2 Tactical Light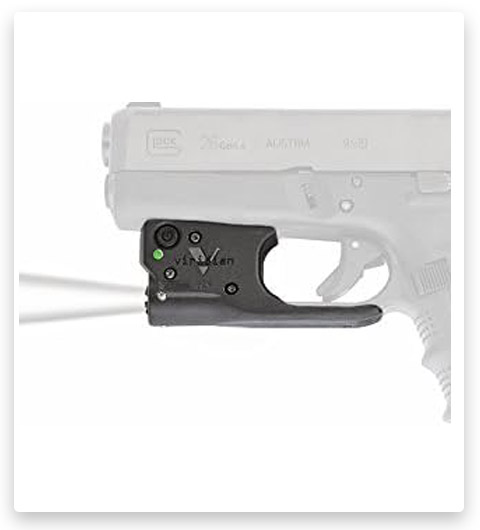 The Viridian Reactor TL Gen2 Tactical Light is one of the best on the market and perfect for your needs! Its ease of installation makes it a great choice for many sizes of handguns. Additionally, its Radiance Combat Optics allows For better target illumination.
In addition, the Reactor TL Gen2 comes with an ambidextrous microfiber holster that activates the Instant-On feature of these weapon-mounted lights. So whether you're in the field or at the range, you can be confident that your light will be there when you need it. Pick up the Viridian Reactor TL Gen2 Tactical Light for your PDW today!
#7 Viridian C5L Universal Sub-Compact ECR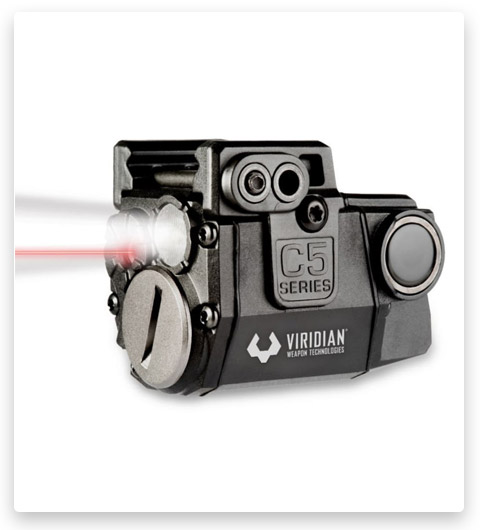 The Viridian C5L Universal Sub-Compact ECR is the perfect addition to your subcompact pistol. This powerful green laser and 100-lumen tactical flashlight combo will provide superior visibility and clear targeting in any lighting or weather conditions. SMARTLASER technology offers 4 laser modes and an instant-off feature, while ECR Instant-On technology ensures that your effort is focused on the mission at hand. The Viridian C5L also features a bezel that is specifically designed to reduce light interference, making it the perfect choice for any tactical situation.
#8 Viridian C5L-R Red Laser Sight w/ TacLoc Holster
When the stakes are high and seconds matter, you need a sighting system you can rely on. The Viridian C5L-R Red Laser Sight with TacLoc Holster is designed for instant target acquisition in any lighting conditions. Featuring the powerful 635nm Elite Red laser, this sight provides a clear beam for pinpoint accuracy up to 25 yards in daylight and 1 mile at night. The ambidextrous multi-mode design and many customization options make the C5L-R the perfect tool for any mission. With Viridian's ECR Instant-On technology, the laser is activated as soon as you draw your weapon, so you're always ready for action. Whether you're in law enforcement, military, or simply a gun enthusiast, the C5L-R is an essential piece of equipment for your collection.
#9 Hawk Gazer FLG-9T LED Flashlight/Green Laser Combos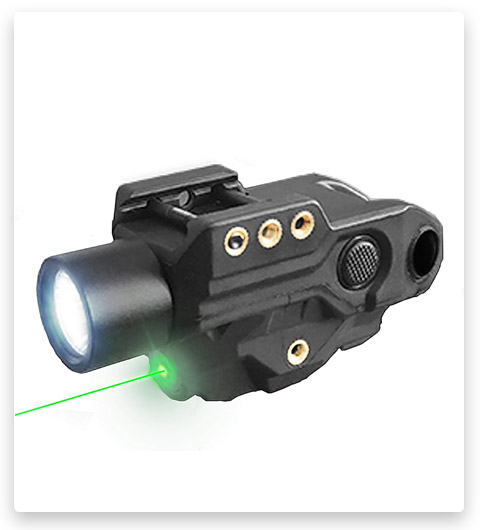 View on OpticsPlanet View on Amazon
Introducing the Hawk Gazer FLG-9T LED Flashlight/Green Laser Combos—the perfect light for any situation! Hawk Gazer has been a trusted name in the flashlight industry for years, and this product is no different. With its incredibly bright lamp and high-lumen output, it's perfect for illuminating even the darkest of areas. The long beam distance and amazing beam strength make it ideal for lighting up large areas, while the green laser sight ensures that you always have a perfect aiming point. And changing the setting from light and laser to just light is easy, so you can tailor the output to your specific needs. The Hawk Gazer FLG-9T LED Flashlight/Green Laser Combos is a must-have for anyone who wants to be prepared for anything!
#10 Hawk Gazer FLG-7 LED Flashlight/Green Laser Combos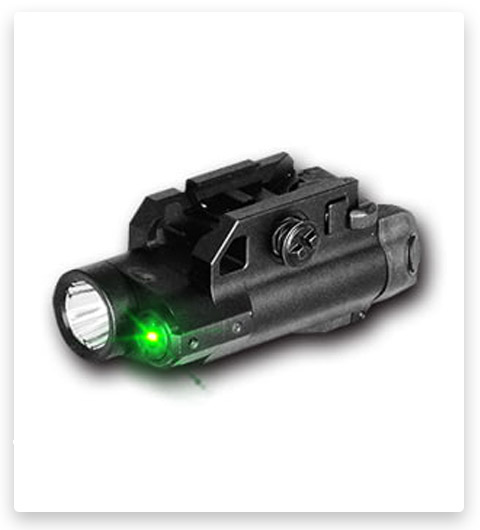 The Hawk Gazer FLG-7 LED flashlight/green laser combo is a versatile and powerful dual weapon-mounted sight. The FLG-7 features a centre-mounted 250 lumens light and a 5mW green laser, making it ideal for both hand-carried and mounted applications. The ambidextrous switches and the included remote pressure switch make it easy to activate the light and/or laser individually or simultaneously, while the built-in magnetic switch allows for fast activation with other magnetic devices. Whether you're looking for a powerful flashlight for general illumination or a high-powered laser for precision targeting, the Hawk Gazer FLG-7 is an excellent choice.
#11 Hawk Gazer PF-9T Pistol LED Flashlight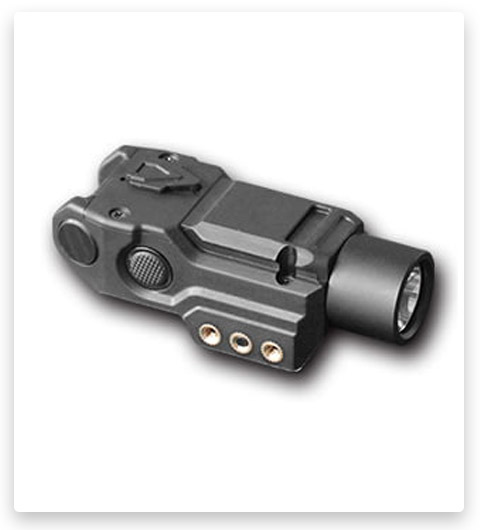 The Hawk Gazer PF-9T Pistol LED Flashlight is a powerful, compact, and rechargeable flashlight that is specially designed to be mounted on a handgun's barrel. This makes it the perfect backup illumination device for when you don't need a primary light source. The PF-9T is also USB rechargeable and has a built-in rechargeable battery, so you'll never have to worry about replacing batteries. Additionally, the ambidextrous push button switch allows for silent and quick control, while the on-board smart switch gives the PF-9T the ability to be operated with one hand. With 450 lumens of light output, multiple modes, and weapons barrel protection, the Hawk Gazer PF-9T Pistol LED Flashlight is an essential piece of equipment for any serious shooter.
#12 TrustFire GM23 Quick Release Sub-Compact Pistol Light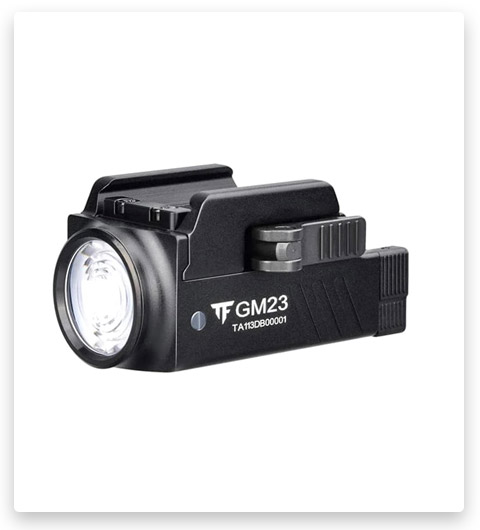 The TrustFire GM23 Quick Release Sub-Compact Pistol Light is a compact and lightweight metal body quick-release mounting base for Picatinny/Weaver rails. It is a built-in USB rechargeable battery with a battery indicator and comes with a 3-year manufacturer warranty. The USB rechargeable feature makes it easy to keep this light charged and ready to go, while the battery indicator lets you know when it needs to be recharged. The light also has a built-in safety feature that prevents accidental discharge.
#13 SureFire DG X200 Remote Tailcap Switch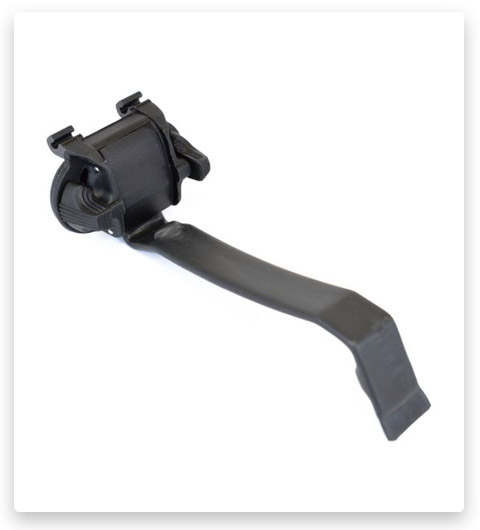 With a finger pressure-activated centre-mounted pad, the SureFire X200 DG Remote Tailcap Switch provides surgical control for maximum precision without needing to remove your finger from the grip.
This product is well-crafted, easy to install, and allows for one-handed operation of your firearm's settings. The momentary setting (not clicky) is especially useful, as it requires just enough pressure that you can decide when you want the light on rather than it always going on whenever gripped. It's not cheap, but if you're serious about self-defence then it's worth the investment.
#14 SureFire Masterfire XH30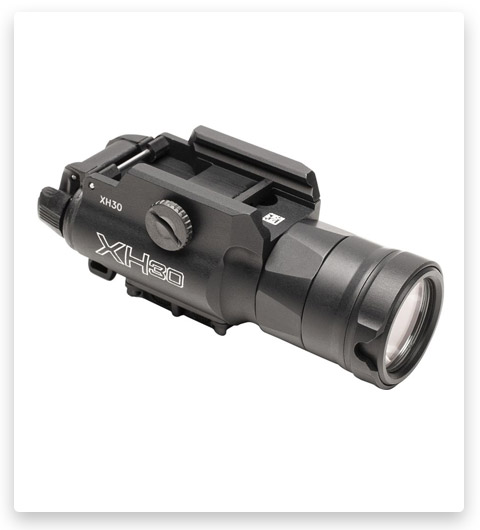 View on OpticsPlanet View on Amazon
If you're looking for an ultra-powerful weapon light that is compatible with Rapid Deploy Holsters, look no further than the SureFire Masterfire XH30. This high-output LED light features ambidextrous momentary- and constant-on switching to suit both left- and right-handed shooters. It can be attached to both Universal and Picatinny rails and features a cam-slotted bezel and rear locking lugs on the battery housing interface with a Masterfire holster for secure weapon retention. The light is also completely weatherproof, so you can take it with you in any outdoor condition. Get the illumination you need with the SureFire Masterfire XH30.
#15 SureFire X300 Ultra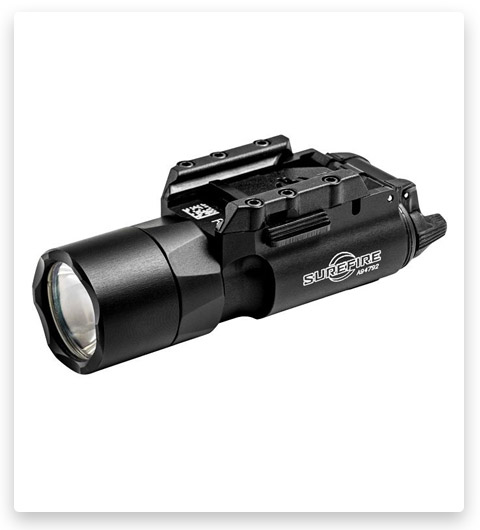 View on OpticsPlanet View on Brownells
The SureFire X300 Ultra is a powerful and versatile LED weapon light that is trusted by police and military personnel worldwide. It features a high-performance LED that generates 1,000 lumens of white light focused by a Total Internal Reflection (TIR) lens to produce a tight beam with extended reach and significant surround light for peripheral vision. The virtually indestructible and highly efficient LED generates 1.5 hours of light on the highest setting. This light is perfect for close- to medium-range tactical situations and throws a pretty tight beam, with a bright enough spill pattern to positively identify additional targets, even at 100 yards outdoors.
Installation 🛠️
Installing a Glock light, be it a weapon-mounted light or a tactical flashlight, is generally straightforward. For weapon-mounted lights, the process involves attaching the light to the Glock's rail system. This is usually done by loosening the screw on the light, sliding it onto the rail, and then tightening it. Some models may come with a quick attach and detach system, which expedites the installation process. Always remember to ensure that the light is secure and does not wobble or move.
For handheld tactical flashlights, no installation is required. However, it's crucial to have a suitable carrying method, such as a holster or a pocket clip, to keep the flashlight accessible and secure when not in use.
Here are some detailed steps for installing a tactical light on a Glock pistol:
Preparation:
📌Clear the Glock pistol and remove any ammunition from the area. Also, remove the magazine.
📌 Identify all components of the light kit – flashlight body, rail clamp/mount, screws, keys, etc.
📌 Read all included instructions for the specific light model before starting.
Installation:
📌Loosen and remove the Glock's slide stop pin by depressing it from one side. This will allow the slide to be removed.
📌 Take off the slide to expose the pistol's dust cover and accessory rail underneath.
📌 Lightly grease the light's rail clamp/mount and the Glock's metal rail to allow smooth installation.
📌 Slide the light's rail clamp onto the accessory groove from the front of the dust cover. Align to the desired position.
📌 Insert screws included with the light through the clamp and tighten securely using hex keys/wrenches. Do not over tighten.
📌 Check that the light is centred on the rail and lines up with the Glock's bore properly when the slide is replaced.
📌 Reinstall the slide stop pin and replace the slide onto the frame to complete the installation. Check the light function.
Here are some tips when installing your Glock light:
Before beginning the installation, ensure the firearm is unloaded to prevent any accidents.
Follow the manufacturer's instructions thoroughly. Different models may have different attachment methods.
Test the light function after installation to ensure it works properly.
Some possible issues that might arise during installation include:
| | |
| --- | --- |
| The light does not fit | This could be due to incompatible rail systems. Ensure your Glock model can accommodate the light you've purchased. |
| The light is loose | This could be due to not tightening the screws enough. However, avoid over-tightening as it may cause damage. |
| The light fails to turn on | Check the battery compartment and ensure the batteries are installed correctly and are not drained. |
⭕ Remember, safety is paramount when handling firearms. Always adhere to the necessary precautions when installing or operating Glock lights.
We believe this video can be helpful for you📺
 FAQ ❓
Conclusion 🤩
Glock 19 lights provide a significant upgrade to your firearm, enhancing its utility in low-light situations and potentially elevating your overall preparedness. The choice between a pistol-mounted light and a handheld tactical light is largely dependent on personal preference and intended use, with both options offering unique advantages. Holster options for Glock 19s with lights attached range from OWB and IWB types to custom-made options. While the addition of a light to your Glock 19 can alter its balance and handling, these changes can be effectively managed with adequate training and regular practice. Considering these points, a Glock light is a highly beneficial accessory that can bolster safety and performance.
Affiliate Disclosure: Rotorm.com sometimes gets paid for listings, through sponsors or affiliate programs like Amazon, Optics Planet, Lucky Gunner, Brownells, Cabelas, Rainier Arms, 5.11 Tactical, Bass Pro Shop, etс. Clicking a link helps keep Rotorm.com free, at no extra cost to you!
About the author: Each article on our site is written by experts in survival and tactical equipment, gun enthusiasts, extreme travelers, military, law enforcement and desperate professionals, read about the author at the bottom of the article or visit "About Us" page.
Note: The views and opinions expressed in this article are those of the authors and do not necessarily reflect the official policy or position of any agency.