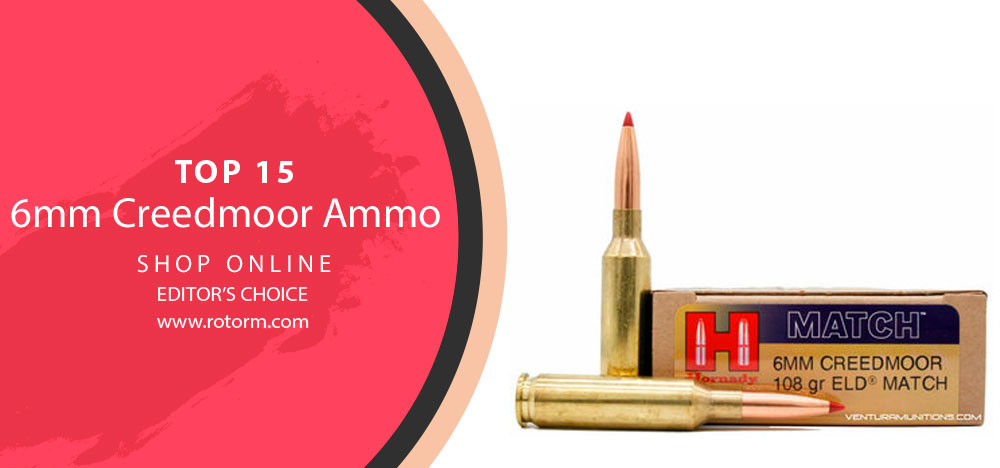 What is 6mm Creedmoor Ammo? 🤔
It is a high-performance rifle cartridge known for its incredible accuracy, flat trajectory, and low recoil. Developed in 2007 by the legendary Hornady Manufacturing Company, this ammo was designed specifically for long-range shooting and competitive precision shooting matches. With a .243-inch diameter bullet, it's like a precision-engineered magic wand for your favorite rifle.
Composition 🧪
🛑 Brass Casing: The foundation of any cartridge, the brass casing holds everything together. Durable and reloadable, it plays a crucial role in ensuring consistent performance.
🛑 Primer: The primer is a small, sensitive explosive that ignites when struck by the firing pin, igniting the propellant powder and propelling the bullet forward.
🛑 Propellant Powder: This is where the magic happens! The carefully measured propellant charges determine the velocity and trajectory of the bullet. Different powders cater to specific shooting needs.
🛑 Bullet: The heart of the cartridge, the bullet itself comes in various shapes and weights, affecting the ballistic performance and terminal effects.
Advantages 🏆
🔰 It offers significant advantages that contribute to its growing popularity among hunters and competitive shooters. One of its key strengths lies in its superior ballistics. With a flat trajectory and high ballistic coefficient, it ensures accuracy even at long distances, making it an excellent choice for shooting sports or hunting in broad, open terrains.
🔰 Another notable advantage is its noticeably low recoil. Compared to other rifle ammunitions, shooters will experience less kickback upon firing. This results in greater comfort, reduced shooter fatigue, and easier follow-up shots, which can be especially beneficial in hunting scenarios where rapid consecutive shots may be necessary.
🔰 In terms of performance, this ammo is remarkably efficient. The cartridge burns powder consistently, ensuring stable and dependable performance with every shot. This level of consistency is vital in both hunting and competitive shooting, where variability can mean the difference between success and failure.
🔰 Versatility is another strong suit. Whether you're hunting small to medium games, participating in a shooting competition, or practicing precision shooting, this round can handle it all. With its combination of accuracy, low recoil, and consistent performance, it is adaptable to a broad range of shooting applications.
🔰 Lastly, despite being a relatively new introduction to the ammo market, the 6mm Creedmoor has seen a rise in availability. Shooters can now find a wide array of load options to suit a variety of shooting needs, making it an increasingly practical choice for a broad spectrum of applications.
Our Top Pick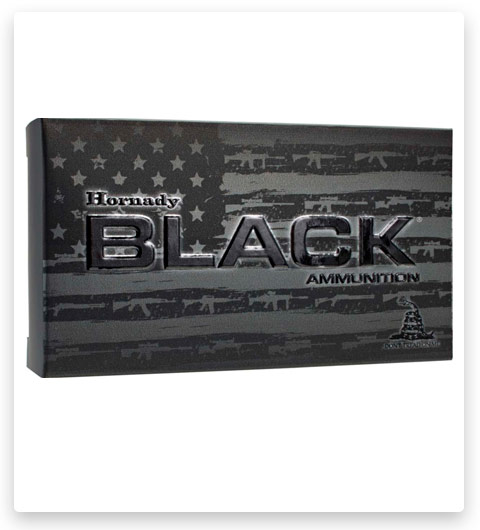 Hornady BLACK 6mm Creedmoor Ammo 105 Grain
These rounds are made with a strong commitment to quality, using carefully selected high-quality cases, primers, and propellant to ensure reliable performance. Whether you're using different platforms, we offer a variety of effective bullet options like BTHP, ELD Match, and FB, designed for optimized performance to keep you hitting your targets easily.
Buy Now On OpticsPlanet
If you click this link and make a purchase, we earn a commission at no additional cost to you.
Types 🔢
| | |
| --- | --- |
| ⭕ Hunting Rounds: These rounds are typically loaded with heavier bullets to ensure deep penetration and expansion on impact. | ⭕ Target Shooting Rounds: Designed for precision and consistency, these rounds are often used in competitive shooting |
| ⭕ Varmint Rounds: These rounds are lightweight and designed for rapid, devastating expansion to quickly dispatch smaller games. | ⭕ Tactical Rounds: Tactical rounds balance the need for precision, reliable terminal performance, and bullet weight. |
Features ✨
This Ammo is designed with specific features that significantly contribute to its performance and versatility.
Precision Design: It is crafted with precision. The bullet and case design work in tandem to ensure a stable flight path and accurate trajectory.
High-Quality Construction: The construction is high-quality, resulting in better durability and uniformity. This feature also contributes to its consistent performance, making it a reliable choice for various shooting applications.
Optimized Ballistics: It is optimized for superior ballistics. Its high ballistic coefficient means it has less drag, allowing it to maintain velocity longer and resist wind deflection more effectively.
Efficient Powder Burn: It boasts an efficient powder burn. This means the powder in the cartridge burns consistently, which results in a stable velocity that improves the ammo's overall performance and accuracy.
Wide Range of Load Options: This Ammo is available in a wide range of load options. This allows shooters to choose the perfect ammo for their specific shooting needs, whether that's hunting, competitive shooting, or precision shooting.
Low Recoil Impact: A standout feature is its low recoil. This lessens the impact on the shooter, reducing fatigue and enabling easier follow-up shots.
These features make the 6mm Creedmoor ammunition a preferred choice for many shooters, ranging from hunters and competitive shooters to those involved in precision shooting.
6mm Creedmoor Ammo Review | Best 6mm Creedmoor Ammo
| Image | Product | Brand | |
| --- | --- | --- | --- |
| | Hornady Precision Hunter 6mm Creedmoor Ammo 103 Grain | Hornady | |
| | Hornady BLACK 6mm Creedmoor Ammo 105 Grain | Hornady | |
| | Nosler 6mm Creedmoor Ammo 105 Grain | Nosler | |
| | Sig Sauer SIG Match Grade Rifle 6mm Creedmoor Ammo 107 grain | Sig Sauer | |
| | Nosler 6mm Creedmoor Ammo 115 Grain | Nosler | |
| | Hornady Varmint Express 6mm Creedmoor Ammo 87 Grain | Hornady | |
| | Hornady Match 6mm Creedmoor Ammo 108 Grain | Hornady | |
| | Sig Sauer SIG Hunting Rifle 6mm Creedmoor Ammo 100 grain | Sig Sauer | |
| | Nosler 6mm Creedmoor Ammo 95 Grain | Nosler | |
| | Remington Premier Match 6mm Creedmoor Ammo 112 Grain | Remington | |
| | Hornady Superformance 6mm Creedmoor Ammo 90 Grain | Hornady | |
| | Sierra GameChanger 6mm Creedmoor Ammo 100 Grain | Sierra | |
| | Barnes Vor-Tx Long Range Centerfire 6mm Creedmoor Ammo 95 grain | Barnes | |
| | Federal Premium GOLD MEDAL SIERRA MATCHKING 6mm Creedmoor Ammo 107 grain | Federal Premium | |
| | Federal Premium BERGER HYBRID BTHP 6mm Creedmoor Ammo 105 grain | Federal Premium | |
1# Hornady Precision Hunter 6mm Creedmoor Ammo 103 Grain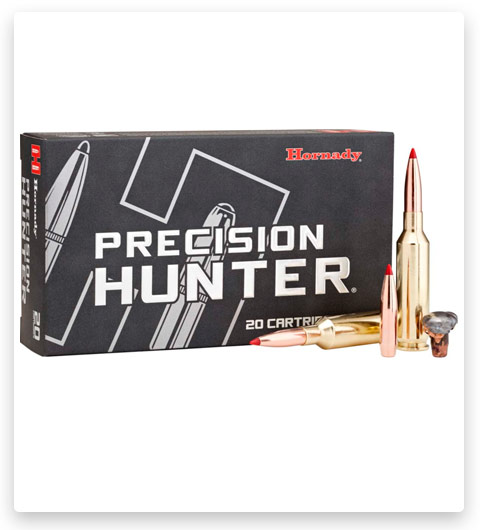 Hornady Precision Hunter 6mm Creedmoor Ammo is the ultimate choice for hunters and shooters looking for the ultimate precision in their shots. Featuring best-in-class BCs, match-accurate hunting bullet designs, and devastating conventional range performance, every round is sure to hit with maximum accuracy and precision. The Heat Shield tip provides optimal aerodynamic heating while maintaining a high BC throughout its trajectory, while the Streamlined secant ogive combined with a highly concentric AMP bullet jacket offers greater aerodynamic efficiency. The thick shank of the jacket and high InterLock ring ensures that each round maintains integrity upon impact up to 400 yards away – providing both sweeping expansion and deep penetration.
2# Hornady BLACK 6mm Creedmoor Ammo 105 Grain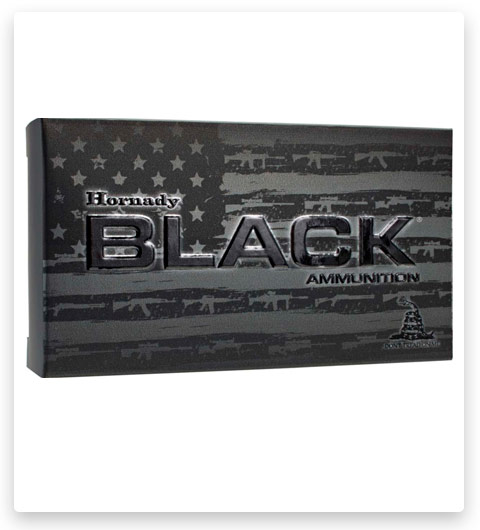 For hunters and shooters who demand the very best in precision and accuracy, Hornady BLACK 6mm Creedmoor Ammo is the perfect choice. Crafted with a commitment to quality, each round contains high-quality Cases, Primers Propellant that has been carefully chosen for reliable performance. Our research has shown that versatility is key, as Hornady provides a selection of effective bullet options with an optimized performance from various platforms. Choose from superior options like Boat Tail Hollow Point, Extremely Low Drag Match, and FB Flat Base – all designed to keep you on target and hitting your mark with ease. All of this comes backed by a legacy of excellence from one of the industry's most trusted brands – offering reliable ammunition that won't let you down when it matters most.
3# Nosler 6mm Creedmoor Ammo 105 Grain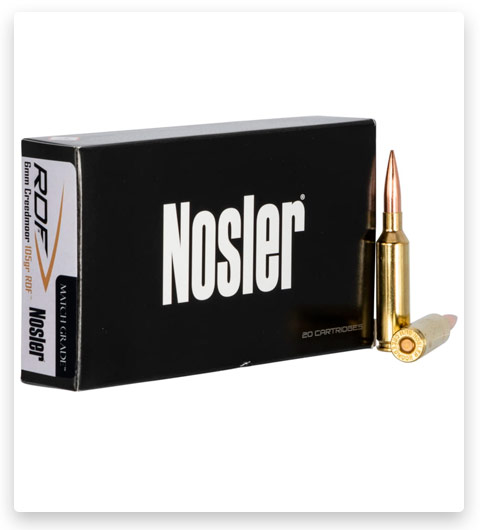 Nosler 6mm Creedmoor Ammo offers the perfect combination of performance and precision. Loaded with match-grade Nosler  Reduced Drag Factor bullets, this ammunition has some of the highest ballistic coefficients in the industry, providing consistent precision and flat trajectory at long range. The meats on these bullets are extremely small for a more accurate shot. As an added benefit, this ammo is loaded into premium Nosler brass with carefully selected high-performance powder charges to ensure accuracy and consistency no matter what you're shooting.
4# Sig Sauer SIG Match Grade Rifle 6mm Creedmoor Ammo 107 grain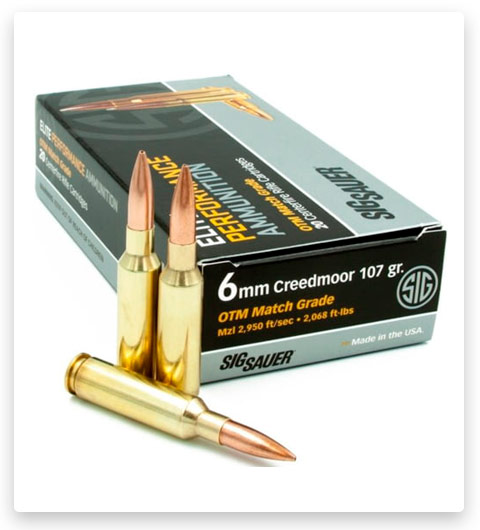 Sig Sauer Match Grade Rifle 6mm Creedmoor Ammo is the perfect ammunition choice for serious hunters and shooters. Made from the highest quality brass material in a cartridge case, it has an open tip match bullet with a weight of 107 grain. Delivering an incredible muzzle velocity of 2950 ft/s, this ammo gives you unmatched accuracy and precision when shooting at even long distances. Additionally, its centerfire primer ensures consistent ignition every time, meaning that you will be able to make consistently precise shots again and again. Sig Sauer Match ammo is used by professional shooters and hunters alike who demand perfect performance and reliable results – making this ammo a must-have for any shooting enthusiast.
5# Nosler 6mm Creedmoor Ammo 115 Grain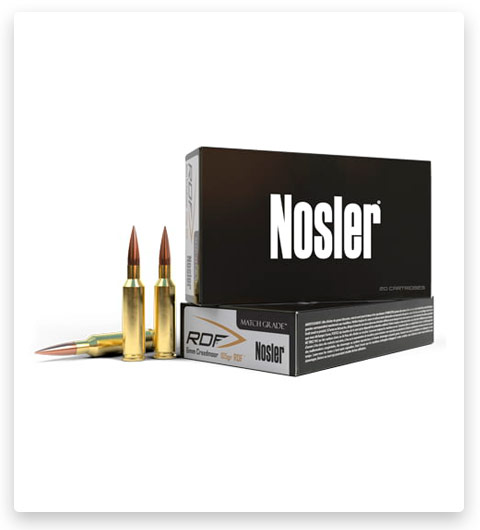 Nosler has revolutionized distance shooting with their new, powerful 6mm Creedmoor round. With light felt recoil and long-range capabilities, this product is perfect for expert marksmen and competition or target shooters. The power of the Sierra Match King RDF bullet means that even at absurd distances of up to 1,000 yards – unheard of in most other rounds – the trajectory stays flat while wind drift is greatly reduced. To maximize the potential of this revolutionary ethos that Nosler has adopted, they have custom-made both the match-grade cartridge and bullet to ensure the highest standards for accuracy for all customers.
6# Hornady Varmint Express 6mm Creedmoor Ammo 87 Grain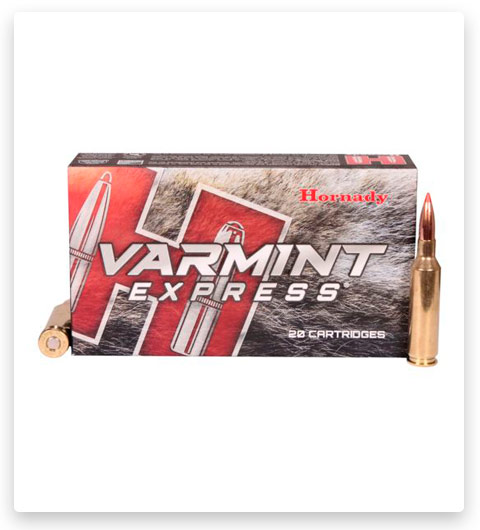 Hornady Varmint Express 6mm Creedmoor ammo is the pinnacle of high-performance ammunition technology. Featuring world-renowned Hornady V-max bullets, these rounds ensure near-perfect accuracy and rapid fragmentation for successful varmint shooting applications. Each cartridge is loaded with select powder chosen to optimize pressure, velocity, and accuracy – plus lot-to-lot consistency – so you can trust your shots each time. Primers are carefully selected and matched to each load for maximum reliability and consistency. To round it all out, Hornady produces most of the brass used in this ammunition in its own facilities to guarantee quality control and reliably hard casing that stands up to even hotter chamber pressures. Go out into the field with confidence knowing you have ammo engineered to deliver precision performance every time you pull the trigger.
7# Hornady Match 6mm Creedmoor Ammo 108 Grain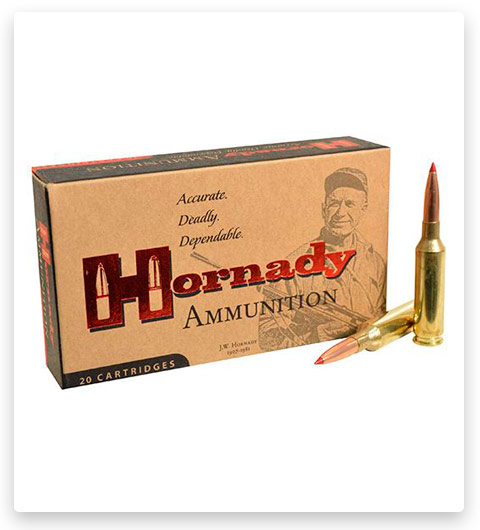 Hornady Match 6mm Creedmoor Ammo provides you with the perfect combination of accuracy and consistency. This ammo features an innovative Heat Shield Tip that creates the ideal meplat, outperforming traditional BTHP bullets. Not only that, each round is loaded with Hornady's expertly designed Match Bullets for unmatched accuracy and AMP bullet jackets for added precision. When it comes to ensuring every single shot is as consistent and accurate as possible, we go above and beyond. We select cases based on precise criteria—including wall thickness uniformity, internal capacity, case weight, and concentric wall dimensions—as well as conducting careful powder matching to each specific load for optimal pressure, velocity, and accuracy in every discharge. Based on our experience with a stringent quality assurance program that tests and measures each round down to its nanometer-level precision, you can trust this Ammo won't let you down.
8# Sig Sauer SIG Hunting Rifle 6mm Creedmoor Ammo 100 grain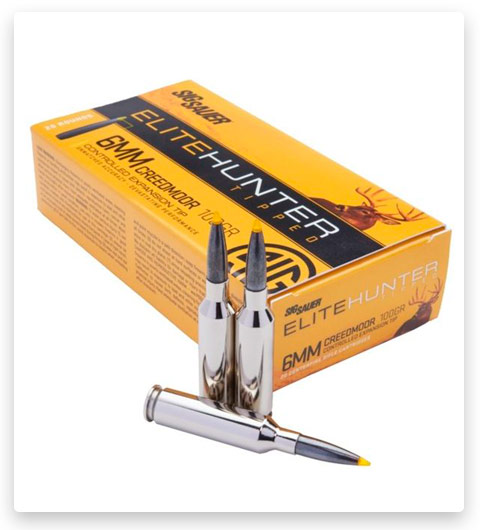 For the serious hunter and shooter, the Sig Sauer hunting rifle with 6mm Creedmoor ammo is designed to deliver on-game performance for medium to big games at extended ranges. Featuring an exclusive jacket design, you can depend on reliable explosive expansion with each shot. The translucent yellow tip increases the ballistic coefficient for improved terminal performance and reliable chambering while an enhanced boat tail design provides superior flight characteristics over a wide range of velocities. What's more; the cases have been crafted around specialized powdered, formulated, and precision loaded to ensure consistent velocities for any atmospheric condition.
9# Nosler 6mm Creedmoor Ammo 95 Grain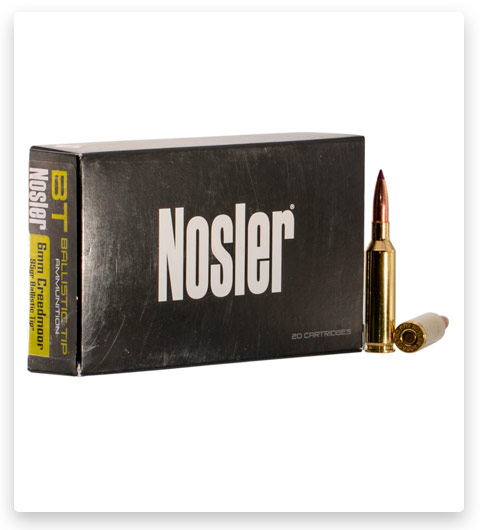 Nosler 6mm Creedmoor Ammo is an excellent choice for the serious hunter and shooter. Engineered with over 30 years of continual design refinement and manufacturing expertise, this Nosler ammo provides a high level of accuracy, penetrating power, and game-killing terminal performance. Its tapered bullet jacket allows for ideal penetration and energy transfer when you need it most. The hunter will get the precision accuracy and performance you know and trust from this ammunition.
10# Remington Premier Match 6mm Creedmoor Ammo 112 Grain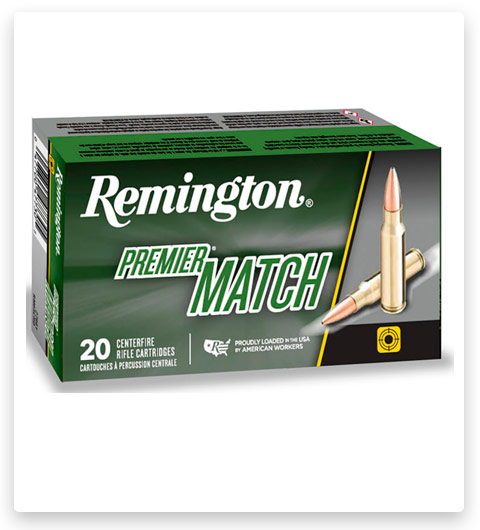 No matter if you're a hunter or a shooter, Remington Premier Match Ammunition is your go-to choice for superior accuracy and on-target performance. Boasting match-grade bullets made using the highest-quality materials, our Premier Match line offers consistent performance every time. Whether it's 223 Remington, 308 Win, 300 Win Mag or 6.8mm Remington SPC—they have the ammo you need to get your shot exactly where you want it. And with each of the cartridges under tons of pressure that tests their mettle, only loadings with top-notch consistency find their way into Premier Match.
11# Hornady Superformance 6mm Creedmoor Ammo 90 Grain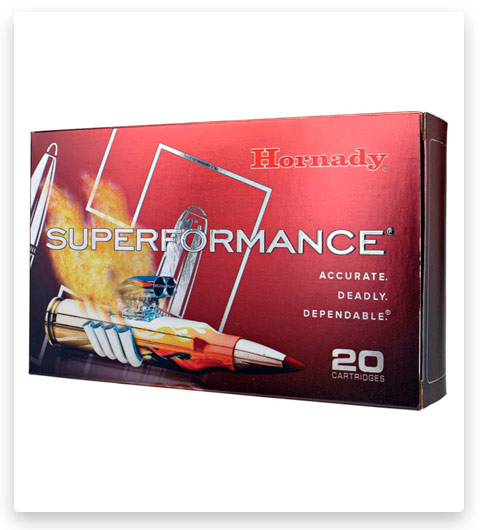 Hornady Superformance 6mm Creedmoor Ammo is the perfect cartridge for hunters and shooters who demand precision and power. These cartridges are loaded with some of the most reliable and accurate projectiles available from Hornady. Powered by proprietary Superformance Propellants, these rounds will provide exceptional performance in any condition. Within each box of ammo lies the promise of unmatched accuracy due to consistent components in every single round – from highly-regarded cases and primers to trusted bullets.
12# Sierra GameChanger 6mm Creedmoor Ammo 100 Grain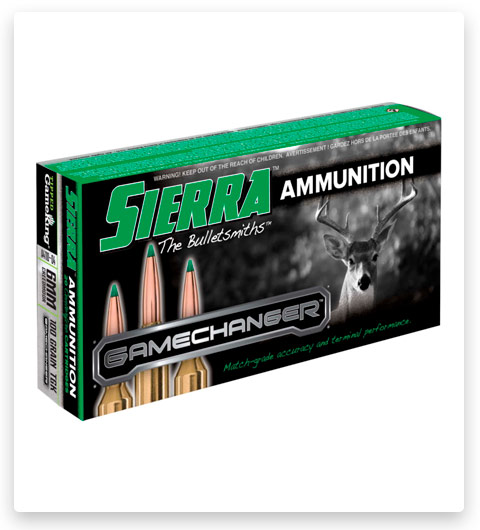 You won't find a more reliable, long-range performer than the Sierra GameChanger  Ammo. This ammunition is specially designed to deliver superior accuracy and performance in precision rifle series shooting, as well as other popular rifle action types. The streamlined bullet design and .515 ballistic coefficient provide maximum wind resistance for enhanced precision, even at long distances. Its advanced expansion upon impact makes it an especially effective choice for deer hunting, providing optimal penetration with every shot. With its durable construction and reliable performance, you can trust this ammo to give you a precise performance with every use.
13# Barnes Vor-Tx Long Range Centerfire 6mm Creedmoor Ammo 95 grain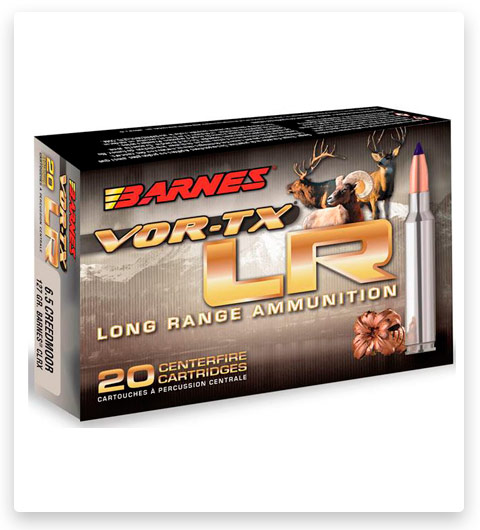 Introducing the Barnes Vor-Tx LR 6mm Creedmoor Ammo – the most advanced, long-range centerfire ammo ever created! This specially engineered bullet is precision-loaded with super-premium components, producing unmatched flight characteristics and unprecedented accuracy. With this ammo, you can confidently hit targets that have been previously considered inaccessible. Plus, the four cutting petals that peel back to create massive expansion deliver identical on-game devastation from close up or more than 700 yards away. In each box, you'll also get ballistic charts so you can identify your cartridge G1 ballistic coefficient at various ranges. For maximum results and exactness in any hunting or shooting situation, you can trust this ammunition.
14# Federal Premium GOLD MEDAL SIERRA MATCHING 6mm Creedmoor Ammo 107 grain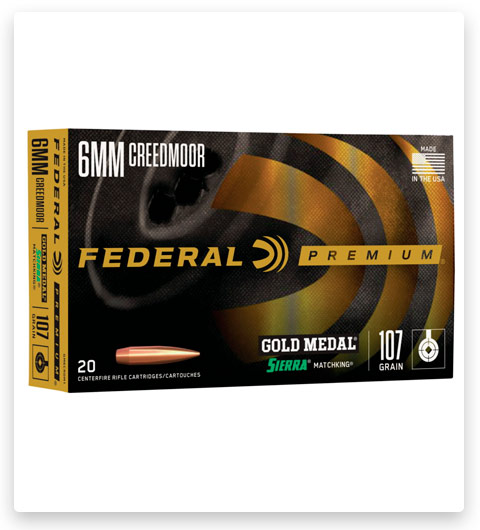 Federal Premium Gold Medal Sierra Matching 6mm Creedmoor Ammo is the best choice for dedicated hunters and shooters who are serious about pushing their range limits. It's the top pick of the world's most elite marksmen, offering superior accuracy and sensitivity beyond traditional firearms. Built with a precision-based Sierra MatchKing boat-tail hollow-point bullet, these long-range shells provide consistent ballistics that helps you get the edge on the competition. With an exclusive primer design matched with Federal brass specially designed for extra accuracy and reliability, this ammo ensures exacting standards for performance.
15# Federal Premium BERGER HYBRID BTHP 6mm Creedmoor Ammo 105 grain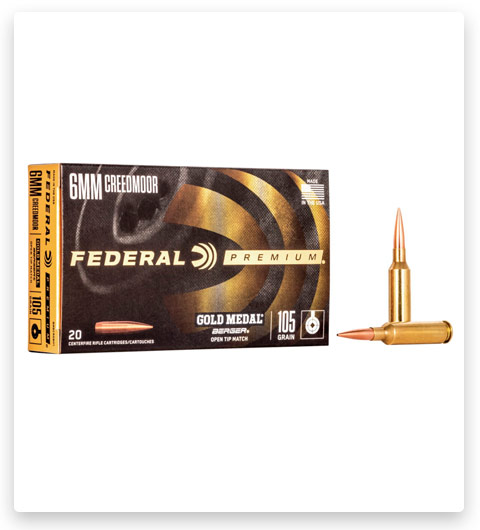 The Federal Premium Berger Hybrid Ammo is preferred by the pros—and now you can experience why. It has won some of the most competitive shooting tournaments due to its impressive ballistic coefficient. So, you know it's dependably accurate and powerful for long-distance shooting—perfect for both veteran and novice hunters and shooters. The unique design of the bullet ensures less wind drift and drop, so even on a windy day or in an unpredictable climate, your shot will be right on target. That's thanks to meticulous craftsmanship underneath the hood, with world-class construction including Gold Medal match primer loading to Federal Premium's tightest specifications.
Reloading 🔄
Reloading can offer shooters additional flexibility and customization in their shooting experience.
⚙️ To begin the reloading process, you'll need a reloading press, the correct size dies set, and high-quality reloading components including primers, powder, and bullets. Start by resizing the spent 6mm brass using your reloading press and dies. This will ensure that the brass is returned to its correct dimensions and is ready to be reloaded.
⚙️ Next, replace the spent primer in the base of the cartridge. Choose a primer that is appropriate for the load you plan to use. After priming the cartridge, it's time to add your selected powder. The amount of powder you use will depend on the bullet weight and the load data you are following.
⚙️ The final step in the reloading process involves seating the bullet. Ensure the bullet is aligned correctly in the case mouth before using the reloading press to seat it in place.
📌 Keep in mind that the reloading process requires attention to detail and strict adherence to safety protocols. Always use trusted and verified load data, and never exceed the recommended powder charge weights. Doing so can result in a dangerous over-pressure situation.
Reloading can be a cost-effective and rewarding endeavor for those looking to tailor their shooting experience to their specific needs and preferences
We believe this video can be helpful for you 📺
FAQ ❓
Conclusion 🤩
Congratulations, sharpshooters! You've reached the end of our comprehensive guide on the Best 6mm Creedmoor Ammo. Whether you're looking for remarkable accuracy, low recoil, or versatile performance, this fantastic ammunition has it all. From the intricacies of its composition to the different types available, we've covered it all! Remember, always prioritize safety when handling firearms and ammunition. Respect your equipment, practice regularly, and enjoy the rewarding experience of shooting with this Ammo. Happy shooting and stay on target!
#Best #6mm Creedmoor #Ammo #Review #Remington #Winchester #Self #Homme #Defense #Hornady #Sale #Ballistics #Chep
Affiliate Disclosure: Rotorm.com sometimes gets paid for listings, through sponsors or affiliate programs like Amazon, Optics Planet, Lucky Gunner, Brownells, Cabelas, Rainier Arms, 5.11 Tactical, Bass Pro Shop, etс. Clicking a link helps keep Rotorm.com free, at no extra cost to you!
About the author: Each article on our site is written by experts in survival and tactical equipment, gun enthusiasts, extreme travelers, military, law enforcement and desperate professionals, read about the author at the bottom of the article or visit "About Us" page.
Note: The views and opinions expressed in this article are those of the authors and do not necessarily reflect the official policy or position of any agency.