Affiliate Disclosure: Rotorm.com sometimes gets paid for listings, through sponsors or affiliate programs like Amazon, Optics Planet, Lucky Gunner, Brownells, Cabelas, Rainier Arms, 5.11 Tactical, Bass Pro Shop, etс. Clicking a link helps keep Rotorm.com free, at no extra cost to you!
About the author: Each article on our site is written by experts in survival and tactical equipment, gun enthusiasts, extreme travelers, military, law enforcement and desperate professionals, read about the author at the bottom of the article or visit "About Us" page.
Note: The views and opinions expressed in this article are those of the authors and do not necessarily reflect the official policy or position of any agency.
We have different preferences and this is reflected in our entire life. Someone loves speed and performance, while someone appreciates the status of a thing and is ready to put up with inconveniences, just to feel the real "spirit of the bygone time."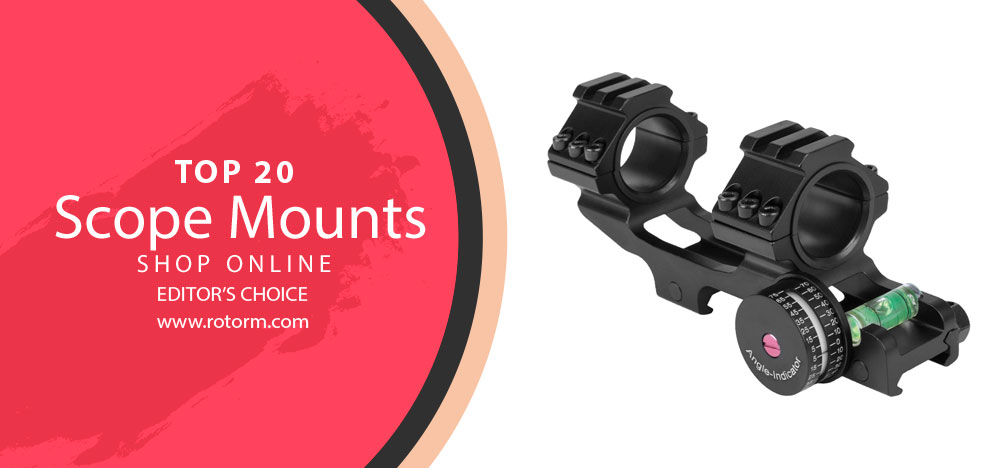 All these and other differences actually unite us. It is thanks to the difference in our preferences that the manufacturers of military weapons and accessories continue to improve and come up with new devices, which means that we all get the best assortment to choose from.
As you might have guessed from the title, today's overview is about scope mounts. This is a fairly large and capacious topic, so we have collected 20 very different representatives of all types of mounts. If your budget is limited to $50 or may exceed $500, you will definitely find something for yourself. Enough words, let's get started!
Best Scope Mounts | Best Rifle Scope Mount
| Image | Product | Brand | |
| --- | --- | --- | --- |
| | Vortex 30mm Cantilever Riflescope Scope Mount | Vortex | |
| | Leupold Mark AR Integral Mounting System | Leupold | |
| | Weaver Thumbnut 30mm Scope Mount | Weaver Thumbnut | |
| | American Defense Manufacturing AD-RECON Scope Mount | American Defense Manufacturing | |
| | NightForce UltraLight Unimount Rifle Scope Mount | NightForce | |
| | Spuhr ISMS 34mm Riflescope Mount | Spuhr | |
| | ATN Scope Mounting System Quick Detach 1-PC Base | ATN | |
| | EOTech PRS 2 in Cantilever Riflescope Ring Mount | EOTech | |
| | Browning 1in Integrated Scope Mount System | Browning | |
| | Aero Precision Ultralight 1in Scope Mount | Aero Precision | |
| | Geissele Super Precision T1 Series Scope Mount | Geissele | |
| | Sig Sauer Alpha Scope Mount Ring | Sig Sauer | |
| | Spuhr 35mm Riflescope Mounts | Spuhr | |
| | Evolution Gun Works Picatinny Scope Mount Mossberg | Evolution Gun Works | |
| | SADLAK M1A Scope Mount | SADLAK | |
| | Midwest Industries Scope Mount Gen2 | Midwest Industries | |
| | Spuhr 34mm Quick Detachable Riflescope Mounts | Spuhr | |
| | Burris Zee Signature 30mm Rifle Scope Mount Rings for Weaver Bases | Burris | |
| | Thompson Center 1 Piece Scope Mount Ring Combo | Thompson Center | |
| | Sig Sauer Alpha Scope Mount Ring | Sig Sauer | |
#1 Vortex 30mm Cantilever Riflescope Scope Mount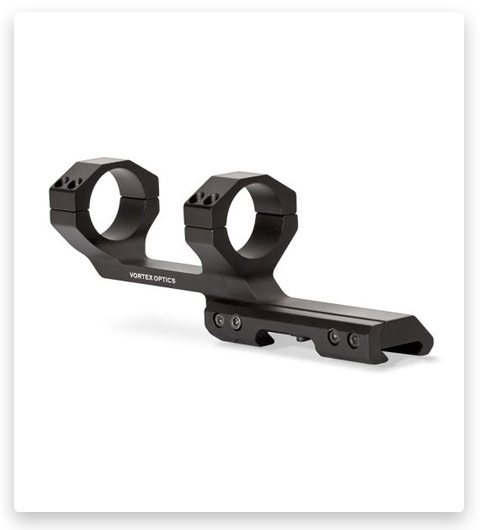 Vortex has created a telescopic sight mount that can interrupt the flat top of the AR-15 into a comfortable spot for precise aiming. The 30mm ring mount is designed for the Vortex Cantilever scope but is compatible with other scopes based on a 30mm tube. One of the fixes for this mount is to orientate with an offset of two to three inches. The 3″ mount allows you to move the scope a little further forward, and the 2″ mount allows you to move the scope a little further back. This way you can achieve an optimal head position while aiming. Incidentally, this is not possible on a direct mount AR-15, so this mount is more versatile.
This vortex biased mount is made of durable aluminum to all high Vortex standards. The relative weight allows for normal aiming without creating excessive tension in the arms. The Vortex Offset cantilever has an optimal geometry with a 2.52″ ring spacing with a 5.26″ front to the rear end of the mount. The height from the center of the rings to the base of the support is 1.59 inches. This is enough to mount a 56 mm lens, the main thing is that the base of the tube corresponds to a 30 mm diameter. The console mount easily integrates with the Picatinny rail, but due to its relatively high height (about 1.6 inches), it has its own peculiarities of use. For example, when installing the A2 front sight, the telescopic sight can see its edge at the bottom. Only at a magnification of more than 3x the front sight leaves the visibility zone.
In good news, Vortex Limited Lifetime Warranty Against Manufacturer Defects and Military Discount for US Defenders. Overall, this is a good product that meets the company's high standards and is well worth the money.
#2 Leupold Mark AR Integral Mounting System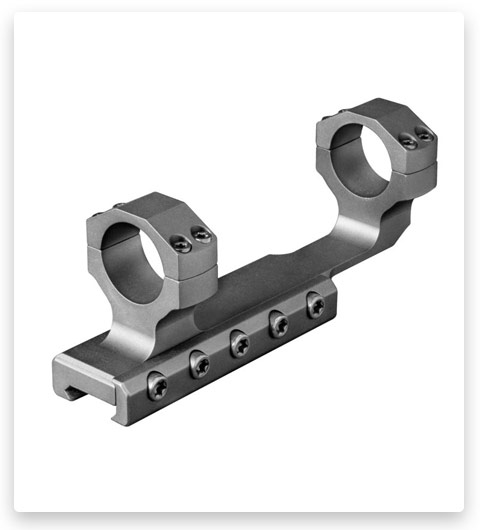 This offering from Leupold includes an integrated mounting system for your riflescope on the flat top of your AR pistol. The Leupold 177093 Mark AR has a long base platform with a 1-inch diameter combo ring. This mount is securely fixed to the Picatinny rail with 5 bolts.
Leupold creates these brackets from ultra-lightweight aluminum. The entire design is optimized for extended use on the shooting range or in the field and weighs only 5.8 ounces! The height to the centerline is only 1.4″, but this is sufficient for most scopes with a 1″ main tube. This mount is manufactured and tested in Beaverton, Oregon, USA. This means you can count on top-notch finishes and incredible endurance, even under heavy kickback conditions.
#3 Weaver Thumbnut 30mm Scope Mount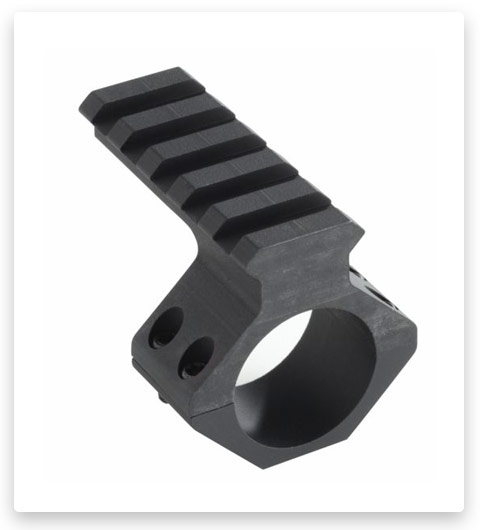 If you are looking for a universal adapter to mount a miniature red dot, flashlight, or laser this platform is for you. The Weaver Thumbnut 30mm Scope Mounted is a lightweight bracket with which your equipment will be securely attached and adjusted in a comfortable range. The base of this adapter mounts on a Picatinny rail, so it is suitable for a large number of guns. The adapter body from Weaver is crafted from ultra-light aircraft-grade 6061-T6 aluminum and weighs just 2.4 ounces. A matte black finish evenly covers the scope holder measuring 3 x 2.25 x 0.3 inches. To securely fix the device inside the ring, it is suggested to use 4 screws (2 on each side).
The manufacturer suggests using this adapter directly on your telescopic sight. In this case, the ring will wrap around the 30 mm telescopic sight tube, and the Picatinny rail will remain free to install an additional flashlight, laser, or other equipment of yours. This mount has a good smooth finish, lightweight, and a very affordable price tag. This can not only hold your telescopic sight but also expands the ability of your weapon to mount additional modules.
#4 American Defense Manufacturing AD-RECON Scope Mount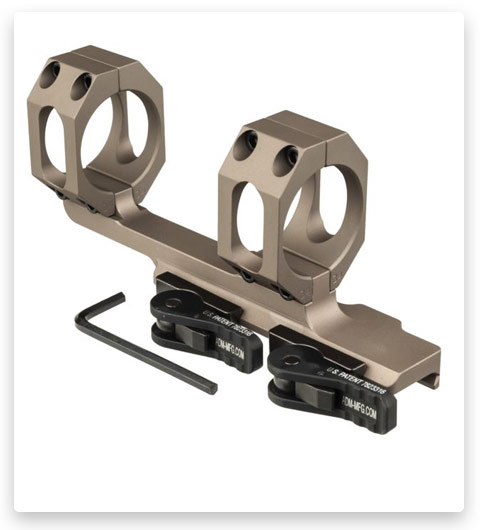 If you value freedom and every minute of your time, consider this offer. Here you can find 24 modifications that are absolutely suitable for any optical sight. Tubing options available: 1 inch / 30mm / 32mm / 34mm / 35mm / 40mm. The most important feature of this offering is the instant on / off mechanism – the QD Auto Lock Lever system. In just 1 minute, you can refill your flat-top AR15 build with your favorite optics already set to zero at 100 yards.
American Defense Manufacturing manufactures these heavy-duty mounts from 6061-T6 anodized aluminum to fit a standard Picatinny rail. This gives the perfect balance of lightness (it weighs just 8.4 ounces), strength and corrosion resistance. The QD Auto Lock Lever system allows the mount to be installed without additional screws or special keys. Turning the double locking levers securely locks the mount at the desired exit pupil distance and your optics is ready to aim. This console mount is an AD-RECON gem and you'll have to fork out to get your hands on it.
The cover of the mount is made of T3 Mil-Spec anodizing and can be painted in classic colors: flat dark earth and black. American Defense Manufacturing provides a limited lifetime warranty on both the cover and the entire mount. The range of compatibility is impressive as well. This system is capable of grasping riflescopes with a working objective of up to 56mm and can be displaced up to 2 inches on rings and glides easily even on non-standard rail systems.
You may have some difficulty with the initial alignment of the reticle. According to the instructions, you must initially tighten the bottom screws so that the vertical rings match the bottom mount. Tightening the upper screws may cause the scope to roll slightly to the side.
Even if you don't achieve the ideal the first time, after just a few tries you will be able to set the reticle correctly. Try to tighten the screws alternately and then the displacement will be minimal.
If you are using an A2 metal front sight, this mount will still work for you. Thanks to the rise to a height of about 1.4 inches and with a magnification greater than 1x, the scopes will not interfere with each other.
#5 NightForce UltraLight Unimount Rifle Scope Mount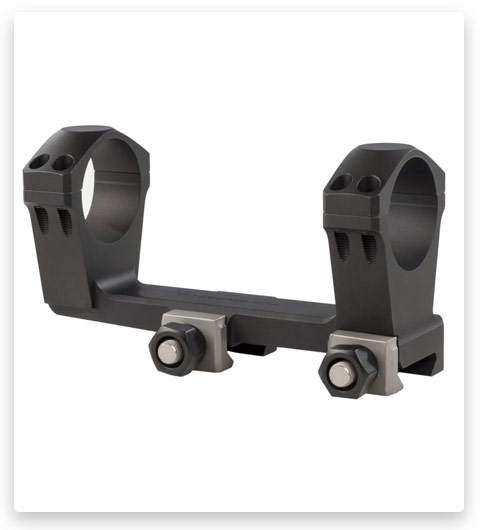 Many optic mount manufacturers have to sacrifice one parameter to improve a certain performance at the expense of it. For example, more rigidity leads to excess severity, and more functionality leads to less reliability. Nightforce UltraLight Unimount can be itself, but it will meet your expectations, despite its diversity. There are 8 models available for different diameters of the main tubes of the optical sights, which means that your choice is limited only by your preferences.
The philosophy of this product is to overcome the laws of physics. The mount is made of aluminum (70-75-T6) using a CNC machine. The strength of the entire structure corresponds to the strength of steel. This has reduced the weight to less than 8 ounces but remains tough and rigorous for accurate long-range shooting. Black anodizing evenly covers the bracket from all sides, looks cool, and protects against corrosion.
Different models of this bracket have their own characteristics. Mounting heights range from 1.25 to 1.5 inches to fit most riflescopes (56mm included). The distance between the vertical rings also varies, but the manufacturer did not specify a specific frame. To get a guaranteed suitable mount, you need to contact the seller and clarify for which scope you are choosing a mount.
Unlike competitors, the fastening system is quite loyal to the user. Vertically pressing the upper arcs makes it much easier to lock the scope and set zero.
#6 Spuhr ISMS 34mm Riflescope Mount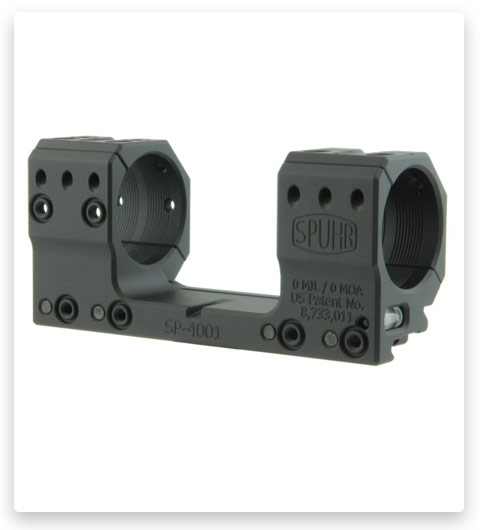 Spuhr has created a list of mounts to be compatible with your favorite optical system. Choosing from 18 proposals, you can choose the mount that suits you with a range of heights from 28mm to 48mm. In addition, depending on your platform, you can choose an angle of inclination from 0 to 20 MOA. The main advantage of this bracket is hidden in the outsole. Here is a bubble level from which it will be much easier to complete the installation and understand what position of the rifle during aiming.
This mount is made from a single piece of sturdy aluminum and has a matte black finish. The rings on these mounts and split at 45 degrees and are 32mm wide. This allows you to hold the telescopic sight securely and see the handles unobstructed, as well as provide a horizontal reference line. The distance between the rings also varies and can be much more than 2.24 inches.
This scope bracket can withstand a lot of roughness or heavy kickback during shots. It was created taking into account many years of experience and consumer interests, which makes it compatible with almost all possible design options for an optical sight. If Spuhr could do it in one modification, it would be too incredible. Therefore, we have to choose the best option for the current combination of weapons and scope. To facilitate the choice, use the help of a consultant. He will narrow the range of choices, leaving only suitable options.
All in all, this is a cool fastening system that is well worth the money. You do get what you pay for, but the price is still high.
#7 ATN Scope Mounting System Quick Detach 1-PC Base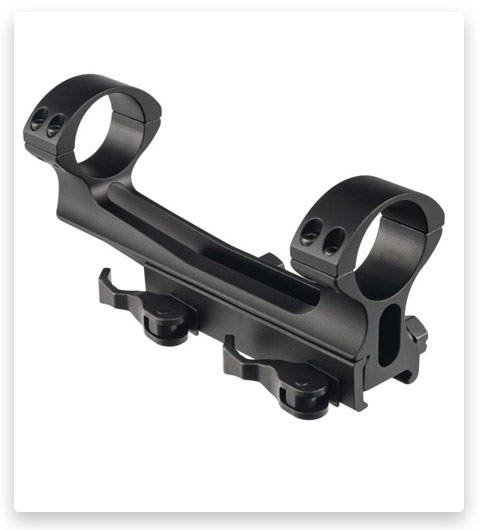 This mounting system from ATN will be a reliable partner for your riflescope with a 30mm working tube. It fits 50mm lenses so you can use it for your premium optics (X-Sight 4K, ThOR 4, ThOR LT, or other). This bracket is quick-release, so you can instantly remove and re-attach it without re-zeroing. It is ideal for field use or emergency deployment. This bracket is made using a CNC machine from a solid bar of hardened aluminum alloy.
This reliability requires an appropriate amount of metal, which is reflected in the weight. This will add approximately 0.58 lb (9.28 oz) to your rifle, which is essentially unimportant since the weight of the rifle and optics will obscure this. Rings are approximately 4.1″ spacing with 1.5″ centerline height. This is designed for professional optical systems, although it can be used with simpler scopes as well.
The main advantage of the ATN QD scope mount is the ability to quickly change between platforms, and most importantly, it remains zero. To install the mount, you will need a Picatinny Dovetail adapter to use this QD mount on an 11mm dovetail. In other cases, it is easy to install and also easy to remove. If you have a bolt action rifle, the scope mount is very high, which is perfectly acceptable for standard rifles (bolt action).
#8 EOTech PRS 2 in Cantilever Riflescope Ring Mount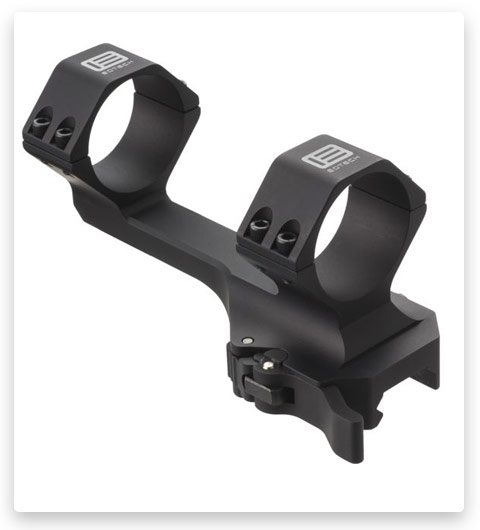 The EOTech cantilever ring mount is the choice of those who value lightness and maneuverability but are not willing to pay huge amounts of money to get a decent product.
The bracket has one mounting point for a Picatinny rail (MIL-STD-1913 rail) and a QD quick lever clamp. You can quickly switch between rifles because the bracket is calibrated to 0 MOA, which means it always finds the previously set zero. There are 2 bracket options available in this offer, for tubes with a diameter of 30 and 34 mm.
The bracket is made of lightweight aluminum alloy. Thanks to excellent design optimization and only one attachment point, the EOTech PRS 2 weighs just 6.4 ounces. Considering that the height to the centerline is 37mm (1.45″) and the distance between the rings is about 63mm (2.5″) the mount can be used for good rifle scopes with a 50mm entrance lens.
The mount design is sleek and streamlined. The uniform matte blackening makes this module what it should be for the AR-15 base color. The 34mm model has a white EOTech logo on the top, while the 30mm version does not. You can also install the mount on any convenient side, even backward. If this helps to position all of your attachments on top and the scope eyepiece is at a comfortable distance, then you did everything right.
Precision workmanship and strict quality control create a good first impression. The mount is lightweight and to some extent even special. It is easy to handle and looks reliable enough.
#9 Browning 1in Integrated Scope Mount System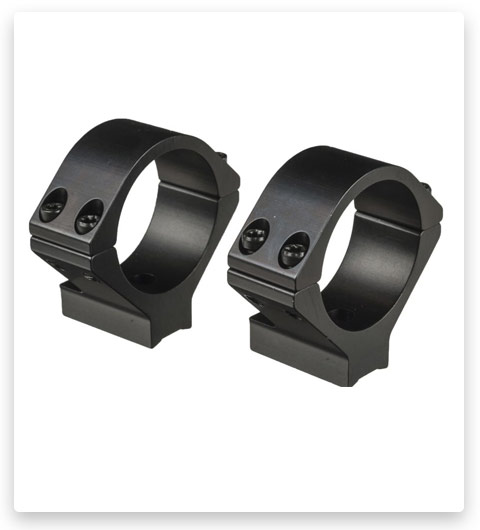 This mount will appeal to all budget-conscious buyers, as its price is quite acceptable for everyone on a budget. The mount consists of two independent rings and rigidly fixes the sight into a single unit. There are 17 models available to suit a wide variety of scope diameters and heights. "Low" mounts are suitable for systems up to 44 mm (up to the barrel contour), and the middle ring height is suitable for systems up to 50 mm.
The mount is manufactured from 7000 series aluminum and finished in a high-gloss black finish. These rings are made by Telli, who were specially hired by Browning. As a result, we got a product with double quality control. It is important to note that the rings do not fit perfectly on 1″ tubing. There is a tiny gap between the receiver and the front base that can be seen from a certain angle. The screws that come with the kit (on the rings) have enough headroom to hold whatever you offer and will even protrude a little. This does not affect the rigidity or ease of installation, but slightly spoils the idea of the "ideality" of the fastening system.
It only takes a few shots to calibrate your optics to 50 yards with this mount. You can rotate the mounts as you like, the main thing is that the exit pupil is conveniently located.
#10 Aero Precision Ultralight 1in Scope Mount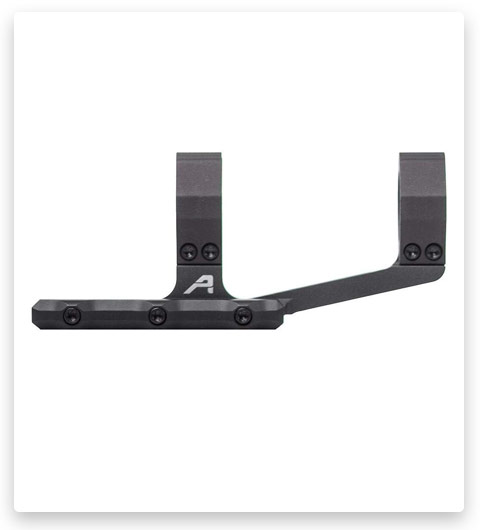 Aero Precision has done something incredible with the Ultralight 1in Scope Mount. It weighs just 3.2 ounces and still remains a solid two-ring mount. Two models are available which are painted anodized black or FDE Cerakote. You can feed a variety of optical systems to this mount, the main requirement is a 1″ main tube.
To achieve this stunning lightness, Aero Precision fabricates its mount from extruded 6061 T6 aluminum. The design is sleek and even a bit airy. The second ring is sent "flying" at a distance of 2.45 inches and rises above the sole at a height of 1.5 inches (to the center-line). The scope is designed for tubes with a diameter of 1 inch, but everything is also provided for using a 50mm scope.
The bracket is as easy to use as it is beautiful. The clamping rings are designed not to cause lateral rotation while tightening the bolts. All in all, it is elegant and well designed. At the same time, the price remains quite affordable, especially for an offer of this quality.
#11 Geissele Super Precision T1 Series Scope Mount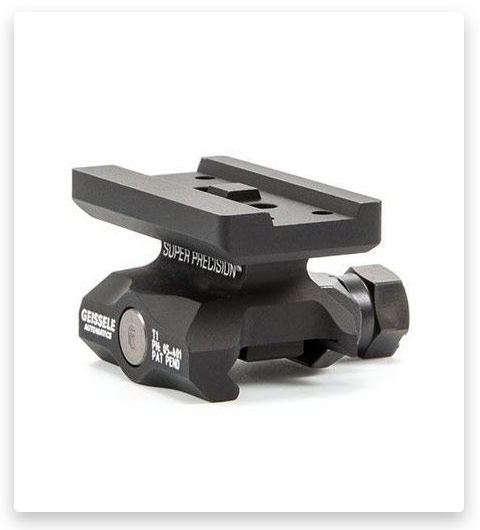 The Geissele Super Precision T1 Series Scope Mount has been designed specifically for the Aimpoint T1 / T2 and similar red dot optics. This bracket has a "death grip" and a 1400-pound force. Choosing from 6 available modifications you can get classic black or desert mud color. It is important to add that Geissele has created a shade of its own, something between FDE and fired bronze.
This mount from Geissele is made from high-strength 7075-T6 aluminum. The lightweight and compact design is 1.78″ wide and 1.93″ high. The 3 shear lugs only add strength and rigidity to the structure. The hard anodized type III coating will reliably protect the mount from your abuse and harsh weather conditions.
It may not be as quick to install as QD, but it is also not difficult. All you need is a 2mm Allen wrench and a ½" wrench. A torque wrench (1 ft / 1 lb increments) is best for controlling pulling force, but unfortunately, it is not always there. In total, you have to tighten 4 screws and one nut and everything is ready to go.
#12 Sig Sauer Alpha Scope Mount Ring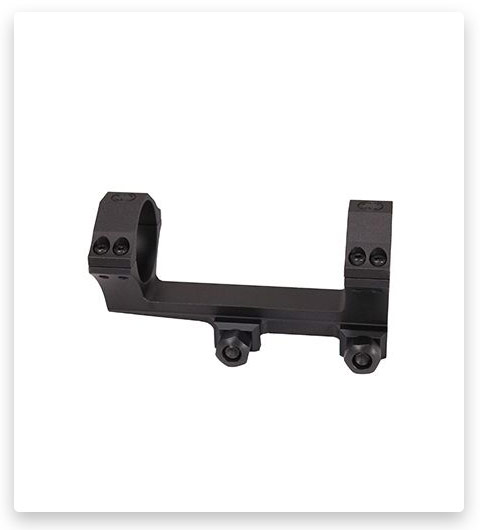 This mount from SIG Sauer was designed as a moderately light yet incredibly strong mount system for rifles with a standard Picatinny rail (MIL-STD 1913) and good optics. It is intended for the medium-range shooting of 500-1000 yards. A simple bracket diagram leaves no doubt about the installation method, everything is intuitively simple. You will need 65″ / lb to secure the 1/2″ nut to the rail and 25″ / lb to mount the scope into rings. There are 10 models for your choice with a working tube diameter of 30 and 34 mm with an inclination of 0 and 20 MOA.
This telescopic sight bracket is made of 7075-T6 aluminum alloy. The ring clamps are made of steel alloy, which keeps the structure lightweight while remaining strong and resilient. The total weight of this module is 5.6 ounces, which is quite acceptable. In addition, the rings are coated with epoxy powder. This allows the mount to remain resistant to external oxidation, gun oil, and many cleaning solutions. You can also choose between classic black and flat dark earth.
The distance between the rings may differ from model to model. For SOA30001, the ring spacing is 1.375 inches, and for SOA30003 it is 1.535 inches with a total length of up to 3.25 inches. A slope of 0 to 20 MOA says this is for medium-range shots of 500-1000 yards. If you prefer targets less than 500 yards away, a 0 MOA mount is fine. If you often have to shoot at distances from 500 to 1000 yards, choose a base with 20 MOA. Remember to consider the base rail slope on the rifle. In the case of adding the two slopes, you can get about 40 MOA which is intended for distances well over 1000+ yards.
Remember that SIG Sauer is backed by a lifetime warranty, which means you are not risking anything. The main thing is to choose the correct working tube diameter and preferred slope. Any of your riflescopes with a lens diameter up to 70mm will be happy to be in the strong embrace of this mount.
#13 Spuhr 35mm Riflescope Mounts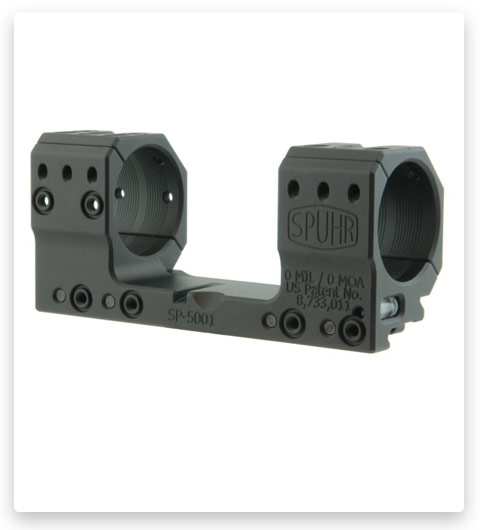 The Spuhr 35mm scope mounts are designed for professional optical systems and heavy rifles for long-range shooting. You can choose from 5 models to suit the needs of large scopes. With a height of 30mm (1.18″) / 34mm (1.35″) / 38mm (1.5″) you can feed the mount with a 50mm lens.
The Swedish manufacturer makes the bracket from 7075 T651 anodized aluminum bar, and of course, adds a black hard finish. There is a small bubble level in the mount's sole, which is designed to facilitate correct installation the first time and easier orientation when aiming from behind the cover. Another design feature of the Spuhr SP-5602 is the diagonally cut rings.
Thanks to this solution, the mount does not move the scope from scratch while tightening the bolts and does not interfere with the use of other devices. The manufacturer also indicates that the mount is adapted for 40 accessories, which is very convenient.
If you need a certain tilt, Spuhr has taken care of that too. 3 models have 0 MOA and 2 models have 20.6 MOA. If your rifle has a tilted rail (e.g. Barrett 27 MOA), you can mount it backward and thereby neutralize excessive tilt (27 – 20 = 7 MOA). This will allow you to aim normally without setting too much lead.
To this 126mm Spuhr mount is added a 10-degree wedge and an instruction manual. All in all, this is a reliable and friendly addition to your rifle. You might think the price bites (and you're right), but you get what you pay for. This item is worth its money and this is confirmed by the impeccable reputation of this mount.
#14 Evolution Gun Works Picatinny Scope Mount Mossberg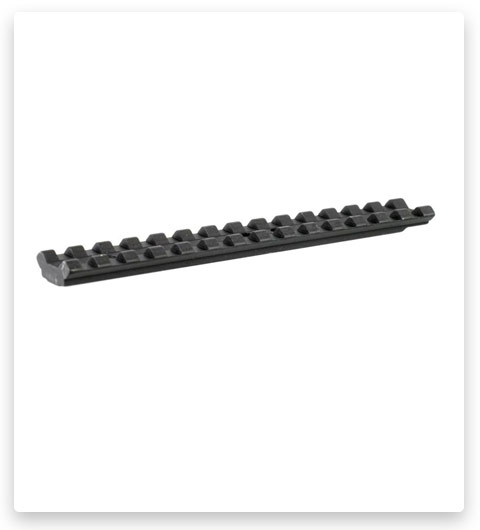 Evolution Gun Works has manufactured the Picatinny Scope Mount so that owners of old weapons can enjoy modern accessories and optical systems using their favorite barrels. Due to the change in production standards in 1997, the weapon received a different arrangement of holes for the set screws. Mossberg has taken into account all customer requests and created 9 models of the full-size Picatinny rail, for those who like to modernize old weapons.
Aviation aluminum 6061 T6 machined on a CNC machine is used to create the rail. The matte black finish is fully consistent with the standard color of most rifles and most optical systems. Depending on the model you choose, you will receive a rail from 5.882″ to 7.064″ in length. The distance between the centers of the mounting holes is also different, 3.02 inches and 4.169 inches, respectively. Perhaps you would like to raise the sole to get a slight slope, and your thoughts were heard. Available in 0 and 20 MOA slopes.
By buying this, you untie your hands and will be able to set the optimal position of the exit pupil where it is convenient for YOU, and not "the only place where it turned out to be installed." In addition, the free space can accommodate other modules and accessories. For ease of installation, the kit has already added mounting screws and blue thread clamps to resist the vibration of shots.
Overall, this is a great product for a fair price. The only danger lies in determining the true date of birth of your weapon, and, accordingly, determining the correct distance between the centers of the holes. If you have any difficulties or doubts, ask the consultant to check your weapon by serial number.
#15 SADLAK M1A Scope Mount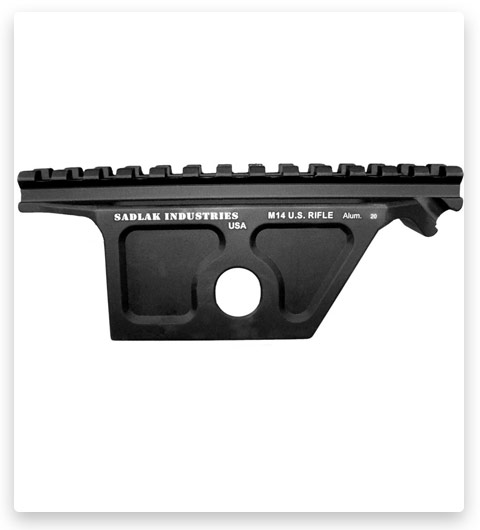 The SADLAK M1A three-point contact mount is designed to make your sight as rock-solid as possible. SADLAK decided to test its product in real conditions and sent the mount to the 10th Special Forces of the US Army. Full USGI specification and incredible durability have been proven.
Various metals are used to make this bracket. Model MPN 140012 is made of aluminum, steel is used for 140011 and 140015, and titanium is used for 140010. As you understand, there is plenty to choose from, which means you can find your compromise between cost, strength, and lightness. The mount rises 6 inches above the Picatinny rail and weighs up to 9 ounces (metal-dependent). The black manganese phosphate coating creates a durable barrier against corrosion and abuse.
The SADLAK mount is quite user-friendly in use. Thanks to the U-rail, you can use the bracket with the scope attached and switch between rifles if necessary. For quick installation, use the supplied Vibrite Allen Wrenches and follow the instructions provided. A special receiver test kit will help you to check if it is installed correctly. In total, the first installation will take some time (up to 1 hour), but the feeling of complete control and resistance as a stone is worth it.
#16 Midwest Industries Scope Mount Gen2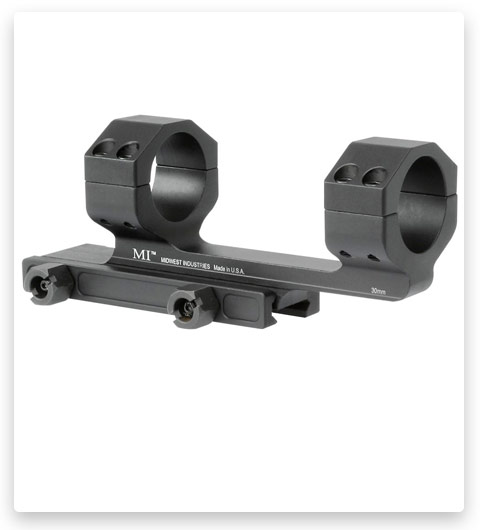 The Midwest Industries mount, offset 1.4 inches to the front, will find a new balance and help with pupil relief. Continuous work to improve a commercially successful product has resulted in the Scope Mount Gen2. This time, even the potentially weak structural elements have been reinforced for endurance even in the most hellish conditions. The planet offers 2 models of brackets, with 30 mm rings and 1-inch diameter rings.
The mount is made of lightweight 6061 aluminum and is carefully CNC machined. The technological process is designed in such a way that during drilling and boring, the part should not get too hot to maintain uniform strength. Also added are double steel locking lugs and a full-depth clamping bar. This mount remains reliable and stable even after hundreds of heavy shots.
Midwest Industries also made sure you can use your favorite scope. The 30mm ring model measures 1.5 inches from rail to centerline and weighs 8.4 ounces. The 1″ ring model is 1.415″ high and weighs 8.1 oz. Each model has a total length of 5.875, with ring widths of 0.85″ and ring spacing of 2.8″. Considering this, we can safely say that the mount is capable of working with lenses up to 56 mm.
This kit also includes ½" locknuts and a lifetime warranty from the manufacturer. Good value proposition with balanced price and hardy addition to your build.
#17 Spuhr 34mm Quick Detachable Riflescope Mounts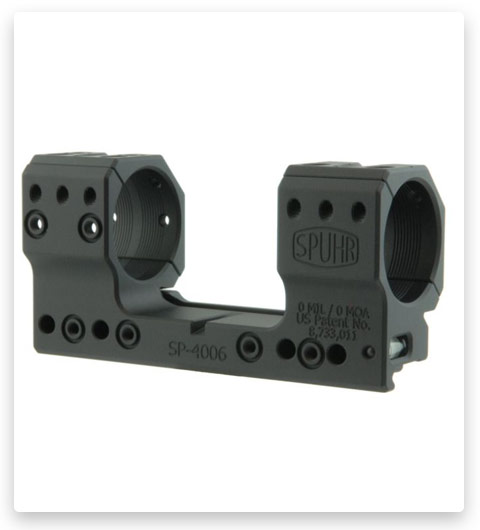 We have already reviewed a similar mount from Spuhr for telescopic sights with a 34mm tube (analog # 13 of our review). In addition to the bubble level, this mount has a QD-type quick-release mechanism. This is definitely a cool addition, but the price addition has become very significant. If that doesn't scare you off, let's take a closer look at the mount.
Just like its brothers, this mount is made of 7075 T651 aluminum. Two versions are available with H34 (0 MIL / 0 MOA) and H38 (6 MIL / 20.6 MOA). Hardcoat black anodizing is hardy and extremely attractive. The split rings also have 45-degree screws to compensate for misalignment during tightening. The built-in bubble level is an additional way of taking care of the shooter.
Changes in the fastening system are reflected in the weight of the bracket. It now weighs in at 9.5 ounces, but that's perfectly acceptable if you go for premium quality. If you are willing to pay the offered price, Spuhr simply must listen to your every comment or request.
#18 Burris Zee Signature 30mm Rifle Scope Mount Rings for Weaver Bases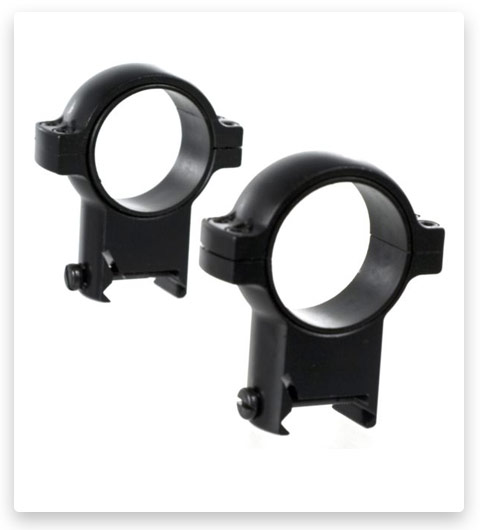 This is a pair of 30mm Burris Zee Signature rings to mount your favorite riflescope on a dovetail, double dovetail rifle, or a Weaver-style rail. Expanding the list of friendly platforms, the manufacturer has created several modifications of mounts, which also differ in height. One mid-height model (0.77″ or 19.6 mm) and two tall models (0.92″ or 23.4 mm) are available.
These rings are made of tough steel to keep them firmly in position despite kickback or rough handling. The matte black finish will not only help camouflage the weapon in the field but will also absorb some of the scratches without visible damage. The position and tilt of the telescopic sight is calibrated using Pos-Align inserts. These overlays will help you add + -10 MOA in the desired direction if you need it. In addition, these soft inserts are excellent at absorbing the impulse of the shot and will keep the coating of your scope in factory condition.
Burris provides a warranty on its products, so you can count on: free repair or replacement (in the event of a breakdown), and you may not even keep your receipt and warranty card. The manufacturer guarantees a no-questions-asked repair. There is a hex wrench included with the mid-height mount, but it is best to have a torque wrench in stock. Manufacturer
Recommended to use 20 in / lb for the scope mount screws and 30 in / lb for the cross screw securely. None of these brackets are tall enough for the AR-15. This is because that the required 1.44 – 1.6 is an unattainable height (for sights with lenses larger than 44 millimeters).
#19 Thompson Center 1 Piece Scope Mount Ring Combo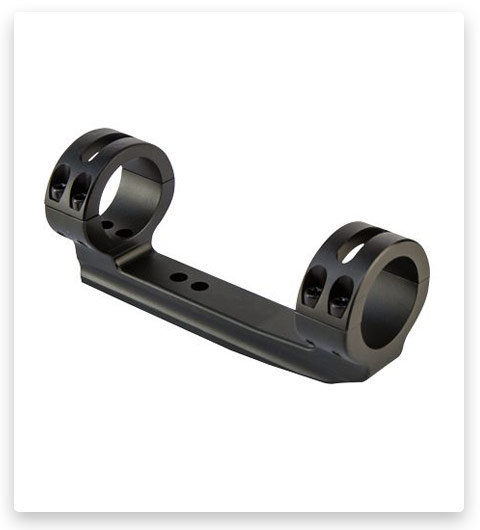 The Thompson Center combo ring is available in 3 versions, for scopes with 1″ tube (1.06″ average height and 1.3″ height) and 30 mm tubes – tall only (1.3 inches). This is suitable for riflescopes with 44mm and 50mm lenses (corresponding to the height). Therefore, you can safely experiment, the price of this product is one of the lowest.
This fixture is CNC machined from a solid billet of aluminum. At 4.25 inches long, it weighs less than 4 ounces, which is hardly noticeable on the gun. Black matte blackening looks right and does not raise questions.
The 1 Piece Scope Mount Ring was specially designed for rifle platforms: T / C Encore, T / C Triumph, T / C Impact, and T / K Omega. However, these mounts will NOT work with Thompson Center Compass, Dimension, or Contender. Apart from this, it is also not suitable for the Black Diamond firearm series.
The installation of this mount is very simple and takes only a few minutes. All the necessary bolts have already been added to the kit and the only thing that you have to do is entrust your favorite rifle scope to this mount. If you have concerns about possible vibration due to the gap between the mount and the platform – use an adhesive product, it will not change anything, but you will get 100% peace of mind and confidence. =)
#20 Sig Sauer Alpha Scope Mount Ring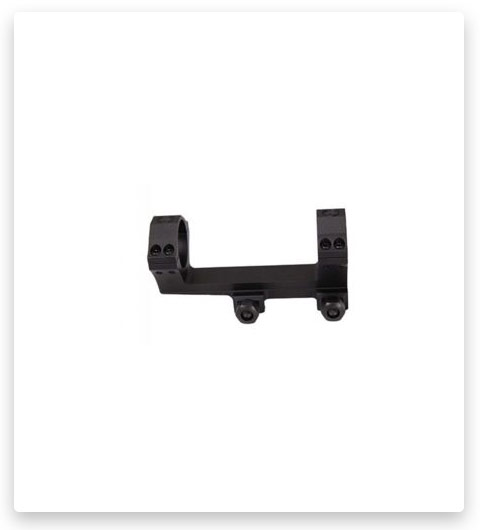 Sig Sauer is the last of the contestants in our review, but not the least. This offer contains 10 different modifications of the Alpha bracket for riflescopes with tube diameters of 30 and 34 mm. At 1.535 inches high, this "AR" platform mount with Picatinny rail (MIL-STD 1913) can accommodate lenses up to 70mm. The mount can be made of aluminum alloy or proprietary steel alloy and have a 20 MOA slope (or no slope).
Depending on some features, the weight of the mount is about 5.6 ounces. With a length of 3″ and ring spacing of up to 3.25″, the rings are offset forward by about 2″, which is quite friendly for most rifles and other accessories.
The exterior also remains spectacular but practical. All mounts are powder coated with epoxy to resist oxidation, gun oils, and cleaning agents. You can also choose between classic matte black or flat dark earth, both are good.
FAQ
Conclusion
We would like to note that our review does not include representatives with a rating below 4 stars. This means that they are all good, although each in its own way. Traditionally, we award only the best of the best (in our subjective opinion). Take a look at these mounts again, they try very hard to please you:
Thanks for your time and good luck!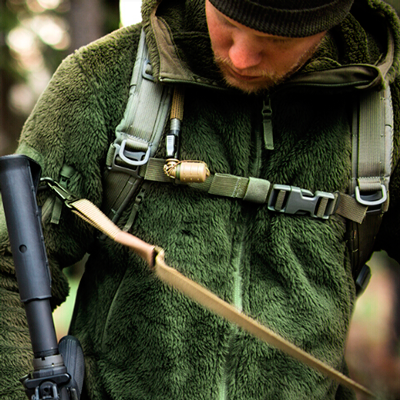 Dmitry Koval
Tactical & Survival Expert
I am from the generation that tried to repeat all the tricks of Jackie Chan, hunted birds with homemade bows, and built my mini-base in the forest. At the age of 18, I was a scout in PLAST (scout organization) and participated in campaigns and quests. Somehow we decided to test ourselves, took our backpacks and walked 50 km (31 miles) in 1 day. We had a lot of fun!
Remembering my past, I ask in bewilderment: "How am I alive after all my adventures?" - harsh trials, reckless parties, love affairs, and a sea of silliness.
My hobbies are weapon upgrades,
tactical gear
, and the latest in wilderness survival technology. I have hundreds of different survival gadgets in my collections, which are sent to me for "test-driving" by Amazon, eBay, and other online retailers. That's what I write about, and I also make YouTube videos about them! Stay tuned!
Read more
about our team
of expert authors.
Tags: #Best #Rifle #Scope #Mount #Reviews #Sale #Cheap #Price #Editor's Choice #30mm #Aero Precision #AR 15 #AK 47 #Mini #Remington #Marlin