Affiliate Disclosure: Rotorm.com sometimes gets paid for listings, through sponsors or affiliate programs like Amazon, Optics Planet, Lucky Gunner, Brownells, Cabelas, Rainier Arms, 5.11 Tactical, Bass Pro Shop, etс. Clicking a link helps keep Rotorm.com free, at no extra cost to you!
About the author: Each article on our site is written by experts in survival and tactical equipment, gun enthusiasts, extreme travelers, military, law enforcement and desperate professionals, read about the author at the bottom of the article or visit "About Us" page.
Note: The views and opinions expressed in this article are those of the authors and do not necessarily reflect the official policy or position of any agency.
Today's market for firearms and other military stuff is pretty big and full of various products. You can buy almost anything! Moreover, you can build your own firearm by purchasing only those parts you want to have. Regarding AR-15s, it's possible to build a better rifle for a lower price that will be exactly what you need.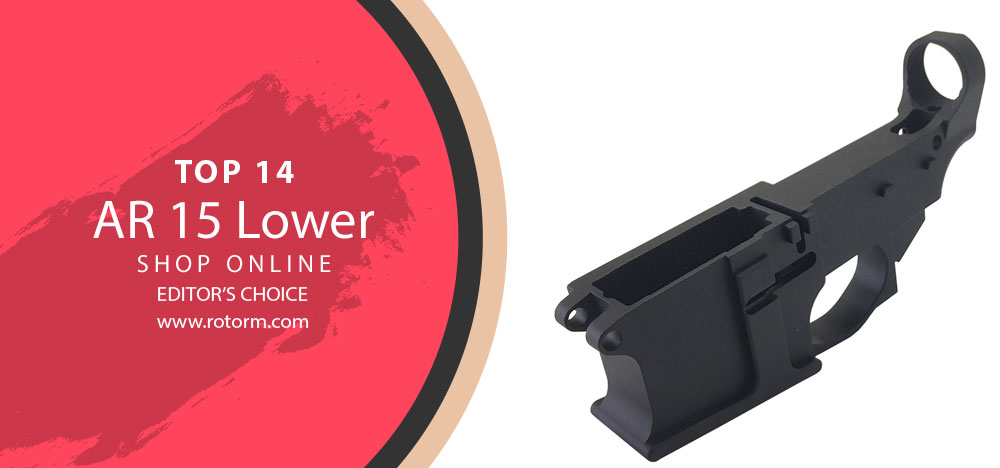 Let's begin with a very important element — a lower part. Without it, you won't be able to hold your rifle and shoot. Usually, a lower part kit includes a pistol grip, hammer, trigger, and a slot for a magazine. However, the complete set may vary. But how to understand which lower part kit (LPK) is better? The variety of models is insane, and they have pretty different prices. Is it necessary to spend a few hundred or are 50 bucks enough? Look at this top 14 to find out what you really need!
Best AR 15 Lower Parts Kit | AR 15 Lower Review
| Image | Product | Brand | |
| --- | --- | --- | --- |
| | CMMG Inc AR-15 Lower Reciever Parts Kit | CMMG Inc | |
| | Product Info for CMC Triggers Complete Lower Receiver Parts Kit for AR-15 | Product Info | |
| | Smith & Wesson AR-15 Customizable Lower Parts Kit | Smith & Wesson | |
| | Bravo Company Gunfighter AR-15 Enhanced Lower Parts Kit | Bravo Company | |
| | Strike Industries AR Enhanced Lower Receiver Parts with Trigger | Strike Industries | |
| | Aero Precision AR-15 Magpul MOE Lower Parts Kit | Aero Precision | |
| | KAK AR-15 Lower Parts Kit | KAK | |
| | TRYBE Defense AR-15 Mil-Spec Complete Lower Parts Kit | TRYBE Defense | |
| | Aero Precision AR-15 Lower Parts Kit | Aero Precision | |
| | TPS Arms Lower Parts Kit Ar-15 Without Fire Control Group | TPS Arms | |
| | Aero Precision AR-15 Magpul MOE SL Lower Parts | Aero Precision | |
| | Tactical Superiority AR-15 Lower Parts Kit A2 Black Grip | Tactical Superiority | |
| | Guntec USA AR-15 Complete Lower Parts Kit | Guntec USA | |
| | RISE Armament Lower Parts Kit Ar-15 Minus Trigger | RISE Armament | |
#1 CMMG Inc AR-15 Lower Parts Kit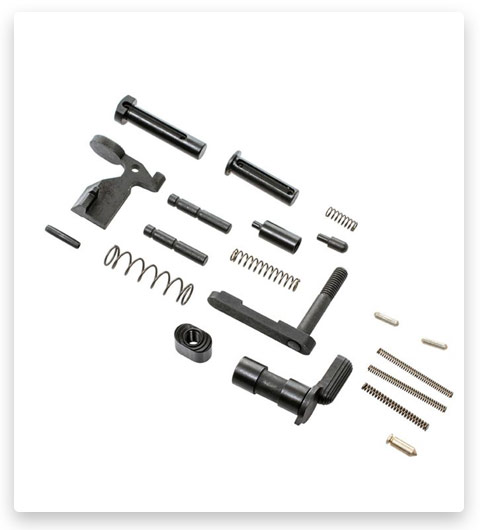 To open our top list, we chose an LPK designed by CMMG. This kit doesn't include a pistol grip with a fire control group and trigger guard. What is great about this model is that it's mil-spec compatible. You can easily use it with any standard rifle to increase the efficiency of shooting. Besides, the price is affordable enough, so you won't regret this purchase.
#2 CMC Triggers Complete Lower Parts Kit for AR-15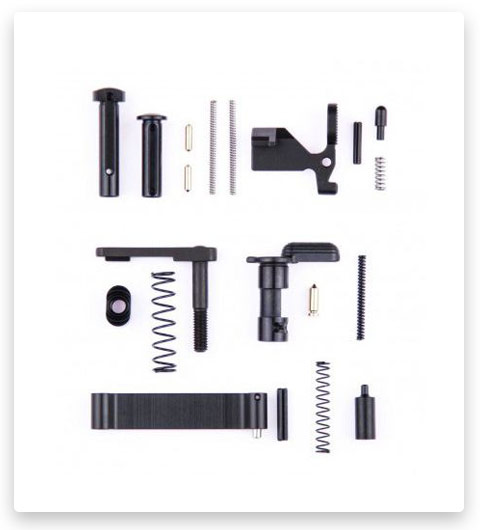 One more example of a similar kit without a grip and fire control group. All the details are made of high-quality steel, which means this lower part is durable enough to serve you well under various conditions. Plus, it's also not expensive, so you can take a look at this model when you are looking for good customization for your rifle.
#3 Smith & Wesson AR-15  Lower Parts Kit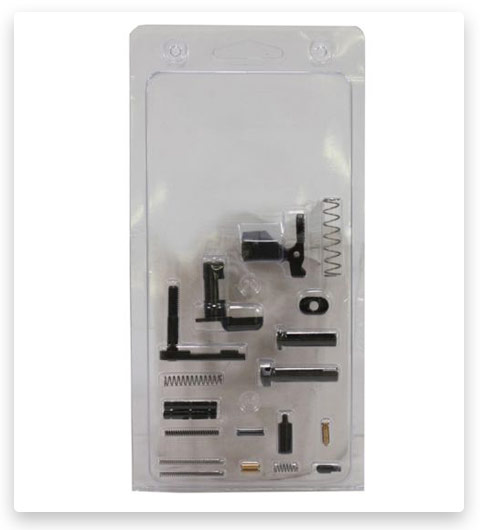 A lower part by Smith&Wesson is a favorite choice of many customers because it's a great, reputable brand that knows how to make high-quality, beautifully designed products. In this kit, you will find all the necessary details, pins, and springs to customize your AR 15. Add a good trigger to this kit if you want to make it even better. Compatible with mil-spec standards.
#4 Bravo Company Gunfighter AR-15 Lower Parts Kit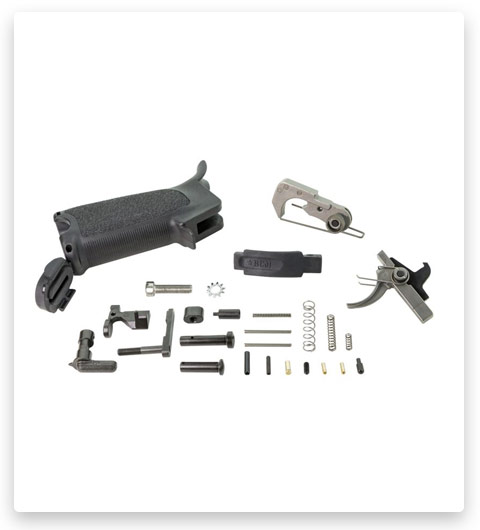 If you are not a fan of searching for necessary elements separately and you want a full bundle of well-designed details, this kit will be a great choice. A high-quality BCM trigger assembly, trigger guard, pistol grip, mod 3, and other details with an electroless nickel finish will provide you with the smoothest operation and the best shooting experience. In addition to this, this lower part is pretty easy to install. You don't have to ask a specialist to help you. Customize your rifle on your own as you wish using only the best products.
#5 Strike Industries AR 15 Lower Parts Kit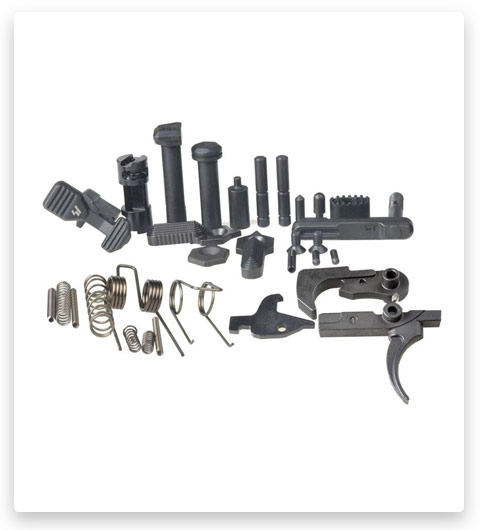 There is also a good mix of the previous models: a kit that has everything, except for a grip. Many shooters are satisfied with their grips and they don't want to spend more money, which is pretty understandable. But it doesn't mean they don't need a good lower part with a trigger, hammer, and disconnector that are durable and corrosive-proof, thanks to the phosphation and precision cut. Besides, the kit also has an improved bolt catch with a better grip surface to increase your shooting efficiency.
#6 Aero Precision AR-15 Lower Parts Kit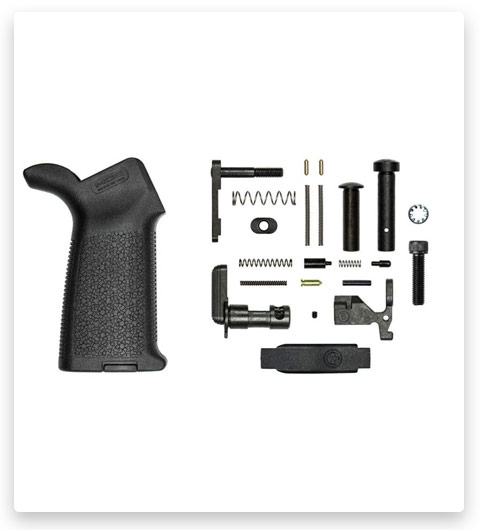 This model differs from those we have reviewed because it has two variations: you can choose a lower part kit with or without a fire control group. Plus, there are two available grips to choose from: MOE and MOE SL. What comes to particularly this kit, it has no FCG in the complete set and it's available in black or flat dark earth color. This is a nice solution for those who like to have many customization options.
#7 KAK AR-15 Lower Parts Kit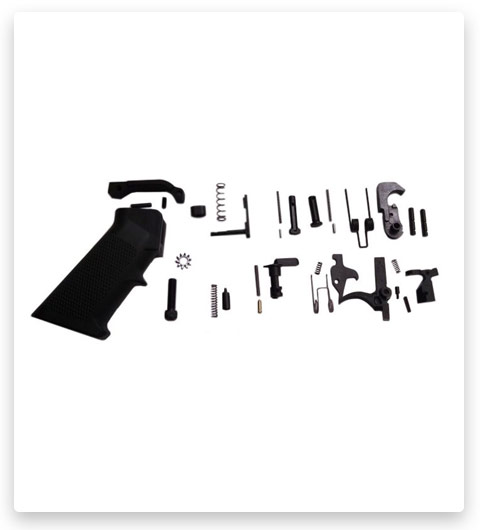 This is a very standard kit for those who need nothing but a custom lower part for more comfortable use. It doesn't have outstanding features or unique components — it's just a good, solid lower part that offers all the necessary details at a low price. So if you want something simple, affordable, and reliable to make your AR-15 a little better, go and buy this kit.
#8 TRYBE Defense AR-15 Mil-Spec Lower Parts Kit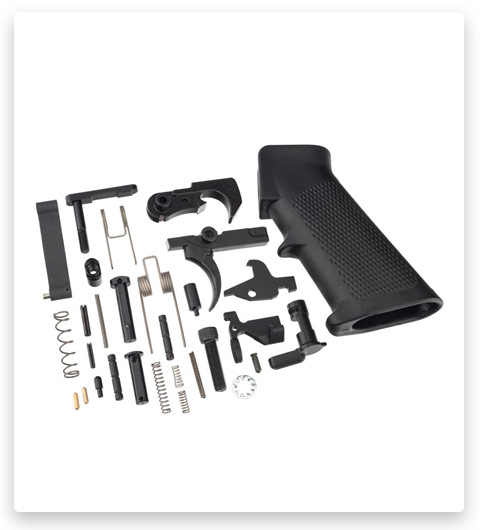 One more complete lower part kit for a very affordable price. All the details are designed accurately to fit your AR-15. This kit includes everything you need: hammer, trigger, bolt catch, buffer retainer, magazine catch, pistol grip, necessary pins and springs, and so on. You will never get disappointed by this product.
#9 Aero Precision AR-15 Lower Parts Kit
This is the second variation of the 6th position. What comes to this kit, it comes with a MAGPUL MOE SL grip and MOE trigger guard. Other elements are quite the same, you can view the full list on the site. What's great about these lower parts is that they are interchangeable.
#10 TPS Arms Ar-15 Lower Parts Kit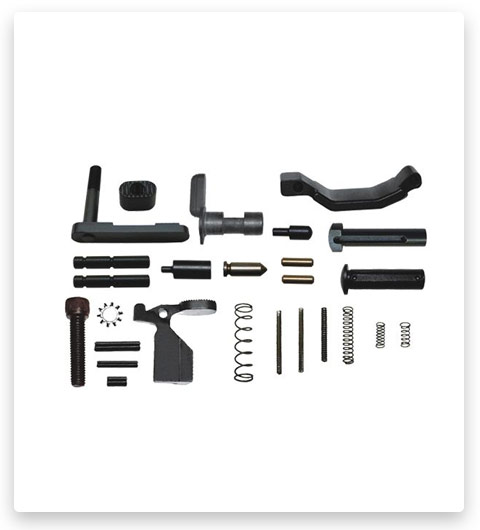 Going back to kits with no fire control group included, this model designed by TPS Arms is considered to be one of the most authentic and popular on the market because this brand is very reputable. However, there is nothing much to say about this kit. It's better to try it on your own if you are looking for a lower part without a fire control group.
#11 Aero Precision AR-15 SL Lower Parts Kit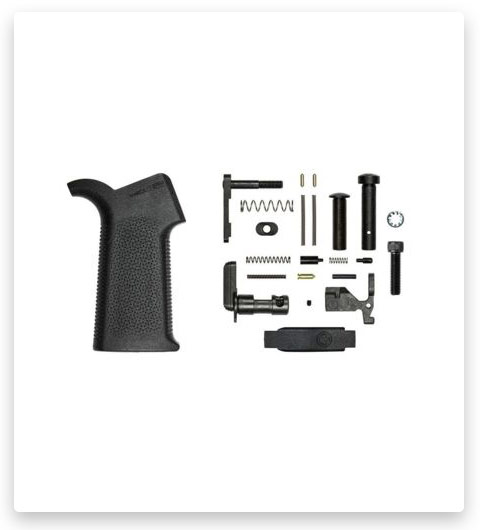 Another variant of the lower part kit by Aero Precision. This one is for shooters who search for a good lower part with a MOE SL grip and MOE trigger guard but without a fire control group. Such a complete set is much cheaper, which may be a crucial aspect of choosing the right kit. It could be reasonable to keep an existing FCG or to buy it separately.
#12 Tactical Superiority AR-15 Lower Parts Kit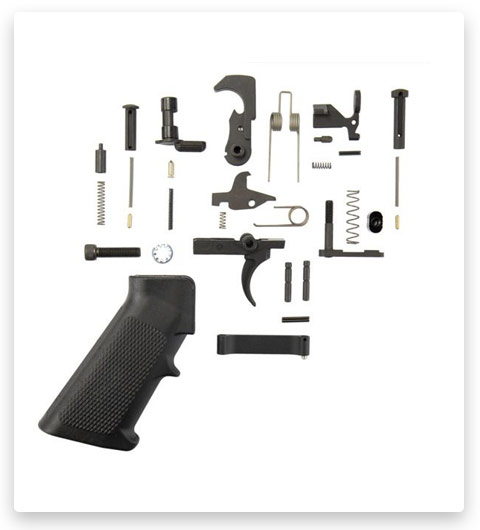 What comes to affordable kits, this one is also our favorite. It provides you with everything you need, despite its price is low. The only downside of this model is the compatibility, so not all of us can enjoy such a lovely lower part. Don't be afraid to purchase this model if you have a suitable rifle.
#13 Guntec USA AR-15 Lower Parts Kit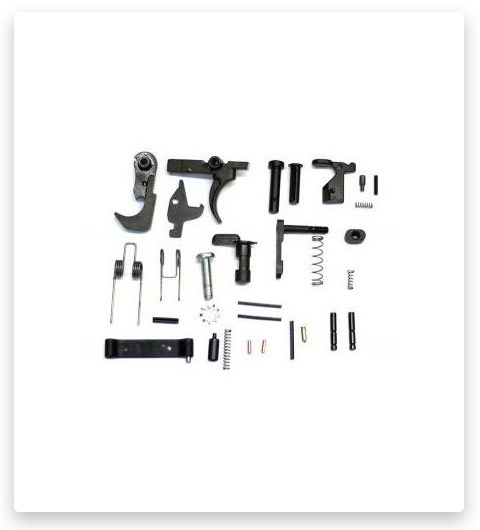 Although the name says that it's a complete kit, this kit doesn't contain any pistol grip, which makes it a little expensive. On the other hand, this is a very durable, easy to use the lower part that provides you with a smooth operation. The details are made of high-quality materials, so you don't have to worry about the lifetime of this lower part.
#14 RISE Armament AR-15 Lower Parts Kit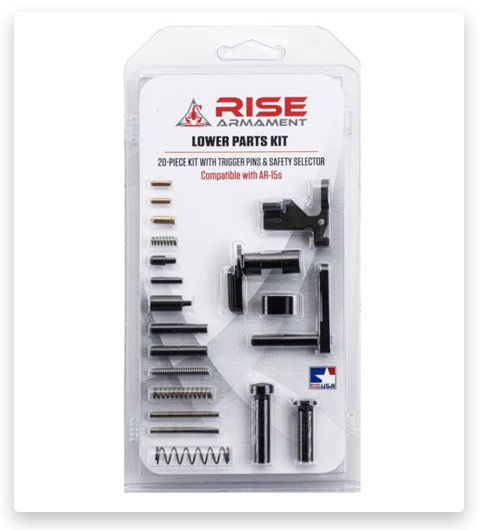 To end this list, we'd like to represent a good kit that consists of 20 pieces with standard trigger pins but with no trigger. It's cheap and straightforward, so you can buy it, no matter how skilled you are. Plus, it's good to have an opportunity to modernize your rifle with different elements.
FAQ
Conclusion
We believe that all models on the list are great and worth trying. But we also think that there are a few lower part kits that should be pointed out.
The best cheap models:
The best pricey models:
Tags: best ar 15 lower, best ar 15 lower receiver, best ar 15 lower parts kit, best ar 15 lower receivers, best ar-15 lower, ar 15 lower receiver, ar 15 lower parts kit, ar 15 lower assembly, ar-15 complete lower, ar 15 80% lower
#Best #Lower #Parts #Kit #AR 15 #Assembly #Receivers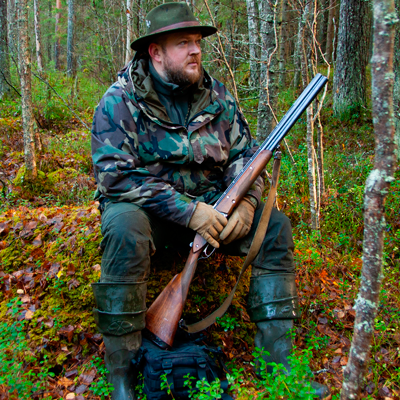 Max Endless
Weapon Expert & School Teacher
Hi, I'm Max. I'm a weapon expert and a teacher of English from Belarus. These two qualities allow me to share my opinions and observations about news from the gun world. I'm really into firearms and different weapons because I was learning about them since my childhood.
My life has taken me through different complications and exciting moments, so what I've learned is to always be ready to fight. My father is professional military personnel and he made me familiar with various weapons since my childhood. My first one was a bow, and then I started to have a fancy for this unbelievable world of firearms. My main specialization allows me to share my thoughts about different devices, guns, and gun details with the English-speaking community. In my articles, I talk about pistols, rifles, knives, shotguns, and many other tactical and survival things.
Read more
about our team
of expert authors.