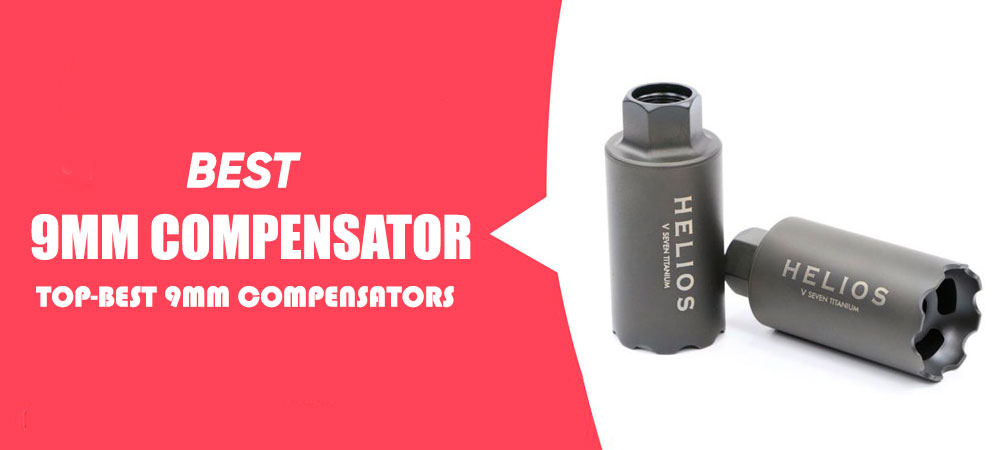 Muzzle brakes and compensators for 9mm pistols are overgrown with many myths and legends. Many consider it a toy improvement until they feel the obvious difference themselves. If you're willing to trade between $30 and $130 for more accurate and faster shooting, you'll love this.
Today in our review there will be a variety of muzzles. Some of them have an innovative design, some have been proven by time and millions of rounds. Stay tuned until the very end and we will try to find the best update for your build and of course we will answer the most frequently asked questions. It's time to start!
#1 ZEV Technologies PRO Glock V2 9mm Compensator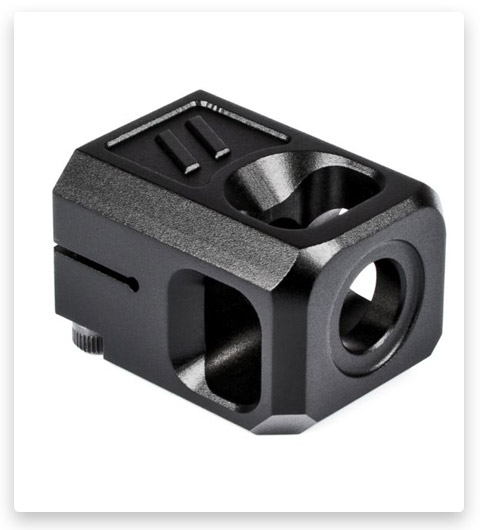 This COMP improves the accuracy of your 9mm Glock by reducing muzzle deflection. ZEV Technologies has created a compensator that is guaranteed to send your bullets, if not to the very center, then much closer to the target. The offer is available in two versions, for 1 / 2×28 right-hand threads and 13.5×1 left-hand threads.
PRO Glock V2 is a stylish black nitride trim and rectangular structure. This lengthens the barrel a bit, but continues and emphasizes the contours of the Glock 19. This actually fits any 9mm Glock. ZEV Technologies could do something abstract and versatile, but, likely, that it will not find its buyer. Therefore, a specific G19 was taken as a basis and an optimal design and functionality were created for it.
The PRO Glock V2 releases propellant gas through contoured holes specially designed for standard cartridges. The goal of achieving optimal recoil is excellent, the barrel has reduced displacement very significantly. But this creates an "unfavorable radius" around the shooter. Close neighbors in the shooting range will get an air blow right in the face, but this is the price you are forced to agree to when buying this product.
The thread on this Comp does not leave a chance for muzzle gases, so the use of a sealant is optional. And you need to be aware that the assembly and disassembly process will be very frequent. Due to the elongation of the barrel, the standard holster is no longer suitable for carrying and storage. This is an absolutely successful compensator, it works as advertised, but has several disadvantages that you shouldn't forget.
#2 Odin Works Atlas 9mm Compensator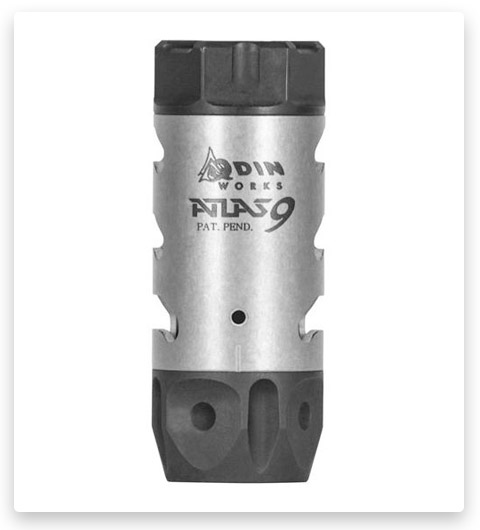 This expansion joint is constructed from very strong 416R stainless steel. The barrel gas evacuation system simultaneously directs the throwing impulse in different directions and thus creates balanced calm.
This expansion joint is foldable in three parts and has a modular design. The core and cover are partially nitrided to black and look very cool. The shine of stainless steel and the black belts on the bottom and top look attractive. By the way, the bushing used for synchronization and tuning is made of titanium. As you might have guessed, it is very strong and durable.
The installation of the expansion joint is also simple, pleasant, and unpretentious. Additional washers and spacers are not required. This means that the installation speed depends only on your dexterity and the correspondence of your 9mm barrel to the 1 / 2×28 thread.
This muzzle is felt confidently, but a little cumbersome. The 2.56 in length by 1 inch in diameter provided a 4.1 oz weight. This can cause some difficulty for quick successive pistol shots, due to the longitudinal movement of the barrel during the shot.
#3 Yankee Hill Machine Slant 9mm Compensator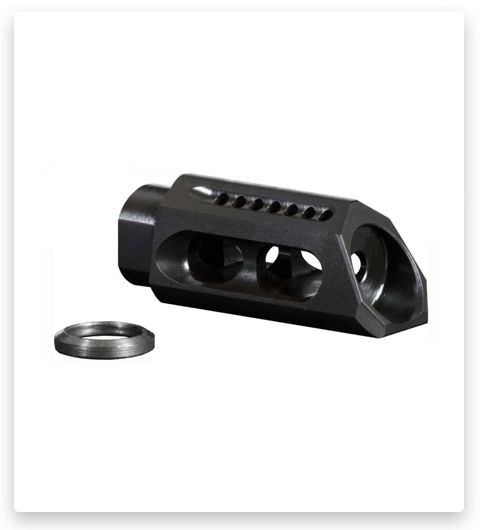 The Yankeehill Machine has long earned a reputation as a reliable manufacturer of true combat masterpieces. This time our review includes the Slant Muzzle Brake for 6.8 / 7.62 / 9mm. Thanks to the 1 / 2×36 right-hand thread, the steel expansion joint is very securely attached to the barrel and provides a comprehensive absorption of the powder gas impulse.
With this muzzle, you can count on accurate double shots at 25 and 50 yards. Accuracy enough to hit a beer can twice in a row! This is a really tempting offer considering that buying this kit won't make you bankrupt.
The muzzle brake is made of heavy-duty steel and machined to perfect surface smoothness and sharpness on every bump and rib. As you can see, the expansion joint design is very aggressive. This will protrude an additional 2.6 inches further and may create a slight imbalance. The most interesting thing is that this is how it should work. This is exactly what will make your barrel jump less when firing.
The expansion joint is very easy to install. Use a washer to get the desired positioning and a secure fit. This is suitable for all calibers smaller than 9mm and works great even with 7.62 x 39. The compensator takes the gas away from the shooter and redirects it to other directions, which can interfere with neighboring shooters.
#4 TANDEMKROSS Game Changer PRO 9mm Compensator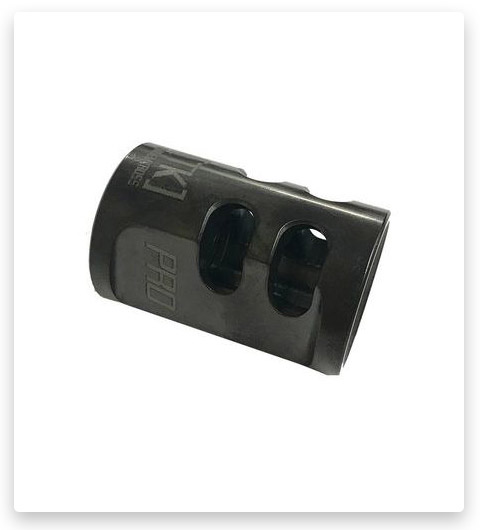 TANDEMKROSS Game Changer PRO Compensator for Ruger is a compensator with which you can freely compete with the best shooters in the competition. Even by shortening the interval between shots, you will not feel the strong resistance of the barrel and will be able to quickly switch between targets, making accurate shots. This little barrel add-on can change the way you think about expansion joints for many reasons. Let's talk more about this.
The structure of this expansion joint was developed, tested, and adjusted by the TANDEMKROSS engineering team. The steel compensator releases barrel gas at a 45-degree angle to the barrel. By directing gas jets in different directions, the muzzle brake significantly reduces recoil and does not distract the shooter from aiming.
This offer consists of 4 models, which are essentially double versions of 9mm and .22. You can choose between two calibers and two designs (polished stainless steel and nitride black). The difference is not only in color but also in the availability of the patented Easy-Clean coating, which minimizes the maintenance of this module.
Game Changer PRO is very easy to install and compatible with a huge list of pistols. The main requirement is that the barrel is a 1/2 x 28 thread standard. The kit is completed with an O-ring and washer, which makes installation even easier.
When it comes to using this compensator on the range, it is very convenient. At 0.99 inches in diameter and 1.5 inches high, it weighs just 2.83 ounces. Recall, this is steel! Only titanium can weigh less, but that would increase the cost manifold. You should also not worry about the durability of this expansion joint. By purchasing this you get a lifetime warranty, which always instills a sense of security and reliability.
#5 SLR Synergy Linear Hybrid 9mm Compensator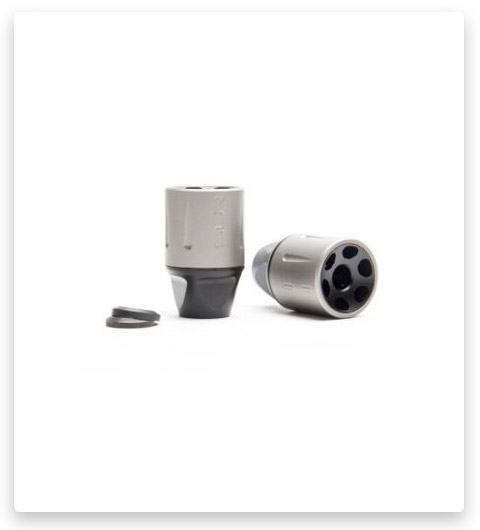 The strength of the SLR compensator lies in its effectiveness. It creates a dispersion of the gas cloud in front and significantly reduces the recoil and thunder of the shot. The manufacturer provides 2 models of expansion joints for 9 mm pistols. When choosing one of them, pay attention to the thread standard. You can choose between a 1 / 2×36 right-hand thread or a 13.5×1 left-hand thread.
The expansion joint consists of a steel core and a titanium sleeve. If you need tank strength, this linear hybrid expansion joint can provide it. This compensator increases the bore diameter to 1.52″ by 2″ in length. This adds up to 4.4 ounces, which has a very noticeable effect on the balance of the pistol. It feels like a good and beautiful compensator with which your assembly becomes truly complete.
#6 Agency Arms Single-Port Gen-5 9mm Compensator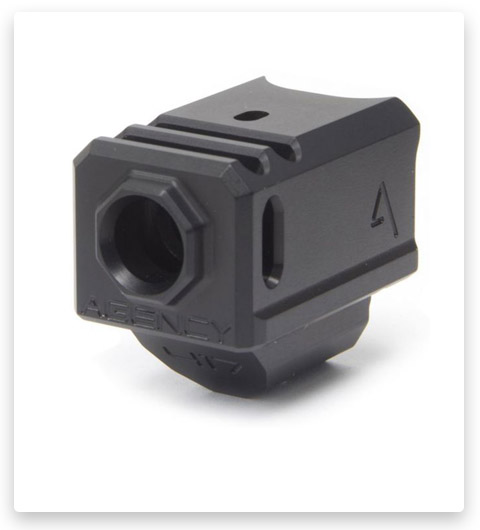 The 417 Gen 5 single-port compensator is a completely different muzzle philosophy. It includes a single chamber with vertical gas release and a place for installing the front sight at the very edge of the elongated barrel. Now you can move the front sight from the shutter and shoot even more accurately.
The compensator is made from 7075 aluminum coated with MIL-A-8625 black anodizing and is suitable for barrels that protrude at least 0.715 inches. Threads must be 1 / 2×28, which is suitable for a wide range of Glock GEN5 pistols (G17, G19, G19X, G34, and G45).
The compensator shows the best efficiency when working with heavier ammunition, but everything goes fine when working with factory ammunition. Installation is also easy. Includes: 2 set screws, hex wrench, and a bottle of red Loctite. By purchasing this you are getting a decent product, but it will require a corresponding payment.
#7 V Seven Helios Linear 9mm Compensator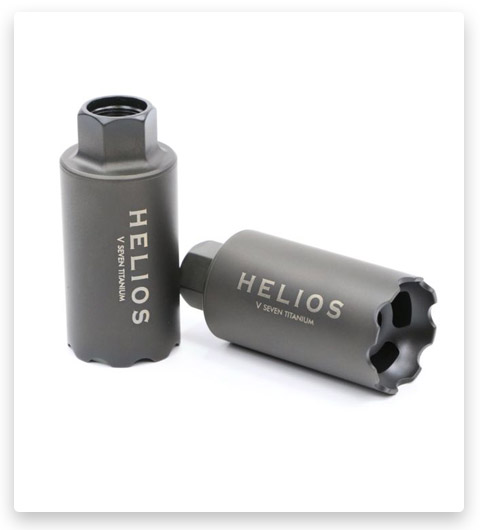 The V Seven Helios Linear Compensator gives you the best shot at your aim. The muzzle brake of this model is made from Grade 5 titanium in your choice of finish. It may look classic gray or have black DLC coverage.
This expansion joint is very small in size. The length is 2.75 inches and the diameter is 1.25 inches. The actual addition to the stem length is only 2.2 inches because some of the thread runs over the stem thread to form a double layer. This add-on is available in 4 modifications to suit the needs of all popular calibers. For caliber 5.56 the thread is 1 / 2×28, for 9mm the thread is 1 / 2×36, for .338 inches – 5 / 8×24 and 458 SOCOM is awarded 5 / 8×32. Regardless of the modification chosen, this will weigh 2.8 ounces.
As it turns out, it works as intended – it softens the recoil well and redirects the thunder of the shot forward. Your hearing will get a little rest if you use this compensator. The muzzle brake comes with a crushing disc and a lifetime warranty, which means it is ready to work for you from the very first day of purchase and for many years to come.
#8 TacFire Linear 9mm Compensator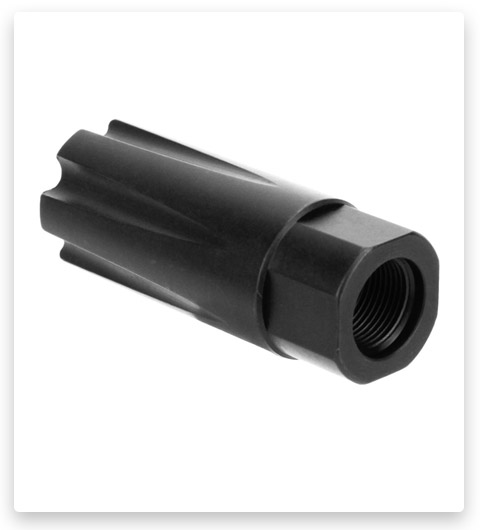 The TacFire linear compensator directs propellant gases through six holes in the front of the muzzle. This dampens recoil quite a bit because it directs the gas in the same direction as the bullet, but it can significantly reduce the noise level. You will not receive a concussion from the shot if you install this compensator. TacFire has prepared 5 modifications so that you can find the right compensator for any caliber. And the best part is that it won't empty your wallet.
This linear expansion joint is made of steel in the shape of a 2.26" barrel. If you are using forend-mounted accessories you must consider the outside diameter of this add-on. This protrudes about 0.44 inches from the barrel, which can make bayonet installation difficult (if your rifle can be equipped with a bayonet). If you wish to use one compensator for several rifles of different calibers, you may need an adapter that matches the barrel and compensator threads.
In general, this is the muzzle of the cheap segment, which means you should not expect five-star machining from it. If you're willing to forgive a few burrs and possible scratches on the nitride coating, you'll love this expansion joint.
#9 Ultradyne Lithium PCC 9mm Compensator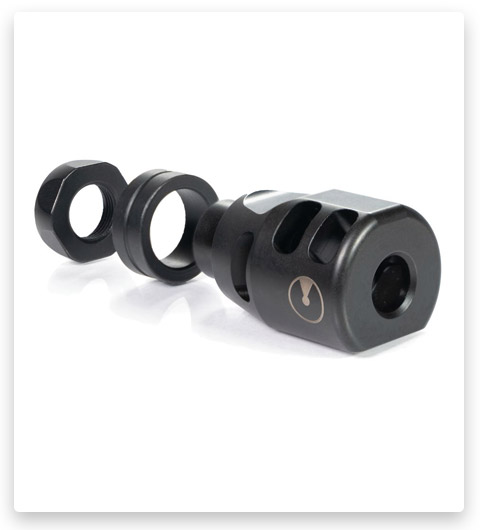 Ultradyne has created a proposal for 9mm pistol lovers. The Lithium PCC Compensator is designed to significantly reduce recoil and deliver faster follow-up shots. Aggressive ports point upward in a V-pattern. Barrel gases are diverted from the line of sight, so the shooter always has full control of the situation.
This expansion joint is manufactured from 416 stainless steel and is machined. Ultradyne has a good quality control department, so your compensator will be perfectly finished. In addition, the expansion joint is coated with black SB nitride, which increases its corrosion resistance. Since this is for a 9mm pistol (AR-15), a 1 / 2×28 thread is used. With an OD of 1.124 inches, this comp weighs 4 ounces but doesn't feel heavy. Yes, it shifts the balance a little, but during the shot, the recoil is reduced by almost 2 times!
Included with the muzzle brake, you will find a temporary nut that will make it easier to install the computer. Overall, this is solid stainless steel that is much easier to shoot with.
#10 Lone Wolf Arms 9mm Compensator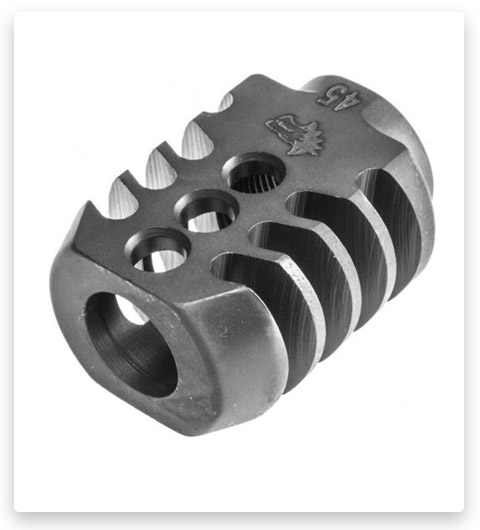 The compensator from Lone Wolf was surprisingly very functional. Side ribs redirect the throttle 30 degrees backward and significantly reduce recoil. The double opening at the top compensates for a muzzle jump, so shooting is smooth. We were able to make quick follow-up shots and instantly switch to a new target with ease. And by the way, this compensator has 7 modifications, so you can easily lift something for yourself.
This flattened keg is tiny in size. 1.5″ long, 0.75″ high and 1″ wide. Weight varies for different models, this muzzle can be from 2.08 to 2.72 oz. This is important if you are going to replace the return spring to accommodate the additional weight.
This ribbed expansion joint is painted dark gray and will fit most pistols. Another important design detail is the possibility of individual engraving. This will make your build really special. Popular choices are "Smile, Wait for Flash" and "Warning, Lead Poisoning" around the muzzle. But you can suggest your own version and it's really nice.
Installation of the expansion joint is not a problem. For fixing on the barrel, the mounting screws are used, which are included in the kit. If the screws are not suitable for you, use washers and washers, but they are not included in the kit.
#11 Primary Machine CZ Stealth 9mm Compensator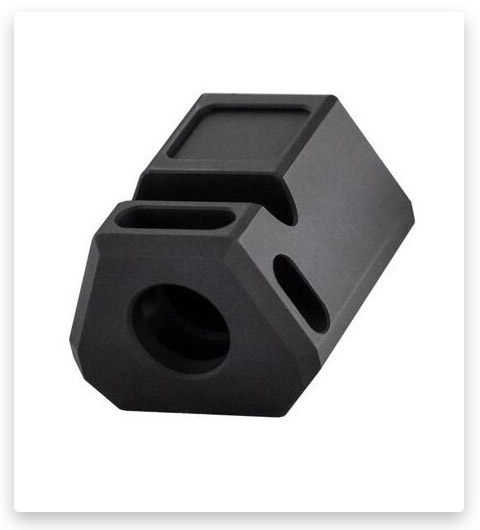 This futuristic compensator from Primary Machine targets the P-10C and the P-07 or P-09 holster. The austere linear design fits perfectly with these 9mm pistols and complements the build organically. At just 1.3 inches long, the muzzle smooths recoil so well that it will be a great addition for novice shooters.
It is a steel expansion joint with a black anodized finish. The milling is done with high quality and all the edges are even and clear. The side holes cross the edge, so the propellant gases push the barrel down and at the same time dampen a significant portion of the recoil. As a result, the return is very small.
To install this expansion joint, you only need a desire, everything else has already been added to the kit. The thread of the part is 1 / 2×28 and the fixing screws are installed at the bottom to remain invisible. The kit also includes blue and red Loctite, a small wrench, and detailed instructions.
#12 Midwest Industries AR-15 Two Chamber 9mm Compensator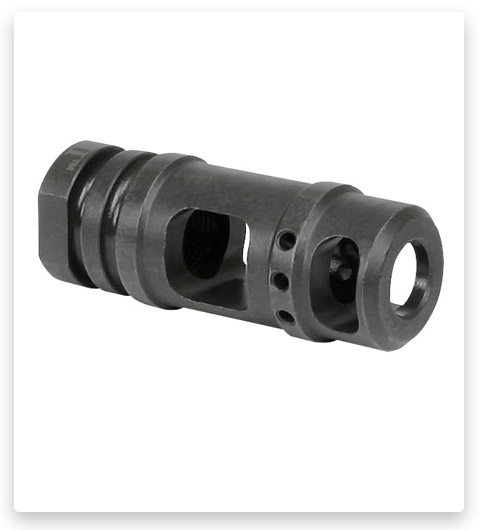 The muzzle brake from Midwest Industries is suitable for 9mm pistols with 1 / 2×28 threads and automatic rifles with 19×9 threads. Simple time-tested design, quality machining, and absolutely sweet price.
It is a miniature two-inch design with a two-chamber structure. This expansion joint is made of phosphate tool steel. The milled holes are 0.41 inches in diameter and are symmetrical. The muzzle brake significantly reduces recoil, although it partially leaves the barrel lift.
This compensator looks familiar and a little old-fashioned. There are no technological additions or redundant configurations here. Included with the black expansion joint you will find a crushing disc, which you will need for installation. Otherwise, it just works.
#13 VG6 Precision EPSILON 9mm Compensator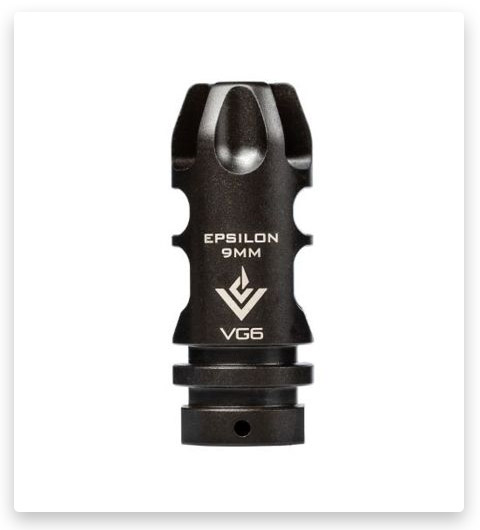 Epsilon 9mm is a one-stop solution if you want all three components in one device. This muzzle brake is both a compensator and a flame arrester. The VG6 Precision offers two muzzle designs in black and white.
The muzzle is made of stainless steel, which is shot-blasted. The combined structure allows effective flash damping in all light conditions thanks to three elongated protrusions. Also, this muzzle redirects the impulse of the shot and almost completely kills the recoil. Engineers have gone to great lengths to optimize the muzzle to win throttle from 9mm.
Since this is for 9mm pistols, the right-hand thread is 1 / 2×28, which is perfectly compatible with the .350 (Faxon 350 Legend). Epsilon is available in classic gray stainless steel or black nitride finish. It is quite hardy and corrosion-resistant anyway.
#14 SLR Synergy 9mm Mini Compensator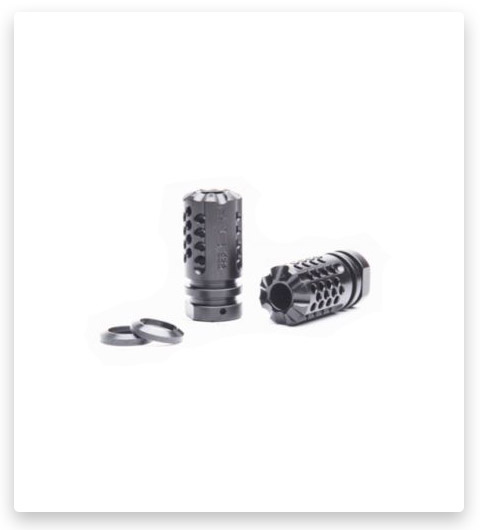 The mini compensator from SLR Synergy is a compromise between the classic flame arrester and the compensator. This compact barrel has many perforations throughout the body but has a solid bottom. The force of the explosion is sent upward to reduce recoil during firing. This will not stop you from bouncing the barrel, but it will make it much smaller.
The muzzle is made according to all NFA rules from stainless steel. At 1.84 inches long and 0.862 inches in diameter, the module weighs just 2.46 ounces. Once installed, the barrel of your pistol will only add 1.24 inches, which is almost imperceptible.
An important limitation, this compensator is not designed for barrels shorter than 14.5 inches. Otherwise, it is compatible with the VG6 CAGE and comes with a washer for installation. If you were looking for a compromised module, consider this option.
#15 Guntec Usa Guntec Ar9 Micro 9mm Compensator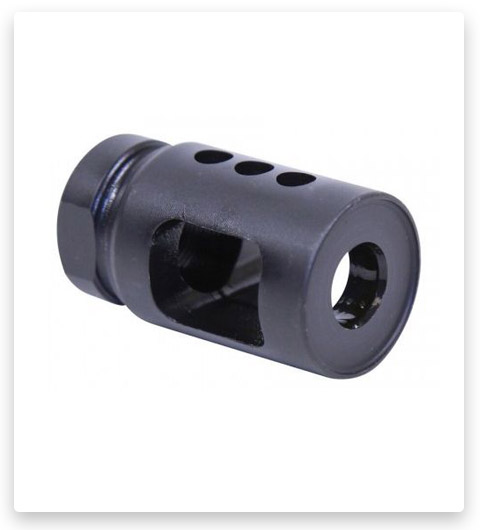 Guntec USA has created a budget compensator optimized for the Ar9. As you may have noticed, the Ar9 integration imposes its limitations. Compensator joint is threaded with a 1 / 2×36 pitch, which is not suitable for everyone. This offer contains only one steel model with a black micro matt finish.
Guntec USA engineers went to great lengths to give the steel keg the ability to absorb barrel lift. It is much more effective at fighting recoil than a standard birdcage. You might expect a more comprehensive approach and additional absorption or redirection of the sound wave, but that doesn't work here. The sound of the shot remains loud, but not deafening.
If you are on a budget but want a beautiful breech lift, take a look at this offer. You may encounter some difficulties, such as missing a washer, or inconsistent thread pitch with the usual 1 / 2×28. If you are looking for an expansion joint for Ar9 and similar models, it will be difficult to find an offer that surpasses this in quality and price.
#16 VG6 Precision GAMMA 9mm Compensator Hybrid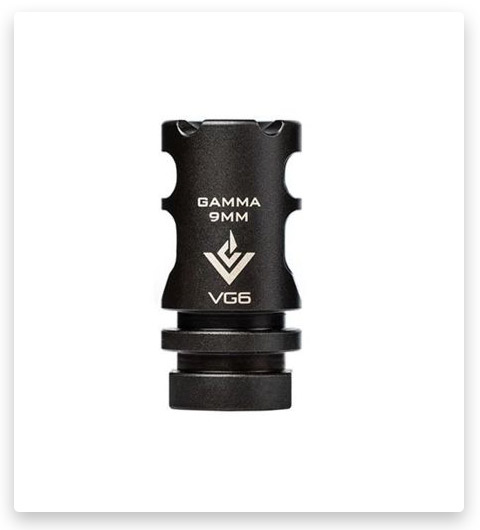 We have already reviewed VG6 Precision products and were satisfied with EPSILON expansion joints. But the engineers decided to experiment with design and functionality and cut off the top of the muzzle already created. The new model is called the GAMMA Hybrid and it is the continuation of the 9mm pistol expansion joint series. The offer contains two colors and you can choose the one that suits you.
To create these muzzles, 17-4ph heat-treated steel is used, which corresponds to an enormous hardness (68RC). This didn't seem enough, and for even greater durability, a Black-Nitride satin finish was added. With this treatment, corrosion and abrasion are practically powerless over this expansion joint.
The main goal that the VG6 engineers set for themselves was a complete victory for recoil and barrel lift. Indeed, this muzzle is a great addition to your competitive build. It's only 1.75 inches long, but once installed it will add 1.3 inches and 2.1 ounces to the barrel.
The VG6 Precision GAMMA Hybrid 9mm muzzle brake / compensator has a standard 1 / 2-28 RH thread. You will also find a crushing disc included in the kit for a quick and secure installation.
#17 Cmmg Sv Brake 9mm AR-15 Compensator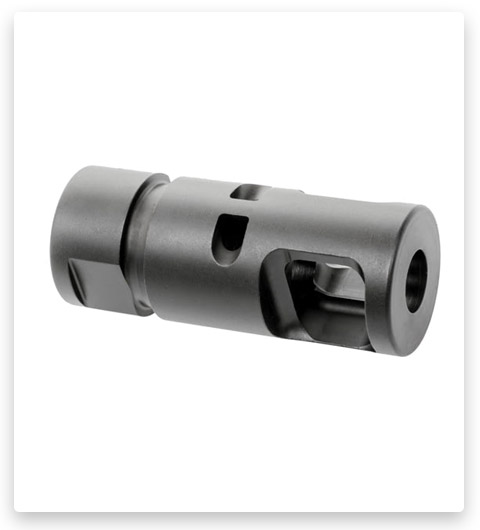 Cmmg fans should check out their proposal for the 9mm Ar-15. Compensator Cmmg Sv Brake 9mm 1 / 2-28 looks technologically advanced and professional. A stylish black finish covers the steel barrel of the expansion joint and all of its gas vent ports. This muzzle looks very attractive and does its job quite successfully. Cmmg has been delighting us with its products for a long time.
This expansion joint is constructed from strong steel and coated with black oxide. Corrosion resistance is one of the fundamental internal rules of the company. It should be pretty damn hardy, even years later!
This compensator has 2 chambers. Through the upper holes, some of the gas pushes the barrel down but does not cross the line of sight. The rest of the gas is released to the sides and loses energy without any consequences for the shooter. As a result, recoil is significantly reduced and your target is always under close control.
The size of this muzzle is quite noticeable 3.15 x 1.25 inches. Once installed, a 1 / 2-28 thread will steal about 0.4 inches of length, but it will still remain a noticeable elongation. And by the way, prepare the washer yourself, it is not in this kit.
#18 Guntec USA AR Hellfire Gen 2 Muzzle 9mm Compensator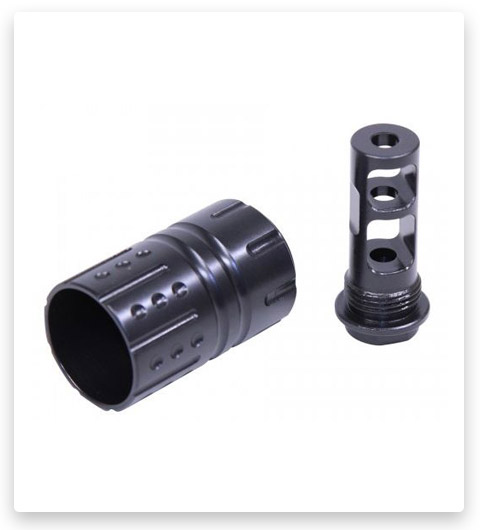 This dual offer from Guntec is the last in our roundup, but not the least. First of all, it is a two-piece design that turns the compensator into a universal muzzle. Thanks to the detachable Blast Shield, the shooter receives not only pulse compensation, but also full control of the flame and protection from the brain-shaking sound wave.
The transition to the second generation of muzzle brakes began to raise the question, what has changed significantly? It is worth starting that this kit consists of 2 components that complement each other perfectly. The QD Blast Shield descends over the muzzle composition and conceals the blinding flash. As a result, this is complex work for the shooter and a significant reduction in the consequences of a powder explosion.
All components are made from robust steel and are perfectly milled. This offering has two caliber options 5.56x45mm and 9mm and one design for all, black nitride finish. If you think about the size, this is more than all the products that have been reviewed today. At 2.4 "long and 1.4" in diameter, this kit weighs 5.8 ounces. The kit includes a crushing disc for easy installation.
FAQ
Questions to the expert
Do pistol expansion joints really work?
Of course, they do. When choosing a compensator, you should focus on eliminating the most significant irritant for you. If the barrel bounces too much and goes off the line of sight, you need a compensator. If you are worried about excessive concussion from the sound wave, choose an appropriate muzzle that will redirect the explosion away from you after the bullet. If you are blinded by the flash, choose a flame arrester. It's simple, first set a goal and solve this problem with a new module on the edge of the barrel.
Does the compensator affect accuracy?
Certainly. If you can switch with the extra ounces at the edge of the barrel and find a new balance, the compensator will reduce the throw. Some of the gases will be directed upward and thereby reduce the overturning momentum. This will make aiming for subsequent shots much easier.
Is a flame arrester better than a compensator?
The flame arrester reduces the flash, this is its main task. The flash can be redirected to the sides and stop appearing on the line of sight. The compensator controls the gas flow and minimizes the physical recoil impulse.
Are compensators illegal?
Compensators are legal in most states. You can buy, store and use compensators at the range or home. To be completely legal, you must obtain permission from the NFA and pay the applicable tax. Compensators cannot be used while hunting, for example, deer. This can lead to problems with the law. Best of all, contact the lawyers in your state and they will explain all the details to you.
Do the compensators make the weapon louder?
The roar of a shot is usually evenly distributed in all directions. The compensator redirects the barrel gases to the sides, which can be noticeable especially for your neighbors in the shooting range. As a rule, this is not louder than a shot in the basic configuration without a compensator.
What is the difference between an expansion joint and a silencer?
For high-quality sound suppression, you need to use subsonic cartridges with a small charge of powder. The muffler does not just redirect the gas, it passes it through many chambers and labyrinths so that the gas loses its strength and speed. The compensator uses the force of the gas to reduce the momentum of the barrel throw but remains significantly louder.
How to choose a 9mm muzzle brake?
Determine what thread is on your muzzle and find the muzzle that sun terms of price and design. Most likely you have a 1 / 2x28 right-hand thread which is compatible with most expansion joints.
How to install a 9 mm expansion joint?
To install the expansion joint, you will need a washer, which may be included, or you will have to buy it separately. The complete set must be monitored. Sometimes the muzzle is fixed with clamping screws, which is also very easy if you have the appropriate wrench. Just follow the instructions or watch the tutorial videos. It won't take long, but it will make your user experience guaranteed to be enjoyable.
Conclusion
Today we looked at many interesting options for our pistols and even semi-automatic rifles. Many muzzles specialize in a specific AR or Glock model, but there are also universal offerings with many barrel thread options and even different designs. We tried to find offers that would satisfy any of your needs. Perhaps this is maximum efficiency or a cheap price. We don't know what you are looking for, so we made this review quite extensive. Time to reward the winners. Let's remember what we noted for ourselves in this review.
The announcement of the winners turned out to be great because it was difficult for us to pass by. These are truly worthy muzzles that we proudly recommend. That's all for today, but we are not saying goodbye 🙂
Affiliate Disclosure: Rotorm.com sometimes gets paid for listings, through sponsors or affiliate programs like Amazon, Optics Planet, Lucky Gunner, Brownells, Cabelas, Rainier Arms, 5.11 Tactical, Bass Pro Shop, etс. Clicking a link helps keep Rotorm.com free, at no extra cost to you!
About the author: Each article on our site is written by experts in survival and tactical equipment, gun enthusiasts, extreme travelers, military, law enforcement and desperate professionals, read about the author at the bottom of the article or visit "About Us" page.
Note: The views and opinions expressed in this article are those of the authors and do not necessarily reflect the official policy or position of any agency.