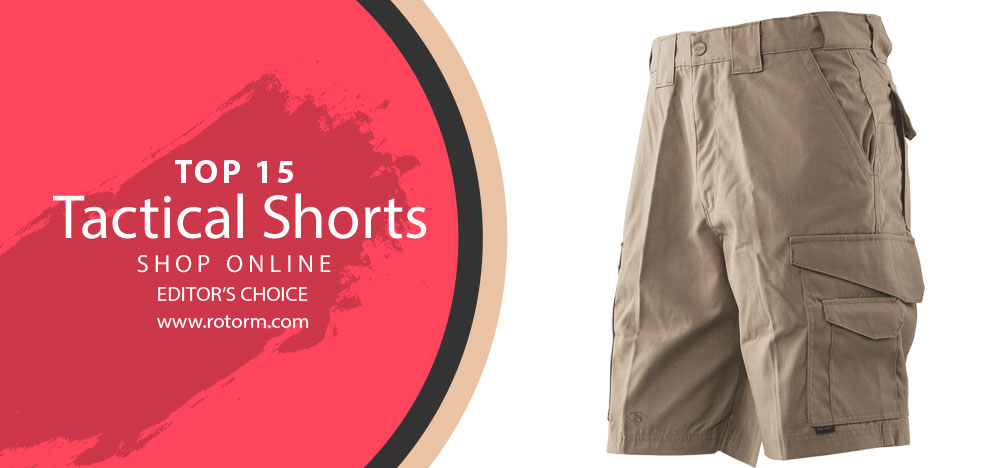 What is tactical shorts? 🤔
They are a type of short clothing designed for people who need the flexibility, comfort, and mobility that trousers cannot provide. They are made from strong, durable material and often have pockets for storing items like tactical knives or flashlights.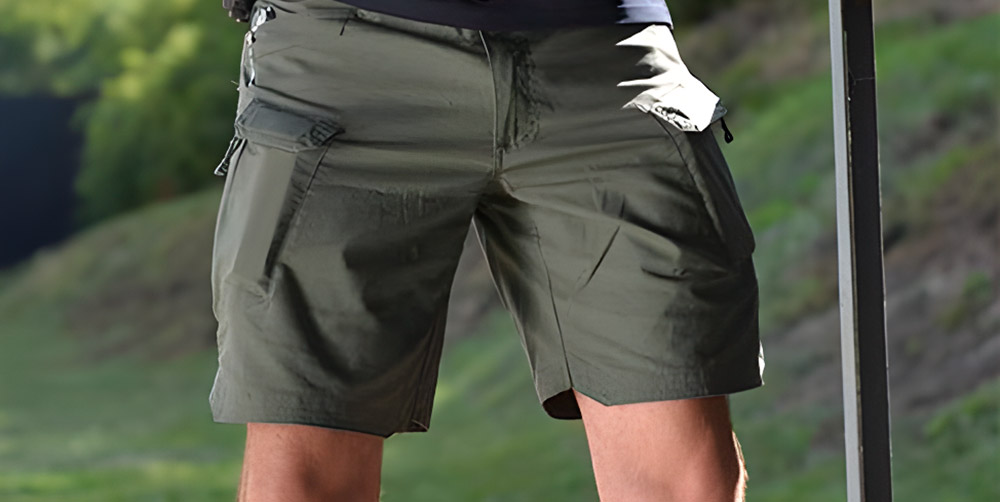 Features 💥
Tactical shorts are perfect for those who need a reliable garment to provide them with plenty of storage space, comfort, and flexibility while out in the field.
☑️ The fabric should be lightweight, breathable, and comfortable to wear. The material must allow freedom of movement without being too restrictive or bulky. A nylon ripstop is an ideal choice as it is highly durable and offers good heat retention.
☑️ The pockets should also be placed strategically to provide easy access when needed. Ideally, look for pockets with zippers or hook and loop closures to prevent small items from falling out. The number of pockets will vary depending on the style of shorts but it's best to have at least two front slash pockets, two back patch pockets, and one cargo pocket or down the side of each leg.
☑️ Waist adjustability is vital for a comfortable fit, especially if you plan on wearing heavy-duty gear over your shorts. Look for shorts with a waistband that can be adjusted to provide an optimal fit without slipping or bunching up when moving around.
Our Top Pick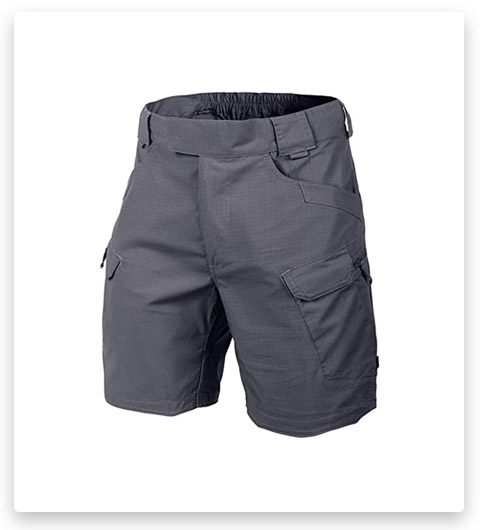 Helikon-Tex Urban/Outdoor Tactical Shorts
These shorts offer all the tactical features you need while maintaining a civilian appearance, ensuring your identity remains discreet. With an elastic velcro-closed belt, you can easily adjust the shorts to your size, while the large belt loops accommodate wide belts like EDC, UTL, or Cobra. The cut of the shorts is specifically tailored to prevent them from slipping while in use. The strategic pocket placement allows you to keep your equipment centered around your hips and waist, providing easy access. The edges of the front and rear pockets are reinforced to withstand the constant movement of lightweight or knife clips. Two velcro-closed front pockets offer ample space to carry a smartphone or even an AR/AK rifle magazine.
Buy Now On Amazon
If you click this link and make a purchase, we earn a commission at no additional cost to you.
Benefits 🤩
Tactical shorts are a great choice for anyone who needs a durable and functional pair of shorts. They offer several unique benefits that make them an essential addition to any outdoor wardrobe.
✴️ First, such shorts are designed to be comfortable and breathable. Most models feature lightweight fabrics with moisture-wicking capabilities that allow air to move freely through the fabric, ensuring the wearer stays cool and dry even during strenuous activities.
✴️ They also offer superior durability compared to regular shorts. These shorts are typically made of ripstop fabric or other heavy-duty materials that can withstand abrasion from rough surfaces and frequent outdoor use. This makes them perfect for demanding activities like climbing, running, and mountaineering, where they won't tear or be easily damaged.
✴️ Finally, shorts have plenty of pockets for storing items like phones, wallets, tools, maps, and more. This ensures you can bring the essentials with you on your adventures without having to lug around bulky bags or backpacks.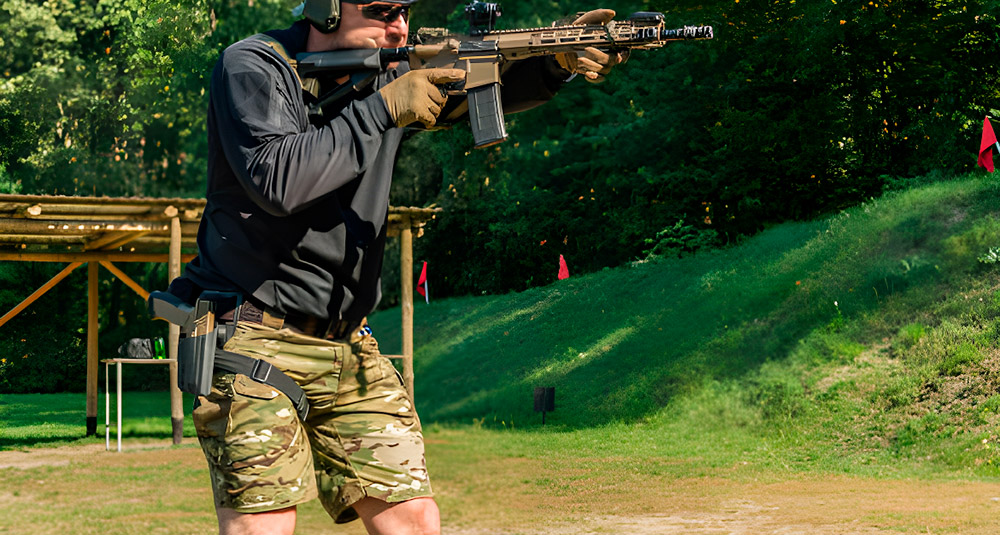 How choose it? 🔍
When choosing the best tactical shorts, it is important to consider several factors.
➡️ First, look for shorts that are made from high-quality materials designed to be durable and tough. Materials such as Ripstop nylon or Cordura nylon are both excellent choices as they are lightweight and breathable yet still strong enough to withstand wear and tear.
➡️ Pockets are also an important consideration when selecting the right shorts. Look for pockets that have zippered closures or flap closures for added security.
➡️ It is also important to consider comfort. Look for shorts that feature mesh lining, adjustable waistbands, and gusseted crotch panels that provide an enhanced range of motion.
➡️ Additionally, select a model that fits well but does not bind in any areas when worn due to too tight of a fit or too loose of a fit.
➡️ Lastly, pick a style you feel comfortable wearing to get the most out of them for your needs.
TOP 15 Tactical Shorts 🩳
| Image | Product | Brand | Link |
| --- | --- | --- | --- |
| | Tru-Spec 24-7 Men's Original Tactical Shorts, Coyote, 38 | Tru-Spec | |
| | FREE SOLDIER Men's Lightweight Breathable Quick Dry Tactical Shorts Hiking Cargo Shorts Nylon Spandex (Mud 36W x 12L) | FREE SOLDIER | |
| | Unionbay Men's Survivor Belted Cargo Short, Black, 30 | UNIONBAY | |
| | Lee mens Dungarees New Belted Wyoming Cargo Shorts, Buff, 38 US | Lee | |
| | Helikon-Tex Urban (UTS) Tactical Shorts for Men - Lightweight & Breathable Cargo Shorts for Tactical, Military, Police, Hiking, & Hunting (Shadow Grey Polycotton Ripstop W32, L8.5) | Helikon-Tex | |
| | 5.11 Tactical Taclite Pro 11"" Short, TDU Khaki, 38 | 5.11 | |
| | Helikon-Tex Urban (UTK) Tactical Shorts for Men - Lightweight & Breathable Cargo Shorts for Tactical, Military, Police, Hiking, & Hunting (Black Polycotton Ripstop W32, L11) | Helikon-Tex | |
| | 5.11 Tactical Taclite Shorts , Black , 36 | 5.11 | |
| | Propper Men's Tactical Short, Khaki, 38 | Propper | |
| | 5.11 Tactical Men's Stryke 11-Inch Inseam Military Shorts, Flex-Tac Ripstop Fabric, Style 73327 Tundra, 40 | 5.11 | |
| | FREE SOLDIER Men's Hiking Tactical Cargo Shorts Multiple Pockets Waterproof Shorts Outdoor Fishing Camping Shorts Coyote Brown 34W x 11L | FREE SOLDIER | |
| | Hiauspor Men's Hiking Cargo Shorts Quick Dry Athletic Shorts with Elastic Waist for Fishing Golf Casual (Black,Large) | Hiauspor | |
| | HARD LAND Men's 9.5" Urban Tactical Shorts Waterproof Ripstop Teflon Elastic Waist Cargo Work Shorts Hiking Fishing Khaki Waist40 | HARD LAND | |
| | Propper Men's Summerweight Tactical Shorts, Olive, Size 42 | Propper | |
| | RAW X Mens Belted Cargo Shorts Relaxed Fit Casual Tactical Knee Length Cargo Shorts for Men, Twill Piping - White Camo, Size 42 | X RAY | |
1# Tru-Spec Men's 24-7 Series Tactical Shorts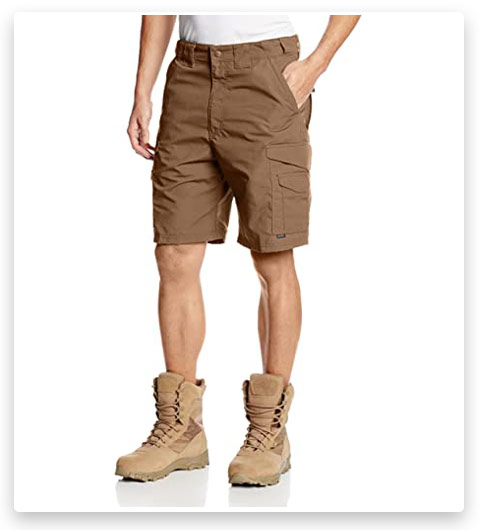 The material that is used is tactical cotton. Also, the structure includes polyester, compartments, elastic tabs, loop closure, a knife, and a flashlight. The expandable loop and back pockets have protection from dirty conditions. To fix the short the belt loops are used in the top part, which is especially good for running. The outer part has a water-repellent cover that can withstand water. The short can be used for running and scouts' aims. The bottom part is wide enough to give a breathable effect.
2# Free Soldier Men's Lightweight Breathable Quick Dry Tactical Shorts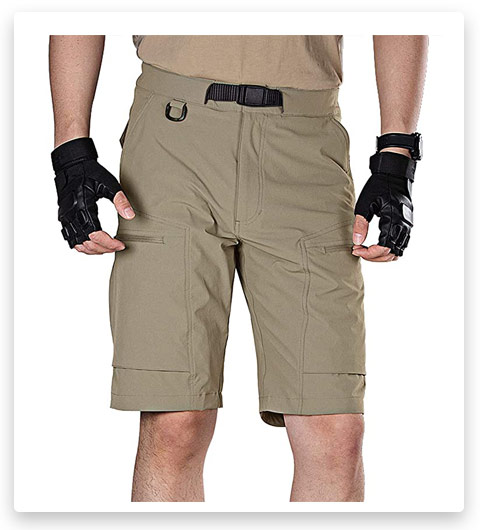 The shorts are made in Buckle Way. The material consists of nylon and spandex. The technologies are used to protect the liquid and water repellent. The accessory part of the shorts includes the key holder, YKZ ZIpper, place for notebook, D-Ring, and extra compartments. The shorts are good for fishing, hiking, work, and traveling. The upper part can be combined with a hook and loop pocket, an adjustable belt, Coolmax mesh, and YKZ Zippers. The shorts are ideal for hiking, jungle, and traveling.
3# Unionbay Men's Survivor Belted Cargo Short-Reg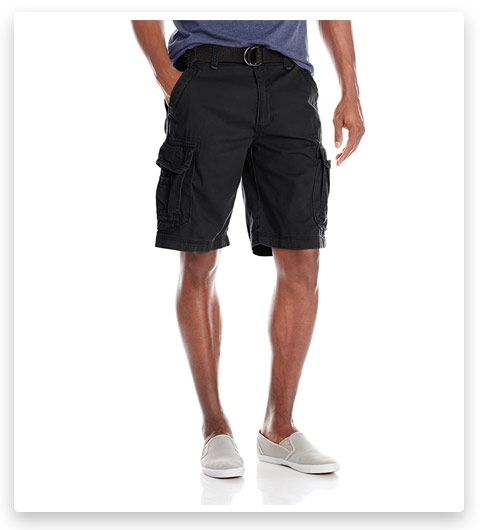 Short shorts are used for relaxing, sports, and fitness. The shorts are very comfortable and have a breathable front part. The kin includes the ring belt, loop, zippers, black cotton, and oversize pockets. The shorts are offered in 7 colors which are offered for cases like fishing or hunting and helps to feel handsome. The shorts can be used for fast running because it gives full protection.
4# Lee Men's Dungarees New Belted Wyoming Cargo Short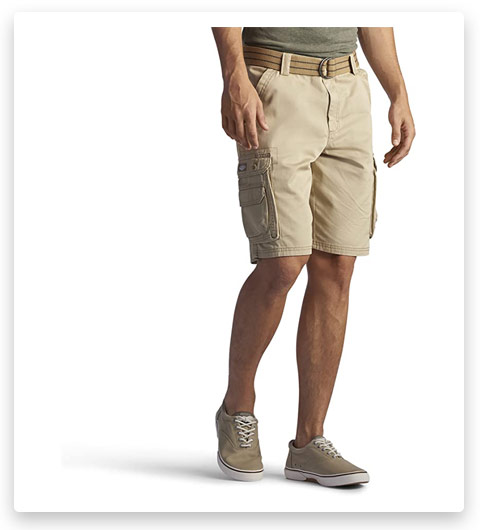 The shorts contain the washing instruction, the main part of the shorts, compartments, a light cover from the front side, and zipper closures. The short has a stylish view and are good for camping and the backyard. Durable twill cotton gives protection from rips while walking and hiking. One pocket includes two inner pockets which can be useful for keys and money. Tactical shorts can be used many times. Color buff attracts young men because the shorts will protect them.
5# Helikon-Tex Urban/Outdoor Tactical Shorts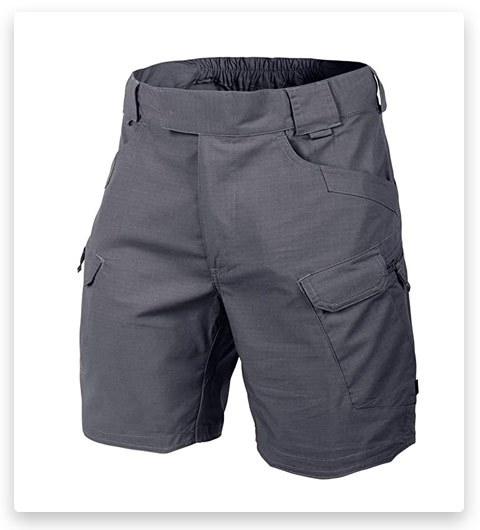 The shorts are made from polycotton ripstop, stylish fabric, and nylon. The shorts are made in the US style which is very popular among young people. The package includes the hook, loop closure, pockets for tactical equipment, large belt. The edges of the compartment are protected with mesh, which means that your valuable things won't be lost. The shorts are used for big urban cities and small towns.
6# 5.11 Tactical Men's Men's Taclite Pro 11-Inch Shorts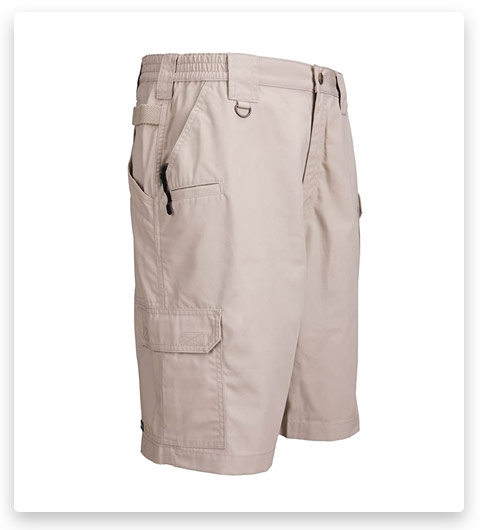 The combination of blend and fabric makes the shorts durable and used many times. An advantage is a lightweight, that makes the shorts suitable for any case. The kit contains storage pockets, the cotton structure, strap, and slash pockets, pockets, YKK zippers, utility pockets. The shorts are good for warm and humid conditions. The appropriate size can be chosen from the size chart, but you will need about 6 measures. The shorts are ideal for backpacking or family rest.
7# Helikon-Tex Urban/Outdoor Tactical Shorts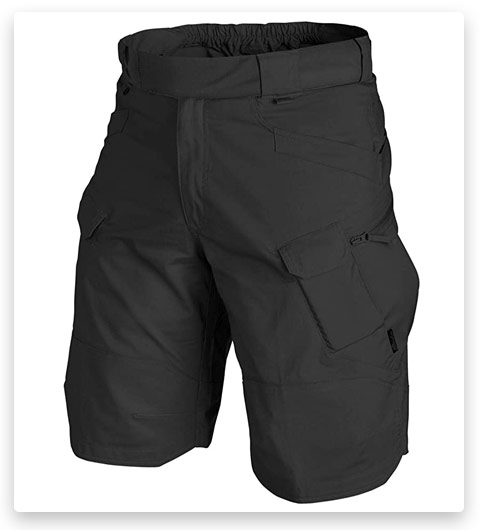 15 different colors are put into the kit, which makes a great offer from the supplier. The kit includes the closure, zippers, nylon, breathable material, elastic belt, and a large size. The advantage is two back pockets for tactical knives that will protect you in an emergency, or danger, or will help to provide the food. Front pocket for mobile will help to be in touch with family and friends, on camping and boating, and outdoor activities.
8# 5.11 Tactical Men's Taclite Pro 9.5-Inch Shorts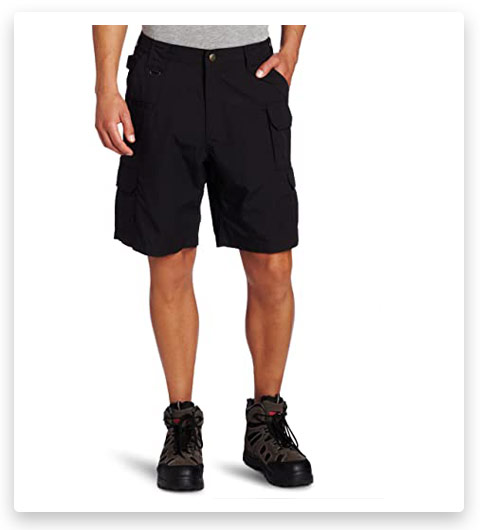 The kit has several parts: main pockets, extra pockets, seat, mesh, utility pockets, and D ring. The main colors are black which is durable for strong trips. The enhanced structure will protect from cold in the forest, on camping, or rest, during long biking. There are deep pockets and knife pockets which can be useful in the jungle or other dangerous places.
9# Propper Men's Tactical Short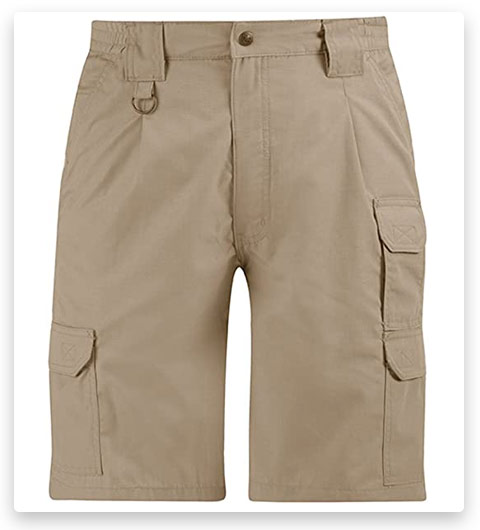 The shorts are made in a simple style and have only two pockets, the total length of which reaches the knee. The colors are chosen so that the shorts are well washed, the lock is one but very reliable. The main material is polyester which gives extra protection. The snap closure will save the shorts from the rip. The 6 colors attract the eye and have a good view.
10# 5.11 Tactical Men's Stryke 11-Inch Inseam Military Shorts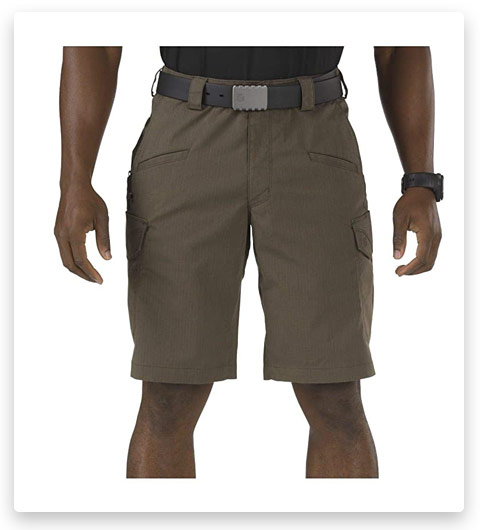 This product is made in a dual-fabric construction way. Shorts are especially popular in the states, both white and black. They are well-fixed with an elastic band at the waist. The front has two additional pockets for keys and a knife. There are also internal pockets for especially important little things. Mainly such shorts are used for fishing and hunting.
11# Free Soldier Men's Tactical Cargo Shorts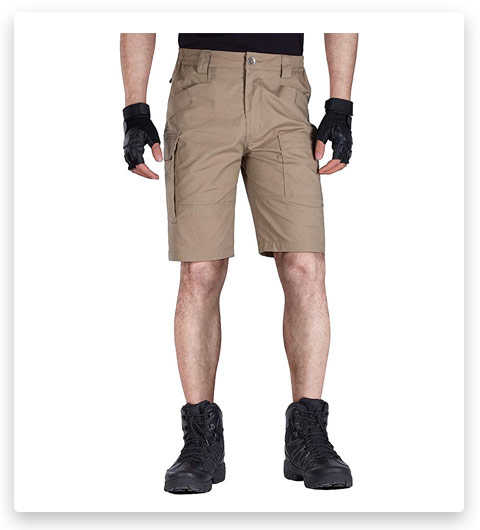 The shorts are completely military and strong. It includes an adjustable waist, a waterproof layer, and YKK zippers. The main color is light brown which is good for the army and studies. The multi-pockets include one straight pocket, two hip pockets, a flap pocket, a hook, and a loop pocket. The shorts are super for climbing, working, hiking, and cycling. The concealed pocket helps to store the wallet or mobile for better protection. The double-layer hip part will protect the back part of the body.
12# Hiauspor Men's Hiking Shorts Casual Cargo Shorts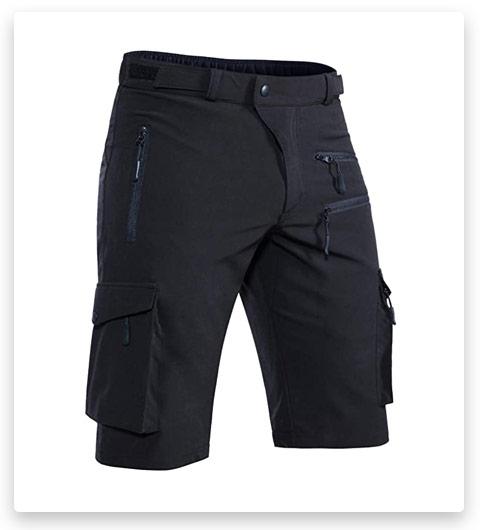 These shorts are popular with YKK Zippers, which are very strong and durable. The main material is a breathable fabric, which will give extra air while running or doing activities. The tactical shorts contains an elastic hook and loop, 2 side zippers, and 4 pockets, which will help to store the mobile, document, or keys. The shorts can be used in multiple places like forests, boating, climbing, and hunting.
13# Hard Land Men's 9.5 Inches Waterproof Tactical Shorts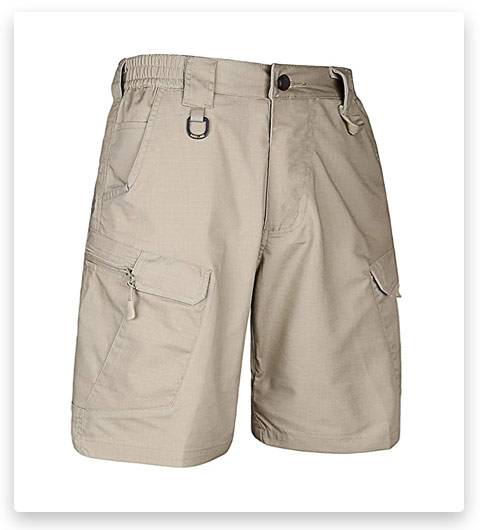 These shorts contain wide belts, a carabiner, a key holder, a clip for the knife, a velcro closure, a D ring, and zippers. The size of the pocket has 8 inches, which is enough to place everything. The slash pocket has 14 inches that good for hiking, camping, boating, and travel. Shorts have a light color and a light design to wear in warm weather. Unfortunately, the structure doesn't fully cover the knee.
14# Propper Men's Summerweight Tactical Shorts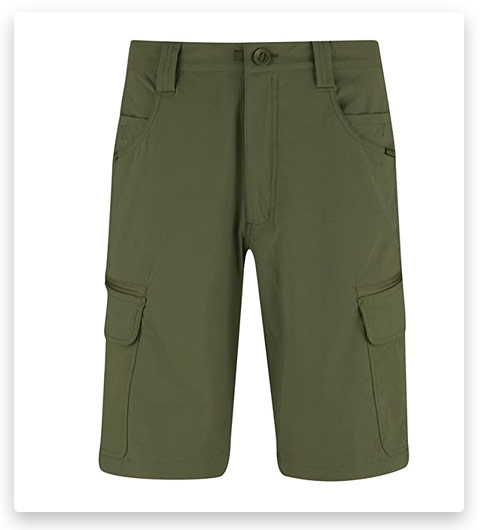 This product is protected by nylon and fabric layers. The shorts have upper compartments, loop closure, inner mesh, smart design, and knee cover layer. The shorts are made in a simple but classic style. The shorts can have multiple usages as for daily walks and camping in the forest. The shorts are very tiny and don't take much place in a bag or case, so you can take them for any adventure: hiking, resting, or traveling.
15# RAW X Men's Belted Cargo Shorts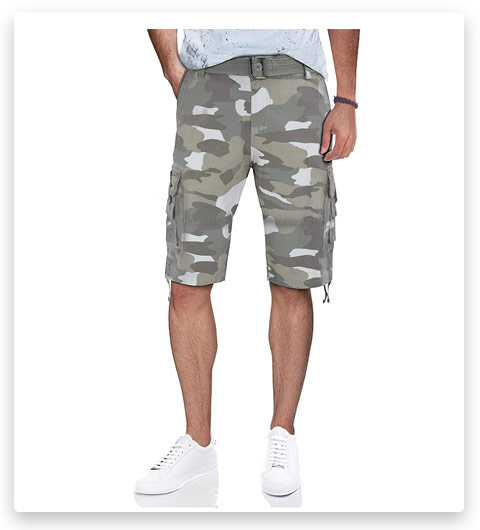 This product is valuable for a mix of fabric and cotton, which makes it fashionable. The package contains the fabric material, D ring, belt, compartments, 2 plant pockets, 2 closure flaps, and quick storage. The short will improve sitting on wishing, hiking, and boating. Shorts will be an addition to men's wardrobes for summer and autumn.
What better: regular shorts vs tactical? 💡
Tactical shorts and regular shorts are two types of apparel designed for different activities.
🟣 Tactical models are designed with more features to provide utility and comfort during physical activities such as hiking, running, or any other outdoor activity. These shorts often feature pockets with zippers or Velcro closures, as well as reinforced seams and rip-stop material for durability.
🟣 In comparison, regular shorts are usually more lightweight and comfortable than tactical but lack the same level of features. Regular shorts are better suited for activities that don't require much movement or potential strain on the garment, like lounging around the house or going out to dinner. The fabric is generally lighter and breathable which makes it ideal for hot climates, however, the lack of pockets makes them less useful when outdoors.
✅ When it comes to deciding between tactical and regular shorts, it all depends on what you plan on using them for.
⌛️ If you're searching for an item of clothing to wear while engaging in active outdoor activities such as running, camping, or hunting then tactical models are your best bet. They offer greater protection from the elements and have features designed specifically to make those activities easier and more enjoyable.
⌛️ However, if you just want something light and comfortable that won't get in the way while lounging around then regular shorts will be a better fit.
FAQ ❓
Conclusion 😊
The right pair of tactical shorts can make a huge difference in comfort and performance. We hope this buyer's guide has helped you find exactly what you need to stay safe and comfortable while out in the field. With our tips and product reviews in hand, we know you'll be able to select a pair of shorts that fit your needs perfectly! So go ahead – get out there and enjoy your adventures with confidence knowing you're wearing the best gear available! 🤠👍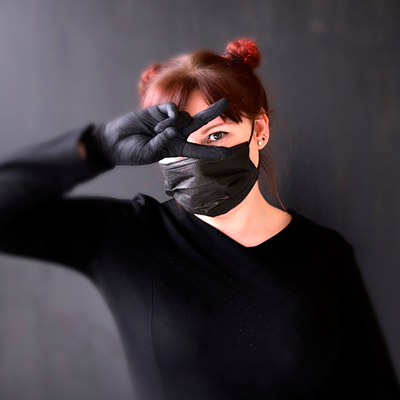 Ann Burwell
Mother, Extreme Lover, Author, and Outdoor Gear Expert
Nice to meet you, my name is Ann. What I can say about myself is that I am a supporter of a healthy lifestyle and enjoy spending my leisure time actively (most frequently outdoors). My hobby is camping, hiking, climbing mountains. And of course, I adore various survival and
tactical gear
, which is so necessary for a comfortable stay in extreme conditions. I am fortunate that my husband and family support me about this.
That is why it is important for me to find good items that will help me and my family have a good time without too much hassle. I like to look for stuff for myself or gifts for my loved ones. We also share the high-quality products we find with each other, and I think it is really important to transfer your opinion and knowledge, that is why I am pleased to share the useful information I find with other people. I'm so happy that my family helps me in this matter. We hope that someone really finds this helpful and interesting enough!
Read more
about our team
of expert authors.
Affiliate Disclosure: Rotorm.com sometimes gets paid for listings, through sponsors or affiliate programs like Amazon, Optics Planet, Lucky Gunner, Brownells, Cabelas, Rainier Arms, 5.11 Tactical, Bass Pro Shop, etс. Clicking a link helps keep Rotorm.com free, at no extra cost to you!
About the author: Each article on our site is written by experts in survival and tactical equipment, gun enthusiasts, extreme travelers, military, law enforcement and desperate professionals, read about the author at the bottom of the article or visit "About Us" page.
Note: The views and opinions expressed in this article are those of the authors and do not necessarily reflect the official policy or position of any agency.