The optical sight is the key to the exceptional accuracy of every shooter. Although many hunters and military personnel prefer to rely only on their own eyes and a steady hand, a telescopic sight is essential for maximum accuracy of fire, especially at long distances.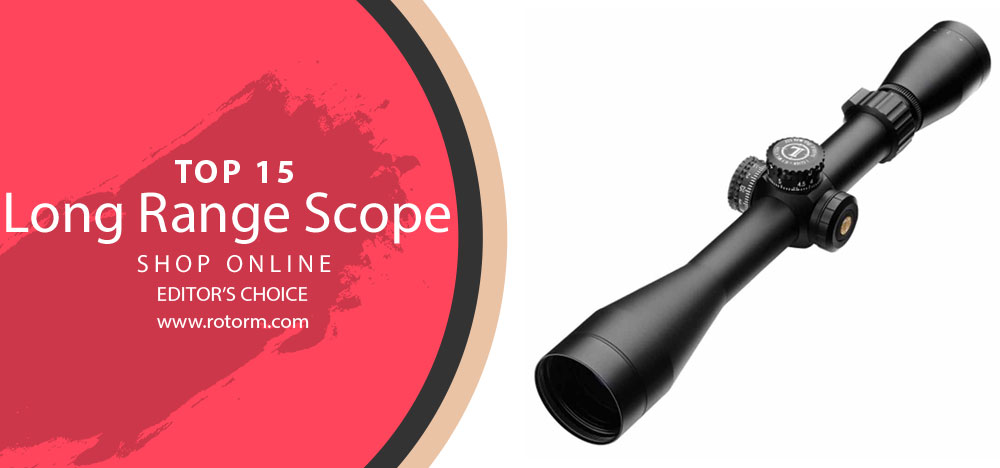 Modern models of rifle scope for weapons guarantee excellent accuracy when mounted on a wide range of weapons — from large-caliber pistols to sniper and hunting rifles, which require professional optics to unleash their shooting potential. In our article, we have selected the most progressive types of optics for small arms, considering them from a professional point of view. With the models listed in our top, you can count on the maximum accuracy of every shot, successful hunting, and high-quality tactical missions.
TOP-15 Long Range Scope
| Image | Product | Brand | |
| --- | --- | --- | --- |
| | Leupold VX-6HD CDS-ZL2 Side Focus Riflescope | Leupold | |
| | Vortex Viper HS 4-16x50 Long Range Scope | Vortex | |
| | Mueller Optics Eraticator 8,5-25x50mm Long Range Red Dot Riflescope | Mueller Optics | |
| | Leupold VX-3i LRP 8,5-25x50mm Side Focus TMOA Riflescope | Leupold | |
| | Sig Sauer Tango 6 5-30x56mm Riflescope | Sig Sauer | |
| | Sightron SIII SS 10-50x60 Side Focus Long Range Riflescope | Sightron | |
| | AGM Global Vision Python 3x75mm Long Range Thermal Rifle Scope | AGM | |
| | Burris Veracity 3-15x50mm Riflescope | Burris Veracity | |
| | Leapers Long Eye Relief 2-7x44mm Scout Riflescope | Leapers | |
| | Burris 4,5-14x42mm Fullfield Long Range Riflescope | Burris | |
| | March D25V52TI MTR-DL Illuminated Rifle Scope | March | |
| | Trijicon AccuPower 5-50x56 Extreme Long Range Riflescope | Trijicon | |
| | Trijicon Accupower 4,5-30x56 Long Range Riflescope | Trijicon | |
| | Vortex Razor HD 5-20x50 Tactical Riflescope | Vortex | |
| | Primary Arms 4-14x44mm FFP Riflescope | Primary Arms | |
#1 Leupold VX-6HD CDS-ZL2 Side Focus Riflescope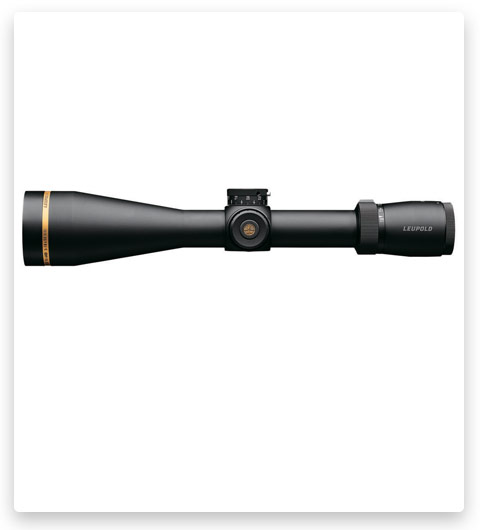 If you are looking for the most versatile sniper scope for hunting or field use, then this model is for you. This model has 3x magnification, ideal for sweeping areas, while its 18x maximum magnification ensures excellent viewing radius and focus. Equipped with the advanced Twilight Max lighting control system, these scopes provide maximum bright and clear images through high-quality lenses. Regardless of whether you are right-handed or left-handed, the two-way reversing lever for controlling the movement of the scope will be extremely convenient on the hunt — such a quick change of magnification will be crucial if time is not at all on your side and you need to shoot as accurately and quickly as possible straight to the target. The scope design is completely water-resistant and features a progressive double spring bias system that prevents random adjustments and ensures an accurate return to the original aiming position after each shot. Use this scope model with your favorite rifle for unprecedented hunting success.
#2 Vortex Viper HS 4-16×50 Long Range Scope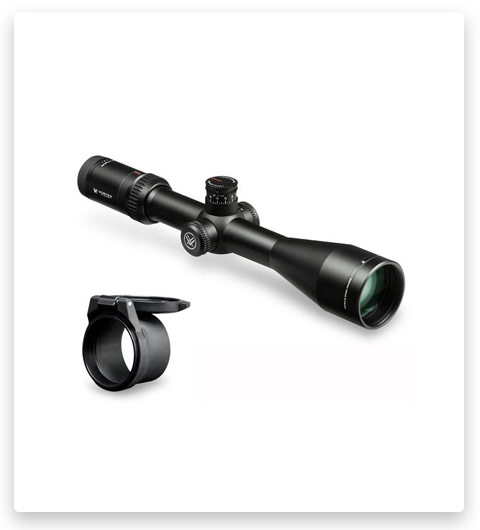 The professional long-range scope is a real revolution in the world of shooting accessories. This model of the optical sight is equipped with a number of useful functions that significantly increase the dynamics and accuracy of shooting. The sight is equipped with a 4x magnification. Additionally equipped with an eyecup for increased eye relief, allowing shooters to hit their targets quickly and easily. Even in tough field conditions, this scope will be the perfect addition to a shooter's arsenal, guaranteeing speed, and functionality for one or more targets simultaneously. Heavy-duty 30mm one-piece aluminum tube body with advanced mounting brackets for comfortable and reliable horizontal and vertical travel – optimal adjustment of the optics position while shooting. The sight has an exposed high turret with a zero stop. The functionality was supplemented with 75 MOA of lifting (24 MOA per revolution). This rifle scope is available with a patented progressive reticle and custom hashmark design to help avoid firing delays and calculate wind corrections with unique accuracy.
#3 Mueller Optics Eraticator 8,5-25x50mm Long Range Red Dot Riflescope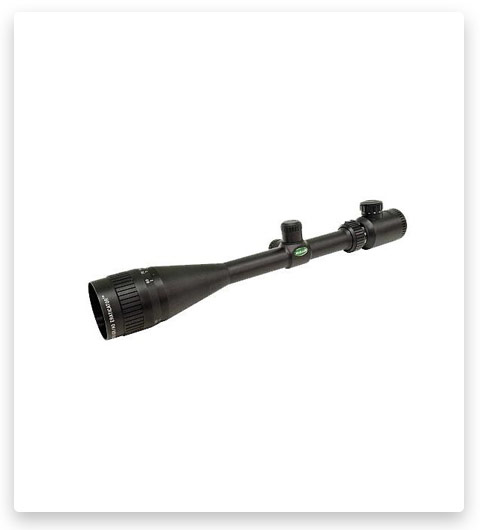 The latest model of a laser sight, popular with professional hunters and field shooters. Advanced short-range focusing capabilities guarantee a minimum aiming range of just 15 yards, which is very important in dynamic shooting conditions. The sight has a micro-thin crosshair with a micro-dot and illumination for easy aiming. An excellent choice for shooting small targets such as prairie dogs and small birds, it can also be widely used for long-range shooting. The design of the micro-thin crosshair completely eliminates the possibility of foreign objects and debris entering when shooting. When used in normal daylight conditions, the reticle of the 8.5-25x50mm waterproof scope has a standard black microdot centered on a fine crosshair. In low light conditions, the black dot of the crosshair can be highlighted in red with 11 different brightness levels. The riflescope is fine-tuned horizontally and vertically with convenient and ergonomic click stops, complete with finger turrets. The newest model of the scope offers innovative premium aiming options with unrivaled skill and accuracy for a minimal cost. If you are looking for outstanding clarity, wide light possibilities – be sure to check out this model of optics from the world-famous company.
#4 Leupold VX-3i LRP 8,5-25x50mm Side Focus TMOA Riflescope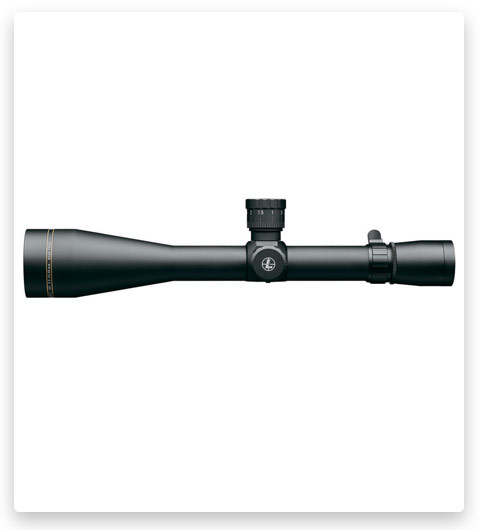 The newest model of rifle scope with fully waterproof and sealed construction. Perfectly complements any shooter's arsenal. The 30mm main body tube provides a unique level of strength and reliability while allowing easy adjustment of the horizontal and vertical sides of the mounting over a wide range. Manufactured from high-quality aircraft grade 6061-T6 aluminum. The patented technology of focusing the light in the image guarantees minimal light scattering, allowing you to hit the target directly even in low light conditions. The outer surfaces of the lenses are treated with an ion-assisted lens coating, providing higher light transmittance and superior abrasion resistance. This model of optics has a wide arsenal of advantages, in particular – improved light transmission, higher image brightness, and increased contrast. Versatility makes these scopes as convenient as possible for hunting and field conditions. Adjusting the side focus parallax for fast focusing, even during intense combat conditions, ensures maximum comfort for experienced and novice shooters.
The patented double bias spring lift system increases the holding force on the collector by up to 30%, which virtually eliminates play in the assembly system and minimizes stress on vital internal mechanisms to further extend service life.
#5 Sig Sauer Tango 6 5-30x56mm Riflescope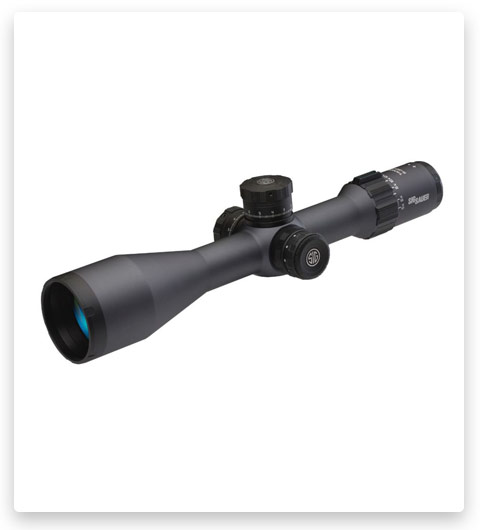 Master long-range shooting with the Sig Sauer Tango 6 5-30x56mm 34mm Progressive Side Focus rifle scope. This scope model uses HDX optical glass with ultra-low dispersion (LD). Combined with high transmittance glass, it provides impressive light transmittance, guaranteeing uniquely clear images even in minimal lighting conditions. This scope model boasts the longest possible battery life thanks to MOTAC (Motion Activated Illumination) technology, which activates the scope when motion is detected and automatically turns it off when it is stationary. The optical sight is maximally priced, and its waterproofness with additional protection against fog guarantees clear target detection in almost all weather conditions. Become a true leader in hunting with this high-end professional riflescope made with the latest technology.
#6 Sightron SIII SS 10-50×60 Side Focus Long Range Riflescope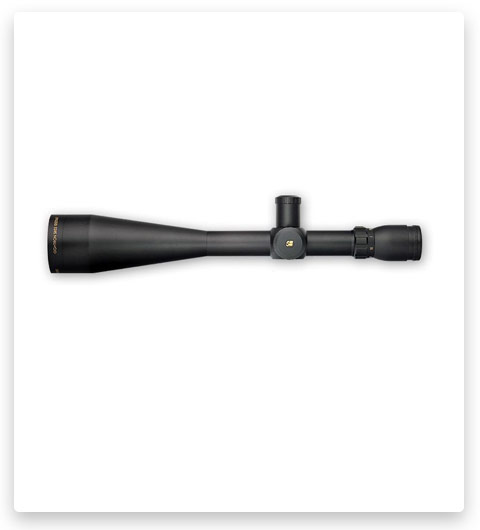 The latest side-tilt riflescope is designed for the serious outdoor enthusiast looking for reliability and repeatability. The new model's scope is made of high-quality aircraft-grade aluminum with a 30mm one-piece main tube. The main tube is more than double that of inch models for maximum rigidity. The scopes of this series are completely waterproof, filled with nitrogen, and reliably provide life-long internal fog protection even in the wettest weather. All scopes in the range are equipped with a European type quick-release eye. Turning the bell as fast as possible allows the user to focus in seconds while adjusting the focus is just a matter of moments and clicks. The side focus sight is additionally equipped with a unique tilt angle adjustment system. In terms of accuracy and performance, this model is unmatched on the market. Large, oversized handles with 1/8-inch adjustment are standard on all optics. The rotary knobs are protected by large covers for reliable wind protection. The scope of this model is covered by a lifetime warranty from the manufacturer.
#7 AGM Global Vision Python 3x75mm Long Range Thermal Rifle Scope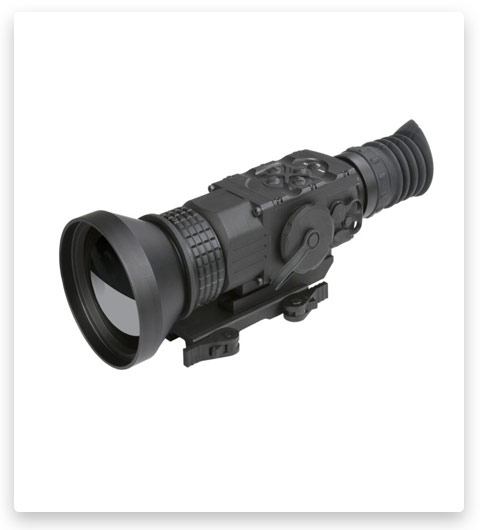 AGM-python is a professional, long-wave, infrared, uncooled, thermal imaging weapon sight, designed for round-the-clock operation in all weather conditions. The body of the product is made of high-quality aircraft-grade aluminum, making it lightweight and strong enough to withstand even the recoil of large-bore rifles. The scope is completely waterproof, providing excellent performance even in the harshest climates. The kit includes various germanium objective lenses (25, 50, or 75 millimeters) and several types of FLIR Tau 2 detectors (336×256 or 640×512) allowing the operator to achieve unique results. Convenient control guarantees fast switching of functions, as well as the ability to remotely adjust the brightness and contrast of the image. If desired, the user can expand the capabilities of the device using a direct connection via Wi-Fi. During long missions, each commercially available battery can be quickly connected via the micro-USB port to dramatically increase runtime.
#8 Burris Veracity 3-15x50mm Riflescope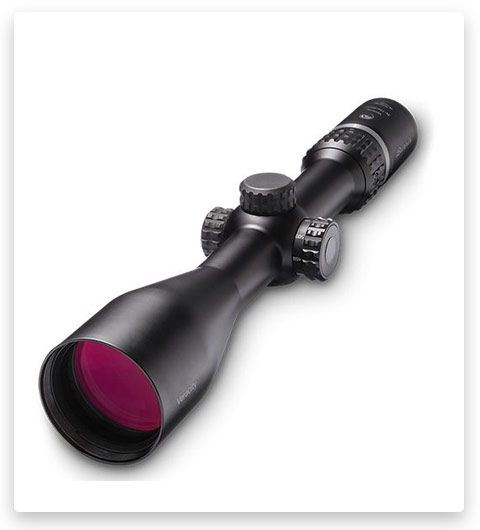 An innovative sight from the world's most renowned manufacturer with proprietary Fullfield E1 4.5-14×42 mm optics includes 2 large lenses for one total price. Both scopes have unique properties that make them as useful as possible in a wide variety of situations. The scope is equipped with a Ballistic Plex-style reticle, incorporating technology to compensate for wind drift even at extremely long distances. While the scope uses an MOA long-range reticle, ideal for accurate shooting at maximum ranges, the optics allow precision shooting at close range, even in highly variable and dynamic field conditions. The multi-coated scope provides bright and clear images at dawn and dusk, making it the perfect addition to the arsenal of seasoned hunters.
#9 Leapers Long Eye Relief 2-7x44mm Scout Riflescope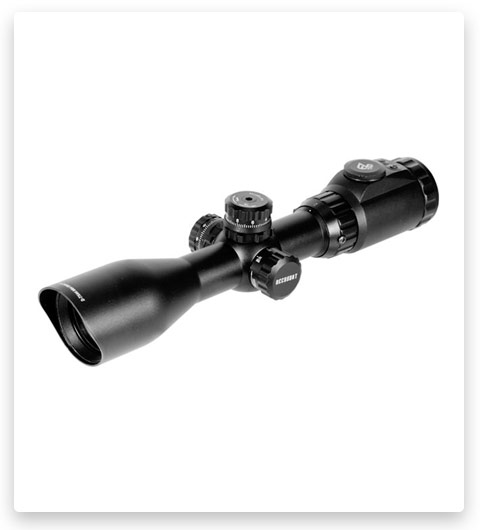 The 30mm scope from the world's most renowned manufacturer guarantees accurate shooting in virtually all weather conditions. This model of fixed-drive scopes from the same manufacturer features a one-piece 30mm diameter tube for maximum color transmission, is designed on the True Strength platform, and is fully sealed and filled with nitrogen for maximum shock resistance and water resistance. The optics provide amazingly accurate and stable magnification, ensuring accurate shooting on almost any type of firearm. Equipped with the innovative EZ-TAP illumination enhancement system with RGB display in two-color mode and 36 colors in multi-color mode, it guarantees the highest shooting accuracy in any weather. Additionally equipped with a high-tech memory function to ensure shooting accuracy in dynamic field conditions or on the hunt.
#10 Burris 4,5-14x42mm Fullfield Long Range Riflescope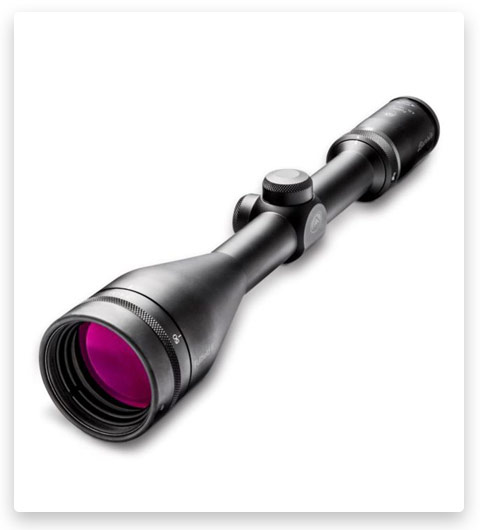 Equip your favorite rifle with a professional-grade scope for incredible clarity and field of view in virtually all-weather conditions. This model of the scope is ready for any tests in the field — thanks to its robust and reliable construction, they guarantee accuracy and accuracy even with maximum loads on the scope structure and on the shooter. The MOA reticle fitted to this tactical scope is extremely popular in today's shooting accessory market. With high-quality lenses with full multi-layer coating, this scope model provides maximum stability when mounted on all types of firearms. This model is equipped with an additional lateral parallax focus adjustment to aid in aiming.
#11 March D25V52TI MTR-DL Illuminated Rifle Scope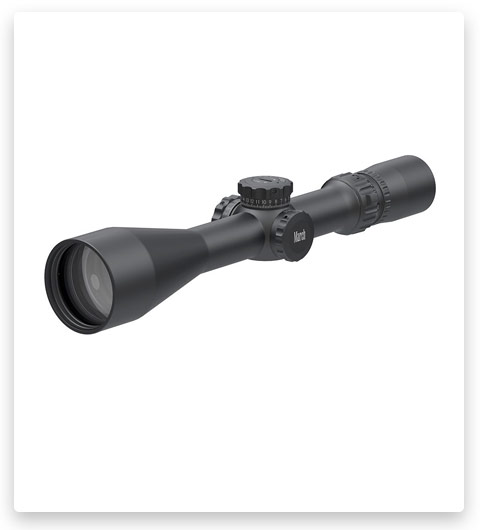 The innovative telescopic sight for most types of firearms will be the perfect addition to your hunter's or military's arsenal. The scope's magnification range is 2.5x25x, making this scope an excellent choice for tactical, hunting, and field competitions at distances up to 2000 yards. The scope weighs only 24 ounces without burdening the weapon and ensuring a stable attachment. The reticle makes it extremely easy to use in the field without requiring complex formulas and mathematical equations that lead to errors and loss of precious time. All-optical sights of this series are equipped with a DL sighting reticle, which shows itself perfectly at a magnification of up to 25x. Structurally, the scope is equipped with tactical handles for easy and precise adjustment.
#12 Trijicon AccuPower 5-50×56 Extreme Long Range Riflescope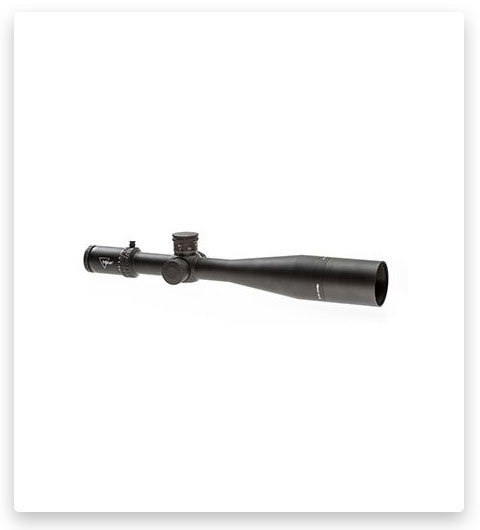 The latest model of riflescope with a powerful 10x zoom ensures accuracy in hunting and long distances. Ultra-low dispersion glass provides the most natural color reproduction and clear target visibility in all weather conditions. Broadband antiglare optics with multi-layer coating virtually eliminates glare from direct sunlight. The height adjustment range is 100 MOA with a quick return to zero. Equipped with improved lighting control with 5-red and 5-green brightness settings. The rugged aircraft-grade aluminum housing ensures all-weather protection. Precision milling and second focal plane reticle are specially designed to provide maximum accuracy and stability of the optics when shooting at longer distances.
#13 Trijicon Accupower 4,5-30×56 Long Range Riflescope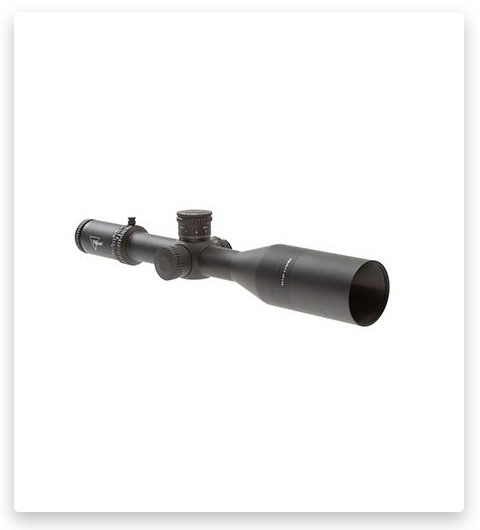 The latest riflescope is a unique solution for maximum flexibility and comfort of use. The powerful zoom provides rifle shooters with all the tools they need to capture, identify, and engage targets at virtually any range. Extra-low dispersion glass guarantees the most natural color reproduction and exceptional target clarity. Broadband anti-reflective optics with multi-layer coating virtually eliminate glare and light loss. The 56mm lens is suitable for excellent light transmission even in extremely low light conditions. A wide range of clamping height adjustment with a quick return to zero ensures comfortable adjustment even in dynamic warfare. The rugged and rigid aircraft-grade aluminum housing provides a unique level of protection against dirt and dust, effectively protecting your optics from adverse weather conditions.
#14 Vortex Razor HD 5-20×50 Tactical Riflescope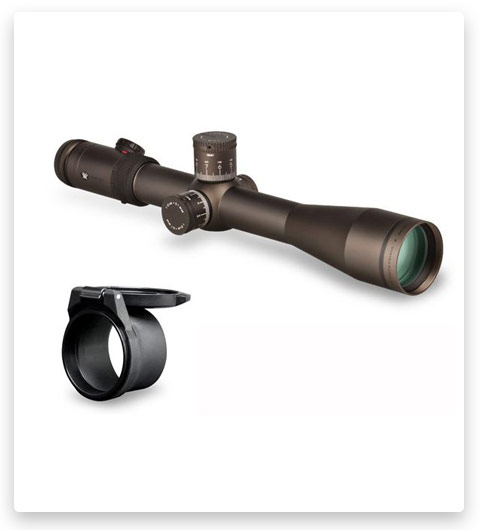 An innovative riflescope for a wide range of firearms. This model of optical sight was created by specialists of one of the best manufacturing companies in the world, it is guaranteed to satisfy your needs in accuracy and accuracy at long distances. The patented HD Fog Scope delivers incredibly clear images using the latest in optical engineering. The reticle is backlit electronic, which guarantees excellent shooting accuracy in all weather conditions. The scopes of this series have been specially designed using high definition glass, multi-layer lens coatings including innovative XT optical design, XD lens elements, XP lens coatings, and ArmorTech topcoat. Made from rugged aircraft-grade aluminum for years of durability and reliability.
#15 Primary Arms 4-14x44mm FFP Riflescope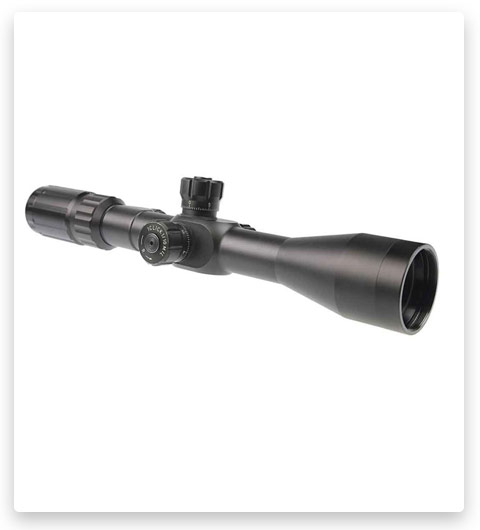 The latest rifle scope is specially designed to improve the accuracy of your favorite rifle. Equipped with the patented ACSS HUD / DMR reticle located in the front focal plane, guaranteeing four times zoom when aiming at close ranges, and 14 times when aiming at long distances. This series of scopes provides fast distance detection, wind control, and quick adjustment of aiming parameters.
This model of the sight is characterized by increased durability, has a shockproof and waterproof design. Choose these optics for maximum shooting performance at any distance.
Conclusion
High-quality and functional optics guarantees accuracy and accuracy of shooting both on the hunt and in the field. Modern manufacturers pay maximum attention to such parameters of scopes as the ability to quickly change modes, adjust the basic parameters of lighting and image contrast on the fly, and flexibility of personal settings. In our top, we have listed professional optics from the best manufacturers in the world. If you are looking for an optical sight for hunting — take a look at models #1, #4 and #8. Looking for a sniper scope to equip your combat rifle — choose models #9, #10, or #11. The best choice for sports competitions is model #5.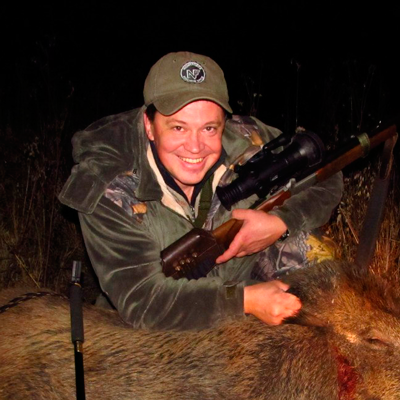 Yury Alexeev
Gun and Hunting Expert
The author of analytical top articles on firearms and accessories — a recognized expert in the field of survival in the wild, the author of many articles on quality camping and hunting equipment, and a firearms enthusiast. Due to many years of experience in hunting trips and studying the technical side of collecting firearms — both for hunting and for clay pigeon shooting — the author has many valuable tips to harmonize the passion for hunting and bring to it exceptional quality in terms of equipment and outfit.
My articles are precisely analyzed technical information and equipment specifications that allow a real hunter to assemble a decent set of weapons for multi-day outings in the wild. From the tents to the well-oiled gun, everything should meet the demands of the extreme entertainment enthusiast. Technically perfect weapons can greatly facilitate hunting even in the wilderness — choosing only the most qualitative, modern optics and other accessories for weapons, hunting efficiency will be maximum.
When choosing a weapon for hunting, pay attention to its specifications, and, above all, to the convenience for yourself — using high-quality equipment, you will discover the wonderful world of accurate shooting and successful hunting even in those weather conditions that don't imply hope for the shooter's eyes. Yury Alexeev - weapon and hunting expert, CEO of
Silencer.Systems
Read more
about our team
of expert authors.
Affiliate Disclosure: Rotorm.com sometimes gets paid for listings, through sponsors or affiliate programs like Amazon, Optics Planet, Lucky Gunner, Brownells, Cabelas, Rainier Arms, 5.11 Tactical, Bass Pro Shop, etс. Clicking a link helps keep Rotorm.com free, at no extra cost to you!
About the author: Each article on our site is written by experts in survival and tactical equipment, gun enthusiasts, extreme travelers, military, law enforcement and desperate professionals, read about the author at the bottom of the article or visit "About Us" page.
Note: The views and opinions expressed in this article are those of the authors and do not necessarily reflect the official policy or position of any agency.