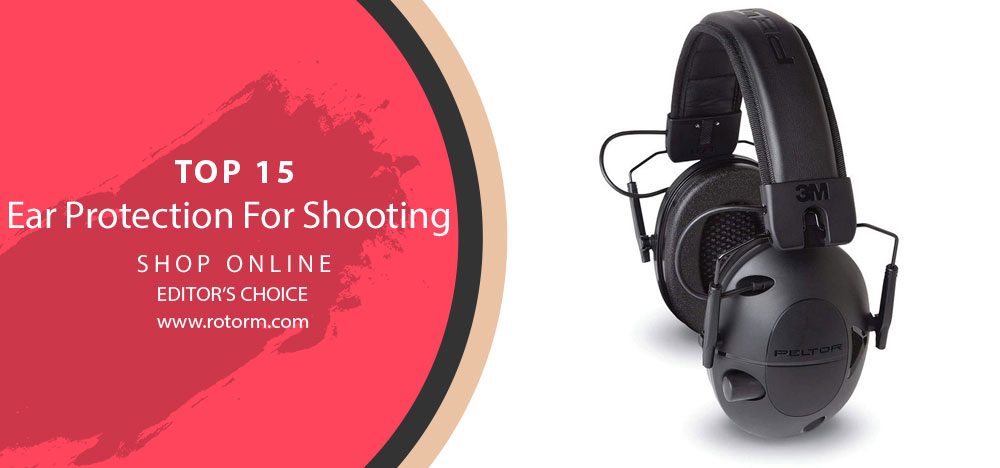 What is ear protection for shooting? 🧐
It is protective gear designed to reduce the level of noise one hears while at a shooting range or hunting. This type of protection can come in a variety of forms such as earmuffs, ear plugs, and other types of hearing devices.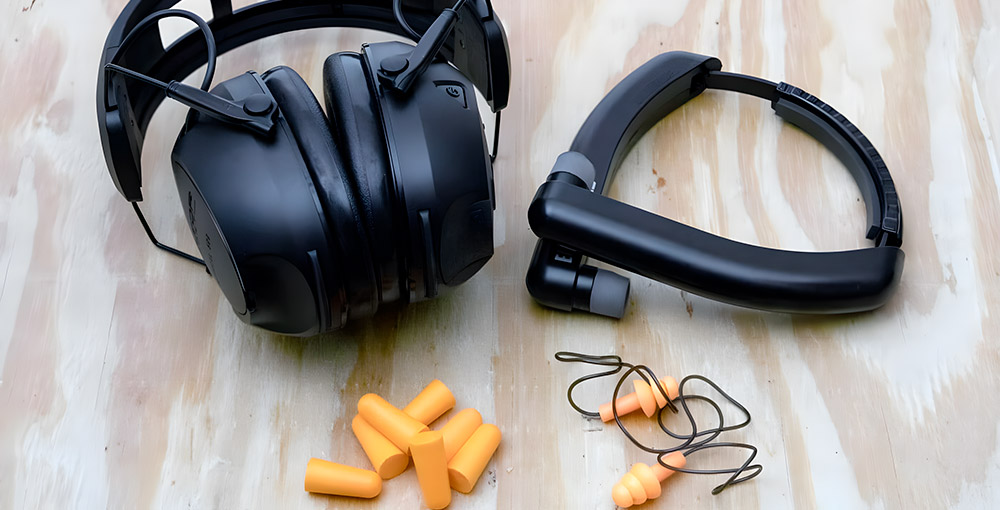 Features ⌛️
To help you make the best choice for your needs, it's important to know the features of ear protection for shooting.
💣 Noise reduction rating (NRR) – This rating indicates how much sound is blocked out when wearing ear protection. The higher the NRR rating, the better the protection your ears will have from loud noises.
💣 Durability – Another essential feature. Selecting a durable pair of earmuffs or earplugs that can withstand repeated exposure to loud sounds is essential. Consider selecting waterproof materials that can withstand extremes of temperature and humidity if possible.
💣 Comfort – An often-overlooked factor, make sure you select earmuffs or earplugs that allow you to wear them comfortably for long periods without causing discomfort or pain in your ears. It's also worth looking at whether they are adjustable so you can find the perfect fit for your ears.
💣 Type of protection – Earmuffs completely cover the entire outer ear in a protective casing, while earplugs plug into the ear canal and provide less coverage than earmuffs. It's up to you to decide which type will offer you the best level of protection.
Our Top Pick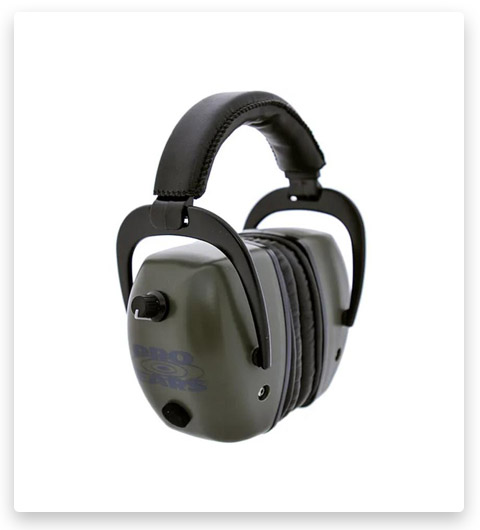 Pro Ears Pro Tac Mag Gold NRR 30 Hearing Protectors
Designed with a large ear cup to tackle extreme noise environments, these hearing protectors provide maximum hearing protection. They are perfect for range masters and shooting instructors, offering the best firearms shooting protection in covered or indoor shooting ranges. Additionally, they are ideal for use with all handguns and greatly benefit flight crews during pre-flight inspections. With a 3.5mm mini jack, these protectors are compatible with Apple iPods, CDs, motor sports scanners, and radios, allowing you to enjoy high-fidelity sound while safeguarding your hearing. They also support listen-only communications, making them versatile in various situations.
Buy Now On OpticsPlanet
If you click this link and make a purchase, we earn a commission at no additional cost to you.
Benefits 🔥
Shooting can be an enjoyable and exciting activity, but it also poses a risk of noise-induced hearing loss. Fortunately, there are many ear protection options available for shooters that can help to reduce the risk of hearing loss while still allowing them to enjoy their sport safely.
☑️ One major benefit is that it will help protect your hearing from potentially long-term damage. The louder the noise, the more potential damage it can do to your inner ear structures. The use of earplugs or other forms of ear protection will help reduce the amount of sound entering your ears and thus reducing the risk of permanent damage over time.
☑️ Another benefit is that wearing protective equipment can dramatically improve focus and concentration at the range by blocking out noises that may otherwise be distracting. This can lead to improved performance as well as an overall more enjoyable experience. In addition, some ear protection devices are designed specifically to amplify softer sounds such as range commands from instructors or verbal cues from fellow shooters which can greatly improve communication on the range.
☑️ Finally, wearing proper ear protection not only benefits you but also those around you by helping reduce volume levels in enclosed areas such as shooting ranges and gun clubs.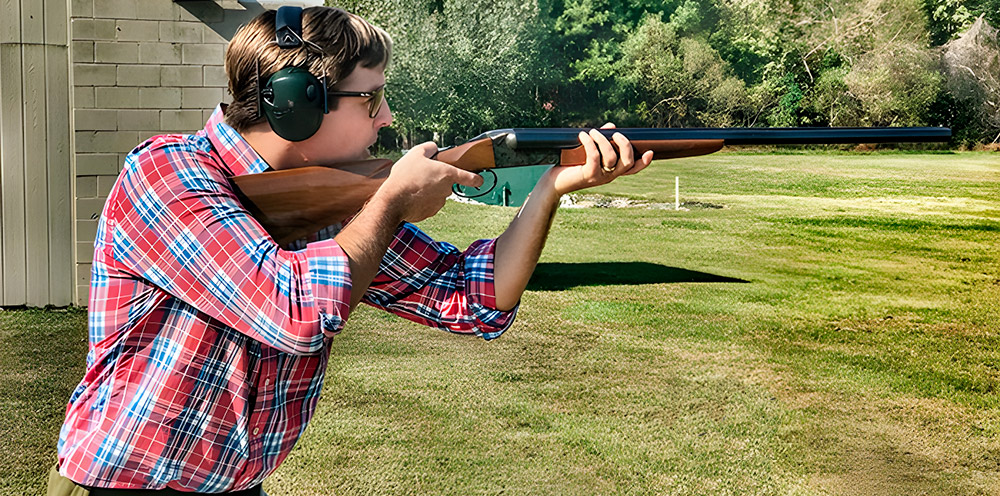 Types 📢
When it comes to protecting your ears while shooting, there are a few main types of ear protection available.
✒️ The most popular and widely used type is foam earplugs. These are inexpensive, disposable plugs that fit into the ear canal to protect from loud noises. They are easy to insert and remove and come in different sizes depending on the size of your ear canal. Most foam plugs have a noise reduction rating (NRR) of up to 33dB, which is enough to protect against most gun blasts.
✒️ Another popular option is electronic hearing protectors, which feature advanced technology that amplifies normal sounds while dampening louder noises from gunfire. These products usually include two speakers that sit inside the ear cups or muffs, allowing you to still hear conversations while providing adequate noise protection against gunshots. Electronic hearing protectors typically have an NRR rating of between 25-35dB, depending on the exact model.
✒️ Finally, many shooters opt for custom earplugs that provide a tailor-made fit for maximum comfort and protection. These are typically made out of soft silicone or foam and designed with a flange that fits snugly into the ear canal to create a seal that blocks out most harmful noise levels from gunshots and other loud noises. Custom earplugs generally have an NRR rating of up to 33dB and can be easily removed when not in use.
No matter what type of ear protection you choose, make sure it is comfortable enough to wear for extended periods without any irritation or discomfort.
TOP 15 Ear Protection For Shooting 🎧
| Image | Product | Brand | |
| --- | --- | --- | --- |
| | The Walkers Pro Low Profile Folding Muff | Walkers | |
| | Pro-Ears Stalker Gold Series Shooting Hearing Protection | Pro-Ears | |
| | Pro Ears Pro Tac 300 NRR 26 Hearing Protections | Pro Ears | |
| | Pro Ears Pro Tac Mag Gold NRR 30 Hearing Protections | Pro Ears | |
| | Pro Ears Pro Tac SC Gold NRR 25 Hearing Protectors | Pro Ears | |
| | Pro Ears Pro Tac Slim Gold NRR 28 Hearing Protectors | Pro Ears | |
| | Howard Leight Leightning Noise Blocking Slimline Headband Earmuffs | Howard | |
| | Howard Leight Leightning Super Slimline Folding Earmuffs | Howard | |
| | Howard Leight L3 High Attenuation Noise Blocking Earmuffs | Howard | |
| | Noise Reduction Safety Ear Muffs | Noise Reduction | |
| | ProCase Noise Reduction Ear Muffs | Noise Reduction | |
| | Mpow 035 Noise Reduction Safety Ear Muffs | Noise Reduction | |
| | Shooting Earmuffs for Gun Range | ACT Fire | |
| | Howard Leight Electronic Shooting Earmuff (by Honeywell) | Howard | |
| | Awesafe Electronic Shooting Earmuffs | Awesafe | |
1# The Walkers Pro Low Profile Folding Ear Muff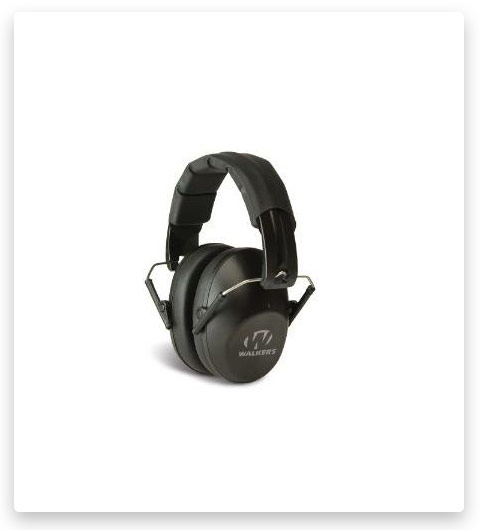 These folding earmuffs designed by Walkers are passive hearing protection. This model is a good solution that combines low price, comfort, and quality. They will perfectly suit hunters or people who like shooting activities. The device is equipped with a comfortable design with a padded headband, which means you don't need to worry about losing your muffs. They provide you with up to 31dB of noise reduction. It's not the best choice for professional shooting but it could be a nice extra pair of muffs.
2# Pro-Ears Stalker Gold Series Shooting Hearing Protection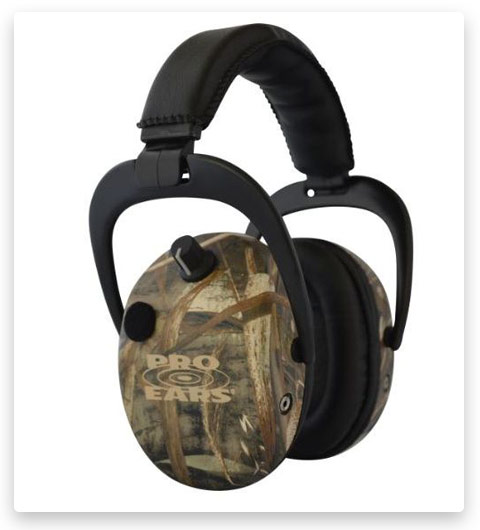 This headset is good active hearing protection that can be used for shooting or bow hunting. The manufacturer says that this device was developed at special factories, and it's nothing but a great balance of comfort, noise reduction, and sound purity. This model has gold connectors, amplifiers, and microphones of the highest quality to make the noise much quieter and to achieve a soft sound. Thanks to the exclusive digital technology made by Pro Ears engineers, GSDSTL can make an impulse sound wave into a pure, comfortable audible sound. The headset also has gained control. Besides, it has a shorter attack time (only 1.5 milliseconds).
3# Pro Ears Pro Tac 300 NRR 26 Hearing Protections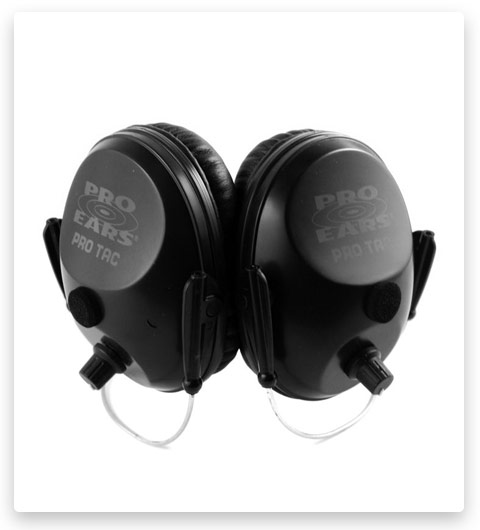 This is one more representative of the high-budget segment. This model is also an active one, and it offers a decent noise reduction rating of 26dB, an extremely comfortable design that suits different purposes and allows you to wear the headset with helmets, and a preset amplification at 15 dB. The outstanding feature of this device is the absence of high-frequency filters. This is the best choice to work in continuously loud environments.
4# Pro Ears Pro Tac Mag Gold NRR 30 Hearing Protections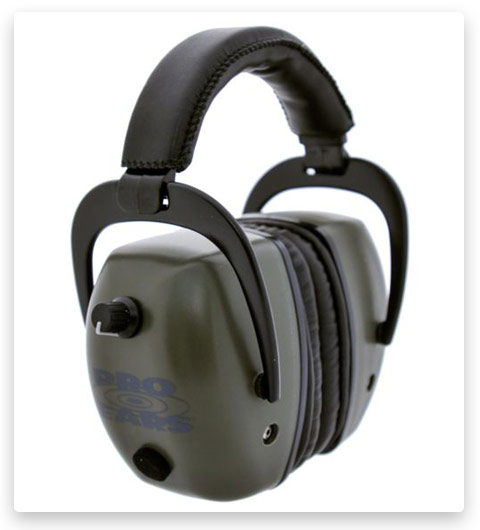 If you want something cheaper but are not ready to sacrifice all the benefits of the Pro series, take a look at this model. It provides customers with a lot of cool features, such as high-quality microphones and gold connectors that ensure a noise reduction at 30dB, an exclusive technology that is a hybrid of digital and analog systems, and a super comfortable design. Clear sound, simple use, and comfortable wearing — this is what you need to feel like you want to use this active protection all day long. It will suit the range masters and instructors for shooting.
5# Pro Ears Pro Tac SC Gold NRR 25 Hearing Protectors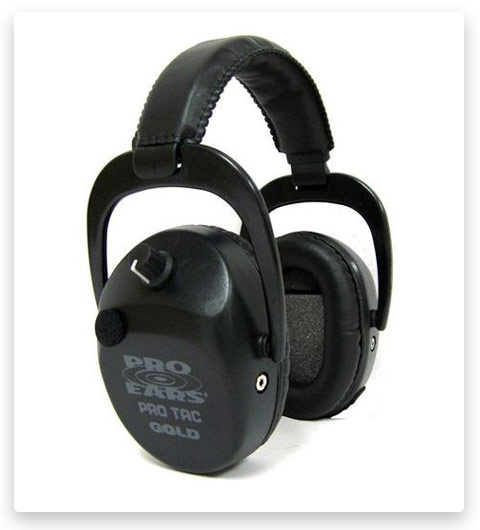 Do you have 20 more bucks? Then purchase this device and forget about hearing protection issues. This model is very similar to the previous one, but it has a greater noise reduction rating of 25dB and a different design. It's still very comfortable and can be used all day long. The construction's weight is lower, which is a great pro. This headset is smart, it performs self-diagnostic and ensures one of the lowest attack times — 1.5 milliseconds.
6# Pro Ears Pro Tac Slim Gold NRR 28 Hearing Protectors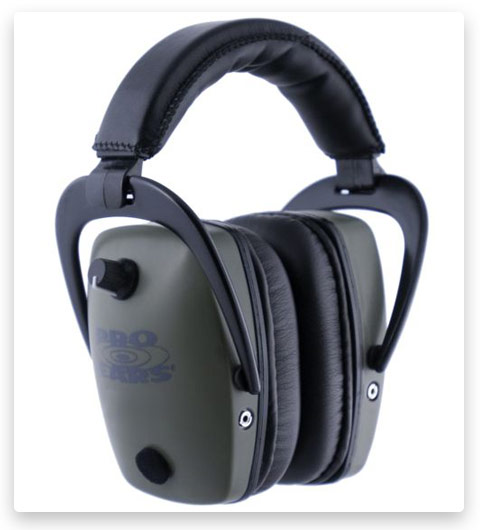 However, you can also find a cheaper device from this range of models. It provides you with the same features, and the only exception is the noise reduction rating which is 28dB now. You can rate all the 3 models from the cheapest one to the most expensive to realize which one is techier and better. These headsets wear K9 officers and traffic cops, which means it's a good solution for moderate- and high-noise environments.
7# Howard Leight Leightning Noise Blocking Slimline Headband Earmuffs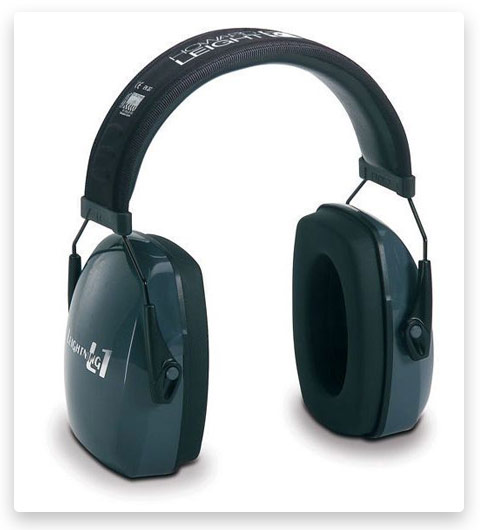 For those who like passive protection and low prices, there is a good pair of muffs that ensure a noise reduction of 25 dB. Thanks to the solid materials, the device is very durable. You won't lose your muffs or feel uncomfortable using them because they have a robust steel wire construction and a padded headband. The main advantage of this model is the price, which allows you to buy them with a breeze and use them as you want.
8# Howard Leight Leightning Super Slimline Folding Earmuffs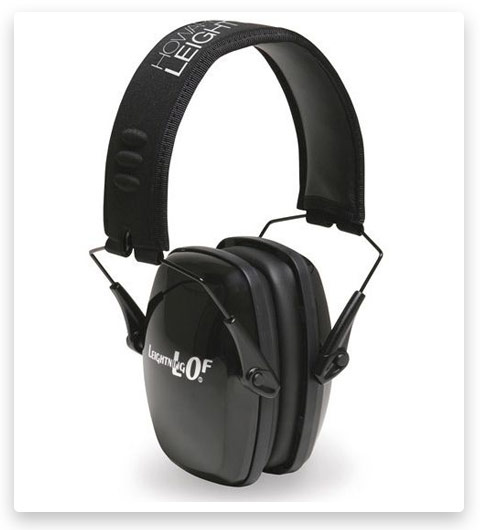 One more ear muff designed by Howard Leight that is quite different, compared to the previous one. This model should be used for low-noise environments. The reason is that it provides only 23dB of noise reduction rating. The design here is unique because it's very compact. You can fold the headset and put it into your backpack with no complications.
9# Howard Leight L3 High Attenuation Noise Blocking Earmuffs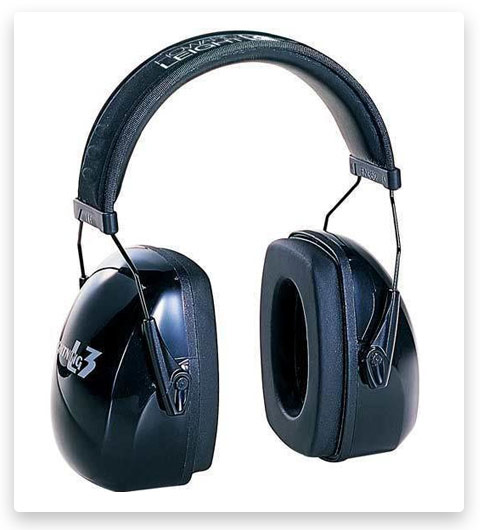 And the last model by this brand should be also taken into consideration. This is the same model as the previous ones but with a greater noise reduction. The NRR of 30dB can make sounds quieter and process more noises, which means you can use this device in louder environments. In addition to this, cushions are very easy to replace. Why it is necessary to review all these 3 models? Because the choice of the best protection depends on your necessities. And you have to know about all options before you decide.
10# Noise Reduction Safety Ear Muffs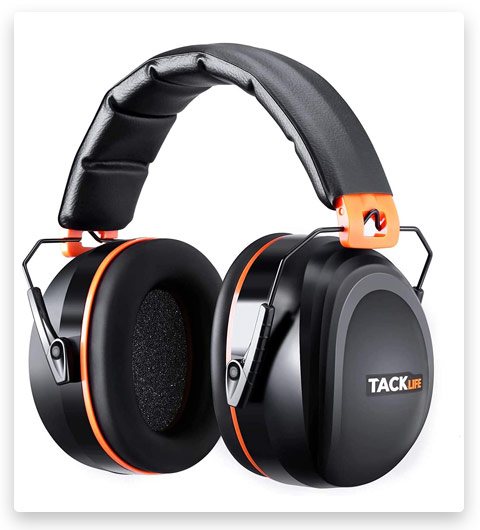 What comes to these earmuffs, they are good because they are not expensive but decent enough. First of all, the NRR of 28dB is a great advantage that can't be omitted. Secondly, a beautiful design with rotating cups makes this model easily fit any size. And it's great. If you want to carry the headset with you, just fold it.
11# ProCase Noise Reduction Ear Muffs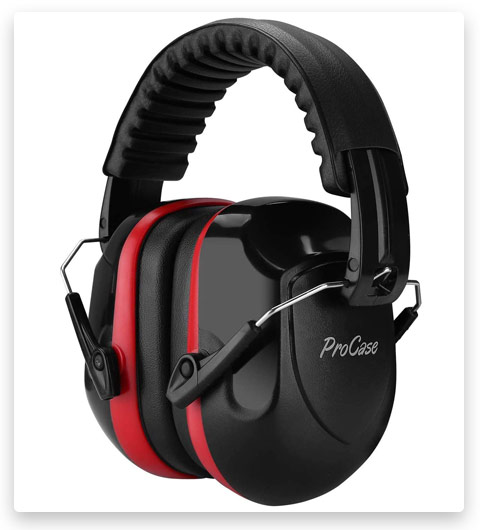 Looking for something even cheaper? How about this one? There is nothing much to say about this model. It's also a sort of passive protection that offers a noise reduction rating of 28dB, a comfortable folding design, and an adjustable headband with rotatable cups. No matter who is going to wear this headset, it will fit any size.
12# Mpow 035 Noise Reduction Safety Ear Muffs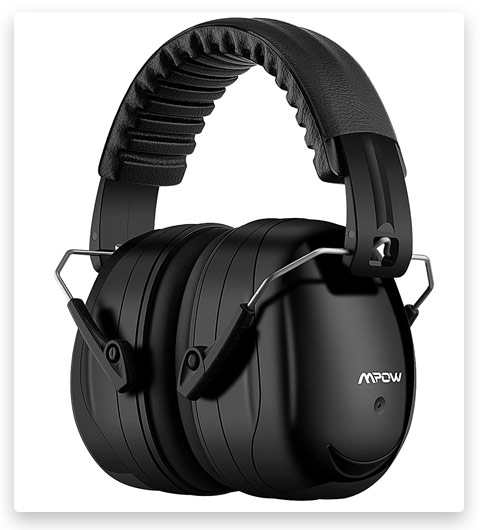 If you can't find previous models on the market or if you already have these muffs, you can use them without a doubt. It's a cheap but decent solution that will help you get rid of unwanted noises. The noise reduction here has an average value of 28dB, and the design is very compact. The construction weighs only 308 grams and it can be folded to become pretty small.
13# Act Fire Shooting Earmuffs for Gun Range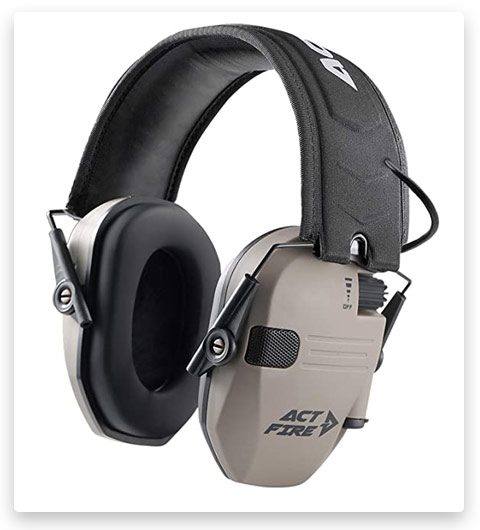 Enough of too-cheap products, let's review something more interesting. For example, earmuffs by Act Fire. These adjustable, beautifully designed with Japan imported painting earmuffs can reduce noise up to 23dB. The vertical volume controller makes it convenient for you to use the device. It also allows you to hear other important sounds. Thanks to the high-quality connectors and cables, you can connect your phone or iPod to listen to music. The clarity of sound is amazing for such a price.
14# Howard Leight Electronic Shooting Earmuff (by Honeywell)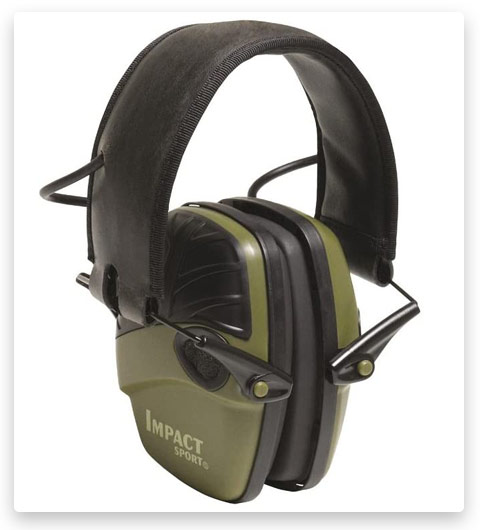 Howard Leight also offers active protection. These earmuffs use built-in directional microphones to reduce noises with an NRR of 22 dB. You can enjoy the pure sound without noises and listen to what you need to hear. Plus, it's possible to connect MP3 players or scanners. 2 AAA batteries are required to power the device, and battery life is about 350 hours.
15# Awesafe Electronic Shooting Earmuffs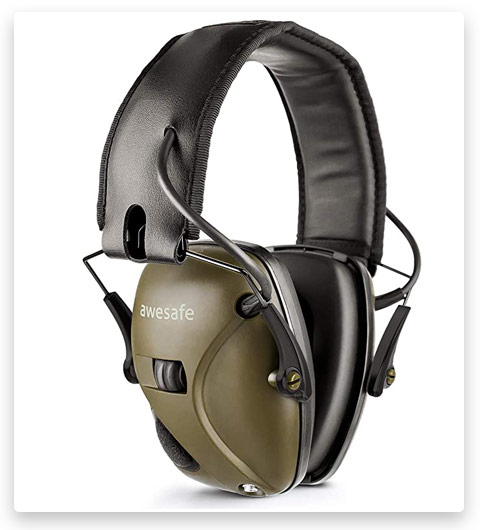 The last model at a rather low price that we want to tell you about is designed by AweSafe. Nothing is outstanding here, except for the fact that this particular model is almost 20 bucks cheaper, compared to other models with the same characteristics. The muffs are based on electronic noise reduction at a 23dB rating. Besides, very solid materials are used to design this device, so you don't have to worry about durability.
Should train with no hearing protection? 🤔
Many shooters believe that it is important to train with no hearing protection to become familiar with the sound of gunfire and better prepare for a high-pressure situation. While there is some truth to this, it's important to weigh the risks and benefits before making a decision.
🎯 On the one hand, training without ear protection can help you become accustomed to the loud sound of gunfire and improve your shooting accuracy. However, repeated exposure to loud noises without protection can damage your hearing permanently, leading to ringing in the ears (tinnitus) or even complete hearing loss.
🎯 At the same time, keeping your distance from the firing line can also help protect your ears from excessive noise levels. If you are shooting indoors or at a range where other shooters are present, make sure you follow all safety protocols and keep your distance from other shooters.
➡️ When it comes down to it, training with no hearing protection should not be a regular practice for any shooter but instead, only be done on an occasional basis to become familiar with the sound of gunfire in a controlled environment such as a firing range or gun club.
FAQ 🤓
Conclusion 😊
When it comes to ear protection for shooting, there are many products available on the market. We hope this buyer's guide has provided you with useful information about how to choose the right pair of earmuffs or plugs for your next trip out on the range or in the field. Now that you have read our reviews and recommendations, we hope you find one that fits both your ears and wallet! 🛒😉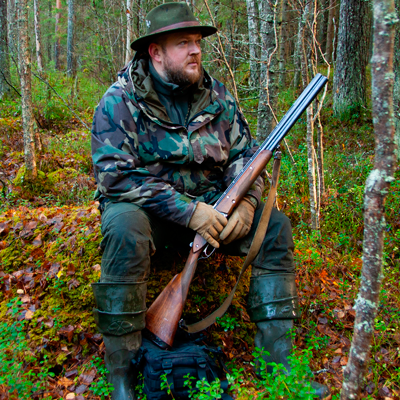 Max Endless
Weapon Expert & School Teacher
Hi, I'm Max. I'm a weapon expert and a teacher of English from Belarus. These two qualities allow me to share my opinions and observations about news from the gun world. I'm really into firearms and different weapons because I was learning about them since my childhood.
My life has taken me through different complications and exciting moments, so what I've learned is to always be ready to fight. My father is professional military personnel and he made me familiar with various weapons since my childhood. My first one was a bow, and then I started to have a fancy for this unbelievable world of firearms. My main specialization allows me to share my thoughts about different devices, guns, and gun details with the English-speaking community. In my articles, I talk about pistols, rifles, knives, shotguns, and many other tactical and survival things.
Read more
about our team
of expert authors.
Affiliate Disclosure: Rotorm.com sometimes gets paid for listings, through sponsors or affiliate programs like Amazon, Optics Planet, Lucky Gunner, Brownells, Cabelas, Rainier Arms, 5.11 Tactical, Bass Pro Shop, etс. Clicking a link helps keep Rotorm.com free, at no extra cost to you!
About the author: Each article on our site is written by experts in survival and tactical equipment, gun enthusiasts, extreme travelers, military, law enforcement and desperate professionals, read about the author at the bottom of the article or visit "About Us" page.
Note: The views and opinions expressed in this article are those of the authors and do not necessarily reflect the official policy or position of any agency.